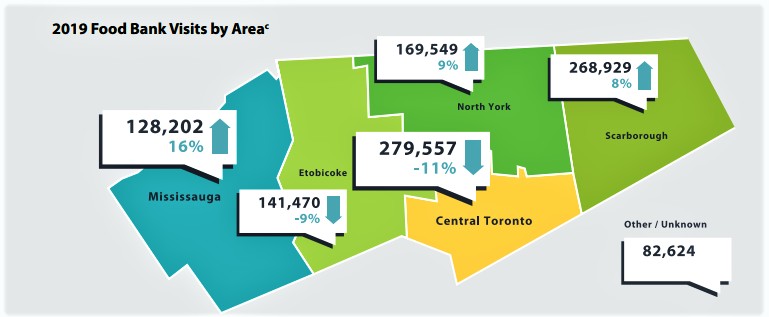 Photos by Isaac Callan/Charts and graphics Who's Hungry report
Mississauga food bank use grows at four times the GTA rate in tandem with affordable housing crisis 
Jane Sangster worked as a counsellor and lived across the world. Armed with a post-secondary degree, she helped people deal with addiction and mental health. After living in Toronto for some time, she moved across the Atlantic to Rome.
However, in 2001 things changed. Her sister was diagnosed with terminal breast cancer, leaving a three-year-old son behind. Taking time to look after her nephew and struggling to deal with her loss, Jane was laid off work with long-term disability.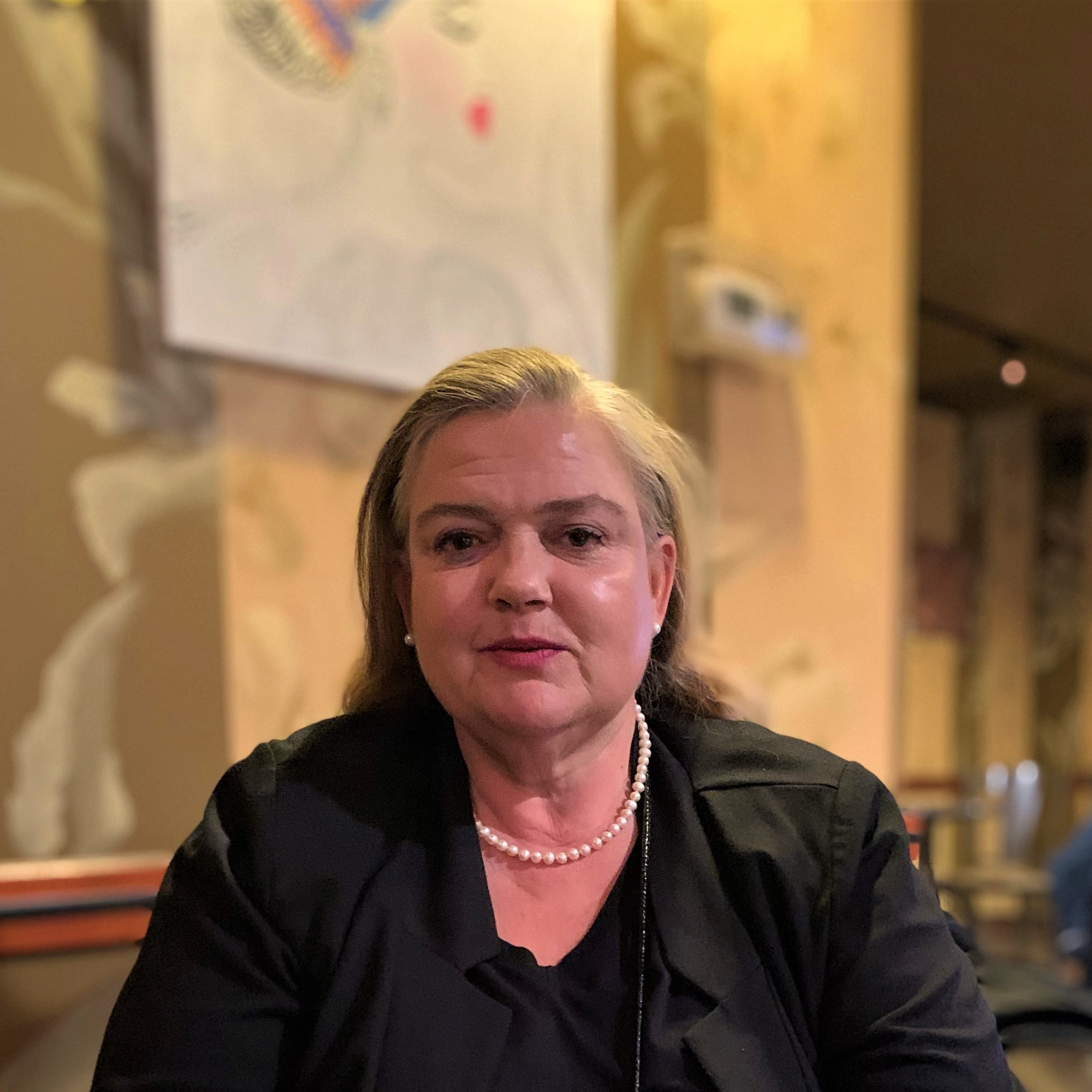 Mississauga resident Jane Sangster
Costs, including rent, sent Jane in the direction of Mississauga's food bank. Her story, in a booming city with big dreams of things to come, reminds us that people are being left behind.
"This is the only food bank I've ever gone to in my life – I was a professional before," Jane told The Pointer over coffee at Second Cup in Port Credit.
"When my sister died, we had grown up in an abusive home, so my sister was everything to me. When she died, I had a breakdown, so I ended up going off work… only making 60 percent of my salary and that was okay at first, I could get by, but you get no raises over the years, so it's hard now."
Jane Sangster, who visits the Mississauga Food Bank three to four times per month, is one of many Mississauga residents making the same trip. Many are called the "working poor", struggling against the forces of poverty that push in on them every day.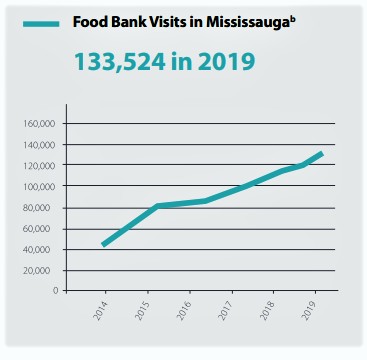 Data from the Who's Hungry report reveals the alarming reality of rapidly rising poverty rates in Mississauga
The Who's Hungry Report (2019), released this week, features data from the Mississauga Food Bank for the first time, shedding light on food-poverty across the GTA. Seen by many in social science as an indicator of broader poverty problems, high food bank use across the region speaks to a broken social safety net and economic factors that are leaving more and more on the margins, with affordable housing in Mississauga at the heart of the crisis.
In the GTA, there are currently 145 food banks operated by 250 different agencies, falling under the umbrella of Daily Bread Food Bank (Toronto), North York Harvest Food Bank and The Mississauga Food Bank. Overall, the GTA saw a 4 percent rise in food bank use, though Mississauga experienced a rise of 16 percent between April 1, 2018 and March 31, 2019.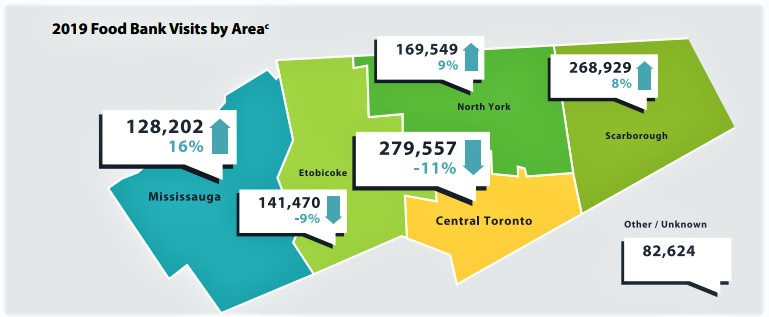 Between 2014 and the 2019 data, food bank visits in Mississauga increased from just over 40,000 a year to 133,524, a disturbing 225 percent increase in just half a decade.
The report highlights the role housing has to play in poverty, saying that 67 percent of food bank users are private-market renters. It points out that "since last year, the median monthly income of our respondents has not increased, yet we have seen a sharp increase in the percentage of income spent on rent and utilities," a number which has risen to an unmanageable 74 percent this year, meaning, on average, those in need of food assistance across the region are spending three quarters of their income on housing. So essential costs for transportation, clothing and healthcare have to compete with putting food on the table.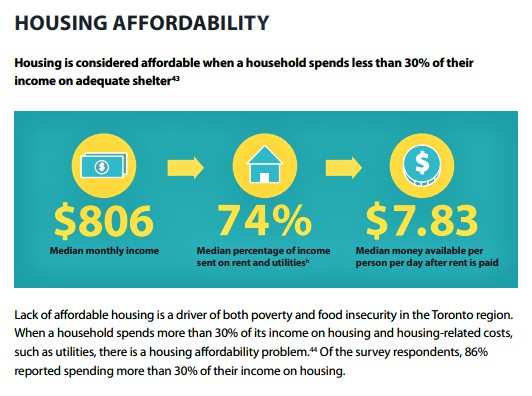 "Rents are continuing to outpace income in Toronto and Mississauga, leaving our respondents only $7.83 per person per day to afford life's other necessities," the report adds.
For people to meet the affordability threshold, as a rule, no more than 30 percent of their income should be spent on housing. In Toronto, for example, current rental costs mean that residents would need to earn $27.74 per hour for 40 hours a week every week of the year to make that viable. It works out to $57,700 a year.
According to the Who's Hungry report, Mississauga's rate of available rental units is one fifth of what it should be in a functioning market. A healthy vacancy rate for cities is between 3 and 5 percent, yet Toronto has just 1.1 percent vacancy and Mississauga's is even lower at 0.9 percent.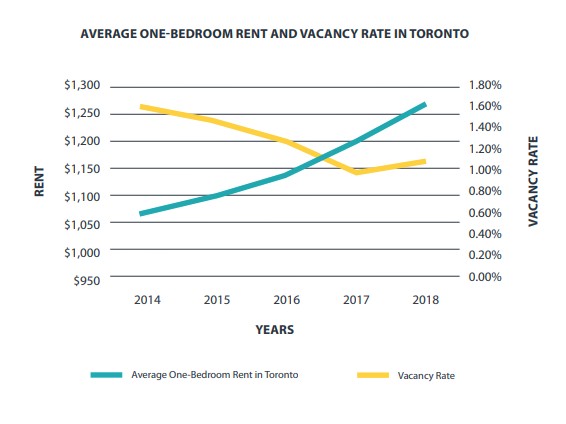 The report points its finger squarely at the provision of housing, saying that cities such as Toronto and Mississauga have prioritized private condo construction over affordable housing in recent years. Though Mississauga councillors George Carlson and Carolyn Parrish are part of a team working to include affordable units in new condo developments, these solutions are a bandaid for the major regional and provincial priority changes which must take place.
"I think with rising housing costs, it's moving from the biggest problem to getting close to it being an emergency stage," Meghan Nicholls, executive director of the Mississauga Food Bank, told The Pointer. "There is just not enough housing that is affordable. The problem, ultimately, with poverty is that people just don't have enough money. So if people's incomes were higher, it would help with housing, but the gap is just so big because housing is just so expensive currently… My encouragement for the regional government would be to continue to advocate as strongly as they can back to the provincial government to continue to support affordable housing, to increase social assistance rates, to make sure social assistance has a user-centric design."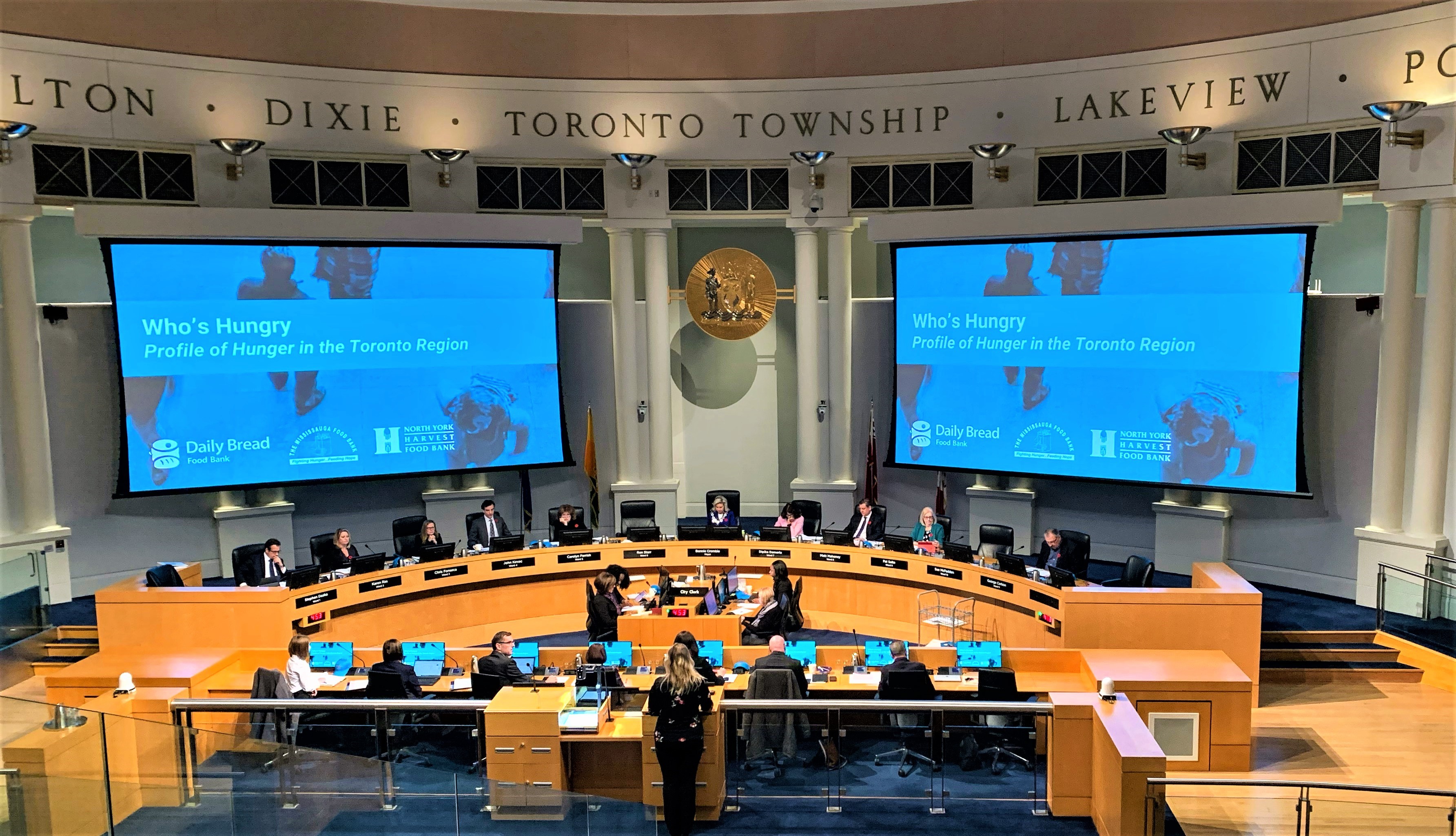 Meghan Nicholls, executive director of the Mississauga Food Bank, presented the Who's Hungry report to council on Wednesday
Affordable housing was downloaded by the federal government in the '90s to the provinces, and in Ontario the responsibility was immediately downloaded onto municipalities. Since then, funding for affordable housing in Mississauga and throughout the province has been a tiny fraction of what's needed, with no cohesive federal housing strategy put forward by Ottawa since it walked away from its responsibility.
"I was at a presentation recently about the Peel housing strategy and it's going to take years for them to increase the number of units available at affordable rates for people," Nicholls added. "My concern is what food bank clients will do between now and the years it is going to take to get those units built."
When Nicholls explained these issues and figures to Mississauga councillors, Mayor Bonnie Crombie described herself as "shocked." Telling councillors that "charities cannot solve hunger", Nicholls outlined various recommendations pertaining to different levels of government. In particular, Councillor Pat Saito instructed staff to explore ways to incorporate support of the food bank in the council's budget.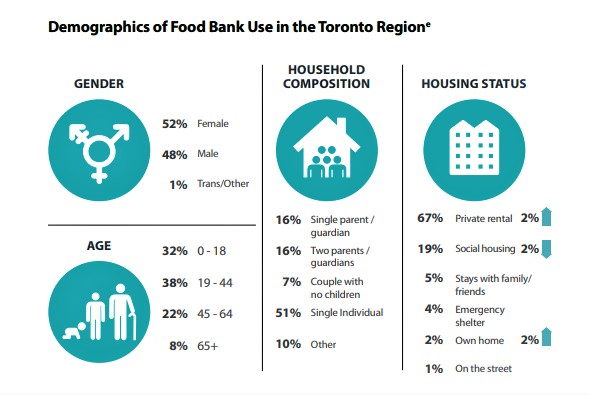 The Mississauga Food Bank's annual operating budget is around $2.5 million, with the Region of Peel contributing less than $100,000. Indeed, Nicholls told The Pointer that the vast majority of the food bank's contributions came from private donors. However, the role of a food bank should be temporary, a short-term fix.
Additional funding would doubtless be welcome, though not as vital as ambitious long-term and short-term institutional changes to how Mississauga and the Region of Peel provide housing.
Race plays a factor in the need for food bank assistance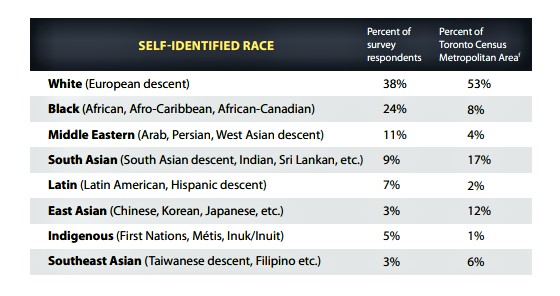 According to the Who's Hungry report, Mississauga has wait times of more than a decade for affordable housing. The wait time for single people looking for a one or two bedroom apartment in the city sits at a minimum of 3 years and goes as high as 10, while families wait at least 5.5 and as long as 12 years.
Like many other clients of the Mississauga Food Bank, Jane Sangster thinks rent is the biggest issue. She told The Pointer housing impacted her "hugely" even with income-geared rent because she has to pay for her own insurance, including dental. She explained that living in a two-bedroom apartment made it more expensive, but that no smaller options were available and within her budget in Port Credit, where she has lived since returning to Canada almost two decades ago.
"When my wife and I separated, they said I was 'over-housed' and that I needed to live in a one-bedroom and not a two-bedroom," Sangster explained. "Now, that's fine by me, but they can't find one suitable in Port Credit within their guidelines. I volunteer here, my church is here, the food bank I've used is here – I can't take a bus or walk down the street without bumping into somebody I know… moving away from here would be hugely disruptive to me."
Many who are well educated need help from food banks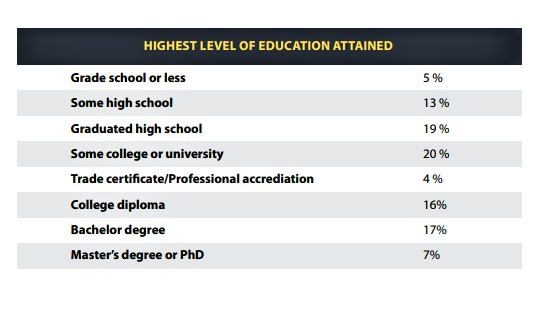 With several new developments coming to the Mississauga waterfront area soon, including the Lakeview Village approved this past week, many will hope that developers take heed. Indeed, both Brightwater in Port Credit and Lakeview Village to the east have included some affordable units in their construction plans.
However, figures from the Who's Hungry report show the city and the region need to provide tens of thousands of new affordable units, otherwise the alarming rates of poverty will continue to skyrocket, while food banks become the grocery stores for more and more struggling residents.
Email: [email protected]
Twitter: @isaaccallan
Submit a correction about this story