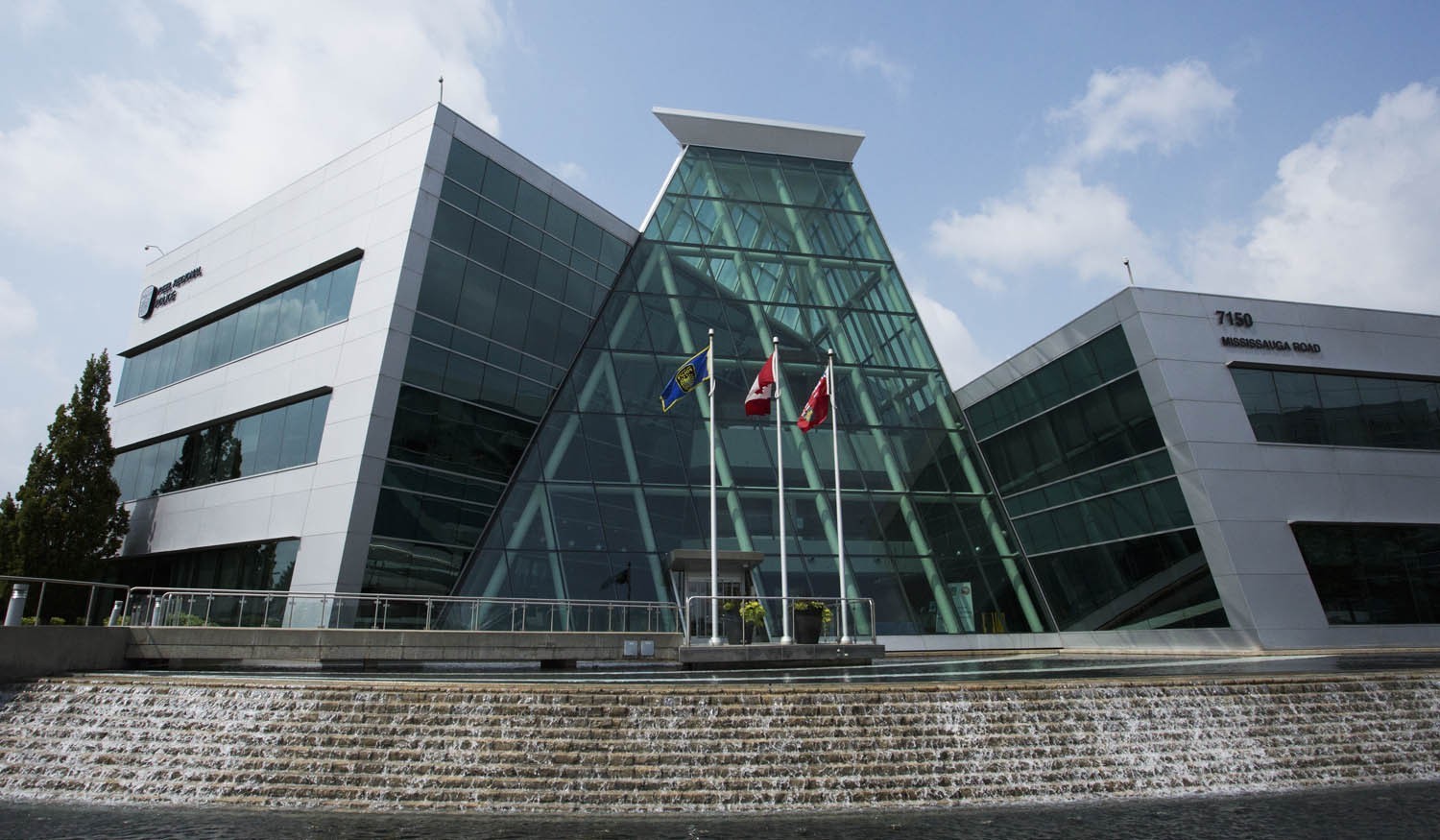 Feature image from The Pointer files
Clashes on Peel Police anti-racism committee suggest force already straying from mandate
One of the community members tasked with advising Peel Police on its anti-racism initiatives has resigned from her role, sparking concern that equity work to turn around a force plagued by rampant internal discrimination is not being taken seriously.
In a candid email, Laura Zilney, CEO of the sexual assault support centre Hope 24/7, alleged the force was guilty of a "blatant abuse of power" and "consistently demonstrated its lack of respect for the community it serves".
Zilney resigned from the Peel Regional Police's Anti-Racism and Human Rights Advisory Committee on July 27. The committee was established at the beginning of the year to offer a community perspective on work the Peel Regional Police (PRP) and Ontario Human Rights Commission (OHRC) are undertaking to address chronic systemic racism within the service that polices Brampton and Mississauga.
The departure means a committee established to build trust in the police's ability to do equity work has already lost a member.
"The ARAC [Anti-Racism Advisory Committee] is comprised of stakeholders with valuable perspective and lived experience that are important to understanding the local issues and recommending solutions," a spokesperson for PRP told The Pointer. "ARAC is committed to its mandate of reviewing the OHRC recommendations and providing input towards solutions that are thoughtful, effective and long lasting. This member resigned from one committee (ARAC) while citing her opinions about a separate committee (PSARC)." Zilney still sits on the Peel Sexual Assault Review Committee.
The OHRC project, which was met with scepticism by some community advocates when it was announced and has been criticized by the police union, is an attempt to address equity and inclusion issues in a new way. Leaning on research and the expertise of the OHRC, Peel Police will prepare data-driven policies to improve its relationship with racialized communities and better reflect the diversity of the two cities it serves within its own ranks.
"I'm concerned, just like everybody else in my organization, about having our credibility co-opted, but I am willing to do this in good faith right now because of lessons learned and wanting to improve the situation for my family and my friends in this community," OHRC Commissioner, Ena Chadha, told The Pointer last year.
The partnership came after years of criticism dogged the police force that does not reflect the Peel community it serves. Based on the 2016 Census, 65 percent of Brampton and Mississauga's residents were visible minorities and half the population was female. In 2020, there were 2,236 uniformed officers employed by Peel Police; 78.9 percent were men. Visible minorities comprised only 27.9 percent of the force, while 1.1 percent were Indigenous. People with disabilities made up 0.2 percent of PRP.
Robert Peel, PRP's namesake and the founder of modern western-style policing, summarized why this can be a concern. "The police are the public and the public are the police," the 19th Century British Prime Minister said.
After the initial Memorandum of Understanding between PRP and the OHRC was signed in October, meetings began. The two bodies mapped out how they could work together to finally act on the findings of dozens of surveys and reports. The aim is to use the existing data to enact policies that could actually change how Peel is policed.
PRP has hired data and equity experts to guide the work at a granular level. Among the professionals the force is working with are professors Lorne Foster, Les Jacobs and Akwasi Owusu-Bempah, alongside in-house experts who can be accessed through the OHRC.
On May 28, the road map was unveiled in a presentation by Inspector Joy Edwards to the Peel Police Services board. A tentative schedule suggests widespread consultations will take place through the summer, with finalized draft recommendations by fall, followed by a final round of engagement.
The recommendations will be taken to the Human Rights Tribunal of Ontario (HRTO) to be ratified. By going to the HRTO for a consent order, the agreement's terms should become binding.
"The Tribunal has broad remedial powers to prevent discrimination and promote human rights," Chadha said. "[If the agreement is broken], the Tribunal could order the police to undertake the outstanding work/promise and impose a deadline, it could order financial damages for failure to satisfy the agreement, or [it] could order additional terms or remedies ... For example, the Tribunal could order the police to hire external consultants to monitor the arrangements."
Edwards presents a timeline for the OHRC and PRP's work to rollout.
(Image from YouTube/Peel Police Services Board)
As part of its work with Peel Police, the OHRC said a panel of community leaders should be established. The force tapped 20 individuals and asked them to join its committee with responsibility for providing initial feedback to shape its equity plan moving forward.
The decision to create the committee was not publicized. When its existence was revealed at the May Police Services Board meeting, some community members voiced scepticism, wondering how its membership had been selected. The force offered reassurance that the committee was pushing through vital work and would play a key part in the OHRC-led strategy to turn the troubled force around.
A 2019 equity audit revealed a police department riddled with problems around racism and discrimination, showed widespread harrasment took place and exposed a predominantly white leadership that refused to accept problems with the culture they helped create.
A deeply disturbing 2017 decision by the HRTO found systemic discrimination within the force and said its culture devalued policing in Brampton and Mississauga's large South Asian community because it was "associated with the South Asian population."
In 2015, media reports revealed that the racist practice of police carding by the Peel force targeted Black residents at more than three times the rate compared to whites in these common, harmful, random police stops that had been happening for decades.
The committee tapped to help turn around the destructive culture includes a range of community leaders and staffers at Peel-based organizations. Representatives of the Peel Children's Aid Society, under investigation after allegations of anti-Black racism, and the Peel District School Board, which is currently being supervised by the Ministry of Education after two damning investigations revealed a culture of anti-Black racism and discrimination, are included. The Peel Regional Police has not released the names of committee members.
"Even though we had been receiving emails and whatnot from late January or early February this year, I still felt a little bit lost and I talked to some of the other folks and I know I wasn't the only one," Zilney told The Pointer after her resignation. "It wasn't until late June, early July, the conversation shifted to who is going to be chairing or co-charing and we had that conversation... At that time it was discussed that the terms of reference hadn't involved the input of the members of the advisory council, so then that was being opened up for feedback from community members. It happened later on in the process and it happened through the insistence of the committee."
Beginning in February, Chief Nishan Duraiappah and Deputy Chief Nick Milinovich approached the board of Hope 24/7 about Zilney's conduct. Three verbal communications were followed by a letter, which made reference to a separate committee she sits on, the Peel Sexual Assault Review Committee.
"Since February 2021, Chief Duraiappa (sic) and Deputy Chief Milinovich have complained to my Board of Directors four times about my 'unprofessional' and 'disrespectful' conduct and demanded my removal from Hope 24/7," Zilney's resignation email reads. "One of these complaints came after two of this Committee's meetings: May 13, 2021, Body-worn Camera and June 1, 2021, Advisory Committee. The complaints are complete fabrications: many of you were in attendance in May and June and can attest that neither I, nor anyone, engaged in any unprofessional or disrespectful behaviour."
PRP said it had "never asked" for Zilney's removal. "PRP has a number of partnerships with Hope 24/7 which are supported by representation from members of Hope 24/7, and Ms. Zilney," a spokesperson said. "These partnerships are valued as are the perspectives they represent."
In his letter to the Hope 24/7 Board in relation to Zilney's conduct, Duraiappah points to "unprofessional, hateful and sensationalized social media posts" and "disruptive and disrespectful behaviour".
On Twitter, Zilney has shared unfettered thoughts on the police service. Her Twitter account, which has 20 followers and does not list her professional role, includes strongly-worded anti-police tweets.
"F**king gov't increasing police powers to help a pandemic? Want ppl to call on neighbours? Here's an idea: call 911 constantly - take their system down. F**k the pigs & f**k Ford," Zilney wrote in April, after the Province briefly considered increasing police powers to enforce its third wave lockdown, before backtracking.
The tweet was specifically referenced by Duraiappah in his letter to Hope 24/7.
"As in many collaborative efforts, there can be challenges which can be resolved through establishment of the 'norms of collaboration'," the PRP spokesperson said. "Discussions with the Hope 24/7 Board were intended to assist in facilitating the establishment of mutually agreeable norms of collaboration."


The committee is tasked with advising Peel Police about its data-driven recommendations.
(Image from the Peel Regional Police)
The committee Zilney resigned from meets every two months, or more frequently when its members decide. It has held meetings in February, April, May, June and will meet again in August. The Pointer obtained and reviewed the committee's minutes, agendas and terms of reference to understand the work that had, and had not been done. The documents were not shared by Zilney.
The committee's terms of reference state it is responsible for reviewing, analyzing and advising on the OHRC's recommendations. It is also tasked with identifying systemic barriers to anti-racism work, looking for ways to partner with communities and evaluating work or reports at significant milestones. Its responsibilities are fairly narrow in their application to the OHRC's work, with its purpose to provide a guiding community voice for the work and not PRP in general.
The committee was formed by PRP after recommendations from OHRC. Zilney said that, while a representative of OHRC sat at the table, it "felt like very much a PRP" committee.
"Peel Regional Police's Human Rights Advisory Committee is important to the engagement process and the OHRC will work with Peel Regional Police and the other members of the committee to ensure thoughtful, constructive and respectful engagement to better serve the Region of Peel," a spokesperson for the OHRC told The Pointer when asked for comment about Zilney's resignation.
In contradiction of its narrow mandate, minutes show the issue of body-worn cameras was discussed during meetings in both April and May. The introduction of body-worn cameras is not a recommendation made by the OHRC, it is something Peel's Police Services Board agreed to adopt as early as June 2020, suggesting it should not fall within the committee's mandate.
"The OHRC's recommendations do not speak to the implementation of Body-Worn Cameras (BWC), instead, the recommendation specifies policies and procedures to [be] implemented, including the collection/retention of data," minutes from an April 6 meeting state.
Minutes show the committee has not yet devoted any significant time to the OHRC's recommendation to improve Peel Police. Instead, conversations about an already approved and unrelated policy have been prioritized. It was June by the time members were actually able to begin discussing the agenda and terms of reference.
One line in the minutes from a May meeting suggests the force's senior leadership could be guilty of sidelining important conversations.
"There is a little confusion," Deputy Chief Milinovich said, according to the meeting's minutes. "Prior to the meeting today, Joy's [Edwards] plan was to define the responsibilities of the committee. We had switched up the schedule due to time constraints. We rolled out to the Airport [body-worn cameras pilot] and took advantage of the COVID situation i.e. low traffic."
The brief entry suggests the force's senior leadership delayed important discussions about the OHRC's work in favour of a discussion about body-worn cameras to match its own timelines. Instead of dealing with a crucial building block of the committee that would allow it to push its equity work forward, the decision allowed police to rapidly seek community feedback on the camera project, but does not appear to fit into the committee's mandate.
The decision to focus on body-worn cameras is particularly strange because of the well-documented community opposition to the plan. Last June, after the Peel Police Services Board rushed through its plan to implement body-worn cameras without meaningful consultation, residents sent almost 100 letters, many questioning the move. They advocated for reform and a more holistic approach to policing. Some specifically criticized the introduction of body-worn cameras, fearing the move will distract from the broader need to reform police departments and labelling it only a band-aid solution.
"I don't think the deputations are a common attitude. Likely [they're] coming from a common source," board member Len Howell said at the time. "I cannot be more supportive of body cameras."
A damning 2019 equity audit, which the force is finally showing signs of heeding, singled out senior officers as a problem. It placed significant blame for the force's culture on senior leadership, with a majority of employees describing the organization as "change-averse" and "elitist."
"At the time, the OHRC recommendations and PRP approach was for community feedback relating to body-worn cameras," PRP's spokesperson said. "The committee was engaged as one of many community consultation processes."
They added that the committee would continue to formalize its terms of reference and begin working on the OHRC MOU this August or September.
Duraiappah has written to Hope 24/7's board complaining about Zilney's behaviour.
(Image from The Pointer files)
When Zilney asked about the body-worn camera presentation, she says things began to unravel.
"I asked my question: 'I missed the last meeting, can you help me understand the history of these body-worn cameras because I thought this was new, but from what I am hearing, it's not new. Can you help me understand that?' That was my full question," she said.
Zilney says her board has backed her and that the entire episode shows a force unable and unwilling to listen to criticism.
"It's threatening, they're a very large organization, they have a lot of sway, they get a huge chunk of the tax dollars for the region [and] they're sitting at every single table," she said. "There's no way to navigate around them."
---
Email: [email protected]
Twitter: @isaaccallan
Tel: 647 561-4879
---
COVID-19 is impacting all Canadians. At a time when vital public information is needed by everyone, The Pointer has taken down our paywall on all stories relating to the pandemic and those of public interest to ensure every resident of Brampton and Mississauga has access to the facts. For those who are able, we encourage you to consider a subscription. This will help us report on important public interest issues the community needs to know about now more than ever. You can register for a 30-day free trial HERE. Thereafter, The Pointer will charge $10 a month and you can cancel any time right on the website. Thank you.
Submit a correction about this story