Photos from Twitter/Peel Regional Police/PRPA
Police union boss slams Chief over plan to eradicate racism in the force: it panders to 'political fringe groups'
The man representing some 2,000 frontline police officers in Mississauga and Brampton has, once again, come under fire for divisive comments about systemic racism which has plagued the Peel Regional Police for decades.
After Peel Police recently entered an unprecedented agreement with the Ontario Human Rights Commission (OHRC) to address racism and discrimination within the force, Adrian Woolley, the president of the Peel Regional Police Association, criticized the messaging around the arrangement. In the November edition of a newsletter regularly distributed to members, he aimed sharp criticism at Chief Nishan Duraiappah.
Woolley, who has in recent months faced questions over divisive, racially charged social media posts, expressed his disappointment over the chief's characterization of the force and a deal he said was rushed through at the expense of the department's image.
"The Chief's message two weeks ago regarding systemic racism was divisive to say the least," Woolley wrote in his column, Inside the Thin Blue Line, viewed by The Pointer. He said that, while some members agreed with Chief Duraiappah's characterizations of the force leading to his work with the OHRC, "the actual impact of his statements have been almost entirely negative."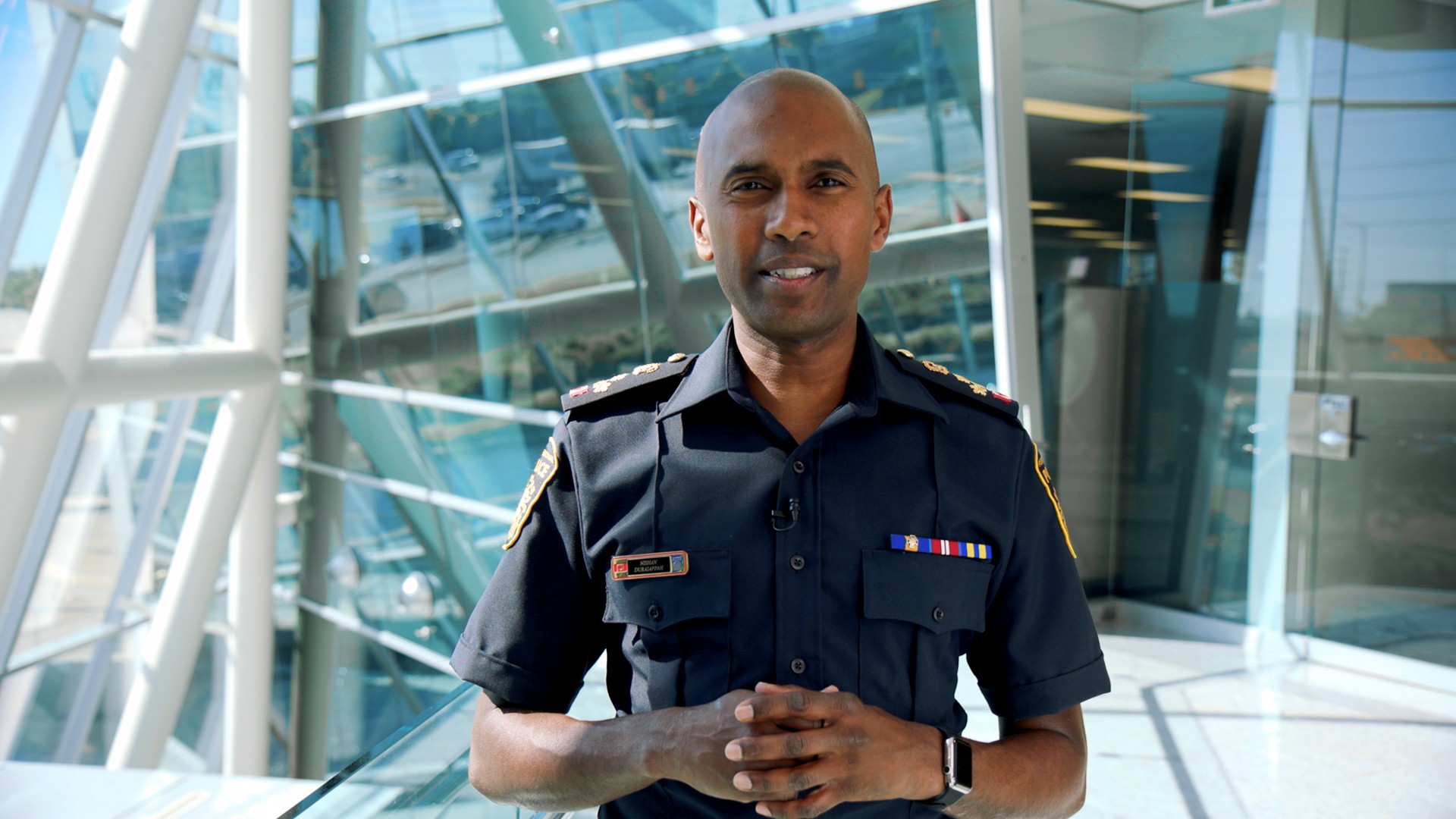 Peel Regional Police Chief Nishan Duraiappah
After the newsletter was published and obtained by The Pointer, a joint statement was sent from Woolley and Duraiappah in response to questions. It says they look forward to engaging with officers on the topic.
"We stand by the professionalism of every individual within Peel Regional Police," the two said in an email. "This type of work is about improving policing as a system, and believe the same work should occur across all human services. The Ontario Association of Chiefs of Police supports the seven principles, and Peel Regional Police is taking a leadership role, we look forward to this meaningful work and engaging our members as we grow as a police service."
Woolley's column in the newsletter was more candid in its concern over the chief's recent comments around the upcoming work with the OHRC.
"The following is not meant to pick sides or deepen the divide growing both internally and in the relationship between us and our community, but the Chief's actions warrant addressing."
Woolley went on to state that "no members" of the organization he heads "believes racism to be acceptable in policing." He, along with all the members, would be the "first to condemn" any such act, Woolley wrote.
He went on to criticize Chief Duraiappah for not consulting with members of the rank and file or union leadership before statements were made around "systemic racism inherent to the organization," which Woolley fundamentally disagrees with.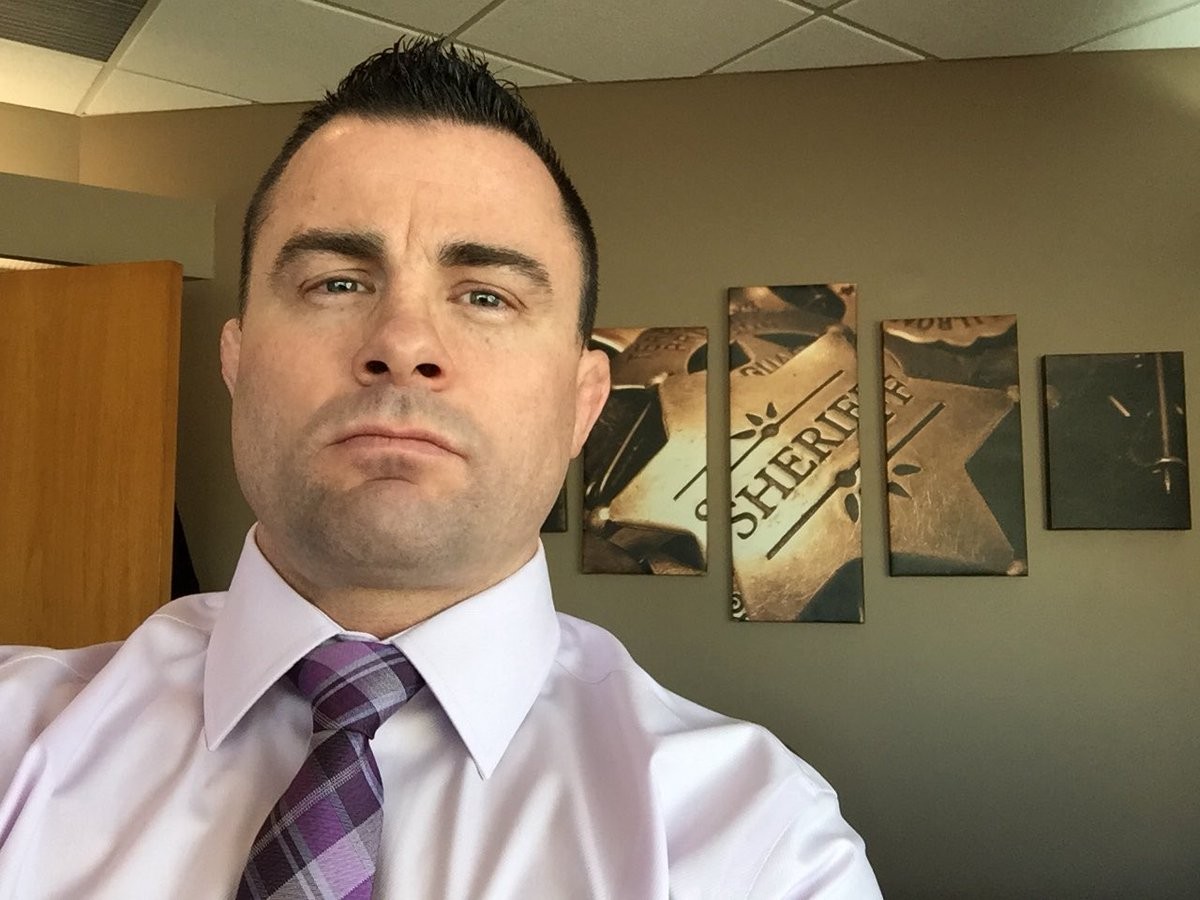 Adrian Woolley, president of the Peel Regional Police Association, says no members of his organization believe racism in policing is okay, but he has criticized the Chief's comments about a new partnership designed to eradicate systemic discrimination.
Woolley's column is in response to the agreement between Peel Police, the OHRC and the Peel Police Services Board. It was announced in October and will see all three parties consult together with community groups in the region to eradicate systemic discrimination within the force before entering into a legally binding protocol that will be monitored and enforced by the Human Rights Tribunal of Ontario.
It was met with scepticism by community members who described it as another public relations stunt by a force that has, thus far, failed to change. Duraiappah and his new partners at the OHRC assured critics the process will be led by the community and the ultimate binding agreement will mean there are consequences if Peel Police doesn't fulfill its eventual commitments.
"Should I not deliver on it over the years … we know the Commission can now bind us to it," Duraiappah told The Pointer at the time.
But, behind a public commitment from the force's leadership to finally bring desperately needed progressive change, many rank and file officers appear not to be on board. As president of the association, Woolley is elected by frontline officers and acts as their spokesperson.
"The proverbial bell of 'systemic racism' cannot be un-rung," Woolley wrote in his column. He said the chief's "announcement" around the agreement with the OHRC "has made our work invariably harder."
He said video has captured incidents on the streets recently of officers being confronted by claims of being racist, and being told even their chief knows they are racist. No other details or evidence to back claims of the videos were provided.
Woolley also said a defence lawyer recently told the court his client was only arrested because the officer was part of a "racist organization". No details to confirm the alleged remarks were provided.
Woolley described his members as being sympathetic to the communities they serve, offering a range of diverse perspectives and he implored them not to feel like "cogs in a machine entrenched in prejudice."
The communication by the union president to frontline officers suggests a force deeply divided on issues of race and human rights.
"I cannot speak to the internal communication dynamics," Ena Chadha, Chief Commissioner of the Ontario Human Rights Commission and a Brampton resident herself, told The Pointer. "From my perspective, the time for debate about systemic racism is long over. The Ontario Association of Chiefs of Police have publicly stated there is a real need to do more work to eliminate systemic racism in policing and the OCAP supports the OHRC's work to combat anti-Black bias."
Duraiappah did not address questions about Woolley's language around systemic racism or negative characterization of community stakeholders described as "political fringe groups" in his column. He did not take the opportunity to distance himself from the union leader's remarks. Woolley did not respond when asked about diversity within the force and whether he believes Peel Police has a problem with racism and bias.
Nadia Hasan, Chief Operating Officer of the National Council of Canadian Muslims (NCCM) and a Peel resident, was shocked by the remarks in Woolley's column and the tone. "It is ridiculous, but not entirely surprising, coming from someone like Adrian Woolley to say that now is not the right time to call out systemic racism for what it is. If timing is an issue for him, then I think he misses the point of why it is important to address systemic racism."
Woolley wrote in the newsletter: "It [the OHRC agreement] was made to satiate pressure from political fringe groups who care nothing of the well-being of cops in our communities."
He referenced the need for more internal dialogue, while Woolley negatively characterized external groups in Peel campaigning for more police accountability.
In Mississauga and Brampton, a series of different groups and activists have campaigned for equity. Some of their efforts centred on two devastating Provincial reviews of the Peel District School Board which chronicled systemic anti-Black racism, Islamophobia and other forms of discrimination.
In one particularly stark incident, the Human Rights Tribunal of Ontario ruled a decision by two Peel police officers to handcuff a 6-year-old Black girl was motivated, in part, by her race. In previous social media posts, Woolley referred to the ruling and said both were "'good cops' being thrown under the tracks by today's out-of-control political correctness and anti-police score-settling."

Kola Ilumadye, a parent activist and vocal member of one community group, Advocacy Peel, called Woolley's comments "paradoxical" and said it was communities in Peel — and not police — who had "been under siege for years".
"We must hold police to account; he is on the wrong side of history," he added.
Hasan agreed, pointing out that a more diverse and tolerant force is better for police and community alike. "If he sees that as something that takes the police force down, rather than makes the police force better, it does not bode well at all," she said. "I think they have a big problem on their hands in terms of actually addressing systemic racism in the forcee."
Peel police faced years of damning evidence that showed how deep systemic discrimination runs in the force. Widely reported incidents of racial profiling of Black residents by officers were followed by statistics reported by the media in 2015. Internal data showed that Black individuals had been systemically targeted in carding encounters (also known as street checks) and were more than three times as likely to be stopped in these random, unconstitutional detentions compared to white residents.
In 2017, highly decorated Staff Sergeant BJ Sandhu won a case against the force at the Human Rights Tribunal, which found the force discriminated against him when denying an opportunity for promotion. The ruling found shocking evidence in the case proved Peel police devalued the region's huge South Asian-Canadian community.
Last year a scathing external equity and diversity audit of the force found widespread discriminatory attitudes and a leadership resistant to change, prior to the hiring of Chief Duraiappah, who was brought in by the police services board to turn the department around.
In the face of these controversies, Woolley also had to deal with his own conduct.
He was convicted of driving drunk last year, after being clocked going 74 kilometres over the speed limit on the QEW while his blood alcohol level was almost 50 percent above the legal limit. He retained his position as president after the incident and Duraiappah has never publicly condemned him.
Woolley's newsletter column included remarks about Duraiappah and senior leadership, who he says are "desperate to keep their heads above water in a world flooded with increasingly hostile anti police rhetoric and sentiment."
He said the agreement with the OHRC and Duraiappah's presentation of the deal undermined police officers and was being used as an attack against them.
"Instead of relying on the facts in issue to battle for the truth in court, the notion of systemic racism, however vague it may be, is now an acceptable way to attack the actions of our officers," Woolley wrote.
Previous comments he posted on social media sparked concern at NCCM. At the start of September, Mustafa Farooq, NCCM CEO and a well known lawyer who focuses on human rights and countering violent extremism, told The Pointer Woolley's social media presence undermined any progressive stance the force took.
"It's a hypocrisy of the highest level," he said.
He said, as elected leader of the union, his online conduct made a mockery of any progressive stance Peel police takes.
Through the summer and early fall, Woolley took various positions online on issues sweeping North America. In one example, he denigrated Somalians by retweeting a post that equated the country's capital with lawlessness and destruction; in another he mocked Mississauga Mayor Bonnie Crombie for supporting the Black Lives Matter movement and a walk-out protest by NBA players over the police shooting of Jacob Blake in Kenosha, Wisconsin.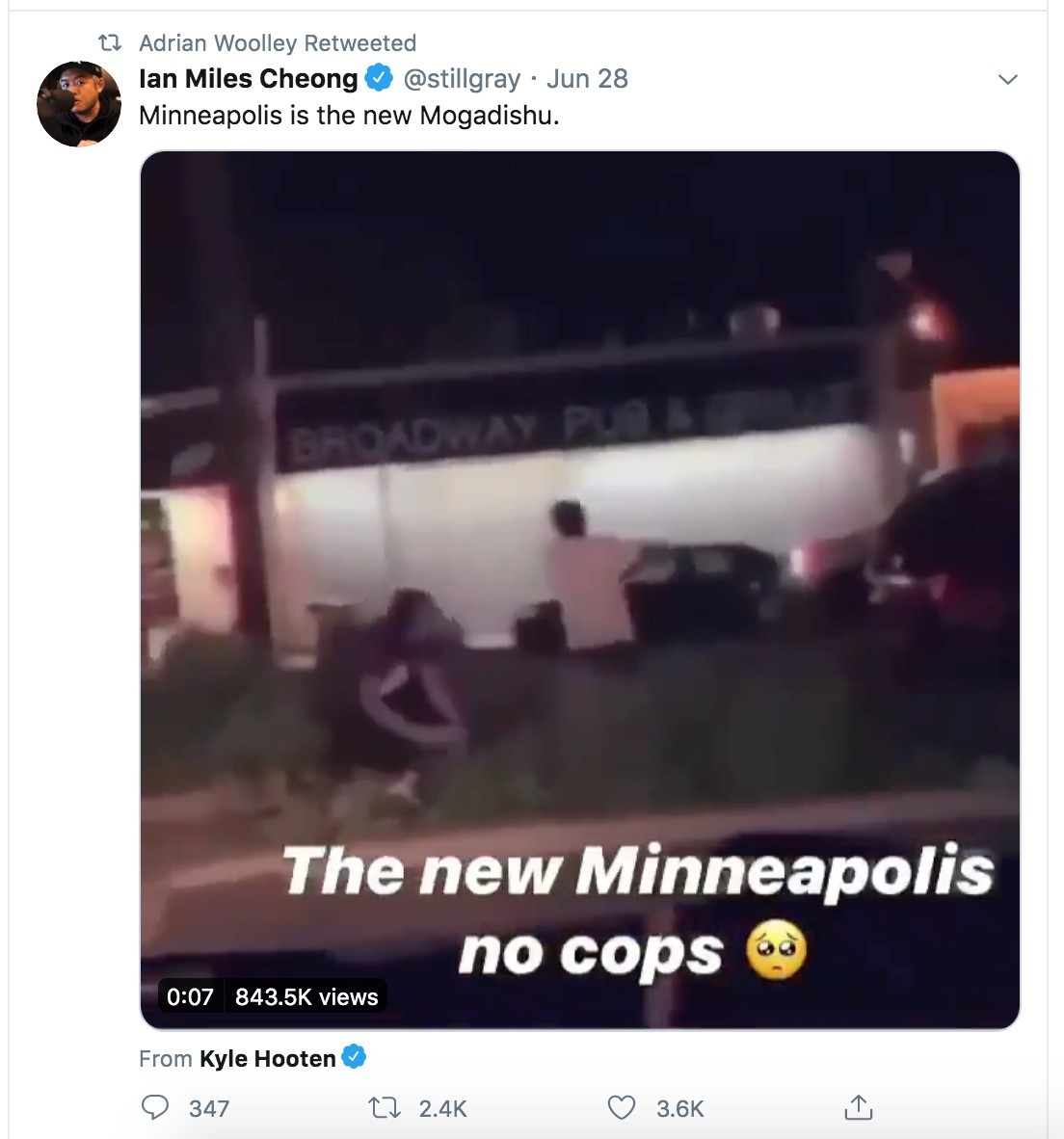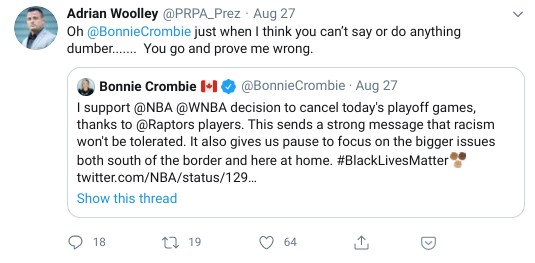 Duraiappah has not condemned or engaged with Woolley's comments. Pressed by The Pointer on the issue in October, he said the union boss had "a strong perspective on matters" which he was entitled to.
Community leaders have been critical in their response to Woolley's behaviour.
"What scares me the most is that he is in an elected position — he is in some way a reflection of the culture and values of the force," Hasan added. "On the whole, this is incredibly disturbing for most residents of Peel, I would imagine."
Woolley ended his newsletter column to fellow officers with a direct message. "The people in Peel Region who need us the most will still need us, regardless of the pressure placed on us by our own management, or the political climate. Stay safe, and stay committed."
The framing of the issue of reform as anti-police by Woolley is something Mississauga Mayor Bonnie Crombie (a member of the police services board) has previously criticized. In September, she called the approach "lose-lose" and suggested Woolley use "a more respectful, collaborative and less divisive approach."
Chadha, one of the leads behind the OHRC agreement with the PRP, told The Pointer she hopes to engage with the union boss "someday soon". She said she would like to discuss the need to embed equity within policing practice for the "betterment of all communities and police services."
---
Email: [email protected]
Twitter: @isaaccallan
Tel: 647 561-4879
---
COVID-19 is impacting all Canadians. At a time when vital public information is needed by everyone, The Pointer has taken down our paywall on all stories relating to the pandemic and those of public interest to ensure every resident of Brampton and Mississauga has access to the facts. For those who are able, we encourage you to consider a subscription. This will help us report on important public interest issues the community needs to know about now more than ever. You can register for a 30-day free trial HERE. Thereafter, The Pointer will charge $10 a month and you can cancel any time right on the website. Thank you.
Submit a correction about this story