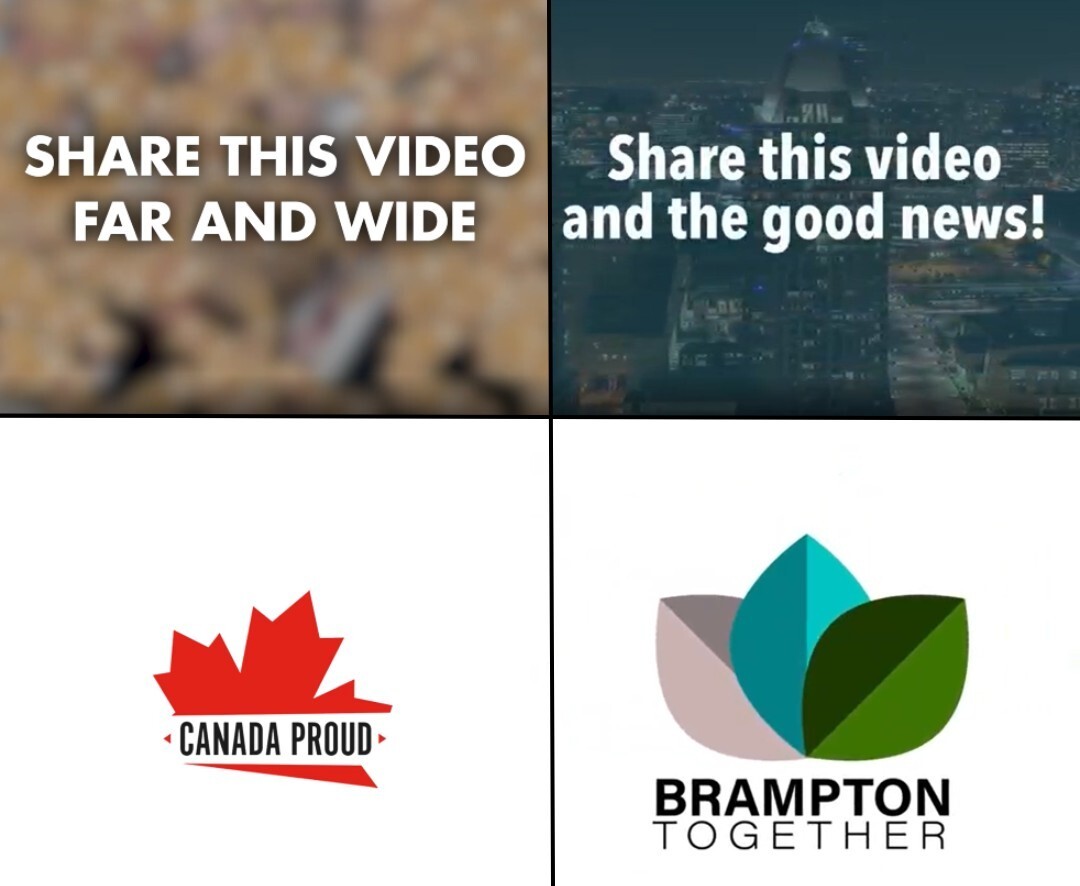 Graphic from The Pointer/Images from Facebook
After PCs attacked third-party influence, shadowy Brampton Facebook page pours money into pro-conservative advertisements 
The Pointer's Social Media Monitor is a weekly look at how elected officials and other public civil servants are using their taxpayer-funded resources to shape digital communication aimed at constituents; and the role of social media in the realm of politics. We feature one public figure or topic each week.
---
Healthcare is a crucial election issue in Brampton.
The city has just one full-service hospital for a population of more than 650,000 people. During the third wave of COVID-19 it was almost entirely reliant on patient transfers to other hospitals in order to survive. Before the pandemic, Brampton Civic Hospital was the symbol of hallway healthcare across Ontario.
This dire healthcare situation has offered fertile ground for politicians of all stripes to grow their support. The NDP ran its local 2019 federal election campaign on the promise of a new hospital for Brampton, while the Ontario NDP has continually raised the issue at Queen's Park.
A relatively new Facebook page backed by significant and unidentified financial resources now appears to be using Brampton's plight to win votes for conservative politicians in the city. It raises questions about who is behind the social media campaigning and whether or not the actions by whomever runs the account fly in the face of heavy-handed legislation forced through by Doug Ford and his PC government.
In June, the majority government invoked the notwithstanding clause of the Constitution, circumventing Charter rights, so it could extend to 12 months the period when a maximum of $637,200 can be spent by third-party advertisers before an election, from the previous six months; while preventing groups from "colluding" with political parties.
The PCs claimed the unprecedented move was not aimed at labour unions, and was simply an effort to curtail third-party spending that can influence elections.
Now, a local social media account is raising questions about who is behind the overtly partisan conservative messaging and where the money is coming from.
The account, Brampton Together, is listed as a community page. It describes itself as "dedicated to promoting important stories in Brampton and showcasing important developments for our community". Since March, it has spent more than $8,700 on Facebook advertisements targeting Liberal Prime Minister Justin Trudeau and promoting local Progressive Conservative MPPs.
Details associated with the page suggest it might have a connection to the group behind Ontario Proud and its various sister right-wing campaign pages. The Progressive Conservative Party and MPP Amarjot Sandhu say they have no knowledge of the page, which appears to be pushing for Brampton residents to cast their federal and provincial votes for right-leaning politicians.
Three of Brampton's five seats at Queen's Park are held by the NDP, while four of its five federal ridings are Liberal (one is held by former Liberal MP Ramesh Sangha, who was dropped by the party and is now an independent).
The page's initial creation coincided with an announcement by the Province that Brampton would receive funding to build a new hospital. A pattern of advertisements paid for by the page seem aimed at harnessing local frustration about the state of Brampton's healthcare system, before heaping praise on the governing PCs for supposedly solving the issue.
Healthcare is a key election issue in Brampton, where residents have been underserved for decades.
(Image from The Pointer files)
Brampton Together was created on March 22, just two days before the PCs announced funding for the Phase 2 expansion of Peel Memorial into a hospital in their 2021 budget. For its first two days as a public Facebook page, Brampton Together spent between $600 and $699 promoting three separate Facebook advertisements lamenting Brampton's healthcare situation.
"For years, we have received the lowest per capita in healthcare funding," part of an advertisement, which ran from March 23 to 24 at a cost of $400 to $499, reads. "This needs to change and Bramptonians can be the change-makers."
On March 25, the tone of the page's advertisements changed.
A post tripped over itself to thank the governing PCs for solving Brampton's healthcare worries. "Thank you to Premier Ford, Mayor Patrick Brown and MPP's (sic) Prabmeet Sarkaria and Amarjot Sandhu!"
The text was accompanied by a campaign-style video highlighting the role local MPPs Sandhu and Sarkaria played in securing a commitment to expand Peel Memorial into a full service hospital. "Brampton is lucky to have amazing MPPs like Prabmeet Sarkaria and Amarjot Sandhu fighting for better, local health care," one caption in the video gushed.
The page spent between $2,000 and $2,500 promoting the advertisement to between 90,000 and 100,000 people. It was viewed 36,000 times and has more than 450 positive reactions and 199 comments on Facebook.
The page did not mention that Sarkaria and Sandhu were absent from a vote at Queen's Park in 2018 for a failed NDP motion that called for a new hospital in Brampton, something anyone in favour of solving the city's healthcare crisis would be in support of.
Three days later, on March 28, Brampton Together spent another $2,000 to $2,500 promoting a similar video with the news Peel Memorial's expansion would include 250 new beds. It failed to mention that Memorial was supposed to be expanded under the original commitment from the Province a decade ago and that the City of Brampton demanded 850 new beds just to get to the provincial per capita average. The second video reached between 250,000 and 300,000 people and has been viewed 91,000 times.
Facebook advertisement library shows a series of promoted posts from Brampton Together on the topic of healthcare.
(Screenshot from Facebook)
The advertisements coincided with provincial announcements for Brampton.
On March 24, the Ontario budget included a plan to expand Peel Memorial into a full service hospital and on March 26, Ford was in Brampton to announce early specifics, including the number of new beds. These details were promptly shared in professional-quality Facebook videos and promoted by the mysterious Facebook page.
It makes no mention of all the cuts to healthcare by the PCs, the government's disturbing record on long-term care or the lack of funding provided to Brampton for pandemic-related needs. The city was one of the worst hit areas in the country, but the PCs only provided it with about half the per capita testing resources compared to other parts of the GTA and initially under-supplied vaccines before a harsh backlash.
The PCs have also continued to provide just half the Ontario per capita funding for Brampton's Local Health Network, which has struggled to meet the demands of frontline healthcare and hospital treatment in the city.
Since its hospital-related posts in March, Brampton Together has spent more than $1,000 on advertisements attacking Justin Trudeau. A series of videos and posts in April claimed Brampton was ready to begin its post-COVID reopening. They said Trudeau's border restrictions were delaying Brampton from reopening, a common refrain of conservatives at all levels of government.
The most recent advertisement posted by Brampton Together was an image of Sarkaria with the caption "credit where credit is due". Another post with the same caption and an image of Ford was removed by Facebook for breaching its advertising standards.
While the Brampton Together page targets healthcare in Brampton, it makes no mention of Sandhu's and Sarkaria's silence on the issue. While NDP MPPs have brought up the city's dire healthcare situation numerous times inside Queen's Park, even bringing forward private members' Bills, neither of the city's two governing PC MPPs has brought forward proposed legislation or even raised the issue of Brampton's ongoing healthcare crisis.
There is also no mention of Brown's failure to put one cent forward in Brampton's budget to invest in the expected local share of healthcare expansion.
A spokesperson for Sandhu said he is not involved with running or funding Brampton Together, the Ontario Progressive Conservatives also said the party has no involvement. Sarkaria did not respond to questions asking if he has been involved.
The mysterious Facebook page illustrates a series of national and international issues impacting Brampton.
The PCs have found themselves under severe pressure recently after they passed legislation limiting the spending of third-party groups and individuals within a year of an election. The move was pounced upon by critics as an attempt to gag the powerful union interests that tend to back left and centre-left parties with their sizeable resources.
Brampton Together also raises questions around transparency in social media political advertising. Facebook, Twitter and other social media companies have been under increased scrutiny since the 2016 American presidential election and Brexit referendum in the UK. During both, social media advertising campaigns targeted specific voters and the spread of misinformation was rife.
Facebook maintains a library of advertisements with detailed information, but its timeline transparency features are less revealing. Pages like Brampton Together can 'boost' posts or videos to force them onto more timelines, meaning users need a keen eye — and not a lazy scroll — to differentiate paid advertising from organic posts.
Social media companies have demonstrated an ability to flag political campaigns or disingenuous advertising in the past. During former president Donald Trump's final days in office, Twitter directly highlighted misinformation, while COVID-19 posts on Facebook come with links to additional resources.
In total, since it was founded, two days before the announcement of PC plans to expand Peel Memorial into a full-service hospital, Brampton Together has spent $8,722 on advertising. Twitter and Instagram pages with the same title and branding have also been launched, but do not appear to be active, yet.
According to Facebook's transparency feature, the page is managed by four different people who live in Canada. The feature does not list names, only disclosing the number of page administrators and their general geography.
Videos shared and created by Brampton Together have praised local conservatives.
(Screenshot from Brampton Together and Facebook)
A Toronto-area cell phone number listed under the "information from the advertiser" belongs to Matthew Burns. Facebook attributes the data to March 22, the most recent advertisement shared on the page was May 4.
In a short call with The Pointer, Burns said he was no longer involved with Brampton Together before hanging up. Attempts to re-connect by phone and pose questions by text were met with a stream of expletives. The Brampton Together Facebook page did not respond to a list of questions.
A LinkedIn profile online lists Matthew Burns as a lawyer and political strategist. Between 2006 and 2010, the social media account says he worked for four years on Parliament Hill in Ottawa. Matthew Burns is also listed as one of three directors for Canada Proud on the federal government's list of corporations and not-for-profit groups.
Canada Proud states on its website that it is a "grassroots group of Canadians working to defeat Justin Trudeau. As prime minister, Trudeau has repeatedly let our country down. Canada Proud is using the power of social media to hold Trudeau and his Liberals accountable. Millions of Canadians see our content each week."
It does not list any names or contact information, but indicates Canada Proud's founder is a man named Jeff Ballingall.
He was behind the group's sister platform that had official status as a third-party advertiser ahead of the 2018 Ontario provincial election and was behind pro-PC messaging that also attacked former Liberal leader Kathleen Wynne. Ballingall has a history working with conservative-leaning media and was formerly a researcher for the federal Conservative caucus.
An article on the group's website states: "Canada Proud is the largest grassroots group dedicated to defeating Justin Trudeau. During the 2019 election, Canada Proud registered as a third-party advertiser and spent over $350,000 on ads mobilizing opposition to Trudeau after receiving over 4,000 donations from grassroots supporters. Canada Proud continues to have the most engaged Facebook page in Canadian politics and reaches over three million Canadians per week."
The Pointer was unable to confirm if the Matthew Burns credited by Facebook with Brampton Together's promotions is the same person who sits as a director of Canada Proud or works as a political strategist. The cell number associated with Brampton Together is a 647 Toronto area code and Burns' address on the federal government's website is in downtown Toronto.
Brampton Together has targeted Justin Trudeau and the city's healthcare sector in its videos.
(Screenshot from Facebook)
Canada Proud is a national offshoot of the successful Ontario Proud group, which used the power of social media and meme culture in 2018 to galvanize opposition to the incumbent Ontario Liberals. The group relied particularly on shareable images and videos to ride viral online content for the benefit of right and centre-right provincial politicians.
Canada Proud was launched to copy Ontario Proud's success on the federal stage. In total, it has spent $376,636 in just over two years on Facebook advertisements, with an $8,020 spend between June 26 and July 2, 2021.
There are similarities between the videos created by Canada Proud and those shared by Brampton Together. Both have targeted Trudeau with compilations of images and text captions and both videos end with a call to action for viewers to share the video if they agree. The two pages end their videos with a copy of their respective logos before fading to black.
There are similarities between how Canada Proud and Brampton Together package their content.
(Image from Facebook, Canada Proud and Brampton Together)
Brampton Together has limited engagement when it doesn't pay. The page regularly shares local news stories, garnering a smattering of likes, but the campaign-style videos it has boosted at a cost of almost $9,000 receive hundreds of likes and reactions.
The slick social media advertisements placed by Brampton Together all share a political view, one the Facebook community page does not disclose in its description or regular posting. Videos have thanked conservative politicians for their work, while covering Trudeau with scorn and relying on regular conservative talking points relating to the pandemic border restrictions.
The social media activity is an early sign that Brampton will be a focus of third-party groups ahead of next year's provincial election and a possible federal campaign before that.
---
Email: [email protected]
Twitter: @isaaccallan
Tel: 647 561-4879
---
COVID-19 is impacting all Canadians. At a time when vital public information is needed by everyone, The Pointer has taken down our paywall on all stories relating to the pandemic and those of public interest to ensure every resident of Brampton and Mississauga has access to the facts. For those who are able, we encourage you to consider a subscription. This will help us report on important public interest issues the community needs to know about now more than ever. You can register for a 30-day free trial HERE. Thereafter, The Pointer will charge $10 a month and you can cancel any time right on the website. Thank you.
Submit a correction about this story