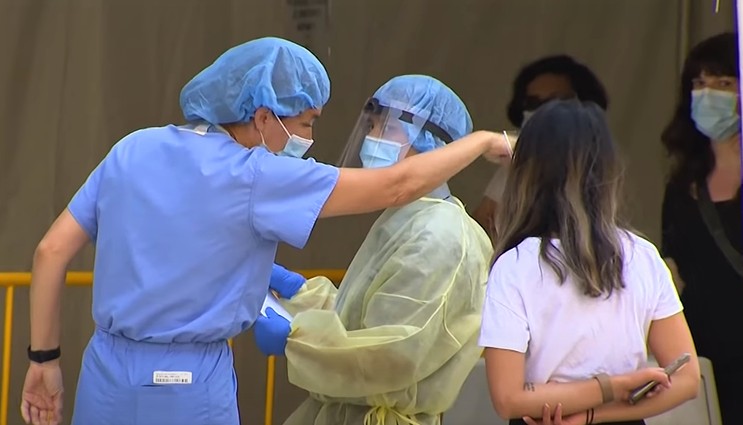 Government of Ontario-Twitter/Marc Xuereb/The Pointer files
PC government continues to ignore Brampton's woeful COVID testing capacity
Securing an appointment for a COVID test at a pharmacy was a journey for Brampton resident Marc Xuereb. When he tried to do so over the Thanksgiving long weekend, he was bounced between the three private pharmacies closest to him that are offering screening.
He was able to breathe a sigh of relief Tuesday, securing a slot after waiting an hour-and-a-half on the phone with the Rexall Pharmacy located at 545 Steeles Avenue West.
It was one of nine locations in Brampton named by the Province in late September, part of an arrangement with private pharmacies in Peel, Toronto and Ottawa, so the hotspots could get more testing done for asymptomatic residents, as official assessment centres moved to screening only those with COVID-19 symptoms.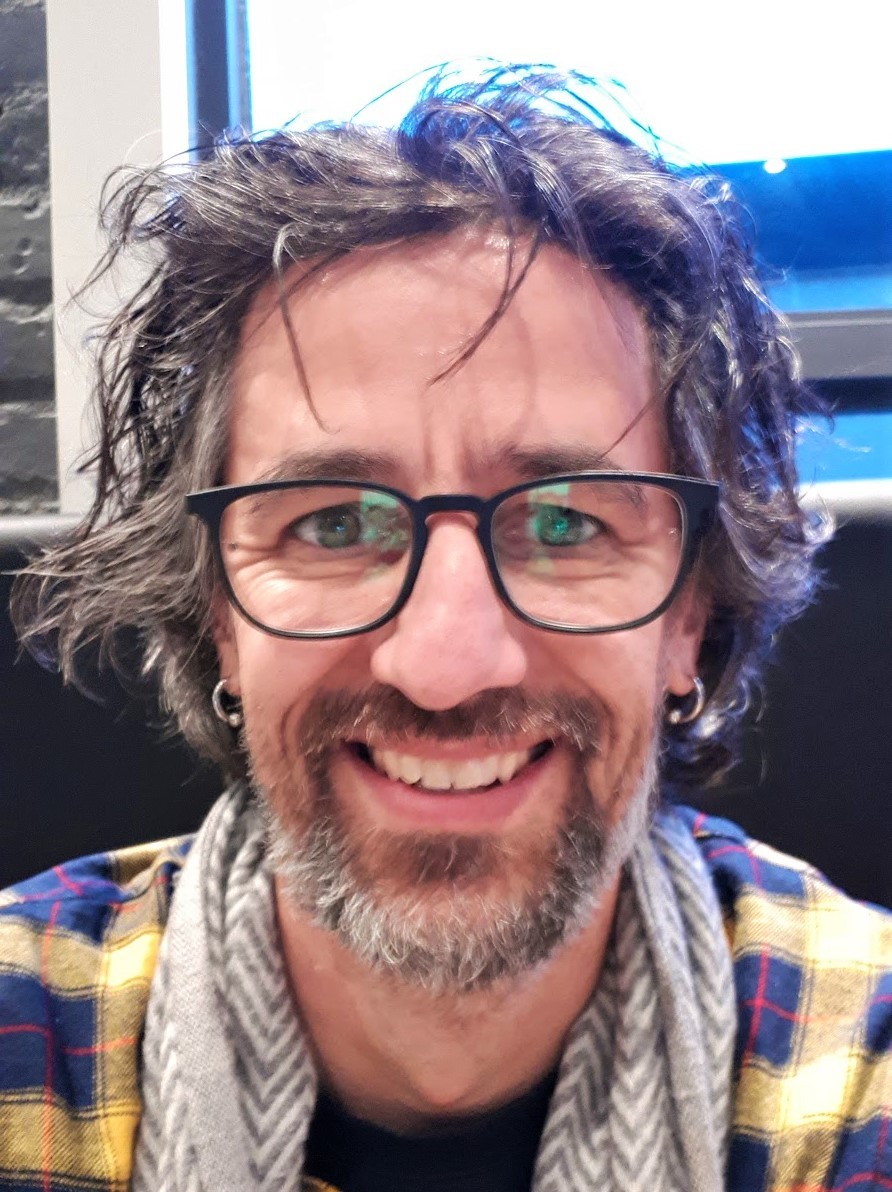 Marc Xuereb is one of many Brampton residents frustrated by the PC government's failure to address the ongoing COVID crisis in the city
Eight pharmacies in Mississauga are also on the list of locations where residents without COVID-19 symptoms can get tested.
Unlike booking the testing appointment, completing it was much easier. Xuereb was in and out within 25 minutes. Nonetheless, the process left him frustrated, unable to understand why appointments must be booked by calling the pharmacy directly.
"All they need to do is set up one central booking line. If they can't do that, and they have to do it store by store, make them use a process where you can email or phone in your request and give out the appointments on a first come, first serve basis. Why force you to call in every day and wait on hold?"
Pharmacies started assessing asymptomatic individuals last month and have been mentioned by the PC government as a key to increased testing in hotspots.
Based on information gathered by The Pointer, testing levels in each location fluctuates daily and are dependent on a pharmacist's availability and the number of hours a location chooses to dedicate to COVID screening. For example, on October 1, one Brampton pharmacy told The Pointer it had 6 spots open that day, but would have 12 testing slots available the next day. Each appointment lasts roughly 30 minutes, as the area needs to be properly cleaned in between.
If each of the pharmacies in Brampton were to offer testing from the time they open to the time they close, based on 30 minute windows, a maximum of 272 tests can be conducted in a day. However, given availability fluctuates, due to issues such as staffing, the number is likely much lower. The Pointer reached out to Ontario Health to learn how many tests have been completed locally but was told individual breakdowns aren't available.
Even if 272 tests were performed in one day, it's only a small fraction of the actual need that exists. Based on information from the Centers for Disease Control and Prevention, as many as 40 percent of infected individuals in a jurisdiction have been shown to be asymptomatic. So, in a city with more than 650,000 residents, at the most, only roughly 270 who are asymptomatic can get tested each day.
According to the CDC and the World Health Organization, such a low testing capacity in a population the size of Brampton's means the impact is practically meaningless. Considering the city has been a hotspot for COVID cases throughout most of the pandemic, the lack of testing by the Province has been particularly irresponsible.
Between September 28 and October 12, 8,094 swabs were used, an average of 578 a day, at South Fletcher's Sportsplex, according to numbers provided by Ontario Health. This is the only COVID-19 assessment centre for symptomatic individuals in the city, and the only one the Province has maintained since the start of the pandemic. Mississauga has had three assessment centres since the beginning.
From the beginning of the month to October 12, 1,461 swabs were used at the Cold and Flu Clinic at Peel Memorial Hospital in Brampton, an average of 122 COVID-19 tests a day. The facility specifically focuses on those with "moderate" flu symptoms and isn't open to any asymptomatic individuals looking for a test.
At the high-end estimate for daily tests for asymptomatic residents at pharmacies and the numbers from the two other sites that offer COVID screening for those with symptoms, roughly 972 tests would be conducted in the city each day. Based on recent testing rates across Ontario, of about 40,000 tests a day over the past week, Brampton should be conducting 1,793 a day (based on a population of 650,000). The wide gap will only grow larger, when the Province reaches its target of 50,000 daily tests, and Brampton's per capita figure will be almost 2,300 tests a day, almost two-and-a-half times the current testing level (which uses a generous estimate for the number being done at the nine pharmacies).
The city needs far more testing to get its infection spread under control, but the Province has ignored this glaring local public health crisis since the start of the pandemic.
On Thursday, The Pointer asked Health Minister Christine Elliott, if the Province has plans to increase testing in hotspots, which Peel Region has been labelled, through pop-up testing sites. As she has in recent occasions, Elliott said pharmacies are there to serve this purpose. While acknowledging the Province has "plans to increase testing in hotspots," she did not provide any specifics.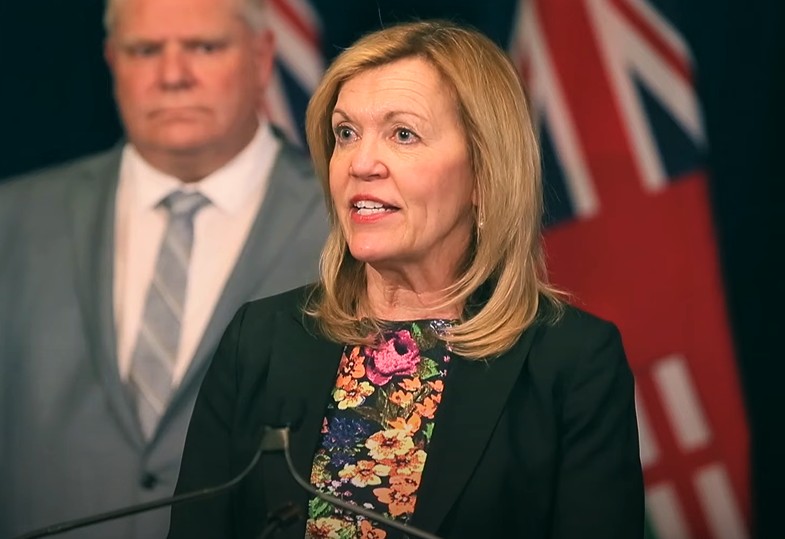 Health Minister Christine Elliott has repeatedy said she will get Brampton help, if it needs it, while she should have known the city is in a crisis
"We already have expanded testing for asymptomatic people into pharmacies with an appointment… we are looking at expanding this service to other pharmacies. We also have the assessment centres that are available by appointment and we are monitoring that to see how that is proceeding and if we need more pharmacies to open for asymptomatic tests, we will certainly do that in other parts of the province."
But for Brampton, where the nine pharmacies currently can only provide a tiny fraction of the asymptomatic testing capacity needed to ensure the population has broad screening and contact tracing to prevent viral spread during the second wave, Elliott offered no indication of badly needed help.
It remains unclear why the Province refuses to open a second official assessment centre.
This is the second time in two months Elliott failed to acknowledge Brampton's testing issue. The Province has also failed to explain how pharmacies, with such low testing levels, are expected to make up the huge gap for testing asymptomatic residents.
"If we find that there is a need for another testing centre in Brampton, of course, we will take a look at that, because we want people to go and get tested and distance from the testing facility shouldn't be a problem that hinders them from doing that," she said September 14.
That was ten days after Premier Doug Ford called Brampton's COVID-19 situation "broken" and called out the city and its mayor, Patrick Brown, for the alarming infection rates.
Elliott's claim mid-September, that if Brampton needed help, it would be provided, came after the city accounted for 37 percent of Ontario's COVID-19 cases on September 2 and 6, and during a three-week stretch when Brampton's case count represented almost 20 percent of the province's total. The city accounts for just 4.5 percent of Ontario's population.
Soon after, a testing facility did open at Greenbriar Recreation Centre, but it shut its doors after just one week because of a change in testing guidelines.
The level of desperation for more testing was illustrated by the reactions of local politicians, when the Greenbriar screening site opened. It was celebrated by politicians representing the city, including PC MPP Prabmeet Sarkaria (Brampton South) and Mayor Brown, both trumpeting the arrival of what was billed as a new assessment centre. When the facility closed days later, neither of them acknowledged it.
Brampton's highest case count came on October 13, with 115 new infections. It represented more than 15 percent of the province's 746 cases that day. On the same day, Brampton reported the highest per capita number of new cases, compared to York Region, Toronto and Ottawa, which have also been deemed hotspots. The city had 1.7 new cases for every 10,000 residents, compared to York which had 0.63, Ottawa at 1.13 and Toronto with 1.07 cases, for every 10,000 residents.
"As a resident of Brampton, I'm pissed at the provincial government for taking no action to improve the number of testing sites in Brampton," Xuereb said.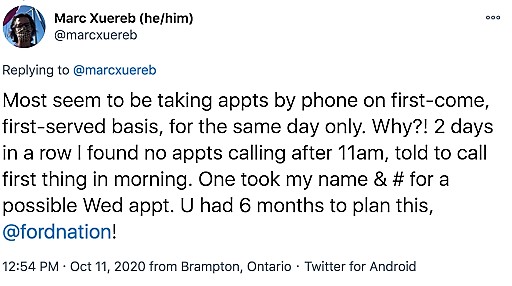 Testing has been lacking in the city for months, and long lines were the norm at South Fletcher's. In mid-September, it took Xuereb two tries to get a test. His first attempt, made on a weekday, ended after a 90-minute wait. A second try the following Saturday was successful, but only after waiting over three hours. He gets tested frequently in order to visit his mother who resides in a long-term care home.
About a week later, Xuereb's wife exhibited mild symptoms and decided to go for a test. She arrived at South Fletcher's an hour before it opened but still ended up waiting two-and-a-half hours to complete the process.
The Province's failure to provide proper testing (and the contact tracing to identify those possibly infected by carriers) to keep the city's residents safe ignores a successful resolution inside Queen's Park.
Brampton North NDP MPP Kevin Yarde's September 17 motion was unanimously approved, calling on the Province to hire more public health staff, increase testing and contract tracing, and conduct workplace inspections to stop the spread of the novel coronavirus in Brampton and Peel.
Other than the limited testing at private pharmacies, which was part of a plan already being put together, no action has been taken to make good on the promise made inside the legislature. On Wednesday, Dr. Lawrence Loh, Peel's chief medical officer, told The Pointer the Province hasn't spoken to him about any additional support.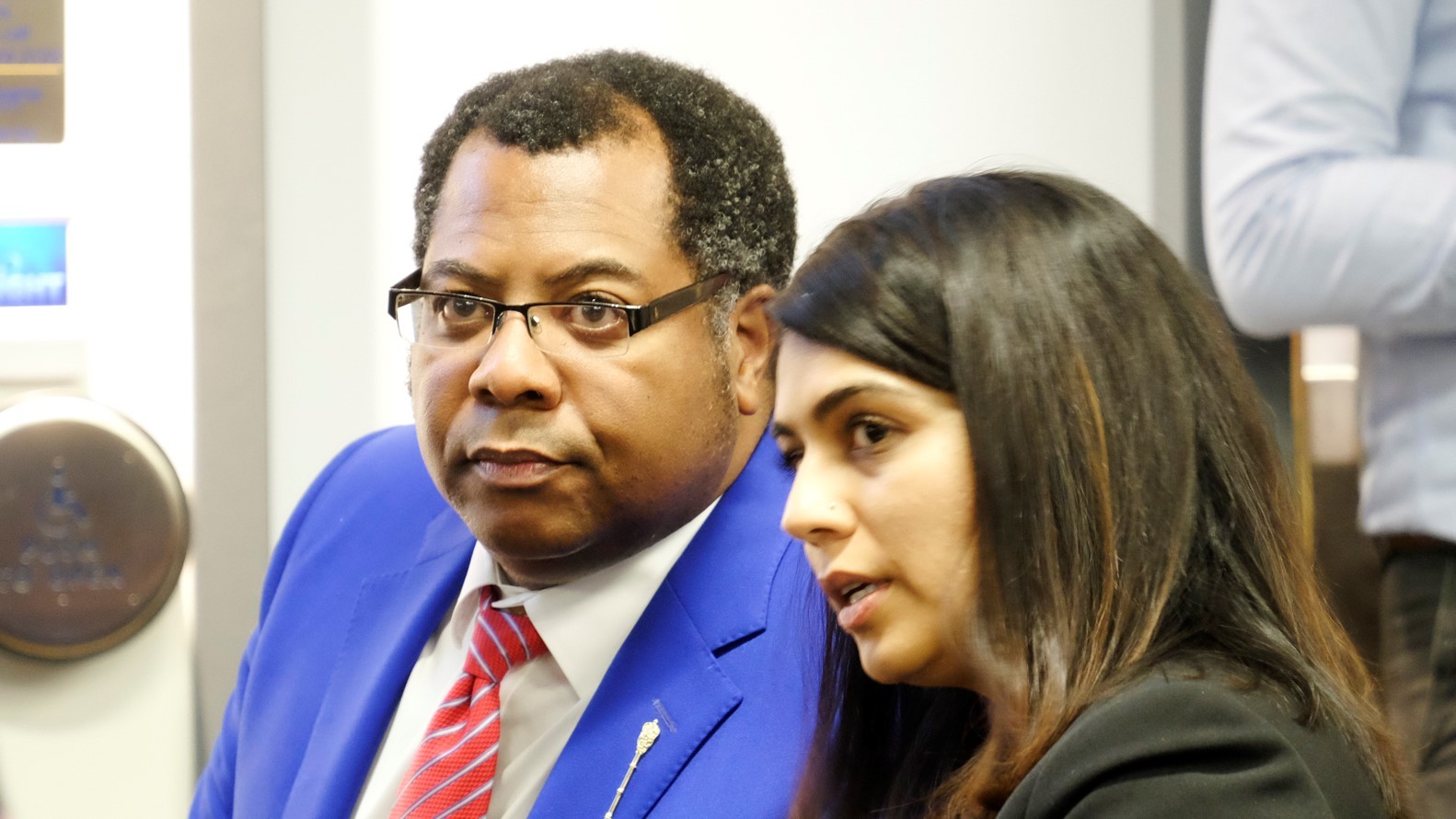 Brampton NDP MPP Kevin Yarde says he's not holding his breath for help from the PCs, while his NDP colleague next to him, MPP Sara Singh, wonders if race plays a role in Brampton's treatment
"I've had a very productive conversation a couple of weeks ago with member Yarde and I haven't had the opportunity to hear further at this point in time. But I'm really hopeful, and as we continue to work here at Peel Public Health, that we'll get the support we need."
Later that day, the Province announced it will hire 500 contract tracers, using recruitment company Ian Martin to expedite the process. Currently, no positions are advertised specifically for Peel Region. Positions for "Toronto region" and "other areas of Ontario", which could include Peel, are mentioned.
The PC government's failure to make good on the motion doesn't come as a surprise to Yarde, who told The Pointer, with a small laugh, that he "wasn't going to hold his breath."
"So far, I've seen nothing, I've heard nothing, and they failed to deliver the help that should have been here by now… so far, it's basically just been crickets is all we've been hearing from this government."
It remains unclear why Brampton has not been given the same resources as other jurisdictions during the pandemic. While it has only had one assessment centre, William Osler, the health system that runs the city's two main healthcare facilities (Brampton Civic Hospital and Peel Memorial Wellness Centre) operated two testing sites in Etobicoke, through the end of July, despite having just over half the population. Mississauga, with about 15 percent more residents than Brampton, has had three assessment centres since the start of the pandemic.
On October 7, Brampton East NDP MPP Gurratan Singh rose in the legislature to speak about his city's ongoing crisis, asking when the "Conservative government will give Brampton the investment we need to fight the COVID-19 pandemic?"
Elliott responded that COVID "is happening right across the province; it's not just happening in Brampton," before stating measures in Peel, Toronto and Ottawa were taken.
Her words came after Brampton was repeatedly labelled a hotspot by her government, was called "broken" by Premier Ford and accounted for a higher rate of COVID-19 than any other Ontario city over the previous two months. It has had about 106 cases per 10,000 residents since the start of the pandemic, compared to approximately 80 in Toronto and roughly 60 in Mississauga.

The daily COVID-19 case chart for Brampton shows infections surging in the city since the start of August, but the Province has failed to provide adequate testing
At a late August press conference, Ford said, "I'm watching it like a hawk," referring to increased cases in Toronto and Peel, when Brampton made up the lion's share of the region's cases.
Despite the PC government's persistent criticism of the public health response in Brampton, it has failed to explain why it won't provide the proper resources, while other jurisdictions enjoy far more support from the Province.
Loh and Osler have both stated it is the Provincial government's responsibility to provide the funding to keep Brampton residents safe during the pandemic, by providing adequate testing and contact tracing.
Based on the October 15 Economic Budget Outlook by the Financial Accountability Office of Ontario, The Ford government currently has $9.3 billion in program spending that has not been used; $6.7 billion comes from the COVID-19 Health Sector Response Fund and the Support for People and Jobs Fund. The remaining $2.6 billion is from the Contingency Fund.
On Thursday, Ford said the government has plans to spend this money but didn't provide details.
"They're pinching pennies instead of investing in what people need, which is making sure people get the testing that is required," Singh said.
Why is Brampton, a recognized hotspot, getting such short shrift?
Brampton Centre NDP MPP Sara Singh told The Pointer she doesn't understand why the city has been consistently treated unfairly by the current and past governments. Asked if the city's demographics and the possibility of discriminatory attitudes might play a role, she said, "it absolutely can."
"I think when we look at a community as diverse and dynamic as Brampton, it really makes you wonder why other municipalities, also a part of the Peel Region, have more resources allocated than perhaps we do."
The Province has not explained why Mississauga has maintained three assessment centres throughout the pandemic, while Brampton has only had one.
It remains unclear how the Province decided on resource allocation when the pandemic hit.
If a needs-based approach was followed, Brampton would surely be receiving much more help.
It's also not known how testing kits are distributed and who is responsible for determining this. Questions on the distribution of testing materials were sent to the Ministry of Health, specifically asking for numbers in Peel, but no response was received ahead of publication.
Last month, Dr. Naveed Mohammad, the CEO of William Osler, which manages testing at the permanent South Fletcher's site and the cold and flu clinic at Peel Memorial, told The Pointer the Province is ultimately responsible for testing. "Osler understands and knows that we are not responsible for the testing part of any communicable disease in the province."
---
Email: [email protected]
Twitter: @nida_zafar
Tel: 416 890-7643
---
COVID-19 is impacting all Canadians. At a time when vital public information is needed by everyone, The Pointer has taken down our paywall on all stories relating to the pandemic and those of public interest to ensure every resident of Brampton and Mississauga has access to the facts. For those who are able, we encourage you to consider a subscription. This will help us report on important public interest issues the community needs to know about now more than ever. You can register for a 30-day free trial HERE. Thereafter, The Pointer will charge $10 a month and you can cancel any time right on the website. Thank you.
Submit a correction about this story