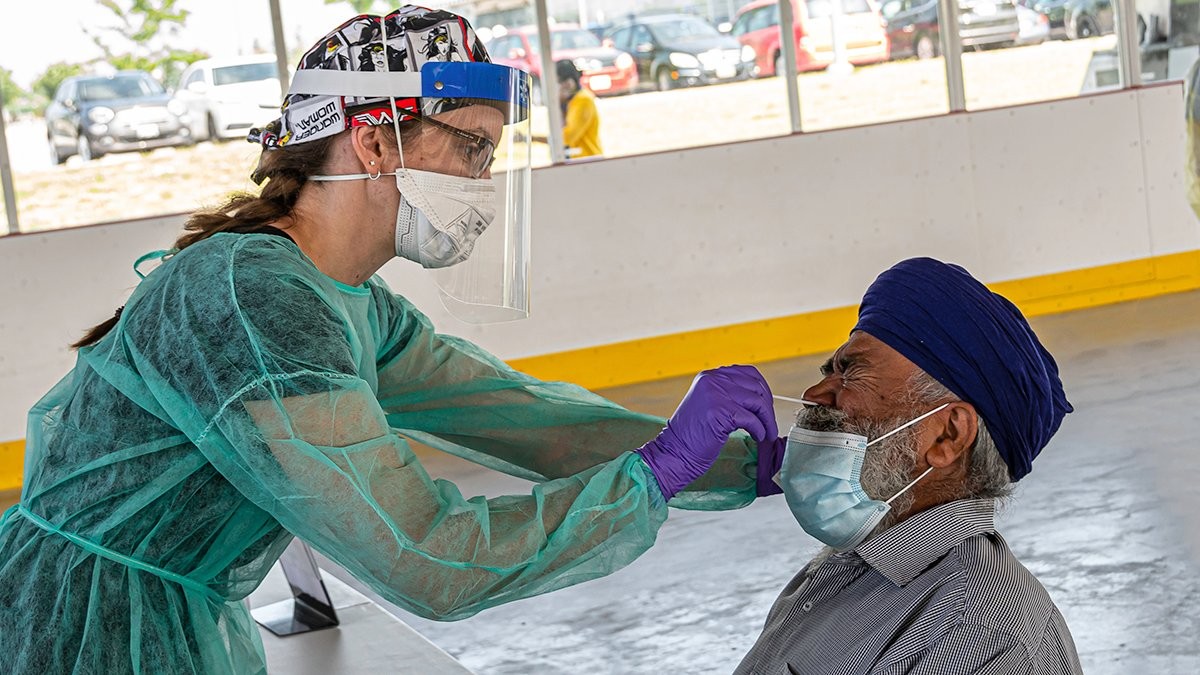 Photos from the Region of Peel/William Osler Health System/Twitter
Province and local officials continue to ignore high case numbers and low testing in Brampton 
Brampton residents continue to be infected with COVID-19 at a higher per capita rate than citizens of many other cities in the province. Yet, only one assessment centre dedicated to testing for the novel coronavirus exists in the city.
Broken down by municipality, the numbers look grim. Through much of August and into the first week of September the rate of new cases in Brampton was between four and five times higher per capita than the province overall, and on certain days, such as September 2 and 6, Brampton reported skyrocketing numbers. On each of those days it accounted for 37 percent of the province's reported cases. During the last three weeks, Brampton has had more than 20 percent of Ontario's cases, despite only having 4.5 percent of the province's population.
Over the course of the pandemic, Brampton accounts for 58 percent of Peel's COVID-19 cases, with an infection rate of 72 cases per 10,000 residents. In comparison, Mississauga has 42 cases per 10,000 people, and the provincial average currently sits at about 31 cases per 10,000.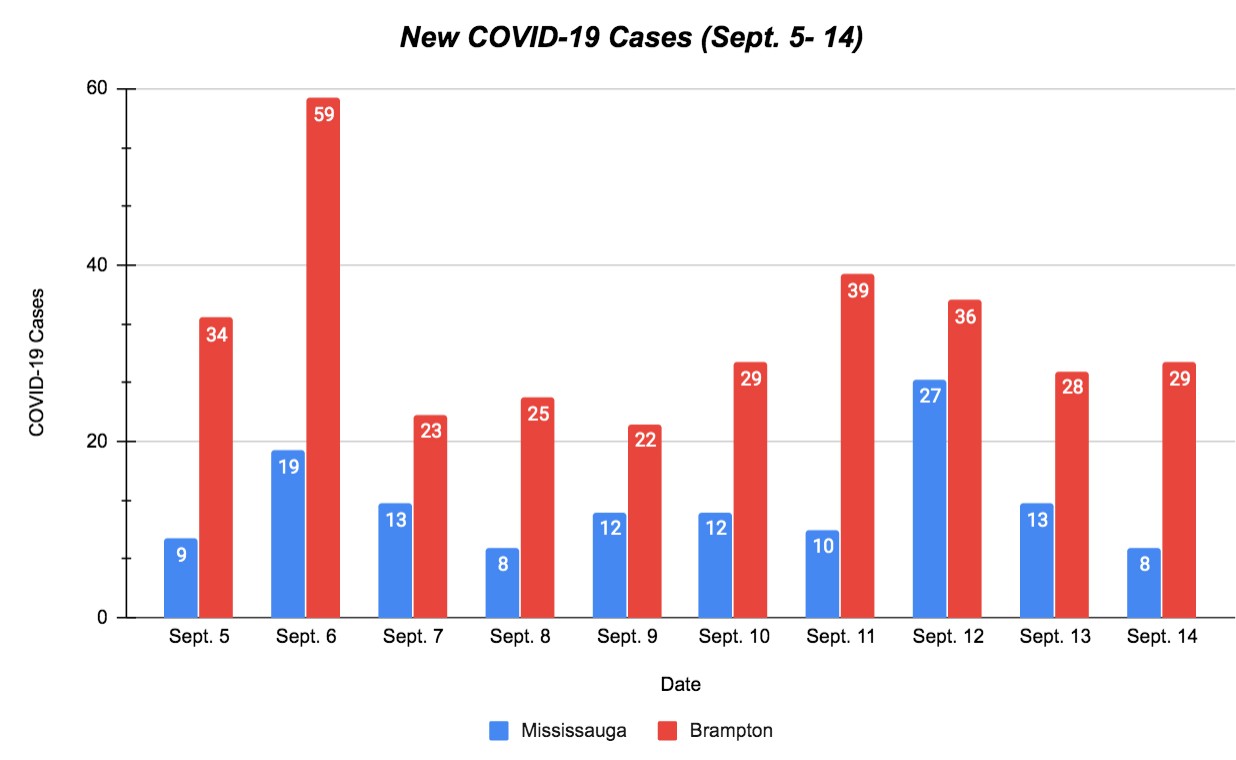 Compared to neighbouring Mississauga, Brampton continues to see high instances of COVID-19.
Throughout the course of the pandemic, health experts have extolled the need for adequate testing in controlling the spread of the virus.
Dr. Mylène Drouin, Montreal's public health director, announced Tuesday the City of Montreal is increasing its testing capacity to 6,000 a day, citing the critical importance of testing in controlling the virus.
"Beyond the objective of the number of tests to be reached, it is even more important to test according to the recommendations and according to the evolution of the situation," Drouin tweeted in June.
Similar proactive measures have not been seen in Brampton, where the William Osler Health System, which operates the city's lone dedicated COVID-19 assessment centre, has not been able to meet testing targets established by the province.
Brampton's dedicated assessment centre operates out of South Fletcher's Sportsplex, and tests an average of 635 people a day, an Osler spokesperson told The Pointer. In May, Ford said 20,000 tests must be conducted every single day in the province. Based on per capita calculations, this means approximately 890 tests need to be conducted in Brampton. Osler has not met that target once throughout the course of the pandemic.
Despite the low testing numbers, and Brampton having a per capita infection rate more than double that of the province, Health Minister Christine Elliott displayed a concerning lack of knowledge about the situation when asked by The Pointer.
"If we find that there is a need for another testing centre in Brampton, of course, we will take a look at that, because we want people to go and get tested and distance from the testing facility shouldn't be a problem that hinders them from doing that," she said Monday.
Aside from ignoring the glaring fact that Brampton's testing capacity has been far from adequate throughout the pandemic, Elliott's statements also downplay Brampton's situation, which the province has more than once indicated is at crisis levels.
In previous statements, the province has indicated it is well aware that there is a need for further testing in Brampton, given provincial officials labelled the city a hot spot and Premier Ford called the city's response to the pandemic "broken".
Throughout the entirety of the pandemic, only one assessment centre has remained a permanent fixture in Brampton, leaving many residents expressing their frustration on social media.
"I just spent 5+ hours in a drive thru Covid testing site in Brampton. Ridiculous!" a Twitter user said Tuesday.
"Sat in line for [three] hours on Thursday. Only [one] testing site for a city of 700k. Unacceptable," another Twitter user posted on September 12.
It remains unclear how the opening of Osler's COVID-19 Cold and Flu Clinic at Peel Memorial's urgent care centre will impact testing numbers. The space, which is not a dedicated testing centre, opened on September 15.
The Cold and Flu Clinic focuses on those with moderate cold and flu symptoms, and helps determine whether they are suffering from COVID or the seasonal flu. The site doesn't offer walk-in testing for COVID-19 in a similar manner to other assessment centres. Those who have only mild flu-like symptoms are asked not to come to the new flu clinic, but instead visit the drive-thru assessment centre to get tested.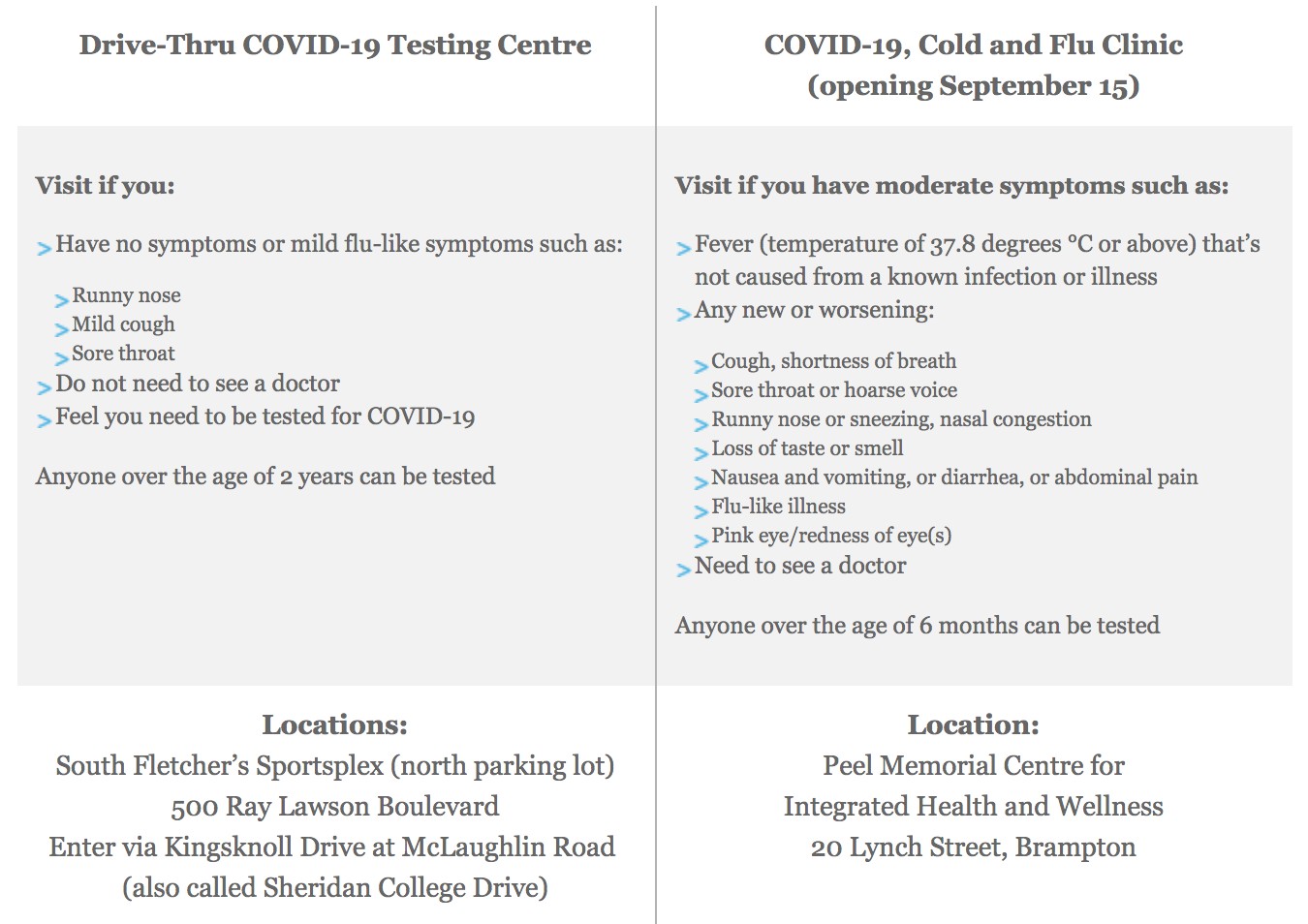 The Pointer repeatedly asked Osler if this Cold and Flu Clinic will increase testing capacity, but no answer was provided ahead of publication.
The inaction in Brampton comes after local leaders and Premier Ford himself have extolled the necessity of proper testing in controlling the spread of the virus. Earlier in the summer, Ford alluded to the importance of testing, saying, "you can't manage what you can't measure." It's not clear why the province has done nothing to assist in opening a second assessment centre in the city.
William Osler's CEO, Dr. Naveed Mohammad, has refused to acknowledge Osler's role in managing testing, saying last Thursday, it was not the hospital's responsibility to conduct testing, despite Brampton's assessment centres being set up in or close to the city's hospitals. Osler, which operates Peel Memorial and Brampton Civic Hospital, along with Etobicoke General Hospital in Etobicoke, has not been able to reach the per capita testing numbers required in the city.
Social media posts indicate Mayor Patrick Brown has spoken with Ford at least twice over the last two weeks. The first chat came after Ford called Brampton's response to the novel coronavirus "broken," when the city represented almost 40 percent of the province's new cases September 2. The second came Monday night at a "working dinner."
The Pointer asked what was discussed at the latest meeting and Brown listed: "Covid 19, university, hospital , quarantine enforcement," without offering any further details.
He also said he was advocating for reducing the number of people allowed at social gatherings, and bringing more test processing capacity to Brampton. Only a fraction of tests conducted in Brampton's assessment centre are processed in the city.
Brown has said little about any advocacy to increase testing capacity for the city.
On Tuesday, Ford called Osler out by name for its long wait times.
"I went by a drive-thru up by William Osler and it's ridiculous. [The wait is] three to four hours," Ford said. It's not clear if Ford, who lives in Etobicoke, was referring to the Osler assessment centre in Etobicoke, or Brampton.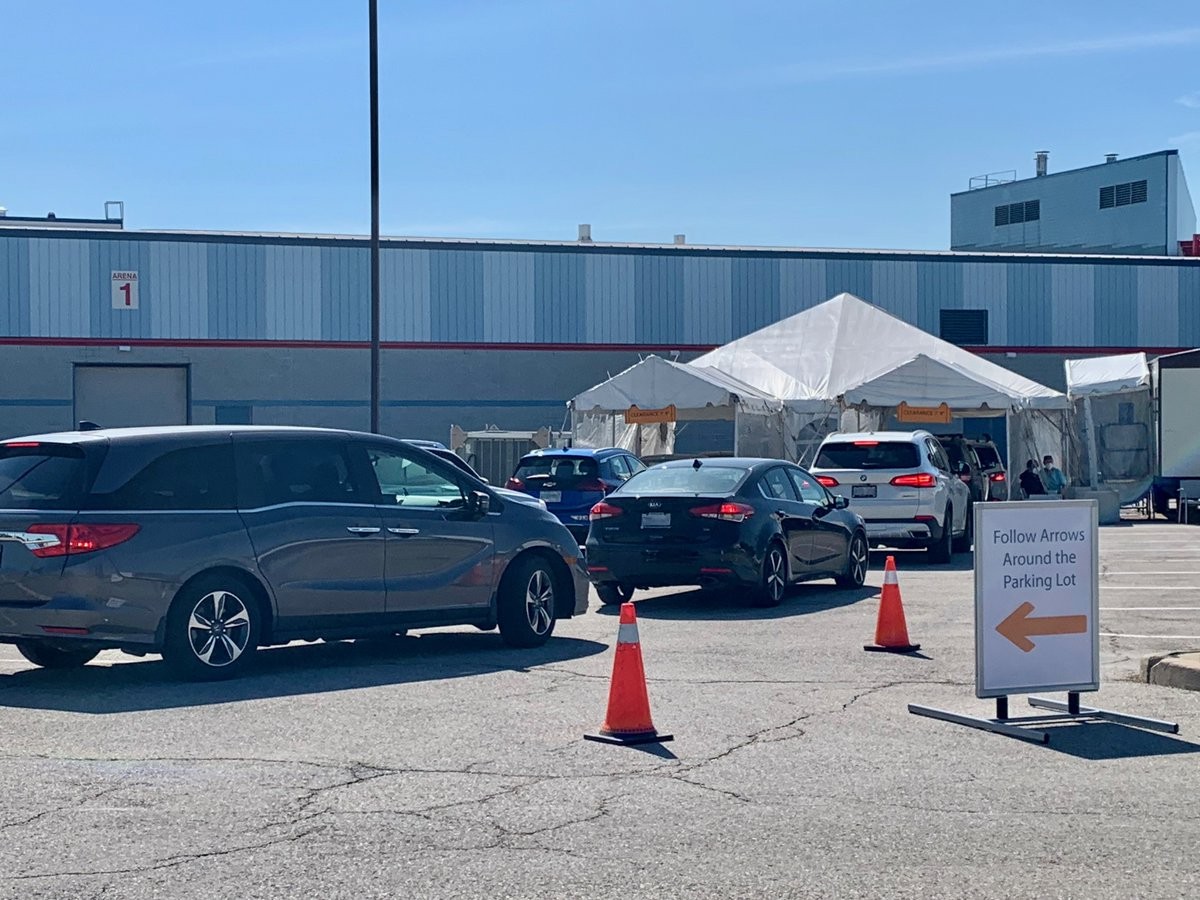 Osler's drive-thru testing centre at South Fletcher's Sportsplex has been plagued with long wait times.
The need for further testing will only grow as the province stares down a potential second wave of COVID-19 this fall.
"It's coming, but I hope to God I'm wrong…but it's coming. You don't just see a spike like this," Ford said Monday.
It's not clear at this time what Ontario's plan is for when the second wave arises. While Minister Elliott said the province has been getting organized, few specific details were shared. She said a regional approach will be taken with surgeries and other procedures, which won't be completely shut down like they were towards the beginning of the pandemic.
Between September 8 and 14, the city represented 15 percent of Ontario's new cases on average. This week, Ford said he will not hesitate to send Peel Region, along with Toronto and Ottawa, back to Stage 2 should case numbers not start to come down.
"Let me be crystal clear, every option is on the table. We will take every step necessary, including further shutdowns in the second wave of COVID-19," Ford said Monday.
While the lack of testing in the city is particularly concerning, there isn't one factor alone, such as an increased case count, that will pull Peel back into the second stage.
"It really is a combination of factors," Elliott said Monday. New cases, hospitalizations, and the number of people using ventilators, all play a role.
Brown doesn't believe all aspects of Stage 2 should be reenacted if Peel is pushed back, only areas that are seeing problems.
"Only some aspects of Stage 3 need to be rolled back on a regional level, not all aspects. For example, we are not seeing significant transmission of COVID-19 with the opening of indoor restaurants," he told The Pointer.
Recently, cultures part of the South Asian diaspora, which hold prominence in Brampton and Mississauga, have been blamed for the rising case count. Multi-generational homes, international students, and people returning home from the subcontinent have been pin-pointed as the cause for the rising case numbers. Many people have pointed fingers, including Brown himself.
"I know from September 1 to September 7, we had 32 cases that related to travel. We had a number of people who travelled back from India and Pakistan, where they've found to be positive," Brown said September 9.
However, health experts have cautioned against laying such blame on cultural communities when other more prominent factors like socio-economic circumstances and the lack of testing can be far greater contributors to the spread of infection.
"Brampton is now the epicenter of Ontario's #COVID19 crisis. Rather than racial gaslighting South Asians, POC & those in multi-generational homes, let's try to learn how people's vulnerabilities are shaped by their circumstances. Isn't this what public health is all about?" tweeted palliative care physician Naheed Dosani.
If Peel moves back into Stage 2, it won't be good for businesses, many of which opened their doors a little over a month ago.
Andrew McColl, the owner of martial arts club, Brampton BJJ, rents space from the City, which has still not allowed him to open his doors. Initially promising to let businesses open their doors September 1, it has now been pushed back to September 28. It's not clear why the City made this decision, given they announced a number of new opening measures on August 26, including the opening of City Hall and resumption of in-person council meetings.
Earlier this month, Minister Elliott put a pause to the reopening of businesses for a four-week period. However, that announcement came a week after McColl was supposed to re-open his Brampton business.
"It's very frustrating. I see other places around me opening…and there are parties going on. You can go to these big box stores and they're jam packed. Meanwhile, they're holding back small businesses," he said.
If Peel is pushed back into Stage 2, small businesses are the ones who will continue to suffer, he said. "I know of a lot of businesses who had to shut down through no fault of their own who have been around for a long time." Businesses who barely escaped are fearful they won't be as lucky the second time around, McColl added.
When The Pointer asked Regional Councillor Martin Medeiros, who is responsible for the city's reopening plan, if this is something he planned for, no direct answer was given.
"We have remained cautious throughout our re-opening and taken into consideration the possibility of a second wave; as our health experts have made mentions regarding the natural evolution of a pandemic," he said.
Stage 2 allowed personal care services, such as salons, and restaurants to open with strict limitations in place. Indoor facilities, including gyms and recreational centres, were largely off limits.
Pulling Peel back to Stage 2 will also impact schools across the region, which were nearing the end of the school year when the region initially entered Stage 2. Kayla Tishcoff, senior communications officer for the Peel District School Board, said students will likely shift to online learning should such a step back occur.
"Over the summer, all school boards were directed by the Ministry of Education to prepare for the possibility of a full return to distance learning, as well as a partial or full return to in-person learning. If directed to close schools, we would use these preliminary preparations and follow guidance from the Ministry of Education to transition students to online learning," she said.
A total of 14 cases of COVID-19 have been confirmed at schools across Peel, 10 of which are within PDSB schools. Four cases have been reported at the Dufferin-Peel Catholic District School Board, three of the four cases were reported September 15.
Councillor Jeff Bowman also agrees with the "realistic" comments the Premier made of pushing Peel back a stage, saying measures must be taken to contain the spread if cases continue to climb.
"We all need to be diligent in our daily activities, protecting ourselves and others in order to stop the spread in Brampton," Bowman said.
---
Email: [email protected]
Twitter: @nida_zafar
Tel: 416-890-7643
---
COVID-19 is impacting all Canadians. At a time when vital public information is needed by everyone, The Pointer has taken down our paywall on all stories relating to the pandemic and those of public interest to ensure every resident of Brampton and Mississauga has access to the facts. For those who are able, we encourage you to consider a subscription. This will help us report on important public interest issues the community needs to know about now more than ever. You can register for a 30-day free trial HERE. Thereafter, The Pointer will charge $10 a month and you can cancel any time right on the website. Thank you.
Submit a correction about this story