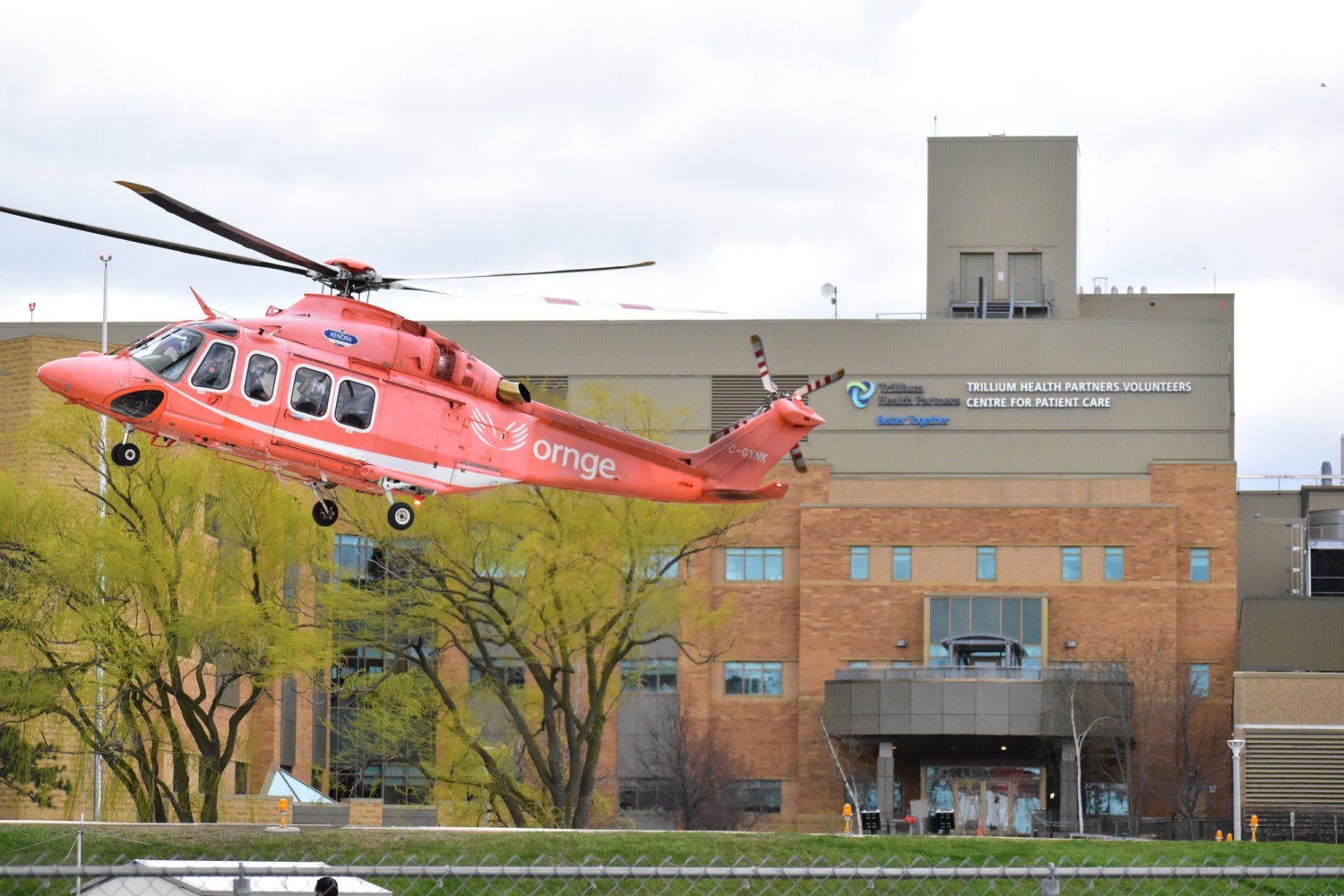 Photos from Isaac Callan/Google Maps
'Chaos coming': Peel hospitals relying on patient transfers could soon be left to fend for themselves
Credit Valley Hospital sits in the heart of suburbia.
Surrounded by hundreds of homes with families trying to make the best of the lockdown situation. Kids play in backyards, parents put love and attention into their flowerbeds, others have set up miniature soccer nets or assembled swing sets they ordered online. It's a piece of suburban serenity in a pandemic world.
In recent weeks, this tranquility in Erin Mills has been shattered on a regular basis as the need to move patients out of the hospital has reached a fever pitch.
The chirping of birds and shouts of young children are drowned out by the beat of rotor blades. The sound signals the arrival of yet another Ornge helicopter at Credit Valley Hospital, swooping in to transfer a patient out of Peel and free up desperately needed hospital space.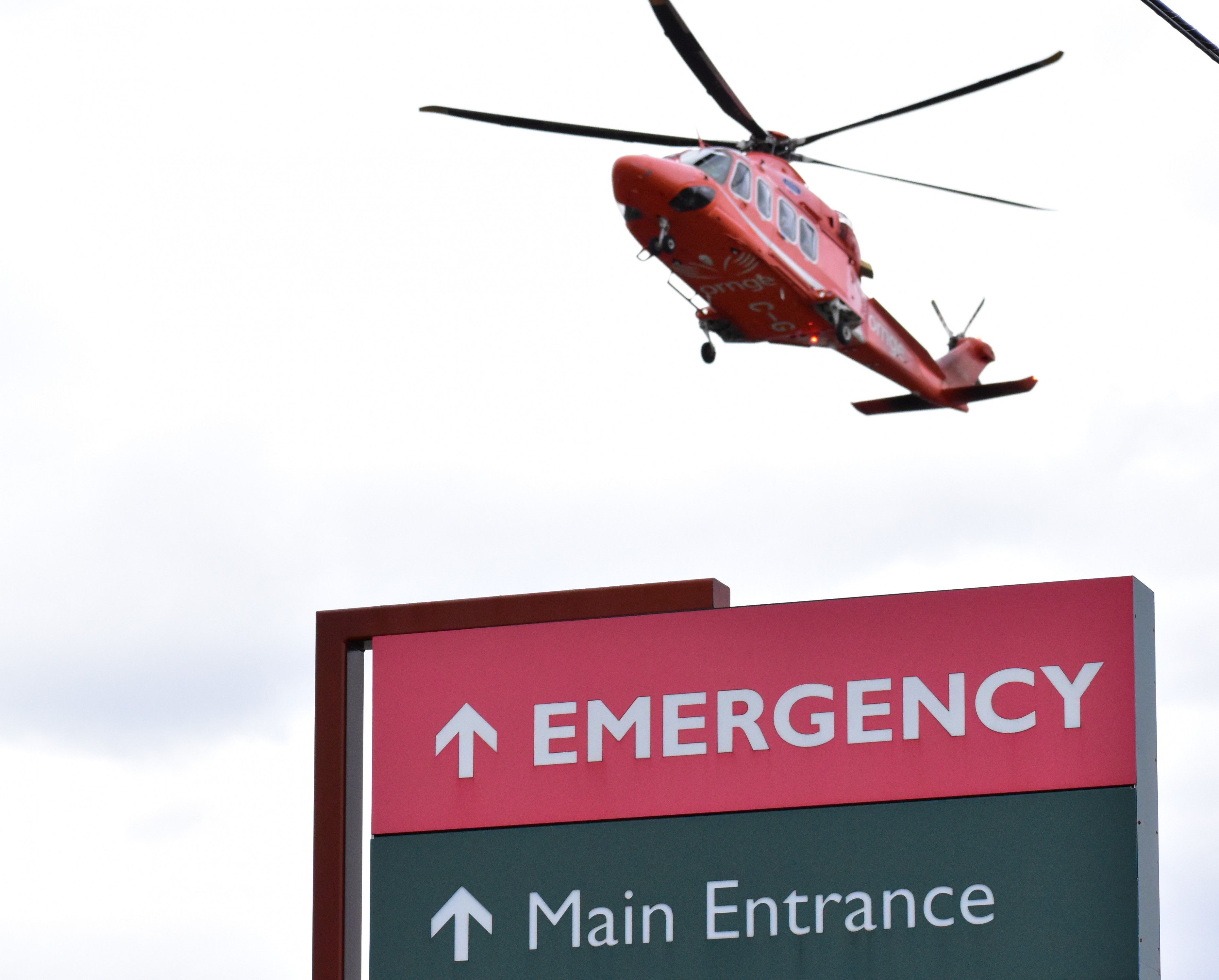 Locals may find the disturbance ominous, a reminder of the chaos inside the region's three hospitals, but for healthcare professionals, it's the liberating sound of outside help. The waves of noise from the heavy blades could soon be absent from the Mississauga skies as hospitals across the province run out of room to house new patients.
"Hospitals in the high burden areas of COVID have become totally dependent on transfers for survival right now… the constant transfers is the only thing that allows us to create a bit of space that builds back up the next day, then we need more transfers to create that space," Dr. Brooks Fallis, an ICU physician at Brampton Civic and the hospital's former medical director of critical care, told The Pointer.
The day Ornge helicopters stop landing at Credit Valley will be a dark day. It will be the point that Peel's underfunded and overwhelmed healthcare system stands on the brink of collapse.
"In the coming weeks, we expect those transfers will dry up," Fallis continued. "We're transferring to London, to Windsor, to Barrie. These are long distance transfers. Eventually those places, which also have rising COVID cases, will have their own community needs to fill and will be filled up in terms of transfers. Then the hospitals where COVID is really out of control will be left to fend for themselves more than they have over the last month. And that's when things will really start to fall apart."
Hospitalizations and ICU admissions in Ontario are at an all time high for the COVID-19 pandemic. On April 19, there were 707 people in intensive care across the province.
Ornge crew members wait beside their helicopter at Credit Valley hospital to fly another patient out of Peel.
Throughout the pandemic, doctors and scientists have frantically been ringing the alarm bell, highlighting how many of Peel's essential workers are succumbing to the virus. Yet, Queen's Park allowed below average per-capita testing rates in the province's hardest hit region and scrimped on its initial vaccine allocation. For people paying attention to the Provincial response, the horrible reality was inevitable.
"This is definitely what we were preparing for in March, it has been sort of a slow moving disaster and we've pulled a lot of levers to continue to maintain the same level of service to the public," Dave Wakely, president of Peel's paramedic union, told The Pointer. "The problem is, 12 months in, there is very little left in the tank. We've all been working overtime, we've all been pulling extra duty, we've all been doing what we can and the system actors are at the point of exhaustion. We know there's just one more push, but there's been one more push three or four times now."
Peel passed a grim milestone on April 14: more than 1,000 new COVID-19 cases reported in a 24-hour period. As of April 19, 2,313 people in Peel have been hospitalized since the beginning of the pandemic and 666 have passed away. In an effort to curb the rising case numbers, Dr. Lawrence Loh, Peel's medical officer of health announced Tuesday morning that businesses with 5 or more COVID-19 cases in the last 14 days will be forced to close for 10 days.
"Workplaces that remain open continue to be a major driver of COVID-19 cases in Peel, as they have been throughout the course of our emergency response. With variant spread we are also seeing transmission occur more quickly and widely," Loh stated in a press release.
A spokesperson for Trillium Health Partners told The Pointer its hospitals are 99 percent full. Figures on William Osler's website show 192 COVID-19 patients between Etobicoke General and Brampton Civic, with 29 in critical care.
Without hospital transfers, those figures would have been much worse.
Between January 1 and April 16, 295 patients were transferred out of Peel's three hospitals, according to figures from Ornge, the provincial body responsible for coordinating patient transfers. Sixty-six percent of those transfers have been out of Civic, Brampton's only full service hospital.
Paramedics have been on the frontlines throughout the pandemic and play a critical role in transferring patients between hospitals.
The pandemic is now at its most desperate stage to date. The number of patient transfers is increasing rapidly and, for many sick patients, Civic, Credit Valley and Mississauga Hospital are little more than temporary stops before they are sent out across the province.
"The patients will come into the emerg, at some point they will come into the ICU, the ICU nurses and doctors would do what they needed to do to stabilize them and, in a typical situation, they'd have that patient for the next five days," Wakely explained. "These patients, they're having for ten hours or less. The churn in the ICU is much higher and their level of work has increased by a lot."
Data show the pressure is pushing Peel hospitals closer to collapse. Patient transfers appear to be the duct tape holding the region's entire healthcare system together.
Credit Valley Hospital transferred 42 patients between January 1 and April 16, 64 percent of those transfers were in the first 16 days of April alone; Mississauga Hospital has moved 59 patients, 53 percent of them in April; and Brampton Civic has transferred 194 patients since the beginning of the year, 57 percent of them this month.
By contrast, in January, the province-wide peak for second wave ICU admissions, Brampton Civic transferred just 17 patients. According to Ornge, transfer data for Mississauga Hospital and Credit Valley for the same month is too small to be broken down.
Staff fear the rate of transfers is unsustainable as hospitals in other areas fill up — a breaking point is coming. All elective surgeries have been postponed in order to focus on those sick with COVID-19, leaving many aching patients in pain, waiting an unknown length of time for what, in some cases, is life-saving surgery. At William Osler, the hospital system closed its Cold and Flu Clinic in Brampton on April 14 to redeploy those resources to care for the sickest patients.
A combination of helicopters and ambulances have been transferring hundreds of patients out of Peel's overburdened hospitals.
Every day Fallis walks into Brampton Civic's ICU, he knows it's going to get worse. He is in pandemic mode constantly, balancing his home life, a sense of duty to share the situation inside Civic and working in an intensive care department edging closer to disaster. To accommodate an interview with The Pointer, he found time at 7:40 AM on a Saturday on his way to the hospital, determined to allow the public a glimpse of what he sees near daily.
"I know that at any given time on the ward, there's anywhere between a dozen and 20 patients who are at high risk of deterioration and needing a ventilator that day," he explained. "I am going to go round with one of the nurses from the ICU to check in on those patients so we can preemptively transfer to the ICU in the hopes that we can avoid a patient who rapidly deteriorates on the ward and creating an emergency situation in the wrong location… There are just people constantly rolling in who, as they hit the door, you know their diagnosis is COVID."
Managing a large number of patients on the brink of intensive care is a high stakes juggling act. The potential for several people to deteriorate at the same time, overwhelming an already stretched hospital staff, could have devastating consequences.
Recently, Fallis says four patients all required ventilation, simultaneously. The surge triggered a rapid response as burned out staff fought to save four separate lives at the same time. As Peel breaks more COVID-19 records, those perilous situations will only grow more common.
"It sets up for a really potentially disastrous situation," Fallis added.
Credit Valley is the only Peel hospital with a helipad to receive Ornge transfer assistance by air.
Neither Brampton Civic nor Mississauga Hospital have helipads to accommodate the desperately needed relief. When patients are transferred out of Fallis's ward, it is Peel paramedics who facilitate the move. For the first time ever, Wakely says the service has dedicated three vehicles specifically to patient transfers.
Hospital staff and Peel's healthcare system are on the very edge. In sharp contrast to the gentle serenity of the suburbia around them, the pace inside is frantic. It is made scarier by the reality that the worst is still to come.
"We have weeks, or even months, of chaos coming," Fallis said.
---
Email: [email protected]
Twitter: @isaaccallan
Tel: 647 561-4879
---
COVID-19 is impacting all Canadians. At a time when vital public information is needed by everyone, The Pointer has taken down our paywall on all stories relating to the pandemic and those of public interest to ensure every resident of Brampton and Mississauga has access to the facts. For those who are able, we encourage you to consider a subscription. This will help us report on important public interest issues the community needs to know about now more than ever. You can register for a 30-day free trial HERE. Thereafter, The Pointer will charge $10 a month and you can cancel any time right on the website. Thank you.
Submit a correction about this story