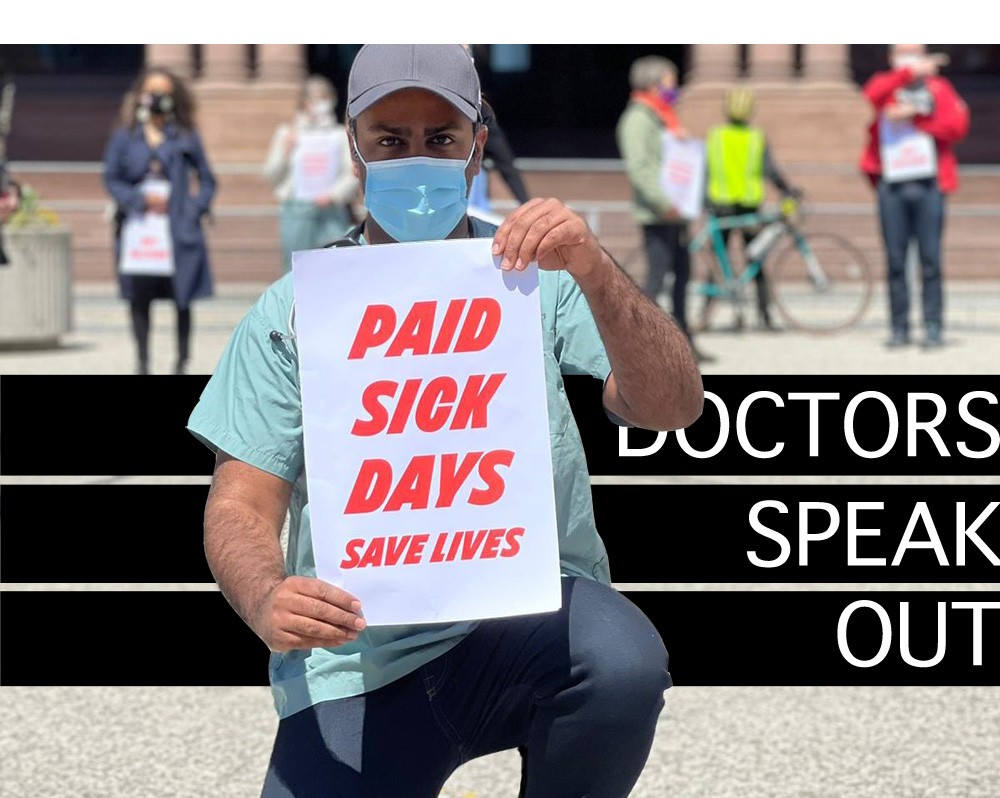 Photos from Naheed Dosani/Twitter
Social media connected health advocates, filling gaps in the government's lax pandemic response 
The Pointer's Social Media Monitor is a weekly look at how elected officials and public civil servants are using platforms to shape digital communication. We feature one public figure each week.
---
Dr. Naheed Dosani learned the power of social media almost a decade ago.
He was a medical resident at the University of Toronto in 2011, working in a homeless shelter for men. One individual that came into his care had cancer in his neck and head, but because of his mental illness and dependency on drugs, he was never able to organize follow-up appointments for himself, instead seeking makeshift pain control treatments in walk-in clinics and different hospitals.
"He was turned away by healthcare workers in these scenarios," Dr. Dosani told The Pointer. After arranging to work with the man, who by that time was clinging to life, the young doctor was informed the next day that the patient passed away from overdosing on street drugs and alcohol. "He had turned to the best pain relief that he knew. It was too little, too late."
The experience was life changing.
It inspired him to start the PEACH program (palliative education and care for the homeless) in 2014. The mobile street program aims to provide care to people living on the streets, in shelters, and those experiencing precarious housing "so no person falls through the cracks."
Gaps exist in a "word class city" like Toronto and the surrounding areas, he said. He found that sharing stories of people served by the program helped a larger segment of the public learn about the issue and take action.
Each social media platform has its own importance: Twitter has been a powerful tool to tell the patient stories, connecting with the public, other health professionals, the media and politicians. Instagram has been important in sharing visuals of how the program operates.
"The ultimate goal is bringing these stories home so that we can ultimately inspire change. Nobody should have to live on the streets or in shelters. Homelessness is a problem that can be cured."
He continued his advocacy when the spread of the novel coronavirus that causes COVID-19 led Premier Doug Ford to declare a state of emergency last spring.
His government released a long list of essential workplaces. For many not on the list, working from home and getting groceries delivered from an online shopping service addressed their most pressing problems.
This was not the case for a large part of Ontario's workforce. About two-thirds of workers in the GTA are considered essential, employed in jobs that can't be done from home. This includes factory workers, grocery store employees, truck drivers, restaurant staff and a long list of others.
Early conversations on how to stay safe didn't involve essential workers. Marginalized members of society also weren't included.
Healthcare advocates were among the earliest groups who turned their minds to others, determined to draw attention to the underrepresented; Dr. Dosani was an early member. "The burden of poverty makes it impossible to mount a defence against a pandemic. I'm inspired by community advocates responding to this issue. How can we eradicate inequity to create a just society?" he tweeted March 17, 2020.
Starting largely on social media, advocates soon found themselves as guests on major news networks, sharing their messages of inequality and government inaction with large audiences.
Dr. Dosani has been a vocal opponent of the government's lack of paid sick days.
"COVID-19 shined a light on health workers in a very unique way and put us at the forefront of discourse and dialogue across this country…but also on nuanced areas that have to do with how COVID-19 is spreading in communities," Dr. Dosani told The Pointer.
Demanding equitable healthcare is something advocates have been doing for years, he said, but it was the deathly result of COVID-19 that caused people to pay attention to the inequalities that put the most vulnerable in even greater danger.
The list of examples showing the government reacting slowly to the most dire circumstances, as the marginalized quickly slipped through the cracks, is long. Nine months after COVID-19 was declared a pandemic by the World Health Organization, Peel received funding to open its first isolation centre to help slow the spread between members of the same family. It was around the same time the Province increased testing resources in Peel, despite Premier Ford calling Brampton a "hotspot" months prior.
Even earlier, Peel's badly underfunded shelter system was reporting numerous issues: social distancing requirements imposed at the start of the pandemic had left the Region of Peel scrambling to find alternative spaces as packed shelters could not accommodate the same numbers; emergency funding for the system from the Province was about to run out; and unfounded fears that risk of infection spread would turn shelters into mass transmission sites meant many avoided seeking help.
Meanwhile, communication out of Queen's Park was a disaster.
Providing evidence backed by science, advocates and healthcare workers became a source of vital information throughout the pandemic. Case numbers in Ontario continued to grow while the Province provided confusing messaging and a lack of concrete action, creating more questions than answers.
"It's catapulted in a way where Canadians are looking to what we see and do as guidance because they're not getting that leadership from their governments," Dr. Dosani said.
Some politicians, who have promoted questionable practices throughout the pandemic, have continued to offer messaging that has been countered by advocates trying to reach members of the public confused by all the misleading information.
Mississauga Lakeshore MPP Rudy Cuzzetto entered a lengthy back and forth with advocate and Ontario Liberal candidate for Mississauga Streetsville, Jill Promoli, recently on Twitter, arguing the Provincial government has taken steps to stop the spread of the novel coronavirus and now it's time for the federal government to take action.
Like many other PC MPPs, he suggested Ottawa alone could address calls for better paid sick leave protection for essential workers.
He argued the federal government "could have acted to fix" the Canada Recovery Sickness Benefit (CRSB), instead of action by the Province, which health care advocates and medical professionals across Ontario have demanded, such as legislating at least ten guaranteed paid sick days for all workers.
Cuzzetto's posts came three days after Ford promised "one of the best" sick leave programs in North America.
The PCs passed legislation guaranteeing three paid sick days for COVID-19 symptoms.
Dr. Dosani took to social media to share his concerns, saying this was not what the Province advertised. "This is not a paid sick days plan that will save lives," he wrote in one tweet. "The cognitive dissonance is maddening," he stated in another.
Advocates have stressed a proper paid sick leave program will slow the viral spread because essential workers employed in busy places, like factories, will be allowed to recover at home instead of possibly infecting coworkers.
"One of the reasons why healthcare workers' voices have become so powerful online is because they're not getting that leadership from their local government. That says a lot about what this experience has been like for people and how we got here," Dr. Dosani said.
He acknowledges social media has allowed people to become closer than ever. More than 300,000 cases in Ontario have been confirmed among residents aged 49 and under – but social media has become an effective tool for people across age brackets desperately seeking information from sources with direct knowledge.
While William Osler Health System, which runs Brampton Civic Hospital, has been unwilling to provide clear, constant and consistent information to the public about the situation inside Civic, advocates and health care professionals have filled in the gaps, allowing residents to get a better picture of what's happening inside their local hospital.
The Province often turned to federal programs to explain why paid sick days didn't exist in Ontario. Dr. Dosani shared the above table on Twitter to explain the Province's flawed stance.
Dr. Dosani's focus on advocacy is to take healthcare from equality, where care is directed to everyone in the same way, to equity, focusing on delivering care based on what each individual needs. He also pushes for justice in health care, so people "have the resources in front of them to make the decisions they need to make their own healthy lifestyle choices, when they want it, how they want it, and where they want."
But such advocacy comes with a dark side.
Intimidation has caused many to stay quiet, Dr. Dosani said. Routinely receiving threats on social media and "derogatory emails," he felt his well-being threatened. Most of these messages come after he holds discussions on topics relating to racial equity in healthcare, prompting angry responses from those opposed to human rights based approaches around diversity and inclusion.
He says the threats haven't stopped him. Dr. Dosani believes there is a "moral obligation for healthcare workers" to speak out, and if the pandemic has taught him anything, it's that people are listening.
"COVID-19 has been a real tragedy but if there has been a silver lining, it's the way I think stories from people who aren't often considered, are brought to the forefront."
---
Email: [email protected]
Twitter: @nida_zafar
Tel: 416 890-7643
---
COVID-19 is impacting all Canadians. At a time when vital public information is needed by everyone, The Pointer has taken down our paywall on all stories relating to the pandemic and those of public interest to ensure every resident of Brampton and Mississauga has access to the facts. For those who are able, we encourage you to consider a subscription. This will help us report on important public interest issues the community needs to know about now more than ever. You can register for a 30-day free trial HERE. Thereafter, The Pointer will charge $10 a month and you can cancel any time right on the website. Thank you.
Submit a correction about this story