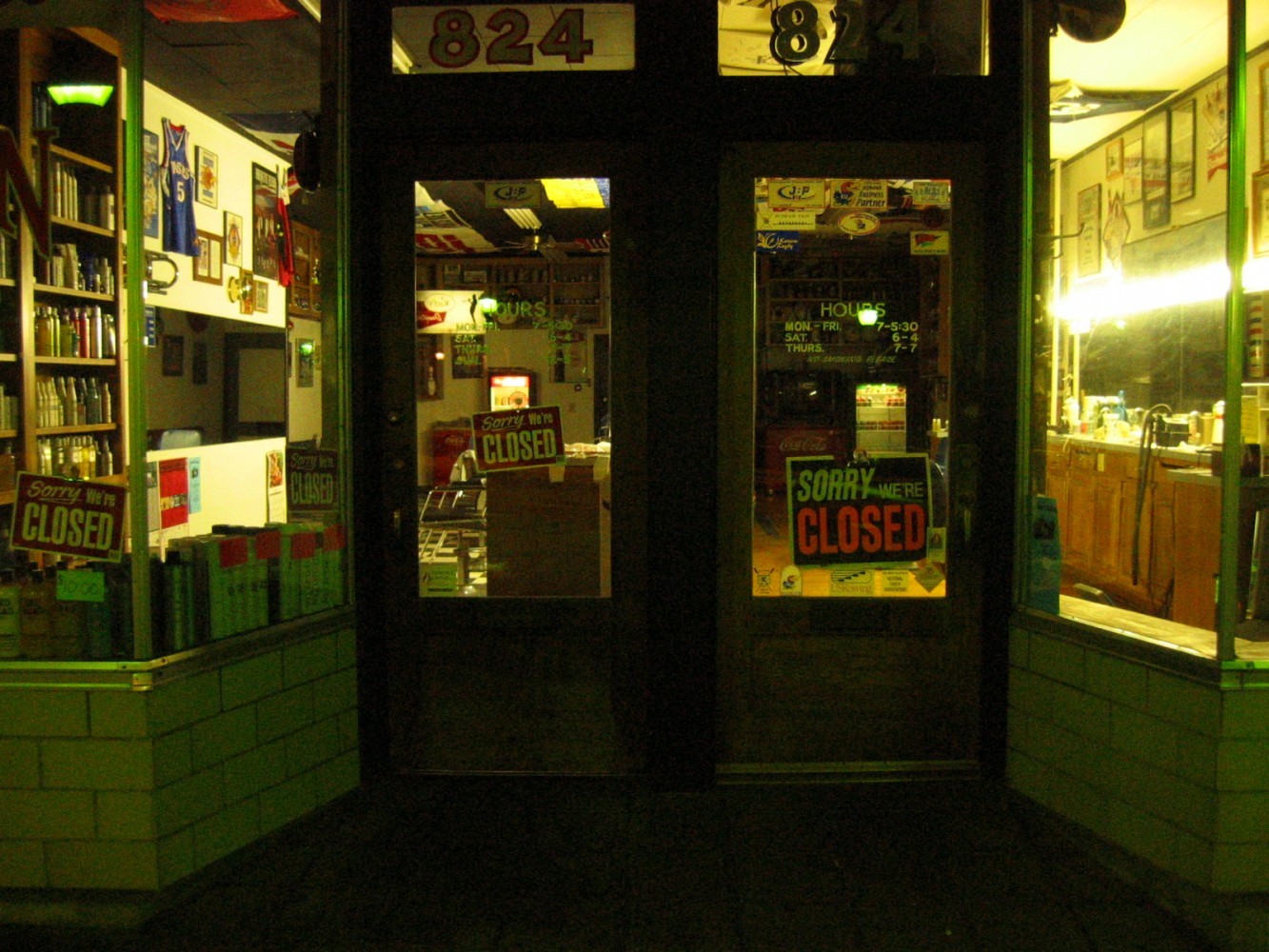 Photos from The Pointer files/LinkedIn/City of Mississauga/Flickr/Scott Raymond/Mississauga Board of Trade
Mississauga and Brampton businesses plead for government support to avert bankruptcies
A day feels like a year in the time of this pandemic, with society frozen and residents under perpetual lockdown to prevent the spread of infection.
Many business owners, constrained by public health guidelines, were compelled to close their doors by midnight Tuesday, after the province declared a state of emergency and mandated the shutdown of all stores and offices whose services and products are not considered essential at a time when isolation is the key to stopping the spread of the novel coronavirus.
The move by Queen's Park has left many Brampton and Mississauga businesses scrambling to find out if they are either exempt or if the now passed deadline of Tuesday at midnight can be extended so they can plan for such a drastic action.
Since the list of exemptions was released Monday evening, the Mississauga Board of Trade has been fielding calls from businesses unsure of whether they fit the definition of essential, says CEO David Wojcik.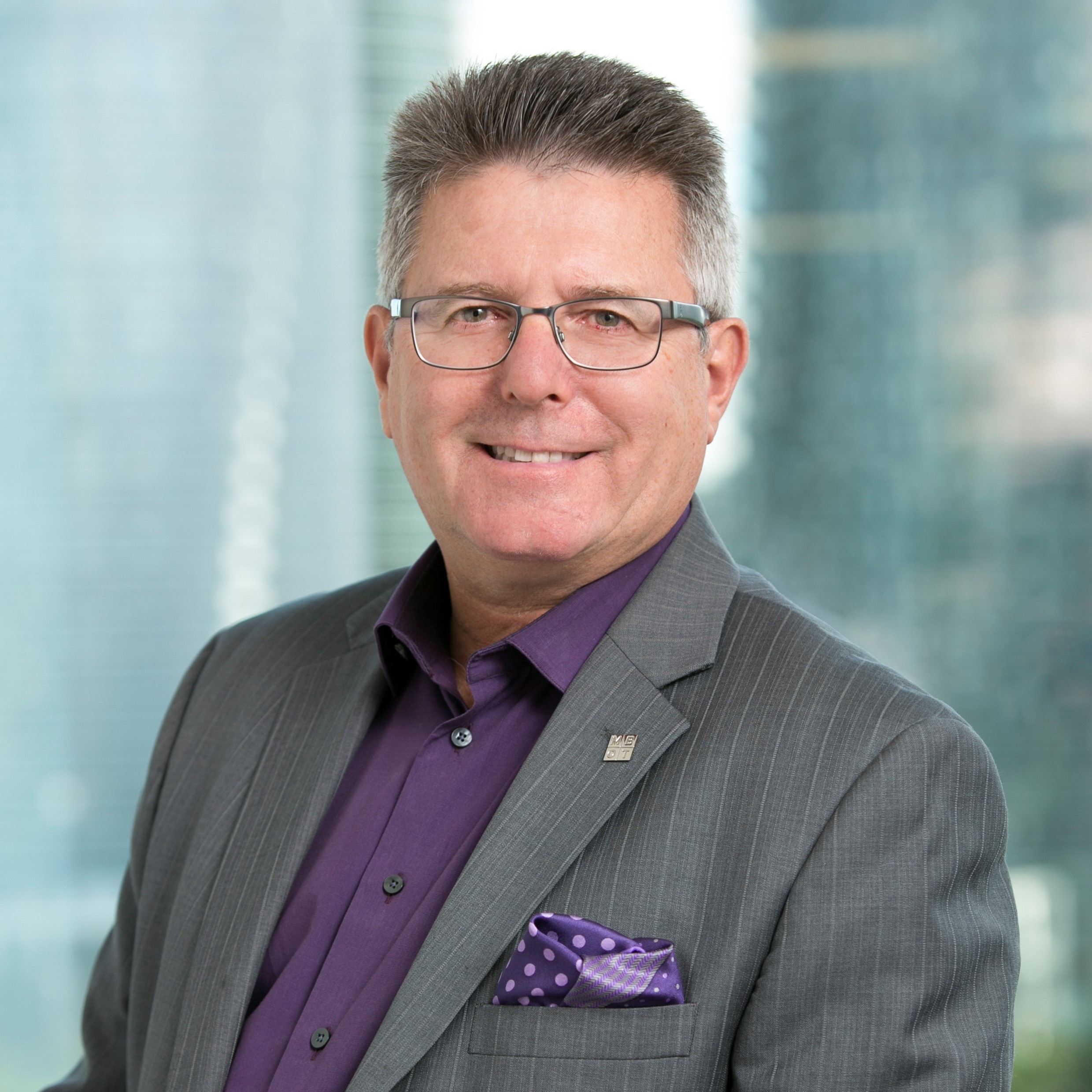 Mississauga Board of Trade CEO David Wojcik has been helping businesses determine whether they're essential or not
"We had a call from an export company about whether their goods qualified (as essential)," he said. "And we don't have the expertise to comment."
Most retail establishments have closed their doors for days, some for more than a week, and are in danger of closing for good now, says BIA manager Natalie Hart.
"That's going to be our big challenge, and our retail footprint is incredibly diverse," said Hart, general manager for the Malton BIA.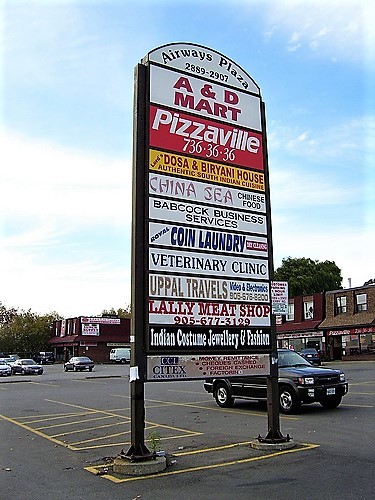 Airways Plaza in Malton, Mississauga illustrates the range of immigrant-owned businesss in the city
The "regular retail" as Hart refers to it, the backbone of the north Mississauga neighbourhood's local business community, is in particular danger: immigrant-owned small shops, hair salons, travel agencies and clothing boutiques in shopping plazas like Westwood Square left largely derelict since the pandemic arrived here at the beginning of the month.
Such family-owned and operated enterprises cater to a specific community's needs and require a brick and mortar location and don't have the luxury like a large chain to move its marketplace online, says Hart.
"We're not losing sneaker chains or the Gap, we're losing mom 'n pop stores," she said.
With April 1 approaching and rent coming due for the month, Hart called for government assurances to protect businesses unable to meet their monthly financial commitments as a result of the shutdowns.
"That's the elephant in the room," said Hart. "We've seen governments take unprecedented steps in providing relief. But the one lever they haven't pushed is rent."
Both MBOT and the Malton BIA are advising businesses which can't come up with the rent to contact their landlords and try to work out an arrangement. "We are telling people to contact their landlords now about an arrangement, have a conversation," said Hart.
The Ontario Chamber of Commerce, which represents business groups across the province, has called on the Ford government to delay the forced closures, to allow many businesses to plan for staffing moves, including mass layoffs expected to hit the small business community across Ontario.
Issues of what to do about existing stock and other supplies also need to be addressed, while dealing with vendor contracts and payments for things such as insurance all need time, many owners are saying.
The Chamber says it only wants additional days, not weeks, so that owners and managers can get some of these practical issues taken care of before they have to lock the doors.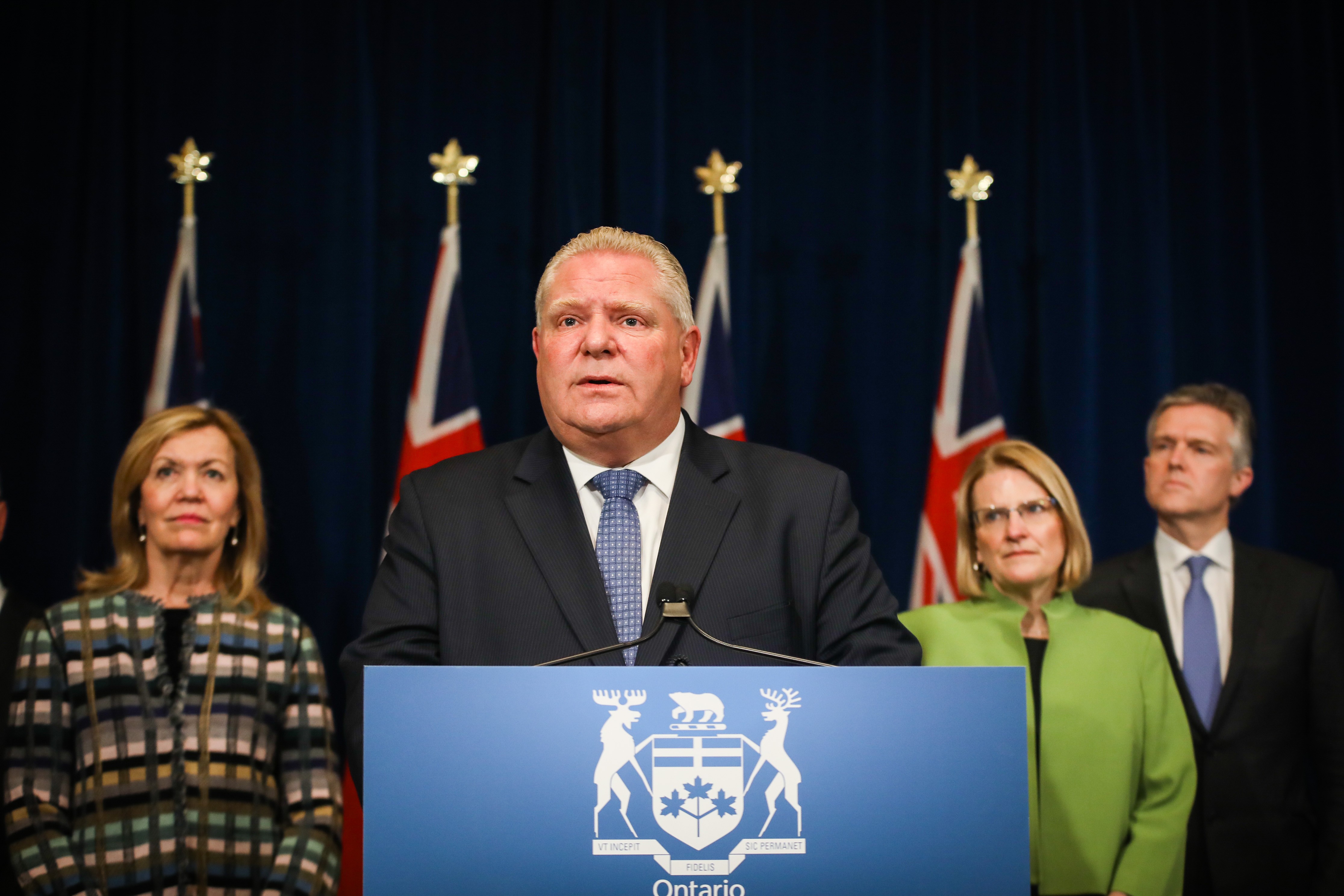 Beginning Wednesday, Premier Doug Ford has mandated the closure of all non-essential businesses
Ontario Premier Doug Ford decreed all non-essential businesses must halt operations before the start of March 25 or face legal repercussions.
On Monday, the provincial government released a list of businesses deemed "essential" and exempted from the closures, including grocery stores, takeout-only restaurants, daycare providers, financial services companies, construction businesses, pharmacies and others. Those whose function society depends on will be allowed to continue operations while the virus continues its deadly spread.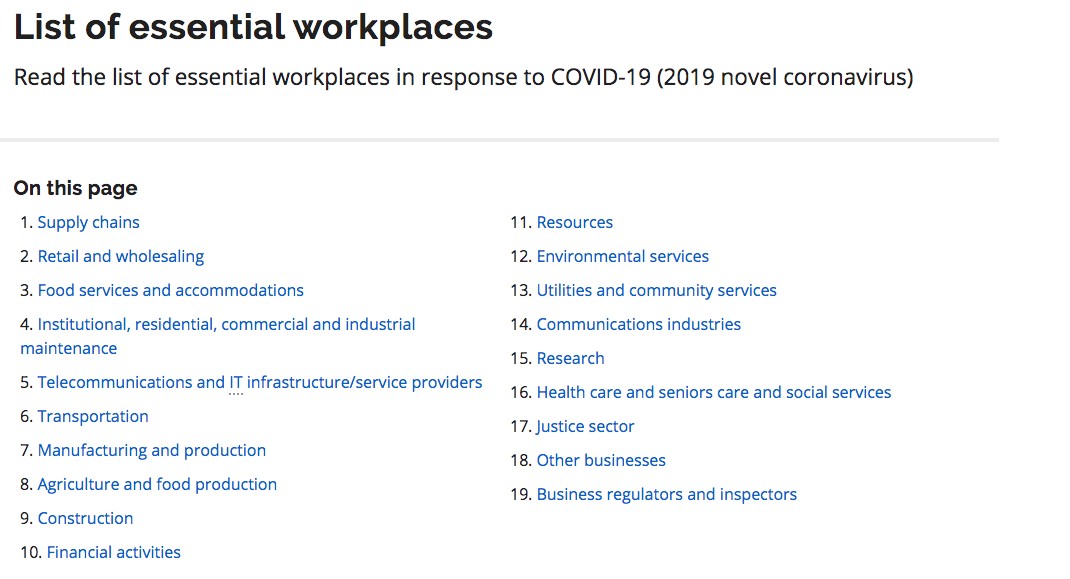 Other businesses deemed essential by the government include gas stations, motor vehicle and repair, hardware stores, telecommunications and internet providers, agriculture and resource extraction companies, utilities, news outlets, laundromats, veterinary clinics as well as banks. Childcare providers are also exempted where there are less than six children.
At a media briefing Tuesday, Ford said the list was a result of consultations with business and labour groups as well as other interests and had been vetted by the provincial cabinet, and a "couple of hundred people" before it was made public.
Ford also promised details would be revisited and potential businesses added to the list, or removed if necessary.
"It's going to be an open list," said the Premier.
There are 74 categories of business considered essential enough to not have to shut down. Equipment Appraisers, based in Mississauga, qualifies as a financial services company, allowing it to keep operating.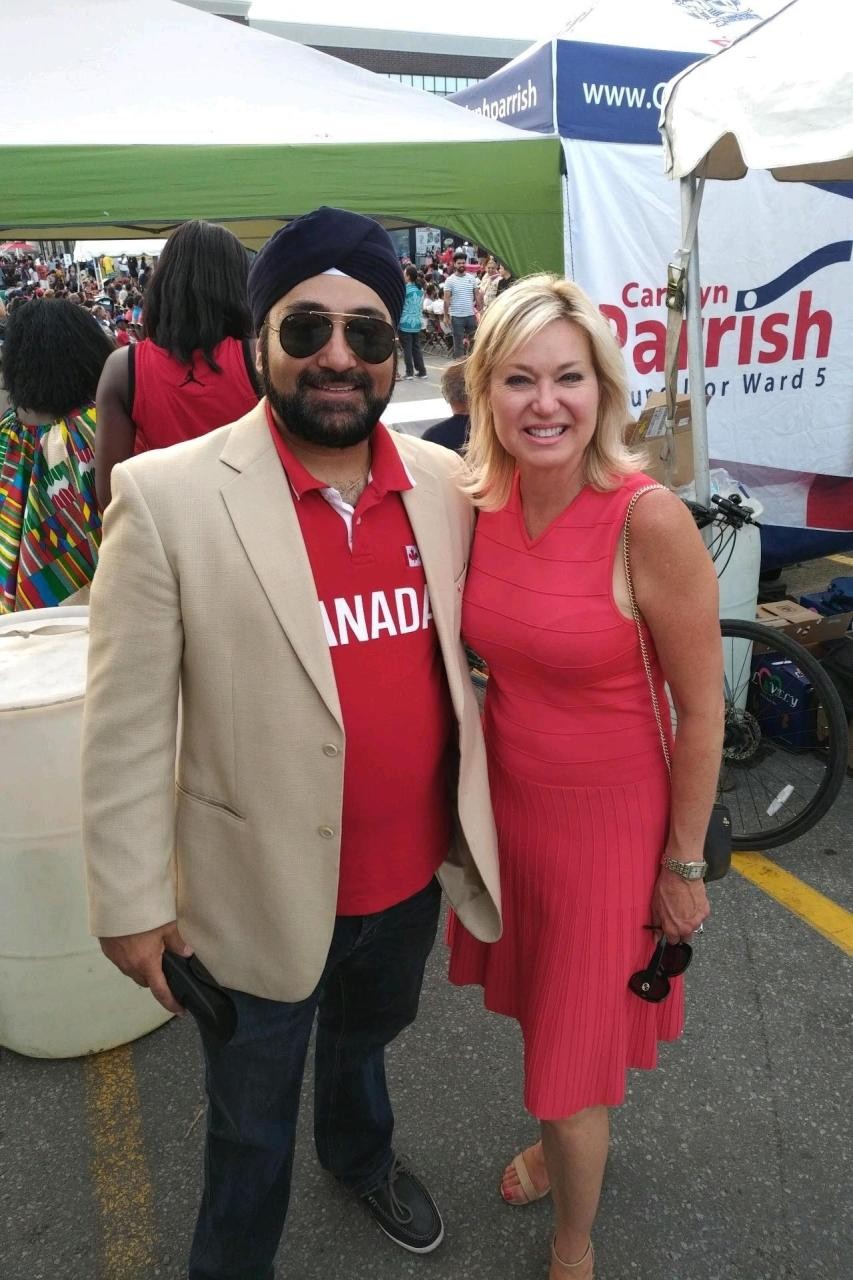 Sam Kohli and Mississauga Mayor Bonnie Crombie
Yet, Sam Kohli has watched the fortunes of the appraisal company plummet due to COVID-19.
Prior to the pandemic, Equipment Appraisers had a robust operation, inspecting and appraising businesses seeking financing from commercial lenders.
Now the business has taken a drastic hit as a result of COVID-19 says Kohli, with the company's roster of small business clients, many of them local restaurants, having to shut down. He estimates company revenue has dropped 50 percent. One employee took a voluntary layoff, and more could be required if the lockdown continues for months.
"At this moment, everything is in a standstill," Kohli says. "Everyone is kind of dead in their tracks."
Construction companies across Peel Region won't need to worry about further delays for development projects underway and disrupted by the crisis. Those projects will be able to continue, after the industry was declared an essential business.
Construction in booming Brampton and Mississauga, where population has been on the rise for decades, supported by large residential construction projects, is a lifeblood to the local economy. In 2019, the City of Mississauga handed out construction permits valued at $1.79 billion, down a fraction from 2018's $1.85 billion total. To the north, Brampton construction permits in 2019 were worth $1.8 billion dollars, with 2017 valued at $1.48. In 2015, residential construction alone in the city was worth more than $2 billion dollars.
The construction sector received broad exemptions, covering all manner of projects related not just to healthcare and vital infrastructure, but also residential and commercial development plans currently underway in sites across Peel Region.
In a statement, the developer advocacy group Building Industry and Land Development Association (BILD) said the move would allow construction projects to proceed without delay.
"With families waiting to close on new properties, sales of existing homes, and countless other logistical details associated with buying and selling a property it is essential to keep the industry working," said BILD CEO David Wilkes, in a statement Tuesday.
The provincial definition of what is essential has created confusion for Service Door Industries (SDI).
The door manufacturing and repair company has slowed but not ceased its operations in Mississauga, as well as Pitt Meadows, BC, said CEO John Hart.
The company made its case for essential designation in a notice posted on its website.
It is our opinion that SDI can operate in some capacity as we fall under the listed companies," reads the statement. "We are in the process of confirming this with our local MP
to ensure that we are meeting government recommendations." It's unclear why the MP is being consulted instead of the local MPP.
Hart believes the company has a strong case to keep operating since part of the company's customer base is fire and police stations and hospitals. It has customers in transportation, mining and construction, all deemed essential sectors.
Even if it can stay open, the local company's long term future in the wake of COVID-19 is far from certain.
SDI has retained only 30 percent of its staff, laying off the rest due to flatlining sales. Receiving the okay from the province to keep assembly lines running won't take the 30-year-old company off life support, says Hart.
"The demand of our products has substantially reduced," he said. "Doors aren't opening, that's what it comes down to. And if doors aren't opening, they don't need to be replaced or fixed."
In response to the crisis, the federal government has introduced a wide range of institutional supports to impacted businesses: wage subsidies, extending Canada Revenue Agency deadlines for income tax payments and providing a $10 billion line of credit for small and medium-sized firms to tap into for emergency loans backed by the government.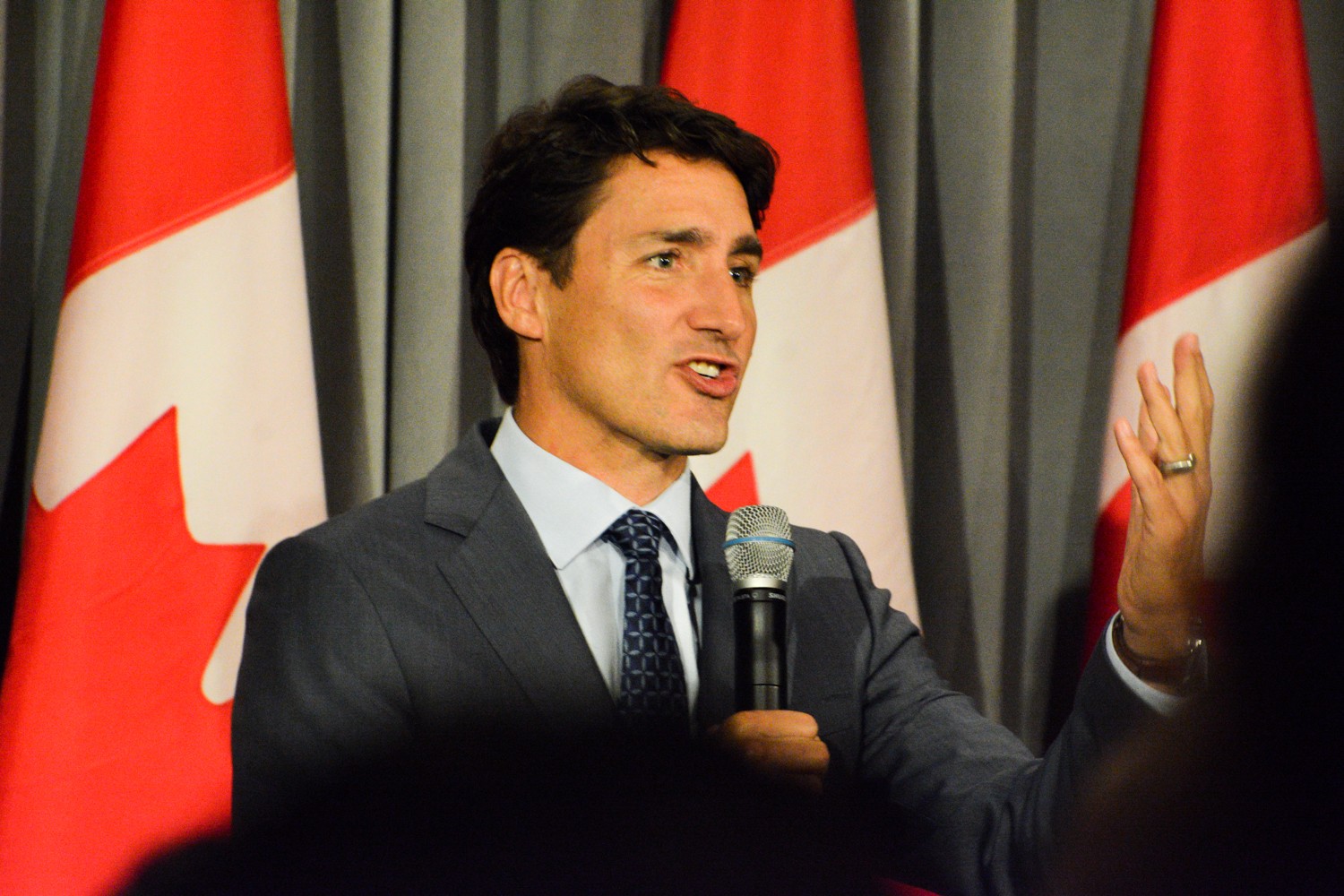 Prime Minister Justin Trudeau
Prime Minister Justin Trudeau also announced support for workers left unemployed as a result of business shutdowns as a result of COVID-19, and limited cash subsidies for people who cannot work because they are sick and are self-employed thus not entitled to traditional Employment Insurance benefits.
Since the prime minister announced the details of the compensation last Wednesday, 929,000 EI claims have been filed by Canadians, according to a government estimate.
MBOT is fielding inquiries from its members anxious for the funding to flow. Money from the $82 billion aid package announced by the Liberal government likely won't begin to flow until April, Wojcik fears.
"Businesses are extremely frustrated with the speed at which this relied money is coming," said Wojcik. That is the number one frustration."
Both the province and the city of Mississauga have pledged short-term relief, but it's still unclear exactly what local businesses might be entitled to and what form the additional relief will be in.
Property taxes have been deferred for 90 days by the City of Mississauga, so that's one bill business owners won't have to scramble to pay, for now.
The Ford government agreed to ease hydro rates by as much as 50 percent for 45 days, as of this week, across the province, which will significantly help many businesses that use large amounts of electricity. On Monday, it committed $200-million in immediate assistance for social welfare nonprofits, such as food banks.
Mississauga City Council held an emergency meeting last week when it approved the deferral of property taxes. The city is joining with larger Ontario municipalities calling on the province to defer education tax payments, which come out of the property bill, for the same time period.
Brampton City Council is holding an emergency meeting Wednesday morning where it will approve a five-month property tax deferral for residents and nearly identical measures to those passed by Mississauga.
The Brampton Board of Trade is surveying businesses on what type of governmental support they urgently require.
"It really helps us prioritize our advocacy on your behalf," said CEO Todd Letts of the survey, in an online video posted by BBOT Tuesday.
While real estate agents are finding challenges showing properties amid fears of contamination, mortgage broker Jimmy Hansra said he's getting plenty of interest from homeowners looking to renew existing loans and take out additional lines of credit, as interest rates have been cut to reduce the financial fallout from the crisis.
2020 was expected to be a big year for renewals, five years after 2015's boom period for new home purchases, with many mortgages now coming due, says Hansra. The pandemic has compelled existing borrowers to seek more credit as contingency in the case of job loss.
"We're seeing people acting proactively, applying for extra lines of credit just in case," said Hansra. "We're seeing a big increase."
Wojcik is disappointed by the federal government's plan to institute a 10 percent wage subsidy for three months, capped at a maximum of $25,000 per firm, noting more generous relief plans from other countries covering off a healthy percent of wages during the pandemic.
In an open letter from MBOT to Federal Finance Minister Bill Morneau, Wojcik also called for the government to backstop emergency claims denied by insurance companies.
"Some businesses are positioned to weather the storm but no business is prepared for a massive storm that will go months and months without government help," he said.
Speaking for his clients, Hansra said direct compensation to business will have the biggest impact providing some much needed stability.
"This is not an economic crisis, this is a pandemic crisis, and I think the government needs to do more," said Hansra. "I think they're missing the boat.
"Stimulus packages are good, but to really help they need to give aid [directly] to businesses, help them sustain what they have left."
---
Email: [email protected]
Twitter: @RG_Reporter
Submit a correction about this story