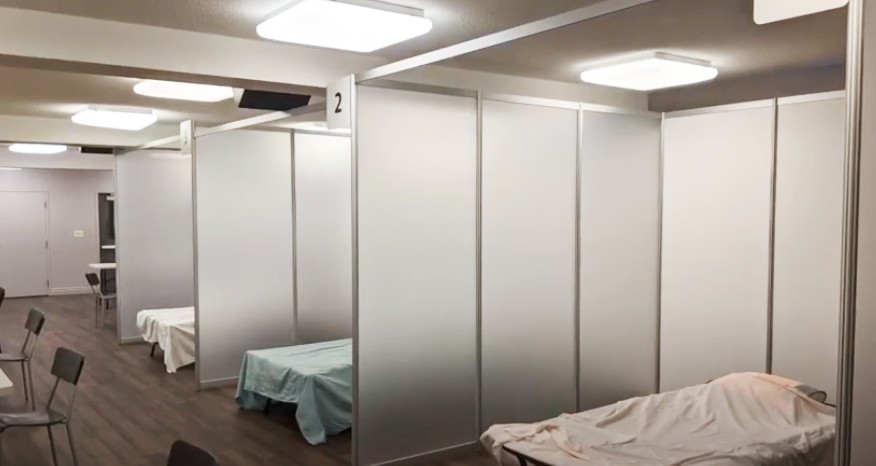 Photos from Region of Peel/City of Brampton/City of Toronto/Wikimedia Commons-Michael Rivera
Are Peel's COVID isolation beds too little, too late?
A two-page fact sheet from Public Health Ontario outlines how residents can properly self-isolate if they have symptoms of COVID-19 or believe they may have been exposed to the virus.
The directions are straightforward, warning people to stay in a separate room, away from their family members. If that's not possible, a distance of two metres should be kept at all times.
Sitting at the very top of the page, in bold letters embedded in a red box, the agency warns skipping the isolation process is not an option.
For many multigenerational families, students and frontline workers living in Peel Region, following such rules exactly was never a possibility.
According to Stats Canada, in 2016 there were more than 40,000 multigenerational households within Peel Region, almost 25,000 of which resided in Brampton alone. Such households typically involve three or more generations living under one roof. For larger families living in smaller homes, self-isolating may be a difficult task to complete.
On top of the multigenerational dynamic, the lack of affordable housing in Peel has over the past decade created an illegal basement apartment crisis.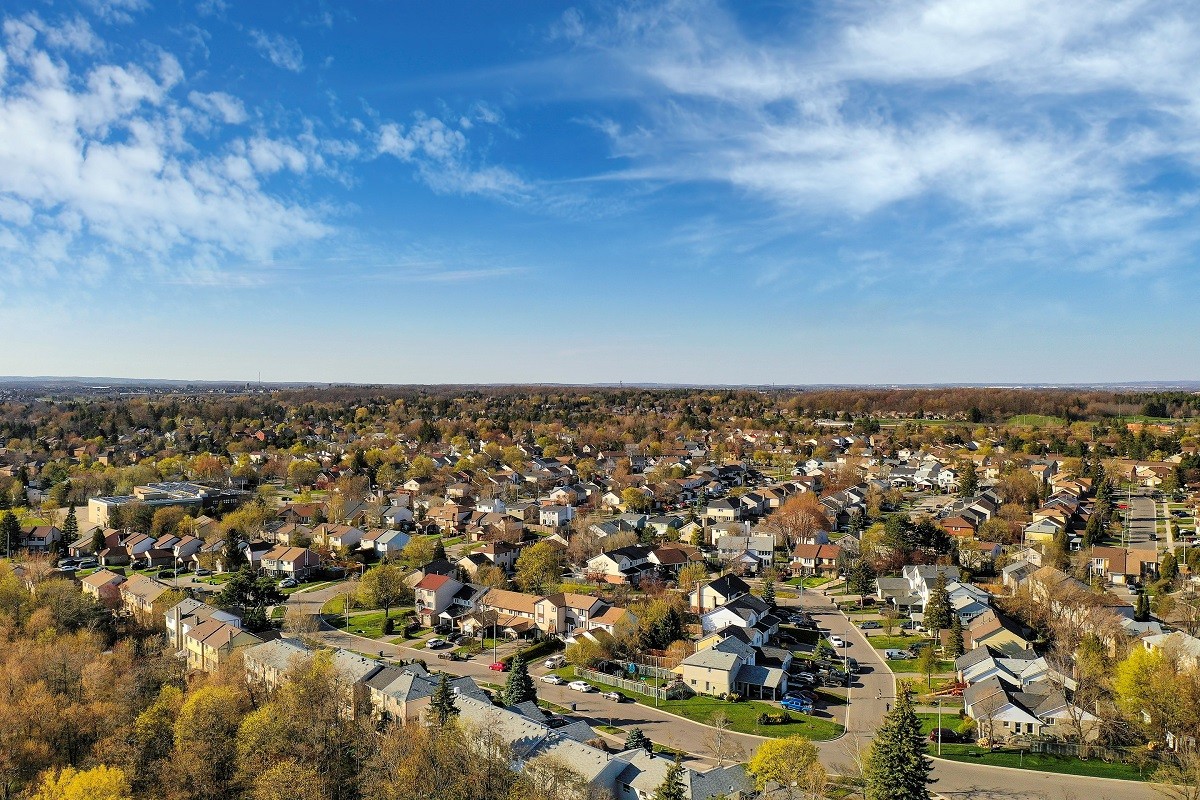 Different household dynamics in Peel can make it difficult for residents to find space to self-isolate if infected with the novel coronavirus.
Brampton staff and councillors estimate there are between 30,000 and 50,000 of these cramped illegal "secondary units" in the city and last year councillors reported as many as two-dozen people, often international students, living in one illegal unit.
Mississauga Councillor Ron Starr told The Pointer in 2019 that 20,000 to 30,000 of these illegal apartments existed in the city at the time.
According to Brampton's 2016 Census profile, the municipality had the highest average number of people per household in the Greater Toronto Area, and one of the highest numbers for any large city in the country. Brampton households had an average of 3.5 residents, compared with a national average of 2.4 and an Ontario average of 2.6. That means the average Brampton household had 46 percent more people living in it than the average Canadian home.
Some 42,060 Brampton residential units housed five or more people. It's the only municipality in the GTA where this Census category outnumbers all the others, and a sharp contrast to Toronto, where one-person households are the largest category.
Driveways filled with a fleet of cars are a common sight in Peel's suburban neighbourhoods, with parking pads often extended to provide even more space.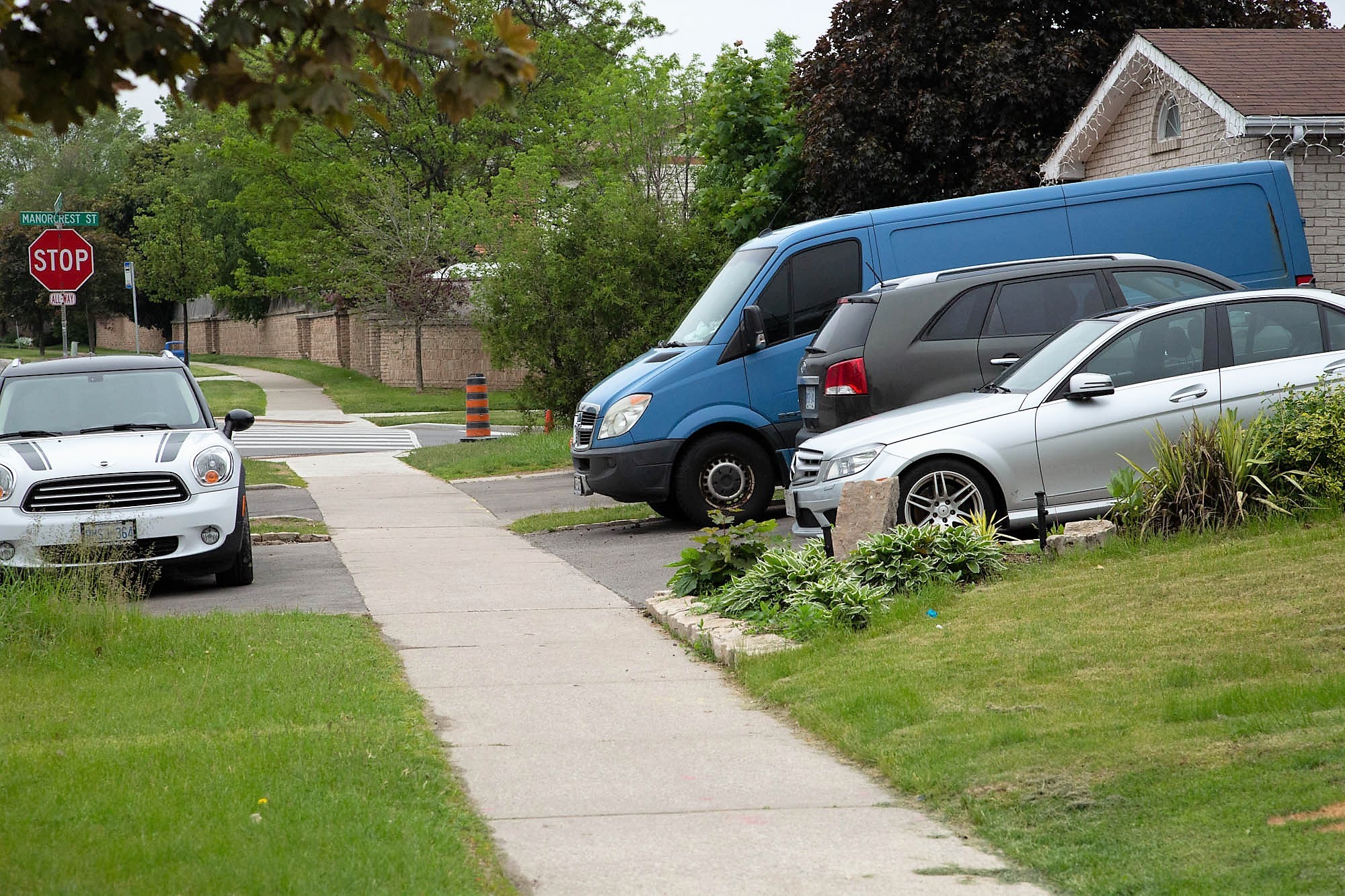 Scenes like this are common in Mississauga and Brampton, often an indication that a house has a secondary suite.
Technically, there are no limits to the number of people who can live under one roof, but there are bylaws. Dynamics for living arrangements in many parts of Mississauga and Brampton, where the lack of affordable housing stock in the two hyper-growth communities has been a major issue for decades, have created a dire challenge for public health officials during the pandemic, with the virus easily spreading through crowded households where individuals have difficulty isolating.
In Brampton, household size is regulated by the City's Occupancy Standards Bylaw, which stipulates that "the maximum number of occupants in a dwelling unit shall not exceed one person for each 14 sq. m (150 square feet) of the total floor area." It further restricts habitation by putting a cap on occupancy of bedrooms, stating that no room shall be used for sleeping purposes unless it has a minimum width of 1.83 metres (6 feet); a floor area of at least 5.6 square metres (60 square feet), and further, that a room in which two or more people sleep needs a floor area of at least 3.7 square metres (40 square feet) for each person.
But these rules are often ignored.
Meanwhile, the large number of people in houses and illegal units has been cited repeatedly as one of the factors driving high infection rates in Peel, and Brampton in particular, as people simply can not properly distance even when they get infected.
On paper, a voluntary isolation centre is the perfect solution. Rooms, typically in hotels, allow individuals to self-isolate at no cost.
When the Province announced in late December it was allocating $42 million dollars to open isolation centres in a number of "high-needs" areas, including Brampton and parts of Mississauga, it came as welcome news. This funding will bring the first dedicated isolation beds to Brampton residents living in precarious housing.
Peel officials were disappointed in September when Ottawa announced almost $14 million in funding for COVID-19 isolation beds in Toronto, but none for Peel. Before the new year, recognizing the situation in Brampton was much worse than Toronto, the federal government earmarked $6.5 million for Peel.
The new isolation centres will be located within Brampton including the Bramalea area, and Mississauga (Malton is a focus). The overall number of isolation beds is still unclear, though Regional officials have indicated to The Pointer that 840 beds in total will eventually be opened (it's not clear if all of these will be in Peel). The facilities will open this month, but the exact date is not known, as it depends on details that are currently being finalized, Dr. Lawrence Loh, Peel's medical officer of health, told The Pointer last week.
Even using the figure provided, the measures raise questions about the effectiveness in controlling the current high rate of viral spread.
In the two weeks up to January 7, there were almost 6,800 new infections reported in Peel. There could be more than 10,000 active infections.
If Peel is able to open up a few hundred beds, it will certainly help, but the degree to which is not known. The voluntary nature of participation also raises questions. For example, will infected individuals living in illegal units (assuming they even got tested) be willing to utilize the isolation facilities?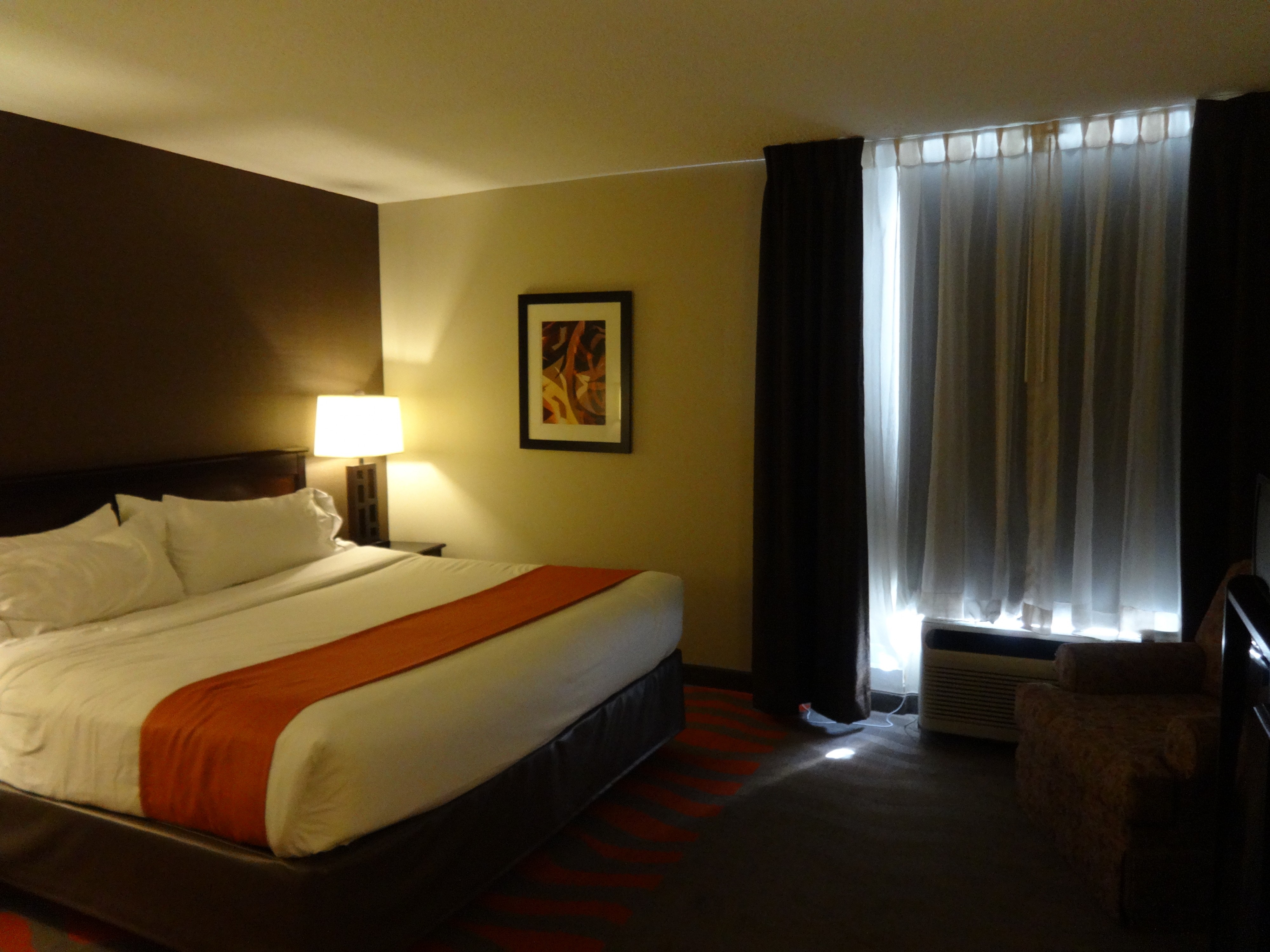 Hotel rooms are being used in many municipalities as space for residents to self-isolate.
Dr. Loh says the new facilities will give residents additional options to isolate and will help limit household transmission and spread within the community. These two settings have led the region's transmission of the novel coronavirus. According to the Region's latest epidemiological update released Friday, 50.3 percent of cases (3,420) reported during the most recent two weeks were due to exposure in households. A further 28.4 percent of the cases (1,932) were from community spread.
"Household transmission continues to be a place where we see high levels of transmission so providing residents with the ability to remove themselves from their home, protect their loved ones and self-isolate safely is a critical step in our fight against COVID-19," Dr. Loh said.
This is the second funding announcement for isolation centres in Peel Region. The federal government made the first back in November, resulting in an isolation centre opening in Mississauga. It's not clear why the Region decided on opening its first facility in Mississauga, when the need exists throughout the region, and especially in parts of Brampton where neighbourhood infection rates are the highest in Peel and among the highest anywhere in Canada.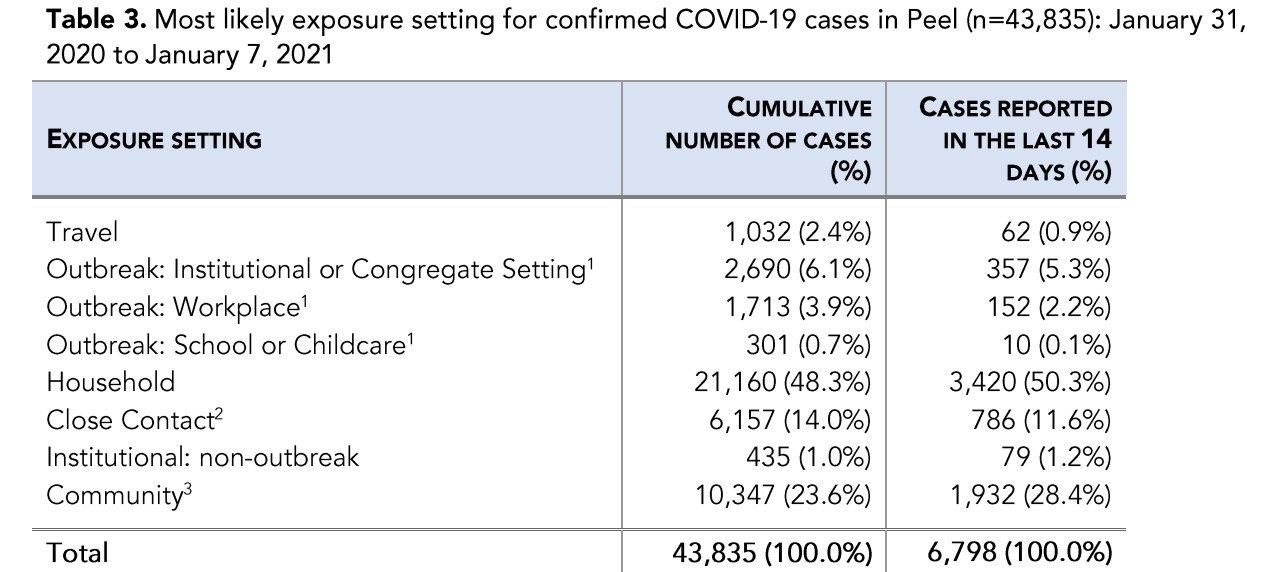 On Friday, Ontario reported its highest case count of 4,249 and Peel has consistently had by far the highest per capita rate of new cases since numbers began to surge again before Christmas. According to public health data, Peel has had about 30 percent more cases per capita than Toronto since the start of the pandemic.
While isolation facilities are extremely important in allowing people to keep themselves and their family safe, it only addresses a small part of the bigger issue.
Woefully inadequate testing and contact tracing in the region, particularly in Brampton, has been a key reason for the city's high infection rates. It operated with just one official provincial assessment centre for most of the pandemic, while Mississauga had three and Toronto had 17. The four sites in Peel throughout most of the pandemic represented less than half the per capita allocation Toronto received, despite Peel consistently having higher per capita rates of infection. Overall testing figures for both areas also show how Peel was vastly under-testing, especially considering the rate of viral spread, particularly in Brampton.
The other shortcomings are around the inability of Peel residents to leave their jobs and their families to complete a period of self-isolation. Dr. Nitin Mohan, a physician epidemiologist and professor at the University of Western Ontario, believes there are crucial issues decision makers are failing to act on.
For the many front-line or low wage workers residing in Brampton and elsewhere in the region, losing their pay cheque to self-isolate may not be an option. The fact paid sick leave hasn't been established by the Province so far is a policy decision the government refuses to move on, Mohan suggested.
"With the amount of evidence and data we have, there's no guesswork around the factors that are leading to the high case counts. It seems to be a clear decision to not provide paid sick leave. It's unfortunate because it would drive case counts lower."
In October, the federal government established the Canada Recovery Sickness Benefit, allowing residents who need to self-isolate or leave work temporarily because of COVID-19, to receive compensation. But the program doesn't offer much, only $500 per week, for up to two weeks. It further deems those who applied for other programs, such as the Canada Recovery Benefit or Employment Insurance Benefits, ineligible.
Even for people who are infected and qualify for one of the voluntary isolation beds being set up, for many it's not an option because of family and other obligations.
For the elderly and many others living in extended family arrangements that are typical of their cultural backgrounds, other barriers pose challenges. It's not clear if the voluntary isolation beds will include culturally specific meals or what language supports will be put in place. In Brampton, where close to 80 percent of the population is not white, a host of cultural issues might prevent uptake of the new resource.
Peel, and Brampton specifically, has been highlighted as a COVID-19 hotspot on numerous occasions by Premier Doug Ford. On September 4, he called Brampton "broken" because of its alarming rates of new infections. But little timely help came from the Province to help the region's bleak situation.
For example, Brampton started reporting increased case counts in August, but increased testing for symptomatic individuals didn't arrive in the city until December, when testing began at certain community centres. In between that time, asymptomatic testing at select pharmacies was introduced, but appointments were often difficult to secure, and the limited number of testing spots changed daily.
In Mohan's eyes, the new isolation centres, and the many other "reactive decisions" the Province made, can be chalked up to a clear disconnect between those who are governing and those being governed.
He pointed to the recent actions of Rod Phillips, Ontario's former finance minister, who took a vacation to the Caribbean over the holiday season after the Province warned people to stay home. His social media was loaded with posts that suggested he was in Ontario, when in reality, he was thousands of kilometres away.
When looking at such examples, it becomes clear why certain policy decisions that would benefit those on the lower end of the socio-economic scale, haven't been made, Mohan said.
"I wonder if they even have the ability to understand what's happening in these communities. I haven't seen someone on the provincial panel that looks like they have lived-experience with the community and what the community looks like in Peel."
It's especially frustrating because the rising case count was preventable, Mohan said, as the right people were there working and medical options were available. If the Province provided resources in a timely manner, lives could have been saved.
Specific to Brampton, Gurpreet Malhotra, the chief executive officer at Indus Community Services, said healthcare in the city was set up to fail. Underfunding from the Province means there is less connection to the community and less programs that can adapt to change and deliver in a time of need, taking longer for urgently needed support, such as testing, to be delivered.
"That systemic discrimination that led to that disparity in funding, means that we're slower to be identified as a place for voluntary isolation," Malhotra told The Pointer.
The Central West Local Health Integration Network, which funds health programs for Brampton residents, allocated $868 per resident, according to 2019-2020 figures. This is the lowest out of the 14 LHIN's that operate across the province and about half the Ontario average.
The Pointer asked the Ministry of Municipal Affairs and Housing why officials didn't push for the isolation centres to come to Peel. Questions were not directly addressed. "We look forward to working with our local partners to expand existing isolation centre capacity in Peel, and create new facilities in the coming weeks," a spokesperson for the Ministry said.
The Ministry of Health has also failed to explain why Brampton has not been given adequate testing resources.
Malhotra acknowledges the issue in Peel is multi-faceted, but notes resources are available to make proper isolation possible.
For instance, many residents in multigenerational households may be unable to leave their duties as a caregiver behind for two weeks if they have people who depend on them for their daily needs.
The resources to make this possible exist, Malhotra said, but informing people about them, especially if they speak a language other than English, is a concern.
"There has to be a lot of explanation around the safety, and security of people and to the comforts they'd be offered…that is the other problem [to isolation centres]," he told The Pointer.
Malhotra believes having community ambassadors, who speak the multiple mother tongues of Peel residents, can assist with this issue, as it would allow residents to stay informed on their options.
The Province mentions plans for a community ambassador program to help reach residents who might otherwise not be aware of or interested in certain supports. But information on these initiatives is vague.
The Province states on its webpage outlining supports including the new isolation centres that it is, "Developing targeted and culturally appropriate communications to ensure community members and leaders have the information needed to combat misinformation and myths."
Why this wasn't done at the beginning of the pandemic for places such as Brampton, is unclear.
Indus has been working on developing a program that would allow such information to be shared, but is waiting on funding from the Province to officially launch the initiative.
---
Email: [email protected]
Twitter: @nida_zafar
Tel: 416 890-7643
---
COVID-19 is impacting all Canadians. At a time when vital public information is needed by everyone, The Pointer has taken down our paywall on all stories relating to the pandemic and those of public interest to ensure every resident of Brampton and Mississauga has access to the facts. For those who are able, we encourage you to consider a subscription. This will help us report on important public interest issues the community needs to know about now more than ever. You can register for a 30-day free trial HERE. Thereafter, The Pointer will charge $10 a month and you can cancel any time right on the website. Thank you.
Submit a correction about this story