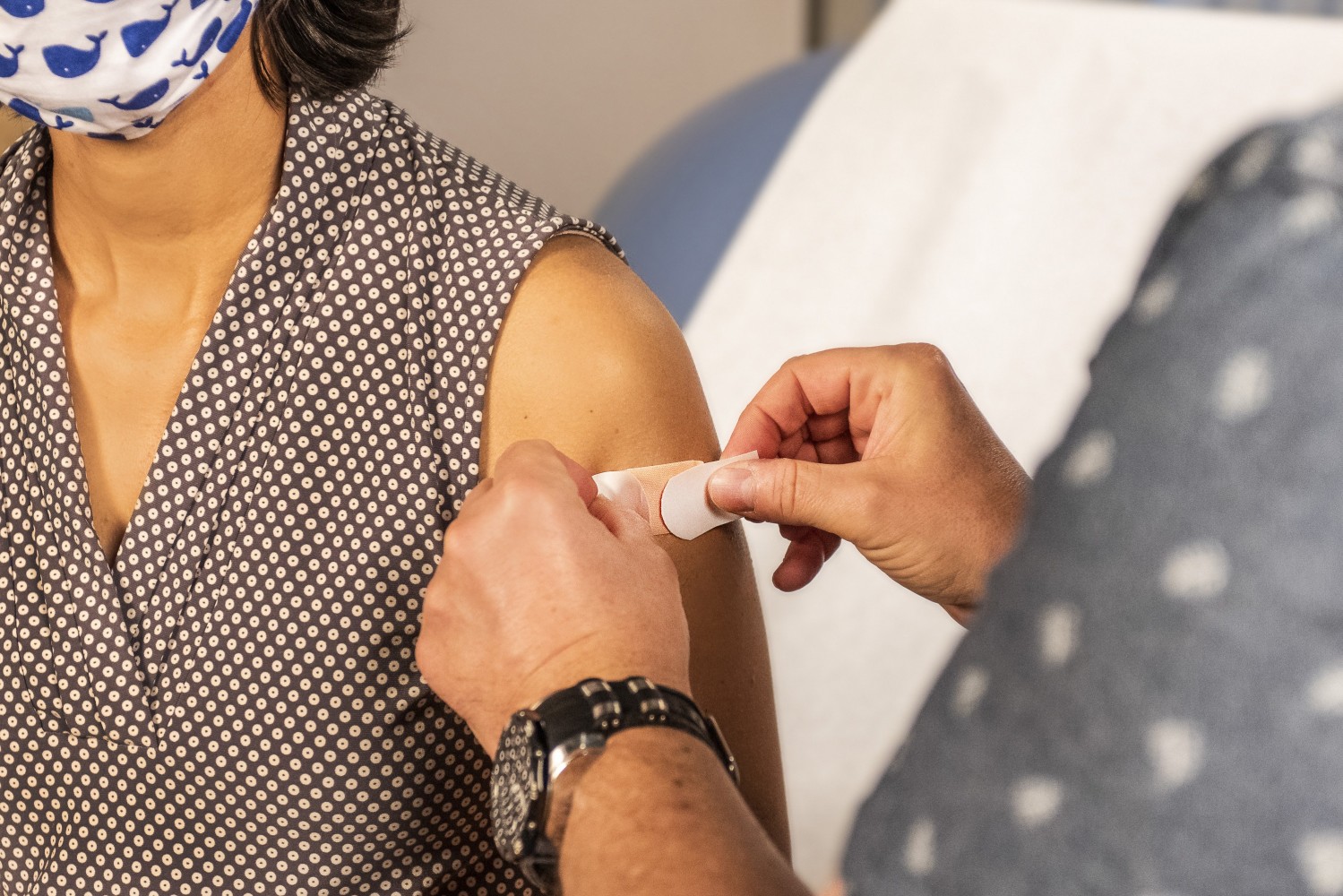 Photos from the Region of Peel/CDC via Unsplash
Queen's Park finally backs targeted vaccination strategy for Peel
For the weary, it feels like COVID-19 was sent to prey on the residents of Brampton and Mississauga. On Wednesday, the Province made its first significant effort in months to slow the runaway viral spread in Peel.
It will provide targeted mobile vaccine clinics and pop-up locations in hot spots to administer doses to essential workers and others.
Last year, as the pandemic spread rapidly around the world, workers at Canada's busiest airport, including security personnel, Peel's taxi drivers, transit operators and baggage handlers were among the first Canadians exposed to the novel coronavirus.
As the first wave crashed over the region, decades of healthcare underfunding was tragically exposed. In Brampton, its lone full-service hospital was stretched to the breaking point as COVID-19 case counts outpaced the rest of the province.
The region's demographics, with a majority non-white population, meant residents were even more vulnerable to the full force of COVID-19 as a result of comorbidities such as high prevalence of diabetes and heart disease within the South Asian-Canadian community.
Large numbers of manufacturing workers, other essential employees and dynamics such as larger average household size, made parts of Peel susceptible to rapid viral spread. Coupled with woeful resourcing from Queen's Park – Brampton was only given 1 testing centre, while Toronto received 17, and its screening rate was among the lowest in Ontario despite being the hardest hit area – many parts of Peel became the epicentre for transmission in the GTA.
The Doug Ford PC government seemed confused at best, and apathetic at worst. As Peel's pandemic response failed, the ruling party's inconsistent decision making revealed more structural problems in Peel.
Premier Doug Ford unveiled a new vaccination plan that shows a flexibility critics said was missing previously.
Situated at the heart of Ontario's highway network, Brampton and Mississauga house the warehouses, food processing plants and distribution centres that keep Ontario's supply chain running. These are jobs that can't be done from home, even during a lockdown. New research by the Toronto Region Board of Trade's Economic Blueprint Institute shows that 53 percent of Peel's 608,000 workers need to be on-site to work.
"Early research suggests that workplace-based vaccination would be more effective than an only vocation-based vaccine rollout strategy," Marcy Burchfield, VP of the Economic Blueprint Institute, said. "Meaning, we should be prioritizing regions of essential work like Peel if we want to be successful at reducing transmission of the virus."
This was not happening.
Inflexible and inadequate government policy compounded other challenges unique to Peel. Its demographics and decades of underfunding in the healthcare sector created a bleak picture.
The list of policy failings is long:
Throughout much of the pandemic, Peel's mayors, councillors and top doctor have been dismissed or ignored.
Finally, on Wednesday, drastic changes to Ontario's vaccination program were announced that suggest Queen's Park could finally be listening.
Announcing a new province-wide stay-at-home-order, Premier Ford confirmed he was tearing up age-based priority as the golden rule for vaccinations and instead focusing on providing doses to hotspot areas.
The announcement confirms a shift that was already gradually taking place. Before Ford removed his mask and spoke to Ontario residents Wednesday, Peel Public Health had confirmed it would be offering vaccines to those aged 50 and older in hotspot postal codes (including the whole of Brampton). Wednesday's shift in priorities goes even further.
Teachers in hotspot postal codes have been placed at the top of the vaccine priority list, while special education workers across Ontario will now be vaccinated. Both groups can expect to start receiving their shots next week through mass vaccination clinics. "It's happening, Peel educators! Our collective voices have been heard," Ryan Harper, Ontario Secondary School Teachers' Federation Division 19 (Peel) acting president, tweeted. "ANOTHER win for collective action & advocacy," the Peel Elementary Teachers' Local said.
On Monday, Peel's medical officer of health, Dr. Lawrence Loh, issued a Section 22 order directing the region's schools to close for two weeks.
A map of hotspot postal codes in Peel Region.
A range of mobile clinics has also been promised by the Province, these will include on-site vaccinations for anyone in high-risk employment settings such as warehouses, food processing plants or logistics centres. "To support this expanded vaccination effort, mobile teams are being organized to administer vaccines in high-risk congregate settings, residential buildings, faith-based locations, and locations occupied by large employers in hot spot neighbourhoods to individuals aged 18 or over," a provincial media release stated.
Hotspot postcodes will also drop their age limits entirely, allowing any adult to get a COVID-19 vaccine at a mobile clinic when they roll into the area. This will only apply to mobile clinics, meaning broader age restrictions will remain in place at hospital sites and mass immunization clinics, a provincial spokesperson confirmed to The Pointer.
It is unclear where this leaves the Province's original Phase 2 vaccination plan, a document that earmarked essential workers for vaccines in June. Questions around surge management for mobile clinics that can now vaccinate anyone through most of Peel have also been raised. Wednesday's announcement focused on broad direction ahead of details to come.
The shift in priorities comes as Peel's infection rate has been rising dramatically. On March 17, Peel reported 253 new cases, then 309 on March 24, 433 on March 31 and 596 on April 7. The region has been in some form of Ontario's changing lockdown restrictions since November.
Driven by more transmissible variants, the third wave is already threatening to eclipse the height of the second.
Peel's third wave is on track to dwarf its other COVID-19 waves.
Vaccinating essential workers to protect their families and slow the viral spread is a move councillors in Peel have been desperately calling for. On Wednesday, both Brampton and Mississauga crystalized their support in separate motions asking the provincial government to take mobile vaccine clinics to workers in essential workplaces.
"The mobile program [should] include those employed in schools, transit workers and other essential workers exposed to multiple human contacts, again regardless of age," Mississauga's motion resolved.
Peel has already seen how contagious the novel coronavirus and the variants of concern can be when they find their way into these workplace settings. A Brampton Amazon fulfillment centre was ordered closed last month after an outbreak was linked to approximately 600 cases in the region.
Even as Ford complied, finally turning an ear to Peel's desperate needs, Dr. Loh raised some concerns about abandoning the age-based vaccination criteria in the region. Over the past week or so Peel Public Health has built up steam on its vaccinations, managing between 8,000 and 9,000 doses per day, but for weeks the age-based framework failed residents, largely because the supply of doses to Peel was alarmingly inadequate.
As of the third week of March it had only been provided with 6.7 percent of Ontario's overall vaccination allocation, despite accounting for about 10.5 percent of its population. Public health officials said Peel should have been getting far more than its per capita allocation because it was the worst hit region, from where much of the GTA's transmission was spreading. Instead, it was barely getting half its per capita share.
Dr. Loh issued multiple pleas to Queen's Park calling for increased vaccine supply and a strategy that targets the hardest hit areas, particularly Peel.
"Our mass immunization clinics continue to have a significant capacity that can be used," Dr. Loh told Mississauga Council on Wednesday, emphasizing the most efficient rollout would take place at the Region's seven major vaccination clinics. "The fastest and most effective way for us to get out of this is for us to continue moving quickly down the age brackets and pushing arms towards needles at the mass vaccination clinics."
The business communities in both Brampton and Mississauga have welcomed the change in vaccination strategy. "Our organization is prepared for a discussion with the Province if they require our assistance," Brampton Board of Trade CEO Todd Letts told The Pointer.
Brad Butt, the Mississauga Board of Trade's vice president of government and stakeholder relations, said his organization will rally its members to take part. "We would be wholeheartedly encouraging our members to sign up and participate in that program," he told The Pointer, hours before the policy was announced. "I think the signup would be overwhelming among our members in categories that might be prioritized by Peel Public Health."
Responding to questions from Mississauga Ward 5 Councillor Carolyn Parrish, who pushed the mobile vaccine clinics motion, Dr. Loh remained cautious. "Overall, I think it needs to be both strategies," he said. "Mobile is quite resource intensive and not necessarily as high throughput as our mass vaccination clinics can be. It will have to be very targeted to very specific worker populations."
Dr. Loh's hesitancy around mobile clinics may be rooted in Peel's vaccine experience to date.
Figures released on April 5 show just one percent of the region's vaccines have been administered at mobile clinics, compared to 64 percent through hospital run sites and 23 percent at regional mass vaccination sites. The Province's change of heart will mean Peel needs to significantly alter its rollout plan and current emphasis.
Data from Peel Public Health show older adults have been vaccinated.
Logistics have already been announced in neighbouring hotspot Toronto, but Peel is still finalizing its plans. Toronto Mayor John Tory told a news conference, essential workplace mobile clinics would initially be piloted at two locations.
Dr. Loh also told councillors in Mississauga Wednesday that issues with the Province around supply had finally been resolved and the region should receive its per-capita share of vaccines going forward.
Residents in Peel, who have been starved of good news for months, have finally been offered a vaccine plan that offers a real route out of the pandemic.
Dr. Loh and Ford both share optimism that an exit from the pandemic could be reached sooner. Speaking to reporters Wednesday Ford said he hoped to have 40 percent of all adults in Ontario receive their first dose of COVID-19 vaccine by early May, while Dr. Loh told councillors he could see 20-year-olds in the region getting their vaccination before the month is out.
"Based on our data from previous unlockings, typically we start to get a significant uptake and coverage in each age group over a five-to-seven-day range," he said. "We can kind of project out and see that by the end of April, we'll probably be vaccinating 20-year-olds, hopefully if we're able to keep this up."
---
Email: [email protected]
Twitter: @isaaccallan
Tel: 647 561-4879
---
COVID-19 is impacting all Canadians. At a time when vital public information is needed by everyone, The Pointer has taken down our paywall on all stories relating to the pandemic and those of public interest to ensure every resident of Brampton and Mississauga has access to the facts. For those who are able, we encourage you to consider a subscription. This will help us report on important public interest issues the community needs to know about now more than ever. You can register for a 30-day free trial HERE. Thereafter, The Pointer will charge $10 a month and you can cancel any time right on the website. Thank you.
Submit a correction about this story