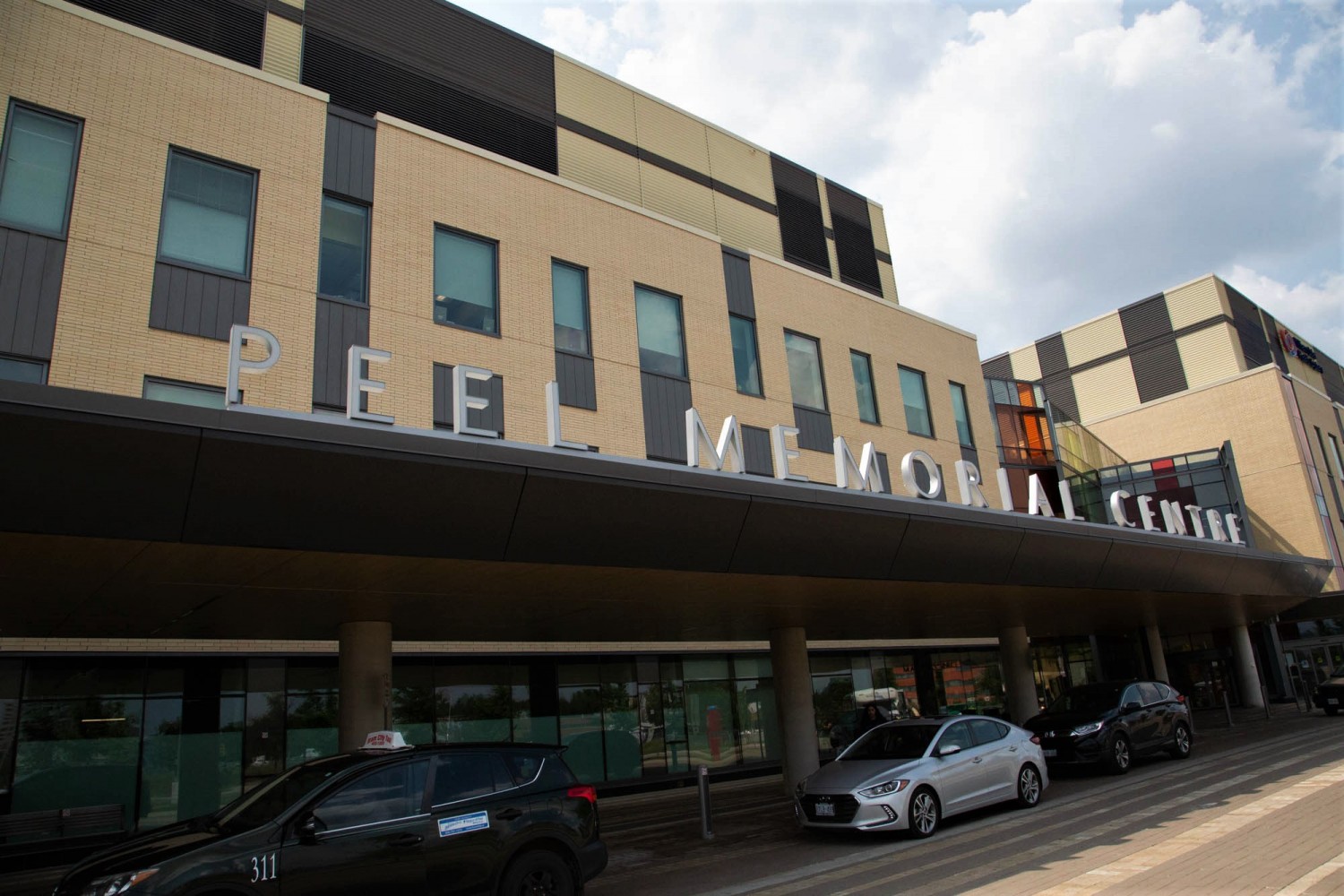 The Pointer file photos/Rendering City of Brampton
Looks like Brampton 'getting scraps' in PC budget after waiting two decades for a second hospital
"Yesterday, I had the opportunity to tour the Peel Memorial Hospital. What I saw there was shocking to me and I think would be shocking to most people in Ontario. In that hospital, on a day that the staff said was far from the worst that it gets, the average wait time to see a doctor in the emergency room was 12 hours – 12 hours! There were 25 people in the emergency room who had been admitted to the hospital, but were lying on gurneys in the hallways or occupying examination rooms because there were no beds available for them upstairs. The nurses and doctors told me that it's not unusual for people to lie in the ER sometimes for four or five days, for babies who are there as pediatric emergency cases to spend hours at a time, long periods of time, waiting for a bed in the hospital."
Guess when those words were uttered inside the legislative chamber at Queen's Park.
It was Monday, October 23, 2006.
Fifteen years ago.
They were aimed at the Liberal government of the day. John Tory, Toronto's current mayor, then the leader of the opposition, voiced the burning frustration felt by residents across Brampton suffering without adequate healthcare, treated like second-class citizens.
He had visited Peel Memorial before it was knocked down and rebuilt as the current integrated wellness centre.
Brampton residents watched their hard earned tax dollars flow out of their city, to fund healthcare elsewhere, while they were thrown the scraps.
Two decades later, nothing has changed.
The expansion of Peel Memorial was first promised by the Liberals more than a decade ago, but successive governments either failed to budget for it, or now, have fallen far short of their commitments to improve Brampton's deplorable healthcare situation.
On Wednesday, residents were left bewildered after being promised a second full-service hospital for more than a decade, one they thought had already been secured through a $20-million special levy that came out of their pockets years ago.
Instead, the latest news out of the provincial budget hit them like a gut punch.
There will be no relief for years, and when it comes, Brampton will be no better off than it is now.
The Doug Ford PC government announced the long-awaited expansion of Peel Memorial, converting it back into an actual hospital that admits patients.
The city currently has less than half the hospital beds per capita compared to the Ontario average, and needs about 800 more just to reach that minimum benchmark.
It may only get 90 to 100.
The budget document does not include the number of inpatient beds that will be funded as part of Peel Memorial's transformation. However, a press release from the City of Brampton issued yesterday states that: "Bringing Peel Phase II to life will help Osler increase acute care services at Brampton Civic Hospital, adding capacity for 90-100 medicine beds upon completion."
It has left residents and advocates concerned that any future expansion will barely put a dent into the healthcare inequities that have plagued Canada's ninth largest city for more than two decades.
While the Province shoves huge population growth into the city, it has failed miserably to take care of all the newcomers.
If the expansion is only able to free up capacity for 90 to 100 beds (the actual number of new beds has not been shared) it won't even make up for the city's projected population increase between now and then.
"There's nothing in the budget to indicate that (the bed number)," NDP Leader Andrea Horwath said Thursday outside Peel Memorial. "So, not only is there no detail in terms of the plan, but there's no money either. So, I mean, how is this going to happen with no money, and no detailed plan in the budget?"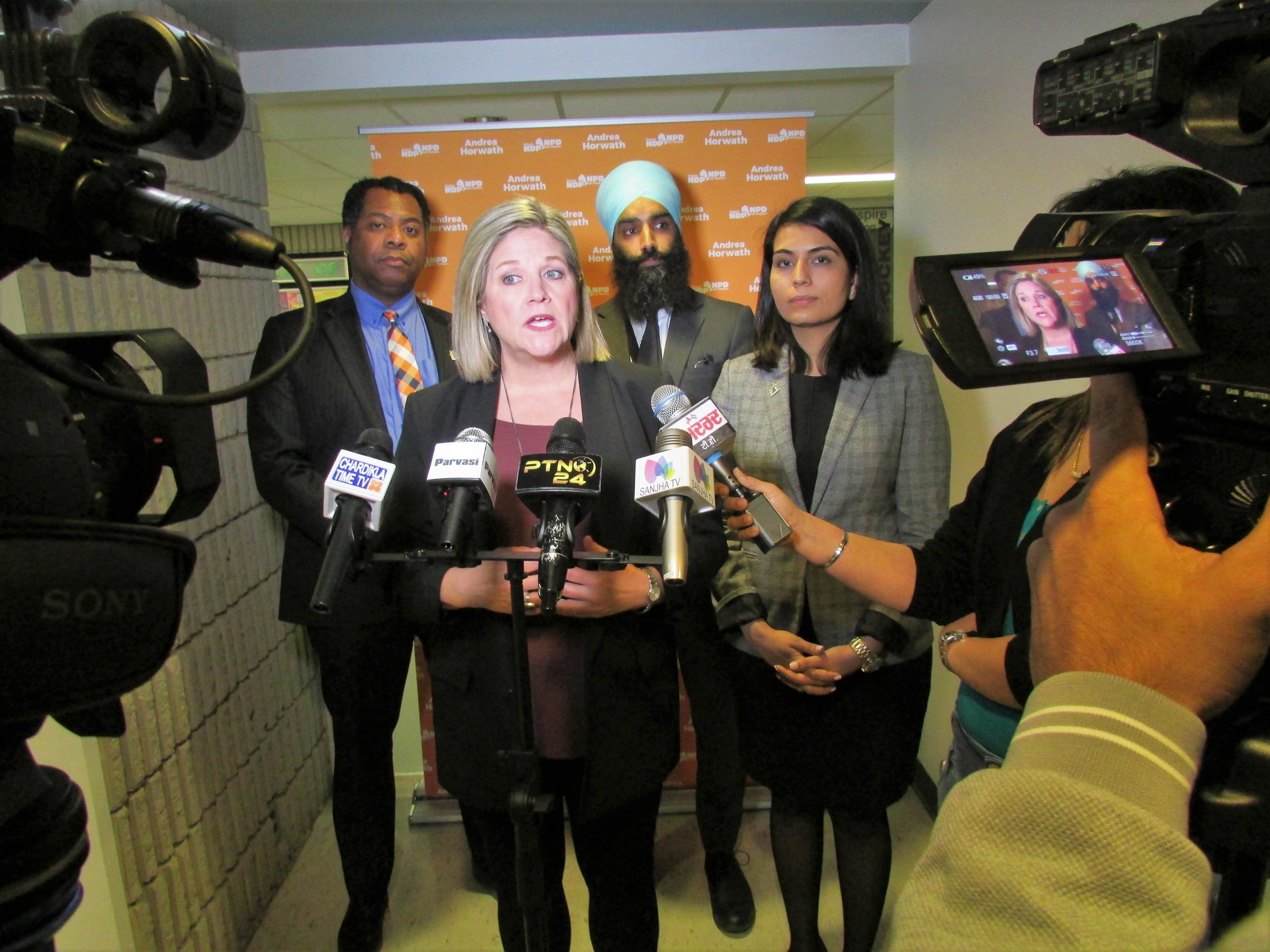 NDP Leader Andrea Horwath flanked by her Brampton MPPs during a local healthcare townhall in 2019.
It's being called a slap in the face for a municipality that has become the poster child for hallway healthcare and government neglect.
"I think we're all expecting, and we will be disappointed, if we won't get a 350-bed addition," Chris Bejnar, co-chair of Citizens for a Better Brampton, said, before finding out the bad news.
"I was cautiously optimistic, maybe this time it's going to be different. I was so upset last night. Really, 90 to 100 beds, they could fit that in the cafeteria. We're still going to be half the provincial average. We're getting scraps. Expanding Phase 2 is the quickest and most cost-effective way of getting a second hospital. We're not getting that. It's a slap in the face. We always have to beg to have our tax dollars come back to us. I'm so angry. I think the whole city is angry."
Bejnar could not contain his frustration after the City of Brampton tried to offer some context around the PC government's funding for Peel Memorial's Phase-2 expansion.
"This is way less than what Kathleen Wynne and Linda Jeffrey promised us years ago."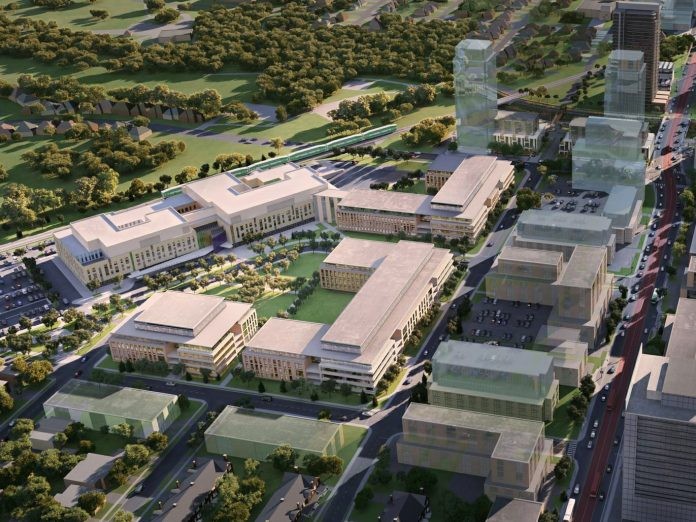 A rendering of the Phase-2 expansion of Memorial that the Liberals promised.
Horwath echoed the words of outraged residents.
"It's really shameful, and it's meant to kind of suggest that they're doing something while, in fact, they're not. And that's on Doug Ford. These are the kinds of games that have been played with the people of Brampton over and over again, and they deserve so much better."
"The Ford government has left #Brampton behind again," the party's Deputy Leader, Sara Singh, who represents Brampton Centre, tweeted.
The PCs and their former leader, Patrick Brown, Brampton's mayor, tried to spin it as positive news.
Ontario's 2021 budget states "a new inpatient wing" will be built to increase bed capacity at the facility as part of the "Peel Memorial Phase 2 redevelopment" plan.
"Today, I am proud to announce we will support the hospital expansion and construction of a new wing at the William Osler Health System in Brampton," Finance Minister Peter Bethlenfalvy said Wednesday.
The Pointer was told by The Province that Ford and Health Minister Christine Elliott will be in Brampton Friday to provide more details. It's unclear if any money was even included in the Province's 2021 budget for the capital cost of Memorial's expansion.
No timeline was provided.
There was no mention of a memorandum of understanding (MOU) to guarantee the PCs will have to make good on their word. It was the Liberals who made the commitment to a Phase 2 expansion for Memorial, which even triggered the special levy for it that was collected by the City of Brampton to pay for its local share of the cost. Brampton has seen previous "commitments" made by the Liberals amount to nothing. In 2018, Ford killed $90 million in funding that Brampton was promised by the previous government for a downtown Ryerson University satellite, which was scrapped after the PCs unexpectedly pulled the funding, the day after Patrick Brown was elected mayor.
Bejnar, who has been at the forefront of the advocacy effort for a proper Phase-2 expansion of Peel Memorial, said it needs to transform the facility into a full service hospital equipped with an adequate number of beds, a fully functioning emergency response department, and all the other treatment capabilities currently only available at Brampton Civic, the only full-service hospital in the city. Both facilities are operated by William Osler. The organization also runs Etobicoke General Hospital in Toronto.
In previous communications with The Pointer, William Osler has said its proposal for Phase 2 includes, "new beds for patients who require more supports and longer stays in hospital. As some patients will be transferred from Osler hospitals, this will also create additional capacity for much-needed acute care beds at Brampton Civic Hospital...Peel Phase II plans also include outpatient programs and services as well as expanded urgent care."
It's not clear if the City will have to pay a further share for the expansion, after a levy on local property taxpayers was already collected and $20 million was set aside for the Phase-2 project, which was first promised by the Liberals more than a decade ago.
A timeline for the project was also not included in the budget. A 2020 update from Infrastructure Ontario shows the project could be assigned to a bidder as early as 2024 and the cost could range between $200 million and $499 million. Osler has suggested the new facility might not open until 2028.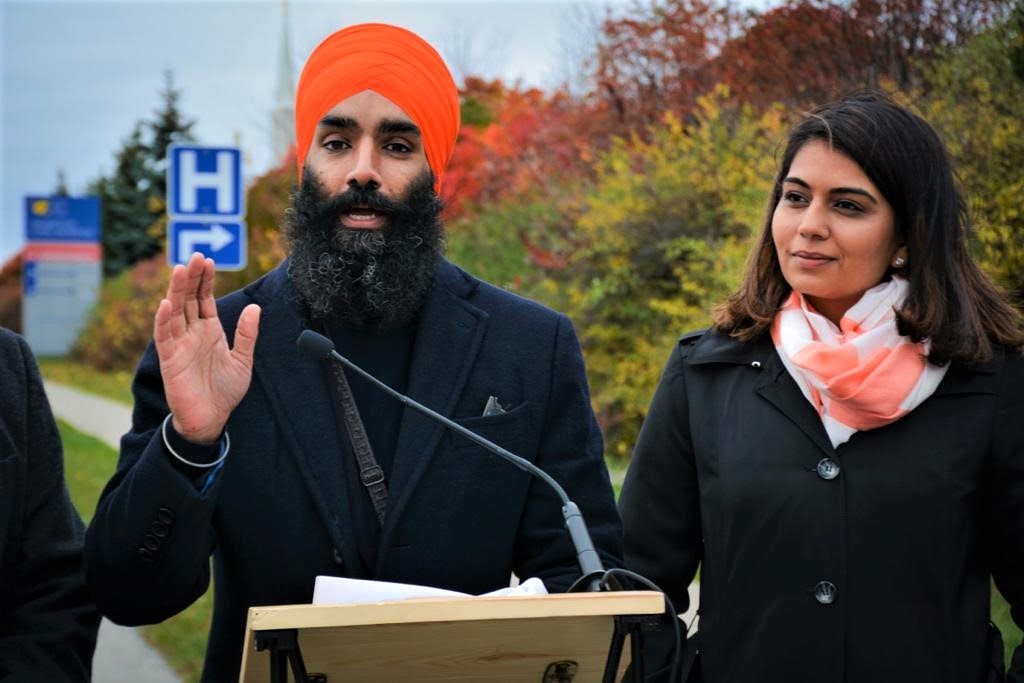 Brampton NDP MPPs Gurratan Singh, left, and Sara Singh outside Civic Hospital to raise awareness of the healthcare crisis.
Peel Memorial closed its doors in 2007 for a lengthy renovation process to be completed in two phases. Reopening a decade later, the facility had no outpatient beds, no emergency department, and closed its doors at 9 p.m. every night, leaving Brampton Civic as the sole full-service hospital in a City with a population of 701,000 residents.
Osler submitted its plans for the expansion last March, months after its original deadline. Information available online led residents to believe Phase 2 would include approximately 200 beds, far less than what had originally been discussed and what the current need is.
Wednesday's announcement means the total might not even be half that figure.
During a telephone town hall Wednesday evening, a member of Osler's senior staff said the expansion will include new beds for "patients who are in need of greater rehabilitation," outpatient programs, and other beds. The staffer said the organization is "pursuing emergency department designation at Peel Memorial," and looking into expanding the urgent care centre to operate 24/7. When the expansion is completed, capacity for 100 beds will also hopefully open up at Brampton Civic. It's not clear what the PC government's overall funding commitment to expand the city's beleaguered healthcare system is, and there is no mention of any timelines in yesterday's budget document.
Brampton has been in a healthcare crisis for the past 14 years. Brampton Civic has seen overcrowding since it opened its doors in 2007 with 479 beds, according to the Ontario Health Coalition (OHC). Outrage was clear from the start. In December of that year, thousands of residents gathered to protest the lack of beds and staff at the new facility, right from its opening, as the old Peel Memorial Hospital was shut down at the same time. The original plan to have 608 beds wasn't fulfilled until 2016, because of large cost overruns in the controversial Public Private Partnership that was used by the Liberals. With a population of 593,638 residents at the time, there were only 1.02 beds for every 1,000 residents, half the Ontario average.
Since then, a few dozen more beds have been added to Civic but the city's population has continued to explode, far outpacing the expansion of healthcare here.
In October, Premier Ford announced the province would add 766 news beds to 32 hospitals in Ontario. Brampton Civic received 41 beds as part of that allocation, but it's unclear if these were permanent or just part of the annual temporary funding ahead of the flu season when hospitals experience seasonal demand increases. In comparison, Etobicoke General received 46 beds for an area with a population of 365,000.
With a population of 701,000 residents, there is now less than one bed (0.92) for every 1,000 residents, a reduction from 2016.
With an extra 100 beds Brampton's count would increase to about 1.05 beds for every 1,000 residents, but that's assuming the population doesn't grow. The city is adding about 14,000 new residents a year, so the per capita bed count is likely to fall further behind, if Phase 2 is only given 100 beds.
Winnipeg, with a population between 800,000 and 850,000, has eight full-service hospitals compared to Brampton's lone facility.
By the time the expansion is built and the new beds are added, the disparity will continue as the city's population continues to boom.
Singh, before finding out only 90 to 100 beds might be funded, said an expansion is a good first step but it's not enough.
"Our healthcare services do not keep up with the growth that's happening," she told The Pointer. "[Our facilities] have been overcapacity since the day that they opened their doors. Not getting another hospital means that those already strained resources are going to continue to be strained. It's simply not enough for our community."
The City declared a healthcare emergency more than a year ago and asked staff to discuss options to secure funding for Brampton Civic and Peel Memorial with Osler and the Province. Council hasn't publicly discussed how it will fund the local share of the Phase-2 project if Osler is told the Province will not cover the full capital cost. When Phase 1 of Peel Memorial was constructed, the City implemented a hospital levy after the Province informed Osler it would have to pay between 20 and 25 percent of the cost. In total, $60 million was collected through the special tax; $40 million went toward the first phase and the remaining $20 million is waiting to be used for the second.
The value of that shelved contribution, even with investment gains, is decreasing, as building costs in the GTA continue to rise sharply.
In the last two budgets, Brampton Council did not discuss the possibility of a hospital levy, despite knowing one will likely be needed. Brown said he had been informed by the Province that a local share will be required for Memorial's expansion, but he has done nothing about it. When discussions for the 2020 budget were taking place, staff said it was too early to implement a hospital levy, based on discussions they had with Osler. During discussions for the 2021 budget, Brown hinted that a discussion on a hospital levy may only come when a "hospital ask" is presented by the Province.
Meanwhile, the city's healthcare crisis continues. In a two-week period in September, code gridlock was used eight times at Brampton Civic, meaning there were not enough beds to accommodate all the patients who needed one, according to information obtained by the NDP.
The lack of healthcare in the city has been highlighted during the spread of the novel coronavirus. Hospitals are the last line of defence, but in Brampton, its sole hospital was full long before the pandemic was declared. This has resulted in patients being transferred away from Brampton Civic because of its capacity problems. In mid-November 25 patients between Brampton Civic and Etobicoke General were transferred to other facilities to deal with the increase in demand because of COVID-19 patients. Civic's ICU has been at or near capacity throughout much of the pandemic.
In January, patients admitted to Brampton Civic spent an average of 16.1 hours in the ER. Only 22 percent of these patients were admitted in the target time of eight hours. This is lower than the 24 hour wait times that were experienced in September, but is double the target time of eight hours.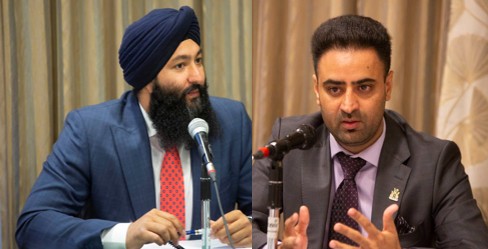 Brampton's PC MPPs, Prabmeet Sarkaria, left, and Amarjot Sandhu have done little to fix the city's hallway healthcare crisis.
The Central West Local Health Integration Network (LHIN) is responsible for funding healthcare in Brampton and has consistently received less funding compared to other LHINs in the province. In 2017 and 2018, CW LHIN received $936 in overall funding per person compared to $1,907 across the province. This number for Brampton dropped further in 2020 to an average of $836 in funding per resident.
Brampton's NDP MPPs have been advocating for better healthcare in the city since they were elected three years ago. The party forced a vote to bring a second full service hospital to the city in 2018. The motion did not receive enough support and was not carried. Brampton's two PC MPPs, Prabmeet Sarkaria (Brampton South) and Amarjot Sandhu (Brampton West) were absent for the vote. A year later, the NDP brought forward a similar motion. Both PC MPPs voted in favour, but the motion ultimately lost because a majority of their PC colleagues refused to support it.
Despite Wednesday's angering news, Singh said the advocacy won't stop. "We're going to keep fighting."
---
Email: [email protected]
Twitter: @nida_zafar
Tel: 416 890-7643
---
COVID-19 is impacting all Canadians. At a time when vital public information is needed by everyone, The Pointer has taken down our paywall on all stories relating to the pandemic and those of public interest to ensure every resident of Brampton and Mississauga has access to the facts. For those who are able, we encourage you to consider a subscription. This will help us report on important public interest issues the community needs to know about now more than ever. You can register for a 30-day free trial HERE. Thereafter, The Pointer will charge $10 a month and you can cancel any time right on the website. Thank you.
Submit a correction about this story