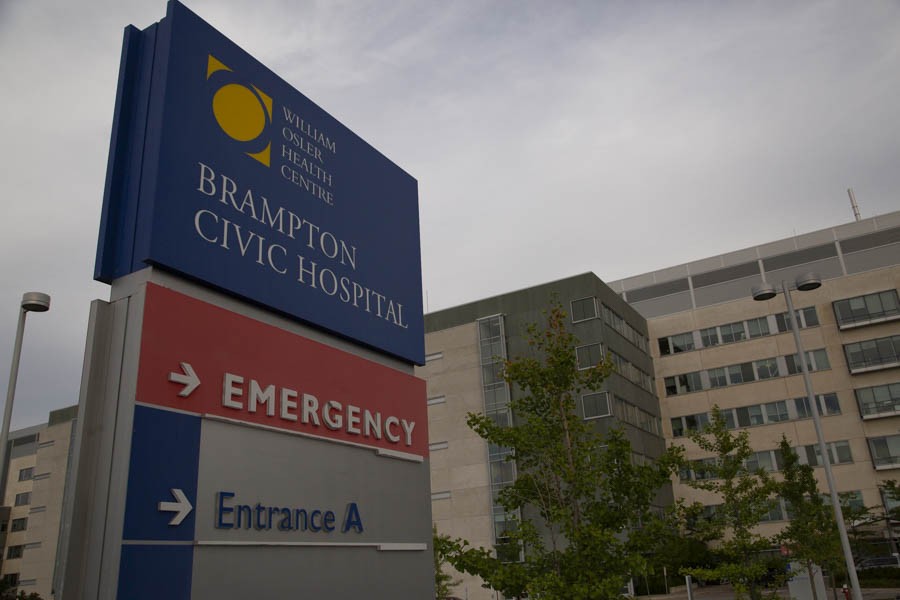 Photos by Joel Wittnebel and file photos
Many to blame for Brampton's healthcare crisis, but it's time for leaders to lead
Cancer cells are dispassionate and relentless. They don't care about the host body being attacked.
These cells have one job: to mutate; to overwhelm all healthy cells until they are eliminated; and to shut down organ after organ until organic life ends.
They are the most democratic of killers: they target a gifted child prodigy, a middle-aged investment banker, the long-time host of Jeopardy, a 96-year-old grandmother of 12, or a working woman of child-bearing age.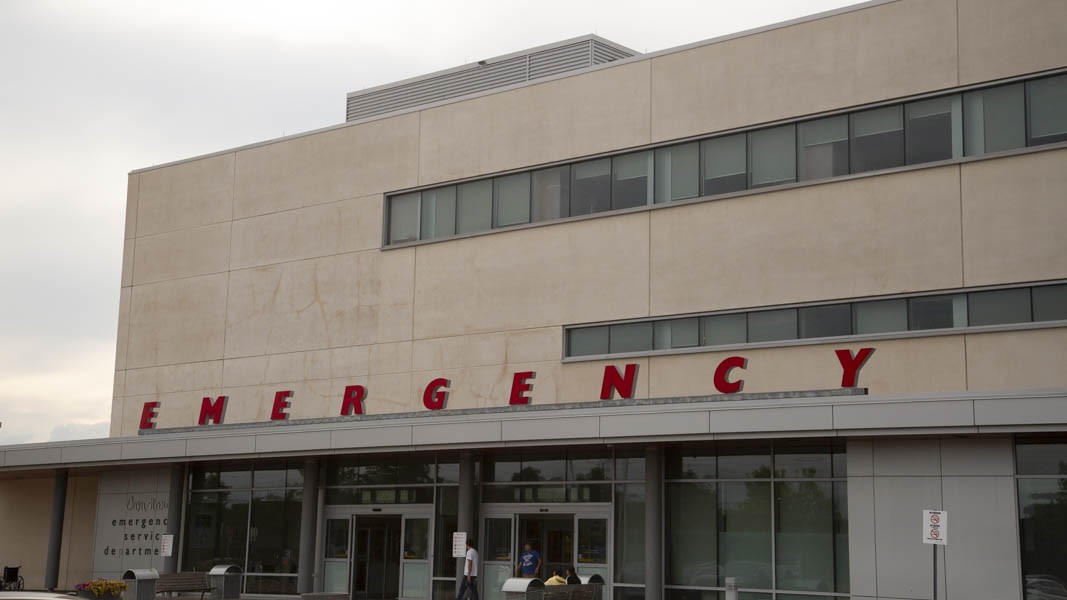 These cells don't know if Dalton McGuinty or Kathleen Wynne or Doug Ford is the premier of Ontario, or which political party promised to do something about our rising healthcare needs during the last federal election. They don't care if the current healthcare system is underfunded or built on the latest cutting-edge technology that speeds up post-op recovery. These cells don't know if their host body eats well, exercises regularly, or goes for its annual physical.
They invade the body and form an exploitive relationship, and this eventually ends in a suicide pact: the host dies, and the killer is also killed.
In other words, pathogens are inherently dumb, or short-sighted, or simply refuse to play the long game.
There is a new pathogen spreading through Ontario's healthcare system – especially in Brampton, the ninth largest city in Canada, and the second-fastest growing in Ontario. It's called the Doug Ford plan (or non-plan) to fix it. So says his most vocal critic, the NDP party, the Official Opposition at Queen's Park.
It's a windswept Friday morning and members of the party's caucus representing Brampton – Gurratan Singh (Brampton East), Sara Singh (Brampton Centre) and Kevin Yarde (Brampton North) – are holding a press conference only a few hundred feet from the front door of Brampton Civic Hospital, the only full-service hospital here. It has become a symbol for overcrowding since its opening in 2007, and because of that, it earned the notorious moniker as home to "hallway healthcare."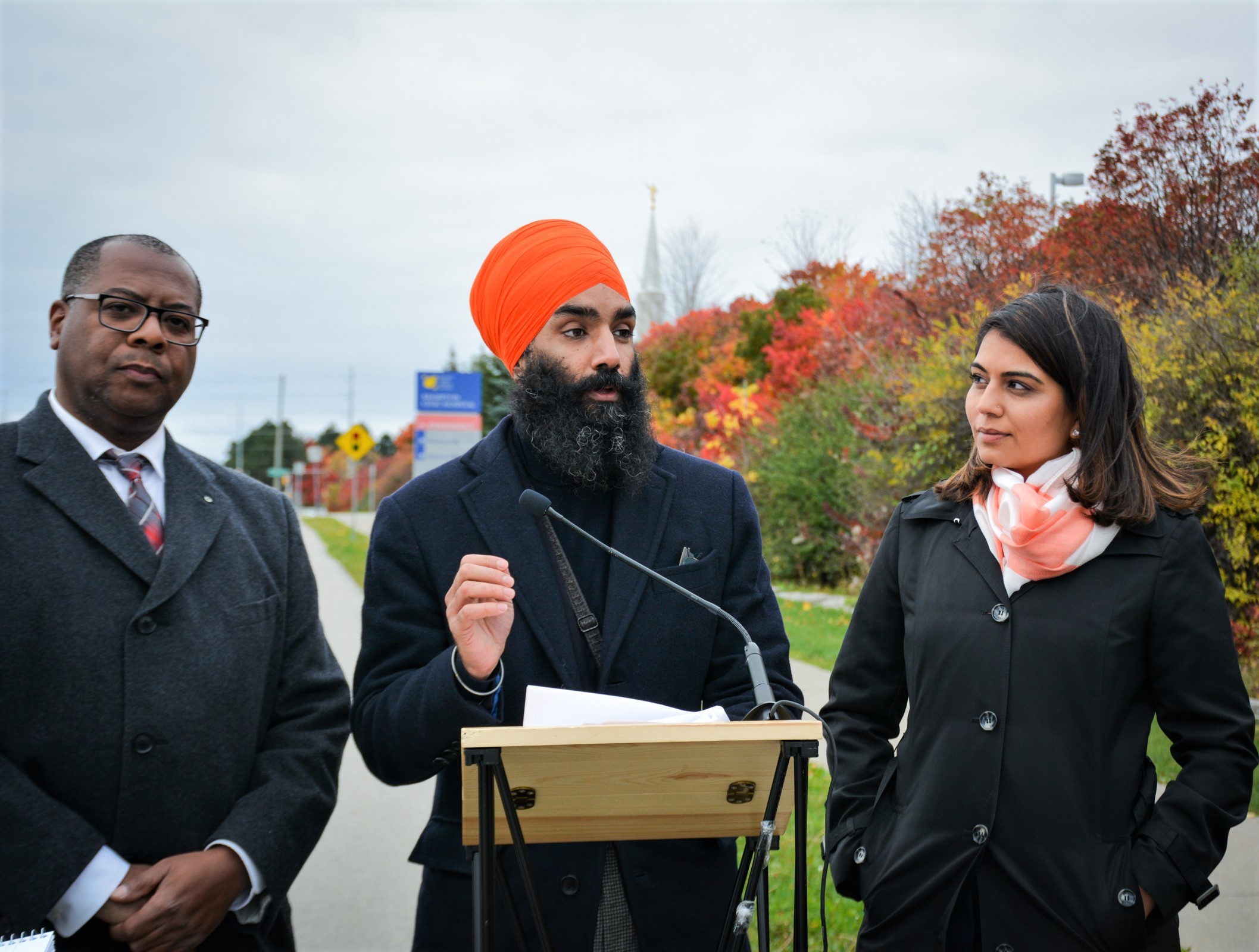 Brampton's three NDP MPPs at a press conference last week outside the Civic Hospital
Healthcare is an emotional issue for the NDP. One of the party's founders, Tommy Douglas, is called the father of the "universal" model that was passed into law in the early 1960s. The very word "universal" means that the model is democratic – everyone, whatever their financial lot in life, is covered. It's all based on need and numbers.
Except in Brampton.
That need, and those numbers are what brought the MPPs to hold their press conference on a sidewalk. The weather on Friday was lousy – cold and blustery – and the sky was filled with ominous grey snow clouds, a fitting backdrop to the chilling numbers the party's troika reveals to the small gathering of press, including two from The Pointer.
This was a double-down on a press conference at Queen's Park on Tuesday, fronted by the party's leader Andrea Horwath. The NDP made a Freedom of Information request and then made the results public.
The lowlights included:
• Brampton Civic is operating at 101 to 106 percent capacity – far above the recommended standard limit of 85 percent to ensure acceptable care.
• Peel Memorial Centre for Integrated Health and Wellness, a preventative care facility that opened in 2017 and offers no overnight beds, hit 587 percent capacity by June of this year.
More numbers, more frustrations.
In 2018, William Osler was given a one-time grant of $500,000 to assist in its planning process to move forward with its next phase of Memorial's construction. It was supposed to be submitted this fall. Why the delay, or a seeming lack of urgency? Are health networks in other jurisdictions more proactive?
Recent examples: Vaughan received funding for its state-of-the-art $1.6 billion hospital set to open in 2020; and Oakville was gifted with provincial land for its new hospital, opened in 2015.
Which summons up Shylock's response to being a Jew, compared to a Christian. "If you prick us, do we not bleed? If you tickle us, do we not laugh? If you poison us, do we not die?"
Brampton residents might say: "If we pay the same level of taxes as other jurisdictions in this province, do we not deserve the same level of care?" There's an even more basic reality: "As Canadians, do we not deserve the same compassion as others?"
Brampton was well-served by the Lynch Street site of Peel Memorial, which opened in 1927. It opened its doors to a small, homogeneous community, and by 1998, it had joined the William Osler Heathcare System. By then, the city was in the throes of hyper-growth.
The strain on the aging hospital was fueled by hundreds of thousands of new residents to this sprawling suburb. Peel Memorial was in need of a massive re-creation, and should be piggybacked onto a brand new, cutting-edge facility. This two-hospital solution would more easily serve a rapidly expanding city.
But a report issued on the future prospects of Peel Memorial by an outside firm recommended that it couldn't be saved, and should be closed down, knocked down, and possibly replaced. In 2007, the great transformation took place: Peel Memorial was shuttered, and concurrently, a brand-new hospital in the northeast corner of the city was opened, but not without controversy. Brampton Civic was dubbed state-of-the-art. It promised to have over 600 beds. But after the Liberals used a public-private partnership for the construction, large cost over-runs saw the number somehow fall into the 350 range. Almost from Day 1, it suffered through the constant cautioning by staff that there were no more beds available.
It was part of a province-wide and system-wide reality under the Liberal governments of McGuinty and Wynne: By 2016 the Ontario deficit to pay off the runaway debt, reached almost $12 billion. There was simply not enough money left over to properly fund healthcare in the otherwise booming province. It's simple math. More money is needed to fund healthcare in this province, a lot more, as the population rapidly increases and ages, simultaneously. But the debt keeps hurtling beyond the province's control, draining more and more money in financing costs from revenues needed to care for residents.
The auditor general's report that year included this chilling line, after visiting certain Ontario hospitals including Civic: "Patients are waiting on stretchers or gurneys in hallways and other public areas, sometimes for days."
The report reminded that capacity rates over 85 percent can lead to dangerously unsafe conditions, including the spread of infections that can be fatal.
---
The battle to keep Peel Memorial open and operational had been driven by public support, and the ruling Liberals at Queen's Park promised to do just that. Plans were made for a $95 million re-do that would lead to a 2009 re-opening.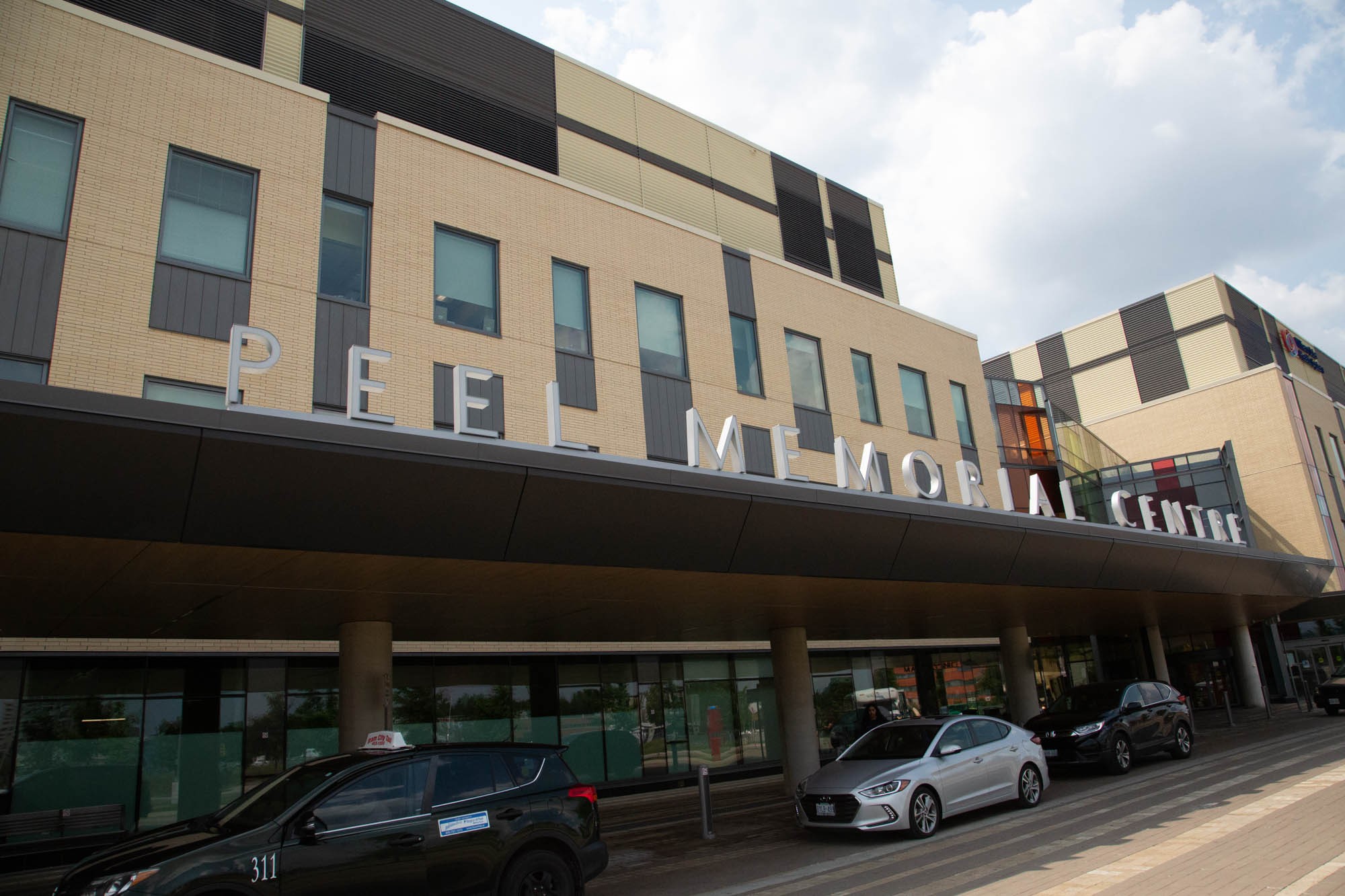 But the two-hospital solution never happened. Peel Memorial sat dormant, and chaos ensued at Brampton Civic. Charges of low staff morale, patient care foul-ups (a 72-year-old grandmother had her wrong leg cut open during Christmas Day surgery, for example), and in 2008, a year after its opening, an inability to manage the finances and patient care, led to three top executives resigning, including its CEO, Robert Richards. Protests grew louder as mismanagement and the overwhelming patient load were blamed for two deaths. These gave the facility (and Brampton) a black eye.
The province hired a former top healthcare management "fixer" named Ken White to reorganize the mess. The addition (Civic) and subtraction (Peel Memorial) left a community feeling as if it was being ill-treated when it came to healthcare deliverables, the key component of civic pride.
The fact the old Peel Memorial was eventually replaced by a new Peel Memorial has only exacerbated the issue. One critic called the care facility that has no beds, no round-the-clock fully functioning ER, and closes at 9 p.m. every night, a "glorified walk-in clinic."
The early planning model for Peel Memorial included senior care, post-surgery rehab, health support systems like occupational and physiotherapy, as well as mental health and addiction services. Phase II would bring beds, and an ER, and act as a relief valve for the Civic. Plans for this phase still haven't been submitted to Osler, despite receiving the $500,000 from the province to do so almost two years ago. The ministry of health told The Pointer it was unclear why this crucial first step in the expansion has not yet been completed by Osler, the network responsible for operating healthcare in the city.
Meanwhile, while Osler has indicated it's aware of how dire the situation is, Brampton's population continues to grow at a rate three times higher than the national average. It currently has about one third the number of hospital beds per 1,000 residents, compared to the national average. There is something morally bankrupt about those divergent patterns.
Brampton has received piddling amounts from the province, like $1.5 million from the Health Renewal Fund for repairs and maintenance.
In Mayor Patrick Brown's address at a board of trade luncheon after his election, he said Brampton Civic's ER Department can handle 250 patients a day, but the department was seeing over 378 patients. In 2017, the ER department had over 138,000 visits making it the busiest in Ontario. "We are the second fastest growing municipality in Ontario. We need more healthcare services," he said.
In May of 2017, when he was still leader of the PC party in Ontario and representing his local Barrie-area riding (Simcoe North), he had a head-on clash with Dr. Eric Hoskins, the Liberal party's health minister over its proposed budget, and why it wasn't addressing the pressing need to solve healthcare shortages, especially in Brampton.
He brought up the case of Jamie-Lee Ball, a Brampton woman who was on a stretcher for five days at Brampton Civic Hospital only a few months earlier. According to CFRB Radio 1010, Ball was on a stretcher in a busy hallway in extreme pain and suffering from internal bleeding.
Brown's words are recorded in the public legislative record on the Hansard system: "I was pretty optimistic when I heard that the Liberals might finally do the right thing and support our hospitals. But according to the Ontario Health Coalition, the Liberal budget will barely make a dent. They said the funding will hardly even cover inflation, and it certainly won't be enough to sustain the current system. That's from the Ontario Health Coalition."
(Editor's note: Health always eats up the biggest portion of the provincial budget: more than 42 per cent of all program expenses in last year's budget, or $51.8 billion.)
Brown continued: "Jamie-Lee Ball is right. When this Liberal government has cut and cut health care for the last five years and you have patients being stuck on stretchers for five days in hallways, it's not right. So, I'm asking Jamie-Lee Ball's question. You didn't do enough for her. You haven't done enough for patients. When can we expect the government to do the right thing? It's awful, Mr. Speaker."
The Liberals have yet to explain how the contract for Civic's construction was structured and what led to the cost over-runs during a time when healthcare desperately needed every cent it could get.
Horwath was at a recreation centre in Brampton earlier this year with her three local MPPs, including Sara Singh, Deputy Leader of the Official Opposition, fielding questions from angry residents concerned the city wasn't getting its fair share of healthcare dollars. The future looked bleak, especially since the promised Phase II of Peel Memorial's expansion seemed like a murky deal after the election of Ford and the PCs in 2018.
When Horwath stood up for Brampton inside the legislature last week, Christine Elliott, the province's minister of health, bristled at the NDP's charges of unfairness and inaction, and blamed the chronic overcrowding on the previous Liberal regime that had 15 years in power to get its healthcare deliveries right. She said the current government's plan was to end hallway healthcare, and $27 billion would be spent over the next 10 years to create more than 3,000 new hospital beds. Will any of that make its way to Brampton? We don't know, yet.
It's unclear if Queen's Park will commit to Phase II at Peel Memorial, or if a much-needed third, comprehensive-care hospital will be part of the $27 billion. In late summer, at an Association of Municipalities Ontario (AMO) conference, City of Brampton officials expressed their needs to close a $14 million funding gap for Peel Memorial and asked if the province will expedite a Phase II build.
The province never provided an answer, and perhaps more troubling, William Osler still did not have its Phase II plan close to being ready for the province. If accepted and funded, that still means it might take upwards of eight years to complete, Osler told The Pointer last week, and that's without any unexpected delays. An Osler spokesperson said a third hospital is in the very early "exploratory stage," meaning that a new facility beyond Memorial likely won't be built for more than a decade. And to add more frustration to the crisis, The Pointer has heard from sources that local interests might not agree on the location of a potential third hospital, as the city's tired personal, petty small-town politics could once again get in the way of crucial decision-making for the good of the public. Four years of that under former mayor Linda Jeffrey – who failed to get healthcare help from her Liberal friends – involving people directly tied to the city's healthcare infrastructure, wasted crucial time.
The numbers from the NDP's FOI request acknowledge that this is a crisis in healthcare delivery. But it's not being met with a sense of urgency by officials at Osler or the province. City Hall is also under scrutiny, as its dismal financial picture certainly isn't helping matters, with no funds being set aside for the municipal share of future hospital expansion. It's one of the many reasons why Brown's purely symbolic push for a tax freeze, to make good on a populist election campaign promise, was such an irresponsible move. Yes, Brampton deserves a fair share from the province, and the feds if they can help, but the mayor better be prepared to either take on debt, introduce a special levy or build-in tax hikes in future budgets, if Queen's Park demands to see a contribution by the city as a condition for a new hospital.
The desperate situation prompted the second press conference in Brampton on Friday, organized by Sara Singh and her two local colleagues. She demanded that the PCs take "immediate action to alleviate the hallway medicine crisis, because it's hurting Brampton families." The NDP will force a vote at Queen's Park tomorrow for the construction of a new hospital in Brampton and the immediate expansion of Peel Memorial. Because the overcrowding at both is "above safe levels", the motion being brought forward by Horwath requires the Ford government to allocate money in its fall budget forecast for this city's healthcare needs.
The other Singh, the brother of federal NDP leader Jagmeet Singh (who promised federal funding for a third hospital in Brampton during the recent election), said on Friday the need for action is now. "It's evident that there is a crisis in Brampton," Gurratan Singh said.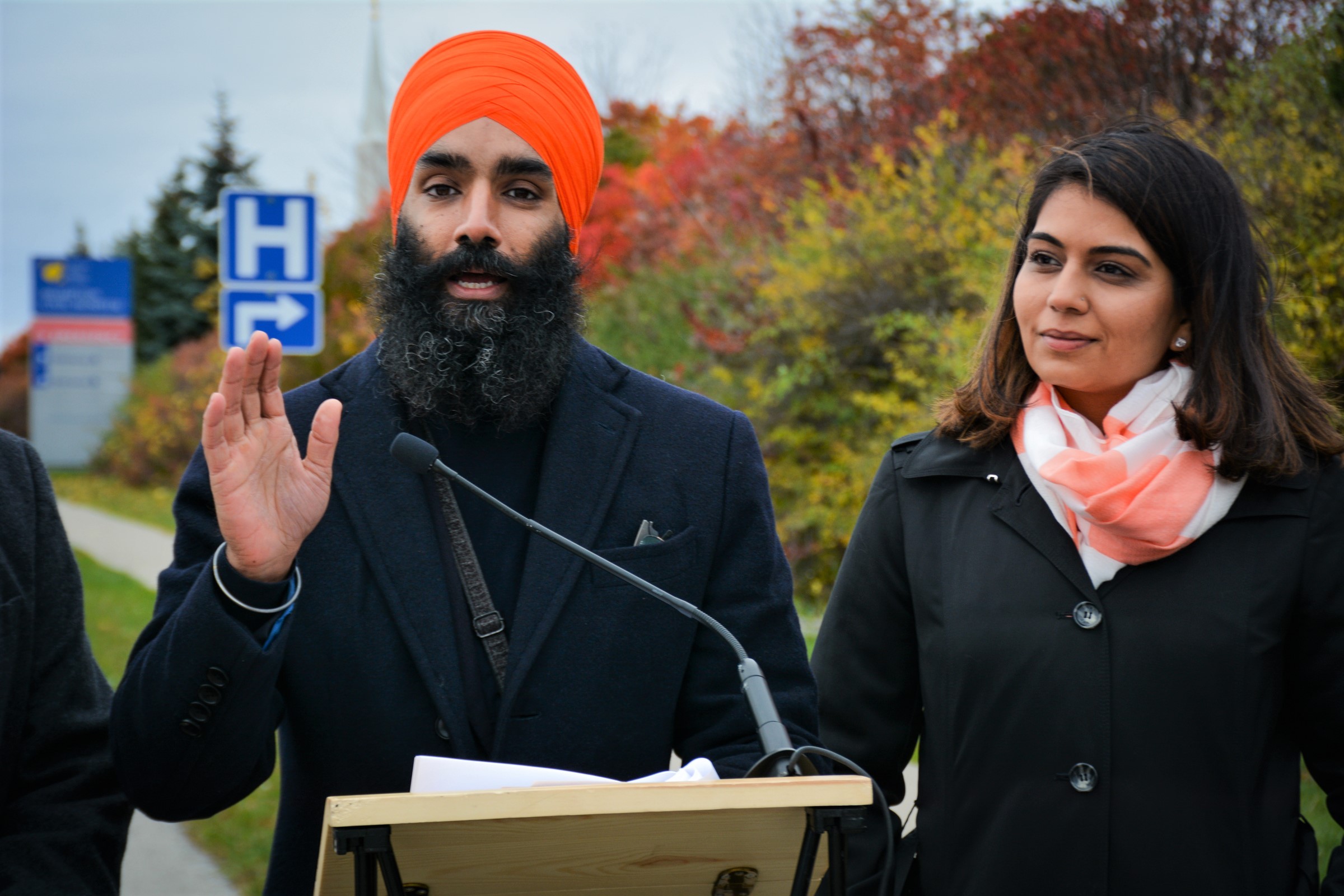 Brampton NDP MPP Gurratan Singh
Yarde blamed the Liberals under McGuinty and Wynne with a lack of foresight and wonders why it didn't make a deep financial commitment to Brampton. But he mostly focused on Ford's ennui, and stalling tactics.
He and his colleagues squarely blamed the two PC party MPPs sitting in the legislature (Amarjot Sandhu, Brampton West, and Prabmeet Sarkaria, Brampton South) for not being zealous advocates for healthcare funding for the taxpayers who put them into power. All the NDPers pointed out that the last time their party brought a motion forward for more funding to build hospitals in Brampton (October of last year), both local PC members didn't even bother to show up and vote. It failed by a count of 65 to 35.
They have pointed out that Brampton was completely ignored in the PC plan to send $90 million to certain hospitals to help end "hallway healthcare", a particularly galling move considering the ignominious term was popularized inside Brampton Civic.
They charge the Doug Ford government is like a pathogen, relentlessly eating away at our local healthcare system. This, they conclude, is doing extreme damage to one of the host bodies in Brampton.
The healthcare system in Ontario shouldn't recognize postal codes, or favour one community over another in the building of hospitals. But Brampton seems to suffer in what amounts to a political shell game. Does the city's lack of healthcare funding go deeper than even the NDP suggests?
Yes, says one of this city's most vocal advocates for fairness, Chris Bejnar, one of the founders of Citizens For a Better Brampton. He has been a vocal critic of both the federal and provincial governments for turning their backs on the needs of the most diverse city in Canada. He shares the principles of the #FairDealForBrampton movement, driven by Brown and a council united behind him. Bejnar has taken the argument down to the grassroots level and has asked the higher ups some penetrating questions. This was contained in a letter he recently sent to Dr. Brendan Carr, the Osler president and CEO, and cc'd to The Pointer.
Carr, by the way, recently announced his resignation from his current position before taking over in December as president and CEO of the Nova Scotia Health Authority. While the search is on for his replacement, Bejnar still wants answers, especially after reading a report in The Pointer last week.
"It's quite alarming to hear that (Osler) is still 5-8 years away from providing any additional healthcare facilities at the Peel Memorial site.
I and CFBB (Citizens For a Better Brampton) have for many years pleaded with (Osler) to vigorously begin advocating that Peel Memorial Phase 2 includes a 24/7 ER department with a minimum of 250 acute patient beds so we can finally turn this facility into a full-service hospital.
For the past 4-5 years, we have been hearing the same statement from (Osler) that 'the process is well under way to design Phase 2', yet no renderings, no plans have been shown to anyone…".
Bejnar added this in his message: "By the way, has everyone forgotten about the tax levy that was imposed on Brampton taxpayers with $40 million dedicated for Phase 1 and $20 million dedicated for Phase 2? The longer we wait, our $20 million continues to lose purchasing power as labour rates and construction material costs keep rising."
Bejnar also raised long-standing resentment that Memorial's rebirth was conceived as a wellness, or preventative model, instead of the traditional comprehensive-care facility that he says the city desperately needed.
It's significant that CFBB targeted Osler and asked why it had not done more to advocate solving the shortfalls in care that have hurt Brampton.
His most compelling point is what happened to the $20 million tax levy imposed on taxpayers to be used for Phase II. This money is losing significance by the day, as he points out. Was it worth collecting in the first place if Osler's board is not being aggressive in its ask of the Ford government, while it seems to be wasting time on the proposal needed to get the entire phase 2 project off the ground?
The board is filled with people sporting impressive resumes. But to a family with a sick child who needs constant care, or has to spend eight hours waiting in Civic's ER just to get looked at by a doctor, those impressive credentials probably don't seem to be worth much. Some urgency and political will is needed. Being a board member isn't about attending the latest black-tie fundraiser or swanky community gala. There needs to be results, and shovels in the ground. Those black ties need to be replaced by rolled-up sleeves.
And if internal politics are preventing progress, while patients continue to suffer in appalling conditions, those responsible need to be shown the door.
The best way to battle a disease is to be as relentless as the disease itself.
In one of Patrick Brown's first speeches after his 2018 election, he noted that Brampton receives less than 1 hospital bed per 1,000 residents, far below the provincial average of 2.3 and the national average of 2.7. While he was outraged by these 2017 numbers, he didn't know that in 2007 when Brampton Civic opened, it was promised 608 beds, only to receive 350. The additional beds eventually arrived, long after, and Civic has been under siege by users ever since. The bricks and mortar that was supposed to cement support in this city, only caused despair because of the overcrowding. The new Peel Memorial hasn't solved this crisis, but in a way, only exacerbates it.
Are Brampton taxpayers being ripped off?
If we tumble back further into history we'll find that when the McGuinty Liberals won office, they quickly imposed a 3 percent health tax province-wide to fund the building of healthcare facilities. Where did that money go? It was spread across the province, and has Brampton received its fair share?
Do Brampton residents count less than those in Vaughan or Oakville? Why was this city not included on the list of jurisdictions when $90 million was dished out by Ford earlier this year to help solve the problem of hallway healthcare?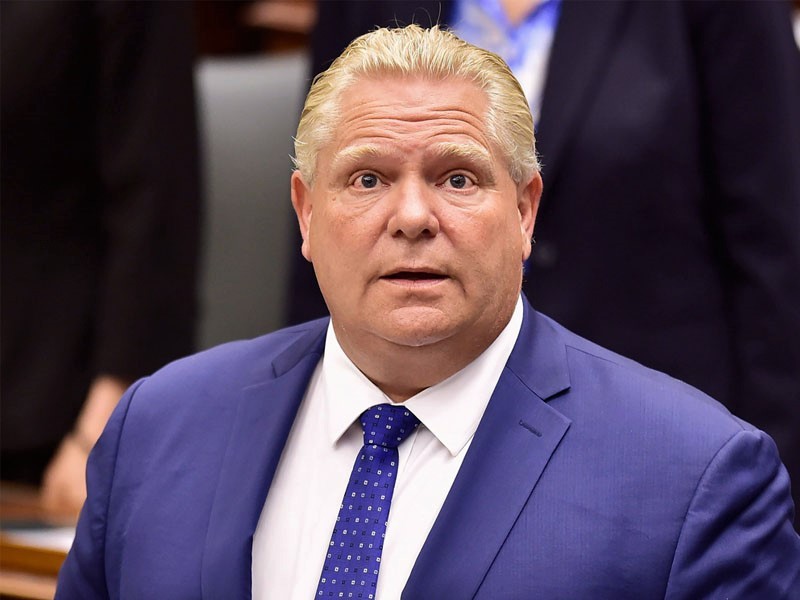 Attention Premier: This problem originated here, and still exists today!
A pathogen's deadly payload is delivered whether a Liberal or Conservative or NDP government holds power. It knows no borders, either. Its intent is to kill or make the hosting body sick. Solving those ills doesn't revolve around clever backroom politicking. Or building hospitals in jurisdictions that favour one political party over another. Or sending money where those powerful enough to shake the corridors of power reside.
Healthcare in Brampton is on life support. Emergency lines are long and getting longer. And worst of all, there's no relief on the way. The public servants who should be attacking this crisis have let Brampton's beleaguered taxpayers down.
History proves it.
The numbers issued by the NDP prove it.
Kudos to them for fighting for Brampton. Shame on the two MPs in the majority government for not doing the same. Their back is turned to those who put them in office. Those voters are not being cared for.
Osler's new president and CEO, whomever she or he might be, has to do much better. We need a loud, bold and brave voice for this community. It's time to hold that whole group's feet to the fire of public scrutiny.
There are thousands of Chris Bejnars in this city asking this fundamental question: Why is Brampton not getting its fair share?
One of them, a local educator named Sanjiv Dhawan, will be starting a five-day hunger strike tomorrow at Queen's Park, to draw attention to his city's desperate situation.
This isn't about deserving. It's about fairness and properly diagnosing and treating a sickness.
Submit a correction about this story