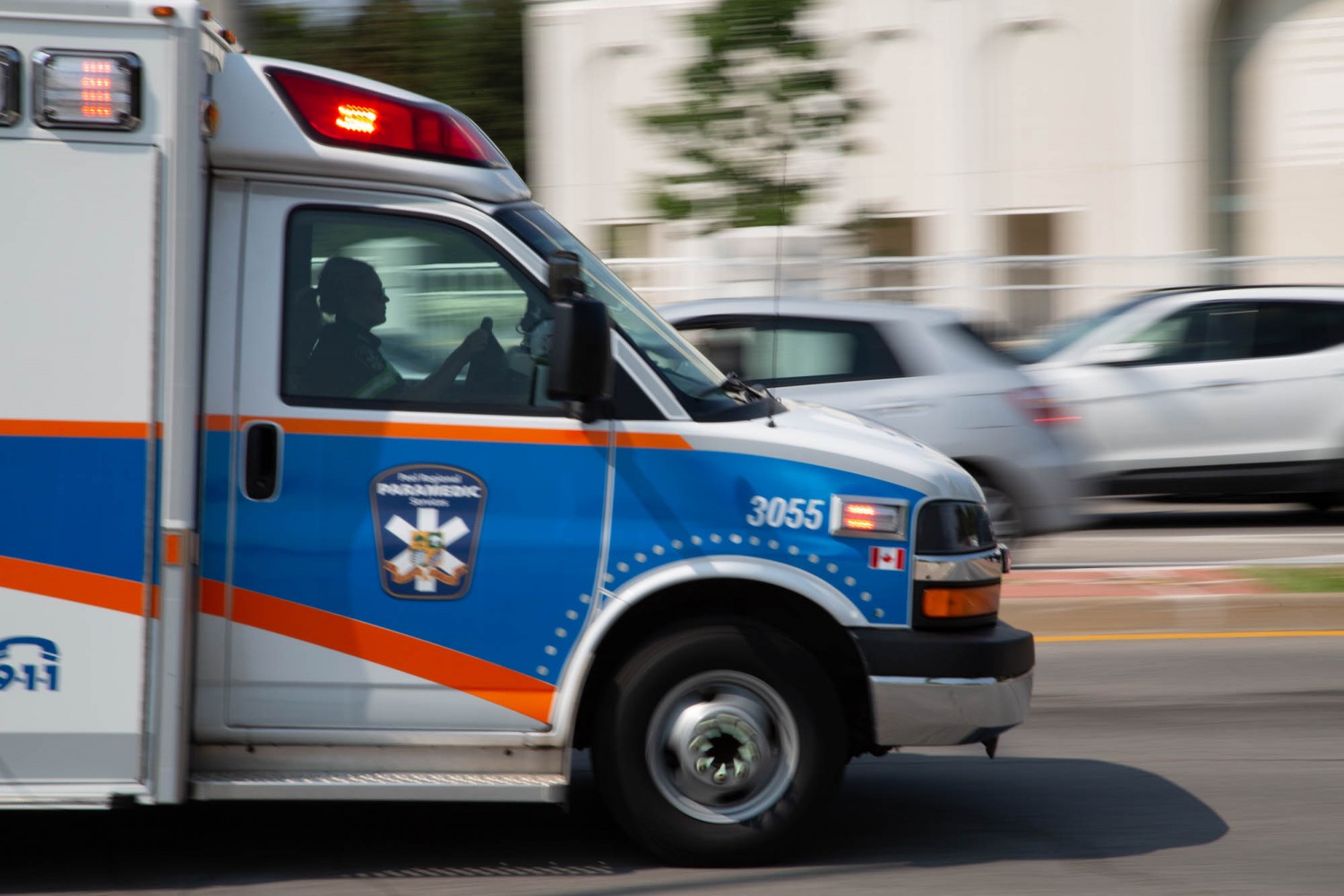 Photos from The Pointer files/Government of Ontario/Twitter
As Ontarians 'region-hop' health officials warn hospitals to prepare for the worst
When health officials held the first COVID-19 modelling briefing back in April, there was a clear message: the lockdown was necessary to ensure hospitals didn't get overwhelmed with COVID-19 cases, like parts of Italy, Spain and the United States.
Fast forward eight months, the warning doesn't appear to be holding up.
The issue is especially dire for regions in the grey-lockdown and red-control stages, according to a memo Ontario Health CEO Matthew Anderson sent to hospitals Tuesday. Originally reported by the CBC, the memo says hospitals in these two zones need to set aside between 10 and 15 percent of their bed capacity within the next 48 hours to accommodate COVID-19 patients.
Brampton Civic, the lone full-service hospital in Brampton, was operating at capacity long before Anderson released the memo. During a two-week period in September, code gridlock, where the need for patient care is more than the resources available, was called eight times.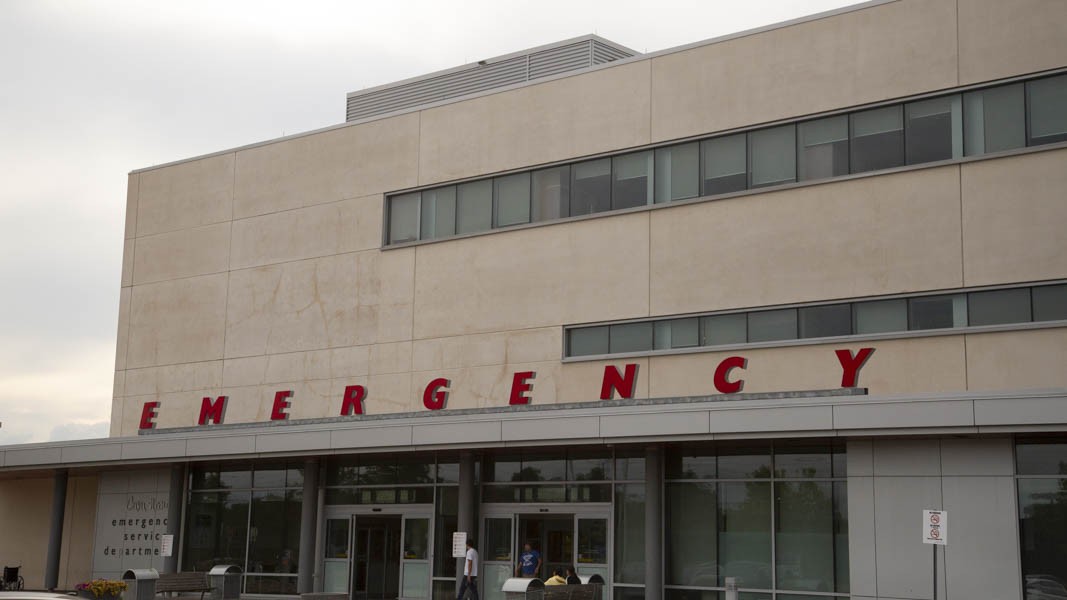 The emergency deparment at Brampton Civic continues to be congested with patients as the hospital struggles to find beds.
In November, William Osler, the organization that runs Brampton Civic, said patients who weren't being treated for COVID would be transferred to other hospitals to make space, revealing the impact of the virus on a hospital system that was unable to keep up with healthcare demand long before the pandemic was declared.
"What lies at the heart of the COVID crisis is that even a modest wave of COVID patients can disrupt everything quite significantly. And it's unfortunate to say it, but William Osler is the first powerful example," Anthony Dale, president and CEO of the Ontario Hospital Association (OHA), previously told The Pointer.
Municipalities located in Central Ontario, including Brampton and Mississauga, have the highest hospitalization rates in the province. According to Ontario's COVID-19 dashboard numbers from Wednesday, 386 people were hospitalized, 97 were in the ICU, and 67 people were on a ventilator, and the numbers continue to increase on a weekly basis.
Hospital statistics for Central Ontario.
For example, on December 9, 49 patients were being treated for the novel coronavirus at Brampton Civic, 12 of whom were in the ICU. On Wednesday, this number increased to 52 patients, and 15 in intensive care. An outbreak was declared in the hospital's emergency department December 7.
At Trillium Health Partners (THP) which runs Mississauga Hospital and Credit Valley Hospital in Mississauga, 88 patients were being treated for COVID-19 last week, including 20 patients in the ICU. On Wednesday, these numbers changed to 90 patients in total, with 25 in critical care.
Both hospitals located in Mississauga are currently dealing with outbreaks. Credit Valley has one in its emergency department, and another in the 1E Medicine unit. Mississauga Hospital is currently dealing with an outbreak in the cardiovascular unit.
Keeley Rogers, a spokesperson from THP, told The Pointer 30 patients have been transferred from THP hospitals to make space for COVID-19 patients over the past 10 days. The Pointer also asked William Osler how Anderson's memo was being dealt with, but did not receive a response ahead of publication.
The changes come as Ontario reported its highest case count yet, 2,432 new infections, Thursday. Peel reported 434 cases, representing almost 18 percent of the province's overall number.
The region reported nearly 29 new infections for every 100,000 residents. In comparison, Toronto had almost 25 infections per 100,000.
While vaccines have arrived in Canada, and some healthcare workers in Ontario have received a first dose, it won't be widely available to the public anytime soon. According to the Province's vaccine rollout plan, 14 hospitals in the grey and red zone will be getting vaccines for healthcare workers, along with some hard hit long-term care homes and congregate settings before the year ends. Brampton Civic is included in this list, and Mayor Patrick Brown said the vaccine will arrive in the city next week. The general population likely won't begin to receive vaccinations until the spring of 2021 and widespread inoculation will not be complete until sometime in the third quarter of next year.
On Wednesday, Mississauga Mayor Bonnie Crombie said a lockdown across the Greater Toronto and Hamilton Area is needed to lower the growing case count.
"What is becoming increasingly evident from the aggregate cell-phone data that we now have is that people across the GTA are region-hopping, and they're doing that much more so than they did during the first lockdown… and unfortunately, this is leading to more community spread."
Her statement echoes parts of the Province's recent modelling update. Last Thursday, Dr. Adalsteinn Brown, co-chair of the COVID-19 science advisory table and dean of the University of Toronto's Dalla Lana School of Public Health, said the current set of restrictions that started in September haven't impacted the mobility of residents who are not adhering to stay-at-home directives. Many are coming into contact with more people in the community more often compared to when restrictions were put in place during the first lockdown in March. He warned relaxing rules at this point will only make the situation worse.
Based on a seven-day average in early December, Peel had the highest number of new cases, averaging 197 for every 100,000 residents a week. This compared to Toronto, second on the list, with 118 cases per 100,000 residents. However, Brown pointed out that even though case numbers are rising, some flattening is happening.
Data show Peel continues to far surpass other regions for total new cases of COVID-19 per 100,000 residents.
"If you look at the growth in cases particularly in Peel, you see a little bit of a softening of the slope, a slower growth that may reflect the early impact of accumulation of restrictions that started in September," he said.
Dr. Lawrence Loh, Peel's chief medical officer, believes cases will start to plateau as it takes time for the impact of restrictions to be seen. "It immediately doesn't start going down, it takes a couple of incubation periods for the transmission to burn out."
Neither Brampton nor Mississauga have implemented rules seen during the first lockdown. This includes only allowing transit users to board from the rear of a bus and offering free rides. These steps were aimed at increasing space between riders, but they had considerable financial impacts on each city.
During the first wave the City of Brampton projected it would face a $55 million deficit. For Mississauga, the projected deficit was $54.8 million.
After the Province distributed funding through the first phase of the Safe Restart Agreement, these losses were cut significantly. Mississauga received $46.1 million and Brampton $35 million, leaving each city roughly with a deficit of $8.7 million and $20.5 million, respectively.
The City of Brampton told The Pointer the $20.5 million deficit may be much higher as the estimate was based on projections from the third quarter of the year.
Municipalities that needed more money were asked to submit applications for the second-phase of funding. Brampton submitted an application in November asking for $19.2 million and Mississauga asked for $9.6 million.
Based on past announcements, money from the second phase was only for those municipalities that expressed a need for it. But on Wednesday morning, Steve Clark, the Minister of Municipal Affairs and Housing, announced funds will be given to all municipalities in the province to deal with costs that will arise in 2021. This money is in addition to the funding certain municipalities requested.
This resulted in Brampton being allotted $27.4 million, $19 million through its application, and over $8 million for 2021. Mississauga gets $20.9 million, including $9.6 million through its application and $11.2 million for 2021.
Gary Kent, Mississauga's Chief Financial Officer, said in a October budget committee meeting, the 2021 impact is estimated to be $21.7 million at this time, citing a loss in transit revenues and lower use of recreation facilities.
The City of Brampton does not have an anticipated deficit for 2021, and the recently approved 2021 budget did not take the ongoing pandemic into account when setting the City's financial picture for the coming year. If any money from the provincial funds is left over, it will be put in a reserve to help pay for potential future deficits in 2021 as a result of the ongoing pandemic, the City said.
Conrad Spezowka, a spokesperson for the Ministry of Municipal Affairs and Housing, told The Pointer municipalities can use the extra funding to cover operating costs that may arise during the first quarter of the new year. A report will be required from all municipalities to see how they used the funds in March to ensure responsible use of taxpayer dollars.
---
Email: [email protected]
Twitter: @nida_zafar
Tel: 416 890-7643
---
COVID-19 is impacting all Canadians. At a time when vital public information is needed by everyone, The Pointer has taken down our paywall on all stories relating to the pandemic and those of public interest to ensure every resident of Brampton and Mississauga has access to the facts. For those who are able, we encourage you to consider a subscription. This will help us report on important public interest issues the community needs to know about now more than ever. You can register for a 30-day free trial HERE. Thereafter, The Pointer will charge $10 a month and you can cancel any time right on the website. Thank you.
Submit a correction about this story