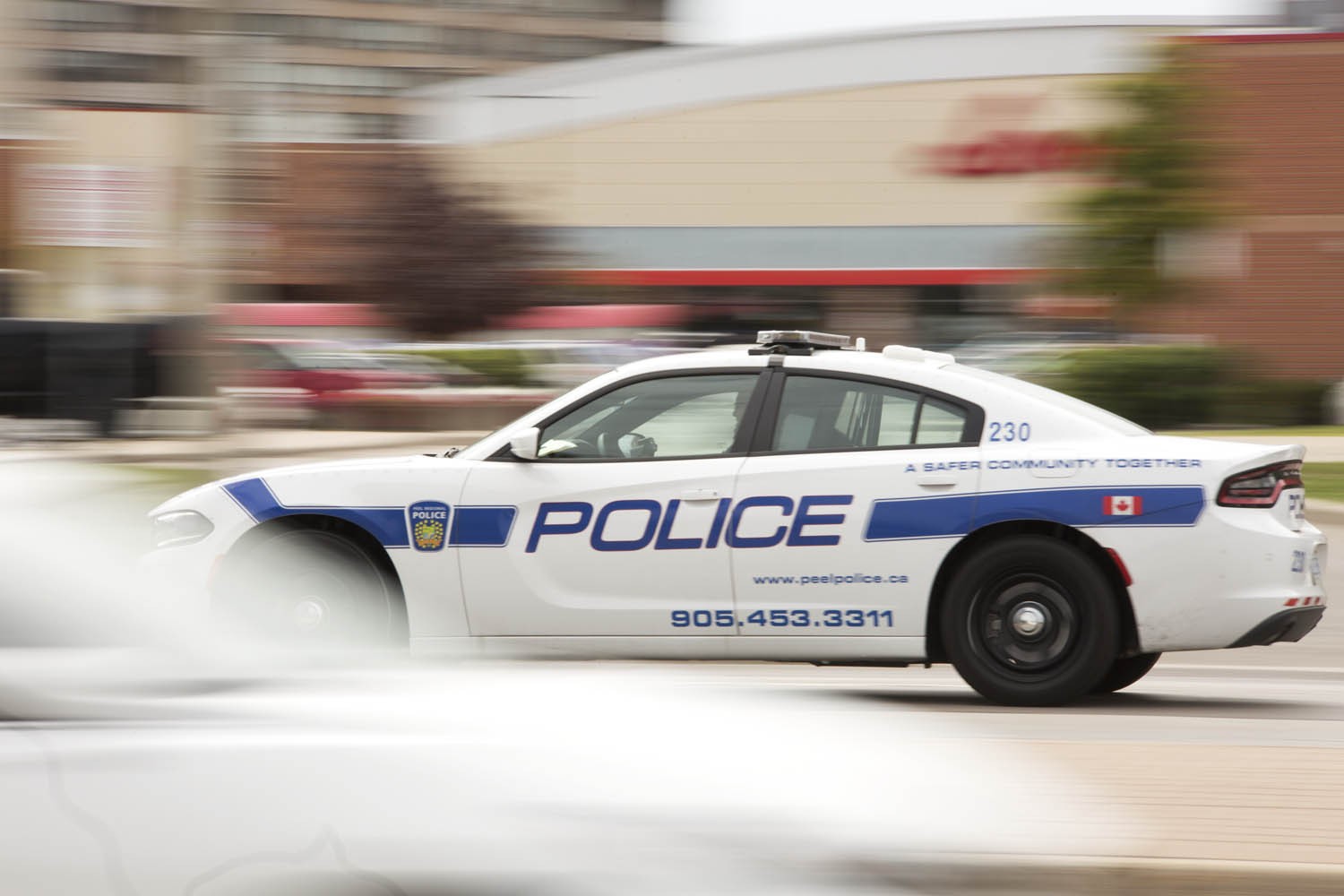 Photos from The Pointer files/Peel Regional Police/Special Investigations Unit/Wikimedia Commons-singlespeedfahrer
Calls for better police training and SIU reform are being ignored while avoidable tragedies continue
"For the public to have confidence in policing and police oversight, justice must not only be done, but also be seen to be done."
- Justice Michael Tulloch, Independent Police Oversight Review
---
When Justice Michael Tulloch set out to find a more transparent path forward for Ontario's police oversight agencies, his efforts were completed in the shadow of Andrew Loku's death.
Loku, a refugee from South Sudan with a history of mental illness, was shot twice in the hallway of his Toronto apartment while holding a hammer. His 2015 death came within a year of Mike Brown's in Ferguson, Missouri — the U.S. Department of Justice would rule that the officer's shooting of Brown was done in self-defence — and Eric Garner in New York City, strangled to death by an officer using a prohibited chokehold. Garner's 11 pleas for breath and his final "I can't breathe" triggered a widespread Black Lives Matter movement with demonstrations that lasted weeks in cities across the United States. The case has eerie similarities to the 2020 killing of George Floyd in Minneapolis and the months of demonstrations and calls for police reform that followed this past summer.
A graffiti mural painted after the death of George Floyd, a police killing that had eerie similarities to Eric Garner's death in New York City in 2014.
Justice Tulloch knew his 2017 review was not the first government-initiated analysis to be triggered by societal demands for change. The SIU was formed in 1990 after a number of Black people were shot by Toronto police in the two years prior. Those tragedies led the government to appoint Justice Clare Lewis "to address promptly the very serious concerns of visible minorities respecting the interaction of the police community with their own."
The 1989 report that followed led to the passage of the Police Services Act (PSA) and the formulation of the Special Investigations Unit (SIU) to investigate police shootings.
Justice Tulloch also knew he was not the first to review the operations of the SIU or other police oversight agencies like the Office of the Independent Police Review Director (OIPRD), which handles civilian complaints against police.
The Ontario Civilian Police Commission was also created under the PSA and deals with appeals of decisions regarding police misconduct, investigations into police chiefs and can make decisions on whether or not a police service is meeting required standards.
Five years after the SIU's creation, a report from Justice David Cole and Margaret Gittens, a community legal worker in Toronto, found the high expectations stakeholders held after the SIU's formation — that it would lead to increased accountability for police officers and reduce the number of Black people being shot by police — were for naught. The report found the SIU largely failed to do so.
The government then commissioned a full review of the SIU. In 1996, the review made a number of recommendations for improving the unit, including clarifying the SIU's role and police officers' duty to cooperate with investigators. Justice Tulloch would be well aware of these recommendations as he was co-counsel on the report. Little did he know at the time, he would be commissioned just over a decade later to conduct a similar review because the government largely ignored the previous recommendations.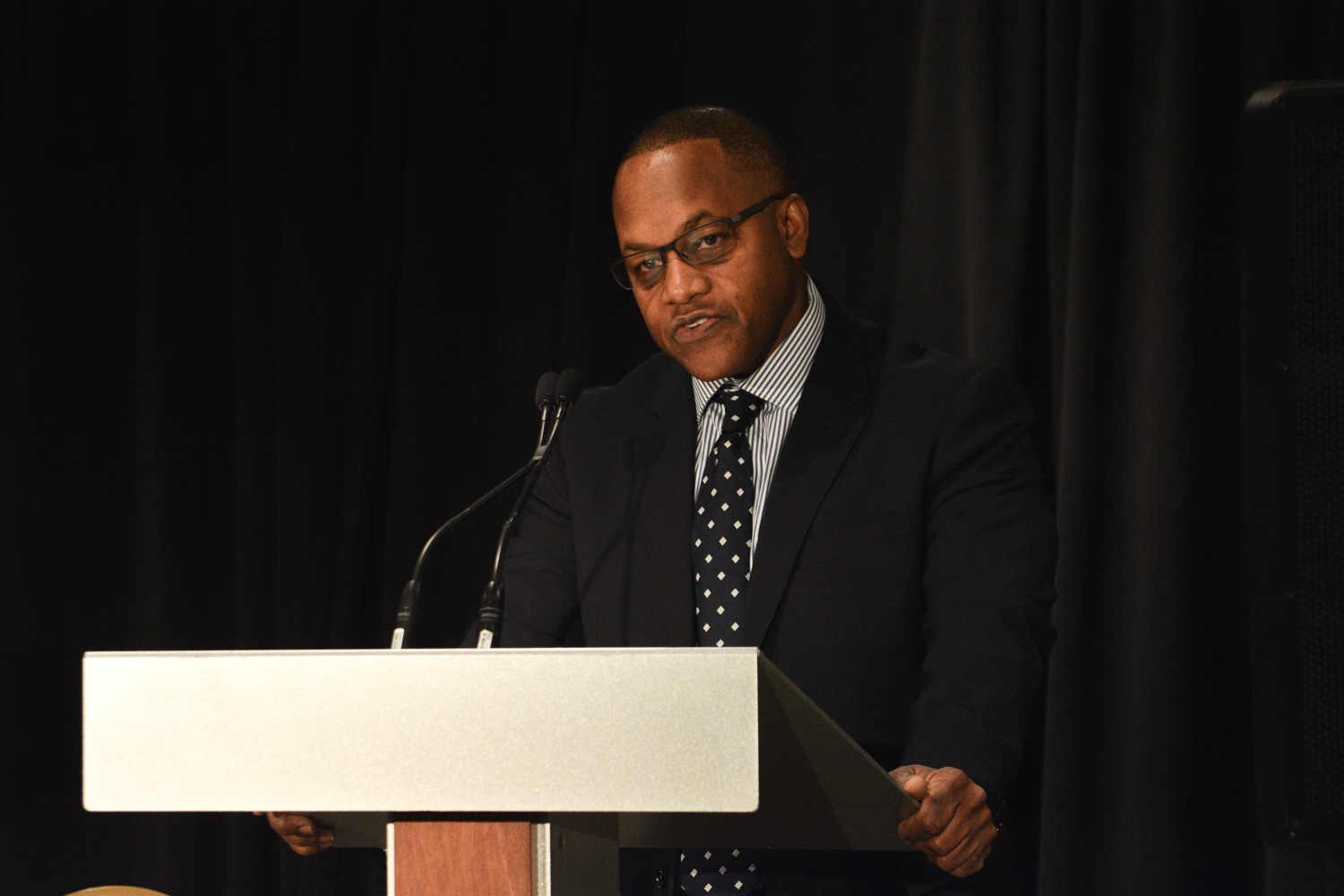 Justice Michael Tulloch's 2017 Independent Police Oversight Review, made numerous recommendations for reforming the SIU and other police oversight agencies in Ontario. It was not the first time these agencies have been under the microscope.
Like clockwork, the SIU has experienced analysis or review from government consultations or independent commissions year after year, including 1997, 2003, 2007, 2008 and 2011.
Former Ontario Ombudsman, Andre Marin, completed two reviews of the SIU during his tenure. In a 2011 report Oversight Undermined (a follow-up to his 2008 report Oversight Unseen, which widely criticized the failings of the SIU) Marin placed the blame solely at the feet of the Liberal government which he found was "deliberately undermining" the SIU's ability to implement his 46 recommendations.
"The Ministry allowed the long-standing issues impeding the SIU to fester," he wrote. "I am left with the impression that the Ministry does not want to consider any reforms that would prove too distasteful to the policing community. It is content to adopt partial solutions and ride out the media storms. The citizens of Ontario are the losers in all this. The Ministry's stance frustrates the promise of strong and independent civilian police oversight, thereby undermining public trust in policing."
Even after Marin identified these serious issues, including concerns about cooperation between police agencies and the SIU, failures to notify the SIU about police involved incidents, and concerns with the SIU's effectiveness — it was widely viewed as being "toothless" in its ability to investigate and hold police officers accountable — little has changed.
Many of these same concerns still plague the SIU, and the same divide between citizens, politicians and police leaders, still exists, with one side believing there is too much oversight and the other claiming there is not enough, while elected officials do little to bridge the growing divide.
Peel Regional Police Association President Adrian Woolley has openly criticized local Mayors Bonnie Crombie and Patrick Brown, claiming they displayed "ignorance" for their calls for increased police oversight earlier this year. Both mayors sit on the Police Services Board which is mandated to oversee and provide governance of the force. Woolley, a constable, openly undermines their authority, and has even stated Crombie couldn't be "dumber" in her support for the Black Lives Matter movement.
Under this climate, issues of police misconduct continue to pile up.
Peel's force had the worst rate of officer misconduct in Ontario by far. An investigation half-a-decade ago by the Toronto Star found approximately one third of officers in the force were disciplined for misconduct, after former chief Jennifer Evans claimed only two percent of her officers would face discipline for misconduct during their career.
The data was shocking and showed a police department with rampant problems around officer behaviour and the lack of professional standards.
In a tragic example of history repeating itself, police-involved shootings of citizens have once again pulled the long-standing issues with police accountability back into the spotlight, particularly in Peel Region.
In January, 28-year-old Jamal Francique was shot dead by police in Mississauga. Undercover officers were investigating potential drug activity when they approached Francique's vehicle. Police say this is when he drove his car toward them. Shots were fired through the windshield of the car, killing him. In April, 26-year-old D'Andre Campbell was killed by officers during a mental health crisis after a call for police assistance. In May, Mississauga resident Chantelle Krupka was shot in the back by Peel police outside her home. She survived, and is now suing the PRP. The officer involved in that shooting was charged and quit the organization. In June, police responded to a wellness check at an apartment building in Mississauga, when 62-year-old Ejaz Choudry, who was experiencing a mental health crisis at the time, was shot dead by Peel police tactical unit officers. The SIU investigations into the shootings of Francique, Campbell and Choudry are ongoing.
The difficulty in reforming the SIU is paired with another, equally insidious problem that continues to plague policy makers, with few answers available. That is the rise in interactions between police officers and those in mental health crisis. As police are inadequately trained to deal with people in these situations, new models of response, like the Mobile Crisis Rapid Response Team (MCRRT) have been employed, which pairs an officer with a crisis response worker (with some initial signs of success). However, all too often, the past has shown that these incidents either end with a person being dragged to a cramped emergency room, or worse.
In December 2017, police were called after multiple reports of a man walking the streets of Mississauga, approaching pedestrians with a machete. He appeared distressed, asking anyone he passed if they had seen "Ewa". When police found him, he was at the front door of his home. Standing at the end of the driveway, officers ordered him to drop the 12-inch blade, but instead he began moving toward the officers. He was shot in the chest and died almost immediately. The SIU ruled the shooting was justified as the officer had justifiable belief that he or his fellow officers were at "imminent risk of being seriously injured."
In August 2019, Peel police responded to a late-night assault call from a father who had been hit and threatened with a gun by his 37-year-old son. Upon arrival, the man was gone, but with the help of a Police Service Dog, officers were able to track him to the backyard, where he was found hiding in the shadows beneath the deck. The man was holding a gun to his head. The man did not acknowledge the police presence, avoiding eye contact, remaining silent. Police yelled at him to drop the gun, pointing their own weapons in his direction. Within 10-15 seconds of their arrival, the man pulled the trigger.
"We need a rush on medics, the male just shot himself in the head," a transcript from the SIU investigation reads.
These are just two examples from one police force of the tragic results that occur when police and those in mental health crisis are placed on a collision course. According to data compiled by The Innocence Project and Osgoode Hall Law School, 65 individuals in mental health crisis were killed by police in Ontario between 1978 and 2015. That number has grown in the five years since.
"My son couldn't stand police, he got violent when police got near him," says Karyn Greenwood-Graham, the founder of Affected Families of Police Homicide, whose son Trevor was shot by Waterloo Regional Police in 2007. Her son had battled addiction and mental illness for several years before his death. His addiction had him in and out of the criminal justice system. She believes any mental health response model involving police does not work.
"They come up in a police car, armed with guns, and they come into your space," she says.
Yet, police are being called more and more to these types of incidents.
According to Peel Regional Police data, the number of people apprehended under the Mental Health Act by Peel police has increased 50 percent over the last six years, from about 4,000 in 2014 to approximately 6,000 in 2019.
The increasing number of these incidents, combined with the fact that there is a higher probability of them ending in disaster, means that any reform of policing, and police oversight, must also involve addressing the rising crisis of mental health incidents.
In response to the months of protest and calls for action that followed Choudry's death, Mississauga Mayor Bonnie Crombie and Brampton Mayor Patrick Brown brought forward a motion to have Region of Peel Council take a "formal position" on the need for police, SIU and mental health reform, by writing a letter to the Premier and solicitor general. As part of that letter, the motion requests, the immediate implementation of recommendations made by Tulloch as part of his 2017 review (many of which were first approved by the former Liberal government, then scrapped by the Doug Ford PCs) and the enactment of the other pieces of legislation designed to improve the SIU.
The motion does little more than placate calls from the community for action.
As history has shown, solving the legal and moral problems that plague police oversight and the complex issue of police dealings with those in mental health crisis, is not a simple fix. Yet, the momentum to solve these issues may never be stronger than it is right now, and real reform can not only improve police oversight, but potentially save the lives of people in Peel Region and across Ontario.
The SIU and Peel Regional Police
---
Investigators from the SIU are no stranger to Peel Region. For nine of the last 10 years, SIU investigators have been in Peel more than any other jurisdiction in Ontario, apart from Toronto. With the largest police force in the province, by far, the Toronto Police Service consistently has the most SIU cases on an annual basis.
The SIU's mandate includes investigating all instances of police involving injury or death (whether the officer is on or off duty) as well as allegations of sexual assault against police.
After an incident occurs, the police organization is, by law, meant to inform the SIU immediately. The SIU will then review the circumstances and decide whether to invoke its mandate and launch a full investigation. Last year, it handled 314 cases across Ontario, more than half of which were "custody injuries", circumstances where a person is hurt during their apprehension or while in custody.
A breakdown of SIU investigations in Ontario between 2012 and 2019.

In Peel, SIU investigators launched 36 cases in 2019, more than any year over the past decade. Similar to the provincial trend, custody injuries were the most common investigation for the SIU, accounting for 61 percent of cases. Of Peel's 36 investigations, 13 were terminated for either being injuries the SIU deemed were clearly not the fault of police; incidents that fell outside of the SIU's jurisdiction; or cases that lacked cooperation from those involved. For example, in February, according to a release from the SIU, a man was tased while resisting arrest in Brampton. When investigators attempted to follow-up to determine whether the use of the conducted energy weapon (CEW) was warranted, they were unable to locate the man. The investigation was terminated.
Two SIU investigations in 2019 resulted in charges against Peel police officers. In March, Constable Scott Douglas was charged with one count of assault after arresting a 25-year-old man in Brampton. Then in November, the SIU charged former police officer Frank Kohler with two counts each of indecent assault and gross indecency related to events that occurred between 1967 and 1972. The Pointer has previously covered Kohler's case and the allegations of sexual abuse against him, which destroyed the life of Kevin Dickman, who died last year.
Historically, the laying of charges by the SIU is a rarity. Between 2002 and 2016, the SIU conducted 3,932 investigations across Ontario, laying charges in only 129, or 3.2 percent of cases.
For critics, it's a sign that something is not working at the oversight agency.
"We're all human beings, including the police officers. Who has that perfect of a record of never being wrong or making a mistake? It's impossible," says Joanne MacIsaac, whose brother Michael was shot and killed by Durham Regional Police officers in 2013. The family believes Michael was suffering from an epileptic seizure when he ran naked from their Ajax home in the middle of winter. An officer shot him when he approached Michael on the street who was holding a table leg. The MacIsaac family is continuing to fight for justice in Michael's case after the SIU cleared the officer involved in 2014.
"Michael was so cautious, we used to tease him, and for this to happen to him, is beyond cruel," Joanne told The Pointer.
In his analysis, Tulloch noted that just because the number of charges laid by the SIU are minimal, does not necessarily indicate a pro-police bias at the organization.
"The SIU investigates incidents that are not necessarily crimes. For example, they investigate car accidents and apparent suicides in which it is not even clear that a police officer contributed in any way to an injury or death. And police officers are justified in using as much force as is necessary for law enforcement purposes," Tulloch wrote. "The problem, however, is that the public is unable to closely examine whether the SIU is doing its job properly. To many of them, it feels like the SIU is telling them to 'just trust us'."
The MacIsaac family experienced this first hand. Immediately after Michael's shooting, they believe there was an effort to ensure no blame fell on the police.
"From the second they arrived on scene, nothing they [the SIU] said was true," Joanne says. Since Michael's death, the family has spent more than $60,000 on investigators and private analysis to get to the bottom of what happened that December day in 2013.
For Greenwood-Graham, who was involved in Tulloch's 2017 report, providing civilian and lived-experience feedback on the recommendations, she says the "police culture" at the SIU hinders fulsome investigations, resulting in few charges being laid against officers involved.
"It's a police culture that's not doing the most thorough investigations that they can," she says.
The allegations of police culture at the SIU are supported in-part by the heavy presence of former police officers that make up the oversight body's investigative team. In 2017, 47 of the 70 SIU investigators were former police, and 36 of 59 non-forensic investigators were formerly in law enforcement.
"They keep saying that the SIU needs these experts to be able to look at it from a police point of view," Greenwood-Graham says. "Wrong, you need to look at it from a humanist point of view. You need to look at the problems it's creating, the ripple effect in the community when this happens. You've got to look at everything, so you need more diverse people in your organization to bring that forward."
Tulloch, and reviewers before him, acknowledged that simply being a former police officer does not necessarily mean one is biased toward police, but the public perception of the thin blue line, and the brotherhood that exists among officers, makes that hard to believe. The SIU has repeatedly released public statements saying there is no pro-police bias in the organization. A request for comment from the SIU was not returned.
As part of their motion, mayors Crombie and Brown are calling for no more than 50 percent of any investigative team to be made up of former police officers. A similar recommendation was made by Tulloch in 2017, who recommended at least 50 percent of non-forensic investigators on a team should have no background in policing.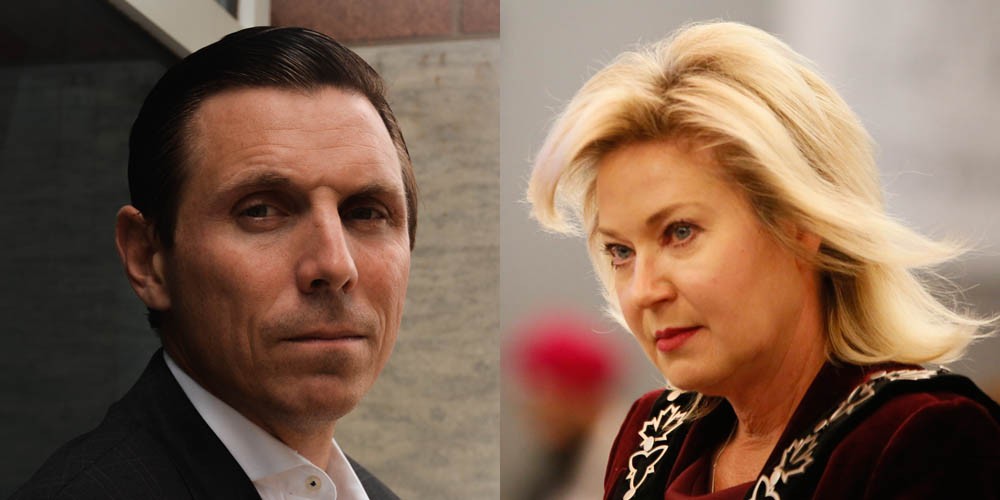 Brampton Mayor Patrick Brown and Mississauga Mayor Bonnie Crombie
Whether perceived or real, the fact the public has pointed to these issues as potential problems, calls for some kind of solution. As Tulloch noted, quoting from an old adage, justice must not only be done, but seen to be done.
Investigations must be open and transparent.
In June, residents of Peel were shocked to learn that the officer who fatally shot D'Andre Campbell during a mental health crisis, had refused to speak with SIU investigators. Despite this being the officer's constitutional right — everyone has the right to remain silent — the public perception of such a decision is the person has something to hide by keeping quiet. The Peel community received a second dose of frustrating news when the officer who fatally shot Choudry, also refused to speak to SIU investigators.
In their motion, Crombie and Brown are calling on the PC government to change the legislation to force officers who are the subject of an investigation to be interviewed and hand over their notes. Under the existing legislation, only witness officers are mandated to be interviewed and provide their notes, the same is not required of subject officers, although they can volunteer to be interviewed, hand over their notes, or one of the two if they wish.
For Abby Deshman, the criminal justice program director at the Canadian Civil Liberties Association, such a change would set an uneasy precedent.
"The right to silence is such a central constitutional right that we'd have to be very careful," she says. "It really is one of the basic tenets of our criminal justice system."
She admits there are certainly "failings in the system" particularly when it comes to families of victims being left in the dark during SIU investigations, but mandating subject officers to speak to investigators would be a "fundamental shift in the power between a person who is accused of a crime and the power of the state."
She says similar to search warrants, which can make police work more difficult, these constitutional safeguards are in place to protect people's basic rights.
"This is all a little bit weird in the policing context, because police themselves are much more empowered than the average person who is accused of a crime, but nevertheless, I think it's an important concept in the criminal justice context that underlies that legislative prohibition and the reason that hasn't been changed," she says.
While the refusal to cooperate by the officers involved in the Choudry and Campbell shootings received much media attention, it is not an uncommon occurrence for Peel officers subject to SIU investigations to refuse interviews.
According to analysis of SIU data by The Pointer, of 79 subject officers between 2017 and 2020, 43 of them have refused interviews, and 55 refused to hand over their notes. Both decisions are well within their rights under the legislation. Only 16 subject officers fully cooperated with the SIU by handing over their notes about an incident and agreeing to be interviewed. This analysis is of historical data that is publicly available on the SIU website; information about subject officers' decisions for 2020 was provided by the SIU. These numbers also do not include subject officers in sexual assault allegations, as the SIU does not make those reports public, and if charges were laid – of which there are four since 2017 – those officers are not included as the director's report is handed over to the courts and not readily available.
Despite the limitations, the data show that Peel officers routinely choose not to cooperate with SIU investigators. Does this hinder investigations? Deshman says of course it does.
However, changing the law to mandate officers to speak is a "very dangerous investigatory power for any law enforcement to have."
It's a struggle that Tulloch and many others before him grappled with. He ultimately concluded that the protection against self-incrimination does not extend to the subject officer's notes, which he recommended should be handed over if the SIU requests them. Tulloch did not recommend subject officers be forced to do interviews.
Tulloch's recommendations were eventually put into legislation - Bill 175 The Safer Ontario Act - that the former Liberal government quickly approved. However, the PCs, after sweeping to power in 2018, quashed the entire thing, labelling it as "anti-police."
Since then, there has been little hope among criminal justice advocates that the PC government is willing to look at police reform. Greenwood-Graham tells The Pointer she's tried to meet with the PC government to discuss a path forward, but has been turned down, being told they are not pursuing any changes to the existing legislation at this time.
"We need political will. It's that simple," she says. "We've always needed political will and the only time I've experienced political will was under Kathleen Wynne's government."
Advocates calling for police and SIU reform say there is very little political will among Premier Doug Ford's PC government to make any changes to existing legislation.
"I think the SIU is doing exactly what the politicians want it to do," MacIsaac says, noting she believes it is set up simply to provide an aura of oversight as opposed to providing real, transparent investigations into police actions.
"I think the SIU is a smokescreen," she says.
There is no lack of past analysis to suggest that significant changes, like those proposed by Tulloch and Bill 175 are desperately needed. The Province's own agencies have identified problems and made recommendations repeatedly to fix problems that exist in the system.
According to the data from The Innocence Project and Osgoode Hall, of the 65 deaths between 1978 and 2015, 43 of them resulted in provincial Coroner's Inquests. These public hearings are held by a coroner in front of a jury, to inform the public about the circumstances of a death and potentially find ways to avoid similar deaths in the future.
"Although the jury's conclusions are not binding, it is hoped that any recommendations suggested, if implemented, will prevent further deaths," the Ministry of the Solicitor General's website states.
The data show that 31 of the 43 inquests resulted in similar recommendations being made for improving the interactions between police and the mentally ill, including: enhanced training; changing legislation; changing and investigating other use of force options that are not lethal; implementing crisis teams; and getting input from those with lived experience of mental illness.
For example: in the 1999 inquest into the death of Edmond Wai-Kong Yu, shot by Toronto Police in 1997, findings recommended the "Solicitor General should amend the Police Services Act to require annual Crisis Resolution training."
Then, in 2017, the inquest into the death of MacIsaac, recommended, "specific training should be provided, in a dedicated block of time, around effective (calming) communication and de-escalation...that such training focus on individuals with mental health issues (but not on the symptoms) and with significant participation of people with lived experiences."
"They can't say they don't know, they know and they continue to ignore it, they are complicit, they are the reason this is happening," Joanne says. "Nothing comes of it, the government is responsible for my brother's death because the government has ignored all of these."
For that reason, Joanne is mounting a constitutional challenge with The Innocence Project and Osgoode Hall to try and have this mental health training element added into the Canadian Constitution.
"The proposition that the Project is advancing is that the principle of fundamental justice under section 7 of the Charter of Rights and Freedoms requires that agents of the state who are statutorily empowered, as per sections 25(1) and (4) of the Criminal Code, to deprive life, liberty, and security of the person, must be properly and sufficiently trained in the use of fatal force and the de-escalation of interactions with persons who are or may be mentally ill or in crisis," a briefing from The Project states.
MacIsaac says if they are successful in their challenge, which she hopes they can launch in the coming months, it will force police agencies across Canada to adopt this training.
"Until the politicians care as much about mine and your vote as they do about the police unions and the police, nothing is going to change, unless we force it," she says.
---
Email: [email protected]
Twitter: @JoeljWittnebel
---
COVID-19 is impacting all Canadians. At a time when vital public information is needed by everyone, The Pointer has taken down our paywall on all stories relating to the pandemic and those of public interest to ensure every resident of Brampton and Mississauga has access to the facts. For those who are able, we encourage you to consider a subscription. This will help us report on important public interest issues the community needs to know about now more than ever. You can register for a 30-day free trial HERE. Thereafter, The Pointer will charge $10 a month and you can cancel any time right on the website. Thank you.
Submit a correction about this story