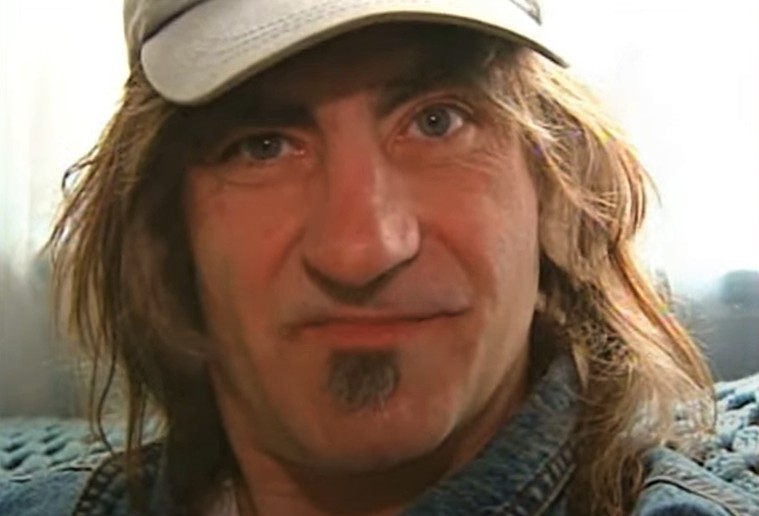 Screengrab YouTube-CBC/Images courtesy Paula Tookey
Justice can't bring Kevin Dickman back, but friends found the former police officer now charged with assault 50 years later
"Behold, the horrid thing stands at his bedside…"
— Mary Shelley, Frankenstein
American essayist Sven Birkerts is a baby boomer, part of the largest demographic (born between 1946 and 1964) to ever populate this planet. He wrote how boomers often live provisionally, "as if" waiting for the day when they might glimpse a vision of their younger days – "a map, a track, a defining sense of how we fit into the world."
But what if those younger days were an X-rated horror movie, playing out in an endless loop inside your head? What if you were sexually abused and left doubled over by despair and each day meant the possibility of another meeting with the horrid thing standing beside the bed? Not the one Mary Shelley concocted from her fervid imagination, but someone closer, a friend, a mentor. That makes the monster more sinister, uglier, grotesque. It makes the victim more vulnerable, helpless.
What if he comes in disguise, a tunic, a Sam Browne belt, gun, handcuffs, baton, and a monogrammed logo on his shoulder that signifies he's a member of the local police force? What if he was even more credentialed: a community do-gooder, a 'Big Brother' and a hockey coach? What if he was smooth and cunning and had the skills of an actor? What if he could play the role of good guy, the saintly father figure? What if he was like other serial sex abusers and had the ability to pick through a basket of apples and find the ripest one? What if he sensed vulnerability in a little boy and knew how to exploit it, especially someone who was missing a person who was critical to the construction of their life? What if the abuser knew how to groom the boy, then his family?
In Shelley's novel, her creation was nameless.
In this boy's world, a man named Frank Kohler, nicknamed Frank the Narc, was the local cop on patrol in the tight little community of Peel Village in the Town of Brampton, circa late 1960s and early '70s. He was the composite drawing of the perfect policeman: rock-ribbed, tough, disciplined, honest – the ultimate community protector.
That put him in close contact with kids. Too close, said some, who noted his presence in the parked squad car as he watched them in the nearby playground.
They kept up their guard.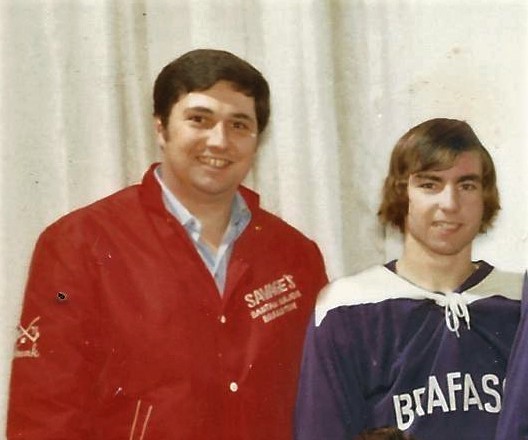 Frank Kohler and Kevin Dickman
But Frank Kohler isn't facing criminal charges, after 50 years, for anything involving all those other children. There was one boy who was particularly weak. Frank knew his father had just died and suddenly, he and his family were left lost and searching.
His mother understood her young son needed a replacement, a role model, a trusted voice, a man who could pilot him through the tough transition from childhood to his teens and beyond. Who better than a policeman, Big Brother, and hockey coach? After all, it was a crazy time in the world. The culture was transforming. A counterculture pushed kids to experiment. The boy needed a map, a track, a defining sense of how he might fit into a better world.
The community cop came readymade to help him get there.
So, what happens when you don't have the consolation of family, friends, religion, society, even the police or legal system to protect you?
What if you were Kevin Dickman?
In 2005, CBC ran a short documentary on homelessness in a show called Moving On. In it, there's a haunting 46 second interview with Dickman. He was now nearing 50, grizzled, unkempt, and staying at Brampton's Good Shepherd House, a place for the dispossessed.
He stared into the camera and his face was fixed in a permanent grimace. He told the interviewer how things have been spiraling downwards, how he had been fighting depression and his emotions had been rubbed raw for years and years. "It [the sexual abuse] became a sickness," he said. The camera panned down to his calloused hands, holding a coffee, then back to his face, a scream mask. His attempts to force a smile were unsuccessful, and he continued to talk: "It's [abuse] something you don't just wipe away. It can stay with you forever. You can lose touch when you're outside and homeless for five or six or seven years, and you might not want to come back – people don't recognize you as being of this earth."
There was an insert in the show that showed Kevin with the camera crew travelling into his subterranean world – a Brampton park where he bedded down at night if Shepherd House was full, which it often was. Kevin was running between Brampton and Toronto, living on the streets or in care homes, detox centres, jail cells, or hospitals. He knew how to curl into a doorway and fall asleep, break into buildings, or simply get high or drunk and pass out in the grass. Long gone was the ever-smiling kid who lived on Roberts Crescent in Peel Village and played in the parks with his friends, and who followed a well-ordered educational pathway from John A Macdonald Public, to William G. Davis senior public, and finally Brampton Centennial. Few knew that during his passage through the lower grades, especially at age 10, while in Grade 5, he would be sexually abused and that all forward motion in his life came to a virtual stop.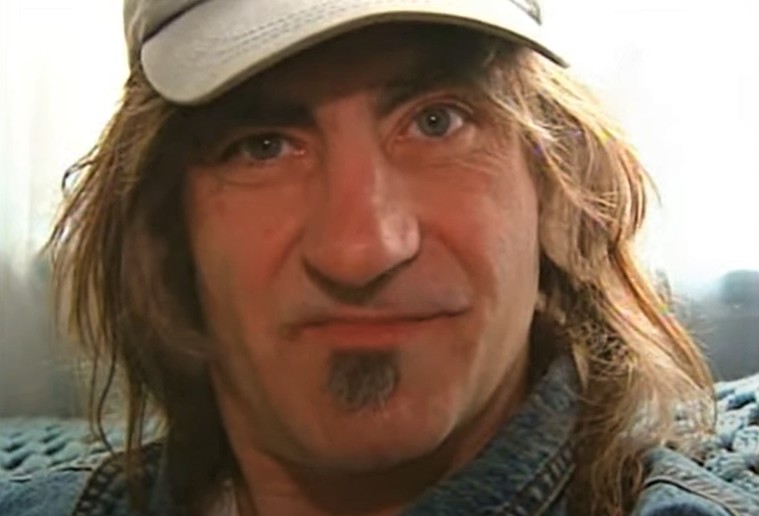 Kevin in a screengrab from the CBC clip
Those friends and fellow boomers who watched the CBC doc were comfortably ensconced in their adult lives by the time it aired. They had made the choppy passage from child to teen to early adulthood and middle-age comfort without a hiccup. Most were married and lived through their starter-home odyssey and kid-raising days, and now sported big homes and high-paying careers – as far away from Kevin as the earth was to the sun.
Kevin was lost within himself, untouched by reality. The documentary was a blunt reminder of how far he had veered off track. Friends remembered the rumours about Frank, the former police officer, and his too-close ties with Kevin. But everyone thought he'd be okay when the cop suddenly disappeared from the police force, and apparently left town. Kevin would be okay. But as the CBC showed, he wasn't okay. Not even close. He was living provisionally, "as if". He was a rubby, a druggie, a loner, who never married, had no kids, no career, and spiraling down the proverbial drain.
The documentary was a shocker to those who knew the bright-eyed boy, the Peel Village cut-up. Despite the name of the TV show, there was no Moving On. Kevin was stranded by circumstances. His mazy mind filled with too much past, and not enough future.
The show caused a minor stir, prompted a couple of phone calls from grown ups who knew him as a kid, and they filled in others with the gaps now exposed in Kevin's life. But the show quickly faded to black. The friends returned to their well-ordered lives, and Kevin remained in his disorderly one. That meant being on the streets, sleeping in places most of us never knew existed – derelict buildings, lean-tos, anything with the semblance of a roof. He slept on piss-stained mattresses, a bottle of cheap Catawba wine at his side, empty. The other losers in life were there too, talking rubby talk. This was life in extremis.
The normal sadnesses of existence – divorce, job loss, financial failure, sickness – don't come from the effects of childhood sexual abuse. It isolates, paralyzes, then drills down and destroys the very fabric of your being, the psyche and the soul. It turned Kevin into something he never was: a burrower, a recluse, a man forever searching for connection, a way home. Maybe he was forced to search for something that just wasn't there, and the threads that keep splitting apart? The boy who was once so full of spunk and self-regard, was stripped bare, as if he was in a long hallway, his future extending ever outward and running away from him.
He would never find his way home.
During the day, Kevin sat on park benches, got drunk or stoned depending on the amount of loose change he managed to panhandle. He was forever checking himself into detox, care homes, hospitals, and spent two years at Toronto's St. Lawrence health centre/jail where he got straight, learned a trade, and cleaned up. But he was always a drink, a toke, a hit, or a depressive thought away from getting dirty again.
Then, on Nov. 9, 2019, a Toronto Star story appeared under this headline: Kevin Dickman died a broken man, homeless and alone in a city grappling with a housing crisis. It was a complex tale simply told, and talked about an aging and dispossessed man of the streets who was found floating in the Don River, his lifeless body fished out of the syrupy guck as if it was an old tire.
Dickman would die as he lived, unlamented.
But no, he was lamented to the core. His childhood friends were sickened by the news, and were equal parts sad, guilt-ridden, and filled with anger about what had happened to him and why – how he lived, how he died. So began the great rapprochement, a coming together of the herd at the watering hole. A raw, and natural outpouring of energy was broadening out to include all those who cared about Kevin. Yes, they said, he mattered. And yes, more than anything, he deserved justice.
They set up a GoFundMe page when they found out he was buried in an unmarked pauper's grave, with no headstone. They got him one and raised so much money the spillover would be used to create a memorial site near his boyhood home on Roberts Crescent in Peel Village. There would be a tree and a plaque and a ceremony with warming words of remembrance. The memorial had to be cleared with the city, which it was, and it would have to be re-scheduled time and again, especially after COVID-19 struck. It is now slated to take place in September – just a month before Frank Kohler, the man accused of sexually abusing him half a century ago will appear in a Brampton courtroom to finally face justice.
Yes, they found Frank the cop!
The thread that led to the charges was the result of some dogged detective work by two of Kevin's childhood friends, not the police. This led in a straight line to a startling press release that printed under this headline: SIU charge former Brampton officer in sexual assault dating back 50 years.
Here are some of the key bullet points:
• The Special Investigations Unit, which investigates possible harm caused by police in Ontario, says an individual contacted the agency in November 2019 with a complaint against the former officer.
• The alleged incidents occurred in Brampton between 1967 to 1972, when Frank Kohler was a member of the Brampton Police Force.
• The department merged with Peel Regional Police in 1974, and Kohler later resigned.
• The SIU says Kohler has been charged with two counts of indecent assault (which now would be called sexual assault for any such act committed after 2003 when the law was changed) and two counts of gross indecency.
• He is due in court in Brampton on Oct. 6.
---
Kevin's name wasn't mentioned. The SIU claims the violations "were of a sexual nature," and in consideration of the fair trial interests of the accused, it would make no further comment.
The man beside Kevin, hidden behind a police mask, and the titles Big Brother and hockey coach, was finally getting his comeuppance, and will now face the full force of justice.
If Kevin's was a story of abandonment, sexual abuse, cruelty, and continuous pain, his death was like a large boulder thrown into a pond that caused waves to ripple through two communities, Brampton and Toronto. The GoFundMe campaign was a great start, and the memorial site would be greater. Last November the street people in Toronto held a special celebration of Kevin's life, organized by the Ontario Coalition Against Poverty.
But a movement (yes, it was a movement) that might be called, Friends of Kevin, wanted more, especially Phil Anderson, his best childhood friend, now living in Mississauga, and Pam Hand from Brampton.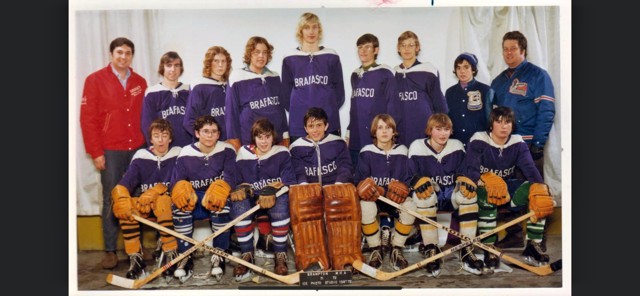 One of Kevin's hockey teams, coached by Frank Kohler in the red jacket
Hand thought the parks system in Peel Village had to be exposed for what it was back when they were children: the playpen for a sexual predator. She and Anderson wiped away tears and 50 years. They set out to find the man who they believed was responsible for Kevin's torment.
Hand remembered rumours about Kohler returning to Nova Scotia after leaving the Peel police force. Her search would be ripe with irony. She was a former Peel cop, a 30-year veteran, recently retired. She knew how to work the phones, follow leads, find evidence. Most importantly, she was an expert at interrogating sex offenders after being a long-time member of the Child Abuse Sexual Assault Bureau, plus nine years working with the Sex Offender Registry. She eventually tracked down an F. Kohler, called him, and left a cryptic message: If you know what's good for you, you'd better call me back. He did.
They talked for 15 minutes. Pam's stomach roiled, she felt sick, and dirty. She reminded herself to stay calm and professional. Recently, she unveiled the contents of that conversation in an emotional Facebook posting.
In a follow-up interview with The Pointer, she said this (The following is an account that has not been proven in court and is at this point considered an allegation): "Frank wouldn't either admit or deny he abused Kevin. I asked him if he was going to deny he abused Kevin and he said, 'I'm not gonna say that.' I then said, well then are you admitting you abused Kevin, and he said, 'I'm not gonna say that, either.' An innocent person would've denied it outright. Also, when I told him that the abuse he inflicted on Kevin led to Kevin's life spiralling out of control, he expressed remorse. He said, 'I led a foul life' before leaving Brampton at 29 and moving to Nova Scotia where the good lord and saviour saved him. I told him that God didn't do much to heal Kevin. Although he never outright said he abused Kevin, his words indicated his remorse and he would not deny it. [I] just wanted to make sure that although I said he didn't admit it, it's so important to realize that he didn't deny it. As a sex assault investigator with Peel Police for years, an innocent person denies, denies, denies it and is actually upset at the suggestion that someone thinks they did (it). Frank was very accepting of this and I told him that one of Kevin's biggest regrets was not confronting him and that I was doing that for him. I told him I thought he was a disgusting person for using his badge and the fact that he was a Big Brother to find a victim and abuse them. With my training and experience as a sex assault investigator, I was 100 percent convinced after the phone call that Frank sexually abused Kevin. He did not outrightly deny it once."
Pam couldn't resist telling him that she hoped he remembered Kevin's body floating in the river every night when he put his head on his pillow, and how he had sullied his police badge and the title of community do-gooder.
After the call, Hand felt sick, unmoored. She called Anderson and replayed every detail.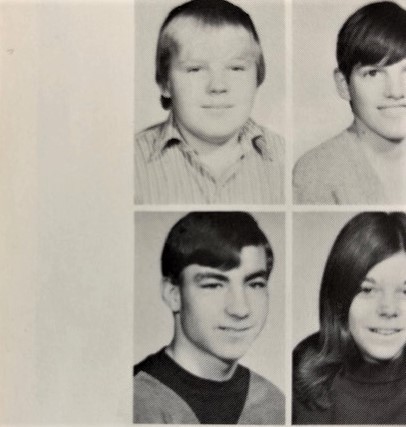 Kevin's yearbook picture, bottom row, in 1971 and an entry about him
What can we do next, he asked? She mentioned the police were often stirred to act about one of their own through the SIU, which is connected to the attorney general's office. Surely there was a statute of limitations on police crimes, she thought – after all, it had been half a century. Anderson wasn't deterred and decided to check out the website. He found the box to file a complaint and spilled his guts – he let it all go. Both couldn't believe it when they got a response. Perhaps it was because of Anderson's emotional narrative, but more likely it was the fact Kohler was now a practicing pastor in Nova Scotia (yes, a pastor), another position of great power and influence, and one that put him squarely in contact with young vulnerable children.
In Hand's Facebook offering, she laid out her disgust, and her worries. She wasn't sure if Kohler felt bad for Kevin, or for himself, and was simply stunned that he had been found. She wrote: "I pray there were no more (possible) victims... that was horrifying for me when I heard that he had been a pastor for all of those years. Another career where you are trusted and looked up to. Where a child would not be believed if they spoke out against him."
She praised the SIU for responding to Anderson's complaint. They even sent an officer to Nova Scotia to check out and confront the preacher. They called Hand and told her that a press release had been issued, and read it to her, which announced the charges against Kohler.
"I just wept on the phone. I could not stop crying," she said.
On Facebook, she talked directly to Kevin: "I wished that somehow you would know. That somehow, in some way, this could bring you peace."
She promises to be there on the court date, and will bring others. She wants to wear a T-shirt saying, 'JUSTICE FOR KEVIN,' but doesn't want anything to impact the possibility of a guilty verdict.
Like all the others, she was motivated by her sadness, anger, and yes, guilt. She could have done more to help "poor Kevin".
She told The Pointer about a day she spent in the old courthouse at 141 Clarence Street (now gone) which she thinks happened sometime between the years 1988 and 1991. It now plays in a constant loop in her head. Her online posting speaks directly about it to her dead friend.
"I re-live the day I saw you in bail court when I was a young officer. You stood up in the prisoner's box (in custody) and told the court and the judge that a police officer and your Big Brother sexually abused you and you needed help. I sat there thinking... I believe you Kevin. I really do. The judge gave your words no consideration and you were led away in tears. I have never forgiven myself for not standing up and trying to help. For not speaking to the Crown. I am so sorry."
The images she now has in her head of Frank sexually abusing Kevin are chilling. The fact he now operates as a pastor makes her nightmares seem even more horrid. This led her to say to Frank in their phone conversation: "Do they know out east what a monster you were?"
Kohler never answered.
Half a century later, the police watchdog finally listened to Kevin – through an intermediary. The question is: will there be enough evidence; will Kohler simply admit he is guilty, and will the court finally give a departed man justice?
Hand speculates that when Kevin lost his father at such a young age, and his mother tried to fill in the void through a Big Brother, it was a double whammy, something a young boy was ill-equipped to fight off. Hand directed another Facebook missive to Kevin: "No one knew a monster had entered your life and would lead to your life coming off the rails."
Maureen Sim contributed to the GoFundMe project, and is helping organize the memorial tree and plaque ceremony. After seeing the CBC documentary, and reading the story of his death, "I can't walk by a homeless person in the same way," she tells The Pointer.
That's made all the more difficult because she is the teacher of young Grade 5 students at Brampton's Russell D. Barber Public School. Kevin's death inspired her to have a classroom chat about the plight of the homeless last year, and her children even made sandwiches to feed the walking wounded on the streets of Brampton. But she couldn't bring herself to talk about Kevin's sexual abuse. That was too raw, too real. Yet, according to the SIU press release, it allegedly began when he was age 10, or Grade 5, the same age-group as her students. Sim can't imagine the horror Kevin must have lived through.
Bob Pesant is another long-lost friend who called Kevin a "special boy". He and Kevin solidified their friendship in high school, even after Pesant broke his back wrestling. Kevin was kind and helpful. The injury eventually disabled Pesant but didn't stop him from having a successful business career, raise a family and get named Brampton's Citizen of the Year in 2006.
He said Kevin suffered a different kind of disability, much more hurtful. It manifested itself in his inability to get on with his life. He lived moment-to-moment, with no plans for his future. "He couldn't seem to settle," says Pesant.
He remembers a time when Kevin needed a razor and took a job to earn enough money to buy one. When he had enough cash, he promptly quit his job. When he needed cigarettes, he broke into the local Shoppers Drug Mart and lifted two cartons, but took nothing more.
There was the time he dropped Kevin off at home late one night and his mother had locked him out. It seemed by this time, Kevin was quite a handful. "He bedded down in the space between two houses," Pesant remembers.
So began his training for a life of homelessness.
"The world simply failed Kevin," Pesant says, regretfully.
The Pointer reached out to counselor Paula Tookey to conclude this story. She oversaw most of Kevin's life on the streets during her 30 years in the business. In the op-ed piece she penned after Kevin's death, she wrote, "We barely talk about the lack of basic support for the homeless and the marginalized — things like shelter beds, housing, food security and accessible health care. And we almost never talk about the lack of opportunities for something pro-social and meaningful for the homeless and marginalized to do."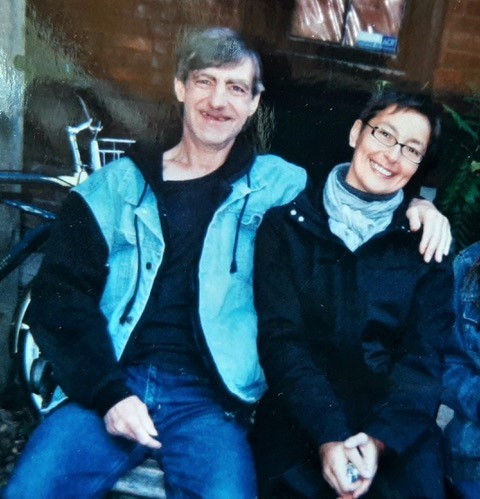 Kevin with Paula Tookey
Tookey is manager of Consumption and Treatment Services at the South Riverdale Community Health Centre. She was Kevin's last link with humanity. She understood him like no other. She listened when others tuned him out. She believed him, when others didn't.
She met Kevin at StreetCity, a stopover for alcoholics, the drug addicted, the mentally ill, or dispossessed. The facility was aptly placed, on an old toxic dump at Front and Cherry streets, near the Distillery District just east of Toronto's downtown. It's unclear if she found him or he found her, but their union was a gift to both. They were both tough and street-smart and kind, and she quickly assessed that Kevin was consumed by grief. He was as hard on himself as he was on others around him. But Tookey saw his inherent good, and it showed whenever his counselor helped him through a particular tough patch and he would gift her with a touching "thank-you" note. She was keeper of the "Kevin file", a thick folder filled with plenty of thank-you notes, pictures, a poem, and other medical and social services reports.
When Kevin told her about the sexual abuse, the man-on-child mismatch, she knew he felt stigmatized. It became a black mark on his soul.
She knew Kevin would die. It was clear by the end that he was living well past his best-before date. Tookey explained that a City of Toronto survey showed how young the death rate was among the homeless: 35 in women, 55 in men. The biggest percentage died from toxicity – drugs and/or alcohol. The youngest leave by suicide, which made Kevin a statistical anomaly, dead at age 62.
Tookey thinks she knows why Kevin ended up in the Don River. "It's hard to be homeless," she said, "but harder still to be old and homeless. We call them the unlovely. Kevin was aging hard, almost worn out. He was tired to the bone, and sick of the struggle to survive in the streets."
In his last year, he briefly sprung back to life after acquiring a small cat. He took it everywhere, buried it deep inside his coat, and it curled up beside him wherever he slept. He loved to feed it, groom it, talk to it. He even took it on those marathon walks that became a unique feature of his adult life. Tookey said Kevin often walked all the way from Toronto to Brampton and back, and he did so in any weather. He took the cat with him on his last trip, and when he put it down for just a second, it fled. Kevin raced after it, but it was just gone – like everything and everyone else in his life.
The roughly 45-kilometre trek, on foot, often in the winter, was part of Kevin's complex relationship with the place where he had lived the only good years of his life, before it was taken away in the same town. He was drawn to it, and repelled by it.
Tookey saw the change in him once he had staggered back to Toronto. He fell into a deep depression, made worse when he was ousted from lodging he had acquired near the Don River area of the city, not long before he escaped the torture of his darkened earthly soul. He was old, back on the streets, and profoundly alone. Maybe he couldn't face another winter of homelessness? The river's brackish waters offered him peace, a chance to drown his sorrows.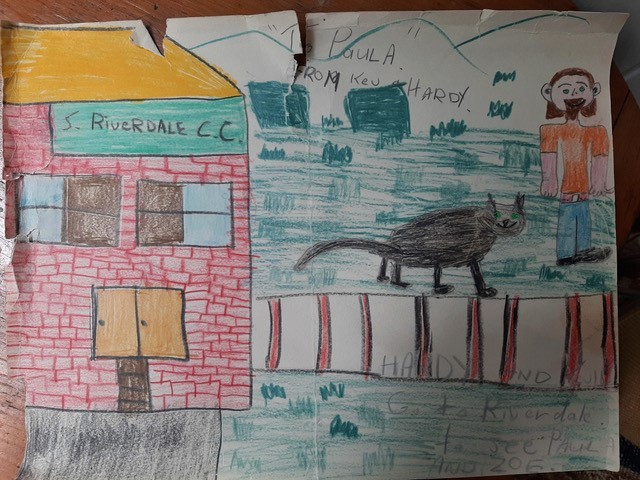 Tookey often walks near the spot where Kevin died, thinking about her friend. She often scans through his file, focusing on a picture he drew a few years back. It is juvenile, almost child-like, as if drawn by a 10-year-old; as if that was when he came to a dead stop – which the SIU press release seems to suggest it was. The poem he wrote is untitled, but Tookey passed it along to The Pointer in hopes that it might offer another layer to Kevin's story, maybe become a requiem.
---
Once I was lost in a world of my own
With no true friend nor a place to call home
Drugs are all I need I used to say
I don't need anyone, I am happy this way
My lonely heart ran free for years
I would sell my soul for couple of beers
Secretly knowing I would be sorry someday
I almost died, it won't happen again
I am too young to suffer such pain
Then someone found me, someone who cared
A true friend myself I shared
So, don't look at me the way I used to be
I am a changed person, can't you see?
---
But he wasn't changed. He couldn't change. Everything kept circling back to his childhood, and memories of a monster.
We'll never know if during those marathon walks to Brampton, Kevin returned to Roberts Crescent to check out his old homestead and walk in the Peel Village parks he once played in as a kid – in those carefree days. Before he became a victim.
Tookey wonders if Kevin's troubled life of petty crime, vagrancy, drug use, and non-stop confrontations with the police, was doubly traumatizing because of the officers' appearance – tunics, Sam Browne belt, holsters, guns, name tags. This must have spooked him.
If there's a moral to Kevin's life, it's that we should never let down our guard, as individuals or as a society. After all, it was two of society's great institutions, the police and courts, that identified Kevin as a criminal, not a victim.
Tookey reminds us why it was important for Kevin to break into a pharmacy to steal a razor. She said he hated being unclean, or to smell bad, or be unkempt and have to wear dirty clothes. He didn't want to be homeless, and in the end, it all just wore him out. In the last days of his life, he had lost everything: weight, cat, father, mother, shelter, and hope.
When the last of a man's dying soul has been squeezed of hope, what propels them forward?
Maybe that's how he felt when he stepped into the cool and dirty waters of the Don.
Kevin Dickman was the poster boy for inner turmoil: grief-struck, soul-destroyed, and raped of all hope. An abuser came along at the wrong time, filled with empty promises and a perverted hunger for juicy ripe apples. Kevin's life was reduced to incoherence. He became a shattered remnant. His heart a rucksack, filled with dirty belongings. All that he had.
---
Sven Birkerts said a boomer's childhood was a well-defined place, with a clear set of values and rules, and things had more density, everything seemed to "matter more."
If he's right and everything mattered more to Kevin, his abuse did extreme damage. His suicide was the final act of self-abnegation. He finally found a way to drown the monster.
Tookey said, "I miss Kevin. But his life was awfully hard, so I am glad he isn't suffering anymore. I am sure he knows his (alleged) abuser is being brought to court to answer to the accusations. At least I want to believe that he knows."
"Kevin always wanted to share his experience and he really wanted to be believed – that he wasn't crazy, that he was traumatized... and that being a child of sexual abuse is traumatizing. He believed that he was robbed of his life, of his family, of his health, and of any potential because of the experience of being abused."
She hopes his life and death resonates with us and gives pause, and makes all of us reflect on what happens to our homeless – and other people who are unwell. Maybe the winners of the world don't care because they will never have to live on the streets, or understand the people who do. They simply ask: What is wrong with these people? Why can't they simply move on with their lives? Why can't they get a job, and be productive members of society?
The naive like to insulate, with each other, so they can reinforce their isolating views.
Maybe, said Tookey, seeing or knowing someone like Kevin will help people understand that for some, life is a lot harder. And it's often through no fault of their own.
It's a circular path that brings us back to where it all began, childhood.
She concludes with this: "Every so often Kevin would say something that was wise. One day when he was really low, and after he cried himself quiet, he said to himself, 'I guess I have to be my own best friend.' For some reason this stuck with me. I have this image of Kevin sitting in my office, his face red from crying, after a moment of reflection and in so much pain. That was the pep talk he gave to himself. He felt so lonely."
Submit a correction about this story