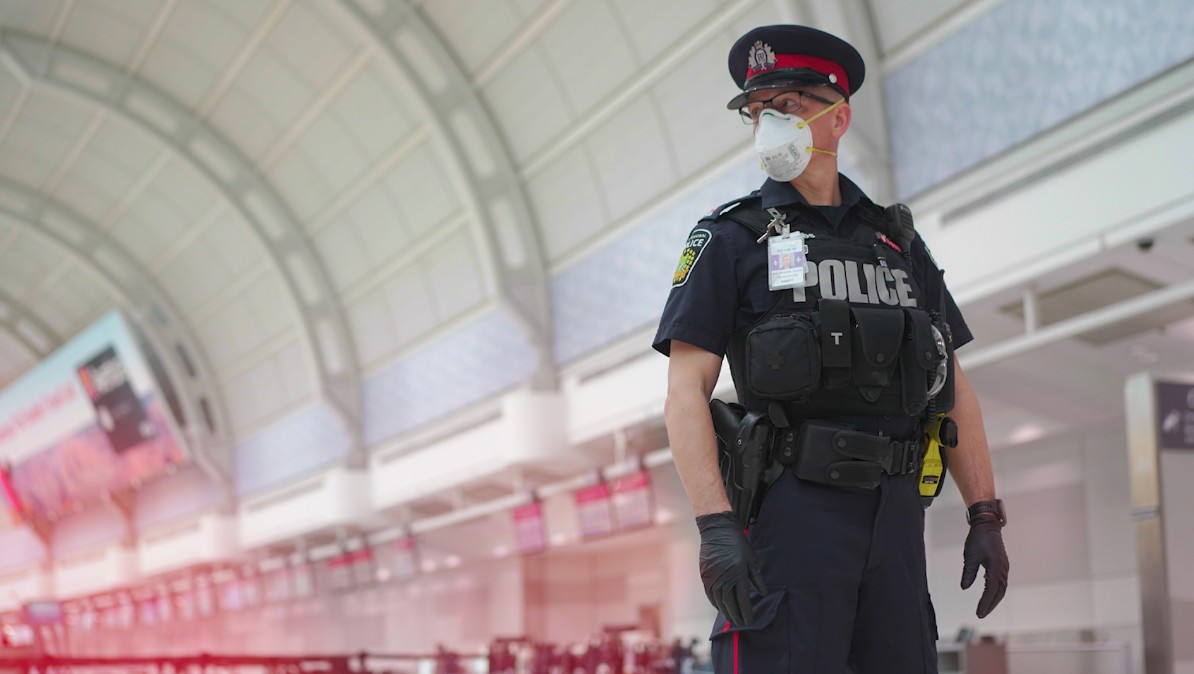 Photos from The Pointer files/Peel Regional Police
Police budget balances fight against increasingly complex crime and calls for new funding model 
When Chief Nishan Duraiappah took over Peel's police force in 2019, the leg work on the 2020 budget was mostly complete. The new chief was handed the difficult task of trying to mould a document that was not only near completion, but one with roots planted in years of status-quo decision making by police brass, supported by members of the Peel Police Services Board wielding a rubber stamp instead of asking tough questions about spending.
Still, the new chief was able to get his hands dirty and scale back what was initially set to be a 6.1 percent increase down to 5.4 percent, mostly thanks to a cut in the number of new sworn officers, replacing them with much cheaper civilian support positions.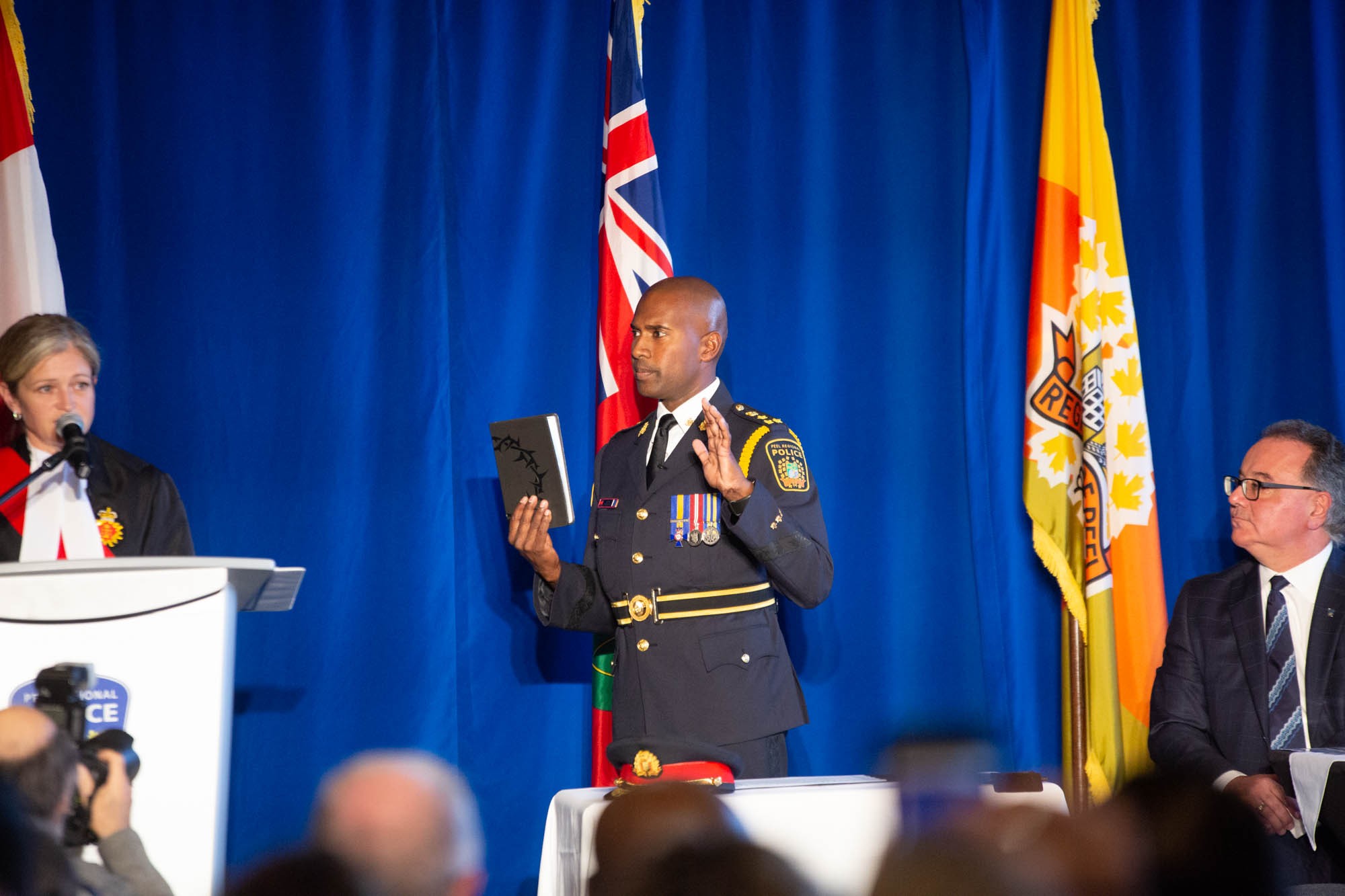 When Chief Duraiappah was sworn in late last year, the process to create the 2020 budget was mostly complete.
The stiff increase was met with resistance from members of Regional council — who have the final say on the police budget — with some looking for things to be scaled back further. It was a departure from years past, when regional councillors passed budgets with few questions asked.
But these are different times across North America. Many in the public are frustrated with what they see as an outdated policing model that throws money at crime fighting with little accountability of how taxpayer funds are spent.
Issues around police discrimination, poor approaches to dealing with citizens in crisis and a lack of effective community policing are dogging forces across North America, suddenly under serious scrutiny.
Chief Duraiappah told regional councillors demanding budget reforms last year it just wasn't possible, describing the 2020 request as a "tempered ask", and that any further reduction could put the community at risk.
"I've got to get this organization back to a breathing point," the Chief told councillors in December 2019.
Duraiappah likely didn't imagine the task of creating the 2021 budget under mounting scepticism could be any more difficult. Then the pandemic hit.
It has created a wave of unforeseen costs, combined with a widespread movement calling for reduced funding of police departments triggered by the killing of George Floyd by a now former Minneapolis police officer.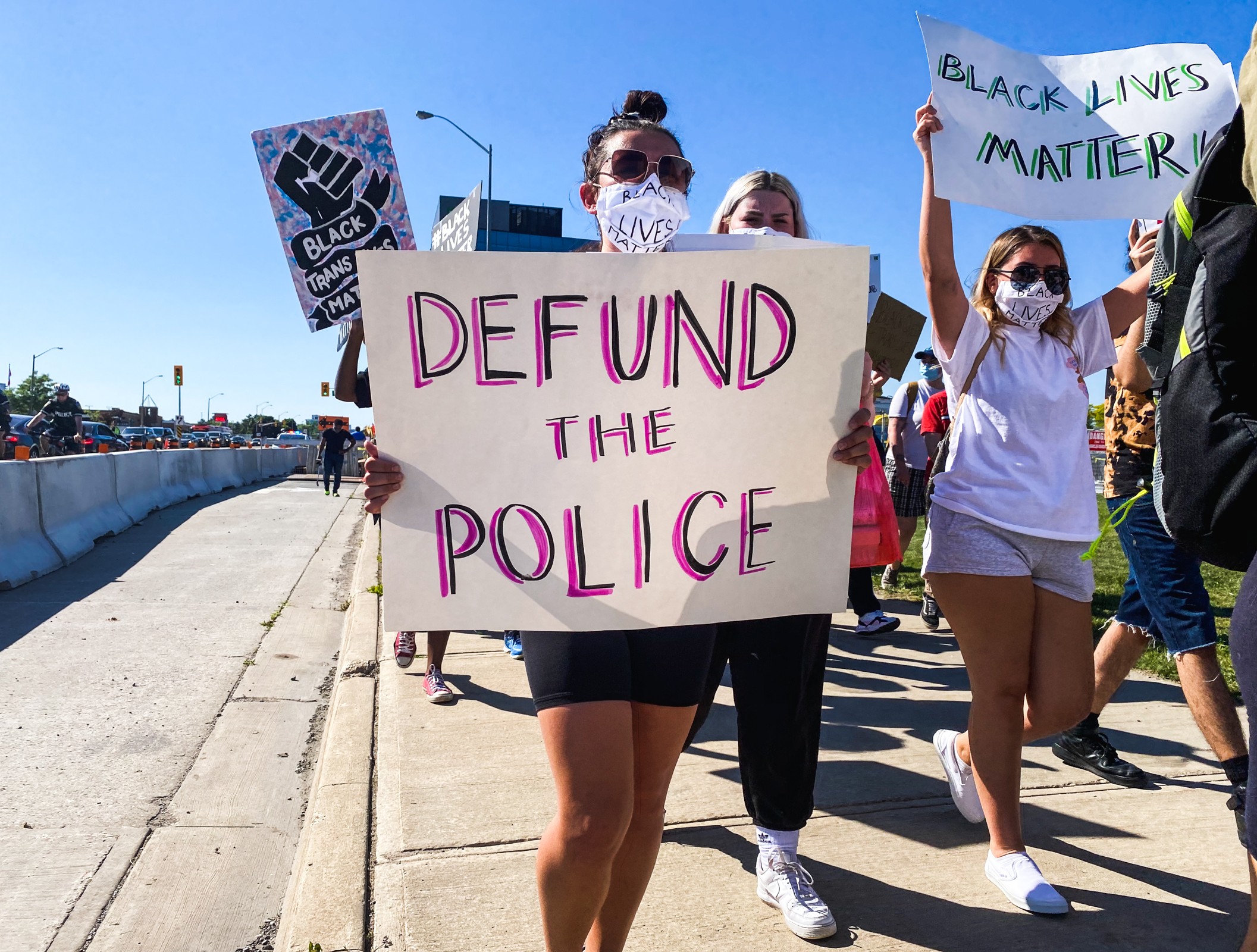 Demonstrations calling for police reform have sprung up across North American throughout 2020.
The "new normal" of 2020 puts pressure on the Chief, who was brought in with a vision of reforming an organization plagued by misconduct, complaints of systemic discrimination and a budget approach that seemed devoid of any effective strategic planning. Year after year unsustainable budget increases were passed while citizens of Brampton and Mississauga questioned why violent crime and other problems spread through their communities.
The Peel police budget went up by about 70 percent in one decade, from $290 million in 2010 to $490 million in 2020. Many in the public have questioned if the extra $200 million in just one decade has created a safer community. A survey done by Forum Research commissioned by The Pointer in 2018 showed 90 percent of Brampton residents did not feel safer than they did a year earlier.
Now, after the controversial tenure of former chief Jennifer Evans, who treated the board that oversees the force more like the way a teacher speaks to students, Duraiappah has to fulfill his mandate to reshape a troubled department. The board, which had grown tired of Evans' divisive, dictatorial approach, hired the new chief to turn Peel Police around.
He has to bring forward a budget that balances the needs of his organization, while also addressing the loud calls for change coming from his overseers and the communities he serves.
Both mayors, Bonnie Crombie and Patrick Brown, who sit on the police board, have called for effective reforms. They do not want their residents rising up again and again every time citizens in crisis are confronted by police, only to see a troubling outcome unfold.
The Chief's budget for the coming year might face unprecedented scrutiny.
The initial proposal for 2021 sees Peel Police receiving a 3.8 percent increase, which includes $16.7 million more for the operating budget, and a proposed $56.4 million capital budget.
The increase is driven by additional operating costs, mainly an extra $11.4 million in salaries and wages, and $5.2 million to hire 27 additional uniformed officers and 14 civilian positions.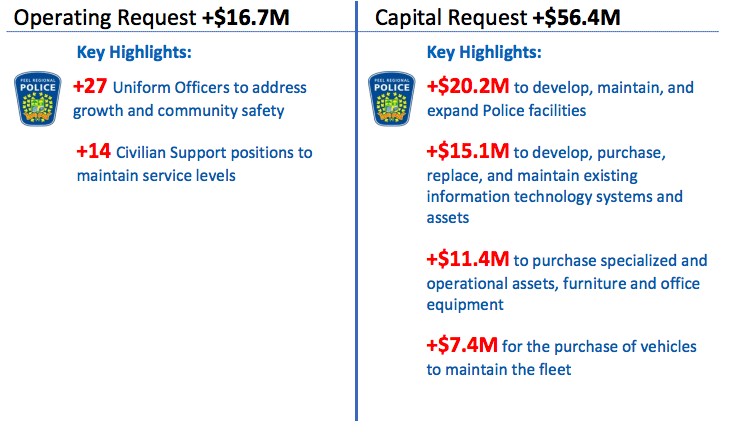 Any increase to the budget is sure to be criticized by those members of the public who are calling for reduced police funding, and for any proposed increase in the police bottom line to instead be redirected to other community support programs. However, when it comes to labour costs, this is next to impossible as these salary increases are locked in through non-negotiable labour contracts. Overall, salaries and wages account for 94 percent of the force's overall operating budget, with the remainder going toward operational costs and contributions to reserves.
Current labour contracts are not open to renegotiation, and the police services board does not have the power to cut or freeze salaries at its discretion. The provincial government is able to issue an order to freeze public sector salaries, including police, but this would do little to assist with the immediate demands of many in the community as it would not impact existing labour costs, which will eat up a projected $435.8 million this year, out of a total overall proposed operating budget of $462.5 million.
The 3.8 percent ask for 2021, while a slight reduction from the increase in 2020, is not out of the ordinary for Peel Regional Police budgets over the last decade, which have increased, on average, by 4.4 percent each year since 2009 when the budget sat at $275.3 million. That represents almost three times the rate of inflation in Ontario over the same period and is considered unsustainable by many critics of the current police funding model.
The status quo increase highlights the difficult balancing act Duraiappah is expected to perform. On one side, the Chief has made attempts to reduce spending. Initial projections for 2020-2022 saw the hiring of 55 new officers each year to keep up with demand. For 2020, the Chief reduced that number to 35, and has cut back further to 27 for 2021. The increasingly complex nature of modern crime, and the need to keep up with a growing workload, means money needs to be invested in other areas to ensure Peel police can do their job effectively.
This includes investing heavily in the force's IT infrastructure and upgrading existing equipment (many of the mobile device units in Peel police cars are currently running on Windows 7, an operating system over a decade old). The force is also looking to establish a real-time operations centre, which a service delivery review describes as a tool to "manage risk, coordinate frontline, investigative resources and leverage technology to enhance and support field operations in real time."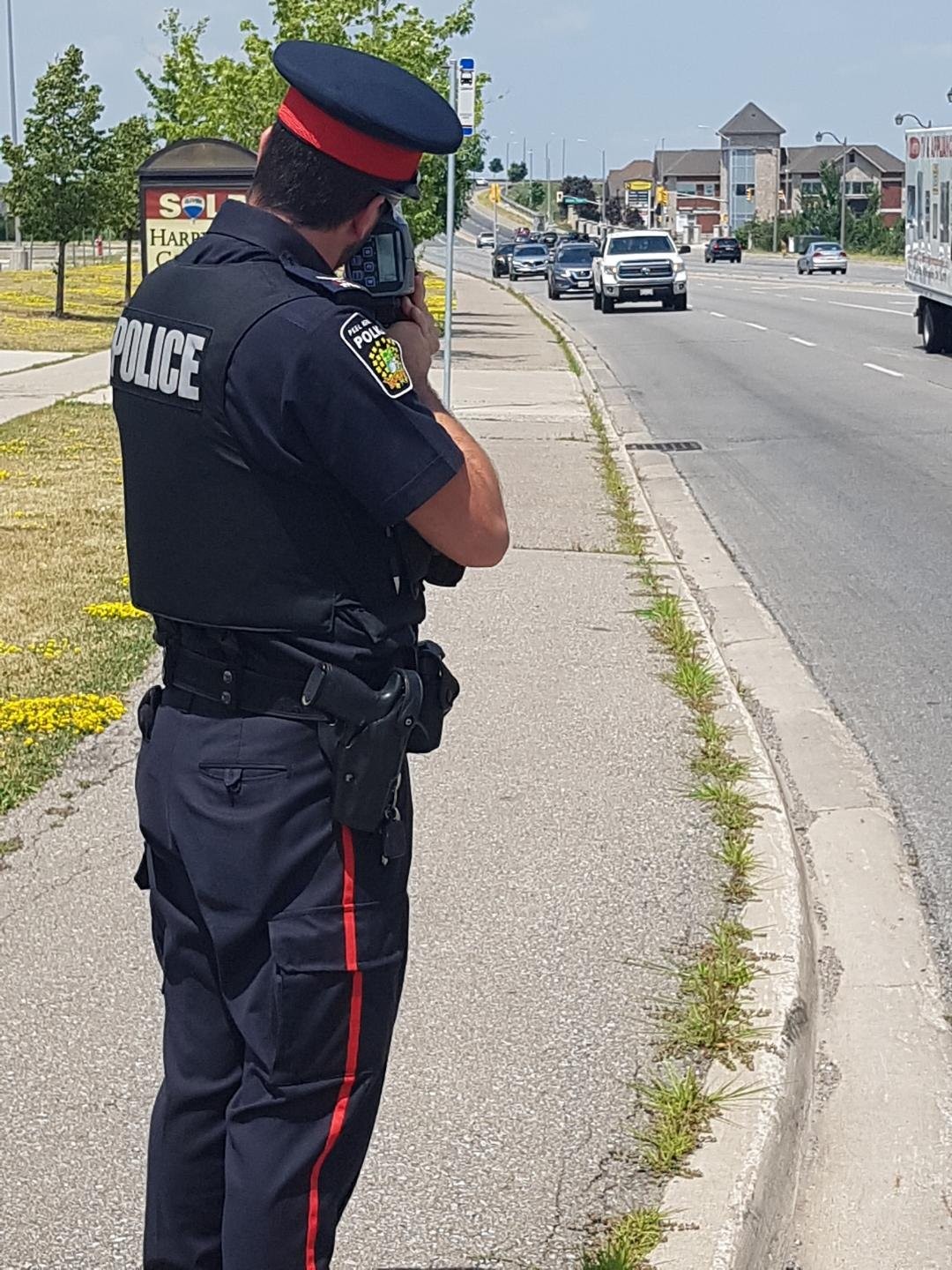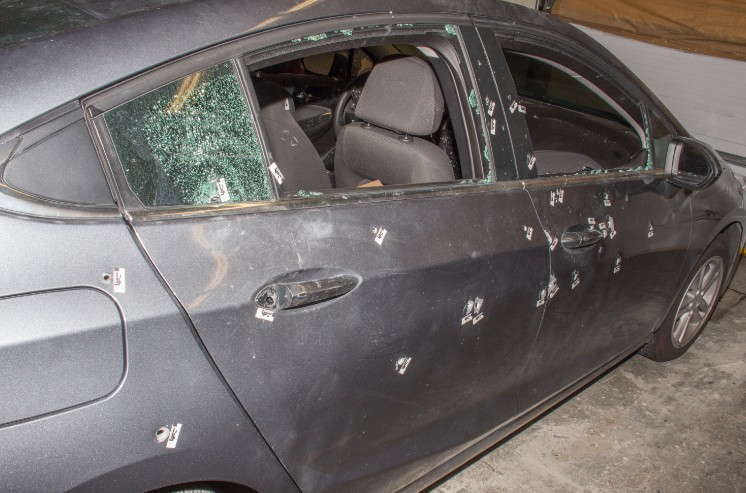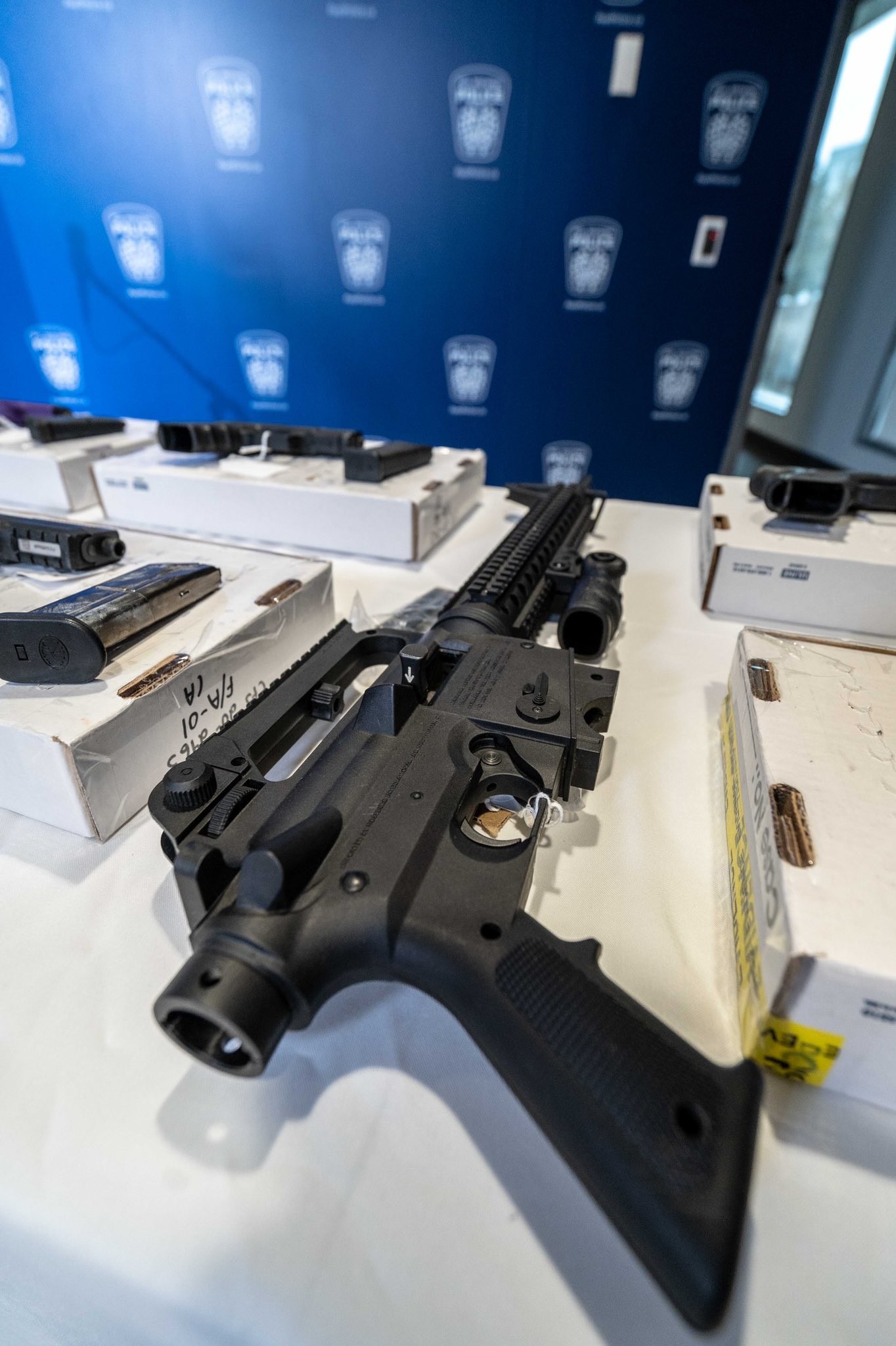 The 2021 police budget must balance an increasing workload for officers patrolling the streets of Brampton and Mississauga, while also tackling a rise in violent gun and gang crime.
Finding more efficient ways to conduct police work is critical for a growing region that is seeing an increase in police calls for service and a rise in particular types of violent crime. Since 2015, "Crimes Against Persons" in Mississauga and Brampton have increased 38 percent, and "Crimes Against Property" have risen by 11 percent. Homicides are up 82 percent since 2015 — rising from 17 to 31 in 2019 — attempted murder charges have increased 74 percent; sexual assault level 2 (involving a weapon or bodily harm) has increased 75 percent; sexual violations against children went up 89 percent; and assault level 2 crimes have jumped by 51 percent. While Peel's Crime Severity Index remains below the provincial and national average, there is still a need to address these growing workload pressures, especially for a force that has a low number of officers per capita.
The Peel Police Services Board will begin discussions on the topic today, with both Brown and Crombie indicating repeatedly over the summer that the 2021 police budget will be looked at through "a different lens."
Aside from public statements by the mayors, the Board itself has not made any concerted effort to hear from the public about their ideas for the 2021 budget. This lack of effort is being criticized by members of community advocacy groups who are labelling recent decisions by the police force, including a new partnership with the Ontario Human Rights Commission, and the effort to equip officers with body-worn cameras, as ineffective in addressing the issues of systemic discrimination that plague the organization.
"The Chief and the Peel Police Services Board have consistently failed to take seriously the concerns raised by community members, especially those most impacted by police brutality, police violence, and systemic oppression," write members of Advocacy Peel, a grassroots community organization, in a letter on the agenda for the board's budget deliberations. "Instead, we have witnessed tokenism, erasure and disregard of community concerns, distraction in the form of new 'engagement' or 'consultation,' and so-called solutions designed by the same institution that has caused harm."
The group is calling for a comprehensive review of the police budget "using an equity and anti-oppression lens" as well as "a significant shrinking of the budget to allocate these much needed funds to other areas that are funded through the region." A task made difficult by the fact that 94 percent of the police operating budget is locked into labour contracts.
Discussions at the board will begin today at 10 a.m.
---
Email: [email protected]
Twitter: @JoeljWittnebel
---
COVID-19 is impacting all Canadians. At a time when vital public information is needed by everyone, The Pointer has taken down our paywall on all stories relating to the pandemic and those of public interest to ensure every resident of Brampton and Mississauga has access to the facts. For those who are able, we encourage you to consider a subscription. This will help us report on important public interest issues the community needs to know about now more than ever. You can register for a 30-day free trial HERE. Thereafter, The Pointer will charge $10 a month and you can cancel any time right on the website. Thank you.
Submit a correction about this story