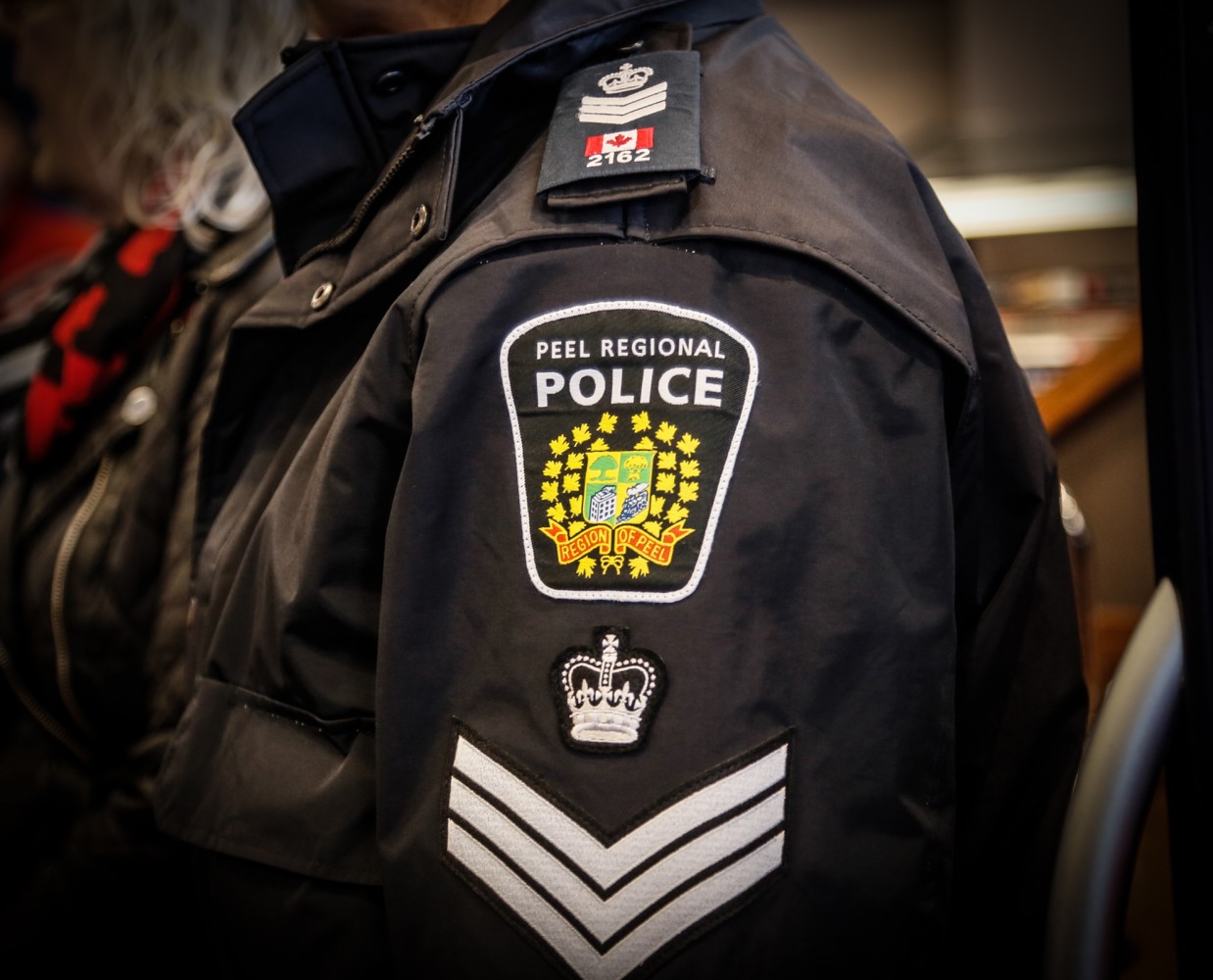 The Pointer File Photos/Graphics from Peel Regional Police
Cuts to police budget could impact community safety, regional council hears
In large part, Chief Nishan Duraiappah was hired for his progressive views on policing. But Peel councillors from Brampton and Mississauga, facing a dire financial picture as they grapple with the budgets of their respective cities, are now putting pressure on the new chief to lessen the burden on local taxpayers.
It's a dilemma that elected officials are expected to navigate: how do they keep the public safe while respecting the taxpayers who pay for policing?
Presenting his first budget to regional council last week, the efforts made by the chief in his first 66 days on the job were quite clear.
Instead of a planned 55 new officers, Chief Duraiappah is looking to hire only 35, a decision which helped to pull down the initial 6.1 percent budget increase proposed in June of this year to the current 5.4 percent. The reduction of 20 officers could actually be a policing gain as the budget proposes hiring 18 additional civilian positions to carry out various crucial roles within the force, a new trend in policing that not only saves money on the bottom line, but can bring in new expertise to help police organizations tackle the ever increasing complexity of modern crime.
Chief Nishan Duraiappah
"It's been quite a remarkable period of time where I have had the opportunity to really understand intensely the dynamics within this municipality," Chief Duraiappah told Peel Region Council Thursday, after being sworn in at the start of October.
He said his vision for the future of Peel police is optimistic, and his wish is for regional council to be a partner in achieving this progressive vision in the coming years.
"You have a sincere commitment from me as an individual to work with you," he said. "The needs of the organization and this community have to be forefront."
The rosy opening salvo was followed by the harsh reality that the organization is facing serious pressure from growing violent crime, an increasing workload and a province that continues to change the foundational grant programs that police rely on for supplemental funding.
Currently, the proposed 2020 budget consists of a $445.7 million operating budget, the lion's share of which (approximately 94 percent) is for salaries and benefits and represents a $22.7 million increase over what was needed this year. If approved by regional council, it would represent a 10 percent increase in the police budget over two years.
The sharp rise is driven mainly by $11.9 million in additional labour costs, $2.7 million in "operating and inflationary pressures" and a $2.6 million decrease in provincial grant funding, the latter of which has a "significant" impact on the organization, Duraiappah said.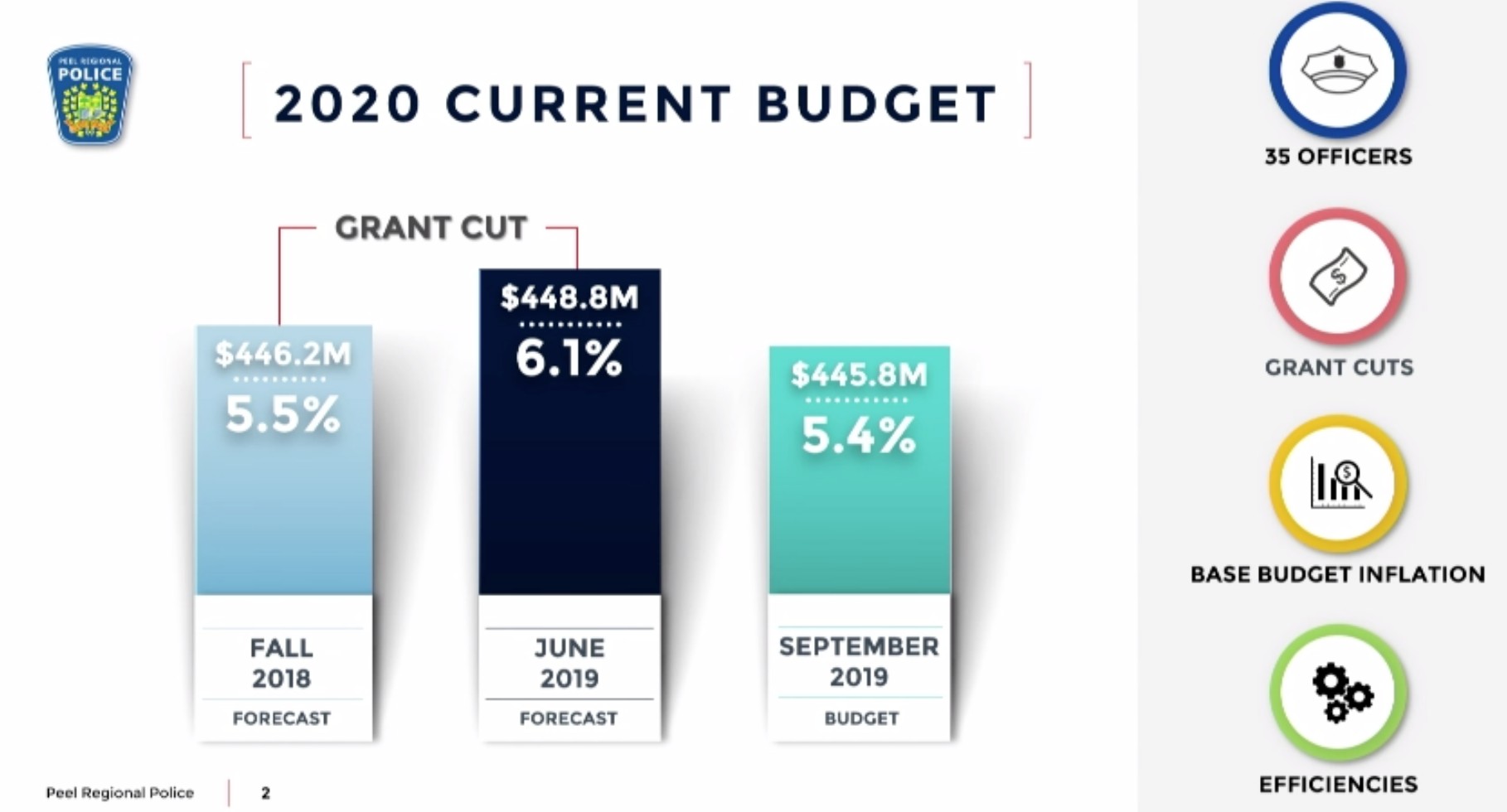 "I do continue to work with the province and the various ministries that touch base with policing and I'm hopeful that additional opportunities may come," the chief said.
Those opportunities could include a portion of the $65 million in grant funding announced in March and August of this year by the province and federal governments for anti-gun and gang initiatives. The Pointer learned earlier this month that police organizations will be able to apply for those funds in April 2020. Additionally, last week the province announced $20 million annually for anti-human trafficking initiatives, a portion of which is earmarked for enforcement, and could be of critical importance for Peel police in a region where human trafficking is already common and becoming even more prevalent.
These funds could go a long way in helping Peel police to abate a trend of rising violence.
Violent violations and crimes against persons, have increased 12 percent since 2009, while the most violent crimes have jumped 33 percent in the past five years.
To help address this growing workload, $6.6 million of the increased budget will be put toward hiring 27 uniform officers to be placed on the front lines and 8 officers for specialty bureaus.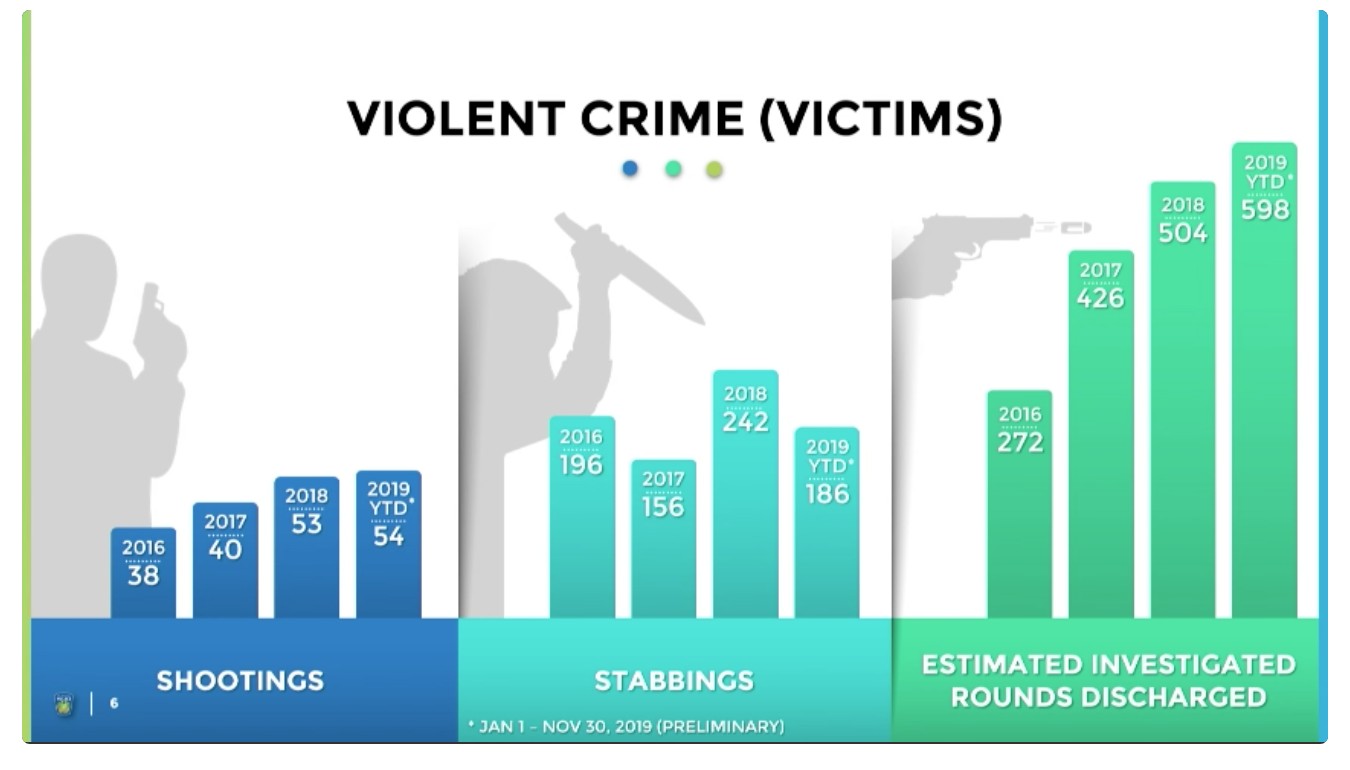 Even with the added officers, Peel police remains woefully short of the Canadian and national averages when it comes to police officers per population. This year, Peel sits at approximately 140.5 officers per 100,000 residents, well below the national average of 194 officers per 100,000 and the provincial average of 181 officers per 100,000 residents. This has been an ongoing concern for Peel, the third-largest municipal police force in the country.
The police budget represents the largest expenditure for the Region of Peel, and while regional staff have made it quite clear there is very little room to make significant reductions in the overall Peel Region budget without compromising service delivery, councillors have been searching for ways to pull down the proposed 1.7 percent tax increase to the region's share of the property tax bill for 2020.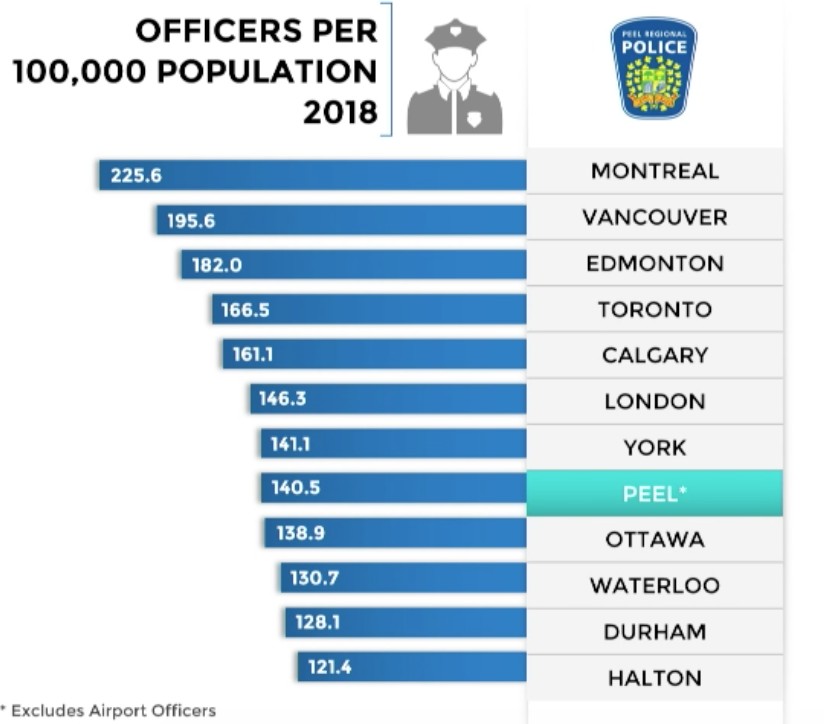 Mississauga councillor Pat Saito told Chief Duraiappah that she was "disappointed" with the lack of information in the police budget, particularly as it pertained to the capital expenses line, and also inquired what the impact would be should council require the police to pull down the proposed budget increase by one percentage point.
Similar to the stance of regional staff regarding the overall Peel budget, Chief Duraiappah said the budget in its current form represents a bare minimum increase, describing it as a "tempered ask", and saying any cut could have a negative impact on the force.
"I've got to get this organization back to a breathing point," he said. "We would be compromising service delivery if we started to go much lower than that."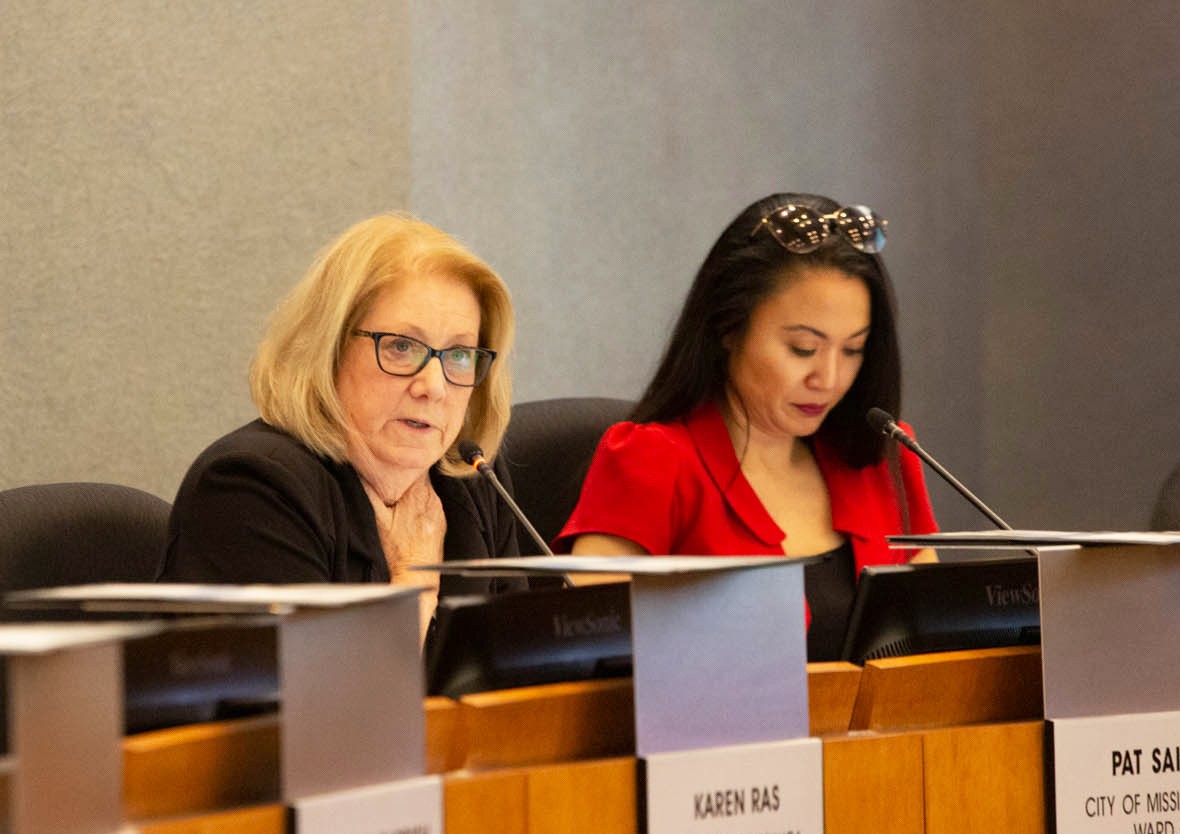 Councillor Pat Saito
The Chief told Saito that a reduction of one percentage point from his proposed increase, would mean hiring 12 less officers for the coming year.
The Chief admitted that while solvency rates for the more violent offences remain above the national and provincial averages, things like traffic enforcement suffer as officers are redirected to higher priority calls.
For example, this fall, Chief Duraiappah was forced to direct a significant number of officers into the homicide and missing persons bureau, bringing the total to 80 officers, as the region dealt with a spike in homicides and shootings. To date, the region has seen 54 shooting victims, 18 of which happened in September and October.
Peel police are also projecting a 9.9 percent increase in citizen initiated events, 4.6 percent increase in immediate response calls, and a number of emerging pressures relating to mental health related calls (officers spend an average of 2.5 hours per day in hospitals for mental health apprehensions), intimate partner and domestic disputes (officers have spent 66,000 hours on such calls in 2019) and other complex crimes like gang activity and human trafficking.
"This is the budget that I need today," Chief Duraiappah told councillors.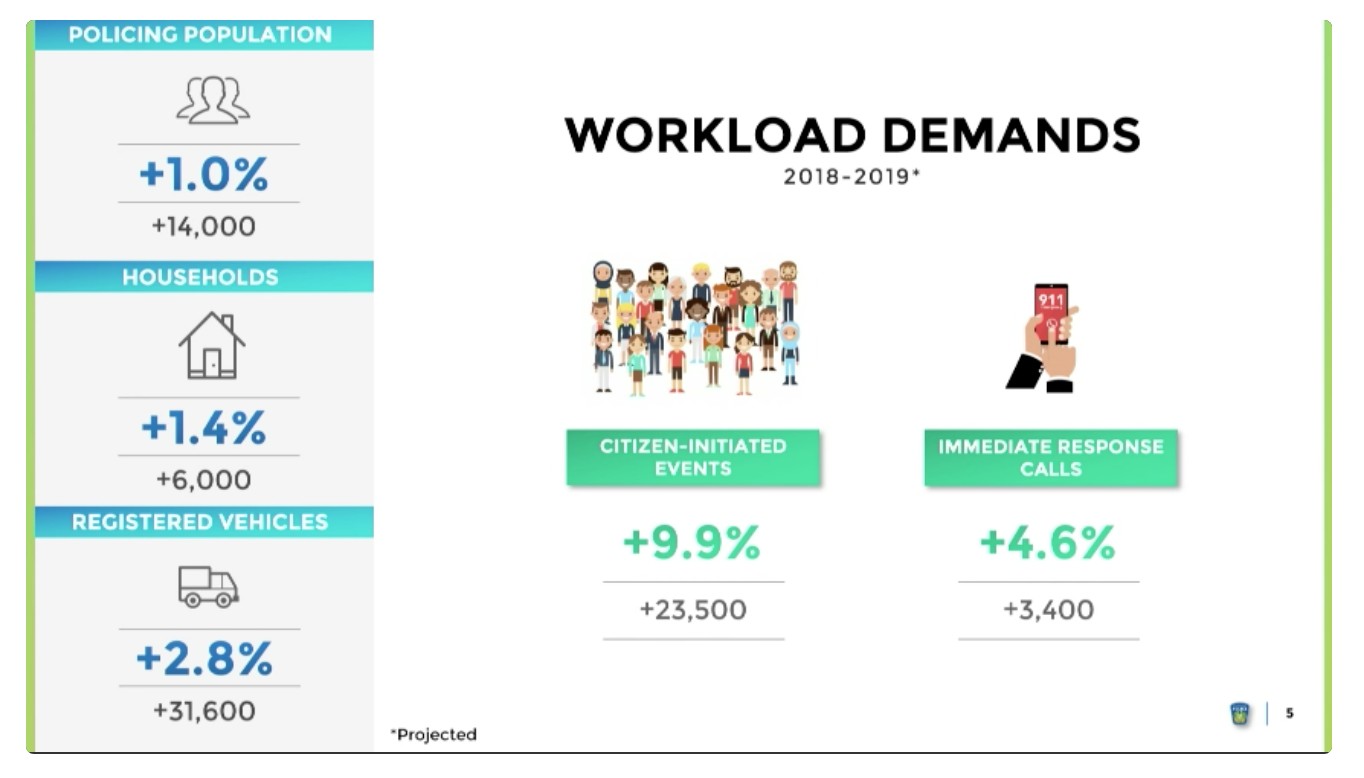 Brampton Mayor Patrick Brown, whose city has seen a spike in gun violence throughout 2019, praised the chief's efforts of trying to do more with less. He said the fault for the financial difficulties lies with the province.
"I'm not upset about your budget, I'm upset with the level of support from other levels of government," Brown told Duraiappah.
For Councillor Carolyn Parrish, while pleased with the upcoming reopening of the Malton community station, which will get free rent and be staffed by existing officers, she wasn't pleased with the proposed 5.4 percent increase.
She said she hoped moving forward Chief Duraiappah and Peel would be able to adapt by "creatively using the officers you have and not adding more."
Chief Duraiappah agreed.
"I do 100 percent think we can't traditionally do things the way we've been doing things," he said, noting that continuing to add more officers year over year is "not the answer for the future."
No final decisions were made at last week's meeting with further budget deliberations slated for the coming weeks.
Email: [email protected]
Twitter: @JoeljWittnebel
Submit a correction about this story