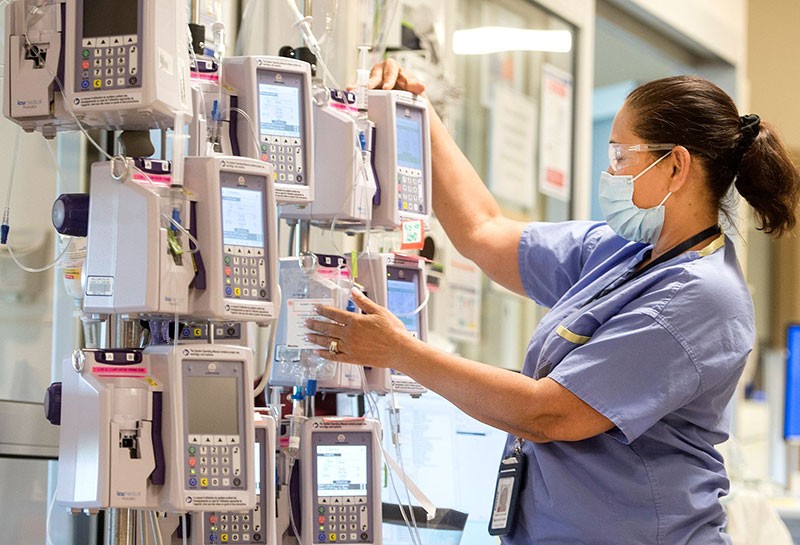 Photos from William Osler Health System/Government of Ontario
Ontario's 2020 budget fails to acknowledge Brampton's healthcare crisis
Sanjay Madgal's father died in a hospital hallway, next to a room where soiled linens were stored. At the start of the new year, Madgal, a Brampton resident, stood in front of Brampton City Council and unfolded how his father's life ended.
His last days began when a mini-stroke sent him to Brampton Civic's emergency department. He waited in a wheelchair without footrests for hours until a pillowless bed became available in the ER.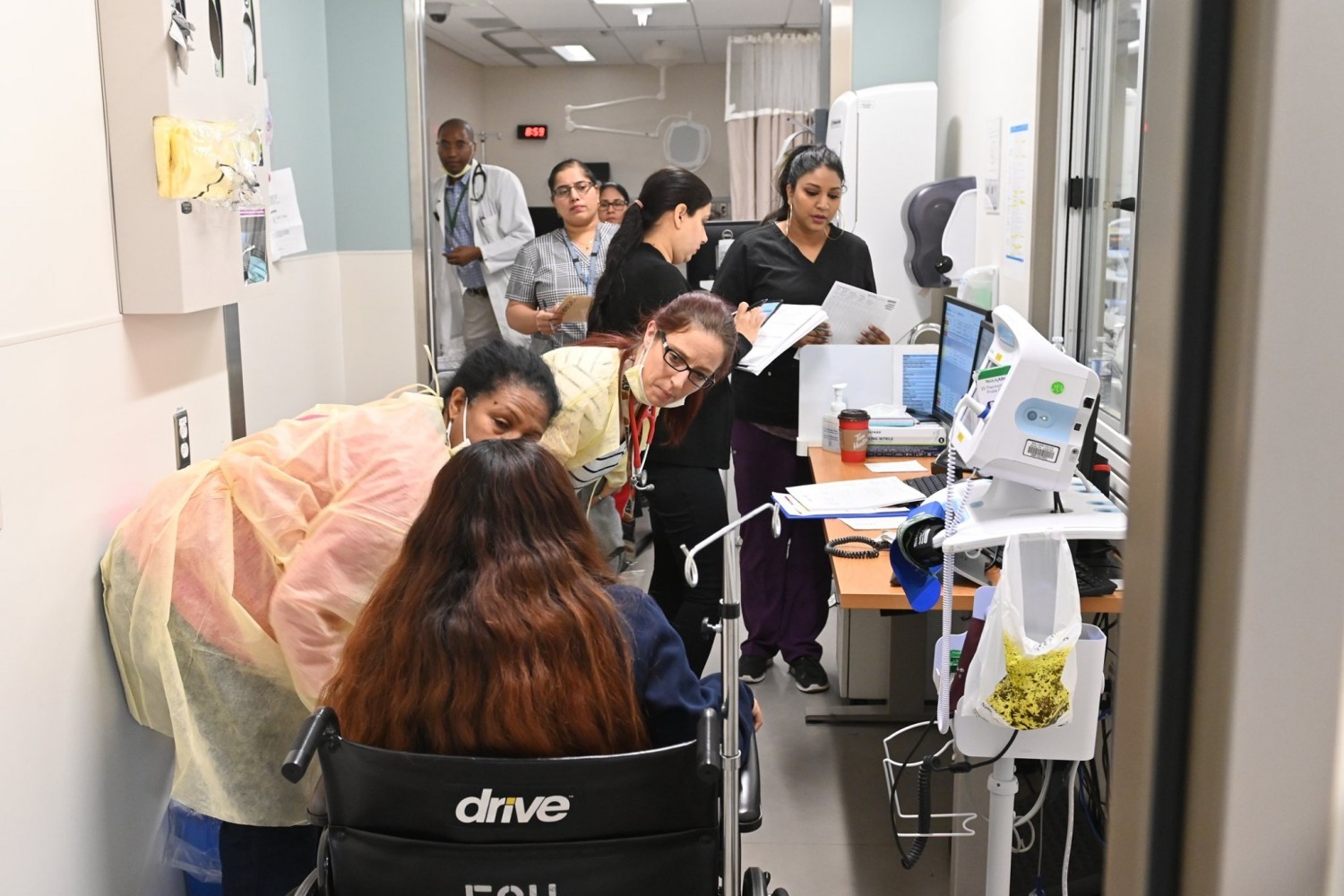 Even before COVID-19 took over local hospitals, the hallways of Brampton Civic were used to care for patients during situations of code gridlock.
He was sent home and had trouble moving on his own. Madgal reached out to the Central West Local Health Integration Network to secure a personal support worker (PSW) for his father. The waiting period, he was told, for an assessment would be six weeks, followed by another couple months to actually be assigned a PSW.
A second stroke sent his father back to the hospital, for the last time. Many of Madgal's father's final days were spent "on a stretcher in the coldest part of the ER hallway."
With a look of determination on his face and pain in his eyes, Madgal described the feeling whenever he sees an ambulance speed past with lights flashing. He offers a small prayer – if the sirens are clearing the way to Civic's ER, he shudders at the thought of what the patient might suffer through, just like his father.
Fast forward 11 months, things have not improved since Madgal shared his family's tragic and avoidable story. The spread of the novel coronavirus has only made the situation in local hospitals worse.
Deep into the second wave, Brampton's hospital system is overwhelmed. Sharp increases in cases have led to hospitals operated by the William Osler Health System to experience capacity issues, Dr. Naveed Mohammad, the organization's CEO, said at a press conference Monday.
As of Wednesday, 25 patients between Brampton Civic Hospital and Etobicoke General Hospital have been transferred to other healthcare facilities, and more emergency relocations are expected. The organization is responsible for running Brampton Civic and Peel Memorial (which has no in-patient beds) in Brampton and Etobicoke General in Toronto.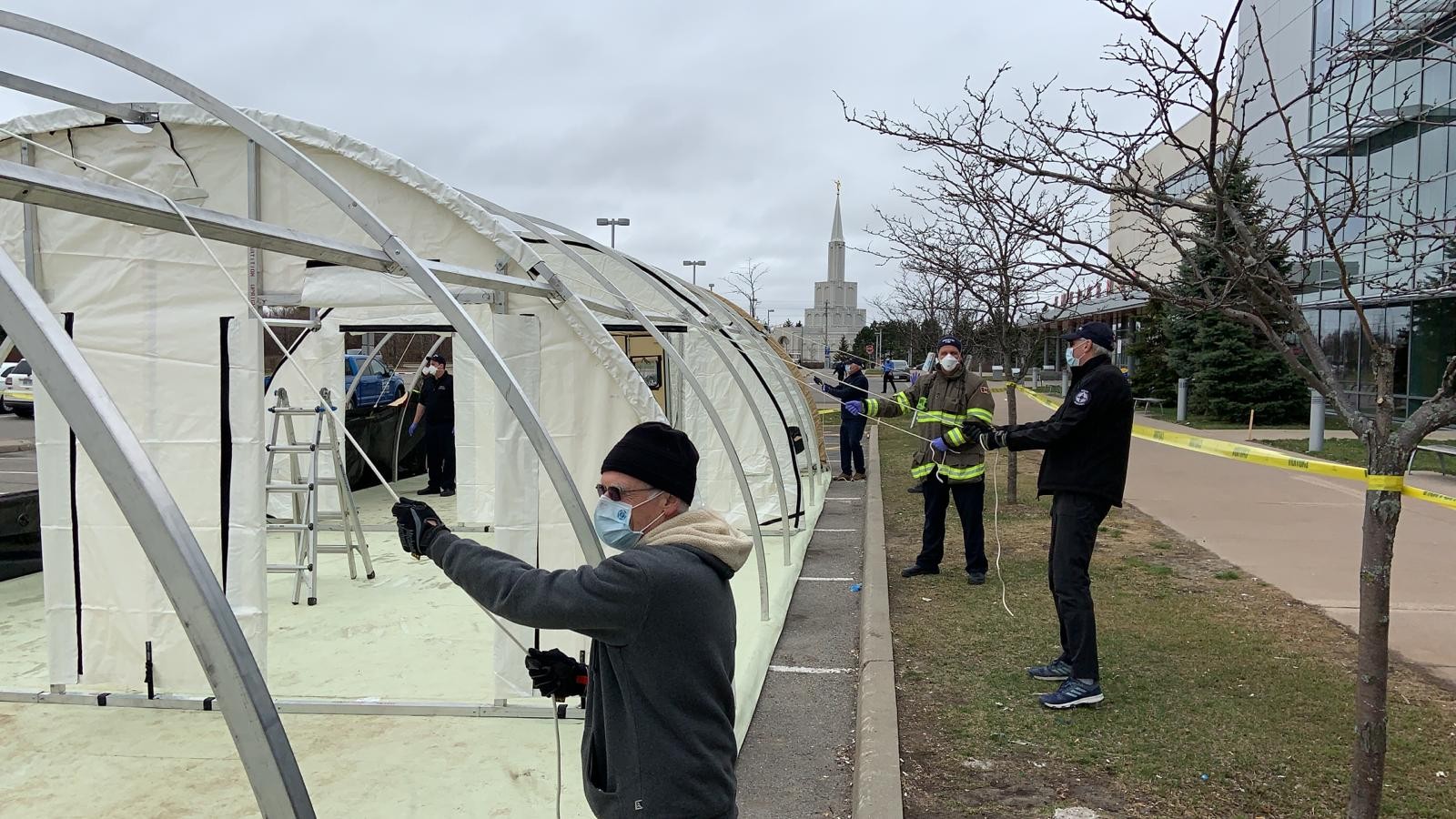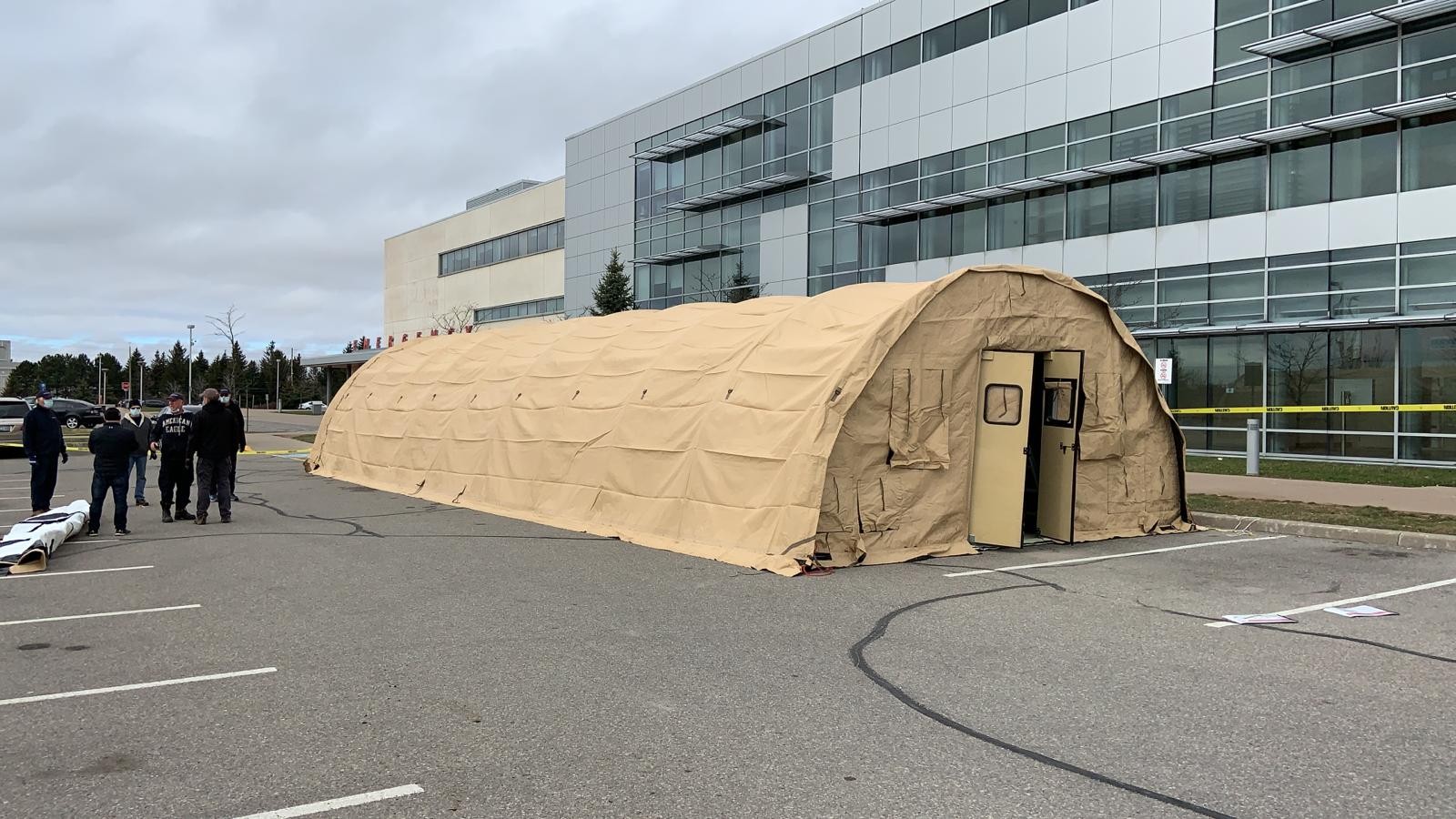 At the start of the pandemic, Osler was forced to set up additional treatment space in order to deal with capacity issues.
On Monday, Dr. Mohammad said there were 55 COVID-19 patients being cared for across both hospitals. On November 11, Osler's website raised that number to 64; 37 of these patients are at Brampton Civic.
While it is an alarming pattern, it isn't the first time Brampton Civic reached capacity during the pandemic. In September code gridlock was issued for 17 days throughout the month. It's paged when there are more people waiting for a bed in the emergency department than what's available in the various admitting wards. This is not new for Civic. Dr. Sergio Borgia, Osler's Corporate Chief, Infectious Diseases and Medical Director, appeared before Region of Peel Council to share further details about the dire situation in Brampton's hospitals.
"We have been in code gridlock for a very long time," he said, noting the current period extends back before the start of the pandemic.
In September, patients who visited the ER and needed to be admitted into Civic waited an average of 24 hours before they were able to get a bed. Only 16 percent of these patients were admitted in the target time of eight hours.
The code gridlock echoed through the hospital's hallways long before COVID-19 arrived in Canada. It's a storm cloud that has hung over Brampton's battered healthcare system for years. The symptoms are all too easy to diagnose. The Province has pushed rapid growth into Peel for decades, but its second largest city continues to suffer from neglect as Queen's Park ignores the funding needs of the booming municipality.
The City of Brampton declared a healthcare emergency the same day Madgal shared his father's story with council. The declaration was a desperate act to get badly needed assistance from the provincial government.
Council's declaration called for provincial support to fund front-line healthcare, improve "fully operational" ER capacity and ensure the hospital bed average in the city was in line with the provincial figure. Brampton has less than one bed for every 1,000 residents, compared to the provincial average of just over 2. While 41 beds are currently being added to the city's count, it's a fraction of what's needed.
None of Brampton's calls to address its healthcare crisis have been fulfilled and there is no mention of the city's needs in Ontario's 2020 budget.
"We're still at the same state we were years ago. We're still hallway medicine and nothing has been fixed," MPP Kevin Yarde (Brampton North) told The Pointer.
One project the Province is supposed to be paying attention to is the Phase 2 expansion of Peel Memorial. Premier Doug Ford has twice stated the Province will support the expansion, but has shared few details on its current status.
"Peel Memorial hospital, it will get built," Ford said on October 27, during a visit to Brampton while the city reported the highest per capita rate of new infections in the province. There is no mention of funding for Memorial in the budget document.
The Pointer previously reported Osler submitted its application for Phase 2 back in March, but details on what the plan includes haven't been made public. A spokesperson with the Ministry of Health told The Pointer the proposal is being reviewed and the ministry is discussing different options with Osler, including the possibility of 24/7 service, to move it from a preventative wellness facility to a full-service hospital.
"The hospital is responding to questions and comments to ensure the appropriate project scope," the Ministry spokesperson said, noting plans referred to in the budget aren't a conclusive list of all potential capital projects. The Pointer reached out to Osler for details on the process, but didn't receive a response.
According to Infrastructure Ontario, the Phase 2 expansion has its request for qualifications (RFQ) set for Winter 2023, and request for proposals (RFP) due for Summer 2023.
The RFQ allows companies interested in constructing the project to submit an application outlining their qualifications. After examining these applications, qualified companies are shortlisted for the RFP, the bidding process to select one company for the project. A similar process took place when Phase 1 of Peel Memorial was being discussed. Phase 2 is currently estimated to cost between $200 million and $499 million, depending on the scope that is eventually agreed upon.
"Planning a large capital project that will be in use for generations is a complicated process," the spokesperson said.
Expanding Peel Memorial to a full-service hospital, if that's what is eventually decided, would only address current needs (Brampton requires about 700 more beds to reach the Ontario average) and there is no mention in the budget, or elsewhere, of future projects. Even if Memorial gets 600 to 700 new beds, by the time it's completed, the city will already be in need of more capacity to keep up with its rapid growth. Civic opened in 2007 and was immediately over-capacity. Brampton's population is expected to grow to 755,700 by 2026 and almost 900,000 in twenty years, according to the City's website. It currently only has one full-service hospital. Winnipeg, which is more isolated than Brampton, has a population of about 780,000 and eight hospitals.
"Once again Brampton is put on the backburner. We need a full-phased hospital (and) we need another hospital, we need Peel Memorial to get what it is due," Yarde said.
The Ford government has twice shot down the NDP's proposal to address funding for a third hospital. A 2018 motion by Opposition Leader Andrea Horwath, asked for money for the hospital to be part of the 2019 budget. The next year, a motion was tabled asking for another hospital and immediate expansion of Peel Memorial, but it was defeated by the majority PC government. Local PC MPPs Amarjot Sandhu and Prabmeet Sarkaria have been silent on the lack of support from their government to address Brampton's healthcare crisis.
Supporting a project the city has desperately needed for the past several years is considered the bare minimum by many. But the Ford government has repeatedly shown its reluctance to address the municipality's frontline healthcare needs.
Brampton's pandemic picture took a dire turn over the summer. With only one testing centre for 650,000 residents, people often stood in long lines to get tested, waiting up to six hours. Even with the use of nine private pharmacies in the city to test asymptomatic residents, along with some screening at the COVID-19 Cold and Flu clinic at Peel Memorial, testing was nowhere close to where it needed to be. Now, test positivity rates in the city are in the double digits, a sign that screening levels and contact tracing dependent on proper testing have been woefully inadequate, putting people's safety at risk.
In an analysis, The Pointer determined no more than 972 tests were being conducted in a single day in the city in October. With the province averaging 40,000 tests a day at the time, to make up its per capita share of that screening level, Brampton, the province's worst hotspot, should have been conducting 1,793 tests a day. Last week, after numerous calls for further support, the Province finally took action and introduced additional COVID screening centres in the city.
With the virus raging through neighbourhoods and Civic in chronic gridlock, more tragic stories similar to Madgal's will likely be shared before the Province gives Brampton the healthcare it so urgently needs.
---
Email: [email protected]
Twitter: @nida_zafar
Tel: 416 890-7643
---
COVID-19 is impacting all Canadians. At a time when vital public information is needed by everyone, The Pointer has taken down our paywall on all stories relating to the pandemic and those of public interest to ensure every resident of Brampton and Mississauga has access to the facts. For those who are able, we encourage you to consider a subscription. This will help us report on important public interest issues the community needs to know about now more than ever. You can register for a 30-day free trial HERE. Thereafter, The Pointer will charge $10 a month and you can cancel any time right on the website. Thank you.
Submit a correction about this story