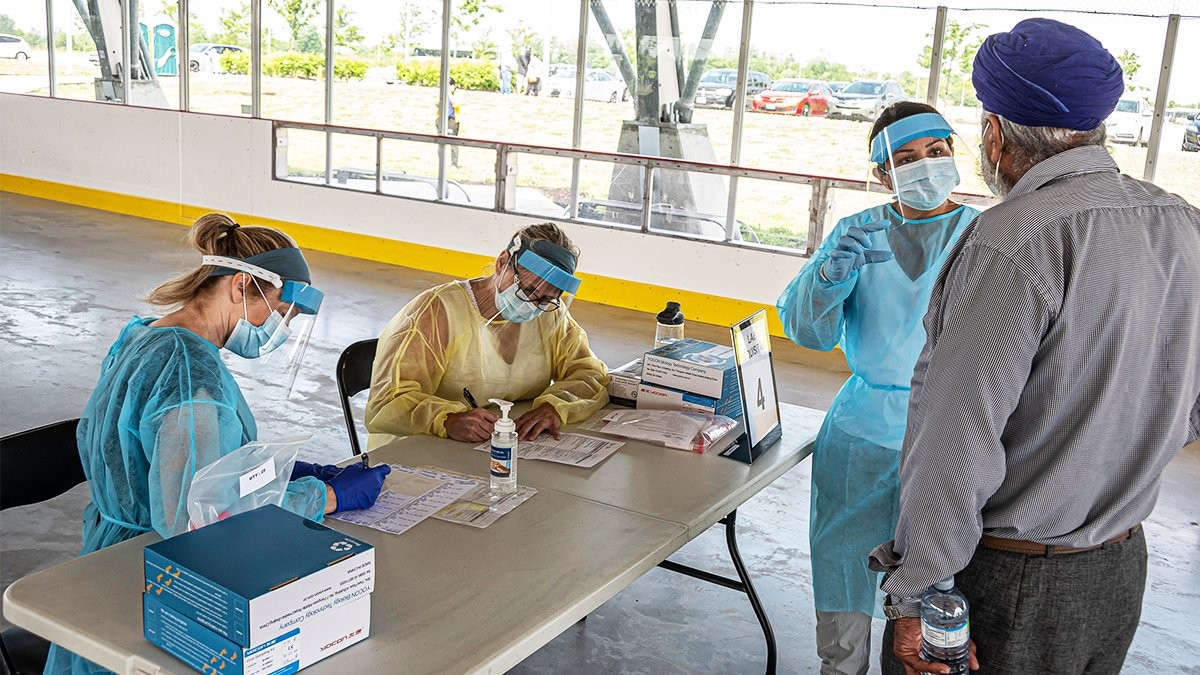 Photos from the Region of Peel/Government of Ontario/Twitter
Brampton gets another testing site for the 'foreseeable future' to fight second wave of COVID
On September 4, Doug Ford drew Ontario's attention to Brampton, sending a mixed message.
Although on Monday he called his government's testing performance, in response to the pandemic, "fabulous", it seemed as though Brampton was left out of his self-congratulation. The fourth largest city in the province Ford leads was called "broken" by the same person ultimately responsible for Ontario's COVID response.
The Premier was dumbfounded two weeks ago by the city's COVID-19 case numbers. "I am really concerned about what is happening in Brampton," he said, as the city with 4.5 percent of Ontario's population accounted for almost 40 percent of its cases twice in a single week. But Ford failed to connect the alarming numbers to the equally alarming testing capacity his government has overseen in Brampton, where only one screening site has been maintained since the start of the pandemic. Mississauga has three.
"We can send in mobile units," Ford promised, wondering out loud what help was needed. He wasn't sure because three of his phone calls to Mayor Patrick Brown went unanswered that Friday morning near the beginning of the month, when Brampton's outsized viral picture made it the provincial hotspot.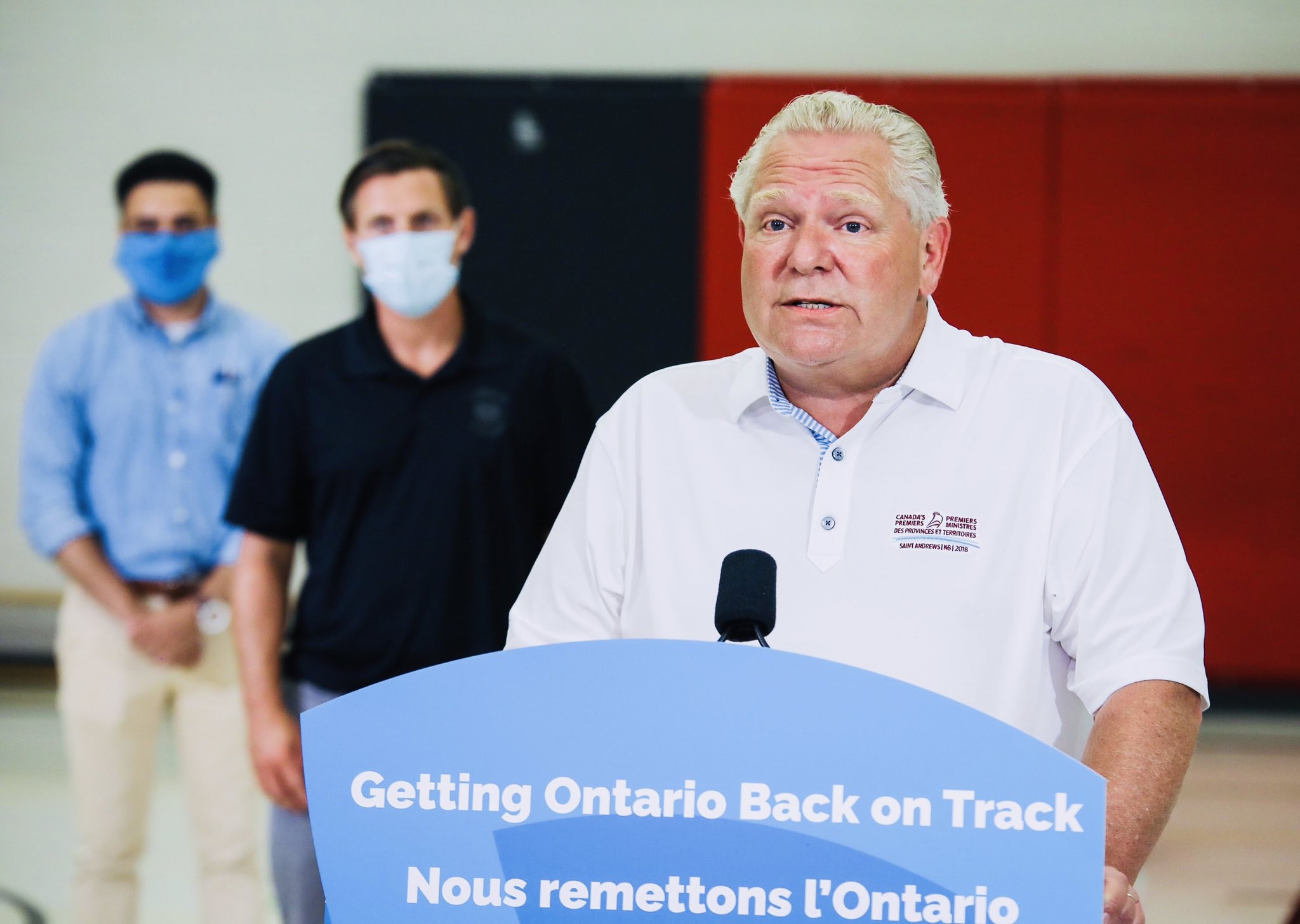 Premier Doug Ford has repeatedly singled out Brampton and its "broken" pandemic response.
When Ford made that promise, Ontario had just recorded 148 new cases of the novel coronavirus. Two weeks later (Friday, September 18), the first pop-up testing centre since June arrived in the city on a day the province reported 401 new infections.
On Monday, Ontario reported 425 new cases, 84 of them in Peel.
Two new "community testing centres" have now opened in Peel. The first is a walk-in facility at Greenbriar Recreation Centre in Brampton and the second is a drive-through site at the Kingsway Paramedic Station (7120 Hurontario Road) in Mississauga. Peel Public Health, responsible for organizing the new assessment facilities, confirmed to The Pointer they are specifically for asymptomatic residents to receive a test.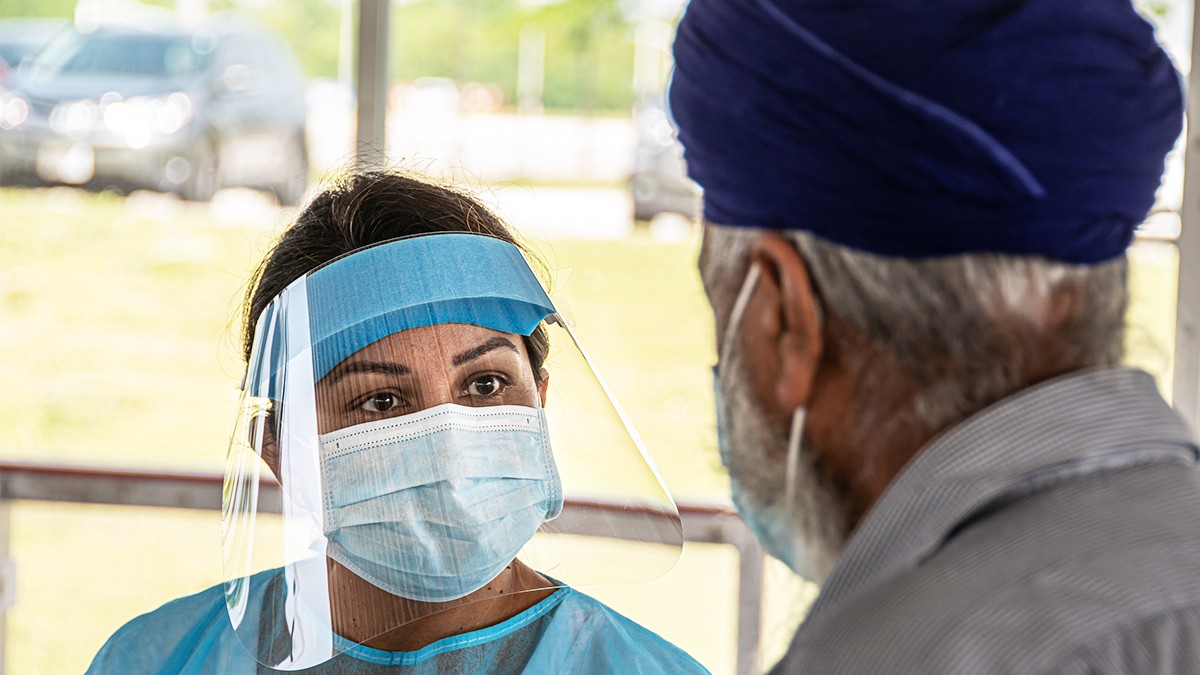 Asymptomatic individuals are encouraged to visit the new "community assessment centres" to receive a COVID-19 test.
Greenbriar initially opened on Friday and Saturday as a pop-up. It has now been extended for the "foreseeable future" and will operate from 10 a.m. to 6 p.m. on weekdays. Extending hours to evenings and weekends would provide even more desperately needed testing capacity.
Everyday between 9 a.m. and 7 p.m., residents can also visit the Peel Regional Paramedics Kingsway Satellite Station in Mississauga to receive a test. The space will stay open until Sunday, October 4 and supplement three other facilities run by Trillium Health Partners at Credit Valley and Mississauga Hospital.
The new assessment centres opened their doors as case numbers have flared across Peel, especially Brampton. Infections have shot up in an area where testing has lagged behind provincial averages and targets throughout the pandemic. Just a month ago, Peel's COVID-19 picture appeared to be stabilizing — now it's in freefall.
Comparing the beginning of August to September shows how quickly the viral picture can change. On August 1, Peel recorded 15 cases, dropping to 12 the next day. September 1 saw 47 new infections and 60 the following day. On August 7, Peel recorded 19 new cases of the novel coronavirus, for September 7 that number was 78.
Since then, the number of cases has only grown as Toronto, Peel and Ottawa have become hotspots for the virus.
In the first ten days of August, Peel consistently stayed below 20 new cases per day. At the start of September, it made it as high as 78.
Peel Public Health's recommendation that asymptomatic individuals attend Greenbriar and their Mississauga community testing space instead of Brampton's other testing centre at South Fletcher's chimes with advice Dr. Lawrence Loh, the Region's top public health official, issued last week. Speaking during a Mississauga press conference, Loh said low risk and asymptomatic people should "reconsider" getting a test or delay it. He said the volume of people seeking a test at that time meant there was a need to prioritize. The William Osler Health System, which operates the drive-through assessment centre at South Fletcher's Sportsplex has been experiencing high volumes at the site for weeks, and through a note on its website it advises those seeking a test to be patient.
Some residents in Brampton have reported wait times of more than five hours to get tested for the virus. After months under strain, the city's lone testing facility was nearing a breaking point.
Reinforcements will help with the oppressively long lines, which often deter people from getting tested. Whether the additional screening capacity will be enough to get a handle on the spread of COVID-19 in the region remains to be seen as a rise in infections, loosened restrictions and a return to school have combined to create crushing demand.
At least two further spaces are expected to open temporarily this week, but details are not yet available. Speaking in response to a successful motion from Brampton North NDP MPP Kevin Yarde calling for more resources to be invested in Peel Public Health, PC MPP Robin Martin, Parliamentary Assistant to Health Minister Christine Elliott, on Thursday said new temporary testing centres were planned for Peel.
"I can also share that plans are once again in place to facilitate pop-up testing locations in Brampton and Mississauga, with four of these pop-ups planned for the week of September 21," she said inside Queen's Park, before the unanimous vote.
It appears that help is now being put in place, a welcome sign for Brampton residents after Ford called their city broken, despite failing to ensure proper resources were delivered to prevent it from becoming a hotspot.
This week, the Ford government also amended regulations to allow pharmacists to administer COVID-19 tests. It is a plan the Premier has been touting for weeks, but with few details so far. The Province's hope is asymptomatic individuals will be able to receive a test from pharmacies, leaving assessment centres for those showing symptoms or with underlying risk factors.
Temporary testing centres are a Band-Aid for hard hit Brampton, but they represent some progress.
Throughout the pandemic, the city has operated with just one full COVID-19 testing assessment centre, falling well short of the number of tests that should be performed for a city of 650,000 residents. As The Pointer has previously reported, figures from William Osler show Brampton testing around 9.8 people every day per 10,000 residents compared to an Ontario rate of around 22.
Neighbouring Mississauga, also under Peel Public Health, has operated with three testing centres compared to Brampton's one space.
Osler recently opened a COVID-19, Cold and Flu Clinic, but it is not a new assessment centre and only people with "moderate" flu symptoms are told to attend. Rather than a testing centre where anyone can arrive and be tested for the virus, the clinic is dedicated to screening those with symptoms that are linked to the seasonal flu, in the hope of distinguishing them from those who might have the novel coronavirus. They do not simply swab anyone who queues up for a test like they do at other centres. Despite this, Progressive Conservative politicians have been trying to pass the facility off as a second testing centre for Brampton.
In a tweet, Ford described it as a "new COVID-19 testing centre in Brampton," while Elliott said "Peel Memorial Centre will be open everyday at 10am in Brampton for #COVID19 testing." Prabmeet Sarkaria and Amarjot Sandhu, the city's two PC MPPs, appeared in a video shared on social media under the heading "New COVID-19 testing centre in Brampton."
Tweets from Premier Ford and local PC MPPs misrepresenting Osler's COVID-19 Cold and Flu Clinic as a second assessment centre in Brampton despite it not being a dedicated COVID-19 testing facility.
It is unclear if the government is also putting energy behind the scenes into organizing a second, full-service testing centre in the city alongside the slew of pop-ups and its attempt to misrepresent the flu clinic as a COVID-19 testing site.
Greenbriar could serve that purpose with more hours and the option to attend on the weekend, which would increase capacity.
If Brampton is to meet Elliott's stated target of 50,000 tests a day by mid October, the city would need to conduct almost four times the number of tests that Osler has been performing in the city. The roughly 635 tests would have to ramp up to about 2,300 a day, to meet Elliott's goal, on a per capita basis.
It's unclear, with all the new temporary and more permanent screening being scaled up in the city, what the capacity will be.
Epidemiologists and other public health officials have made clear that without proper testing levels, particularly in hard hit areas, contact tracing to isolate infected individuals and prevent them from transmitting the virus in the community, is almost hopeless.
Martin's comments, promising four pop-up testing centres in Peel this week, came in response to Kevin Yarde's successful move to bolster provincial aid to Peel. The vague motion called on the government to send more resources to Brampton and the surrounding region for "increased staffing, testing, community outreach and proactive workplace [investigations]."
Commenting after his motion received unanimous backing, Yarde said he would maintain pressure on the government to ensure the promise was fulfilled. "Now it's time for Doug Ford to act quickly on the decision MPPs in the legislature have made, and give Peel the help it needs," he said. "The NDP will be watching closely to make sure Doug Ford follows through."
As early as Tuesday, the province is expected to unveil its plan to deal with a second wave of COVID-19 during the Fall. There is no indication if this will include additional funds for Peel.
Pop-up testing centres were verbally promised by Ford at the beginning of the month, finally coming to Brampton two weeks later. Since these resources had already been allocated, they do not represent the boost Peel was promised in Yarde's motion. It remains to be seen what additional help Brampton, other parts of Peel and hotspots across Ontario will receive, as the second wave of the killer virus sets in.
---
Email: [email protected]
Twitter: @isaaccallan
Tel: 647 561-4879
---
COVID-19 is impacting all Canadians. At a time when vital public information is needed by everyone, The Pointer has taken down our paywall on all stories relating to the pandemic and those of public interest to ensure every resident of Brampton and Mississauga has access to the facts. For those who are able, we encourage you to consider a subscription. This will help us report on important public interest issues the community needs to know about now more than ever. You can register for a 30-day free trial HERE. Thereafter, The Pointer will charge $10 a month and you can cancel any time right on the website. Thank you.
Submit a correction about this story