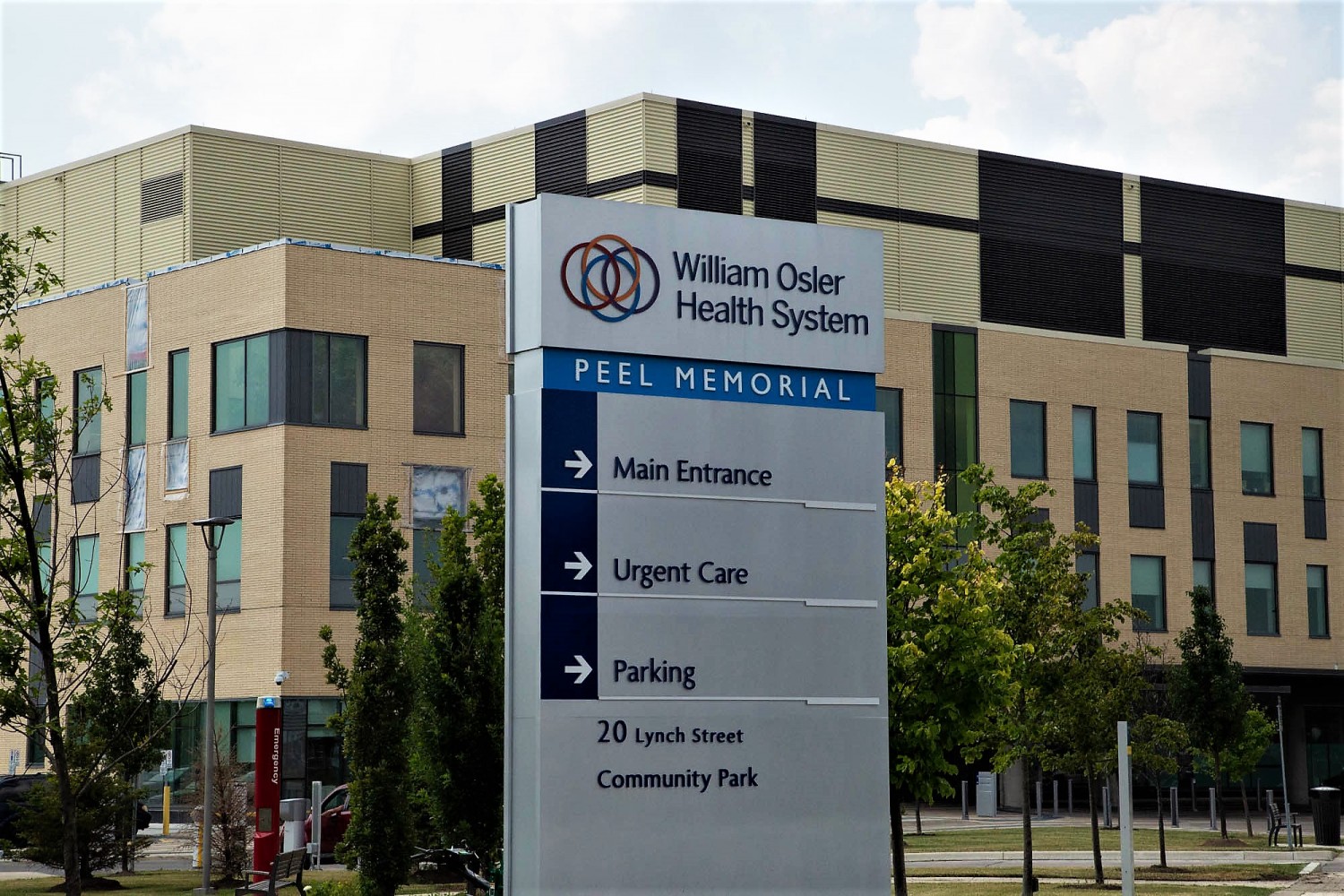 The Pointer file photos/Chart Region of Peel
Brampton's one-day pop-up testing centre offered relief and new drive-thru site will help, but the city has screened only 12% of the target level
After weeks of confoundingly high infection rates, June 9 marked a milestone for the City of Brampton. It saw the lowest number of new COVID-19 cases in the city in more than two months, with only 8 reported infections.
Over almost four weeks prior, the city saw a disconcerting rise in cases, prompting provincial officials to label parts of Brampton as COVID-19 "hot spots". The city, and Peel Region in general, have been central in conversations about where the novel coronavirus is still spreading beyond levels seen in less hard hit parts of the province and the rest of the country.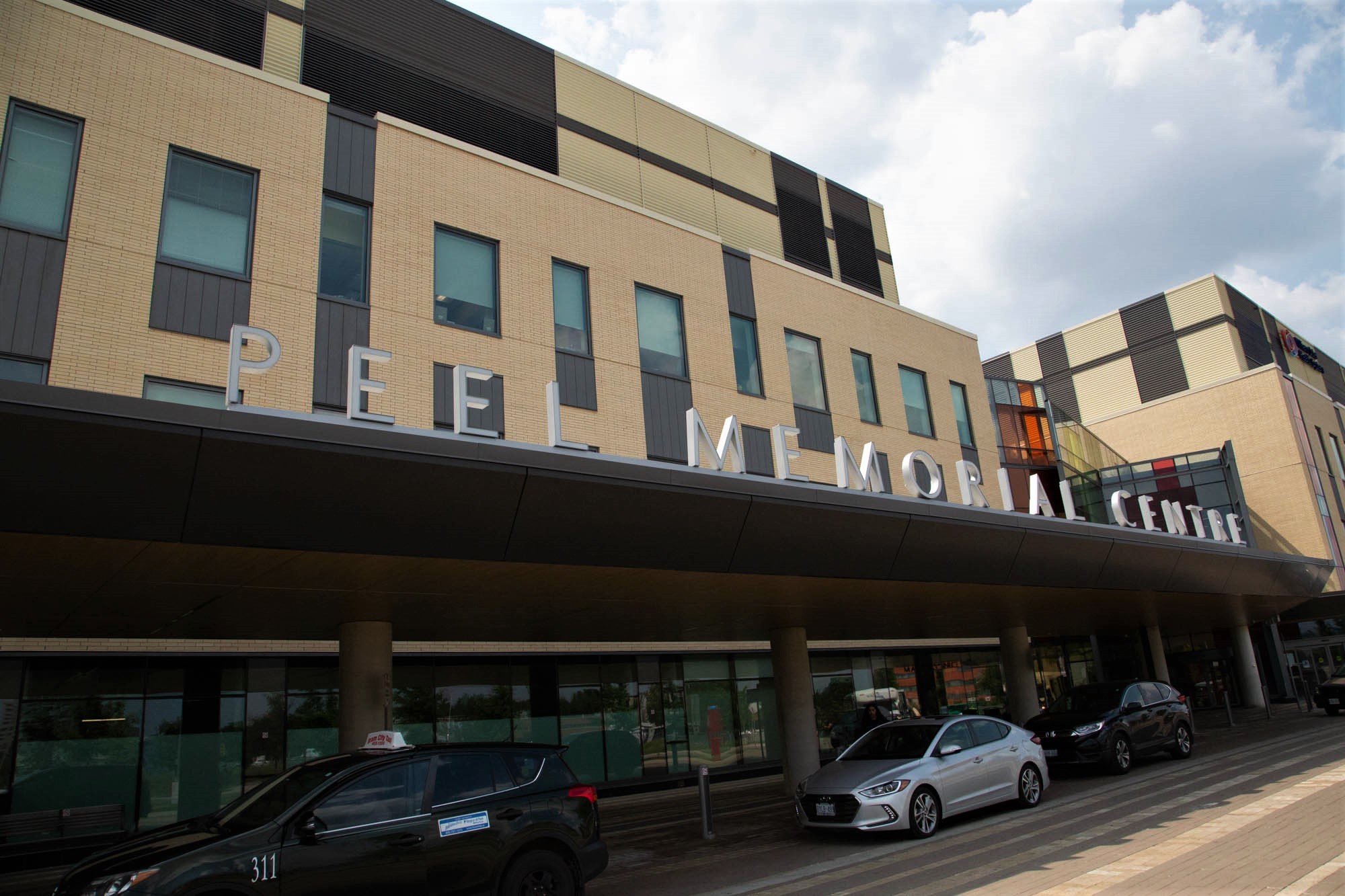 The Brampton testing centre at Peel Memorial only hit 12 percent of the target during the first 11 weeks of the pandemic
Woefully inadequate testing by the William Osler Health Network in the city could be a major reason why local infection rates have remained so high. According to its data, the authority responsible for health care in the city hit testing levels during the first eleven weeks of the pandemic that were only about 12 percent of the target set by the province, when testing was crucial to keep the viral spread under control, which did not happen in the country's ninth largest city.
In a recent three-day period, Brampton saw an average of 34 new COVID-19 cases, between June 2 and 4. To put the recent numbers into perspective, from May 2 to 4, when the province announced positive news about the pandemic curve starting to flatten, Brampton averaged 25.67 new cases over those three days.
The subsequent rise in new case rates across the city left many searching for answers.
The solution to stop the spread lies in increased testing, a view shared by Dr. Lawrence Loh, the region's top public health doctor, and other provincial public health experts. Brampton's startling case numbers played a role in the province announcing its new framework for testing last month, which involves increased testing for "hot spot" areas and better targeted testing.
After more than a week of waiting, Brampton residents got their first chance to take part in this new strategy. On Wednesday, a one-day pop-up testing centre opened at Gore Meadows Community Centre.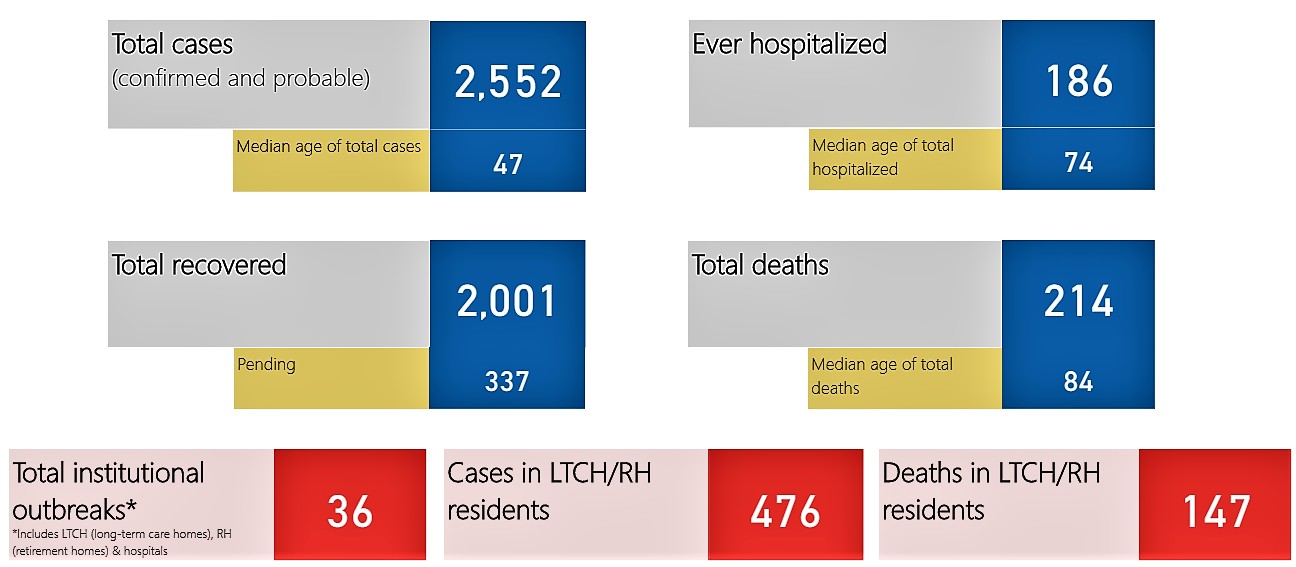 Brampton COVID-19 cases as of June 10, with Peel institutional numbers at the bottom
"Testing locations are chosen based on where there are higher rates of COVID in each community and Gore Meadows is one of those communities," Peel Public Health (PPH) staff told The Pointer. The pop-up was only open for one day, running from 10 a.m to 6 p.m. Nurses from the Regional Local Health Integration Networks, Peel Paramedics and Punjabi Community Health Services assisted in running the pop-up and will likely do the same at future ones and mobile testing centres, staff from PPH said.
City Councillor Charmaine Williams (Wards 7 and 8), said such testing centres "will help us to douse the COVID fires," as it brings relief to residents knowing there are more options to get tested. "The numbers show that multi-generational households are at greater risk," she said via email. "I had many calls of concern that Brampton was a hot spot."
City Councillor Harkirat Singh (Wards 9 and 10) echoed his colleague, saying such a step is necessary given the "higher incidence of cases in the area" compared to the rest of the city, where many other places are also experiencing high infection levels.
Dr. Loh explained cases may be linked to household clusters, and opening a pop-up centre in the area gives residents a convenient testing opportunity.
Residents of the community were also happy to hear about the pop-up centre, especially because of the location. The lone assessment centre at Peel Memorial in Brampton has created accessibility issues for those without a means to get around.
On Wednesday, William Osler, which runs both Brampton hospitals, announced the Peel Memorial testing site will close and, as of June 16, will reopen as a drive-through model at South Fletcher's Sportsplex.
"The Centre will move from its current location at Peel Memorial Centre for Integrated Health and Wellness to South Fletcher's Sportsplex, where it will serve as a drive-thru testing site. Osler's new COVID-19 Assessment Centre is an initiative undertaken in partnership with the City of Brampton, which operates the South Fletcher's Sportsplex facility and grounds," Osler announced, in a press release Wednesday.
The testing area will be located in the north parking lot of the South Fletcher's Sportsplex, at McLaughlin Road and Ray Lawson Blvd.
On Tuesday, June 16, residents will be able to drive up from 10 a.m. to 8 p.m. As of the next day, the regular hours will be 8 a.m. to 8 p.m., every day of the week.
"Increased testing is critically important as Brampton and Peel Region continue to be challenged by higher numbers of COVID-19 cases," Dr. Naveed Mohammad, President and CEO, William Osler Health System said in the release. "Osler is very pleased to be working with the City of Brampton to make testing more convenient, and to be part of the collective solution as we continue to focus on keeping the community safe and well."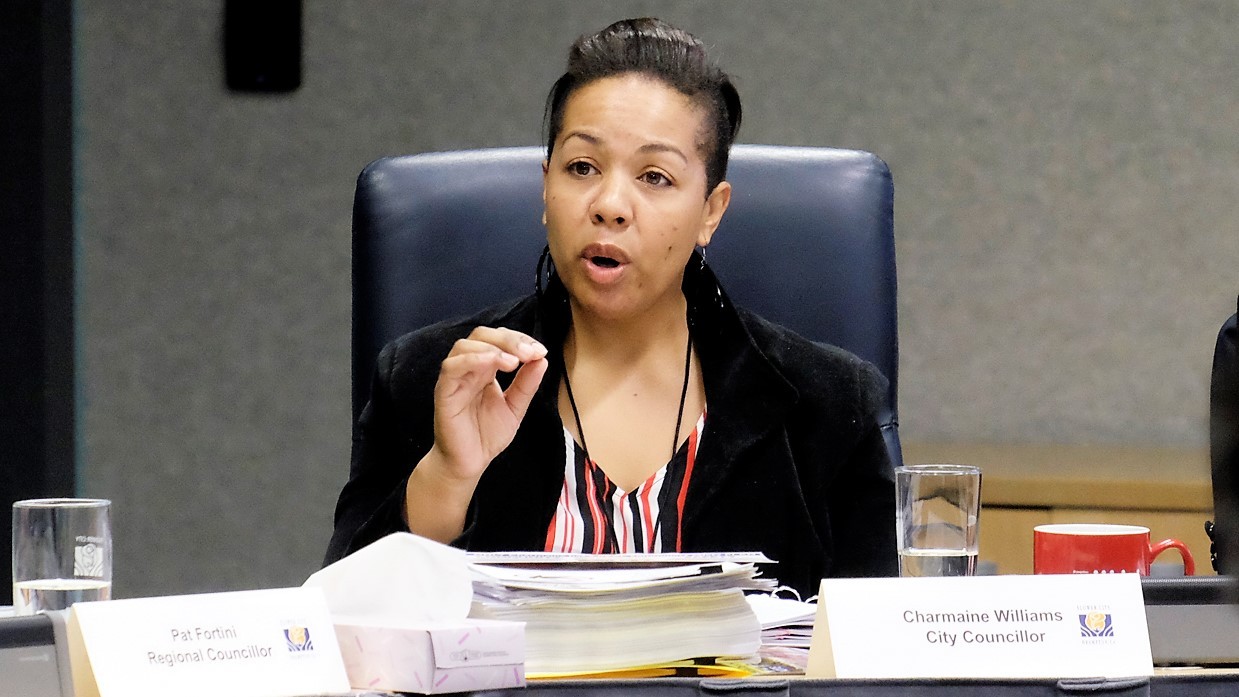 Brampton City Councillor Charmaine Williams says pop-up testing "will help us to douse the COVID fires".
While the step will be helpful in a city with minimal options for residents to get tested, concerns around capacity remain.
Between March 11 and May 29, about 9,000 tests were completed at the Peel Memorial site, Cara Francis, director of public relations at Osler, told The Pointer.
That is about one eighth of the testing per capita that should have been done over that period in the city, under the stated target of 20,000 daily tests in the province, which Queen's Park has continually called for.
While Francis said they try to test as many people as possible, the facility has been overwhelmed. "We continue to experience high volumes at the Peel Memorial COVID-19 Assessment Centre and our health care teams continue to do their best to test as many people as possible every day," Donna Harris, Osler's public relations manager said. The same concern was also highlighted in the press release that announced Wednesday's pop-up centre: "Demand for testing is expected to be high, so residents are asked to be patient if there is a wait. The pop-up site will process as many tests as possible on Wednesday."
This has created concern among residents. Singh said he's already hearing complaints from people that no other dates and locations of other pop-up centres were published.
"Hopefully, the province will explore a longer timeframe for testing at Gore Meadows in the near future," he said. PPH said more testing centres and locations will be "identified based on needs within the community."
The pop-up was one of two planned for the Region this week, with a second one taking place in Mississauga on Friday at the Malton Community Centre.
Osler had been working with the city to set up the drive-through testing clinic at South Fletcher's Community Centre, for weeks. However, repeated questions from The Pointer about why it was delayed, only yielded answers shared for the first time Wednesday. Dr. Mohammad suggested the creation of the new testing centre only came after "practiced and perfected" efforts at Osler's drive-through testing centre in Etobicoke.
"We feel strongly that this move coupled with the pop-up testing efforts undertaken by Peel Public Health will provide important expanded capacity for testing for Brampton and in the surrounding community," Dr. Mohammad said at a Wednesday press conference.
Etobicoke's drive-through testing centre has faced challenges of its own. Reports from earlier this month revealed 485 positive COVID-19 tests were not reported to the province by testing centres run by William Osler, including its facilities in Etobicoke and Brampton, with most of the mishandled tests having been conducted at the Etobicoke drive-through facility.
While media reports suggested it was that centre that was responsible for the lion's share of botched testing reports, specific numbers are not available. PPH, Ontario Health and Osler, which is responsible for conducting the tests of individuals before labs process them, were all part of the miscommunication. Ontario Health has claimed full responsibility for the situation, even though it was clear that Osler was at the centre of the error.
There was no mention of the mix-up at the Wednesday press conference. When asked by The Pointer what Osler was doing to ensure this wouldn't happen again, a brief answer came after a short pause. "We usually forward those questions to Ontario health, since Ontario health is running the testing and reporting issues, but I can assure you that Osler has worked with its lab partners and Ontario health and public health to make sure that moving forward each public health unit is informed of any results in a timely manner," Dr. Mohammad said.
The City said it will provide "in-kind support" for the new drive-through testing centre through access to city-owned parking lots, equipment such as pylons and signs, as well as washrooms. "This is an important task that requires substantial human resource capacity, and extensive considerations with respect to logistics, security, and public safety among multiple organizations in close coordination with Peel Public Health," Natalie Stogdill, a spokesperson for the City, told The Pointer. The City also assisted with the Wednesday pop-up centre at Gore Meadows. The project for the drive-through facility between Osler and the City is a separate initiative to the pop-up centre, which was operated by PPH, Harris said.
The temporary pop-up arrangement is in line with the province's extended testing strategy, which is focusing on increased testing through means outside of fixed assessment centres. This includes targeted testing and outbreak management, by providing temporary assessment centres in areas with high COVID-19 activity, as seen in northeast Brampton and other parts of the city. "Targeted testing, through pop-up sites, community sites and mobile teams, will allow us to reach people at highest risk of infection and support existing work at local assessment centres and outbreak management," Dr. Loh said in a press release.
Increased testing will also help officials understand when and how they can go into the second phase of the province's reopening plan. While some municipalities in Ontario are allowed to open up malls and hair salons Friday, Peel is not included. The province's framework outlines a decline in new cases must be seen for 14 days before a region can enter the second phase.
---
Email: [email protected]
Twitter: @nida_zafar
Tel: 416 890-7643
---
COVID-19 is impacting all Canadians. At a time when vital public information is needed by everyone, The Pointer has taken down our paywall on all stories relating to the pandemic to ensure every resident of Brampton and Mississauga has access to the facts. For those who are able, we encourage you to consider a subscription. This will help us report on important public interest issues the community needs to know about now more than ever. You can register for a 30-day free trial HERE. Thereafter, The Pointer will charge $10 a month and you can cancel any time right on the website. Thank you.
Submit a correction about this story