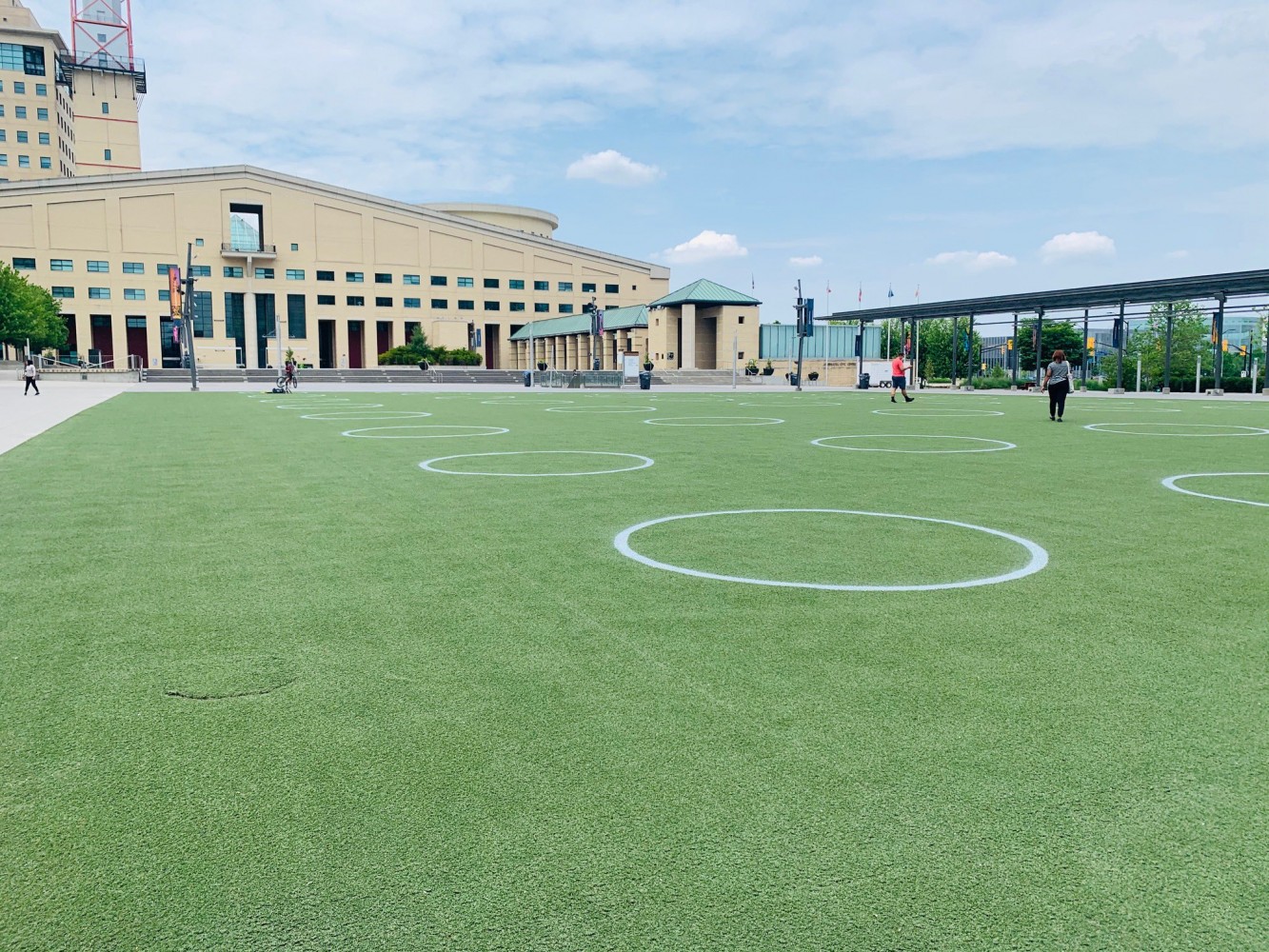 Photos from the City of Brampton/City of Mississauga/World Health Organization
High COVID-19 rates in Mississauga and Brampton raise concern over Stage 2 reopening
As the sun beats down on Mississauga and Brampton, residents are beginning to enjoy a sense of summer joy. It's more than a week since the Region of Peel was allowed to move to Stage 2 of reopening, liberating hairdressers, patios and some recreational activities from months of shutdown.
But, even as the region inches past the height of the pandemic, new-case numbers in the two cities remain among the highest in the province. Despite the stern words of public health officials in the region and at the provincial level who have repeatedly said reopening and the loosening of restrictions can only happen when specific areas see a consistent decline in new case numbers for at least two weeks, that has not happened in many parts of Brampton and Mississauga. But they have been allowed to move forward with reopening anyway. It's not clear why.
Data from the second half of June shows worrying figures for the GTA's second and third largest cities. On one particular day during the past fortnight, new cases in Peel accounted for a little over 50 percent of Ontario's new infections.
A comparison of new COVID-19 cases between June 18 and June 30 shows Peel's overall numbers outpacing neighbouring York Region, provincial hotspot Windsor-Essex and keeping up with the City of Toronto.
Numbers sourced from Peel Public Health show, in the days following the reopening on June 24, the novel coronavirus spread steadily in Brampton and Mississauga. With positive test results lagging around two weeks behind initial infection (some cases are confirmed closer to the initial infection) the trend is not a good sign, as more and more businesses and services restart, despite infection rates that have not come down for the required two weeks across areas of the region. If this results in more potential exposure before the cities are where they need to be, leading to more infection and more COVID-19 cases, data from testing in the coming weeks should indicate if Peel's reopening has been premature.
The justification for any area entering Stage 2 of Ontario's reopening process is a consistent two-week downward trend in new cases. To see an immediate uptick undermines that requirement.
On June 24, as it entered Stage 2, Peel, which accounts for about 10 percent of the province's population, made up 28 percent of Ontario's total number of new cases, and 27 percent the next day. On June 26, it was responsible for just over half of the province's positive results and, on June 27, it accounted for 31 percent.
The following four days, Peel finally dropped to fewer than 24 cases per day.
On average between June 18 and June 30, Peel saw 40.8 new daily cases compared to 14.3 in York Region, directly adjacent to Peel, and 41.2 in the City of Toronto, with roughly double Peel's population.
Population projections put Peel's number of residents at about 1.5 million, compared to 1.2 million in York Region and about 2.9 million in Toronto. Peel's infection rates compared to almost all other areas of the province raise concerns about why the virus is not under control here and if case numbers are just going to get worse now that reopening has begun.
On July 2, Ontario as a whole had confirmed a total of 35,217 cases since the beginning of the pandemic, 30,526 of which are considered resolved; 2,676 people in Ontario have died as a result of the novel coronavirus, 1,710 of them in long-term care facilities.
A map from the World Health Organization shows over 10.5 million cases of COVID-19 have been recorded to date across the world, with 176,102 new cases confirmed July 2.
According to the World Health Organization, Canada has reported a total of 104,204 cases of the virus and 8,591 deaths. That number compares to 2.6 million cases in the United States and 226,089 in Mexico.
Some have linked Peel's struggle to contain the virus to non-compliance among residents with physical distancing rules, dense family-living in many homes and clusters in certain places of work. At the beginning of the pandemic, Brampton City Council adopted a bylaw aimed at forcing its residents to comply with the rules, threatening severe financial penalties to those who were caught breaking them.
Hoping to make an example of wrongdoers, the City made a point of releasing details of those who violated the rules. Examples ranged from soccer and cricket games to house parties and tailgates in parking lots. Particularly egregious violations were put front and centre in social media and other reports.
Between June 18 and June 24, Brampton laid 17 charges under its bylaw, issuing a further seven the following week. In total, Brampton has issued 517 tickets since the pandemic began.
A summary of charges laid by the City of Brampton in recent weeks.
Mississauga, for its part, did not pass a bylaw specific to COVID-19, but has been imposing provincial regulations, including a limit on gatherings recently lifted from five to 10 people.
The City issued no new tickets in relation to COVID-19 between June 22 and June 29. In total, Mississauga has handed out 336 fines relating to COVID-19 ranging from people gathering to others trespassing on closed public properties and littering of masks and gloves.
A summary of tickets handed out by the City of Mississauga.
Despite an aggressive approach to enforcement and regular pleas for residents to respect the rules, COVID-19 cases have continued in Peel. Data shows some slowing, but not at the rate of the rest of the province, where some public health units are reporting no new cases.
The Health Minister confirmed 23 of Ontario's 34 public health units reporting no new cases of COVID-19.
Between June 18 and June 30, Peel announced 530 new cases of COVID-19, almost 23 percent of Ontario's total of 2,324.
Within Peel itself, COVID-19 cases are more prominent in Brampton than larger Mississauga. Peel Public Health's COVID-19 dashboard shows Brampton accounts for 53.6 percent of the region's cases compared to 43.5 percent in Mississauga.
As The Pointer has previously reported, in the face of frustrating infection rates, Brampton Mayor Patrick Brown inflated the amount of testing done in his city. Publicizing the quantity of testing, the mayor included tests completed by the local health system, William Osler, which it did in its Etobicoke facilities, suggesting they were done in Brampton, despite far lower actual numbers here compared to the Etobicoke testing totals.
"We have now tested more people in our hospital than anywhere else in the province, the number one testing hospital in Ontario is our very own William Osler Health System," Brown said in a video posted to his Twitter account on June 19.
On the video, as he utters those words, text flashes below the mayor: "52,000 Tests". He also said Brampton and Ottawa had done more testing than any other cities in Ontario. Brown's claims were blatantly misleading. The number he used was not for Brampton alone, but the total testing done by the William Osler Health System across its three screening sites, only one of which is in Brampton. The other two are in Etobicoke.
The number of new COVID-19 cases in Peel, York and Toronto from June 18-30.
In reality, between March 11 and May 29, Osler only completed around 9,000 tests in Brampton, woefully short of the target set by the province, and far fewer than the number of tests done in Mississauga.
As of June 28, Osler had tested 65,000 people for COVID-19; 27,700 of those tests took place in Brampton, with 6,950 at the drive-though centre that opened on June 16 (replacing the previous testing site at Peel Memorial) a significant increase but still not even half the number that had been claimed by Brown when he pushed out the misleading testing figures. It was an irresponsible move, and Premier Doug Ford has specifically stated that the public needs accurate figures from local authorities, otherwise, for example, people in Brampton might not think there is a need for testing, if they are under the misperception that testing levels are the highest in Ontario. In fact, testing levels in the city have lagged well behind the targets set by the province. Ford blasted local jurisdictions for failing to meet testing targets, and said help would be sent to under-performing cities. Shortly after, a temporary pop-up testing centre was used in Brampton to help get more people screened.
For Brown to be playing politics, trying to defend his reputation as a leader, instead of getting the facts out to residents, regardless if they raise questions about poor performance, suggests a callous disregard for public health concerns.
---
Life After The Pandemic — A new series in The Pointer
---
Peel's three mayors suggested this week that the wearing of non-medical masks will be compulsory when indoors.
At the same event, Dr Lawrence Loh, the region's top public health doctor, advised Brampton, Caledon and Mississauga to issue a "time-limited, broader bylaw mandating when and where non-medical masks must be used."
Previously, Loh had said he was not considering introducing mandatory mask wearing, instead simply asking residents to wear them where possible.
"In March and April our focus was on trying to get individuals to stay home and physically distance in order to reduce their interactions and reduce risk. But in May, as we reopened in Stage 1, and now, subsequently, in Stage 2 of Ontario's reopening, it became very clear that with pre-symptomatic transmission ... there was a greater need for us to ensure that there was an additional line of defence to physical distancing," Loh told Brampton councillors Thursday. He spoke as they voted to create a bylaw making the wearing of masks mandatory in Brampton, while indoors (not including personal residences).
The mandatory mask bylaw will be adopted next Wednesday when councillors digitally reconvene.
Mississauga will consider a similar bylaw on July 8.
---
Email: [email protected]
Twitter: @isaaccallan
Tel: 647 561-4879
---
COVID-19 is impacting all Canadians. At a time when vital public information is needed by everyone, The Pointer has taken down our paywall on all stories relating to the pandemic and those of public interest to ensure every resident of Brampton and Mississauga has access to the facts. For those who are able, we encourage you to consider a subscription. This will help us report on important public interest issues the community needs to know about now more than ever. You can register for a 30-day free trial HERE. Thereafter, The Pointer will charge $10 a month and you can cancel any time right on the website. Thank you.
Submit a correction about this story