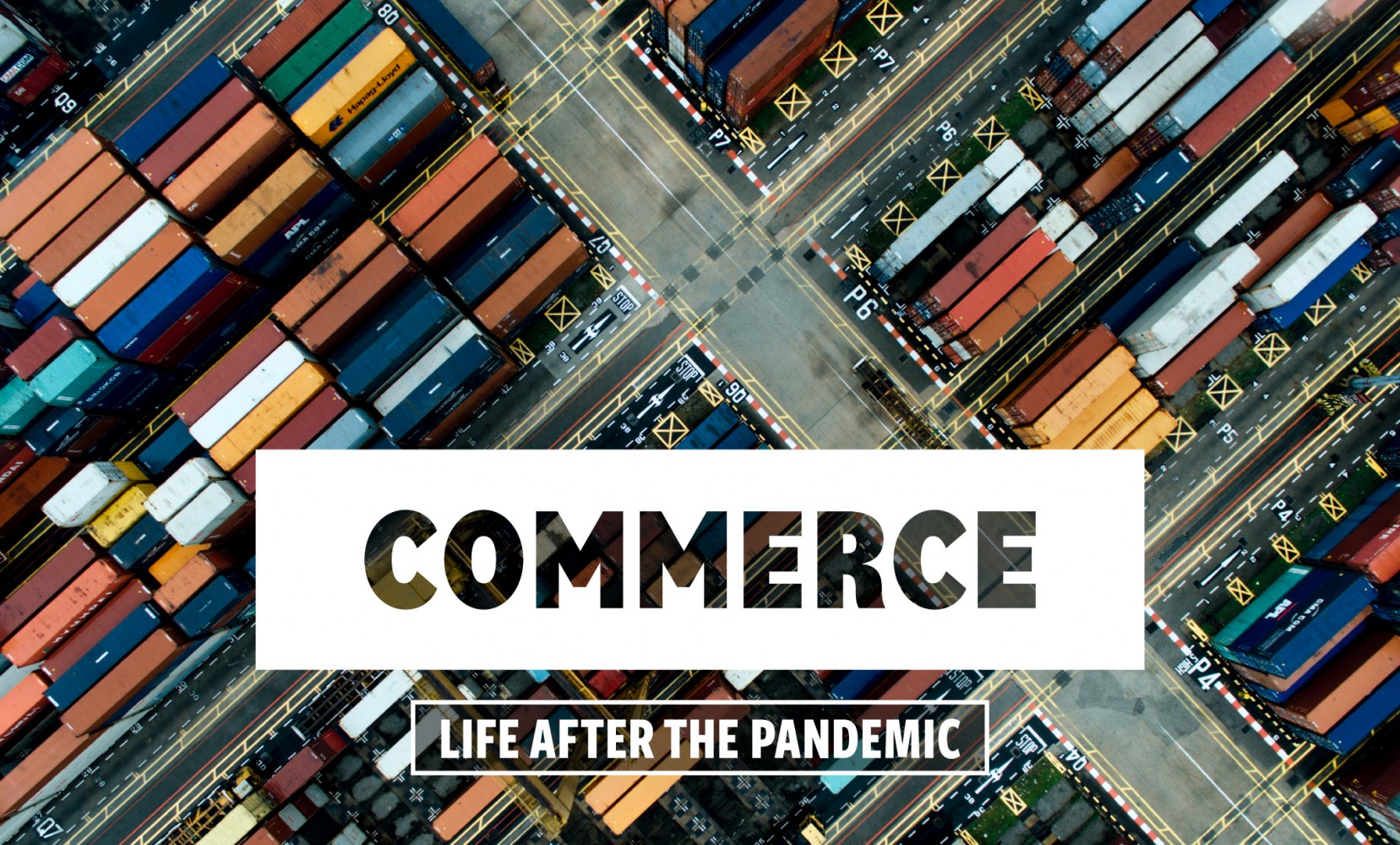 Photos from The Pointer files/Graphics from Backpack Studios/Bramalea City Centre
Is the 'retail apocalypse' upon us?
The branding of agricultural animals began over 4,000 years ago in the Indus Valley. Cowpokes in the old west were also experts at brandishing the hot iron.
But creating retail branding is way different – a lot less painful and much more lucrative.
The arrival of print, radio and TV also announced the arrival of giant advertising agencies, which offered clients a subtle but sophisticated selling tool.
The goal was simple, yet profound: help retailers sell their products to the public. These marketers were called the mavens of Madison Avenue. Their ad copy was too clever by ten. The jingles were catchy and stuck in consumers' heads. The 30 or 60-second commercials they produced fixed product offerings in the minds of buyers. It didn't matter if clients were selling cigarettes or Chevys, toothpaste or turtlenecks, the idea was to create a pent-up demand, and ramp up sales. This meant building trust and brand loyalty. This created something called "manufactured desire."
Mark Kingwell, the University of Toronto's hip professor of philosophy, used the term. He was consumed by our love for consumerism, and how it had become the ruling passion as we cleared the more Calvinistic age of service to God and community.
The coming millennium and its technology would serve one primary purpose, cemented since the '80s: sell!
The internet of ideas quickly became the platform of desire.
Perhaps this love of product reached its height when Super Bowl ads became just as competitive as the game itself, and cost firms $1 million a pop. Advertising was put in the category of high art.
Manufactured desire was the theme of the hit TV series, Mad (as in Madison Ave.) Men, which ran on AMC. These mad men were hard-drinking, chain-smoking, sex-loving misogynists, and perfectly captured in its protagonist, Don Draper (Jon Hamm), a razor-sharp but badly altered ad executive.
The show focused in on the golden decade of advertising (1960-70), and was super popular because it ran during the golden age of shopping (2007-2015). It would have been ironic to anyone who missed its underlying critique of the entire ethos, too captivated by the lifestyle and quixotic imagery of its aesthetic. In this sense, Mad Men worked perfectly. In an age when most are powerless in the face of desire (to be more, to be different, to be better) consumerism can't really be questioned, if everyone is a slave.
It just is.
Shopping reached its zenith just a few years ago when 16 percent of the globe's population consumed 80 percent of its resources.
In a way, any art has been lost. It takes little convincing for Air Jordans to fly off the shelves, and yoga pants from Lululemon are practically a birth right.
Yes, consumerism remains a pathology, and out of it has emerged a new genotype: the shopaholic. He or she spent most of their free time in pursuit of stuff, addicted to the Shopping Channel, and measuring products by names on the labels, not the quality or practical worth of the item.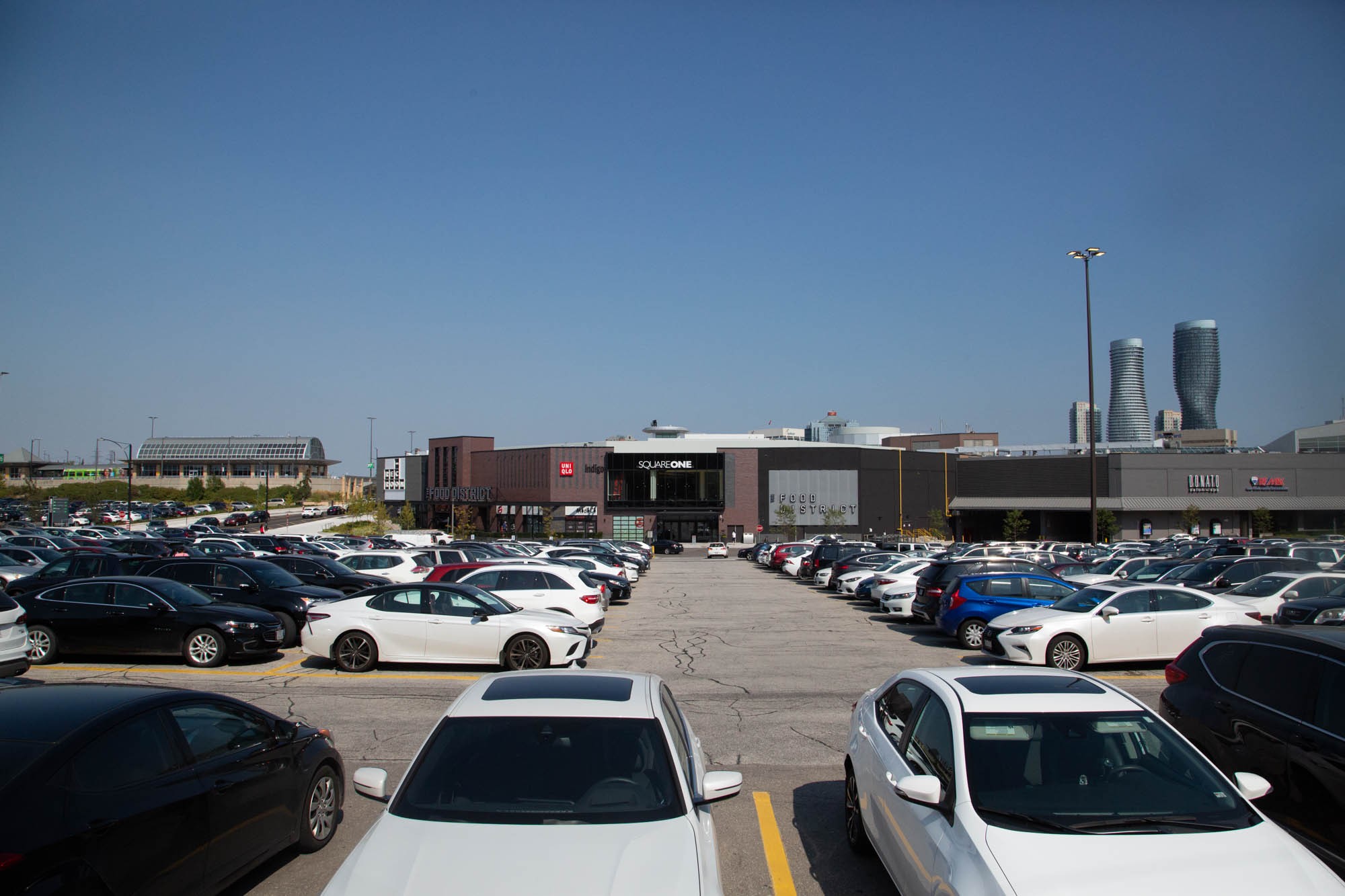 The Square One shopping centre in Mississauga, filled with cars pre-COVID. Will the mall continue to see such a high volume of shoppers once the pandemic ends?
Then, a few months back, the Covid-19 pandemic struck, and our world changed. So too, did our buying habits. The world pressed pause, and all stores (except those selling essentials) were closed.
Consumerism took a back seat to our health.
The shop-till-you-drop crowd retreated into their hibernaculum, suffering serious withdrawal.
The worry being, there will be no return to normal. Normal, of course, being the perpetual state of keeping up with the Joneses. They're the family Don Draper created.
Transformative change was already roiling the retail sector in the pre-pandemic days. The mall culture that caught fire in the 1960s, was on life support as Covid-19 snuck in from China, and "malling" was reinventing itself.
The bricks and mortar buildings, especially the big box retailers seemed oddly oversized. The novel coronavirus, the most unexpected upender, was the blunt force trauma that might force them to shrink, or close altogether.
Iconic brands teetering on the brink of bankruptcy before COVID, like Neiman Marcus and J. Crew, fell off the cliff in the weeks after the pandemic hit.
The only thing unclear now is how the retail landscape will look if, or when we reach the post-pandemic period.
Is there really a "retail apocalypse" on the horizon, as some industry pundits seem to suggest?
This pandemic won't change history but accelerate it. There's no going back to normal. That old bricks and mortar model still works to a limited extent, but it's being overlapped by a more flexible model that includes e-commerce or other online tools (Facebook, Instagram, Twitter, etc.) and new-media platforms. This combination might help some retailers get over the so-called hump and consign others to the dust heap.
---
Restyling Her Business
Brampton's Evie O'Malley was like every small business owner in the frantic few weeks leading up to the grand opening of Restyle Consignment (59 Main St. North) 4-and-a-half years ago – anxious, but excited, and hopeful of success. Her concept for a one-stop beauty and fashion landing, with upper-end clothing, footwear and local-artisan accessories, along with skin-care and other cosmetic products, was a first for the city.
She had drawn up a standard business plan, including a responsible to-do list, which she carefully began to check off: financing - check, staff - check, supply chain - check, and a lease agreement with her landlord - check.
By mid-March of this year, she was one of the mainstays of the downtown merchant class, overcoming the everyday obstactles of trying to stay afloat in a challenging economic environment.
Then Covid-19 hit, and her world splintered. It was something even the most well-prepared business owner couldn't plan for. At the same time the Ontario government ordered all non-essential businesses to close down until further notice. The only consolation for O'Malley was the fact she shared her anxieties with thousands of other small business owners. But O'Malley and her two daughters, Jennifer and Emma, were determined to not give up on their retailing dream, even if they didn't qualify for government assistance.
O'Malley admits now that the pandemic was the best thing that could happen to her and her business.
"We had to pivot, we had no choice," she said.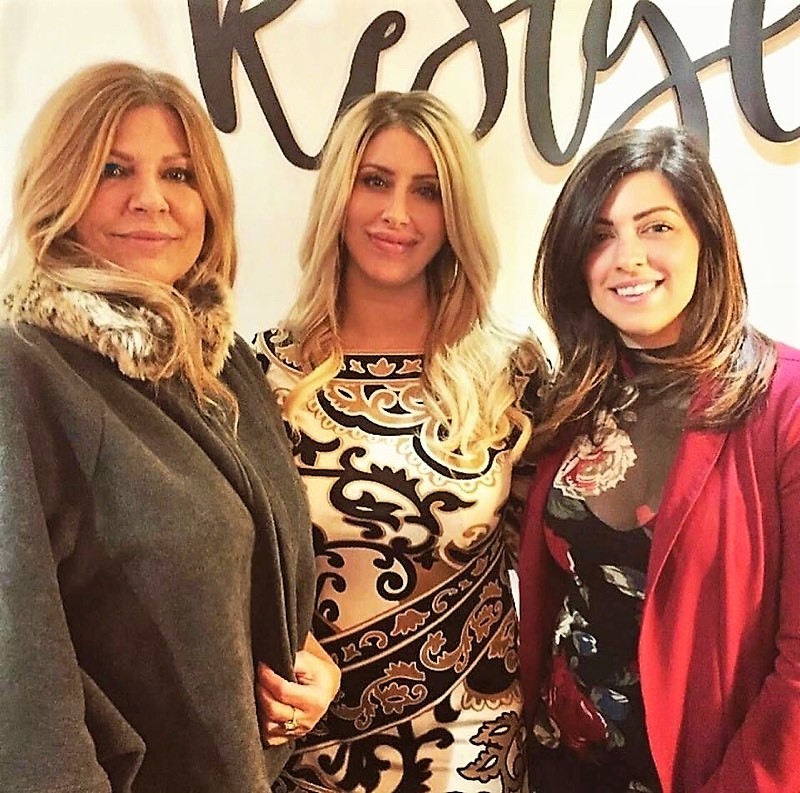 Evie O'Malley (left) with her daughters Jennifer and Emma.
Hamstrung with an expensive lease, she met with her landlord and they worked out a better deal: check.
Faced with a shuttered store, she arranged private showings, under strict social distancing guidelines: check.
Stymied by little cash flow, her tech-savvy daughters hatched a plan for Restyle to re-emerge online, with showings on both Facebook and Instagram. The owner had once worked in marketing and the modelling industry and wasn't shy in front of a camera, or in this case, a computer screen: check.
The result: Restyle has restyled its business model, which O'Malley said is "One hundred percent better than the old one." Her clients are happy, too, and she has become more selective in how she spends her hours on the job. "I'm not wasting time just sitting around waiting for customers to come through the door."
The clients are coming to her, via the internet, or privately with tight social distancing.
She even has time these days to help out a friend and fellow retailer who, because of the shutdown, was stuck with a large backlog of goods.
With O'Malley's help, she has managed to whittle that down.
The online showings have become a localized hit, and O'Malley said, "there has been so much positive coming out of this. I really haven't seen any of the downside."
Creating a more flexible retail model under the fire of potential economic ruin, has infused her with energy. She also said if it wasn't for the technical expertise of her daughters, and their constant support, she would still be trapped in the old "bricks and mortar" business model.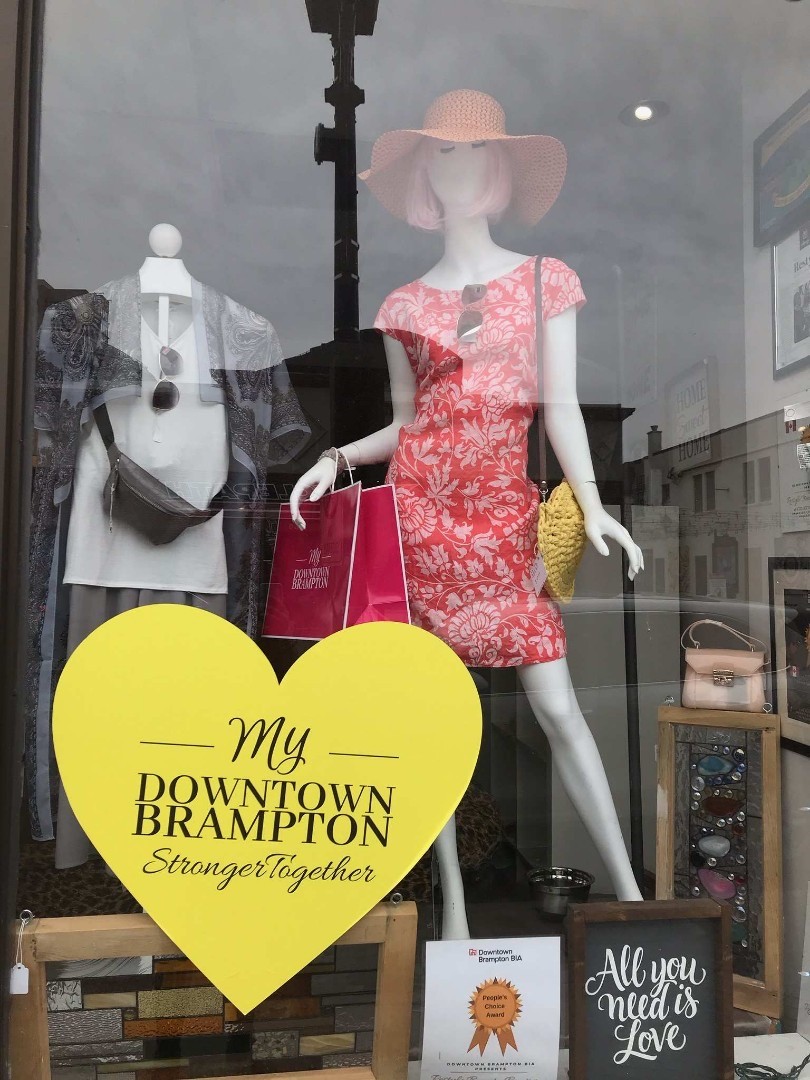 Restyle Consignment (59 Main St. North) has altered its business model to stay afloat during the pandemic, attracting new custmers online.
The O'Malley model is more attuned to the realities of today, and a robust online presence is not something she would have even tried if it wasn't for the virus or the shutdown.
"You can't let it [the virus] beat you down," she said this week.
The online show has created plenty of word-of-mouth, and has enriched her client base, and she estimates that while other businesses take a wait-and-see attitude about when the government will allow enterprise to return to full strength, she's proud that she and her daughters restyled Restyle Consignment themselves. It's now better positioned to meet head-on the myriad of challenges sure to face all small businesses going forward.
"We've created our own unique business model," she says proudly, and for that, she gets another check.
---
Iced Out by COVID-19
The pandemic has also had a chilling effect on one of Canada's most iconic business sectors, hockey. The Mississauga Steelheads of the Ontario Hockey League (OHL), are one of the three junior leagues that makes up the Canadian Hockey League (CHL).
This medium-sized, multi-million-dollar business very much reflects the future challenges facing the massive sports-retail and entertainment business sector, and Elliott Kerr, the long-time owner of the franchise which plays out of the city-owned Paramount Fine Foods Centre on Rose Cherry Place in the city's east end.
Kerr is "scared to death" of his team's current prospects, and whether he can even ice a squad this season.
All the branding done over the past eight years might be for naught, another victim of the pandemic.
Kerr's future prospects are further clouded because he also owns Landmark Sports Group, a marketing company that represents athletes and is best-known as owner and organizer of the annual Mississauga Marathon, a yearly rite of passage event held in the springtime which draws from 8,000 to 10,000 participants. It is a huge revenue source for Landmark and boosts the city's tourism portfolio.
Kerr, a father of two, and a Mississauga resident, acknowledges that unlike retail, running a sports team and a marketing company put him in a very unique (and vulnerable) position. While there isn't the reliance on selling goods, Steelheads have to sell tickets, and putting spectators in the 4,500-seat Paramount Centre will be a major challenge. Two major contributors to Kerr's financial success have been upended in both the short and long-term, he said in an interview conducted this week with The Pointer.
So how can Mississauga's Junior A team survive, and what will it take to get the marathon back up and running?
"It's a new world order," he admitted, and wanted to know, like everyone else: "When will it return to normal?"
He thinks normal is now a non-starter, and even if he can get back to some semblance of it in the near future, finding a long-term solution seems more than challenging. "We might be further away from a solution than it being close at hand," he said.
Immediate worries are two-fold: he and the city are looking at a September date for the marathon, but there are no guarantees the province will allow it to happen.
He has cut his firm's staff and those working full or part-time with the Steelheads to the bone. The company qualified for a wage subsidy for workers, and most are now collecting EI from the government.
As for the other possible fall start-up, the OHL season, it is again out of his and the city's control. Kerr and other governors of the OHL are meeting to decide if or when they can stickhandle past the restrictions surely to be placed on them by the province. Steelheads draw on average 2,000 per game in the 5,400-seat arena, and any scenario is possible: they might be restricted to seat sales of 500 per game, allowing fans to social distance, or they might not be allowed any fans. This will virtually kill the upcoming season since the OHL is, unlike the NHL, a ticket-driven enterprise.
The NHL plans to resume its halted season and will compete in front of empty seats because they still have a multi-billion-dollar TV deal in their pockets. Maple Leaf Sports and Entertainment (MLSE), which also owns the Raptors 905, their development league team that also plays out of Paramount, doesn't have the same economic constraints faced by the Steelheads, because the basketball team is less tied to the vagaries of ticket sales.
Kerr admits he has lost about $3 million with the Steelheads over the past eight years, and is now just as worried about the full and part-time staffers who are now furloughed.
He understands no one is to blame for this, and said, "You can't put this [a pandemic] in as a clause when you're drawing up your business plan."
He's negotiating with the City over a lease agreement at the rink, where the Landmark offices are also located. Kerr has been working at his home in Lorne Park for the past three months, and is hoping to carve out a plan that sees the hockey team and the City give away free tickets to games to our first responders, seniors, kids, and all those who have been particularly hard hit by COVID-19. Everyone needs an enjoyable evening of entertainment, he said. But any solution is still riddled with ifs, ands and buts.
While spring turns to summer, hockey fans, runners, staffers, part-time employees, even sponsors, still wonder about the future of two major sports products in Mississauga.
Kerr is taking a financial hit, but "right now," he said, "the tap is not even trickling – it is turned off."
He hopes the federal government can help firms like his in a significant way, and he wants people into hockey and running to get back to participating or spectating because it's part of the fabric of the community.
---
A Return to Retail?
Now back to retail, and its possible future. While some sectors are flourishing, like Amazon and Wal-Mart, most are planting tombstones as they temporarily shut down, file for bankruptcy and close the doors for good.
Retail Dive is an online publication that provides business journalism in multiple sectors, including retail, and this Washington, D.C.-based publishing house is tapping into insights from some of the most powerful futurists the business world has to offer, on topics like salvaging brick-and-mortar, retail technology, e-commerce, marketing, the new world of supply chains, payment technology and store operations.
Recently, it conducted a fascinating Q & A session with Doug Stephens, who has decades of experience behind him, and has authored "The Retail Revival: Re-Imagining Business for the New Age of Consumerism" and "Reengineering Retail: The Future of Selling in a Post-Digital World."
He calls himself (and his consulting business) "the Retail Prophet," and notes that legacy retailers (for the most part) have finally embraced online and even all-channel commerce, which puts them at the cutting edge of change. Where does he see retail finally settling in after the worst of the pandemic has passed? Is there any chance retail's post-pandemic model will look anything like what it looked like pre-pandemic?
Stephens calls the present "the end of the beginning of ecommerce," and the $3 trillion in e-sales in global retail before COVID-19, in things like electronics, clothing, sporting goods, ticket sales, airplane flights, etc., was only the tip of what he says is just a light dusting of the $27 trillion that is still out there and involves more complex purchases.
He told Retail Dive that by 2033 "the majority of our daily consumption will be transacted online. We also sit on the cusp today of what I call the Replenishment Economy."
He foresees a complete integration of technologies like "augmented and virtual reality, the internet of things, sensor-driven packaging and connected appliances."
Will the brick and mortar stores come tumbling down? He very much looks at business entrepreneurs like the O'Malleys as the model for change moving forward.
"In the future, all but the most convenience-based retailers will begin to use their stores as media to acquire customers and their media platforms as stores to transact sales."
"In essence, the selling process becomes as much of a product as the product itself," he said.
---
Retail Apocalypse
The term "retail apocalypse" is a key discussion point with industry experts, and some of the carnage is coming in the bricks and mortar sector, led by the demise of malling.
In the early 1960s, the growth of malls upset the centuries-old retail model that began when people first gathered in cities and goods and services were exchanged in markets. This acquired substance and form during Greek times when the agora emerged, a more formalized marketplace. As the Dark Ages morphed into the Middle Ages, and other pandemics came and went and disrupted small businesses, the industrial age and further urbanization took shape, and soon emerged alehouses and storefronts. England was dubbed a country of "shopkeepers", either a derisive term coined by Napoleon, or attributed to Scottish economist Adam Smith, in his Wealth of Nations (1776).
The 20th century saw the rise of bigger department stores, not just small independents and in the post-war era, came outdoor and indoor malls.
Mississauga's was founded in 1974, and became an urban oddity because it was, in effect, the first city in North America to have a major mall at its core. Square One reflected the city – low-slung, sprawling, surrounded by vast and empty acres of parking. In Brampton, the giant Bramalea City Centre, and Shoppers World Mall at Steeles and Hurontario, pulled shoppers away from the downtown shopping district. People could one-stop shop in climate-controlled comfort for an entire day.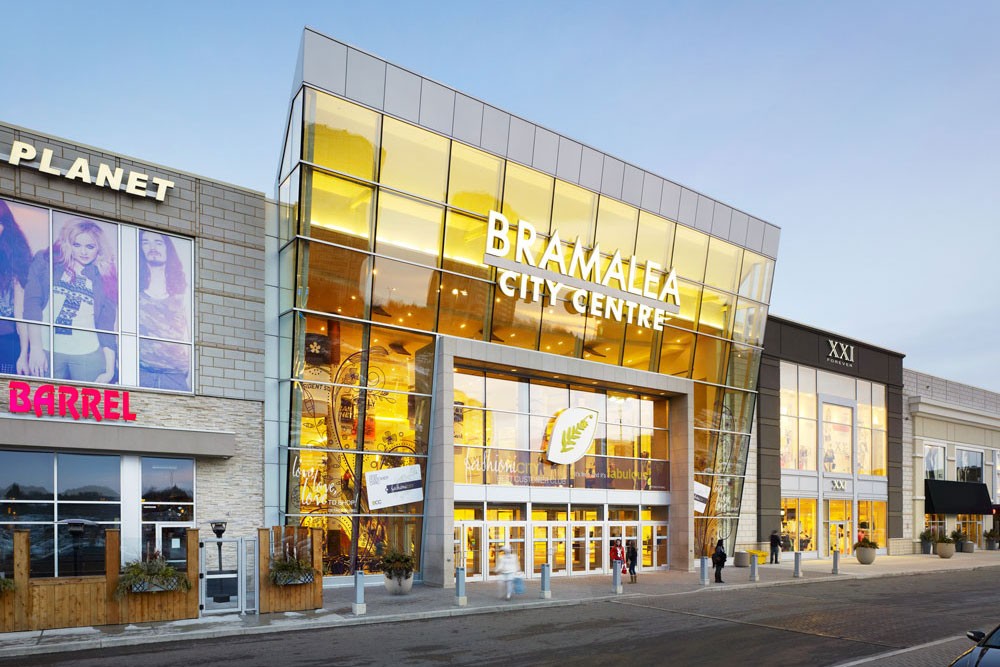 But the "death of the mall" has spread like a virus, and all three of them mentioned above are now being remodeled into community hubs by their owners, Alberta Investment Management Corp. and Oxford Properties (Square One), RioCan (Shoppers World) and Morguard (Bramalea City Centre). They will be a mix of housing, entertainment, parks and retail, along with other community-building features. Vast suburban parking lots will be transformed into more productive uses.
"The most important part to reopening retail stores is to ensure that customers and stakeholders have restored confidence," said a spokesperson for Morguard, headquartered in Mississauga, but responding to future prospects at Bramalea City Centre. "As the pandemic continues and recovery begins, consumer confidence will be a major driving factor requiring retailers to incorporate some changes within their strategies to re-attract customers. Owners in partnership with retailers need to continue adapting to shopping habits, come up with solutions for these new demands and ensure that consumers are safe to re-enter stores."
As for future prospects, the spokesperson added, "We have seen shopping centres and plazas anchored with essential services such as grocery stores and drug stores able to weather the pandemic, and these are the retail centres that historically did well after the financial crisis of 2007-08. The increase in e-commerce has been a large part of the adaption to the new dynamics brought by the pandemic, while maintaining brick-and-mortar stores. Shopping habits will continue to change, but shopping centres and retailers will change, evolve and innovate along with them to best suit what their customers want."
Retail has been a battlefield, planted with landmines and tied to the constant shifts of the economy. In flush periods, buyers with plenty of disposable income are looking for places to spend it. Malls once fulfilled this manufactured desire.
But in this present era, as jobs disappear and money is tight, it becomes easier for retail outlets to circle the drain.
Going malling, once a popular pursuit, is collapsing faster than a decrepit department store felled by a controlled explosion.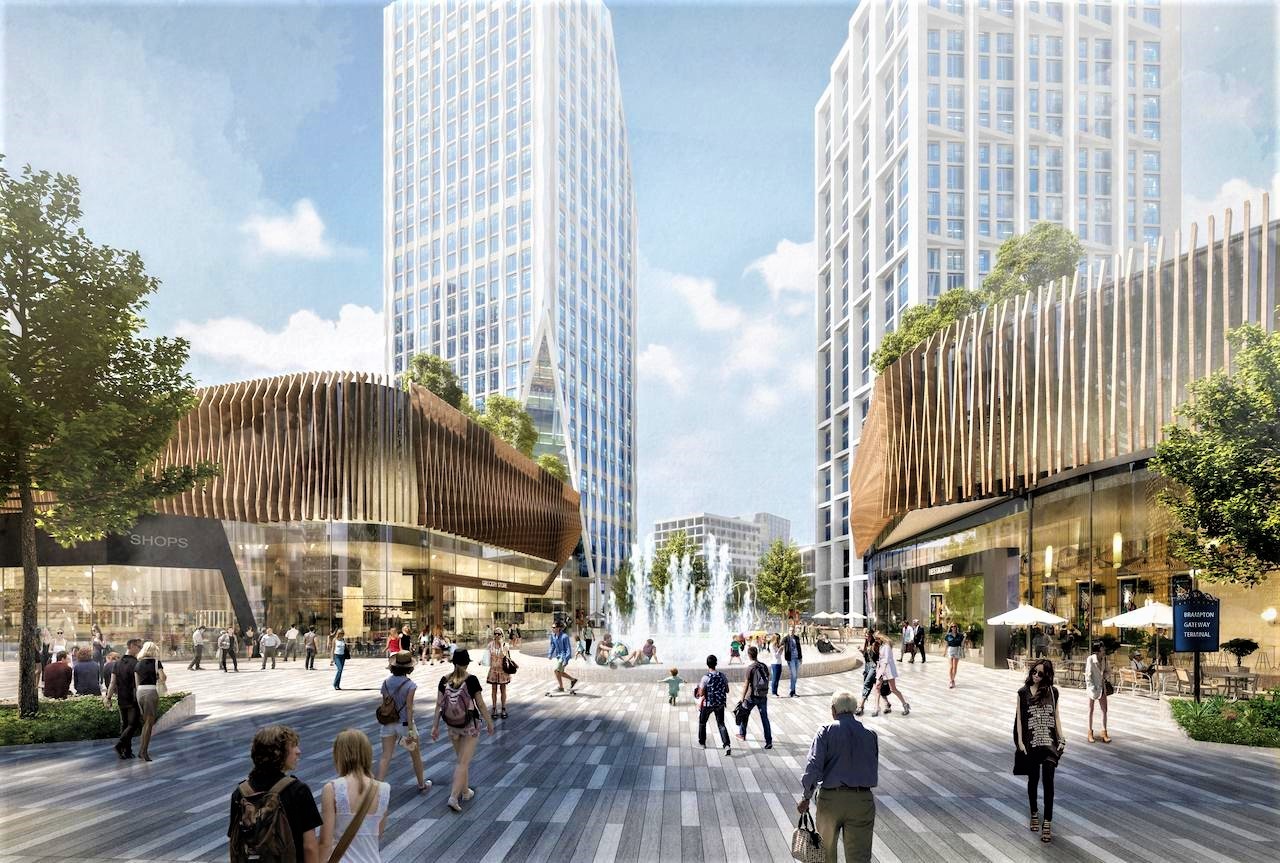 RioCan's future plans to transform its Shoppers World mall in Brampton into a mixed-use commercial/residential district
The big box power outlets are also under severe stress, teetering on the brink of irrelevancy. The mall's safety and convenience has been replaced by the ease of buying online – or not buying at all.
Pundits ask what might happen to the iconic shopping districts of the world, post pandemic. Will streetscapes in cities be impacted if shopping districts – Fifth Avenue in New York, The Miracle Mile in Chicago, Bond Street in London, Rodeo Drive in L.A., Bay and Bloor in Toronto, or Burnhamthorpe/Hurontario in Mississauga, or even Main Street in Brampton – are devoid of buyers? Try envisioning an apocalyptic vision of our future cities – store-less, and shopper-less.
Will the stay-in-place command train shoppers to do so online? Will they remain smitten by the ease and convenience?
Or has this shutdown created a yearning for connection, and in-person shopping? The social and aesthetic flavour of the experience – being pampered in a creamy high-end boutique or browsing a menagerie of sneakers in super-stylized spaces – might prove hard to replace inside a virtual screen. There's a certain lure to trying on a pair of Air Jordans before pouring out $300.
Try on those Lululemons before you go back to your yoga class.
Maybe the art of the deal inside a store isn't dead yet?
Maybe we're still moved to purchase by a clever ad campaign on the radio, TV, or online platform, or even a live salesperson?
Maybe there's a pent-up need to become a patron in the entertainment industry, or buy tickets to a Steelheads' game?
Maybe a purchaser who is dropping $50,000 on a new SUV, might want to kick the tires and take it out for a spin?
As Jeff Bezos said a while back, trying to explain the appeal of Amazon: "All businesses need to be young forever. If your customer base ages with you, you're Woolworth's."
There's an aging group of consumers who miss their sit-down counter at the Woolworth's coffee stop, or enjoy rifling through the dry goods aisles. A shrinking portion of our demographic doesn't even understand what the e in e-commerce stands for.
But the retail cemetery is filled with tombstones of fallen stars.
Not so long ago, they were major anchor stores at the 2.2 million square-foot Square One, but those dead soldiers now include:
• Eaton's - closed 1999; replaced with Zellers the following year;
• Zellers, (2000 to 2012), replaced with Target;
• Sears, originally Simpsons Sears (1973 to 2014); replaced with Simons and SportChek;
• Ashbrook's, closed around the late 1990s; currently part of Cityside expansion;
• Marks & Spencer, closed in the late 1990s;
• Dominion, an original anchor, closed and demolished during the 1980s, and now mall space;
• Target (2013–2015), a portion now used by Indigo, and;
• Woolco (1973–1994) – acquired by Walmart, which now replaces it.
---
Death by Jeff
Investopia called our modern-day retail carnage, "death by Jeff," blaming the bloodletting on Jeff Bezos, Amazon's founder.
While Eaton's and Zellers now rest in peace, famed investor Warren Buffett of Berkshire Hathaway fame, see more fading in the twilight.
"The department store is online now," he said bluntly, in addressing the crowd at the Berkshire AGM in 2017.
Yes, any future watch will see Amazon expanding ever outwards like an oil spill across the ocean. It should register a better kill rate than an AK-47.
This is confounding to firms that ignored the rise of ecommerce, and associations like the Retail Council of Canada, local BIAs, Chambers of Commerce, boards of trade, and others, will try to keep up the spirits of those paying members who keep falling behind.
For legacy retailers, here are some chilling stats: Wal-Mart's online sales rose 74 percent DURING the pandemic. It's now a powerful No. 2 to Amazon because it has mixed a powerful ecommerce platform with an assembly line of cut-rate store offerings. Target, which flamed out when it tried to push its way into Canada during the golden age of shopping, saw its U.S. sales rise by 275 percent in April of this year.
But even monsters get their comeuppance, and even ecommerce giants can't contend with an unstable economy. You can't force the hand of consumers if those hands are empty of cash or their credit card is maxed-out.
Those deemed essential services were given a giant leg-up on the stores that were forced to run in place and await June 9th in Ontario, when Premier Doug Ford said they could reopen.
So, what might happen then? Will people continue to shop online, or will others want to get back their shop-in-person mojo?
Retail Insider is an online publication that covers the Canadian marketplace and delivered this headline in its May 12th edition: Retail in Canada to change forever.
Writer Craig Patterson points out in his article, "more than 1,000 individual store locations in Canada were set to close forever in the first quarter of 2020 in what was already a challenging time for many retailers."
Patterson is a consultant with the Retail Council of Canada.
---
Future Watch
As we look to the future, we can see a made-in-Canada success story. Shopify is the Ottawa-based subscription firm that offers up a software service to clients and helps create a website and entire suite of digital offerings to swaddle retailers in the warm comfort of its future-forward architecture. It's a shopping cart solution to acquire, sell, ship, and manage products. The firm boasts how it can almost instantaneously turn around a company like Lindt (the chocolate maker) from an ecommerce neophyte into a modern-day player.
Just a month ago, Shopify surpassed RBC to take over top spot on the Toronto Stock Exchange, reporting revenues of US$470 million for the first quarter of 2020, up 47 per cent from the same period last year. By early May its market capitalization hit $121.6 billion.
In late April, The Atlantic ran a story by Derek Thompson which said the pandemic will change American retailing forever – no surprise there. You can ditto the Canadian market.
Wrote Thompson: "Because the pandemic pauses the present, it forces us to live in the future."
And the consensus is: the future remains the great unknown.
Will real-time shoppers trickle back, or arrive in a mad rush, like it's Black Friday or Boxing Day?
Here's an illustration of how hard this is to predict, using the construction of the previous sentence. At first, this writer tried, Will real shoppers… Realizing digital shoppers are real, a second effort penned, Will real-life shoppers… But digital shoppers also operate in real life. Here was the next attempt, Will in-store shoppers… Then it dawned, people do enter into digital stores. And even the final draft, the one sitting at the beginning of the sentence above, still betrays the reality that real-time could just as easily refer to e-commerce shopping. Other adjectives that used to describe how we once shopped can also be used to describe how we will shop.
Walking into a bricks and mortar space is no different than the most sophisticated experience recreated once virtual reality offers scents from the finest perfume makers, backdrops that transport shoppers to Paris and Milan and virtual salespeople straight from the pages of Vogue. Even the virtual cappuccino will taste better.
The worry is that whatever yesterday's retailers do, customers won't come back. They will stay inside and fall deeper in love with online shopping. Fighting to park and endless line-ups at the register will become distant memories, like the crowded malls at Christmas and infuriating effort for in-store customer service.
Our manufactured desire will be a more intimate relationship.
If consumption is our only true love, why not enjoy it on our own terms.
But whatever happens, it won't take long for retailers to run the numbers.
That will tell us if the retail apocalypse is a real thing.
---
COVID-19 is impacting all Canadians. At a time when vital public information is needed by everyone, The Pointer has taken down our paywall on all stories relating to the pandemic to ensure every resident of Brampton and Mississauga has access to the facts. For those who are able, we encourage you to consider a subscription. This will help us report on important public interest issues the community needs to know about now more than ever. You can register for a 30-day free trial HERE. Thereafter, The Pointer will charge $10 a month and you can cancel any time right on the website. Thank you.
Submit a correction about this story