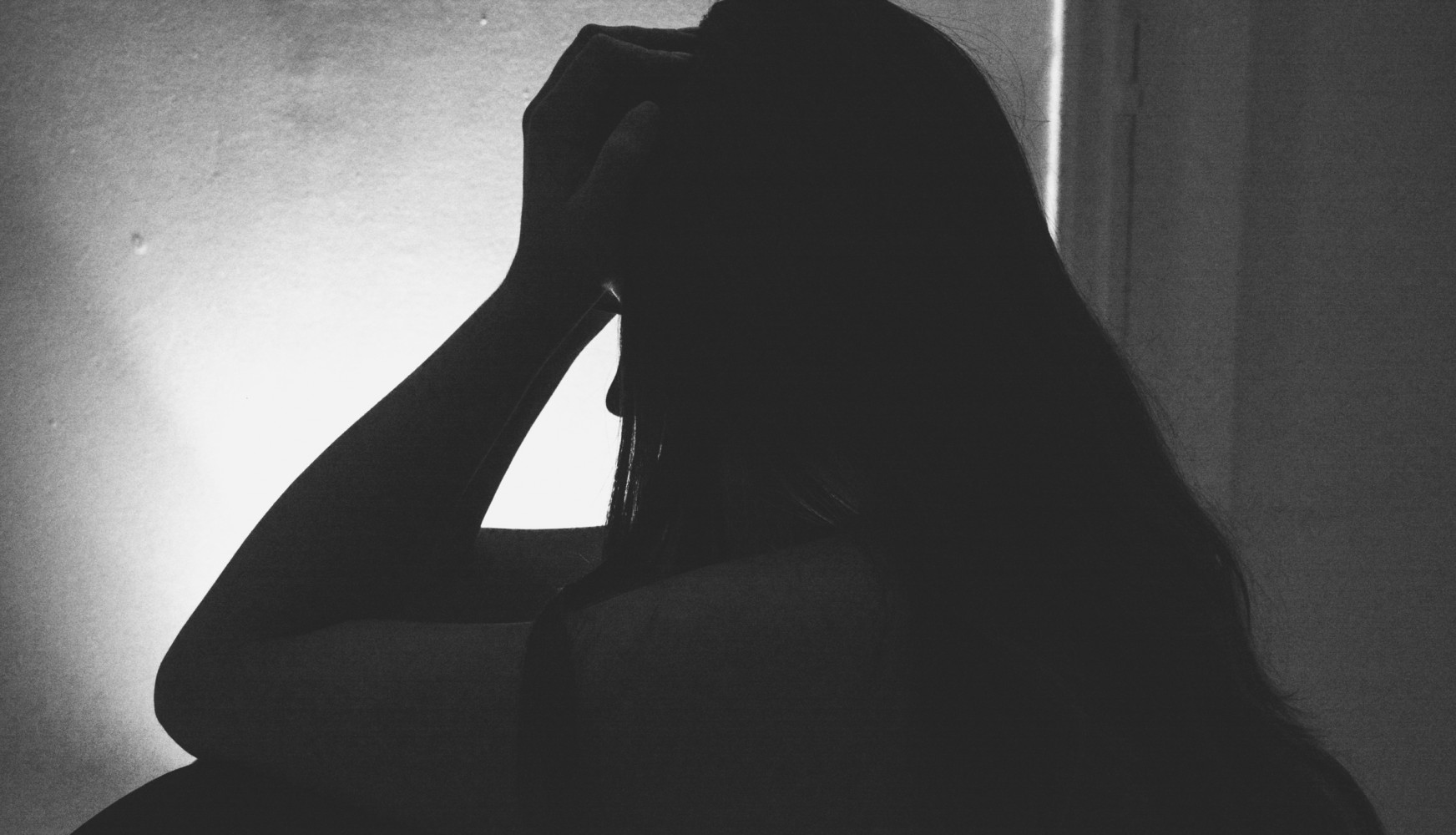 Photo from The Pointer file/Graphics from Peel Regional Police
Sound the alarm: Amid COVID crisis, organizations report 'soaring rates' of gender-based violence in Peel
On social media, in news reports, and through everyday conversations, the word pandemic represents one thing for most of us: the spread of novel coronavirus that has forced us into social and economic confusion. But for others it holds a second meaning that existed long before COVID-19 spread across the planet.
Dubbed "the other pandemic," the fight against sexual and gender-based violence is a global issue that has never stopped, and only got worse over recent months. Its monstrous dimensions have become even more sinister, as social restrictions led to increased isolation and personal danger, often leading to violence.
"The pandemic has exacerbated pre-existing gender inequalities leading to soaring rates of gender-based and sexual violence," a joint press release from Hope 24/7 and Interim Place, organizations providing assistance to abused women, states. "Some communities are at particular risk due to pre-existing systemic inequities that have been amplified during the COVID-19 pandemic."
Recent communications by organizations in the social services sector have reported spiking rates of violence against women due to their isolation with assailants during the pandemic, and the fear is that as restrictive measures are lifted, the violence will not decline, even though attention on the problem might fade.
The United Nations Secretary General raised the issue of domestic violence in April. "Violence is not confined to the battlefield. For many women and girls, the threat looms largest where they should be safest; in their own homes," António Guterres said.
To assist with the issue, Prime Minister Justin Trudeau announced at the beginning of April, $40 million in funding for womens' shelters and sexual assault centres. Ontario's Ministry of the Attorney General also allocated $2.7 million to support such services. Of this, Victim Services of Peel received $104,400, according to a statement from Mississauga MPP Nina Tangri (Mississauga-Streetsville). The organization provides assistance to victims of domestic abuse and/or other traumatic events, such as sexual assault or armed robbery.
While the assistance has been applauded by many, the temporary funding comes with concerns.
Peel Region has been suffering from a scourge of sexual and gender based violence for years, yet its resources have always fallen painfully short of what's desperately needed.
Hope 24/7 is the only provincially designated Sexual Assault Centre (SAC) in Peel Region that employees regulated health professionals under provincial legislation. The lack of funding for the centre was outlined in a 2019 open letter from Brampton Mayor Patrick Brown and Mississauga Mayor Bonnie Crombie. Hope 24/7 received $0.34 per capita to operate, while the Ontario average for funding to other Sexual Assault Centres was $9.91 per capita, the letter outlined.
The centre was also at risk of losing staff, who are relied upon for critical support, when the Ford government announced it was not renewing $1 million in funds to SACs. So, even though demand was dramatically increasing, money meant to just maintain existing service levels, as wait times grew longer, was being cut. It was a move that received strong backlash from SAC operators and advocates. The province attempted to mend fences with a new $2 million funding announcement as part of an initiative to combat human trafficking, but the guidelines on how the money can be used are unclear at this time.
"The Ministry continues to have regular discussions with key stakeholders and service providers to ensure that they have the necessary information and resources to respond to victims in crisis and refer to appropriate resources," a spokesperson for the attorney general told The Pointer last week.
The impact of sexual violence is not specific to one group of people, and the way it's experienced often differs based on race, culture, gender and sexuality. For example, historical oppression that was state sanctioned and widely accepted in society for centuries has caused a general tendency for many to still "devalue and hypersexualize" Black and Indigenous women, leading to higher rates of sexual violence against them, a press release from Hope 24/7 and Interim Place, an organization providing assistance to abused women, states.
"Survivors who are Indigenous and racialized shared that pandemic related concerns result in the minimizations of their experiences of sexual assault," the joint press release detailed.
Over the last ten years, Interim Place reported 45 deaths in the region related to violence against women, Lesley Hudson, a spokesperson from Peel Region told The Pointer. In the last year alone, staff responded to 1,388 crisis calls and sheltered 147 women and 106 children, Hudson said.
Sexual violence, including sexual assault and voyeurism, in the Region saw a slight decrease between 2018 and 2019, with 1,102 reported crimes in 2018 and 1,016 in 2019, according the 2019 Annual Report from Peel Regional Police (PRP). There was also a 3.8 percent increase of cases solved in this category.
Cases of sexual violence have been climbing drastically higher in recent years, with a 21 percent increase between 2015 and 2016, 34 percent from 2016 to 2017 and 13.4 percent from 2017 to 2018. While there was a slight drop in such crimes the following year, the numbers may only represent a fraction of cases as victims often don't report assaults, and it's not clear if the rate of investigations was similar to previous years. According to Hope 24/7, one in three women in Canada are sexually assaulted yet only five percent of sexual assaults are reported to police.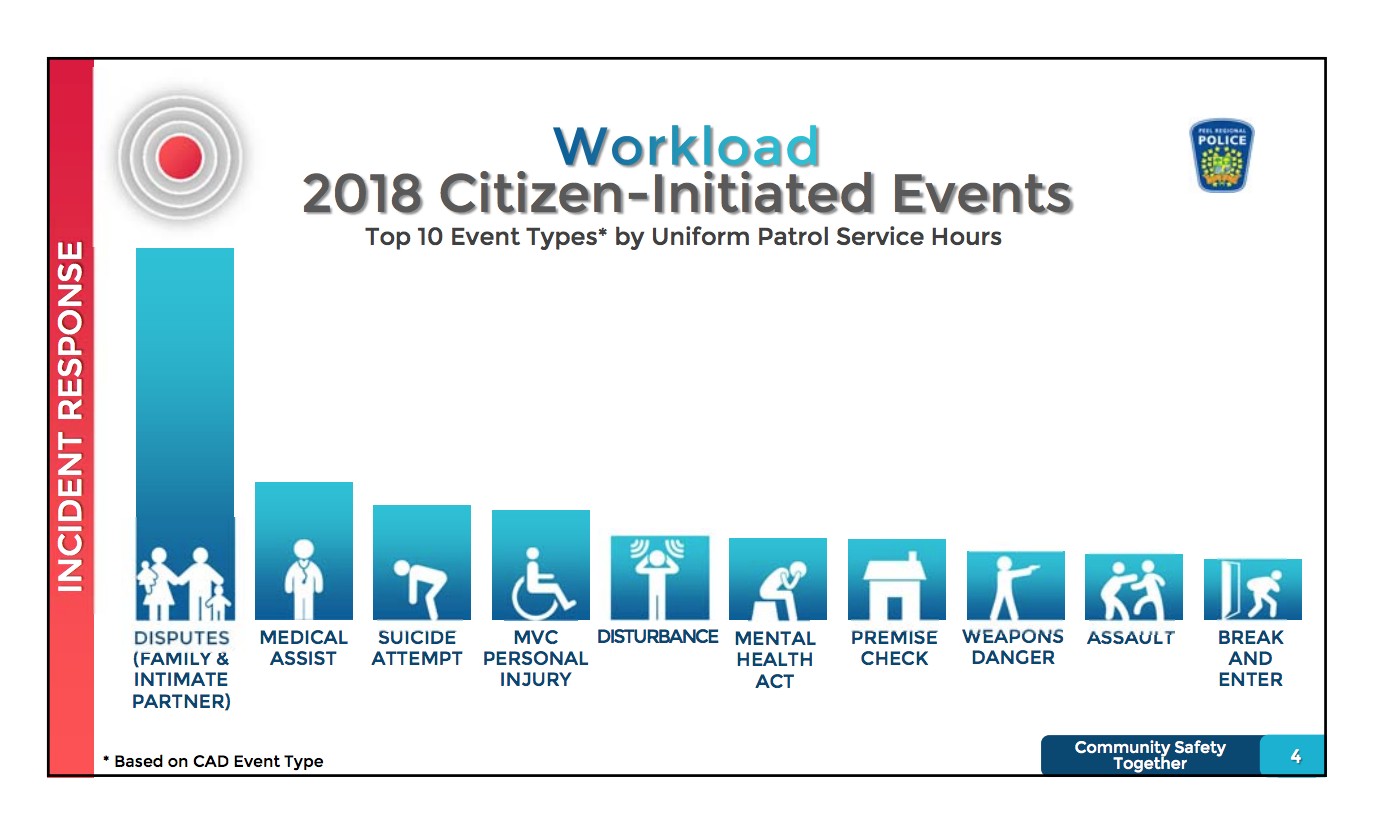 Family and intimate partner disputes continue to be the top citizen-initiated call to Peel police.
The data behind domestic violence and intimate partner violence raises more concerns. These incidents lead the list of events requiring an immediate response by police in the 2019 report, which did not detail the specific number of calls in each category, a practice seen in previous years. For emergency calls in 2018, family and intimate partner violence also led the way. There were 7,172 family dispute calls and nearly 10,000 calls for intimate partner violence that year. Between 2014 and 2018, PRP reported a 26.7 percent increase in family disputes and a 17.2 percent rise in intimate partner disputes, Hudson said.
When an individual wants to escape a dangerous situation, the answer isn't as simple as walking out the door. Multiple barriers exist, including an unwelcoming social services system, which deters many victims who will only flee if they know they can get help. Jakki Buckeridge previously told The Pointer the system only looks at people as an individual unit, while a collective family victimization is often the reality, especially within many of the diverse cultural groups across Peel. The process of leaving a relationship needs to be understood through the eyes of the person fleeing, which could be an immigrant or refugee, the manager of family services at Indus Community Services said.
To assist with the ongoing issue a Community Safety and Well-Being Plan is being created in partnership with PRP, local school boards, United Way Greater Toronto and the municipalities within Peel Region, Hudson said. Mental health awareness, systemic discrimination and family violence are the three areas of focus.
"The pandemic has exacerbated pre-existing gender inequalities leading to soaring rates of gender-based and sexual violence...Some communities are at particular risk due to pre-existing systemic inequities that have been amplified during the COVID-19 pandemic."
- Hope 24/7 and Interim Place
---
While the plan is currently in the works and details are not available, Hudson said the incidents and calls around family violence show the ongoing crisis needs to be a priority.
The new plan is in addition to another family violence education and awareness campaign that was approved in February by regional council. It stems from a motion by Regional and Brampton Councillor Rowena Santos (Wards 1 and 5) in January to create an education and awareness campaign to end domestic violence in the region. The project is in partnership with PRP, Ontario Provincial Police, community partners and local municipalities and is set to be delivered in the fall.
A concern now, is that the waning pandemic might make people think domestic violence and other forms of abuse and assault are also on the decline, as people are no longer forced to isolate, but this is not the case.
---
Email: [email protected]
Twitter: @nida_zafar
Tel: 416-890-7643
---
COVID-19 is impacting all Canadians. At a time when vital public information is needed by everyone, The Pointer has taken down our paywall on all stories relating to the pandemic to ensure every resident of Brampton and Mississauga has access to the facts. For those who are able, we encourage you to consider a subscription. This will help us report on important public interest issues the community needs to know about now more than ever. You can register for a 30-day free trial HERE. Thereafter, The Pointer will charge $10 a month and you can cancel any time right on the website. Thank you.
Submit a correction about this story