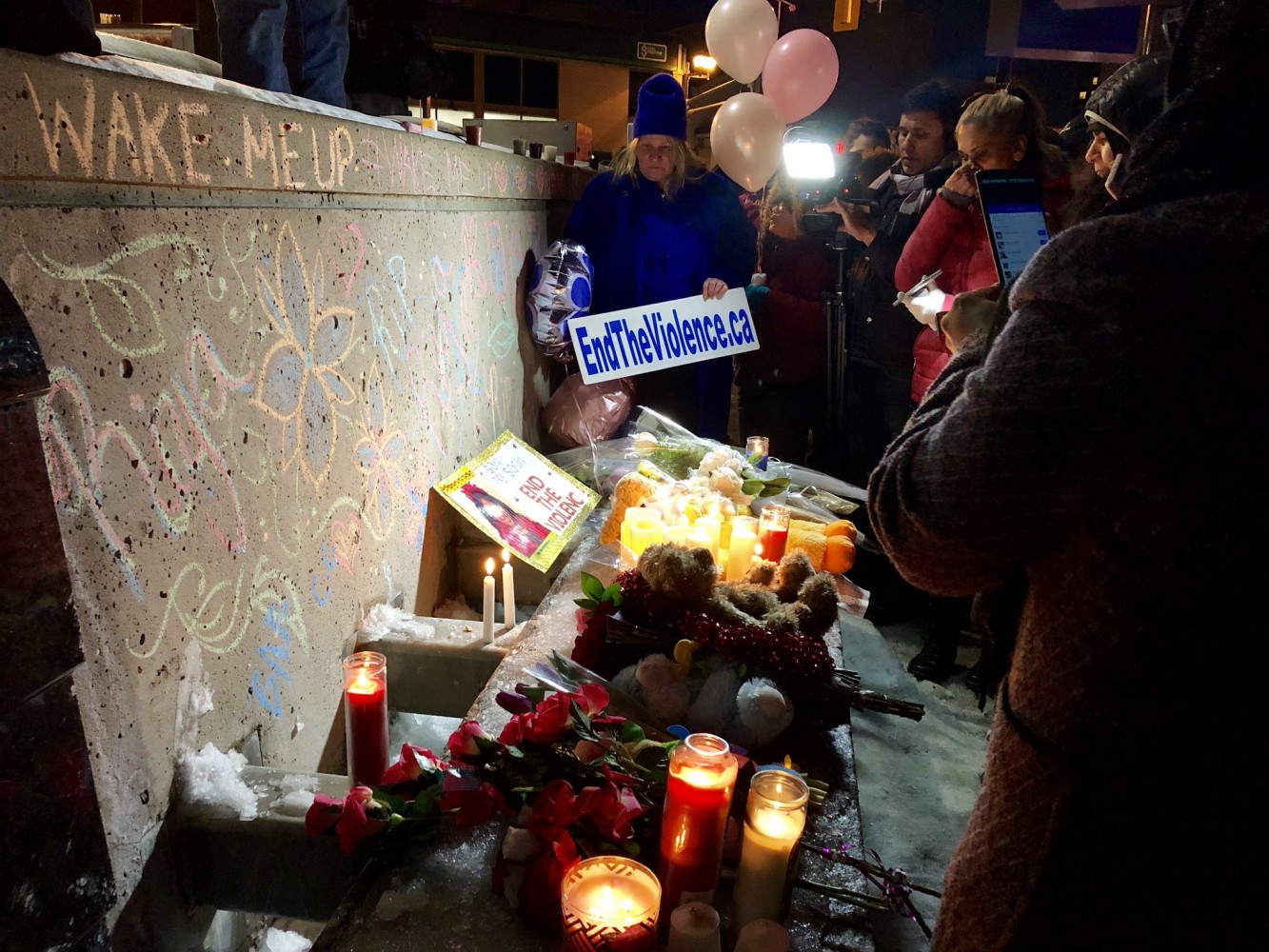 Photos from Twitter/Ruby Sahota/Andrew Hawthorne
As cases of domestic violence increase, Brampton gears up to launch a new educational campaign
Cases of domestic and intimate partner violence in the Region of Peel are on the rise and becoming more disturbing.
Between August 2009 and November 2019, 22 Brampton residents lost their lives to domestic violence. Incidents of intimate partner and gender-based violence are now the most common reason for citizens to call Peel Regional Police.
It is an issue that has plagued the city for years. According to the Peel Regional Police 2018 annual report, of the 450,000 emergency calls received which required police assistance, 52 percent were initiated by Brampton and Mississauga residents, the leading cause of which was family and intimate partner disputes. As previously reported by The Pointer, Peel police saw 7,172 family dispute calls in 2018, an increase from 5,398 in 2014. Calls for intimate partner disputes also increased from 8,107 in 2014 to nearly 10,000 in 2018.
These statistics are only getting worse. In 2019, there were 10,818 occurrences of intimate partner violence, alongside 7,519 of family domestic violence.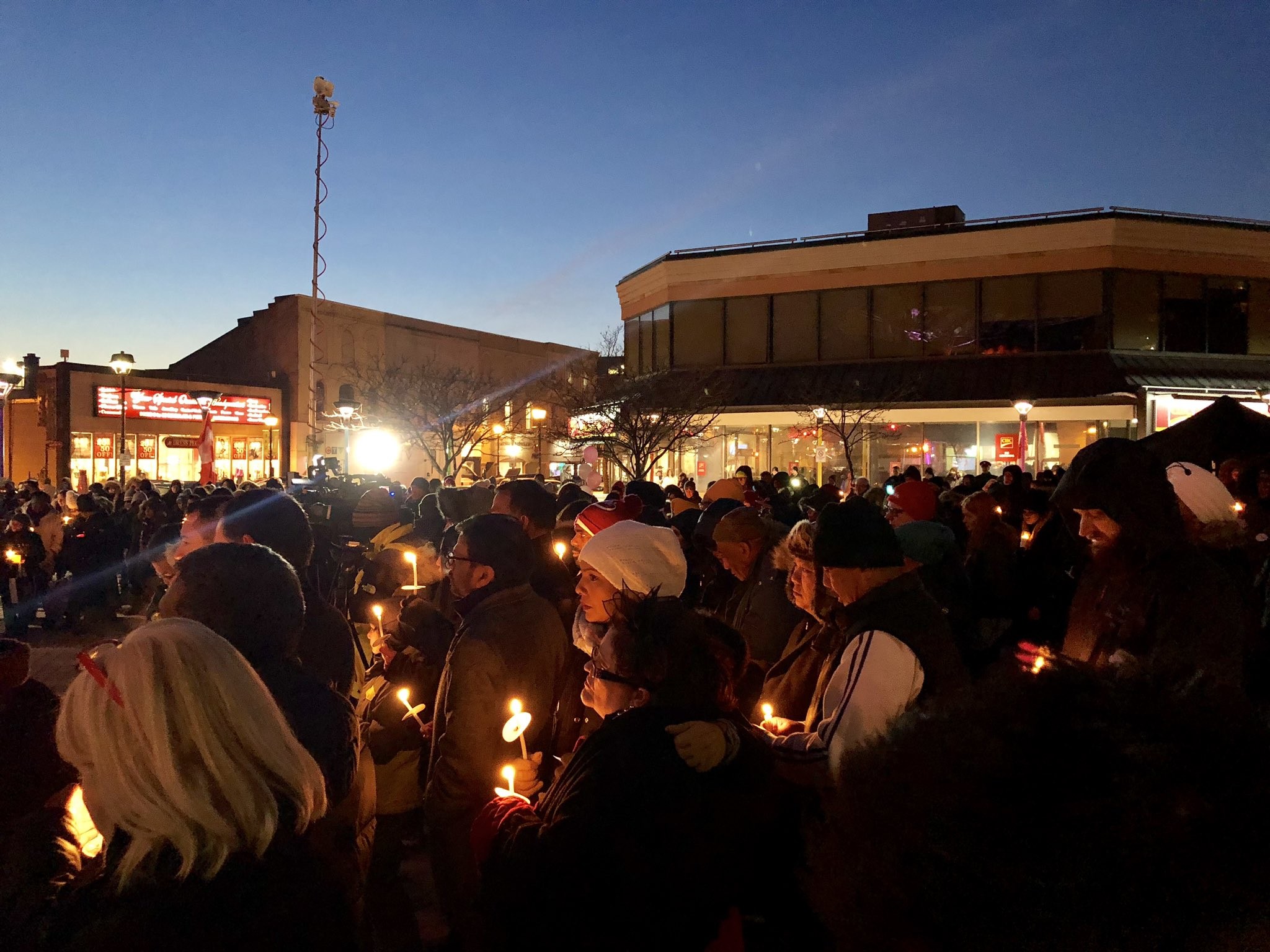 Brampton residents join a vigil to remember Riya Rajkumar on Feb. 19, 2019, who was murdered by her father.
Riya Rajkumar was only 11-years-old when she was murdered by her father on her birthday, Feb. 14, 2019. The tragedy resulted in an outpouring of support from the community, who gathered five days later on Feb. 19 at Brampton's Garden Square for a candlelight vigil. A crowdfunding campaign to assist with funeral expenses was set up by Neighbourhood Watch Brampton, surpassing its $2,500 goal within a few hours. When the campaign closed, more than $40,000 had been raised. Riya is one of an increasing number of victims of domestic and intimate partner violence.
Brampton has supported a number of programs in the Region of Peel to address these increasingly severe numbers. In November 2019, Regional Councillor Rowena Santos tabled a motion, which memorialized the names of the 22 Brampton domestic violence victims, as well as the "Thousands of Missing and Murdered Indigenous Women," on a banner. The banner was displayed in the Brampton City Hall Atrium from Nov. 25 (the International Day for the Elimination of Violence Against Women) to Dec. 6, 2019 (the National Day of Remembrance and Action on Violence against Women). On Dec. 6, 1989, 14 young women were killed in the École Polytechnique mass shooting in Montreal, a tragedy which is solemnly remembered each year on its anniversary. Santos said she brought the motion to display the banner to "increase awareness and acknowledge the names of women and children who were killed because of gender based violence."
On Jan. 29, Santos put forward another motion to initiate an education and awareness campaign to end domestic violence in partnership with community groups, the Region of Peel and Peel Regional Police.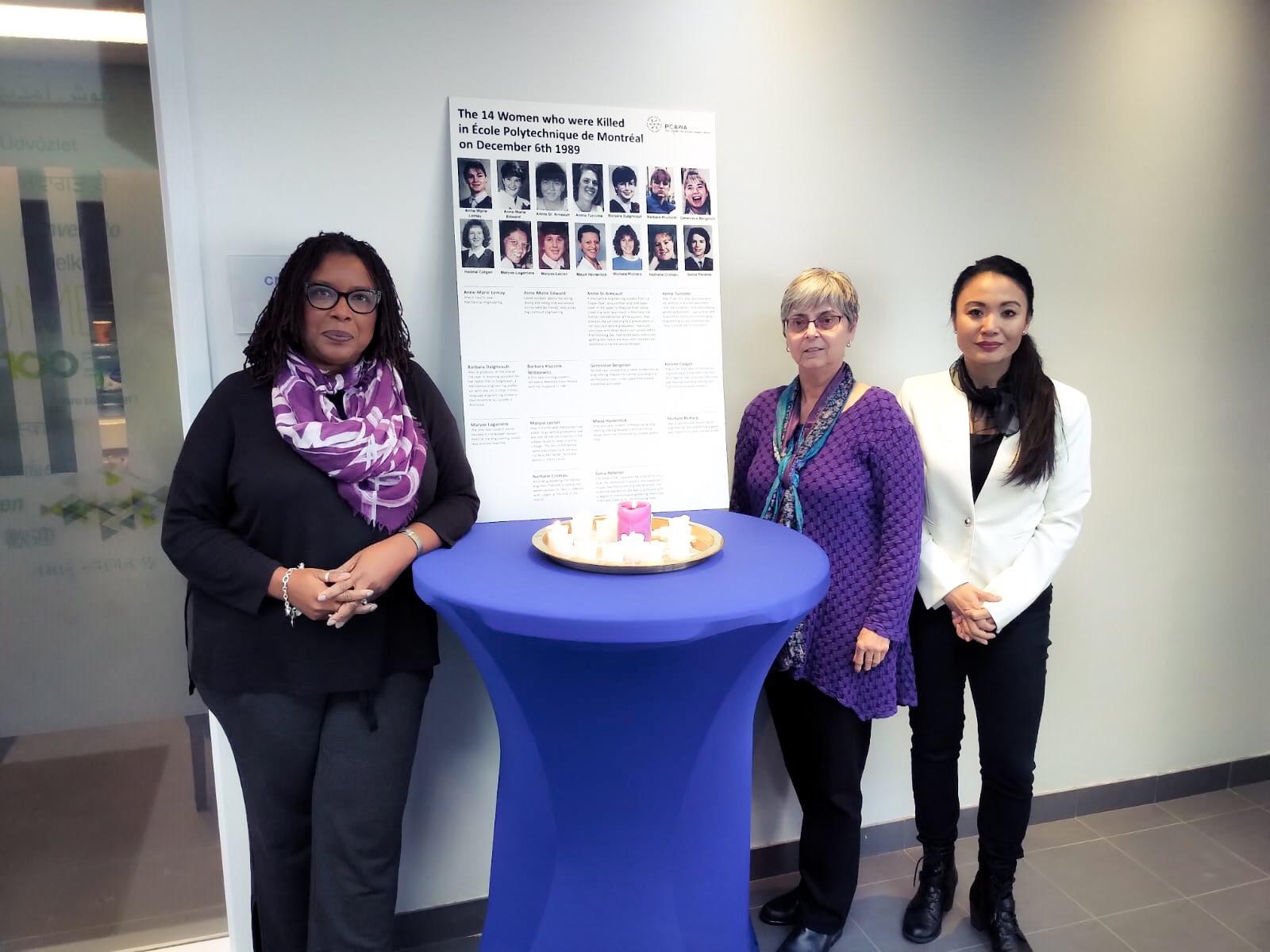 Regional Councillor Rowena Santos (right) stands with a banner commemorating the women who lost their lives to gender-based violence on the 30th anniversary of the 1989 Montreal Massacre
"One way to help deal with issues is to educate the public and bring forward awareness. The City of Brampton and the Region of Peel used to have advertising in women's washrooms on where to get support," Santos told The Pointer.
The United Nations Report 'Strategies for Confronting Domestic Violence: A Resource Manual' states education and public awareness are two strategies that can help stop domestic violence. Santos referenced the report when informing The Pointer about the city's proposed awareness campaign. "We're going to bring the motion to the region, get it passed through the region and get our communications departments to work with community organizations and get the right messaging," she said. But before the motion reaches that stage, it will have to get final approval from council on Feb. 5.
In an email, the city told The Pointer that program objectives may include "raising public awareness of domestic violence, increasing understanding of resources available and encouraging reporting."
Brampton is part of the Community Safety and Well-Being (CSWB) System Leadership Table, an initiative within the Region of Peel to create resources that address the root causes of issues faced by Peel residents. In the future, the initiative will establish a Family Violence Action Table that will analyze matters related to family and domestic violence, the city told The Pointer. Details around the initiative are not public yet as working groups still have to be formed to assist in the planning process. The working groups will be part of the region's final CSWB plan, which will "ensure that residents experience a greater sense of well-being, belonging and safety." CWSB is set to be implemented by Jan. 1, 2021, as mandated by the provincial government.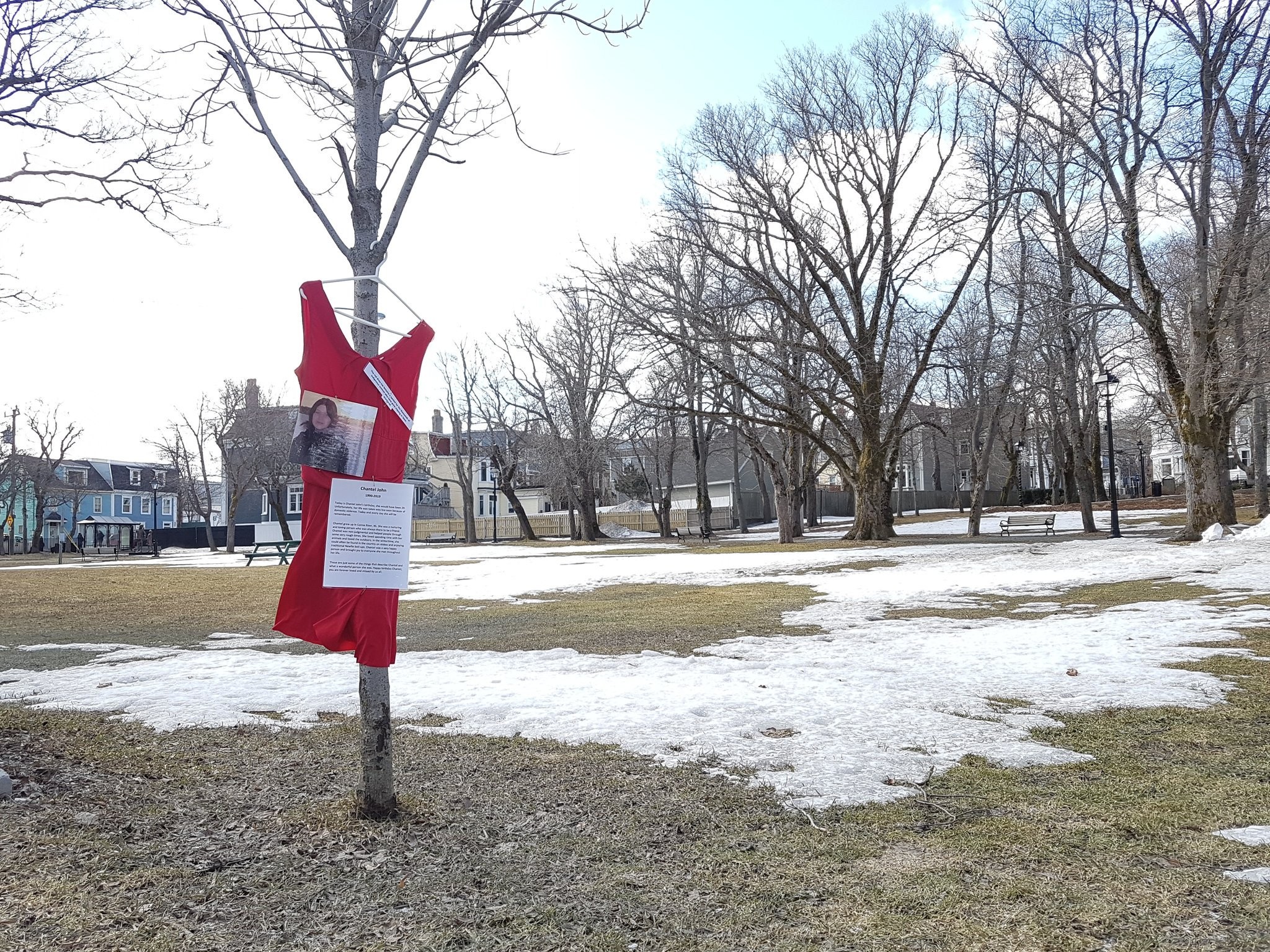 A red dress hangs on a tree outside Chantel's Place on March 29, 2019, a visual reminder of the staggering number of Canada's missing and murdered women
Presently, there are a number of supports residents can access, including Chantal's Place, a domestic abuse treatment center and the Peel Committee Against Women Abuse, a group of individuals representing various agencies in the Region of Peel. In addition to these supports, services are available for victims of violence through Peel Victim Services, which offers crisis intervention and housing support. In the Region of Peel, the Partner Assault Response (PAR) program — a support found across the province — is available to residents, which allows the family member of a victim who has committed a minor assault to partake in a 12-week PAR program instead of jail time. The PAR program also involves counselling and teaches skills for safe and supportive relationships.
Nneka MacGregor, co-founder and executive director of the Women's Centre for Social Justice (also known as WomenatthecentrE), an organization that aims to give a voice to women-identified survivors, told The Pointer three major areas must be looked at when developing educational campaigns around domestic violence. The first area examines the elimination of shame. "I think shame is what keeps them silent. Education and awareness around letting women know that it's not their fault [and] that they haven't done anything wrong," she said. The second area of focus is the creation of messaging that doesn't blame women for the violence they're experiencing. "Instead of trying to say to a woman 'why don't you leave,' focus on the partner, 'why does he abuse?' The third factor involves holding perpetrators accountable for their actions. In doing so, perpetrators become informed on the mistakes they have made, which teaches them not to repeat the same behaviour, MacGregor said.
MacGregor stresses that in order for domestic violence to be adequately addressed, the root of the problem, which is the normalization of violence against women, must be analyzed. While she believes short-term campaigns, such as informative posters on bus stops, can be extremely helpful, she suggests increased awareness methods, including teaching kids in schools what healthy relationships look like, are more impactful. "How do we as a society come together to help people understand this is not the way to live and not the way to treat each other and for society as a whole to understand there are things that can be done that are beyond posters."
MacGregor and Santos both want to end domestic violence. While rising numbers of domestic and intimate partner violence brings with them a shadow of doubt, it is not impossible to reach this goal. "It requires a political will[,] […] social awareness and activism… it requires survivors feeling supported and valued," MacGregor said.
The motion will be presented to city council by Santos for approval today (Feb. 5). After that, it needs approval from regional council to move forward. If approved by city and regional councils, the process to create the campaign will begin.
---
Email: [email protected]
Twitter: @nida_zafar
Tel: 416-890-7643
Submit a correction about this story