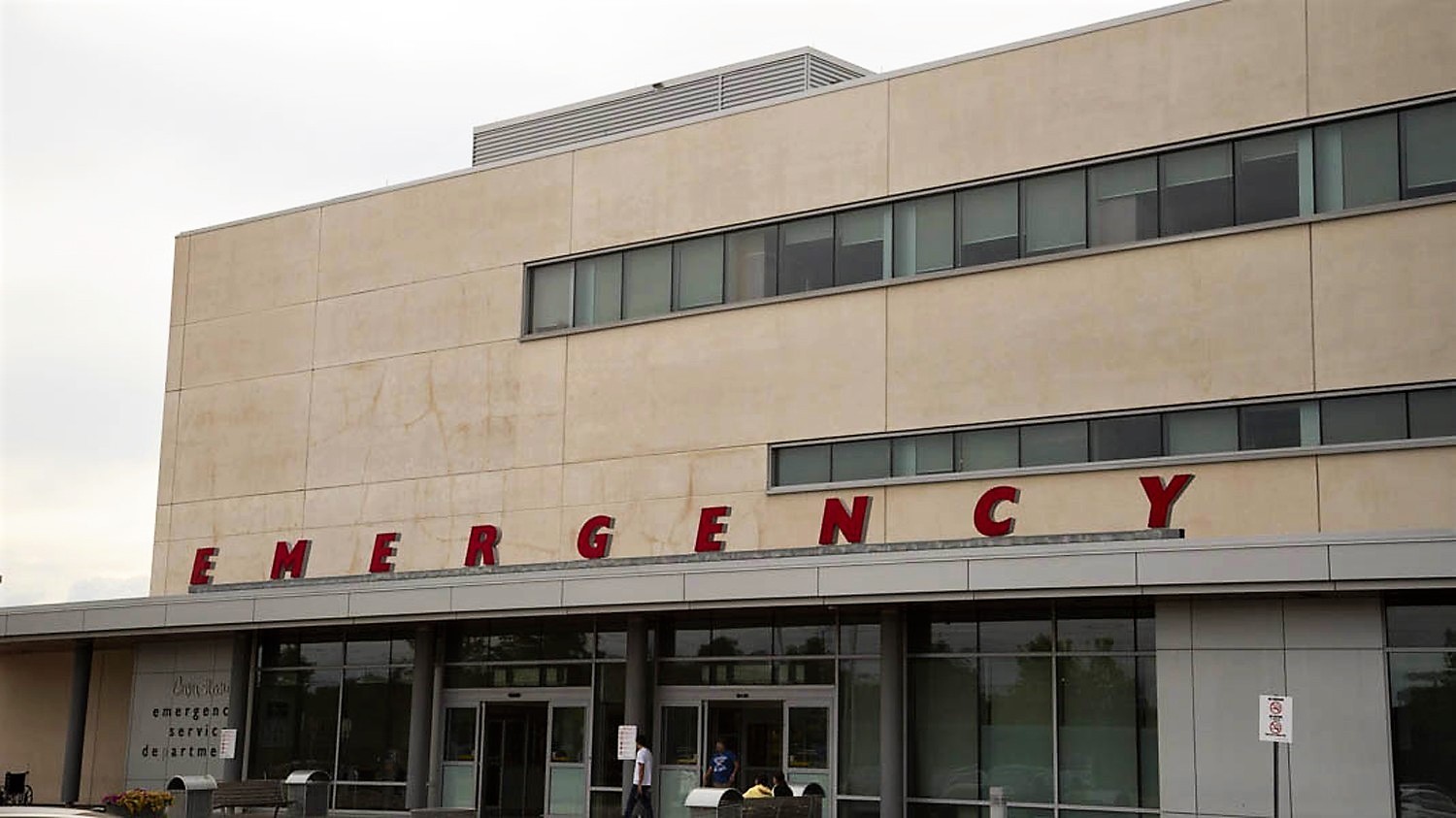 The Pointer file photos/charts Region of Peel
Brampton holds Peel back from stage-2 reopening as region's hospitals near capacity 
In Vaughan, this Friday is an auspicious day. Bars and restaurants that have been shuttered since March will finally fling open their doors, lay cutlery at newly erected patio tables and pour the first pints for excited patrons.
In Niagara, wineries crushed like the grapes they grow by the COVID-19 pandemic, are also stirring. In a matter of days they will be able to serve their traditional tasting menus. With physical distancing in place, tours and tourists will return.
Near Hamilton, where much of Anne with an E was shot, filming will be allowed from Friday. With new rules in place to keep crews safe, the country's valuable film and television industry will be able to gear up again.
Weddings and funerals will be attended by more people, shopping malls are allowed to reopen, drive-in entertainment is back and swimming pools have been given the go ahead too.
At least, that's the oh so welcome reality for everyone except those living in Peel, Toronto and Windsor-Essex.
For now, residents in Brampton will have to crack their beers from a fridge instead of having them poured at a bar, while Mississaugans will continue with food delivery or take out, instead of enjoying a bite and a beer under a sun-soaked patio.
"With the public health trends improving day by day across the province, I am hopeful all regions of Ontario will enter Stage 2 very soon," Ontario Premier Doug Ford said announcing the news on Monday. "But we must remain on our guard to prevent any potential surge or secondary wave by continuing to follow the sound advice of our public health officials."
Mississauga Mayor Bonnie Crombie and Brampton Mayor Patrick Brown both indicated they were in support of the decision to hold off. And on Tuesday, Crombie told her residents and local business owners the city is getting "close" to stage-2. But close only counts in horseshoes and hand grenades. Residents of the region are desperate and growing frustrated with the high local rates of infection that are keeping some 1.5 million people in limbo.
As the public health picture across Ontario has gradually improved and provincial averages see a fairly constant decline, Peel is still fighting an uphill battle. Case numbers have bounced up and down, while hospitals remain close to capacity.
If the pandemic was about pointing fingers, Mississauga would have some right to be disappointed with Brampton. Even as the southern half of the region has shown progress, its partner has not.


The daily case counts for Brampton, above, and Mississauga, below, show the city to the north has far surpassed its neighbour in daily infections over the last two weeks (note the different values in the left, vertical column)
Mississauga had outpaced its neighbour in total case counts and per capita infection rates through the middle phase of the pandemic, but screening in Brampton has been so inadequate, languishing at roughly one fifth the number of tests the province set as a target, through the end of May, that the country's ninth largest city has now become one of the worst hit by the novel coronavirus.
Data provided by Peel Public Health shows 52.5 percent of Peel's cases are in Brampton, with 44.8 percent in Mississauga. Just a month ago, Mississauga had almost ten percent more cases than its neighbour to the north. This suggests serious issues around the recent spread of the novel coronavirus in Brampton, which has less than half of the region's population. The 2016 census puts Brampton's population at 593,638 (now believed to be more than 650,000) and Mississauga's at 721,599 (closer to 780,000 now).
But it is in the less populous and the less dense of the two cities that COVID-19 abounds.
A case study over the past few days shows Mississauga exhibiting improving trends and Brampton going in the opposite direction. On June 10, Brampton announced 23 new cases and Mississauga saw 14. By June 14, Brampton had 24 new cases, where Mississauga had just ten. Yesterday, June 15, Brampton had 23 new cases, while Mississauga had just 5.
Putting a finger on exactly what Brampton is doing wrong is tough. The city has just one screening centre to serve its residents, numbering almost three quarters of a million people, limiting the capacity it has to test for the virus. Last week, it was the site of one of Ontario's first pop-up testing centres, designated to offer additional testing in areas that are particularly badly hit. And as of today, Tuesday, its new drive through testing location was opened by William Osler, in cooperation with the City of Brampton at its South Fletcher's Sportsplex located at McLaughlin Road and Ray Lawson Blvd. This location replaces the previous testing facility at Peel Memorial.
It was also revealed at the start of the month that William Osler, the hospital system responsible for testing in Brampton, lost track of almost 500 positive COVID-19 tests. The results of the tests were available to patients via an online portal, but were not disclosed to public health and were not traced as a result. The majority of lost cases were in Peel, Toronto and York.
Other than the woeful testing rates in the city, high household density has also been blamed for high infection levels (read more here).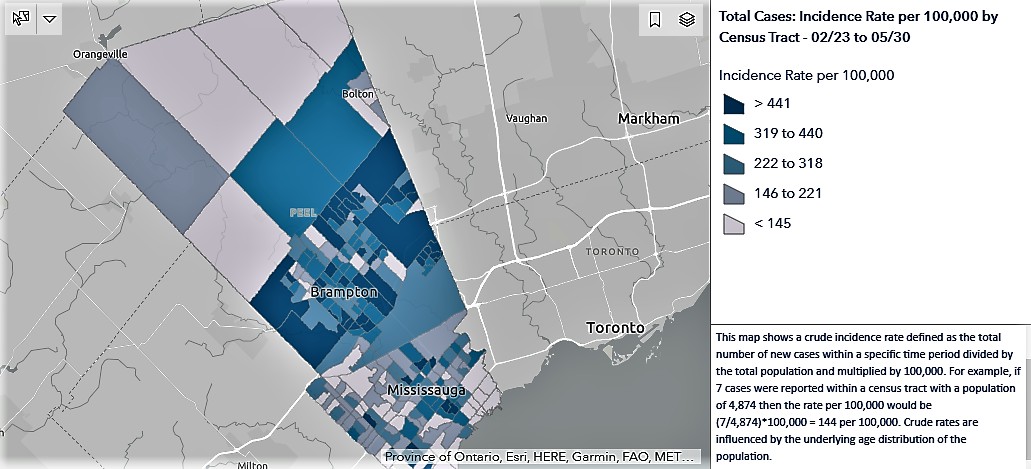 A map of Peel showing infection rates to the end of May indicates large parts of Brampton have seen high numbers of cases
Speaking to The Pointer previously, Dr Isaac Bogoch, who specializes in testing and tracing at the University of Toronto, said he did not rule out a link between individuals who were not traced as a result of the miscommunication and a possible increased spread of the virus.
"There certainly might be something to the geographic location of where hard hit areas are and this issue with communication and follow-up on close contacts," he said.
Regardless of where the increase in cases has come from, it is impacting Peel's healthcare.
Between them, Brampton and Mississauga have three full service hospitals: Brampton Civic, Mississauga Hospital and Credit Valley Hospital. Through the pandemic, Civic and Credit Valley have struggled with high patient volumes and flirted with capacity.
Using data obtained from Critical Care Services Ontario (CCSO) at the beginning of April, The Pointer reported that Credit Valley in Mississauga had run out of critical care beds and that Brampton Civic was experiencing negative ventilator capacity, with more patients in need of breathing assistance than the number of available mechanical ventilation units.
Within a few days of the alarming numbers, all three full-service hospitals in Brampton and Mississauga received reinforcements from the province and were able to expand their capacity. This gave them ample breathing room with expanded ICU and ventilator capacity over the following weeks comfortably meeting the demand.
During May, data from CCSO again showed Civic was struggling. On May 18, Brampton's lone full service hospital was at 93 percent of its original critical care capacity and 83 percent of its expanded capabilities.
According to CCSO, Civic started the pandemic with a baseline of 46 critical care beds, 18 of which had ventilators. In response to COVID-19, the hospital added 24 critical care beds (all equipped with ventilators).
Asked for an update by The Pointer, the hospital did not provide specifics.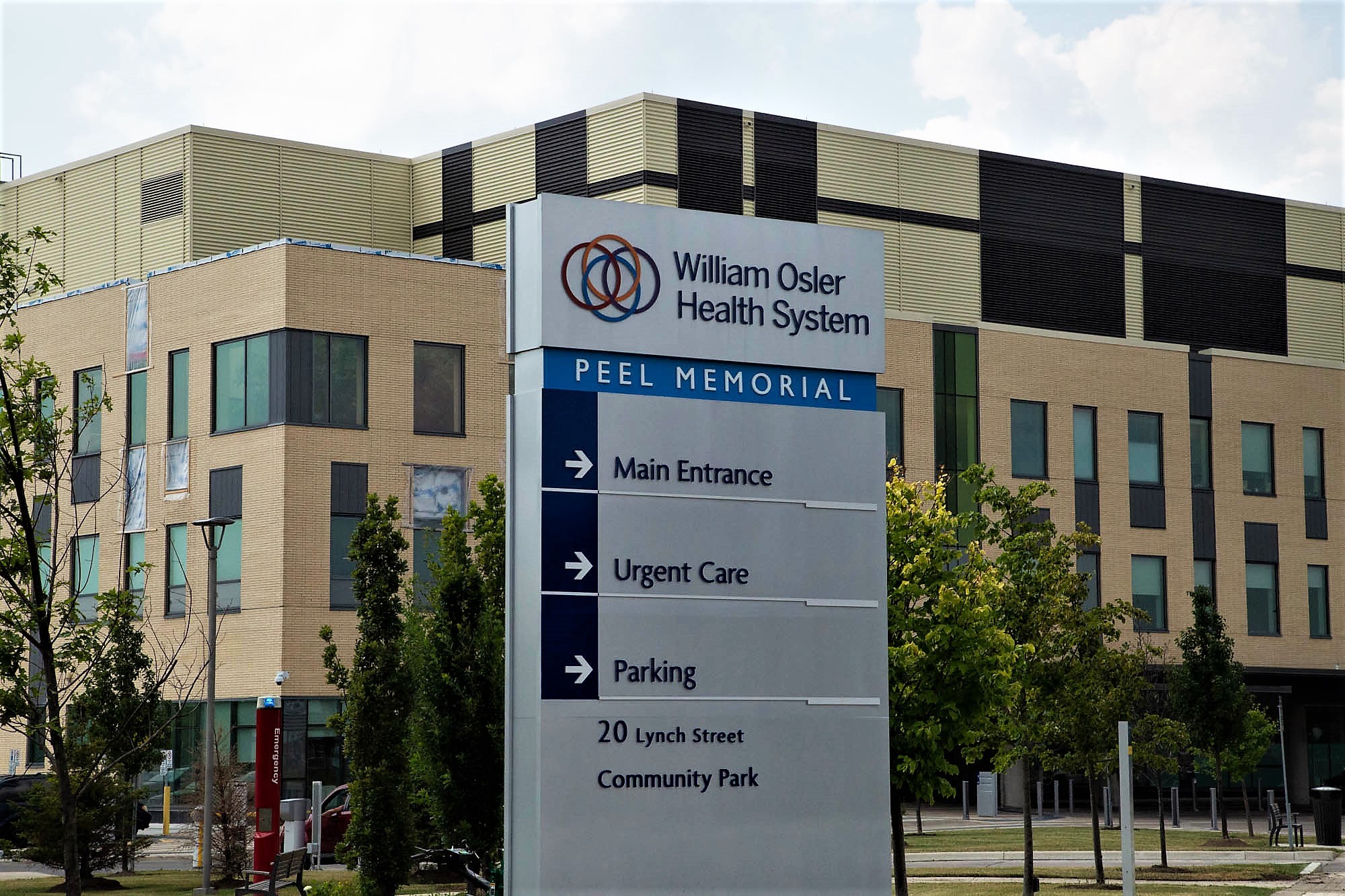 "The overall bed census at William Osler Health System's (Osler) hospitals fluctuates daily depending on the number of patients who require admission," Donna Harris, a member of the hospital system's communications team, said. "Osler has a phased approach to manage capacity for its Intensive Care/Critical Care beds and can increase capacity in alignment with its pandemic plan to meet the needs of patients. Additionally, Osler — like other hospitals in the province — has access to CritiCall Ontario, a provincial agency which provides timely access to critical care services should the need for greater capacity ever arise."
"Brampton Civic is near its baseline capacity for the use of Intensive Care/Critical Care beds but is below its total space capacity; while the hospital's ventilator use is below baseline capacity. Brampton Civic is also currently below capacity in its acute care units."
The description sounds similar to the figures obtained on May 18.
In Mississauga, Trillium Health Partners, which runs the city's hospitals, was more forthcoming. On June 10, 97 percent of Credit Valley Hospital's acute care beds were filled and 80 percent of its ICU, while 88 percent of Mississauga Hospital's acute care beds were occupied on the same day and 80 percent of its ICU.
In total, 75 of the system's 116 ventilators were still available on June 10.
"Early in the pandemic, Trillium Health Partners (THP) took steps to build in-patient capacity in the event that we saw a surge of COVID-19 patients," a spokesperson told The Pointer.
As cases continue to spread in Mississauga and Brampton, with the region held back from the next phase of reopening, stress on local hospitals could increase as we see the lag of cases from infections reported over the last two weeks.
---
Email: [email protected]
Twitter: @isaaccallan
Tel: 647 561-4879
---
COVID-19 is impacting all Canadians. At a time when vital public information is needed by everyone, The Pointer has taken down our paywall on all stories relating to the pandemic to ensure every resident of Brampton and Mississauga has access to the facts. For those who are able, we encourage you to consider a subscription. This will help us report on important public interest issues the community needs to know about now more than ever. You can register for a 30-day free trial HERE. Thereafter, The Pointer will charge $10 a month and you can cancel any time right on the website. Thank you.
Submit a correction about this story