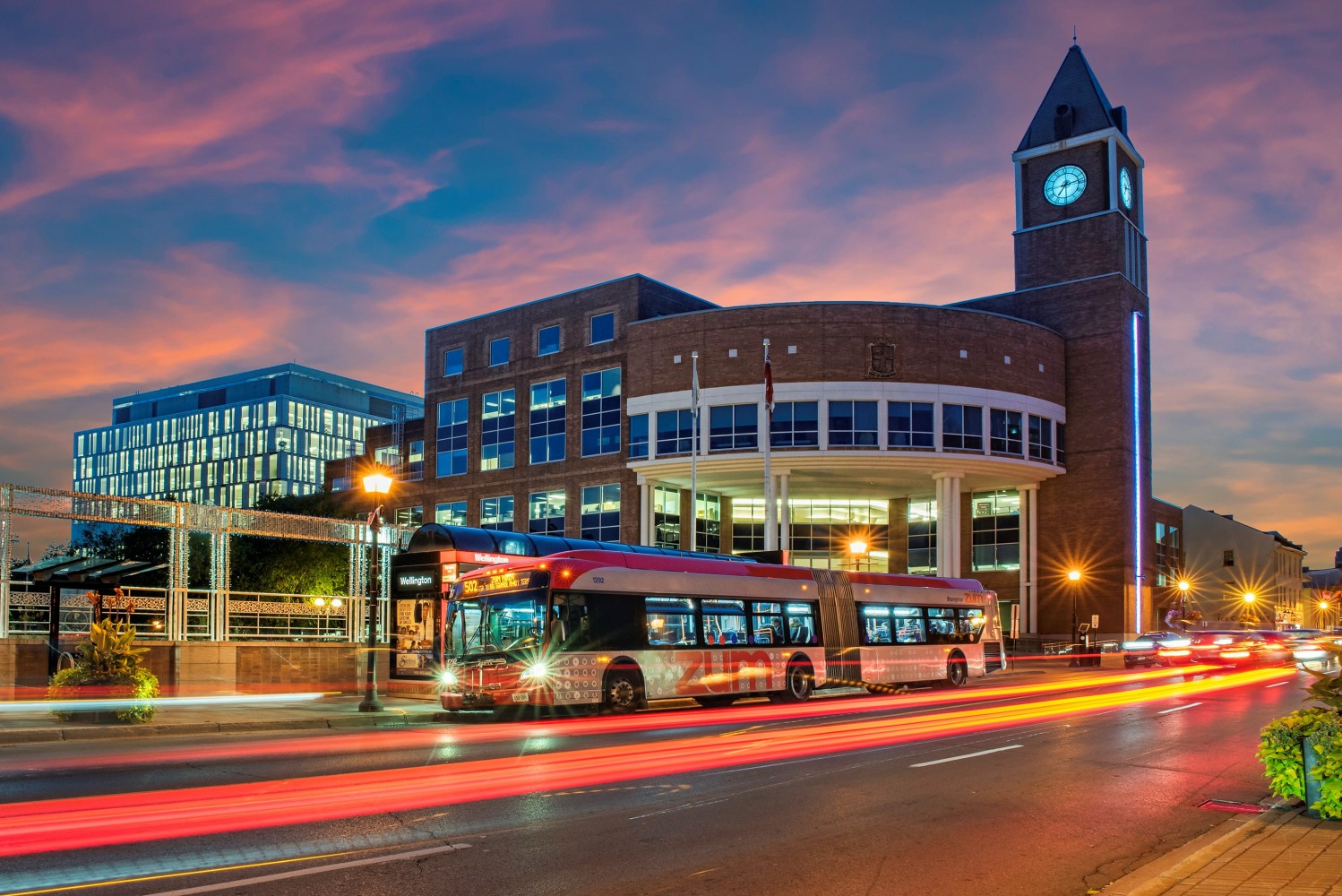 Photos from The Pointer file/City of Brampton/City of Mississauga
Mississauga MiWay users will ride for free as Peel's public transit agencies respond to COVID-19 hit
(Editorial note: As of 4:10pm on Mar. 20, Brampton Transit has announced transit will be free, with customers entering through the rear door. More to follow soon.)
Mississauga's transit service, MiWay, has announced it will be operating free transit in the city on a reduced schedule, with Brampton Transit (BT) considering a similar move.
Effective Mar. 21, all customers will board buses through the rear entrance in Mississauga, while drivers will also be allowed to wear masks. In Brampton, details are yet to be revealed in full, but the city is considering a 50 percent service reduction.
The move has unique ramifications in Peel.
Before people started working from home and practicing social distancing, the majority of residents in Brampton and Mississauga got around by car. Both cities are built around fast, wide roads that encourage driving and are spread out enough that travel via transit can be arduous.
According to the 2016 census, roughly 78 percent of Mississauga residents got to work by car, while 83 percent of Bramptonians did the same.
As a result, transit can often be a lower priority in Peel. In Brampton, for example, the first draft of the city's 2020 budget suggested no additional transit hours to support a zero percent tax increase. Eventually, after repeated calls from members of the public, the city extended Züm transit service to Toronto Pearson International Airport with the hiring of 12 full-time drivers for the route, while 18 full-time drivers were added to the rest of the service — down from the 81 that had been projected for this year in the 2019 budget. Although the city walked back its decision not to increase transit hours, it's telling that the option was initially being pushed to keep taxes down.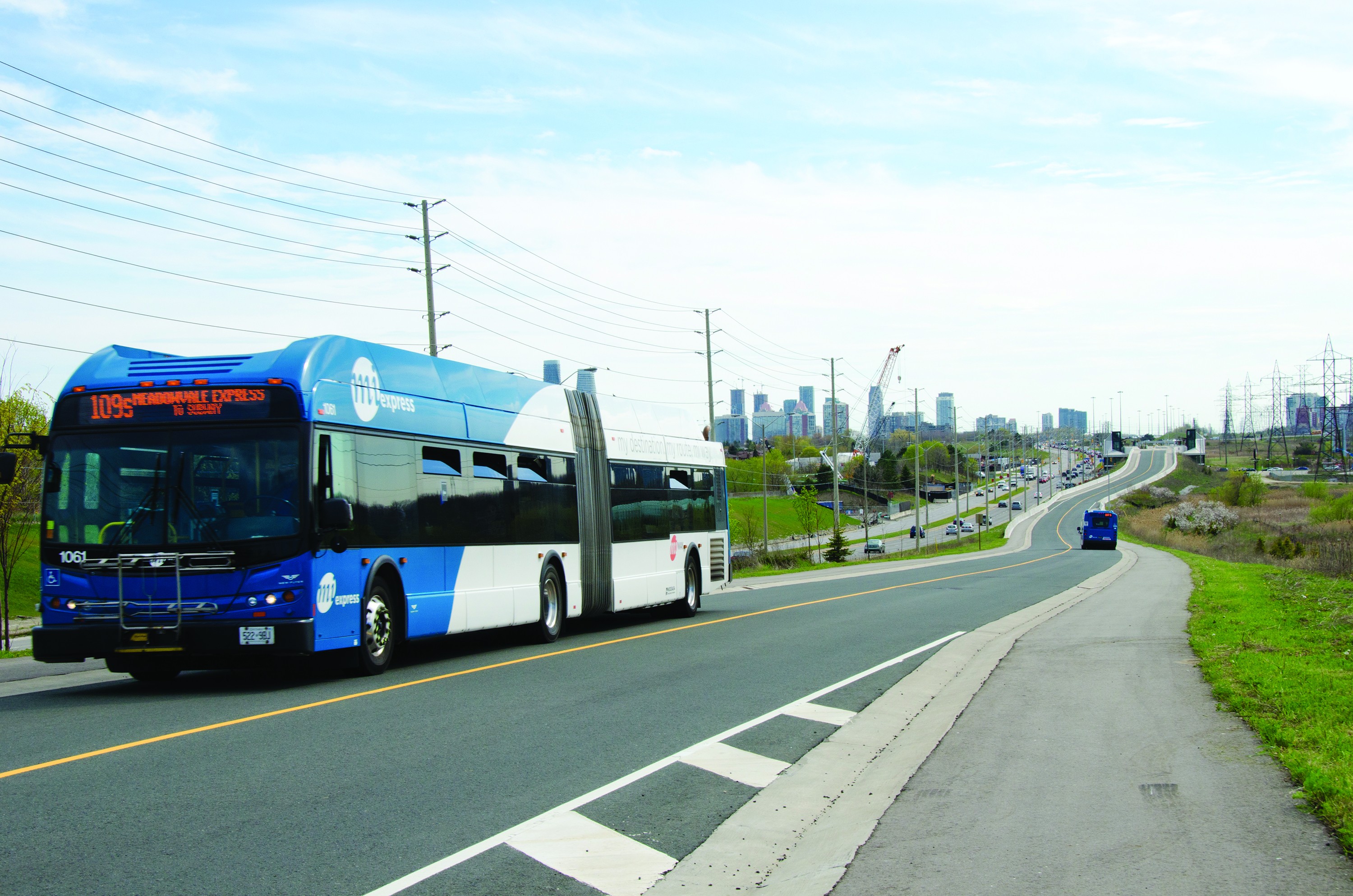 In Mississauga, the city's budget added 32,600 service hours this year. Yet, when councillors asked what could be done to lower the tax increase, additional bus service hours were placed on the chopping block. In the end, both cities chose not to follow that path.
Now, COVID-19 has all but shut the two cities down, leading to dramatic drops in ridership.
Even before Premier Doug Ford declared a provincial state of emergency on Tuesday, Mississauga Mayor Bonnie Crombie and her Brampton counterpart Patrick Brown had announced the closure of bars and restaurants. They also closed in-person city services and backed government calls asking people to work from home. The radical lifestyle changes directed by public health officials and encouraged by elected leaders to reduce the spread of COVID-19 have resulted in significantly fewer people on buses in Brampton and Mississauga.
According to Mississauga budget documents, 47 percent of MiWay's operating costs were covered by two revenue streams in 2018, the last year for which accurate data is available. These Revenues come from a combination of the fare box and advertising, with passengers who pay for Presto cards funding a significant share of costs. In Brampton, 51 percent of transit costs were covered by revenue last year, so half the total cost of operating the service was covered by passengers and advertisers.
As COVID-19 impacts public safety and ridership, the number of passengers will likely continue to decline. Today, Mississauga joined a growing list of municipalities that have made their transit free.
On Wednesday, Hamilton made the same move in order to keep customers and drivers separated.
"HSR customers are being asked to board buses from the rear doors only and to keep a fair distance from the bus operators and other customers," the city stated in a press release, with the same measure adopted in Halifax and Guelph on free transit measures. "As a result, HSR will not be collecting fares until further notice."
In Brampton, such measures have yet to be announced. The city offered The Pointer short responses to questions about service, ridership and revenue in a constantly changing situation.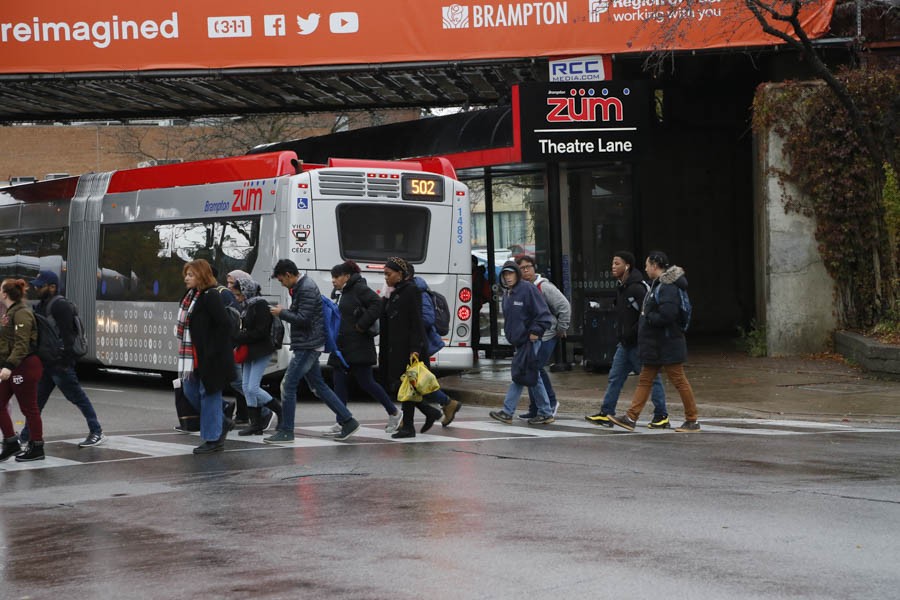 "At this time, Brampton Transit [BT] is operating as scheduled and our terminals are open," a spokesperson for the city said. "We are looking at reducing service in order to best serve our community safely. We will keep the public updated on any changes that are made."
In a tweet this week, Mayor Brown, currently in self-isolation, implied the decision related to advice from the union that represents transit operators. "Productive conference call with @BramptonTransit management & @ATULocal1573 [union]," Brown tweeted. "Our transit operators are on the front line of service delivery & face a greater #COVID19 risk. We will be reducing service levels & taking measures to protect our operators."
Speaking on Wednesday night during a tele-town hall, Brown added that the city would soon announce "service levels for transit are going to be reduced by 50 percent," while the number of passengers allowed on a bus may also be reduced.
The decision comes a week after the same union, which represents operators at BT and MiWay, criticized Mississauga's transit service for not offering two weeks of paid leave to staff who may have been exposed to COVID-19 to allow them to self-isolate.
As recently as Tuesday, Mississauga said there were no plans to reduce service. "MiWay is operating on a regular schedule," a spokesperson told The Pointer on Mar. 17. "We are taking direction from the province and various health organizations and applying this information to our policies and procedures accordingly. This situation is very fluid and is ever evolving. We are following various directives and recommendations from Peel Public Health and Health Canada and part of the work ahead will also be reviewing our budget."
With almost 50 percent of its revenue from the fare box, it's unclear how much today's decision to stop collecting fares will hurt city coffers. A series of routes are on the chopping block in the short term, including express weekend service. You can read the full list of changes here.
In both cities, key groups rely on regular transit. In Mississauga, at least 63,000 of the city's dwelling units are apartments instead of single-family homes, dwellings that can often mean residents use transit instead of the car. In Brampton, only 17,000 are apartments and the use of the car is more prevalent, but the city's transit service has flourished in recent years. In 2017, ridership grew 18 percent and 14 percent in 2018, tapering off to just 2 percent in 2019.
Transit in Mississauga and Brampton, where it is longer and more complicated than driving, serves those who can't afford to drive. For those working in grocery stores and malls remaining open in Peel, reduced transit hours may be a worry, restricting movement during a time of crisis. A reduction in transit regularity due to lower ridership is not an illogical step financially, but could cause problems for the residents who rely on it in Peel.
Anu Radha Verma, the founder of QTBIPOC sauga (standing for queer, trans, Black, Indigenous, people of colour from across Peel) knows many people for whom transit is the key to mobility. She told The Pointer that "since not all workplaces are shut down" people still need to use public transit to get around. "There are a lot of folks who use transit to get to work or school," she said. "Because of the shut down, a lot of folks are staying in — for those who are still working, there is no choice."
"We need free transit in both Mississauga and Brampton," she added.
---
Email: [email protected]
Twitter: @isaaccallan
Tel: 647-561-4879
Submit a correction about this story