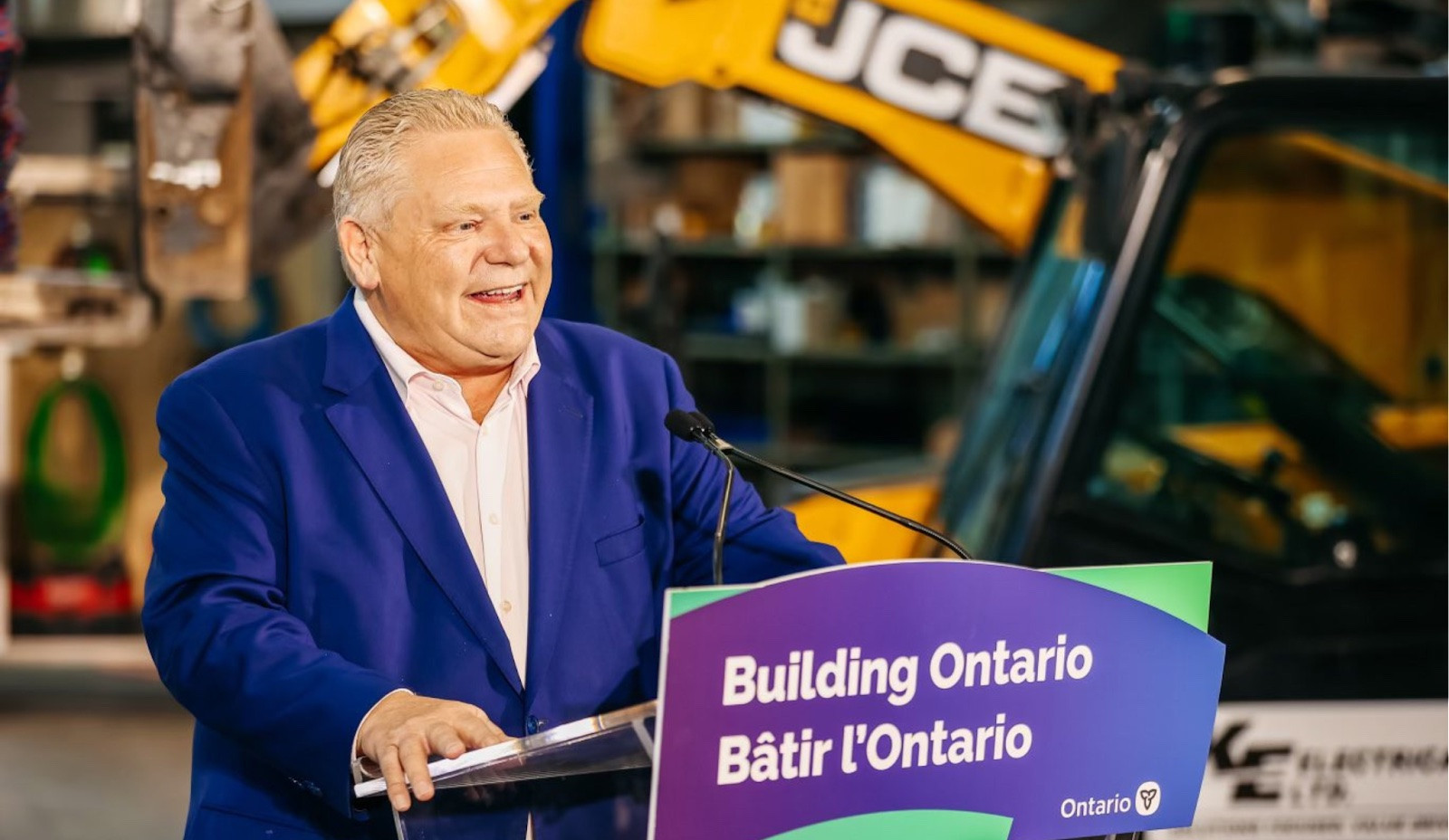 Feature Image Government of Ontario
Leaked letter to mayors suggests PCs learned little from Greenbelt & boundary expansion scandals
Ontario's new Minister of Municipal Affairs and Housing, Paul Calandra, has repeatedly promised to move the ministry in another direction. Many staff and elected officials at the heart of the Greenbelt scandal, questionable urban boundary expansions and the alarming use of Minister's Zoning Orders are under the microscope of an RCMP investigation or intense public scrutiny.
But since the resignation of his embattled predecessor, Steve Clark, Calandra has failed to take decisive action to regain the trust of Ontarians shaken by the secretive schemes and disturbing behaviour of government employees who worked behind the scenes with powerful developers.
A leaked letter obtained by Environmental Defence, written by Calandra, raises doubts about Ford's government and its recent commitments to transparency, responsible land use and respect for local planning authority.
"To ensure the province receives the necessary feedback within the 45-day window, we will accept changes directly from heads of council of single and lower tier municipalities, including to official plans that were originally submitted with council endorsements from upper tier municipalities," the letter addressed to mayors details. "Heads of council may choose to seek a council endorsement of their proposed changes, but that is not required."
The Pointer was not able to independently verify the validity of the letter. A copy is available through Environmental Defence.
Dated November 2, the letter, which includes Calandra's signature, instructs towns and cities that mayors can unilaterally propose land use blueprints they wish to pursue, without any public consideration or council vote, effectively placing guidance for future development of an entire municipality in the hands of one person. Regional governments, ultimately responsible for broad planning decisions, are also cut out from the recommendation process Calandra pushes in the letter to mayors.
It also directs mayors to provide support for the PC government's aggressive housing policy, aimed at creating 1.5 million new homes in a little more than seven years.
The letter made public by Environmental Defence, which did not disclose how it was obtained, is the latest piece of evidence that the PCs are not living up to their public promises to clean up the troubled housing file.
"There were clear flaws in the process that led to today's report," former housing minister Clark said following the late August release of the Integrity Commissioner investigation into the Greenbelt scandal which found the former cabinet minister guilty of breaching ethics rules.
A month later, Premier Doug Ford introduced legislation to return the 15 parcels of land initially slated for removal back into the Greenbelt. Available to the media in late September in Niagara, the Premier stated the Greenbelt swap, to force development in the protected greenspace, was a "wrong" decision.
"It was a mistake to open the Greenbelt. It was a mistake to establish a process that moved too fast. This process, it left too much room for some people to benefit over others. It caused people to question our motives," he said. "As a first step to earn back your trust, I'll be reversing the changes we made and won't make any changes to the Greenbelt in the future."
By admitting its "mistakes" Ford and his government are trying to win back support after his approval rating plummeted following the scandals.
Legislation was introduced to reverse changes made to the Greenbelt Plan. But critics have pointed out that Ford immediately stepped up his messaging around the GTA West Corridor and Bradford Bypass, two highway projects that would open up development in the Greenbelt.

Minister of Municipal Affairs and Housing Paul Calandra has promised full transparency in all future housing decisions.
(Government of Ontario)
On October 23, the PCs announced they would be scaling back controversial changes made to some municipalities' urban boundaries in an effort to build more homes across the province. It was revealed, through freedom of information documents obtained by Environmental Defence and Ecojustice, that the PCs pressured municipalities to expand their urban boundaries which would have created more sprawl for developers, preferred by the PCs, to reap profits from. Calandra claimed the changes made to 12 upper and lower tier municipalities across the province "failed" to meet his test and that there was "too much involvement from the (previous) minister's office". A series of documents released from the FOI request last week showed that various government ministries were involved in the forced expansion of municipal urban boundaries.
Minister Calandra opened a 45-day consultation window for municipalities, organizations and members of the public to comment on the plans and said he will introduce legislation to scale back these decisions within that time frame. This feedback window is intended for municipalities to show how and where they would like to grow, without any interference by the PCs.
But the leaked letter from Calandra, sent last week to Ontario mayors, raises questions about his sincerity. He is clearly interfering in the process, instructing mayors to support PC policies, while cutting out the public, councillors and regional governments. Mayors were told to provide comments and suggestions directly to the Ministry without consulting with their local or regional councils or members of the public, raising doubts about what is supposed to be a transparent process.
Both Premier Ford and former minister Clark admitted, after they were caught, that the Greenbelt land swaps happened "too fast" and a report from former auditor general Bonnie Lysyk detailed that Ministry staff and the Greenbelt Project Team were given an extremely tight deadline.
Now, despite claiming to have learned from their mistakes, the PCs are once again using a 45-day consultation window as a way to circumvent regional processes.
"They're trying to bring mayors, especially mayors of lower tier municipalities who don't really have any involvement in planning, into a corrupt process," Tim Gray, executive director of Environmental Defence, told The Pointer. "[The government] themselves have said that this isn't done properly, there was clear evidence of political involvement in overriding the plans at a regional level. And now they're inviting mayors to help them validate that process."
In April 2022, the Region of Peel voted to expand its urban boundary, largely into untouched greenspace and farmland, by 11,000 acres under pressure from the PCs.
(Alexis Wright/The Pointer)
Boundary expansions are supposed to be approved under the authority of single-tier or upper tier municipalities. For example, the Region of Peel, through its Regional Planning and Growth Committee, supported the expansion of its urban boundary by 11,000 acres into farmland and vital greenspace, with a final vote in favour cast by all members of Regional Council except for Annette Groves, who was a councillor at the time and is now Mayor of Caledon (she still sits on Peel's Council). These decisions are the responsibility of upper-tier municipal governments such as Peel Region, which determines where growth should go and how to support it with necessary infrastructure.
Since the announcement that the forced boundary expansions could be reversed, questions have arisen over who will lead Peel to make a decision based on expert planning research and the will of the public, not the PCs and the developers who influenced them. Mississauga Mayor Bonnie Crombie, who is currently on leave running for the Ontario Liberal leadership (she faced public backlash for supporting some development in the Greenbelt, a stance she later reversed) previously told The Pointer it should be on Caledon council members to bring forward a motion to amend the expanded urban boundary as most of the land newly designated for development is within the Town's borders. Brampton Mayor Patrick Brown has not responded to questions about a possible reversal.
Mayor Groves, who was the sole vote against the initial decision to expand Peel's urban boundary, has also not committed to any sort of reversal. She previously told The Pointer the Town is reviewing its Official Plan and that decisions will be made to support "community vitality and enhance transit".
The reluctancy to reverse the decision is making waves across the Region as local activists and organizations continue to show that more land is not needed to house future growth. In September, Peel's Community Climate Council held its annual climate strike where residents came together in support of sustainable actions across the region. Stopping Greenbelt carve outs, protection of conservation authorities and preventing Highway 413 were the main focus. Organizations have also delegated to councils in Peel — including in Mississauga which turned down the opportunity to create four-dwelling housing units across the City — about the need for greater density.
While the letter by Calandra to mayors does state that municipalities are encouraged "to look for opportunities to systematically increase density and align this density with existing and planned transit," organizations including Environmental Defence question the PC government's commitment to smart growth.
This is not the first time the PC government has used the claim of "density and planned transit" while actually pushing sprawl.
Even when the PCs introduced the legislation in November 2022 — which would lead to multiple investigations, the resignation of two cabinet ministers and senior staff, and a criminal probe — to remove 15 parcels of land from the Greenbelt, initial criteria for the removals required lands be adjacent to an urban area in order to support associated infrastructure, and eliminate potential for "swiss cheese" housing, meaning sprawl in the middle of nowhere, which is what was being pushed behind the scenes.
"I would have expected that after what [the government has] been through and the revelations that have been in the media that they would be looking to change course," Gray said. "But I think this letter makes it clear that they are not. They are continuing to look for ways to paper over a fundamentally flawed approach to planning for the future of southern Ontario."

Former regional councillor and current Caledon Mayor Annette Groves (centre) was the only elected official to vote against Peel's urban boundary expansion last year, but has not committed to reversing the decision which was heavily influenced by the PC government and developers.
(The Pointer files)
The responsibility is now left with municipalities. Calandra wants mayors to take over the direction, but Gray is not concerned that municipalities will fall for the tactic.
"I can't imagine that any mayor would want to be anywhere near this train wreck," he said. "I think that once their councils, once the people who live in their municipality learn of this, that there'll be hearing loud and clear from everyone to stay far, far away from this mess."
The Ministry of Municipal Affairs and Housing did not respond to The Pointer's request for comment on the letter.
---
Email: [email protected]
Twitter: @rachelnadia_
---
At a time when vital public information is needed by everyone, The Pointer has taken down our paywall on all stories to ensure every resident of Brampton, Mississauga and Niagara has access to the facts. For those who are able, we encourage you to consider a subscription. This will help us report on important public interest issues the community needs to know about now more than ever. You can register for a 30-day free trial HERE. Thereafter, The Pointer will charge $10 a month and you can cancel any time right on the website. Thank you
Submit a correction about this story