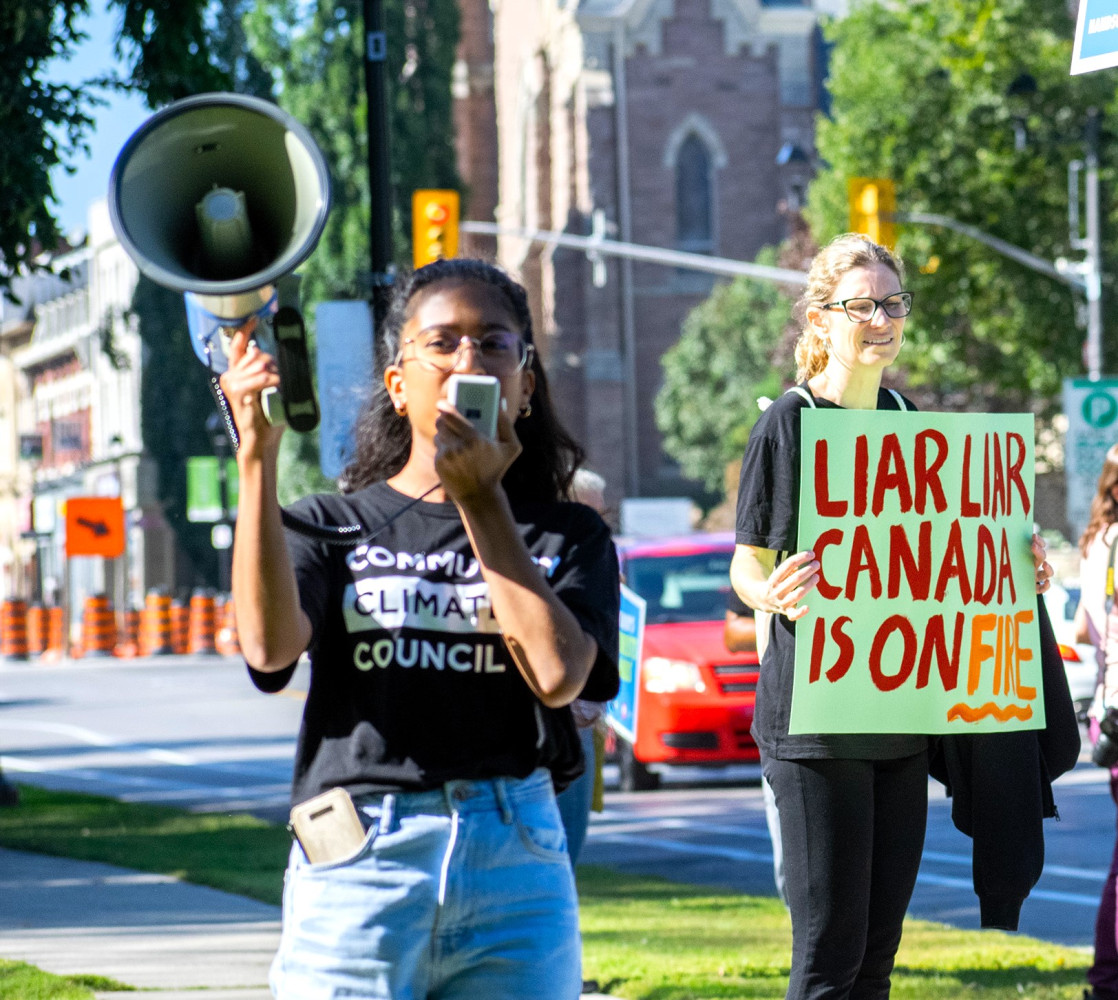 Feature Image Alexis Wright/The Pointer
Youth climate strikes broaden the tent for activism as right or left makes little difference to a generation fighting for collective protection
Sophia Mathur was born with some fight in her soul. She recalls sitting at the dinner table as a young child, fork in hand, listening to her parents discuss rising temperatures, the reality of acid rain and other threats to Wolf Lake Forest Reserve — North America's largest remaining old growth red pine forest.
At seven she went to her first climate demonstration. Her mother, a lobbyist, would take her young daughter to events, surrounded by people who seemed to see the world the way Mathur did. They were part of a fringe, at the time.
"I wasn't understanding half the things being said, but they started to pay attention to me as someone that climate change affected."
Early interactions brought out her own motivations to be attuned to her everyday life—the things that coloured her world. She remembers drawing pictures of animals that made her feel good, in ways hard to describe (you just know they make you feel good). Each stroke of the pencil crayon, recreating their shapes and forms, made her think about ways to protect these things that make us feel closer to our best self.
She continued walking with her mother.
Mathur soon decided she wanted to pursue her own actions. She went to local restaurants and offered alternatives to plastic cutlery, and began thinking of seemingly simple transitions that collectively could save us from the future her mother lobbied tirelessly to avoid.
She joined the global group Friday's For Future. Following the path of international climate activists like Greta Thunberg, Mathur organized the first climate strike in Canada, right in her hometown of Sudbury.
Sophia Mathur grew up in an environment that emphasized living sustainably and she works to spread the same values to others, including her participation in a landmark court case against the Ontario government.
(Shay Markowitz/Ecojustice)
It wasn't just the influence of her parents that imprinted on Mathur a sense of responsibility to protect the environment. She was born into a community actively trying to evolve from a history of environmental degradation.
For almost a century Sudbury was blanketed in sulfur dioxide from smelting nickel ore, the community's main industry. The effects of the pollution decimated the environment. But in the 1980s a team of scientists, local advocates, mining companies and municipal leaders decided that regardless of the extent of the damage to the local environment, it was worth trying to fix.
Youth across Canada are in the same boat. Faced with a situation largely created by older generations, including many who still live lives devoid of any sense of responsibility about the consequences of their lifestyle, people who feel the way Mathur does are finding each other, even if they disagree about issues on many other levels.
A new poll by Leger concluded that 72 percent of Canadians are either "worried" or "very worried" about climate change. That number is higher for women and young people. But the movement being accelerated by a sense of not just fear over what could be lost, but of exhilaration about preserving all that makes them feel good, is vastly different from the climate change movement of previous generations.
The sustainability movement that grew out of the hyper-consumption of the '80s and '90s has often been tied to left wing politics. Conservationists and environmental activists of the time had their sights set on the James Bay project in Quebec which impacted critical watersheds and the Mackenzie Valley Pipeline in the Yukon and Northwest Territories. Conservative politicians championed their economic benefits.
The Canadian and Ontario Green Parties emerged as this obsessive focus on energy production to sustain exponential increases in consumption of goods, services and experiences was all driven by huge corporate profits, which in turn made even more people wealthy enough to join this circular party.
The Green Party of Canada started to gain momentum throughout the '90s and by 2004, there was a Green Party candidate for every federal riding. In 2011, party leader Elizabeth May was the first Green Party member to be elected to the House of Commons. Similarly, in the Ontario legislature, Green Party Leader Mike Schreiner won a seat less than a decade later.
Meanwhile, climate change continued. And similar to the effect hyper-consumption had on the need to fire-up increasingly money-dependent lifestyles, the psychology shaped by our collective witnessing of the subsequent destruction to our planet, is shaping new organizing principles behind this generation's reaction.
The inescapable reality of anthropogenic climate change destroying entire forests, causing chaotic weather events, altering the makeup of our oceans and erasing so much of what makes us feel good, has begun to break down political divides, at least among many young people.
Data from a 2021 poll conducted by the Angus Reid Institute found 28 percent of federal Conservative voters believe climate change is not a threat at all, compared to one percent of voters from all other parties. But there is evidence to suggest these voters reflect the current Conservative leaders of the national and provincial party — affluent, white and male (more so than the number of women who share such views).
But among youth, this narrative is changing.
The Pew Research Centre has studied the adherence to environmental values by right wing Republicans (conservatives) in the United States and found there is a growing divide between age cohorts. Researchers posit that Millennials and Gen Zs have been living through the most intense consequences of climate change since a very young age, and adopting a more sustainable outlook as part of their preservation, even if it is a somewhat self-interested motivation, does not challenge long-held beliefs that might override less important values.
We are, afterall, talking about survival. Political affiliation increasingly takes a back seat.
In an age dominated by the politics of division, political schemers exploiting us from both sides of the aisle might become irrelevant to generations forced to work together for their collective protection.
The poll found that younger Conservative voters (between the ages of 18 and 42) were more likely than older voters to be willing to prioritize non-fossil fuel energy sources. While 64 percent of Republicans over 65 oppose the United States becoming carbon neutral, 67 percent of Republicans under 30 support doing so. The study also found Conservatives in this age range are increasingly becoming displeased with their right-leaning elected officials on climate change policies.
In Canada, the fight for a more sustainable future also blurs political boundaries. Regardless of one's political views, young people across the nation are unwilling to give any government a pass.
Strikes took place across the country last week demanding both the Liberal federal government and the PC provincial government solidify stronger action on climate change.
(Alexis Wright)
Mathur is the title character in the Mathur case, which brings forward a lawsuit against the Ontario PC government for the weakening of emissions reductions legislation. Seven youth plaintiffs, represented by national environmental litigation organization Ecojustice, brought the Ford government under scrutiny for the Cap and Trade Cancellation Act. The Act legislates a reduction of emissions; however, the targets are significantly less aggressive than previous Ontario legislation and it does not meet standards set by most jurisdictions around the world.
In 2016, the Liberals, under former premier Kathleen Wynne, passed the Climate Change Mitigation and Low-carbon Economy Act, which committed the provincial government to reducing greenhouse gas emissions by 15 percent below 1990 levels by 2020, 37 percent by 2030 and 80 percent by 2050. In 2018, Ford scrapped the Liberal targets and instated the Cap and Trade Cancellation Act the PCs with a target of 30 percent emissions reductions below 2005 levels by 2030.
Despite the government choosing to use evidence from a known climate change denier and pseudoscientist when the case was heard in the fall of last year, the Justice of the Peace was not inclined to rule in favour of the youth plaintiffs. However, despite a loss on the whole, there were significant parts of the decision that agreed with the arguments of the youth.
"It gave me hope that they're acknowledging that climate change is real and they're acknowledging that the Ontario government is not meeting those targets," Mathur said. "There's so much more that can happen. And it gives us a chance to continue to fight for our future, but also stands for people that were looking into the case, and maybe are not sure about who they're gonna vote for. The topic of climate change, they might start considering that more."
But when deciding on who to vote for, it is increasingly coming down to the person and their values, irrespective of the party.
On the federal level, a similar court case has been brought forward against Justin Trudeau's Liberal government. The La Rose case, which brought together 15 young people from across Canada, challenged the Liberals for failing to uphold Charter Rights of youth across the country. While the La Rose case, which was initially dismissed in 2020, does not challenge a specific piece of legislation like the Mathur case, the young people argue that Canada is utterly failing to meet its climate change targets signed to at the Paris Agreement, putting young people, people of colour, other minorities and the environment at risk. The youth returned to the federal court of appeal in 2022 to argue for their chance to be heard and are currently awaiting a decision.
Regardless of political affiliation, Mathur said she feels these court cases are important, especially for youth, because it puts them on a level playing field with decision makers.
"When it comes to being in court, it feels like an athlete at the same level and we can actually fight them, and that we have lawyers backing us up," she said. "Because politicians can't break the law. They can break promises, but they can't break the law."
Mathur and the six other plaintiffs will be returning to the Ontario Court of Appeal in January to argue again for their rights Under Sections 7 and 15 of the Charter. The highschooler said she is hoping for some accountability on the part of the Ontario government, the same recognition that youth are looking for through the La Rose case.
"We're hoping that they follow up with the promises that the Canadian government made at the Paris Agreement, which is reducing our fossil fuels, to the point of 2030s, and also, maybe more advice from experts in climate sciences, such as experts in the IPCC, maybe even economists that have been talking about climate change and different methods of solving it," she said.
Mathur is continuing with her activism by hosting more strikes through Fridays For Future. On Friday, youth strikes were held by the organization in 53 different locations across Canada spanning every province and the Yukon territory. Mathur stressed the importance of the strikes are to promote education on the climate crisis in a non-discriminatory manner.
"We bring big parachutes out that have messages on speech that are interactive, so that we can educate anyone, whether they're adults, politicians, or kids that just want to learn about climate change and how it's going to affect them," she said.
While Brampton's strike Friday was small, support rang high from those passing by.
(Alexis Wright)
Miranda Baksh, CEO and Founder of Peel's Community Climate Council (CCC), agrees on the educational value of the rallies.
"I'm looking forward to educating folks on what our demands are, so that there's a bigger understanding on why people rally and why these rallies are important, and why their voices are important or why we need to keep seeing them on the streets to make real political change happen and show politicians that we are listening as young people and we are aware of what they're doing," she told The Pointer prior to the September 15 rally.
And by education, she means education for everyone. Baksh said since starting climate strikes in Peel she has had MPPs attend from all four major political parties, something she said is really exciting because it shows that anyone can care about climate change regardless of political affiliation. While this year's strike in Peel was heavily focussed on protecting the Greenbelt and stopping Highway 413 — two damning scenarios that will have a significant impact on the environment in Peel and across southern Ontario — she stresses the importance of climate change blurring party lines in order to facilitate greater change.
Based on what was experienced at the rally Friday, Baksh's wishes may be becoming closer to reality. The rally held by the CCC took place at Gage Park in downtown Brampton. Participants marched with their signs up and down Main Street and were met with honks of solidarity by almost every car passing by. Given the political divide in Brampton — all five MPPs are Conservative while all five MPs are Liberal — the actions observed at the rally suggest that those supportive of climate justice in the city are not divided by political affiliation.
"We see it as an all partisan issue," Baksh said. "Instead of being a non-partisan issue, we say all parties should be involved and have climate change at the top of their list."
---
Email: [email protected]
Twitter: @rachelnadia_
---
At a time when vital public information is needed by everyone, The Pointer has taken down our paywall on all stories to ensure every resident of Brampton and Mississauga has access to the facts. For those who are able, we encourage you to consider a subscription. This will help us report on important public interest issues the community needs to know about now more than ever. You can register for a 30-day free trial HERE. Thereafter, The Pointer will charge $10 a month and you can cancel any time right on the website. Thank you
Submit a correction about this story