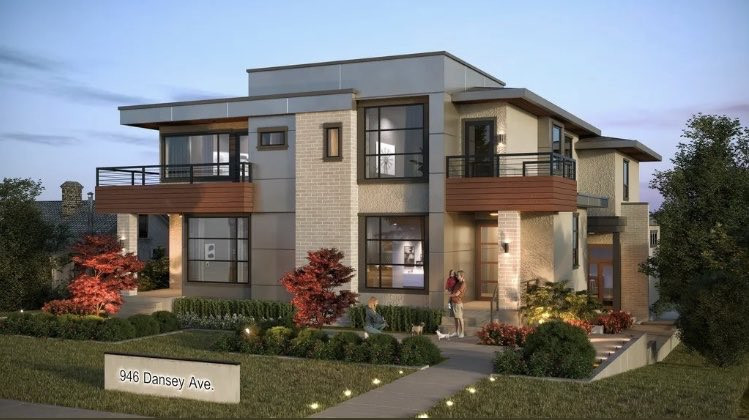 Realtor.ca
Advocates label Mississauga council's decision on 4-plexes NIMBYism—'missed opportunity' for affordable housing; $120M from Ottawa could be at risk 
A motion that would allow residents to split their properties for the creation of four-dwelling housing units across the city, in an effort to ease the ongoing affordability crisis plaguing many residents, was defeated at Mississauga Council Wednesday.
As the city faces pressures from the provincially driven mandate to build more homes over the next decade, council has been exploring options to meet Mississauga's target of 120,000 new units by 2031.
While City Hall has repeatedly said it is on track, with dozens of major projects underway, such as Lakeview Village and Brightwater, both set to transform Mississauga's waterfront landscape, critics have pointed out that many of these luxury developments will be far from affordable.
But councillors found themselves at a stalemate during Wednesday's council meeting as they debated a motion by Councillor Alvin Tedjo to make the construction of four-plexes seamless on lots that could support converting one residential space to four. The motion, which was shot down in a 5-5 vote (a tie is a loss) sought to allow four-plexes "as of right", meaning property owners can build these housing developments on their land if the space allows without requiring specific approvals from the municipality.
Councillors Tedjo, Carolyn Parrish, Martin Reid, Joe Horneck and Chris Fonseca voted in favour of the motion, while Councillors Brad Butt, Stephen Dasko, Dipika Damerla, John Kovac and Matt Mahoney opposed. Councillor Sue McFadden was absent.
It's a move some councillors have said would be a progressive step forward in addressing the housing crisis after it was first discussed in general committee on October 4. The motion aimed to make building "missing middle" housing — an abundance of low-density single-family neighbourhoods filled with high-density areas featuring tall condo and apartment buildings, but not much in between — much easier.
The City was already mandated by the province to include triplexes through the More Homes Built Faster Act introduced by Doug Ford's PC government last fall, which also included the housing target to build 120,000 homes in Mississauga by 2031 — fast-tracking roughly the same number of new homes in just eight years that the City was planning to deliver over thirty years. Following in the footsteps of other cities like Toronto, which approved multiplexes earlier this year, Tedjo's motion tried to build on the density already endorsed by the provincial government by extending approvals for four-plexes.
As the City wrestles with pressures to accommodate the surge of new residents over the next decade, decisions now will shape not only the future of Mississauga but will determine if many of those residents will be properly accommodated with housing that does not push them toward hardship, even poverty.
Acknowledging "Mississauga is in a housing crisis and the price of homes and rent has increased such that many existing residents can no long afford to live in the city," the revised motion presented to City Council on Wednesday requested that "council supports in principle, four unit residences where lot sizes and set backs can accommodate," with "final approval subject to comments from The Housing Panel and a full public meeting." The failed motion also asked that council reaffirm its commitment to the City's Missing Middle housing strategy.
The motion noted "missing middle housing," which includes two, three, or four units that can be built in existing neighbourhoods without having to dramatically increase servicing capacity, is not permitted due to past exclusionary zoning.
Tedjo hoped the motion would allow the city to gently increase housing density in existing neighbourhoods by adding additional low-rise options that would not place a significant strain on City services. He noted the timing of the motion is about responding to the current affordability crisis and the desire to offer more housing options to residents.
"I really saw this as a very positive opportunity for our city to have a conversation around how we continue to further the housing debate and I think this motion has been reworded such that really opens this up to ensure that council retains its principles in deciding what we want our city to look like," he told councillors on Wednesday, adding that he wanted to shift away from the narrative that Mississauga is not building housing, to one that shows the City is on board with its housing pledge to the province.
The City of Mississauga, now built out to its limits, must make critical changes to how it will plan for the surge in growth expected over the next decade.
(Alexis Wright/The Pointer)
Mississauga has become a city dominated by low-density, single-detached homes that surround a burgeoning downtown cityscape framed by dozens of high-rise condo towers that have popped up in the last two decades. Despite the city's current layout and the urgent need to introduce more housing options for new residents and first-time homebuyers, that didn't stop pushback from councillors Wednesday as they cited concerns around the lack of public consultation and the proposed pace of the motion's passage into law.
The motion's words "approve in principle" left a bad taste in the mouths of some members on council, who voiced concerns over the lack of consultation, arguing the motion was being rushed through in order to comply with the pressures of the federal government's much anticipated Housing Accelerator Fund, a funding incentive to speed up housing construction and densify neighbourhoods. The fund, according to the motion, has granted tens of millions of dollars to cities such as Calgary, London, and Halifax, which have met certain requirements, including adding density and affordability (like promoting fourplexes to build more efficient and less expensive units).
Mississauga's potential share of the federal fund is estimated to be $120 million and is contingent on meeting requirements outlined by Sean Fraser, federal Minister of Housing, Infrastructure and Communities, who wrote in a letter to Mississauga on October 2 that he was pleased with several of the City's proposals, including ideas to promote growth through strategic investments into mixed-use development and optimizing government land for affordable housing. But he added that before making a decision on the City's application for the federal funding, "I need to ensure that the City is doing everything in its power to address Canada's housing crisis," which included four requests that would improve Mississauga's application and "better reflect" the intention of the Housing Accelerator Fund.
Fraser said in the letter that Mississauga's application for the additional housing funding would be stronger if it permitted four-unit housing throughout the city and made efforts to increase density near transit lines, mixed-use developments and post-secondary institutions where they could be within walking distance.
"If you and Council can enhance your application by addressing these items, it will allow us to increase housing supply within walking distance to transit and facilitate more genuine housing options for the people of Mississauga," he wrote. "Taking additional steps indicated would "put me in a position to approve your application," he added, also stating, "I need to ensure the city is doing everything in its power to address Canada's housing crisis."
Some councillors were not swayed by the possibility of federal funding.
"I don't know what the rush is with this resolution today… other than the fact that we have $120 million dangling in our face from a level of government that has absolutely nothing to do with zoning," Councillor Brad Butt said. "It doesn't understand what we have to deal with as a council when it comes to zoning and rezoning applications."
"Mississauga is building tons of housing and we have tons of applications in for more housing to be built. We are doing at least our fair share, if not more," he said, also noting he found the remarks made in the government's ultimatum-like letter, offensive.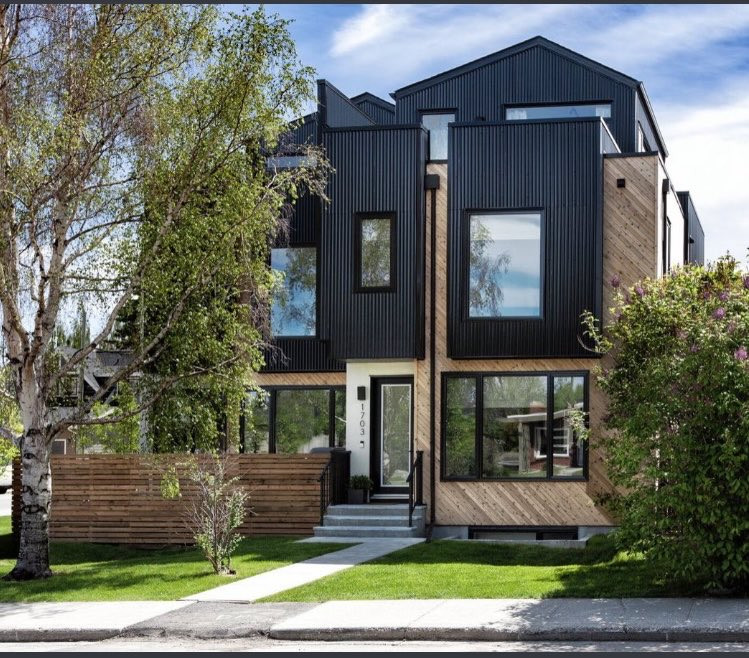 An example of a fourplex housing development.
(saadbaig3/X)
As concerns around losing the funding incentive if councillors denied Tedjo's motion circled through the council chambers, Mississauga's City manager and CAO Shari Lichterman said the City was not given a specific deadline to respond to the Minister's comments but that "we have been given indication that because there are limited funds in this program that there's only a fairly short period of time that they can hold them because we're told that about 90 percent of the applications are going to be refused due to lack of funding."
"So it's possible that we would miss a window although what we've seen with other cities is that a demonstration that action is going to be taken seems to be enough to proceed with the approval of the application."
Councillor Joe Horneck called it a "moral imperative" to move ahead and noted supporting the motion was about opening up the process to allow for more housing diversity, adding it would signal to the province and residents that Mississauga is prepared to take a stand.
"To turn it down today is saying we're not ready to deal with this and we're not ready to lead on this issue as other cities have," he told council.
Councillor Carolyn Parrish, a longtime advocate for affordable housing who has taken creative steps to push affordable units in high-rise developments, voiced her frustration over the decision to reject Tedjo's motion, which she supported.
"Wider lots, expensive land, can accommodate four families and still look like any other large single on the street," she posted on social media, suggesting that concerns about changes to neighbourhoods are motivating some residents and council members to ignore the need for more affordable housing.
"Allowing fourplexes such as this one will provide the city with a $120M federal grant for Infrastructure!" she wrote in another post, under a photo of a luxury fourplex that looks like any other large single-detached home in a family neighbourhood common across Mississauga.
Councillor Dipika Damerla, meanwhile, faced heavy criticism, once again, for appearing to side with older residents described as NIMBYs online.
"City councillors Like (sic) @DipikaDamerla must stop kicking the can down the road on housing," X user Eric Lombardi posted. "Shame on all 5 Mississauga councillors who voted against their young constituents, and the future of their city, in rejecting the multiplex motion."
Over the years, Mississauga has introduced housing plans to address the "missing middle" in its housing stock.
(Alexis Wright/The Pointer)
This is not the first time Mississauga City Council has made attempts to address the housing crisis.
In 2017, the City released Making Room for the Middle, its affordable housing strategy for Mississauga, which revealed that 1 in 3 households are spending more than 30 percent of their income on housing, and more than a quarter of middle income households (those who earn between $58,000 to $108,000) and 70 percent of all low income households are facing affordability challenges, and that was four years ago. The blueprint, which focuses on the middle income, recognized the "cost of housing is increasing; rental vacancy rates are incredibly low; the supply of vacant land is dwindling and rising in price; and the cost of infrastructure to support development is increasing," noting that, "Collectively, this poses a significant challenge."
According to the 2017 housing strategy, housing is considered affordable when it costs less than 30 percent of an individual's annual household income, prospective homeowners can afford to pay from approximately $270,000 to $400,000 (in Mississauga this can only buy a condominium apartment or a limited selection of townhouses), and if the monthly rental rate is approximately $1,200 for rental housing. More recent data from the City notes the average price of rent for a two-bedroom apartment currently ranges from $1,600 to $2,800, and the Affordable Price Threshold (housing costing no more than 30 percent of income) is $1,670 for rent and $459,000 for home ownership.
"The range of housing available to middle income earners is dwindling, so we are at risk of having them priced out of the city," the 2017 strategy noted. "The market is meeting the needs of high income households and there are housing supports in place for low income households. Middle income earners — teachers, nurses, social workers — struggle to afford market housing but earn too much to qualify for housing assistance. This income group is vital to the social mix of the City and its economic well-being."
The Pointer previously reported that over the past few years, an increasing number of residents have applied to the city to divide their lots into smaller spaces for the creation of multiple homes. In 2019, 59 applications were filed with the City of Mississauga to split a lot into smaller packages. While that number declined to 53 in 2020 and 57 in 2021, it rose to 81 applications in 2022. A City spokesperson noted these numbers "do not include applications for lot additions (moving a lot line/taking a piece of property from one lot and moving it to another), or creations of standalone easements (when there is no change to a property size/lot line, but the applicant is requesting permission to use a piece of someone else's property for a specific reason)."
The reality remains that there is a dire need to create more affordable housing in the city. Currently, the new generation is blocked from entering a housing market where large properties go for significantly north of $1 million. A recent report to the Region noted that 111,925 residents (8 percent) of Peel's population live in poverty.
According to sales tracking data from the Toronto Real Estate Board, the average sale price all dwelling types in Mississauga as of August 2023 was $1,057,232. In Brampton, the average price was $1,013,744 and while the minimum wage saw an increase at the beginning of October (from $15.50 to $16.55), the cost of living in the GTA requires roughly $23.15 — rates that remain far too low for someone to relish in a comfortable lifestyle that includes a single-detached castle with a white picket fence and a substantially-sized lawn.
This reality has left millennials less financially stable and in more precarious situations compared to older generations as they attempt to enter a housing market sitting at an unprecedented high. Regardless of whether or not the next generation desires these traditional single-detached homes, the reality is they can't afford them.
In March, council approved Growing Mississauga: An Action Plan for New Housing, the City's latest action plan for new housing to demonstrate its commitment to taking action on housing to help meet the province's goal of 1.5 million new homes over 10 years. The four-year plan, which aims to get more housing built and make it more affordable, lays out goals and actions designed "to increase the supply of housing, streamline development and building approvals while improving affordability."
"Building single-family detached homes is no longer sustainable. It won't allow us to meet our targets and frankly, we don't have the land to do it," Crombie said earlier this year.
The City's new action plan outlines how Mississauga will enhance its cityscape through "complete communities," which includes building a mix of structures: "pockets of townhouses, singles, duplexes, triplexes, multiplexes, and lower-rise apartments in neighbourhoods — commonly referred to as 'Missing Middle' built form" — which currently makes up approximately 28 percent of Mississauga's housing stock, according to the City's action plan. It notes the city needs more of these units to meet its housing needs.
"In Mississauga, the supply of housing that is affordable to a wide range of household incomes is diminishing. The housing market is meeting the needs of high income households and there are supports in place to support lower income households, but the middle income earners are falling through the cracks," the updated plan states.
The results of Wednesday's vote have been met with contention as residents, politicians and advocacy groups took to social media to express their disappointment with council's decision.
Residents, politicians and advocacy groups took to social media to express their disappointment with the outcome of Wednesday's vote.
(X/Twitter)
"Today, [Mississauga] City Council missed a great opportunity to build housing and address a crisis that is impacting an entire generation. Disappointing to see this and I hope this motion is brought back and passed at the earliest opportunity," former Peel District School Board trustee Nokha Dakroub stated. In a separate post she shared, "Every time any level of government fails to pass a new measure to build more housing, young families are left out without a home. This is a crisis. In a crisis every day counts, every vote counts. Today, I am very disappointed."
Minister Fraser took to X, formerly Twitter, following the vote stating "More than ever, we need cities to legalize housing by getting rid of antiquated approaches to zoning," adding City Council's decision to reject the motion "to create the homes the City needs is very concerning."
Similar sentiments have since followed with residents expressing their frustrations, calling for urgent and immediate action to address the affordability crisis.
"Time and again, our Council has kept our city stuck back in time, letting wealthy single-family homeowners hold this city hostage," Rahul Mehta, a community advocate for housing and the environment, stated on the social media platform. "I look forward to deserving cities that get federal funding where my generation can move...Sorry our Council failed to show leadership needed today."
As the population is expected to soar to almost a million over the next decade or so, housing in Mississauga has become a defining issue for the city's future as it plans for future growth. The way forward for Mississauga hinges on crucial considerations like mixed development that can accommodate this growth.
In a subsequent motion on Wednesday, council voted unanimously to request staff report back on the feasibility of fourplexes in Mississauga in consultation with the housing panel.
---
Email: [email protected]
Twitter: @mcpaigepeacock
---
At a time when vital public information is needed by everyone, The Pointer has taken down our paywall on all stories to ensure every resident of Brampton and Mississauga has access to the facts. For those who are able, we encourage you to consider a subscription. This will help us report on important public interest issues the community needs to know about now more than ever. You can register for a 30-day free trial HERE. Thereafter, The Pointer will charge $10 a month and you can cancel any time right on the website. Thank you
Submit a correction about this story