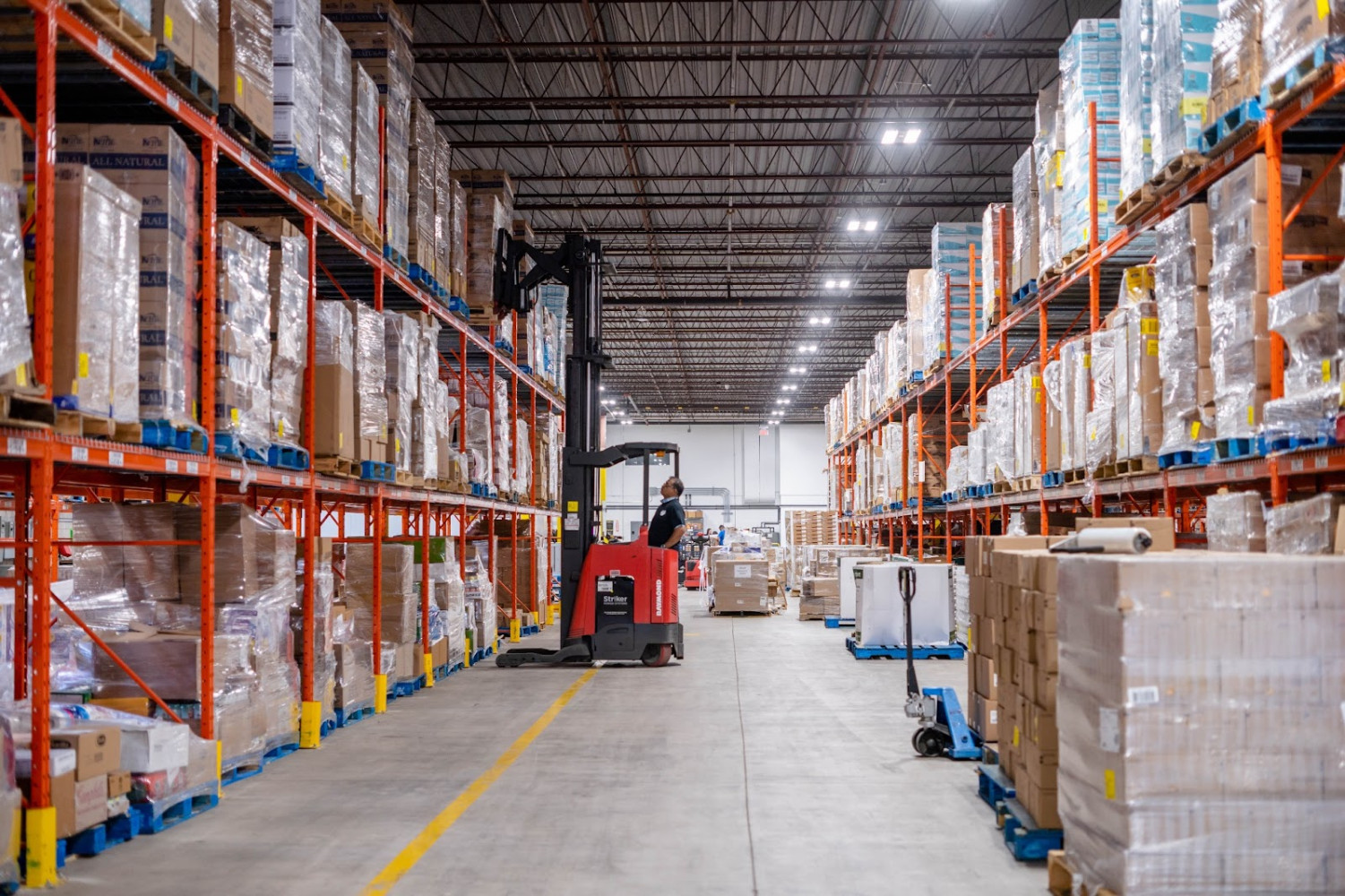 (Food Banks Mississauga) 
'We can't be the solution', Food Banks Mississauga CEO says as report reveals disturbing extent of need across Canada 
Recent reports reveal the troubling truth that demand for food banks services continues to worsen across Canada. With no government aid in sight—despite repeated calls from organizations country-wide—these vital social services that help some of the most vulnerable populations will soon reach a breaking point where they will no longer be able to meet the demand.
Current social assistance programs from upper levels of government are not keeping up with the rate of inflation, placing unprecedented demand on local food banks as more and more families struggling to afford the costs of living. As food banks continue to highlight the widening cracks in the province's economic foundation, record-breaking food bank visits are serving as an indicator of just how bad the situation has become.
"There are two million people every single month across Canada using food banks now. It's the highest it's ever been in our history. Poverty is deeper in our country than it's ever been," Food Banks Mississauga CEO Meghan Nicholls told Mississauga's elected officials during a council meeting on October 25.
Prior to the pandemic, Nicholls said Canada was reporting nearly one million visits a month, a number that was already too high, she cautioned. But that number has since doubled.
"Eventually, there is going to be a breaking point," Nicholls told The Pointer. "While food banks have been stepping up and meeting the need, there is not an eternal ability to do that."
Food Banks Mississauga's 2023 Annual Impact Report revealed that a shocking 35,538 people (up 18 percent from the 30,000 reported in 2022) turned to the organization's services over the last year. Half of these were first-time users — more than double the previous year. This is an 82 percent spike in the number of people using the service to alleviate food insecurity plaguing communities across the province compared to before the pandemic. Prior to COVID, the organization had 19,525 clients. As of September 2023, Food Banks Mississauga was seeing over 35,000 clients come through its doors. Without government action, these numbers are projected to outpace capacity.
"This is just continuing to highlight that long term all we are doing is being a really effective band aid," Nicholls warned. "If we really want to address the root causes, we have to address some of those bigger systemic issues — housing, income, all of those pieces."
These record-breaking numbers demonstrate that the lack of government action has exacerbated the problems that food banks have been sounding the alarm about for the last several years. The absence of policy change has "mandated…people to live in poverty," by not increasing social assistance programs and creating more affordable housing over the years, Nicholls previously told The Pointer.
There are more people struggling than ever before, and the weak social safety net created by upper levels of government is not providing any sense of relief.
Recent data from the organization revealed the percentage of people living in poverty in Mississauga who are served by the food bank has increased from 25 percent in 2019 to 53 percent in 2023. In September, Nicholls announced that according to the latest data from the organization, five percent of the city's population now accesses a food bank.
The repercussions have been laid bare for everyone to see as food banks across the country are seeing unmatched numbers of monthly visits. The state of poverty and food insecurity — inadequate or insecure access to food due to financial constraints — has reached alarming heights. Despite these numbers continuing to increase at unprecedented rates, warnings from food banks to upper levels of government have gone unheeded.
"We're anticipating we're going to have 19,000 people a month by the end of this calendar year and that's consistent month over month. We don't see the ups and downs in the summers and the holidays like we used to so trying to keep it full is a year round job these days," Nicholls told councillors at the October 25 meeting.
"We recognize the financial pressures that everyone in our community is under as we've heard stories more and more of previous donors now seeking support of our services as inflation and the cost of living continues to impact their ability to afford all the necessities of life."
Food banks across the country continue to demand support from upper levels of government to help with the unprecedented amount of need.
(Food Banks Mississauga)
Food banks cannot solve the structural issues that have led to this breaking point. As Food Banks Mississauga works tirelessly to provide food for those going hungry across the city, it has repeatedly signalled that policy change at the provincial and federal levels is the only way to get at the root causes and shrink the poverty gap that has been exacerbated in recent years by inflationary pressures.
Households in Mississauga and across the province are experiencing a dramatic drop in their ability to afford everyday necessities as inflation continues to accelerate beyond levels that haven't been seen in nearly four decades, and the cost of basic living expenses like transportation, food and shelter soared at an even higher rate.
Food Banks Canada Hunger Count 2023 report revealed that there were an unprecedented 1.9 million visits to food banks in March alone this year — the highest year-over-year increase in usage ever reported — an increase of 32 percent compared to the previous year, and over 78.5 percent compared to March 2019. The annual report noted there were 681,292 visits a month in Ontario in 2023, a 40.1 percent increase in visits from 2022 and a 100.6 percent increase since 2019.
"Last year, a return to status quo income support programs after the ending of pandemic-related benefits combined with high inflation drove demand for help from food banks. This year, with inflation continuing unabated, it was like gasoline being thrown on a fire," the report stated.
"We can't keep up with this level of growth — it's not sustainable," it added. According to survey respondents, the top reasons people accessed a food bank this year were food costs, housing costs, and low wages or not enough hours of work. The end of 2022 saw the highest rate of general inflation in 40 years at 6.8 percent, with essentials such as transportation increasing by 10.6 percent, food by 8.9 percent, and shelter by 6.9 percent.
The number of people living under the official poverty line and those living in households experiencing food insecurity in Canada is in the millions, the report noted, and is continuing to grow each year. The report highlights that between 2021 and 2022, over 18 percent of people in Canada — almost seven million people — lived in households experiencing some level of food insecurity — 1.1 million more people than the year before. While traditionally food bank users were those on the lower end of the economic spectrum, food banks are now seeing people who never thought they would need to rely on such a service.
"This drop substantially affected not only those in the lowest-income households, but also those in higher income brackets," it explained. "People who were just managing to make ends meet before — including an increasing proportion of people who are employed — now found themselves struggling."
These disturbing revelations come as Food Banks Mississauga concluded its annual Thanksgiving Drive last month. The organization reported it raised $783,963 of its $1 million goal in this year's annual Thanksgiving Drive — a six percent increase in funds raised compared to last year's drive.
"Not being able to raise the funds we needed this fall really underscores that our community can't tackle this challenge alone," Nicholls explained. "It takes more to end food insecurity in our community than food drives and donations from generous folks."
"Other levels of government have to address these pressures facing food banks. This just really demonstrates that community donations aren't enough to meet the depth of need that exists now in our neighborhoods."
Food Banks Mississauga CEO Meghan Nicholls says relying on community donations to service the food bank year-round is no longer sustainable.
(Alexis Wright/The Pointer)
Nicholls told The Pointer in September that the priority for the organization during this year's annual drive was making sure the community understands what it really takes to feed the number of people who rely on Food Banks Mississauga. While she was encouraged the organization raised more than it did in the previous year, she's concerned there may not be "a full understanding of the depth of need" the organization is being challenged with, adding "I don't know if folks can really wrap their heads around what 80 percent more people versus pre-pandemic looks like."
"I think there is a lack of understanding across the board of truly, how desperate the situation is for folks," she explained
Food Banks Canada's 2023 report noted that while the organization's Covid Snapshot showed food bank visits declined during the pandemic by 53 percent when government supports were enough for people to make ends meet, the organization's data has observed "shocking growth" in food bank use, reaching "unthinkable levels" since the end of pandemic-related benefits and government aid. The report also states, "While our last two HungerCount reports should have been heard as blaring alarm bells for governments in our country, it appears that they were ignored."
Unless there's tangible government intervention, Nicholls is concerned that as food banks across the country are beginning to turn clients away for several weeks or decreasing the amount of food they're able to give out, more and more people in need will be turned away. As a community-run organization, the food bank relies heavily on support from donors to keep its head above water, with food drives and public donations accounting for 17 percent of the food sources for the organization. An additional 17 percent comes from Food Banks Canada and Feed Ontario.
"The sad reality is that nothing will change until governments in Canada hear the alarm bells that have been ringing for far too long — and they can't keep ringing for much longer," Food Banks Canada states. "Food banks across Canada can't keep up with this rate of growth and they too will soon hit a breaking point."
Food Banks Canada's report revealed 17 percent of food bank clients hold down steady jobs, compared to 12 percent in 2019 — the highest proportion ever. This matches the trend reported in Mississauga's annual report which found 16 percent of food bank users reported in 2023 that their primary income is from employment. The report notes this number is on the rise as wages fail to keep up with the cost of living.
Both Food Banks Canada and Food Banks Mississauga's annual reports have noted the most common income source for food bank clients is through provincial social assistance programs — the Ontario Works and the Ontario Disability Support Program — which represent 42.4 percent of users. These rates also have not kept up with the rising costs of living.
Food Banks Mississauga's most recent impact report noted 1 out of every 4 of its clients rely on these social assistance programs as a main source of income. The Pointer has previously reported the most that a single person on ODSP can receive is $1,308/month (an increase of $81 per month from 2022) — a number far too low to match what it actually costs to live in many parts of Ontario. While increases to ODSP rates have been made over the last two years, OW benefit rates have remained stagnant for the last half decade, with recipients continuing to receive only $733 per month, the same amount they received in 2018.
The one silver lining Nicholls sees at the moment is the federal government's implementation of the Canada Disability Benefit, also known as Bill C-22, which proposes to create a federal income supplement for hundreds of thousands of low-income, working-age people with disabilities. The federal government has estimated that it could take more than a year to set up the benefit before any money will actually flow to the pockets of those who need it to keep up with the cost of living. The benefit, if it's built in a way that would bring those eligible to the point that they no longer need to turn to the food bank, it could relieve the Mississauga Food Bank of the 25 percent of clients that rely on ODSP.
"That's on our political horizon that could lead to fewer clients," Nicholls said.
Earlier this year, Food Banks Mississauga relocated to a 43,000 square foot facility to help the organization keep up with the rising demand. But the new facility has come with a larger bill.
(Food Banks Mississauga)
As more and more people are pushed into poverty, Food Banks Mississauga is not immune to the rising costs afflicting the community they're trying to support.
As demand continues to hit all-time highs while resources diminish, in an effort to keep up with the urgent need in the city, the organization, having outgrown its previous location, relocated earlier this year to a 43,000 square foot facility, where it's now paying upwards of $950,000 a year in rent. While the Food Bank is pursuing eventual ownership of its own facility, Nicholls said that day is likely a number of years away given financial pressures.
During the October 25 council meeting, Ward 5 Councillor Carolyn Parrish said she would like to work with the organization to secure a permanent facility. In response, Nicholls said the organization has just over seven years left in the lease at its current facility, but recognizing projects like these can take a long time, the organization is open to exploring and looking into what possibilities there are.
"We are currently fundraising to afford the increased costs we've taken on with this new building," Nicholls told council. "If we were to look at an owned facility, that would be a number of years away. So, it's kind of a next-phase project for us, but we know we need to get working on it so that we can save that money per year because food bank usage isn't going to go away."
In an email to The Pointer, Parrish said the green space to the north of the Regional service building at 7120 Hurontario Street could accommodate a permanent home for the food bank. With the location positioned along Mississauga's future LRT line, it would be "accessible to clients and on a highway network that makes trucking donated food into the facility convenient." She noted the Hurontario site is just one example of the properties that the City could consider.
"The Mississauga Food Banks has signed a multi-year lease which gives the City lots of time to consider how we can assist (them) in finding a new location. It would be preferable to find land that is owned by the City deemed excess or a private donor," Parrish said. "Should Mississauga inherit the building in the breakup of the Region, the excess land and extensive parking could accommodate an office/warehouse building constructed by TMFB."
Before the Food Bank moved into its current facility, the organization explored the idea of purchasing or renting a suitable space. Nicholls said Food Banks Mississauga reached out to the City to inquire about any donated land that could be built on but with the timeline and the urgency with which the organization needed to move into a new facility to meet the soaring demand, it had to opt for a rented facility.
"If there was an opportunity that would see us spending less on facilities so we could just use those funds for other purposes, that would absolutely be something we would consider," Nicholls told The Pointer, adding she would be open to looking at a scenario where the Food Bank could lease a building from the City, or land could be donated and the organization could build on it and fundraise for the capital costs.
Parrish noted donating the land would be the best scenario with the food bank fundraising the building costs, adding "the food bank works extensively with volunteers, feeding our residents in the most economical way possible. Without their efforts, many more of our city's residents would be suffering. Assisting them would fall to the various levels of government which would involve bureaucratic and therefore much more expensive." While planning should start getting underway now, the Ward 5 councillor said there's little that can be done until the Region is dissolved.
Acknowledging the severity of the crisis, the Region approved $2 million in September in temporary funding for food security as permanent base funding in its 2024 budget. Simultaneously, council also approved an increase of $3 million to the Community Investment Program to be included in the 2024 budget to address increased demand and inflation in "the non-profit sector [and] continuing demand in food security," which included a $500,000 investment to address food security.
"The short-term government funding [and] the donations from the community, those are what are making our work possible today," Nicholls said. "If we want to decrease food insecurity and the number of people, full stop needing food banks, the other levels of government need to make policy changes…Elected officials at all levels of government continue to say thank you for your good work. But we don't need kudos. What we need is interventions that increase people's income or decrease their costs. That's it.
"We're happy to help, but we can't be the solution."
---
Email: [email protected]
Twitter: @mcpaigepeacock
---
At a time when vital public information is needed by everyone, The Pointer has taken down our paywall on all stories to ensure every resident of Brampton, Mississauga and Niagara has access to the facts. For those who are able, we encourage you to consider a subscription. This will help us report on important public interest issues the community needs to know about now more than ever. You can register for a 30-day free trial HERE. Thereafter, The Pointer will charge $10 a month and you can cancel any time right on the website. Thank you
Submit a correction about this story