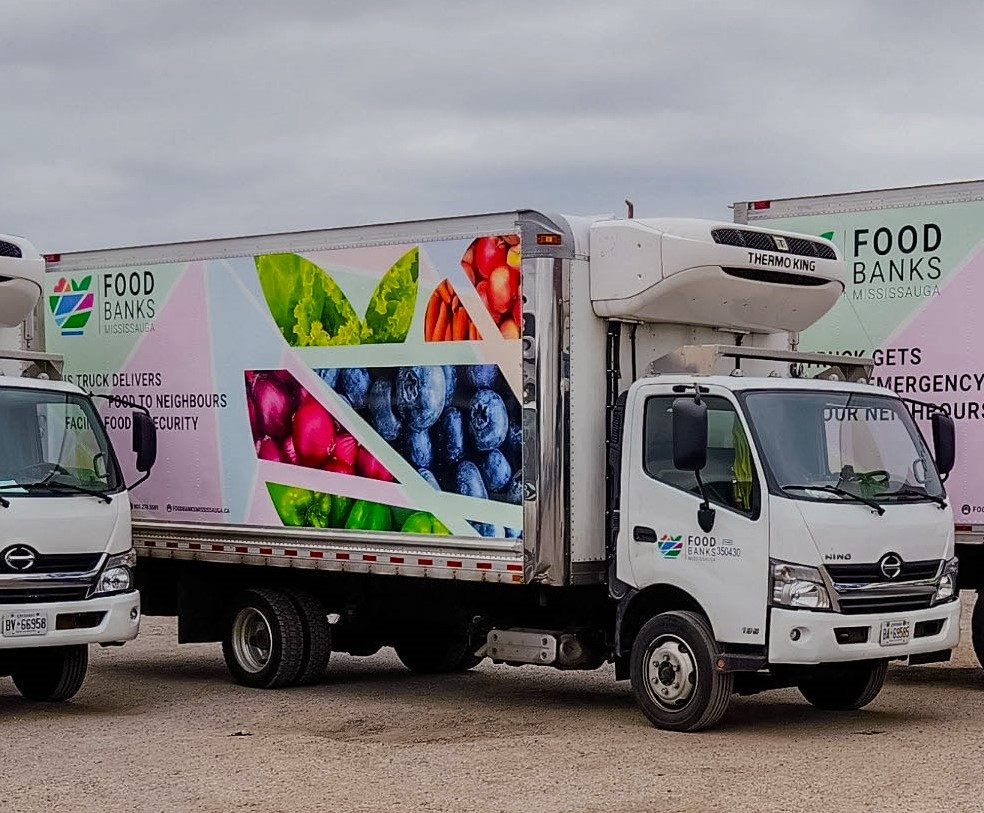 (Food Banks Mississauga) 
We are 'expected to fill those gaps': Food Banks Mississauga has rebranded but governments still aren't paying attention
Inside Mississauga City Hall, standing in front of the elected members of Council, Food Banks Mississauga CEO Meghan Nicholls announced that according to the latest data from the organization, five percent of the city's population now accesses a food bank.
"We've shared a new picture of what food insecurity looks like today in Mississauga, that picture is not good. This year brought new challenges that our community has not faced before," Nicholls told them.
"As of today, five percent of our city's entire population is using the food bank network."
The organization's 2023 impact report revealed a shocking statistic: 35,538 people (up 18 percent from the 30,000 reported in 2022) turned to the organization's services. Half of these were first-time users — more than double the previous year.
That number represents an 82 percent spike in the number of people using the service since before the pandemic to alleviate food insecurity plaguing communities across the province. Prior to the pandemic, the organization had 19,525 clients. As of September 2023, it was seeing over 35,000 clients come through its doors. This number is projected to double by 2027, and without government action, demand will outpace capacity.
Under increasing public pressure, and thanks to the sustained advocacy of food banks across the country, Ottawa is finally taking some action to force grocery chains to take responsibility for the skyrocketing food prices. Hearings a few weeks ago led to an agreement this week between the federal government and the heads of Canada's five largest grocery chains — Loblaw, Sobeys, Metro, Costco and Walmart — to stabilize food prices after parent companies enjoyed soaring profits due to record-breaking price increases, which have left more and more Canadians to deal with food insecurity.
The somber news about the alarming rate of dependence on outside agencies for help came alongside another announcement: The Mississauga Food Bank has rebranded itself as Food Banks Mississauga — a name Nicholls says more accurately reflects the work of the organization. She noted the structure of the organization and how it functions with its agencies has not changed, but that the new name helps better reflect the story of collaboration that is central to the organization.
"We have been leading a network of agencies for the last 13 years, but our name was very singular and so now having a name that reflects that network in the plural is just a way to even start off right from the name that this is something that takes more than just one organization and that by supporting Food Banks Mississauga you're supporting that network of over 60 agencies," Nicholls explained.
"We're working with our agency members, kind of on an endorsed brand model so that they'll be sharing that Food Banks Mississauga look and messaging so that we can help to unify and identify to folks in the community that these are the agencies that are working together collaboratively under this one banner. So it's about bringing the network together and telling our collective story in a more accurate way."
Food banks were initially designed as a temporary response to fight a hunger crisis stemming from a recession in the 1980s, not to shoulder inadequate government programming or underfunded benefits. But this temporary tool has turned into an alarming reality for many fighting hunger in the community. With the rapid increase in prices for fuel and consumer staples creating widespread food insecurity and putting unprecedented strain on social services agencies working to seal the gaps, it is harder to escape poverty today than it was four decades ago.
Insufficient investments into social support programs and a lack of public policy decisions have coalesced into one, resulting in deepening cracks in the province's economic foundation. Nicholls has cautioned that the expeditious increase in demand is outpacing what the food bank can keep up with and the organization's CEO has been calling on governments to intervene.
"When anybody… needs food for any reason, the food bank is just expected to fill those gaps," Nicholls told The Pointer.
"Is there food waste that we can put towards feeding people? Sure. Is there enough food in Canada and we just need to distribute it better? Maybe. But the real issue is, everything has gone up way faster than people's incomes have and the gap between the rich and poor has gotten too wide and so charities like us are filling that gap."
Emergency food responses can only meet someone's immediate needs. This response cannot solve the structural reasons behind why they got to this breaking point that is overwhelming food bank resources everywhere.
Food banks were meant to be a temporary support to fill a short-term gap in food security, but as cost of living remains permanently out of reach for more families and individuals, these charitable organizations are becoming the only solution.
(Food Banks Mississauga)
As Food Banks Mississauga works to address the root causes of food insecurity across the city, it has repeatedly been calling for government officials to introduce policies to shrink the poverty gap and bring food inflation under control. Even after relocating to a 43,000 square foot facility earlier this year to keep up with the urgent, increased need across the city, the demand continues to hit all-time highs while resources diminish, making the current situation unsustainable.
Food banks across the province have been grappling with a significant increase in demand from vulnerable residents and the impact of the pandemic and rising inflation certainly brought new financial pressures. Decades of cuts to social assistance programs and a lack of investment in affordable housing, coupled with the rising costs of basic necessities and stagnating wages across certain sectors, have put thousands of Ontario families in a precarious position and organizations are growing more concerned that there will be no way to break this ongoing cycle of poverty.
The organization has been stressing the severity of the crisis, reporting unprecedented surges in food bank visits monthly. Despite the tireless efforts of food banks across the province, food insecurity and poverty continue to penetrate communities and food banks are pointing toward the urgent need for system-wide changes to address causes of food insecurity.
Food bank use remains at an all-time high with 2022 marking the sixth consecutive year of increases, according to Feed Ontario's 2022 Hunger Report. After paying their monthly housing costs, two in three Ontario food bank visitors have reported less than $100 left, leaving little for basic necessities like food. Surveys of food bank clients found that one in five people skipped meals to pay their rent.
"The role that food banks play in changing lives cannot be understated, but equally we need to understand that the reason food banks exist is because public policies are failing the people they are intended to protect," the 2022 Hunger Report stated.
The 2022 report found nearly 600,000 people accessed emergency food support last year, visiting more than 4.3 million times — an increase of 15 percent and 42 percent (in the two categories) over pre-pandemic numbers from 2019, and the sixth consecutive year that food bank use has increased. It cites precarious employment, poor employment and disability supports, along with unaffordable housing as key drivers behind why people are turning to food banks in unprecedented numbers.
New records set each month has become the norm for Food Banks Mississauga and many other food bank services across the province as inflation and lack of adequate government support pushes more people into poverty. The organization's annual report found 16 percent of food bank users reported in 2023 that their primary income is from employment. The report notes this number is on the rise as wages fail to keep up with the cost of living.
"In addition to unprecedented inflation rates, and the rise in cost of living, there are several longstanding income insecurity issues and poor public policies that have contributed to the rise in food bank use," according to Feed Ontario. The organization noted in its most recent Hunger Report that when asked the reason for visiting a food bank, 45.8 percent cited cost of food, 13.2 percent cited cost of housing, and 9.9 percent cited low wages or not enough work hours.
With no indication from upper levels of government to provide additional funding for social assistance programs like Ontario Works and the Ontario Disability Support Program, Nicholls says full-service charities like Food Banks Mississauga are working feverishly to fill the gap created by poor public policies.
According to the organization's most recent impact report, 1 out of every 4 of its clients rely on social assistance programs (OW and ODSP) — rates far below what it actually costs to live — as a main source of income. In the same breath, Feed Ontario has reported that these social assistance recipients represent nearly 2 out of 3 people who rely on food banks in Ontario, meaning the most that a single person on ODSP can receive is $1,308/month (an increase of $81 per month from 2022). Despite the government increasing ODSP with inflation, Nicholls says the starting number is just so low that it's not sufficient.
Even with the increase, ODSP rates still fall below their value in 2018 ($1,376 when adjusted for inflation) and significantly below the disability-adjusted poverty line ($3,091 per month), failing to provide sufficient income for a basic standard of living and, leaving people who rely on these programs to live in poverty. While increases to ODSP rates have been made over the last two years, OW benefit rates have remained stagnant for the last half decade, with recipients continuing to receive only $733 per month, the same amount they received in 2018. Considering inflation and the rising cost of living, people who rely on OW have experienced an 18 percent gauge in income.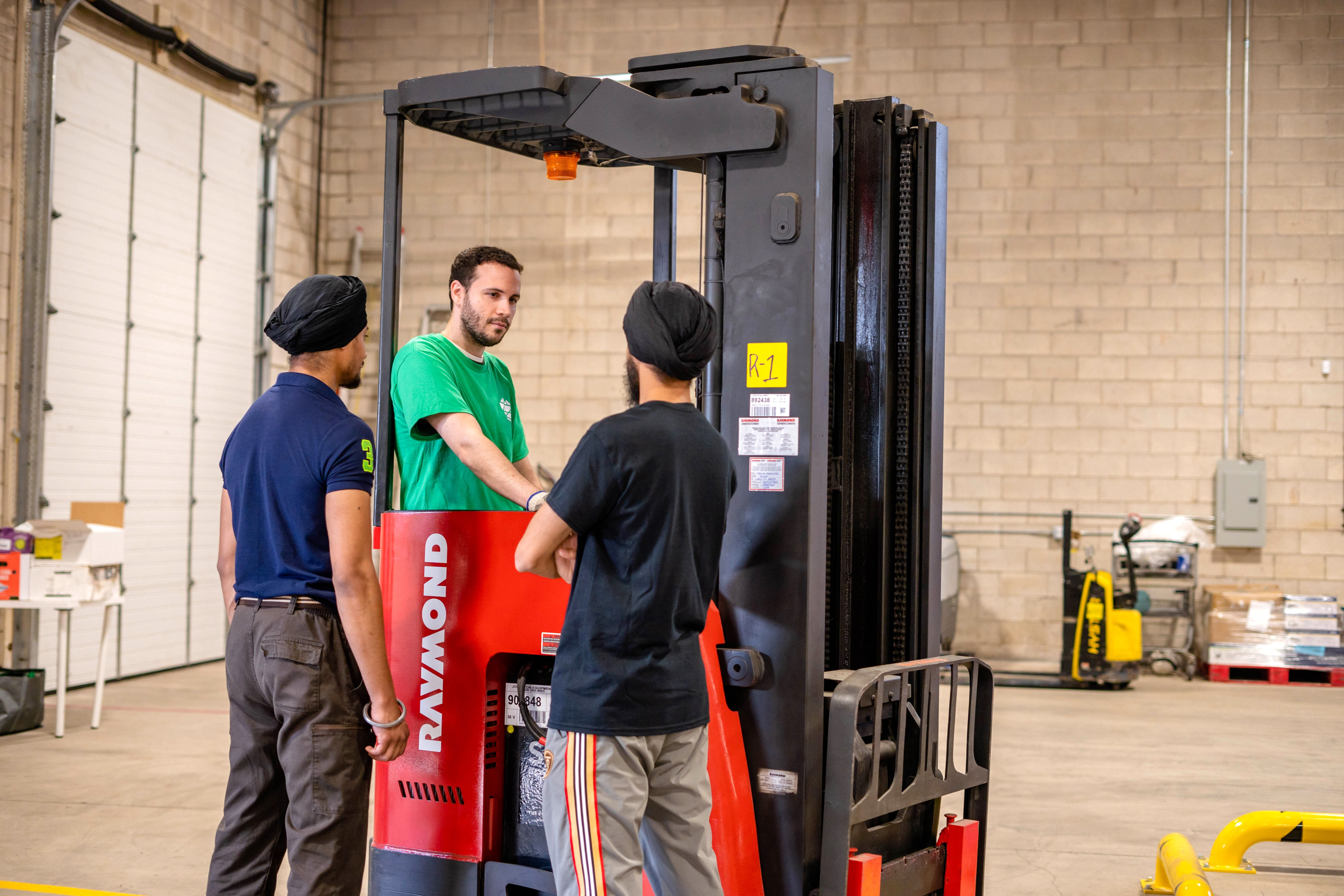 Staff and volunteers keep Food Banks Mississauga running. A lack of sufficient investments into social support programs from upper levels of government has left food banks to fill the gaps created by soaring increases in the cost of living.
(Food Banks Mississauga)
The increase continues to fall short and recipients are still experiencing an even larger gap between the income they receive and their essential living costs compared to last year.
"The government has mandated those people to live in poverty by not increasing those amounts over the years, and so the biggest thing that could be increasing those amounts, and immediately we would see a drastic reduction in the number of people using food banks," she previously told The Pointer.
The lack of support for low-wage workers is also another contributor to increased food bank use. While the minimum wage will be seeing another increase in October (from $15.50 to $16.55), the cost of living in the GTA requires roughly $23.15. Despite the increase moving in a positive direction, Nicholls says the rates are still far too low.
"So many folks that are just finding, they just they used to be able to squeeze by, that used to be able to borrow from one pocket and pay the other pocket, that kind of thing. And as the cost of groceries especially has gone up… people who could squeak by on their meager Ontario Disability Support income, or Ontario Works or low wage jobs they just can't make it work anymore," Nicholls said.
"There's lots of people who are saying, 'I never thought I would need this, I was getting by on my own, it's just gotten too tight. I just can't do it.' Fixed income doesn't go as far and folks are [saying] 'I can't pick up a fourth job, there's not enough hours in the day.' So it's certainly people coming to us for the first time because like when we say that phrase 'the needs never been greater,' truly for them, the need has never been greater."
As more residents in Mississauga are finding themselves turning to the food bank for support, Food Banks Mississauga has launched its 9th annual Mayor's Thanksgiving Food Drive with a goal of raising $1 million by October 15 to respond to the urgent need for food that continues to rise in Mississauga.
"We like to set goals that we can achieve. We want to set campaign goals that we can celebrate well at the end. But what was more important for us this year was making sure that the community understands what it really takes to feed the number of people that we have to feed," Nicholls said.
"So we have to raise a million dollars. That's the true need in the community to raise this time of year. And you're going to see an even bigger number than that when we come back at the holidays because that's what the community needs now that five percent of the whole city is using a food bank."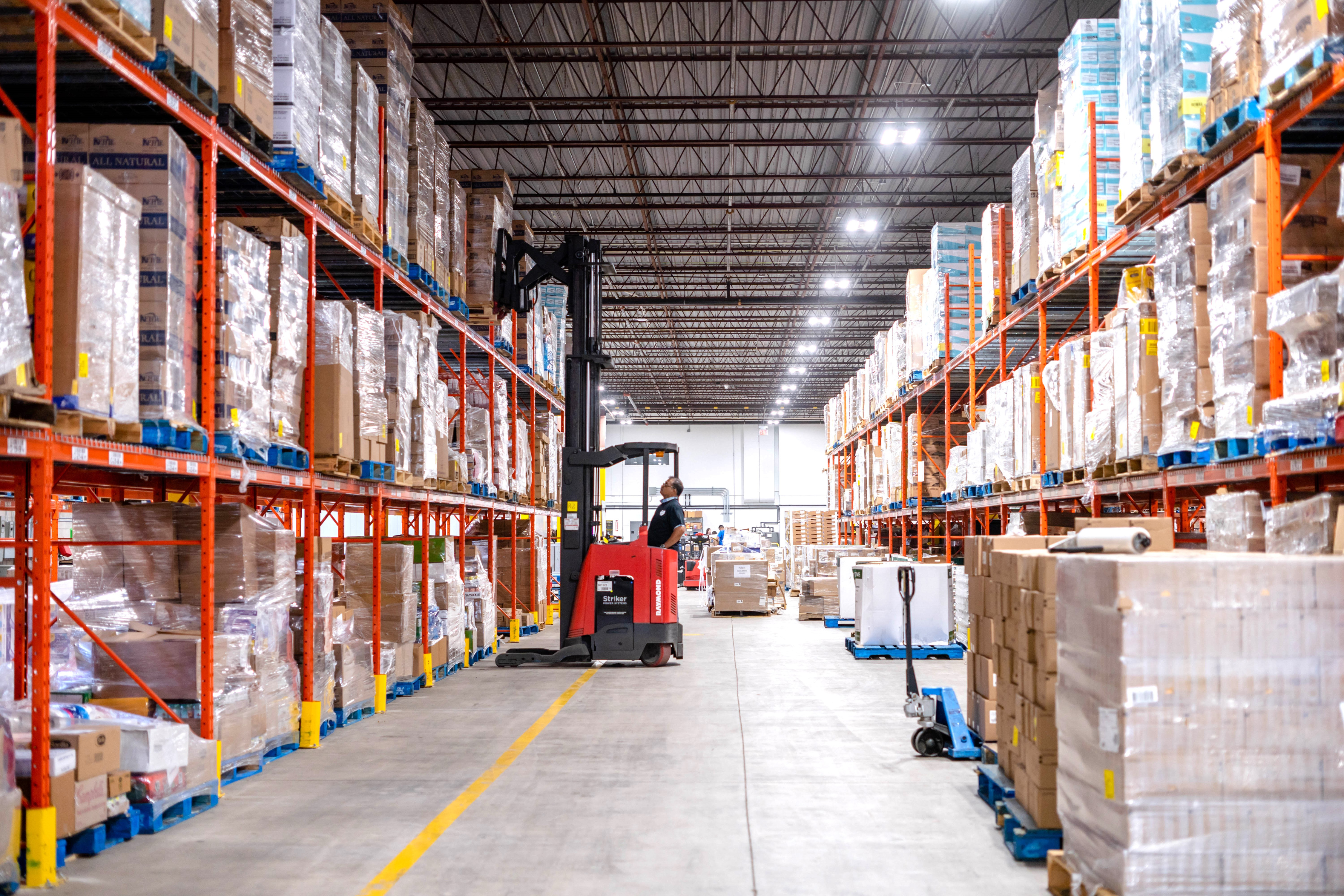 As a not-for-profit organization, Food Banks Mississauga relies heavily on support from donors and community organizations to feed the community.
(Food Banks Mississauga)
As a community-run organization, the food bank receives minimal funding from upper levels of government, and relies heavily on generous support from donors. Food drives and public donations make up 17 percent of the food sources for the organization, and another 17 percent comes from Food Banks Canada and Feed Ontario.
A recent report to the Region noted that 111,925 residents (8 percent) of Peel's population live in poverty. Increased housing costs and an 11.4 percent increase in food prices have made food unaffordable. The report notes that "in 2023, based on the Canadian Income Survey, it is projected that 25.6 percent of households in Peel will be severely food insecure."
"Both the government and the private sector have increasingly relied upon food banks to subsidize budget cuts and cost-saving measures. This is not sustainable," Feed Ontario warns. "While food banks are working hard to meet this growing demand, their resources are finite, and there is concern that the need could outpace the capacity of the provincial food bank network."
The number one reason people are turning to food banks, Nicholls said, is the lack of affordable housing. Incomes are too low to keep up with inflation, and housing is too expensive, leaving nothing left over for food. Currently, 37 percent of the people using the food bank in Mississauga are single-person households who live with low income.
According to sales tracking data from the Toronto Real Estate Board (TRREB), the average sale price all dwelling types in Mississauga as of August 2023 was $1,057,232. In Brampton, the average price was $1,013,744. Under the most common living situations for food bank users according to the report, 71 percent of users are renters.
"People's largest expense regardless of what their income is, is the housing that they need is paying for their mortgage or paying for rental," Nicholls explained. "And so looking at food bank users, 71 percent of them pay market rent, which means they're paying regular market rate rentals and only eight percent of clients access subsidized housing. There's a 30,000-person waitlist that doubled in the last three years, so we have not invested at all… four levels of government. We're now seeing what happens when you don't invest in affordable housing for 30 years."
"Now the cost to build housing is the highest it's ever been and we need more of it than we ever did. People can't afford $2,600 a month in rent. If you make $15.75 an hour, 40 hours a week, which hardly anyone ever gets, you only make $2,500 a month. If you're full time at minimum wage, you can't even pay rent."
Nicholls says there needs to be stronger investment in affordable social and supportive housing.
"Especially with the number of people with growing mental health concerns in the community, those supports that come with housing are crucial to people being able to lead dignified lives."
In an attempt to try and address the dire crisis, the Region recently approved $2 million in temporary funding for food security as permanent base funding in the Region's 2024 budget. Councillors also approved an increase of $3 million to the Community Investment Program to be included in the 2024 budget to address increased demand and inflation in "the non-profit sector [and] continuing demand in food security." The program's breakdown included a $500,000 investment to address food security.
With the dissolution of Peel looming, Nicholls said she will be looking to see how the municipalities choose to integrate community services.
"We're participating as part of the metamorphosis network that's continuing to advocate to ensure that when dissolution happens, and they're thinking about police and fire and all those things, but they're also considering the impact on community agencies, especially those who serve across multiple cities within Peel," she explained.
"I think at this point, the City of Mississauga has been as supportive as they can be given the structure and I'm very pleased that the Region of Peel has approved extending the food security fund as part of the community investment program. We'll continue to ask for the portion of that funding that would serve Mississauga the best."
To donate to Food Banks Mississauga's annual Thanksgiving Drive, visit the organization's website.
---
Email: [email protected]
Twitter: @mcpaigepeacock
---
At a time when vital public information is needed by everyone, The Pointer has taken down our paywall on all stories to ensure every resident of Brampton and Mississauga has access to the facts. For those who are able, we encourage you to consider a subscription. This will help us report on important public interest issues the community needs to know about now more than ever. You can register for a 30-day free trial HERE. Thereafter, The Pointer will charge $10 a month and you can cancel any time right on the website. Thank you
Submit a correction about this story