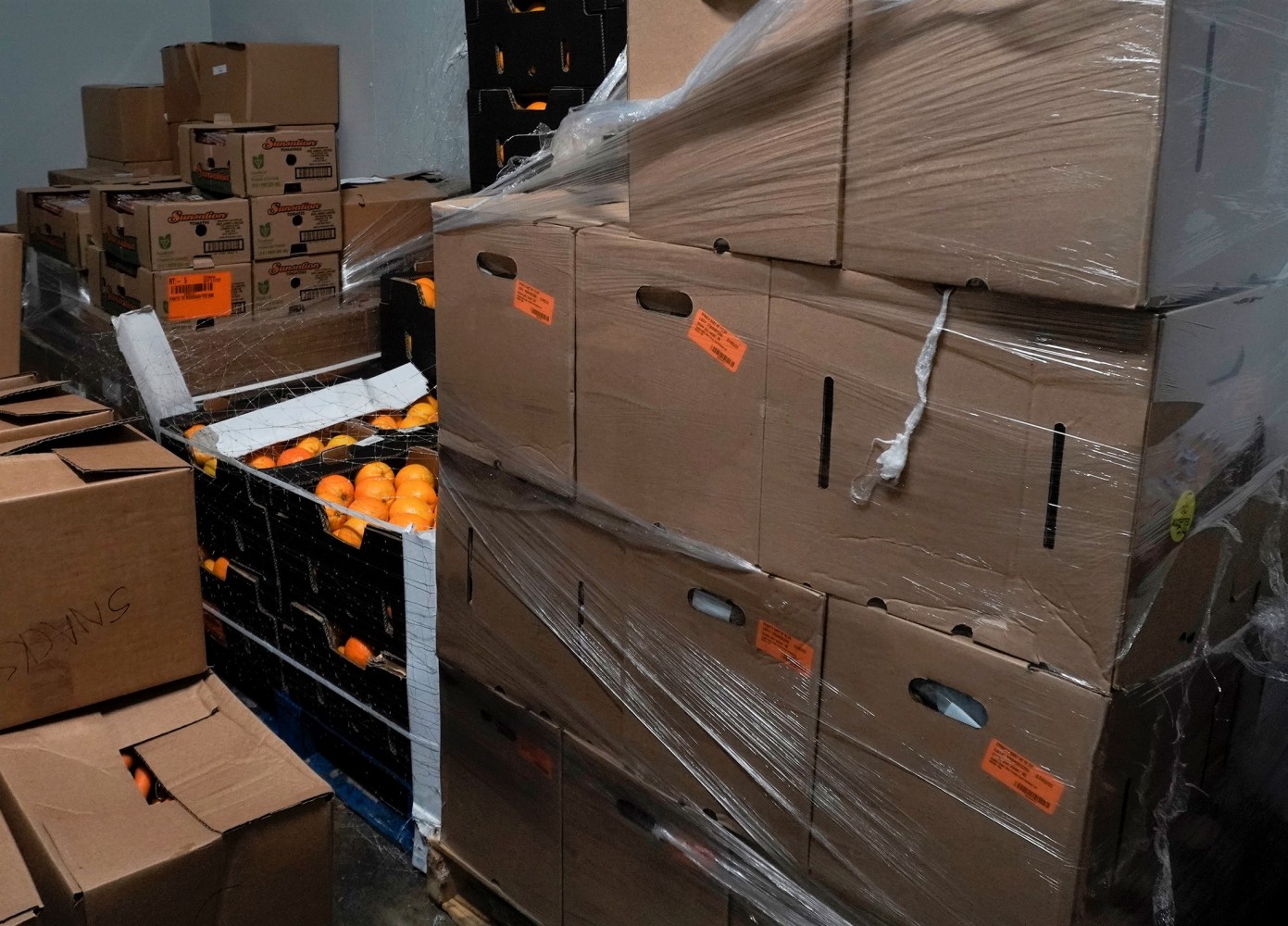 Alexis Wright/The Pointer files
'The future is concerning': Demand for Mississauga Food Bank growing at an alarming rate, CEO says
Canada's struggling economy has had a direct impact on the Mississauga Food Bank, as the organization does everything it can to help the community. But with more and more residents across the city turning to the food bank for basic needs, its CEO is calling on governments to intervene.
Food insecurity is becoming a crisis as unprecedented numbers of Canadians are now forced to reach out for help.
From June 2021 to May 2022 the local organization saw the need in the community spike as inflation and lack of adequate government support pushed more people into poverty.
The food bank released its annual Face of Hunger Impact Report in September which noted more than 5.2 million pounds of food were distributed through the Mississauga Food Bank in 2021, providing over 5.6 million meals—a 22 percent increase from the year before.
According to the report, food bank visits were up 50 percent from 2021, with 243,194 people utilizing its services; 45 percent of Mississauga residents who live below the poverty line accessed support from the Mississauga Food Bank last year – almost double from the year before.
Meghan Nicholls, CEO of the Mississauga Food Bank, said the need and demand for services are continuing to grow at an alarming rate, noting a new record for usage is set every month.
"Our agencies are experiencing long lineups out front," she told The Pointer. "The number of people coming through their space is reaching the maximum of what they can handle."
There are currently over 30,000 food bank users, up 16 percent from 2021. Of that 30,000, nearly a quarter, are first-time users, a six percent increase from last year.
Meghan Nicholls, CEO of the Mississauga Food Bank, has met the challenge as more and more residents need help to put food on the table.
(Alexis Wright/The Pointer files)
Between 2019 and 2022 there was a 54 percent increase in the number of people served by the organization. Prior to the pandemic, the Mississauga Food Bank had 19,525 clients, as of September 2022 the clientele sat at 30,038. This number is projected to double in less than five years.
The increase in demand since 2014 has been staggering, with 400 percent more food provided now compared to eight years ago.
Economists have pointed to hyper-inflation in the housing market as the reason, with ownership costs more than doubling in less than a decade and rental rates climbing much faster than incomes. After paying mortgage bills or the rent, on top of heating and cooling costs, and all the other household utilities, there simply is not enough room left for food. This is the reality facing more and more families and individuals.
The 2021 Census includes income data for 2019, and shows the median after tax income for individuals in Mississauga was $33,600. That works out to an average of $2,800 a month to cover all costs. Data from the Toronto Regional Real Estate Board shows that in the third quarter of 2022, there were 431 one-bedroom units rented in Mississauga and the average rate was $2,438 a month.
This means the median individual income from 2019 would only leave $362 to cover all utilities, telecommunications, clothing, transportation, insurance and loans/credit each month after paying the average current rent for a one-bedroom unit.
This does not include food.
Sadly, for more and more residents, after paying the rest of their bills, they are leaning on outside help to eat.
In 2020, a Region of Peel report to councillors appeared to include a typo. It didn't.
The shocking study found that, "Current ownership and rental housing prices are out of reach for 80 percent of Peel households."
With hyper inflation impacting the country's economy, the situation has grown even more dire recently.
Mississauga is not alone.
The Food Banks Canada HungerCount 2022 report was released today.
The rapid increase in prices for fuel and consumer staples has created widespread food insecurity and put unprecedented strain on social services agencies working feverishly to fill the void.
Canada's food banks saw almost 1.5 million visits in March this year, a 35 percent jump compared to the same time of year in 2019.
"Canada's food banks are facing uncharted challenges as turbulent economic conditions continue to exacerbate and deepen systemic inequities, especially for employed people earning low incomes, students and seniors on fixed incomes," Kirstin Beardsley, Food Banks Canada CEO, says.
The report includes data from more than 4,750 food banks and community organizations across the country, highlighting the human consequences of crippling hyper-inflation.
In Mississauga, increase in demand has outpaced most other parts of the GTA for at least five years.
"We're working hard as a central organization to source enough food for the number of people who are now coming to us," Nicholls said. "We're seeing food drives are not bringing in as much as they used to, because so many folks are struggling."
This means relying heavily on the organization's partners, Nicholls explained, and the dollars donated do not go as far as they used to when purchasing food.
The price of groceries was 11.4 percent higher in September than the same time last year, the highest food inflation rate since 1981, according to an update released by Statistics Canada last week.
Food prices have been increasing at a faster rate than any other consumer item for 10 consecutive months. Prices for food purchased from stores have surpassed the overall inflation rate, which dropped to 6.9 percent in September, down from seven percent in August.
A number of factors have led to the increase in food prices, including weather conditions, higher prices for fertilizer, fuel and natural gas and instability due to Russia's invasion of Ukraine, according to Statistics Canada.
The data released on Wednesday is notable, Nicholls said, given that the first food bank opened in Canada in 1981, as a way of combatting the recession and high food prices that squeezed the economy at the time.
"Now, here we are 40 years later, and food banks are these massive organizations like ours, with fridges and freezers and we have supply chain systems that would rival a small grocery chain, and this is because our government has chosen not to put policies in place that would provide people the income to be able to afford things on their own," she said.
"And so, 40 years on we are almost like the grey market or the black market of food for people who can't afford to buy it in the regular commercial places."
With the cost of living rising at a faster rate than many can afford, food banks have become a last resort. The organization is seeing people who used to be donors now coming in as clients, Nicholls said.
"I've been at the food bank 13 years, and we've never encountered that before," she explained. "We've never had people saying they used to give to the system, and now they're needing to rely on the services.
"We're seeing people that are just reaching. That's just a breaking point for them."
The food bank notes about 14.7 percent of the population in Mississauga lives under the poverty line, a measurement that has started including more traditional "middle class" earners, and roughly 85 percent of the clients are living in poverty.
"They could manage, they could [scramble], they could cut back on something, and there's just nowhere left for them to cut back," Nicholls explained. "You have to pay basic necessities and so the place where they're looking for help is food and they're showing up on our doors."
The food bank recently held a Thanksgiving food drive, raising $706,392, well below the $1,500,000 goal. Although it didn't meet its goal, Nicholls said they were pleased to raise more than last year.
"Our goals have to be much higher now to have enough to serve the number of people who need us and so, to me, this is starting to say that the need has grown so great, that charitable health isn't enough to meet the need anymore," she explained.
"If things keep going like they are, charitable organizations like us aren't going to be able to keep up with the demand. We'll have to start turning people away or giving out less, unless there are some other supports that come out in the community to reduce the number of people relying on us."
Current projections from the organization predict it will be providing food to 60,000 people by 2027, double the current number of clients in less than half a decade. Without immediate government intervention and decisive policies that would end systemic poverty, the organization anticipates it will continue to operate beyond its capacity.
The surge in demand for food has The Mississauga Food Bank looking for a new, larger location to house its operations.
(Alexis Wright/The Pointer)
While the organization needs more funding to keep up with the growing demand, Nicholls said government aid should go directly into the pockets of people struggling so that they don't have to resort to the food bank.
The biggest factor contributing to the growing demand is inflation and cost of living overshadowing income. One of the larger costs facing people in Peel is the lack of affordable housing, Nicholls said.
Three out of four food bank users say affordable housing would most significantly change their quality of life, the organization's annual report noted. In the last two years, the waitlist for affordable housing in Peel nearly doubled to 28,227 people.
"The lack of affordable housing in Peel has reached an emergency point. There's almost 30,000 families waiting for affordable housing, and that list just grows and never decreases," Nicholls said.
"Unless there is a strong, concerted effort to build and find and source creatively, more affordable options for people, they won't have enough money to be able to pay for all the other things in their life."
Lack of affordable housing combined with rising energy, fuel and grocery costs is leaving many in the community with nothing.
"We've never had new clients make up that big of a percentage of our overall client base," Nicholls said, referring to the thousands of first-time users now coming through the doors. "So it just goes to show that things have reached a breaking point for those folks, and they've had to turn to the food bank when all of the other options have been exhausted."
Unless the food bank sees significant donations during the upcoming holiday season, the organization could struggle to keep up with the ongoing surge in numbers.
Currently, over 40 percent of the people using the food bank in Mississauga are single-person households who live with low income, and that number continues to grow.
"When a single person has to afford all the costs of a household on their own, it's very challenging," Nicholls explained. "Especially for single people with disabilities, those would be the folks who are most vulnerable in our communities, including vulnerable financially."
The food bank, she said, is also seeing a growing number of people coming in who are employed.
"It used to be that if you had a job, this was a way to prevent poverty," she said. "And now we're seeing even people who work whether it's full-time or part-time, aren't able to afford their cost of what then too so that's something concerning."
Her biggest concern is that she doesn't see anything on the horizon that's going to stop this increase. With the cost of living rising and the economy heading into a recession, she said it feels like the perfect storm for more people finding themselves struggling to make ends meet.
As the holiday season nears, Nicholls said her hope is that people in the community able to meet their own needs are willing to show compassion to their neighbours through financial or food donations, or volunteering to make sure they have enough to eat.
"It's unfortunate that we get to the stage where we need neighbours to take care of each other, just so folks can live," she said. "But that's the point we've got to in our city now."
The food bank, she said, is committed to raise money needed to provide its clients with the food they so desperately need.
"We have no plan to limit or cut back or service in any way," she said. "We're just going to need to continue to come back to the community to ask for their financial support to enable us to do so."
"If people are having a hard time paying their bills, we want them to reach out to us," Nicholls added. "We're not so far stretched that we can't still help people, but the future is concerning."
---
Email: [email protected]
Twitter: @mcpaigepeacock
---
COVID-19 is impacting all Canadians. At a time when vital public information is needed by everyone, The Pointer has taken down our paywall on all stories relating to the pandemic and those of public interest to ensure every resident of Brampton and Mississauga has access to the facts. For those who are able, we encourage you to consider a subscription. This will help us report on important public interest issues the community needs to know about now more than ever. You can register for a 30-day free trial HERE. Thereafter, The Pointer will charge $10 a month and you can cancel any time right on the website. Thank you
Submit a correction about this story