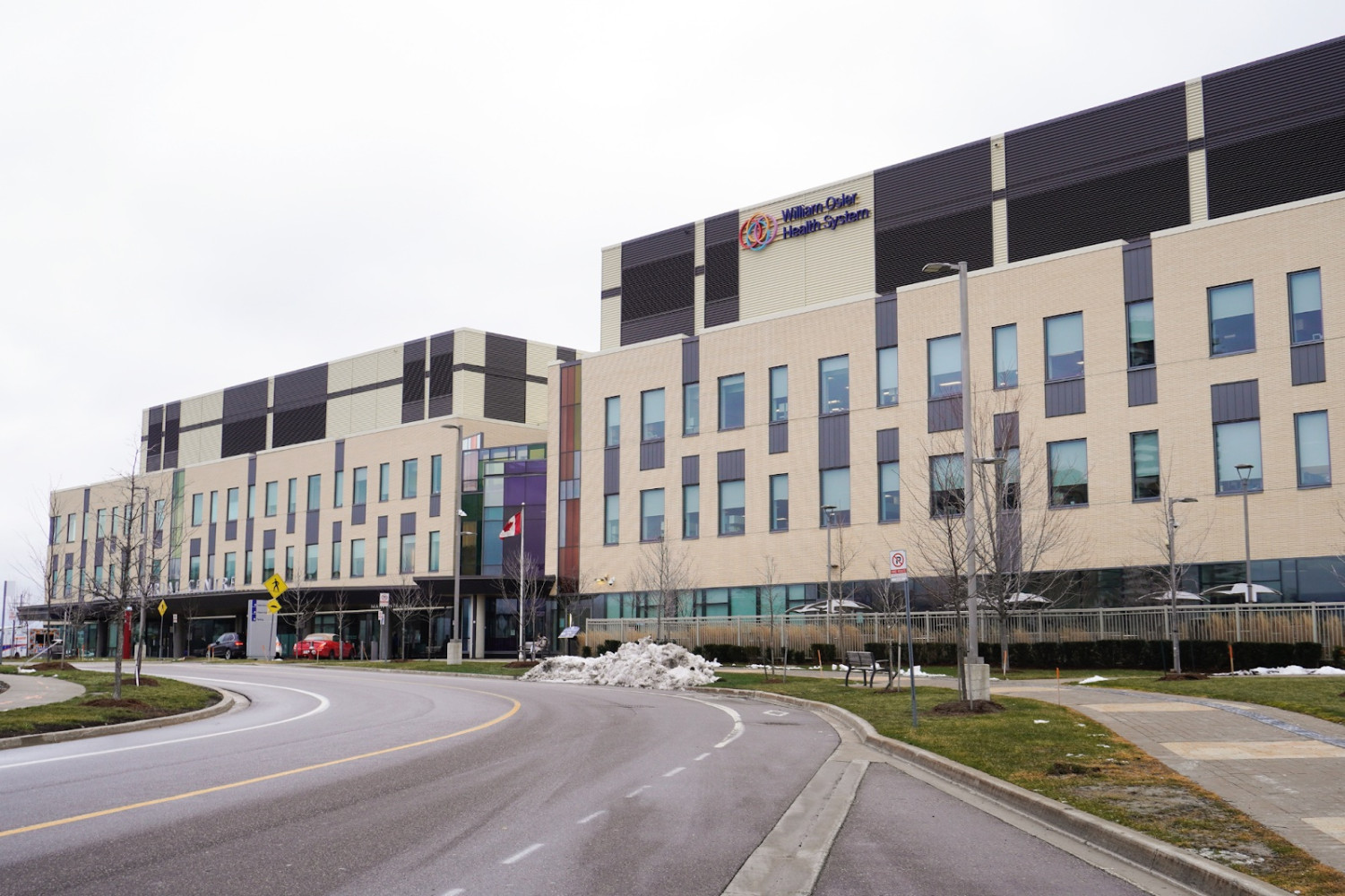 The Pointer Files
Brampton's healthcare system continues to struggle, while plans for Peel Memorial's expansion languish 
On September 30th, the William Osler Health System advised Brampton residents that its Urgent Care Centre at Peel Memorial is "currently experiencing high patient volumes and wait times to see a physician," and told people to take infants six months and younger with health concerns to their nearest Emergency Department.
The alarming admission was the latest reminder of Brampton's completely inadequate healthcare infrastructure which includes only one full-service hospital to care for a city with a population of nearly 700,000 people. The failure from all three levels of government to adequately plan for Brampton's growing population led the City of Brampton to declare a healthcare emergency in 2020 to draw attention to the suffering of local residents, an effort that has yielded few returns.
"Hallway healthcare" and the lack of available medical care in Brampton has been a top issue in the city for much of the last decade. Yet, local politicians and officials with the William Osler Health System repeatedly fail to apply the necessary urgency to this issue to affect any real change. Advocacy campaigns launched by local council members have done little to move the much-needed expansion of Peel Memorial into a full-service hospital further along. With the winter cold and flu season fast approaching and a system that still hasn't fully recovered from the COVID-19 pandemic, Bramptonians will likely face the same problems they have struggled with for years: some of the longest emergency department wait times in the province; hospital beds filled beyond capacity (with hallways, closets and other makeshift spaces having to be used); and families forced to drive themselves elsewhere for care.
Brampton mayor Patrick Brown responded to the William Osler Health System's alarming announcement, posting on social media: "Yet another reason why we can't have any delay on the construction of the 2nd Brampton hospital. It was needed in 2007 and the population in 2023 massively overwhelms the existing healthcare infrastructure. We appreciate the significant provincial budget commitment to build a 2nd hospital but we need to see shovels in the ground yesterday!"
This concern from Mayor Brown falls flat for residents who are well aware of how the mayor's actions have done absolutely nothing to apply pressure to the provincial government to fund the project, or raise the necessary $125 million required for Brampton's local share. During the 2022 budget process, Mayor Brown resisted including a levy on local taxes to raise money City Hall is responsible for to cover the local-share portion for the desperately needed hospital expansion. It was revealed by a fellow councillor the only reason Brown refused to support the hospital levy was due to his campaign slogan at the time while running for the federal Conservative leadership, when he marketed himself as a leader who had frozen his city's budget since becoming mayor in 2018. He was heavily criticized for putting his political ambitions ahead of the healthcare needs of constituents. Brown was later disqualified from the Conservative leadership race.
The Pointer has asked the City if there will be a recommendation to maintain the levy in the 2024 budget and has not yet received a response.
Screengrab of the William Osler Health System's Tweet advising people to take infants six months and younger to an alternative Emergency Department.
(William Osler Health System/X)
The City saw an investment in its hospital funding effort this past August from its Hockey Night in Brampton event which raised $1 million for the William Osler Health System Foundation, with a press release from the event stating the money is going toward the development of Peel Memorial into a new hospital.
Whether the planned expansion actually results in the creation of a hospital remains unclear. The provincial government has yet to commit to a full hospital expansion, with a 24/7 emergency department and medical wards to offer comprehensive acute care.
Currently Memorial operates as a preventative wellness centre, not a hospital, and it is unable to offer in-patient care.
Questions about the expansion, where the project stands, and why it continues to move at a glacial pace while Bramptonians suffer, remain unanswered. A town hall meeting held by Osler this past summer where many residents believed they would finally get answers, left them feeling more confused and at a loss as to why the project appears to not be a priority for officials responsible for bringing it to fruition.
The last major milestone for the project was accomplished in August of last year when Osler selected HOK Architects Corporation as the planning, design and conformance team to help meet the specific design requirements before going ahead with the construction for Peel Memorial's expansion. In June, Osler stated it held "visioning sessions" with staff and volunteers, allowing HOK to gather "critical input on the hospital's new look, its feel and function."
According to the William Osler Health Services website, the transformation of Peel Memorial into Brampton's newest stand-alone full service hospital will include "a multi-storey patient tower with 250 inpatient beds for patients requiring longer hospital stays and space to build more in the future, as well as new and enhanced outpatient services and day programs to residents in Brampton and the surrounding region." This is a far cry from the 850 beds, full-service hospital designation, 24/7 acute care emergency department and other frontline care Brampton council demanded as part of its healthcare emergency declaration in 2020.
In responding to questions from The Pointer about the slow pace of Peel's Memorial's development, a spokesperson from the William Osler Health System stated, "we know this vital project is top of mind for Osler's community. We are pleased to share that the transformation of Peel Memorial is moving forward as planned."
William Osler Health System has "recently submitted an application to the City of Brampton's Planning and Development Department to amend the Official Plan and Zoning By-law for the new, multi-storey patient tower that will connect to the existing Peel Memorial building," the statement continued.
"Early Works construction, which prepares the site for the future building, is expected to begin in 2024, and Osler will keep the community informed as the project progresses," the statement reads. "As with all construction projects, dates and further government approvals are subject to change. Osler also continues to work with the Ministry of Health and Infrastructure Ontario to finalize plans for procurement."
The statement failed to mention that initial timelines for the project had construction beginning in late 2023.
Rendering of the exterior of the new Peel Memorial tower which promises 250 inpatient beds and space for additional beds in future.
(HOK Architects Corporation/William Osler Health System)
When the new hospital will actually open remains unclear, with current timelines estimating it to be in 2027. In the interim, residents of one of the fastest-growing cities in Canada are left with a precarious healthcare system. According to data from Brampton GeoHub, the Brampton Civic Hospital's Emergency Department had 135,741 visits in 2022.
The Pointer has reached out to the province's Health Ministry for details of any possible funding commitment to turn Memorial into Brampton's second hospital and when money will be allocated in the Ontario budget for the full redevelopment of Peel Memorial (the project remains unfunded by the provincial government). No response has been received.
Most frustrating for Brampton residents is watching healthcare projects in nearby municipalities move forward while their own languishes in planning purgatory, even though Brampton has needed a second hospital for far longer than other cities that have received major funding for healthcare expansion in recent years. In Niagara Falls, work began in July to build a new 1.3-million-square-foot hospital. The project had been in the works for close to 10 years before breaking ground. Trillium Health Partners is also working on a new hospital for the City of Mississauga. The Peter Gilgan Mississauga Hospital is planned to have more than 950 beds, and will include a new and expanded emergency department, which according to the Trillium Health Partners' website, will create "one of the largest EDs in the province…". Work in Mississauga is already underway and once construction is completed it will be one of the largest hospitals in North America.
Brampton residents might be forced to use it, if the city's healthcare crisis continues, with no help in sight.
---
Email: [email protected]
Twitter: @_hafsaahmed
---
At a time when vital public information is needed by everyone, The Pointer has taken down our paywall on all stories to ensure every resident of Brampton and Mississauga has access to the facts. For those who are able, we encourage you to consider a subscription. This will help us report on important public interest issues the community needs to know about now more than ever. You can register for a 30-day free trial HERE. Thereafter, The Pointer will charge $10 a month and you can cancel any time right on the website. Thank you
Submit a correction about this story