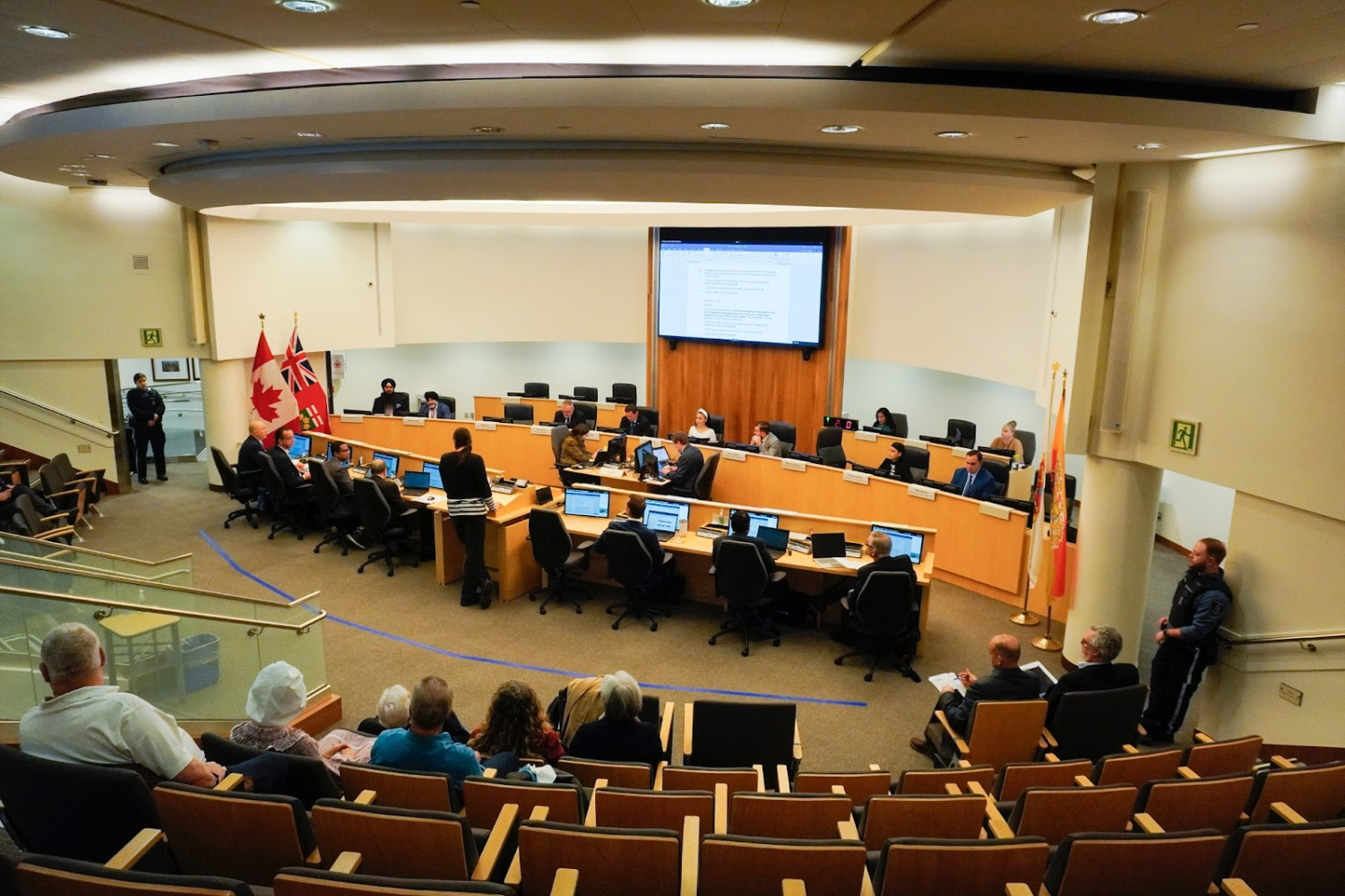 (Alexis Wright/The Pointer)
Critical projects for Brampton's future lead agenda as busy fall session gets underway
Brampton Council held its first meeting of the fall session Wednesday as elected members shape agendas to meet priorities. Significant projects need to move forward if the city wants to fulfill its goal of becoming an innovation player, while Patrick Brown's promise of a world-class cricket stadium remains unfunded and without a clear roadmap. The downtown core is also in the middle of a redevelopment, with major construction by the region well underway, as local businesses wait for council to decide on the future of the commercial area surrounding City Hall.
Transit decisions, including expansion of the system, and whether a promised LRT into downtown will ever happen, and the future of post-secondary education in the city are among a growing list of infrastructure needs in Canada's ninth largest city.
Here is a look ahead at what Brampton residents can expect council members to discuss during the upcoming meetings at City Hall.
Outcome of the Centre for Innovation Expression of Interest
---
The Centre for Innovation initiative is planned to become an "iconic gateway building" in Brampton's downtown, offering a new central library, as well as "collaborative space for postsecondary institutions and office space," as described on the City website. In July 2021, Diamond Schmitt was awarded the design of the Centre. Aside from this, the community has been mostly kept in the dark about what exactly the building will look like and when it will become a reality.
This month, the project team is expected to report to Council to summarize the responses received to a Request for Expressions of Interest, and make recommendations for how to proceed with the project.
Landlord Registration/licensing Program
---
In December, Council is expected to revisit plans for the implementation of a two-year Landlord Registration/ Licensing Program, as the problem of illegal rental suites persists across much of the city. The licensing regime is meant to ensure landlords renting property in the city are held to certain health, safety and property standards across Brampton. The staff report is expected to include details about funding the program as well as a look at how other municipalities have implemented similar initiatives in the past.
A two-year landlord registration/licensing program was outlined in March to protect the "health and safety of residents, to protect human rights of persons, provide protection for consumers, mitigate risks within the rental sector and protect the residential amenity, character and stability of residential areas."
City staff are scheduled to report back with an implementation plan to start the pilot program in 2024, which would include that landlords be required to apply for and renew rental fees and also undergo inspections of their rental properties, among other regulations.

A new grant program for struggling businesses will become active in downtown Brampton this fall.
(The Pointer files)
Downtown Brampton Construction Mitigation Grant
---
On September 6, staff submitted a status report to Council regarding the pilot Downtown Brampton Construction Mitigation Grant. On June 21, 2023, Council approved $150,000 for a Downtown Construction Mitigation Grant, managed by the Downtown Brampton Business Improvement Area (DBBIA), with the goal of supporting local business and "beautifying" the downtown during the major construction that is currently taking place and is set to be completed in 2025.
The Region of Peel is currently replacing watermain and sanitary sewers along Main Street and Queen Street, and the construction has had a significant impact on businesses as the closed streets and torn up sidewalks have limited foot traffic to the area. The approved funding amount is aimed to support the impacted businesses, and the first intake for the new grant program is expected to open this fall.
CAA Master Plan and Multipurpose Cricket Facility update
---
Also this September, City staff will report back on the outcome of a Request for Expression of Interest regarding the CAA Master Plan and multi-purpose cricket facility project. The Pointer recently reported that the proposed cricket facility does not have a funding commitment, raising significant questions about the future timeline of the project.
The City launched a RFEOI in March for interested parties to submit plans regarding development of the proposed lands into an urban, walkable community centered around the multi-purpose cricket facility. Council will provide directions on its next steps in October.
On its website, the City shared that a public-private partnership can "drive design innovation and potentially can create efficiencies in the construction and operating risks with a partner who has direct experience." Brampton has seen a growing demand for the sport over the years and the City has noted that this demand is not being met by the City's available facilities and existing spaces to host the sport.
The "multi-purpose" aspect of the facility means that future use will focus on cricket, but will also be extended to other uses, including various sports and recreational activities, as well as community uses like performances or public art installations.

Updates on how Brampton plans to potentially tunnel an extension of the Hurontario LRT into downtown will be back on the agenda in the coming months.
(City of Brampton)
Metrolinx and Provincial officials to help inform the tunnel option for the LRT
---
The long-talked about LRT extension into downtown Brampton could cost $2.8 billion after Council decided on a tunnelled route into the city centre. No money for the massive higher-order transit project has materialized from any level of government, including City Hall, despite claims by Patrick Brown four years ago that funding was available for his preferred tunnel option (a surface alternative would cost a fraction of the underground route).
In November, outcomes from discussions between Metrolinx and provincial officials will be shared on the tunnel option and what it will entail. A spokesperson for the Ministry of Transportation, Tanya Blazina, told The Pointer that as the ministry continues to focus on delivering the Hazel McCallion Line as planned, the "design and construction does not preclude an extension of the line at a future date."
"The province will continue to have discussions with Brampton about the potential for future extensions," Blazina said, sharing that any extension would "require additional funding."
Brampton Parking Plan
---
In December 2019, City staff were directed to undertake a comprehensive parking plan to address citywide parking issues. The Brampton Parking Plan, a first for the City, is targeted to address the demands of population and employment growth while also supporting more sustainable transportation methods.
The Brampton Parking Plan is a two phase plan, aligning itself with the larger provincial and regional goals to move away from car dependance and toward improved transit and active modes of transportation, such as walking or biking. As part of its Phase Two, the Brampton Parking Plan involved consultation with the public and stakeholders and in September the outcomes of the public engagement and final recommendations will be shared.
Update on the potential expansion of the Goreway Plant and its impact to City's GHG emissions targets
---
Brampton City Council declared a climate emergency in June of 2019, and the City's targets to reduce Community GHG Emissions include a 30 percent reduction from 2016 levels by 2030; 40 percent from 2016 levels by 2040; and 80 percent from 2016 by 2050. Meanwhile, the Goreway Gas Plant located at 8600 Goreway Drive in Brampton is being considered for expansion.
The natural gas plant's expansion by the PC government could potentially hurt the City's emission targets. It's something that was addressed by Councillor Harkirat Singh in a June 14 Council meeting.
"From what I'm hearing it is quite concerning… we have serious targets we have to hit," he said, referencing concerns that were brought up to him by a non-profit organization. "With this increase in capacity, it's going to be very difficult, almost impossible from what I'm hearing, to hit our target."
In light of the concerns of increased emissions resulting from the potential expansion of the Goreway Plant, and the effect it could have on Brampton's ability to meet these targets, Councillor Singh asked for staff to report back to council on how the PC decision will impact City climate plans. Mayor Brown also joined in to ask for specific measurements on whether the expansion will allow Brampton to hit its targets. While both councillors expressed concern, neither have done any significant work to address Brampton's lagging work when it comes to addressing environment and sustainability goals. Under Mayor Brown, the City's climate and environmental initiatives have been stripped to the bone in order to achieve repeated tax freezes.
In September, the City is scheduled to provide an update on this potential expansion of the Goreway Gas Plant and share how it may affect Brampton's approved GHG emissions reduction targets. The City will also share potential environmental and health impacts that may result from this expansion.
---
Email: [email protected]
---
At a time when vital public information is needed by everyone, The Pointer has taken down our paywall on all stories to ensure every resident of Brampton and Mississauga has access to the facts. For those who are able, we encourage you to consider a subscription. This will help us report on important public interest issues the community needs to know about now more than ever. You can register for a 30-day free trial HERE. Thereafter, The Pointer will charge $10 a month and you can cancel any time right on the website. Thank you
Submit a correction about this story