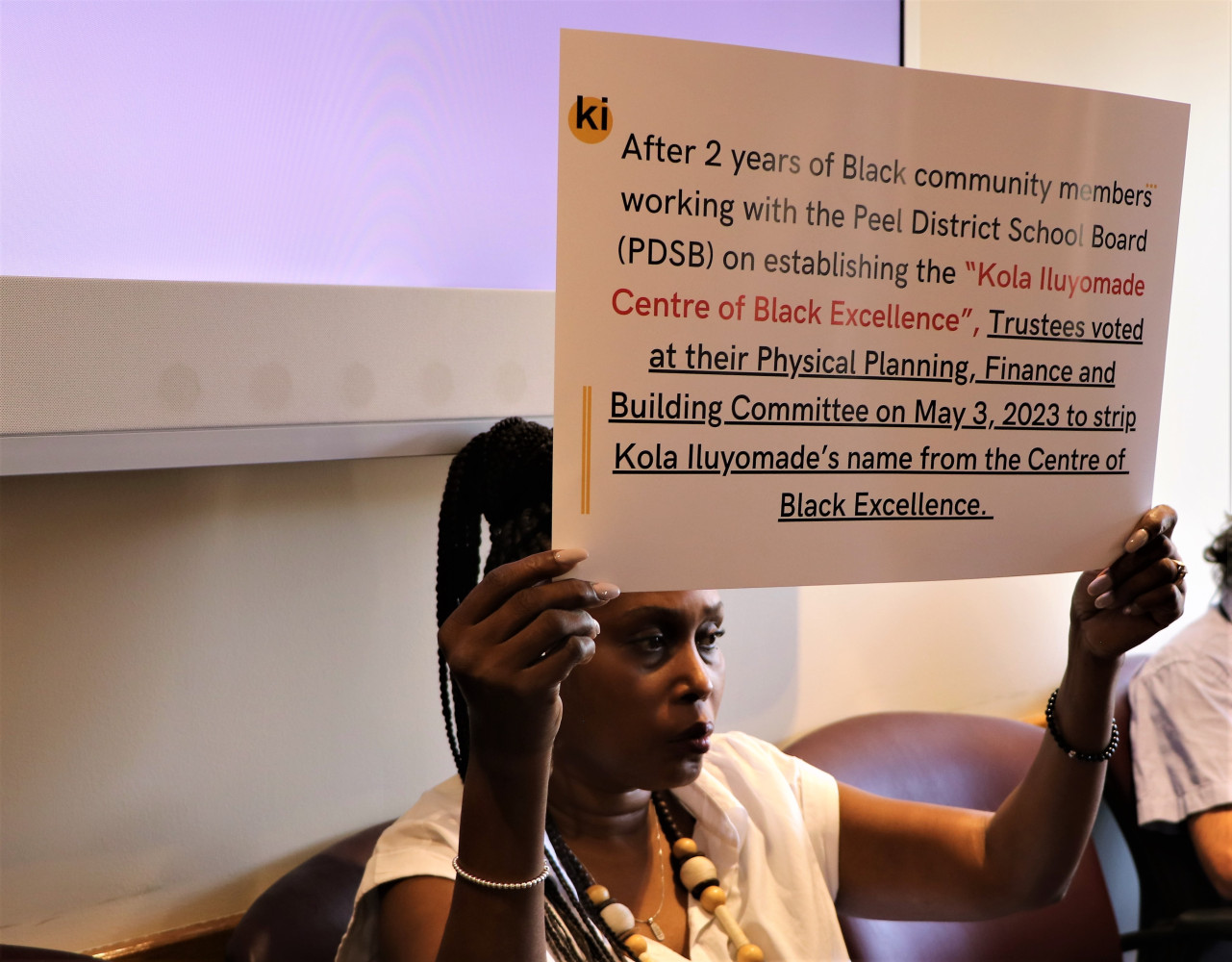 Feature image Samanah Ali/The Pointer
PDSB trustees falsely claim policy prevents centre for Black excellence from being named after late advocate Kola Iluyomade
Frustrated community members continued to pressure the Peel District School Board at a committee meeting Thursday and have sent a letter to the education ministry, after trustees voted against an earlier commitment by the board to name the Centre for African, Afro-Caribbean and Black Student Success after late activist Kola Iluyomade.
Board Chair David Green claims a recently changed policy, right before the centre was to be officially named after Iluyomade in keeping with the earlier commitment, now prevents the board from doing so.
But the policy on the naming of schools and facilities details the opposite of what Green and other trustees are claiming.
The PDSB "Naming and Renaming of Schools, Special Function Areas, and Facilities" policy states: "These names are symbolic of who and what the district values and therefore must align with the PDSB stated commitments to the principles of equity, inclusivity, anti-racism, anti-oppression, and anti-colonialism."
However, Green claims wording in the policy that was quietly changed by trustees without the community's knowledge, right before the Centre for Black Excellence was to be named after Iluyomade, prevents the use of anyone's name going forward.
Trustee Kathy McDonald says the claims by trustees are part of an effort to erase the work of a man who fought to hold them accountable, and the changes to the naming policy don't alter its obvious intent of honouring equity and inclusion champions like Iluyomade.
"The reason I voted against the policy change is because it contradicts the entire policy itself," she told The Pointer. "The intent was to remove the names of individuals who were known to have been a part of harm in any way."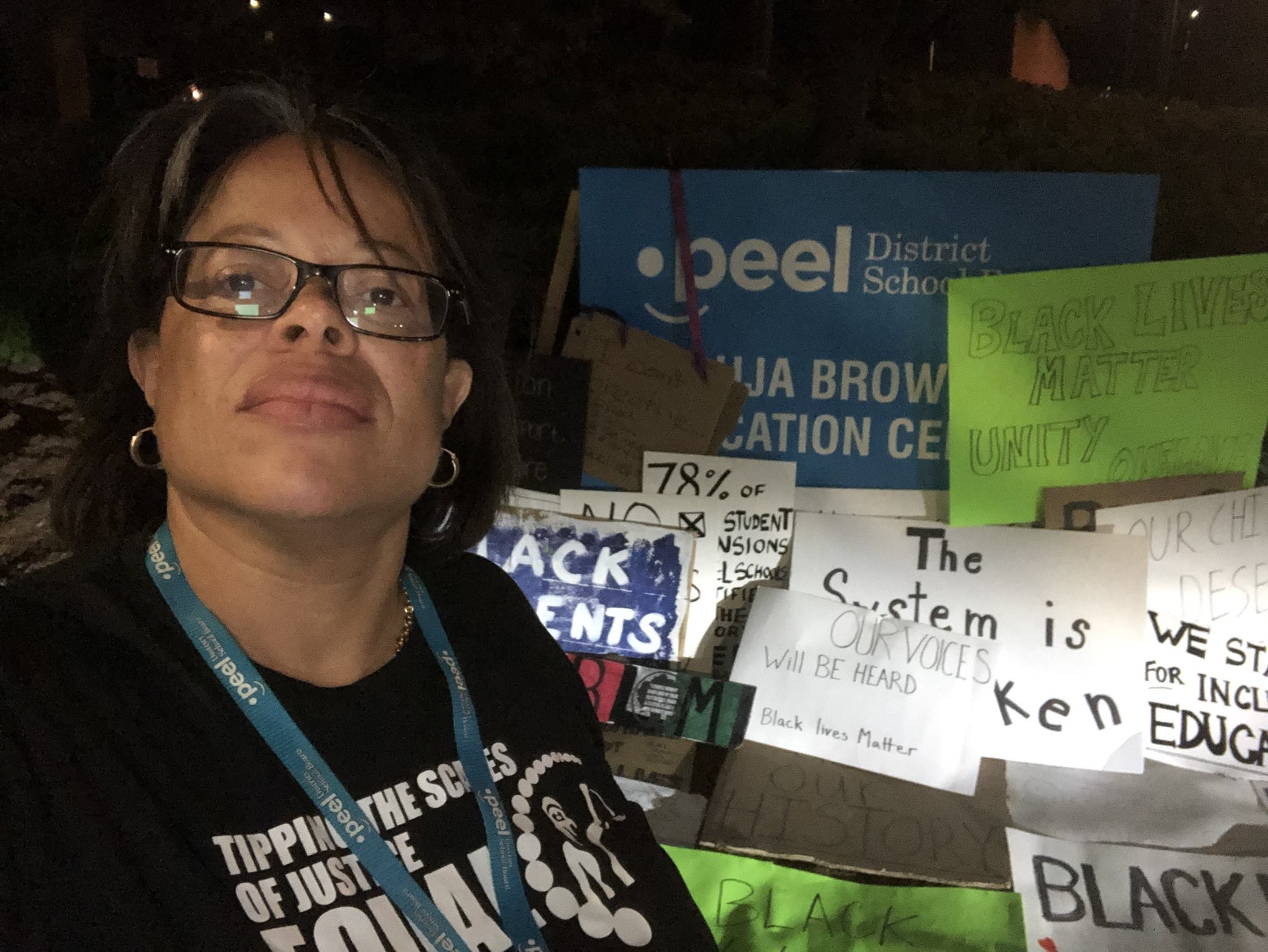 Trustee Kathy McDonald has fought for years against systemic discrimination inside the PDSB.
(Submitted)
The naming policy highlights the need to ensure the wrong names do not appear on schools and other board facilities, stating, "The PDSB recognizes that the names of schools, facilities, and special function areas have the potential to reinforce racist and colonial beliefs maintained in Ontario public schools."
McDonald says Iluyomade is exactly the type of person the policy aims to honour.
"The policy itself states that buildings should be named after people who are advancing equity and inclusion and reflect the community they are serving. By eliminating the name of someone like Kola, trustees are working contrary to the spirit of the policy, which is to recognize in the naming of schools and facilities those individuals who reflect our diverse community's values of equity and inclusion."
Advocates pressured PDSB trustees at Thursday's committee meeting to honour the commitment already made by the board.
"I have seen rules bent and changed and modified and tweaked, I happened to know that the policy was put in place by the Ministry yes to remove the names of people who have harmed Indigenous and Black people, it was not put in place for Black communities to suffer the consequences but that is what appears to be happening now," delegate Valerie Williams, who is also a member of a community steering committee, said.
In June 2020, after hearing from community members, the school board's Director, Rashmi Swarup, announced the Centre for Black Excellence would be named after Iluyomade. "I would like it to be known that Kola Iluyomade will be included in the name of the Centre as a tribute to one of the most passionate community advocates who stood up for social justice and who always put the needs and rights of Black students first," she said.
However, despite the public statement, and a recent report from Swarup to trustees, highlighting the board's commitment to name the centre after Iluyomade, Green and other trustees are now claiming the commitment was never made. It's part of his justification on behalf of all but one of the elected trustees who voted to keep Iluyomade's name off the centre (McDonald refused to support the move) for why they turned their back on the previous commitment by the board.
Many Black community members refer to Iluyomade as their "Black leader" who fought systemic anti-Black racism and Islamophobia in the PDSB for years until he unexpectedly passed away in 2021 after suffering a brain hemorrhage. Community members associate his name as a symbol of strength, courage and dedication to fight systemic ant-Black racism and all other forms of discrimination in the troubled board. The stripping of his name from the Centre of Black Excellence has left many members of the Black community questioning if trustees learned anything over the last few years, after they were stripped of their governance authority due to the harm done to students for decades.
A series of provincial reviews, ordered by Education Minister Stephen Lecce after evidence of widespread anti-Black racism, Islamophobia and other forms of systemic discrimination became too hard to ignore, proved what Black community members had been pointing out for years—that PDSB and many of its trustees had created a dangerous culture that did widespread damage to visible minority students who had suffered inside schools for decades.
In 2020, Lecce ordered the trustees be stripped of their governance responsibilities and a provincial supervisor was sent in to take control of the disgraced board.
Now, the man widely seen as a key champion in the fight to correct the damage done by trustees, is being targeted in a vindictive move by those same trustees he fought to hold accountable, advocates say.
During the previous board meeting, when delegations were not allowed prior to the vote that kept Iluyomde's name off the centre for Black excellence, many in attendance said the action to remove his name from a facility to support Black student success was vindictive, and proof that trustees have not learned from the turmoil that has transpired over recent years.
"I think a vote to eliminate his name from the Centre is a slap in his face, is a slap to his family that was approached and in principle his widowed wife and two fatherless children were many times in public on different occasions made to believe that this was going to happen," McDonald said. "Remember why we got here under supervision, we talk about building trust in a community, I think this is going to undermine trust."
Some of the community members at the full board meeting two weeks ago got up from their seats with their placards held high and marched down toward the trustees, chanting "shame on you."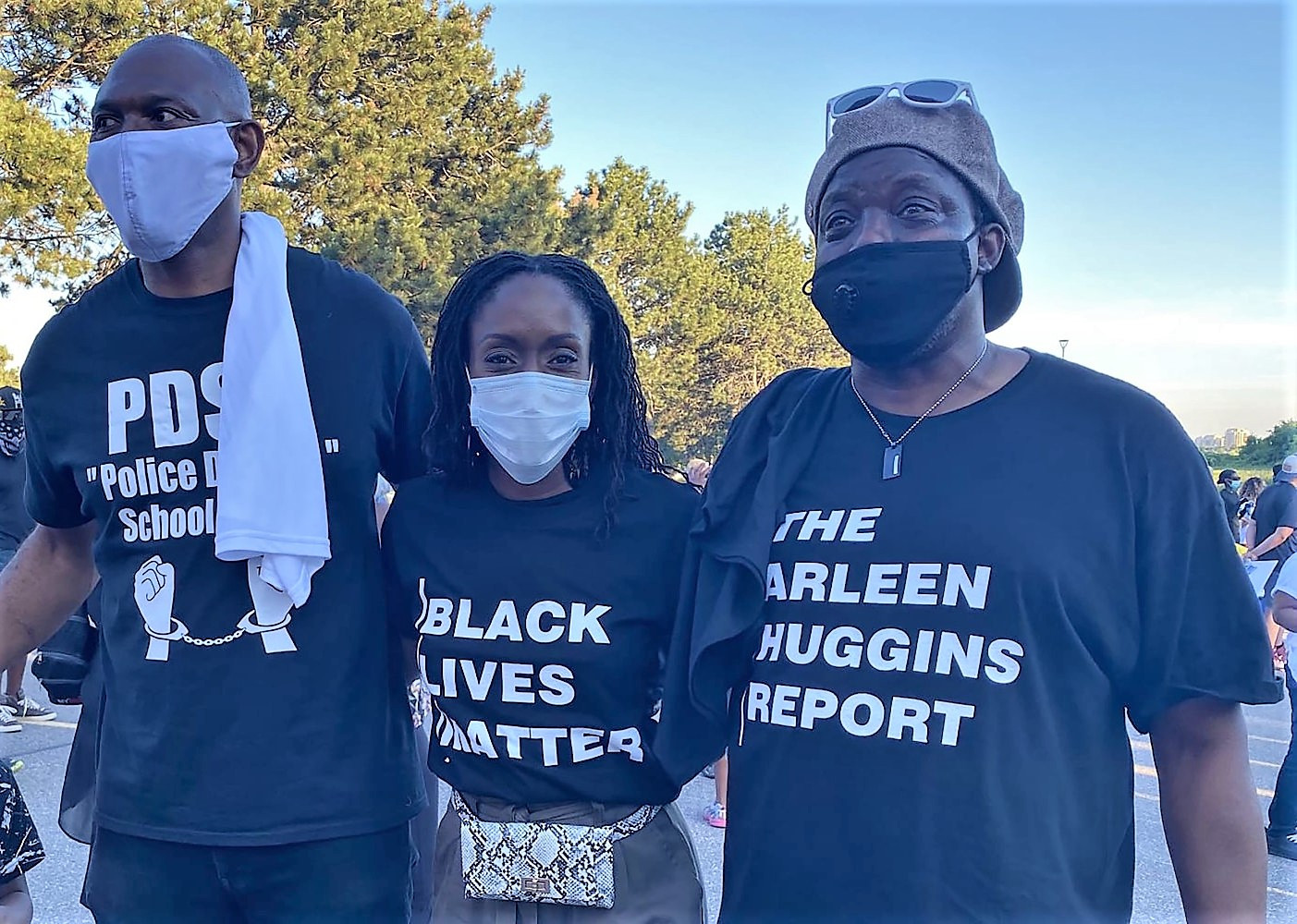 Kola Iluyomade, right, poured time and energy into advocating for equity inside the PDSB.
(Supplied image)
In the last PDSB board meeting, the decision to name the facility as the "Centre of Black Excellence," instead of the "Kola Iluyomade Centre of Black Excellence" passed with 10 trustees voting in favour, one abstaining and McDonald against the motion.
The decision came after a board committee meeting on May 3, when trustees on the committee recommended keeping Iluyomade's name off the centre, citing a policy the same trustees had just quietly passed without the community's knowledge which they say prevents such board facilities including schools from being named after people, after decades of naming them after white individuals.
With the eleventh-hour move, the centre meant to honour Black excellence, will not be named after the person who helped lead the fight to protect Black students, unless community members can win their latest battle for representation in a board dominated by white employees. About 85 percent of PDSB's students are not white.
The policy now being used as justification to keep Iluyomade's name off the centre, does not apply to him, but trustees are using it as an excuse anyway. It states that individuals excluded from having a facility named for them include current PDSB employees or board members, people who are known to have championed or orchestrated the mechanisms of colonialism in Canada and people who are known to have engaged in the trans-Atlantic slave trade, had a role in the enslavement of Africans, or to have championed or orchestrated the segregation of schools in Ontario based on perceived race. Kola Iluyomade does not fit into any of these categories.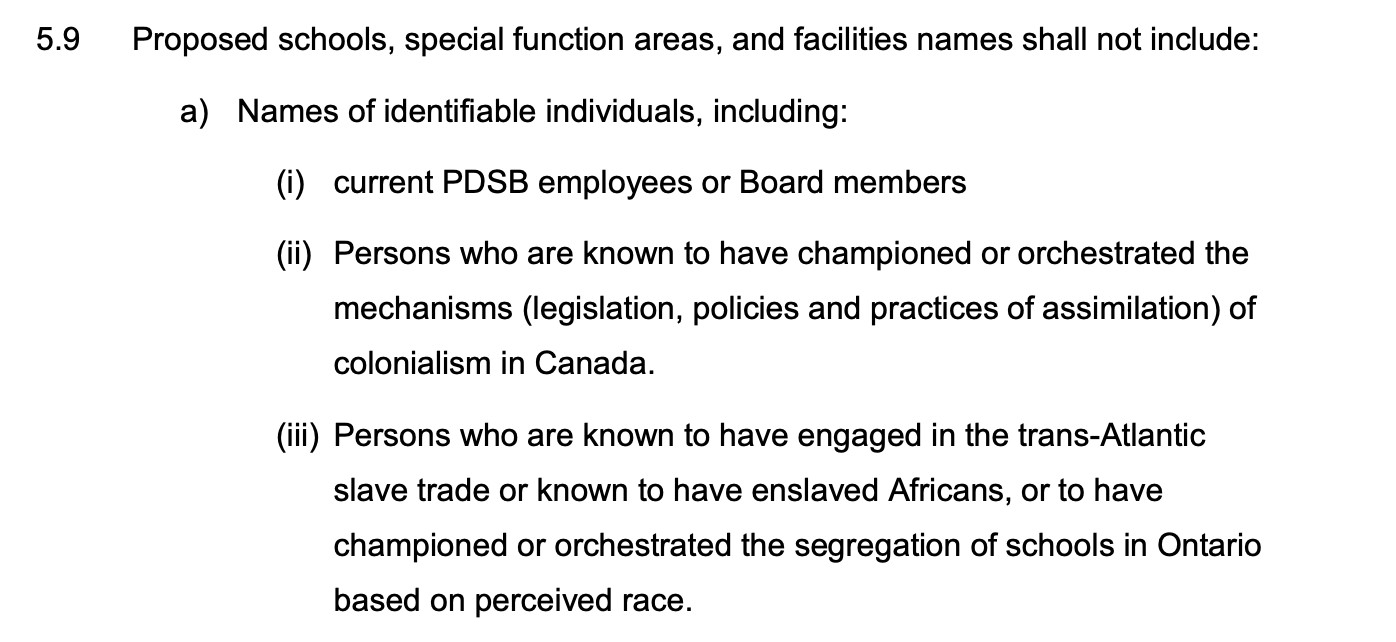 A section of PDSB's policy for naming and renaming of schools, special function areas, and facilities aimed at keeping the names of people who have done harm off of the board's buildings.
After recognizing what her colleagues were trying to do, Trustee McDonald was the only one who voted against the motion to change the wording of the policy. She also put forward a motion at the last board meeting to make an exception to the interpretation of the change that prevents anyone's name from being used, but because not one of the other trustees would second her motion, it could not even be debated. She then brought forward a motion to defer the decision until after the committee meeting that took place this past Thursday, so community members would have a chance to delegate before the decision. This motion did not move forward either.
As soon as the motion to name the Centre as the "Centre of Black Excellence" passed two weeks ago, community members stood up, marched down the aisle towards the trustees while chanting loudly and holding their placards up in protest of what they saw as a "betrayal" to the Black community. Thursday's committee meeting was the first time community members were allowed to delegate after finding out about the decision to give the centre a name other than what was promised.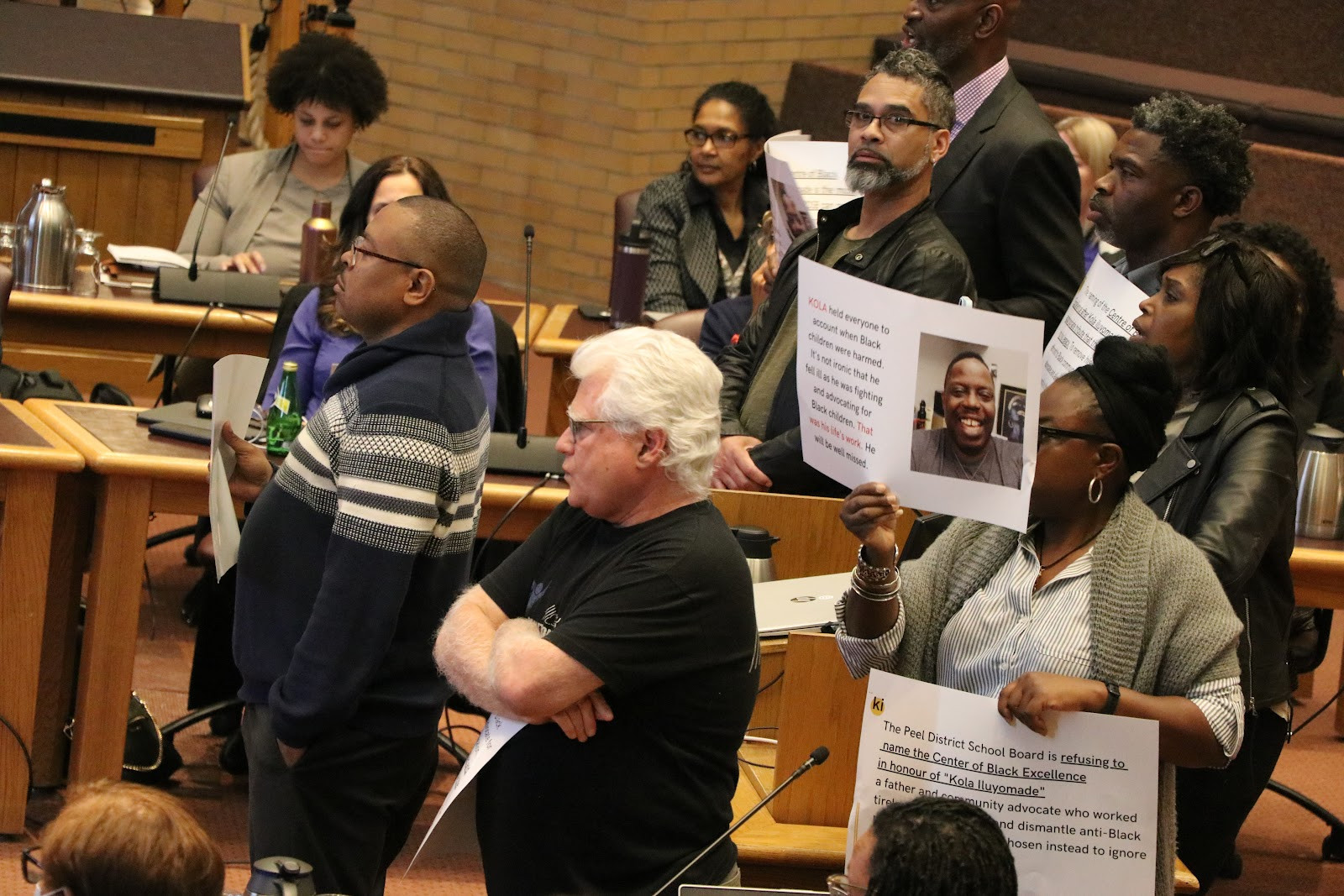 Community members protesting in front of trustees at PDSB's meeting on May 25.
(Samanah Ali/The Pointer)
"A week after they have made this decision, [they're] asking us to delegate because they're trying to prevent us from delegating. It begs to ask the question, what was the purpose of that?" Idris Orughu, an advocate who had worked closely with Iluyomade, said to The Pointer.
A new Procedure By-law, which was passed on September 28, blocks delegates from speaking at board meetings. They are instead only allowed to speak at committee meetings, such as the one on Thursday.
Orughu was also one of the community members who delegated at the committee meeting. "We're here today because the board under the current Chair…has shown clearly that the last two years under supervision did not matter and have not learned their lessons," he said at the beginning of his delegation.
In June 2020, Ontario's Ministry of Education stripped the PDSB's trustees of their governance roles and appointed Bruce Rodrigues to supervise the Board after evidence showed systemic harm on their part in their failure to address widespread discrimination problems while advancing destructive policies. A year later, the trustees sent a letter to the Province to have him removed, but the education ministry ignored the request. Earlier this year, when Rodrigues had completed work to rehabilitate the troubled board, his role was lifted and trustees had their governance authority restored. Equity advocates questioned the move, fearing trustees would return to the type of behaviour now being displayed around the naming issue.
PDSB's Steering Committee, which is composed of Black senior leadership, administrators, educators, parents, community members and a trustee, was responsible for finalizing a name for the Centre. After engaging with Black students, staff, families and community members, they finally recommended the facility be named the Kola Iluyomade Centre of Black Excellence. However, almost four months after the end of provincial supervision in January, trustees went against the board director's recommendation to honour the commitment and decided to strip Iluyomade's name from the Centre without hearing a single delegation from community members who made it clear they wanted a chance to address the turnaround.
"I was looking at the sign that's posted outside on the School Board's motto that says to build confidence and hope in all students. Well, I think if this Centre is not named after Kola, the hope and the confidence in Black students will be immensely diminished," Williams, who was a member of the Steering Committee, said in her delegation Thursday. She then proceeded to question why the trustees have failed to respond to a letter that was sent to them. None of them answered; instead, veteran Trustee Stan Cameron asked Williams to continue her delegations and promised that some next steps would be taken.
"I have seen rules bent and changed and modified and tweaked, I happened to know that the policy was put in place by the Ministry yes to remove the names of people who have harmed Indigenous and Black people, it was not put in place for Black communities to suffer the consequences but that is what appears to be happening now," Williams said.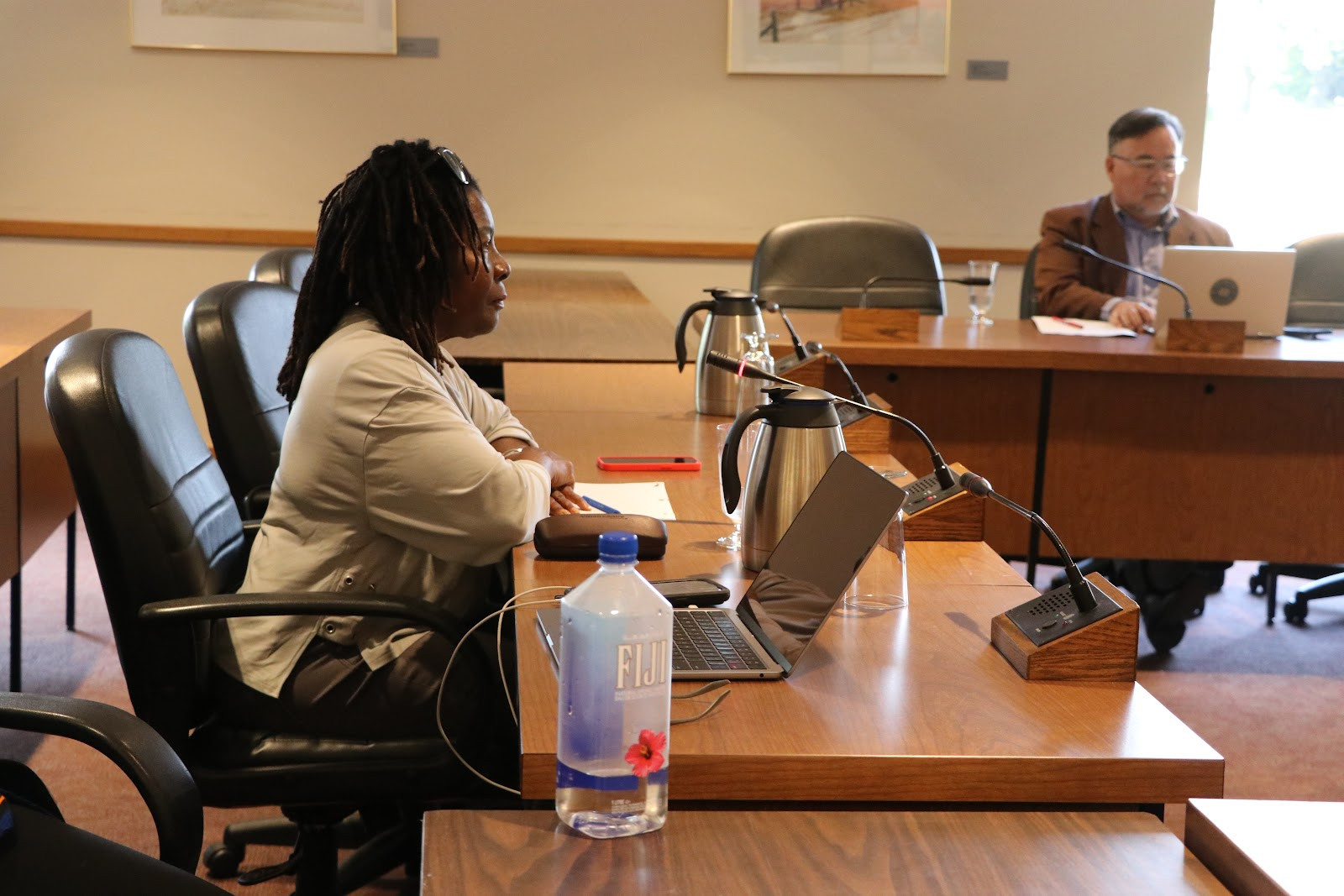 Valerie Williams delegating at the Peel District School Board's Physical Planning, Finance and Building Committee Meeting on Thursday, June 1.
(Samanah Ali/The Pointer)
According to 2021 Census data, 69 percent of Peel's population identifies with a racialized group. This number would be higher if the Town of Caledon was not included, as it has only 33 percent of the population identifying as part of a racialized group, while Brampton has 81 percent and Mississauga has 62 percent of the population identifying as part of a racialized group, more than 70 percent of their combined population.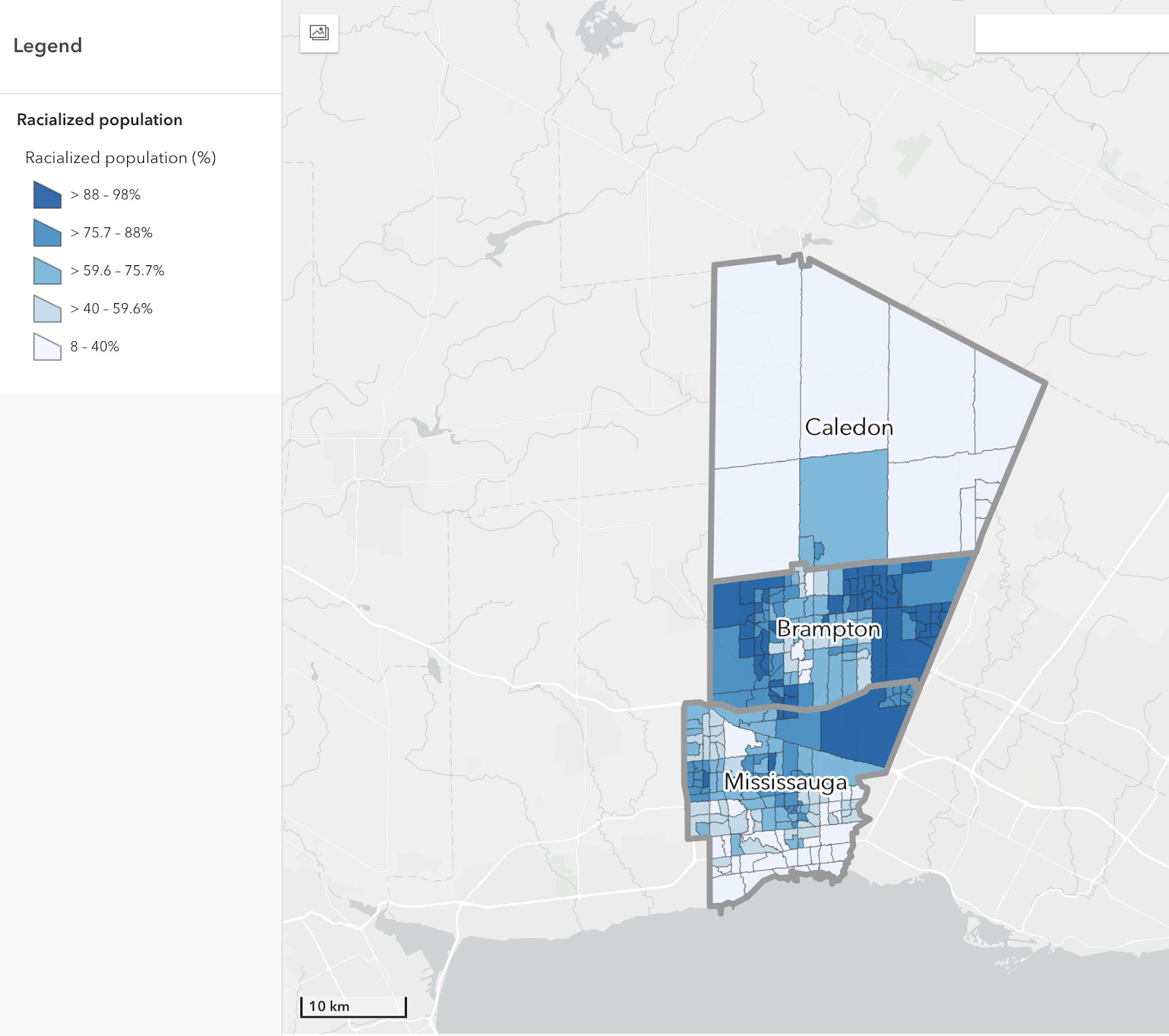 Peel Region's racialized population.
(Census Canada 2021)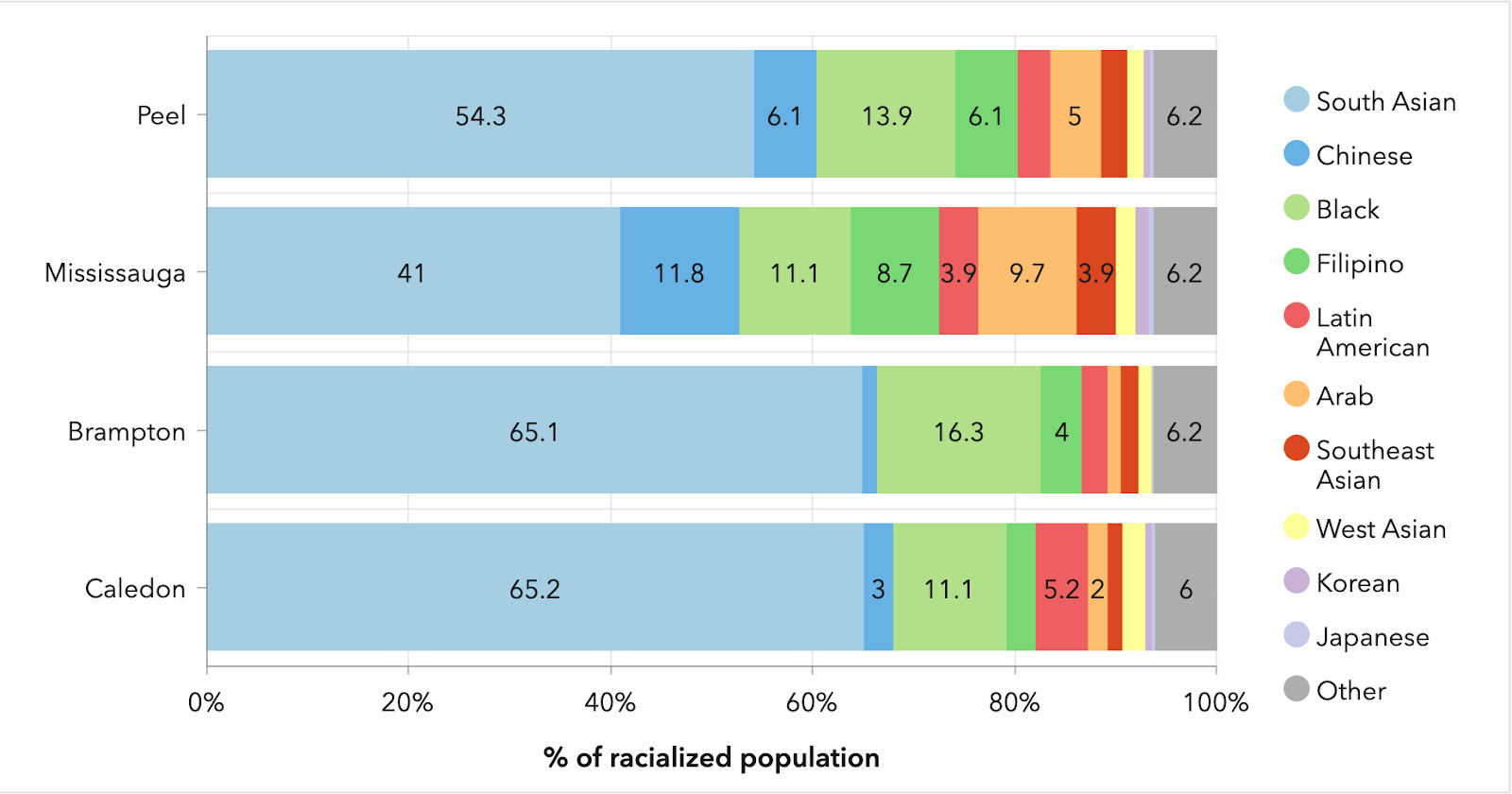 Percent of visible minorities in Peel Region's municipalities belonging to different racialized groups.
(Census Canada 2021)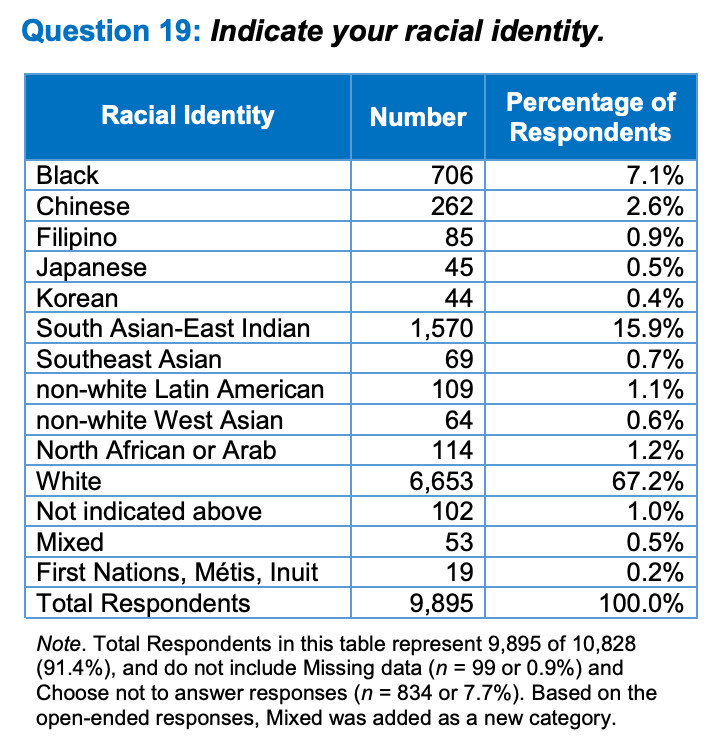 According to PDSB's 2016 workforce census report, 67 percent of 11,084 Peel board employees identified as white.
"It does not make sense to have 70 percent of the teachers in Peel be white when the demographics is otherwise," Orughu said, referring to the population of Peel which is about 70 percent non-white, and the PDSB student body, which is 85 percent non-white.
All the delegations at the Committee meeting, including Williams', will be sent to Director Rashmi Swarup for a response. A written delegation by Donald Harris, who did not come to the meeting in person, was also read out. He said he and his wife watched the previous week's board meeting "in disbelief as community members who call themselves activists and leaders violently attacked trustees and disrupted the board meeting."
Community members responded to the written delegation from a man who did not even attend after being accused of being violent with the trustees. None of the participants at the board meeting attended by The Pointer used any violence.
"What was violent about what we did, we didn't touch anybody," Orughu said Thursday. The board previously had to issue a written apology to Orughu after he and Iluyomade were falsely accused by Green and other trustees of violence in 2020, and issued trespass warnings; Orughu was banned from all board properties.
Rodrigues wrote that "The issuing of the notice of trespass and contacting the Peel Regional Police were acts of discrimination and anti-Black racism." The supervisor added that acknowledging past mistakes would "enable reconciliation" for the embattled organization. He also apologized for legal action taken by the board against Black community groups prior to his appointment, when he terminated the court application calling it "a deliberate attempt to silence community members' public participation".
Now, it appears that those mistakes are being repeated.
"It's a page that was seen before that has been used and continuously used to shut down Black people," Orughu said after the false allegations were read out loud during Thursday's committee meeting. "Call them angry and aggressive and it's sad and unfortunate that the chair is using a few people, anonymous people in the community, to want to make themselves look credible."
All three of the written delegations highlighted by the board during Thursday's meeting supported the decision to refrain from naming the Centre for Black excellence after any particular individual, while the three community members who delegated in person criticized the decision to ignore the board's earlier commitment.
"If you notice, all of them (trustees) were hiding behind the screen, did not ask any questions, are afraid, as opposed to elected officials being able to engage people," Orughu said Thursday.
On March 20, a petition to "preserve Kola Iluyomade Centre of Black Excellence at PDSB" was launched. It was signed by 678 people and attached to a letter sent to the Province's Minister of Education, Stephen Lecce, by Paula Hylton, Chair of Advocacy Peel, an organization that was founded by Kola Iluyomade.
The letter reads, in part: "The trustees' decision to maintain names of buildings named after white people while refusing to name buildings after a Black man is anti-Black and, truly a sign that the trustees wish to preserve the Peel District School Board's racist practices of the past, which are, in fact, very much also racist practices of the present day Board."
---
Letter to Education Minister Stephen Lecce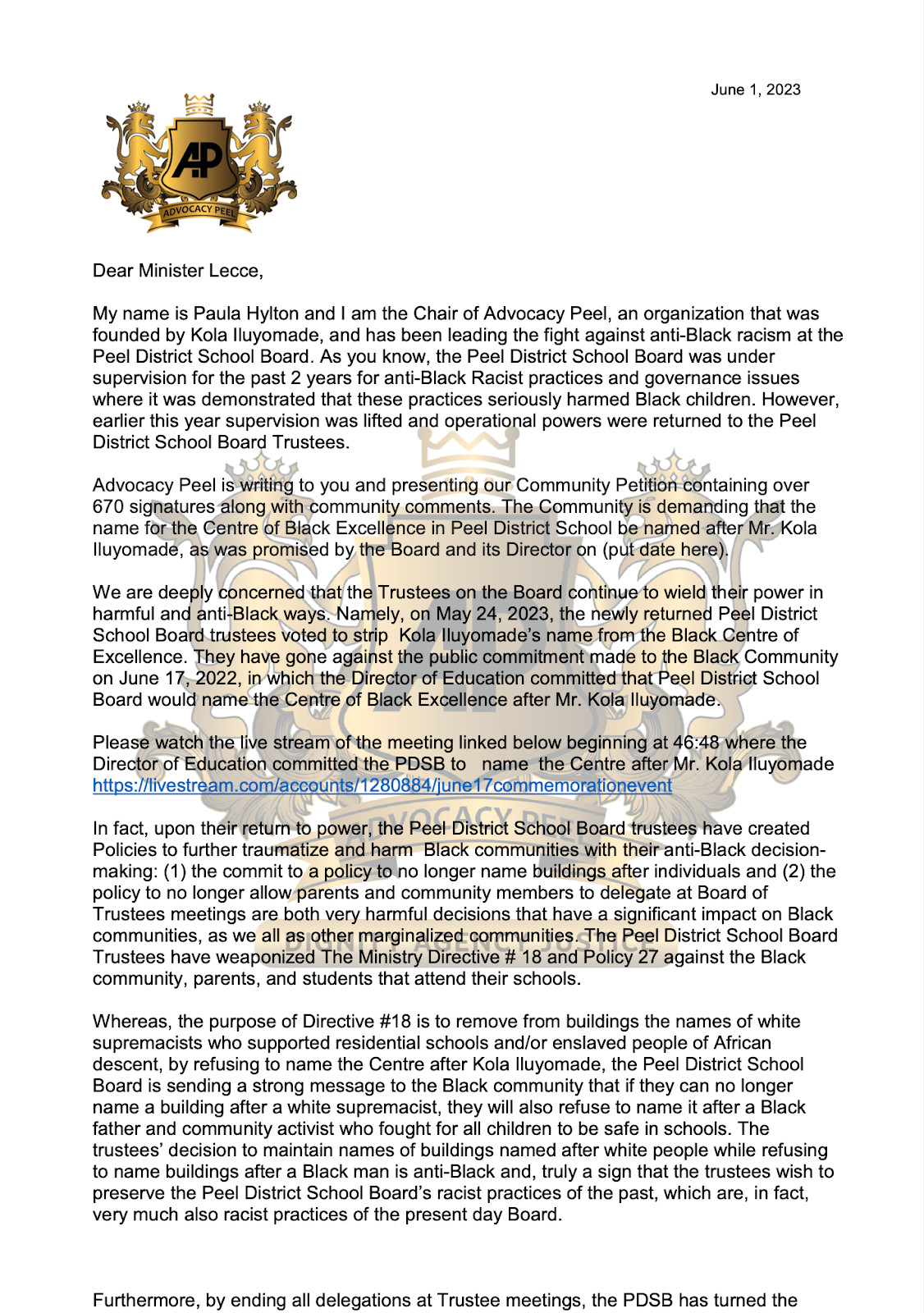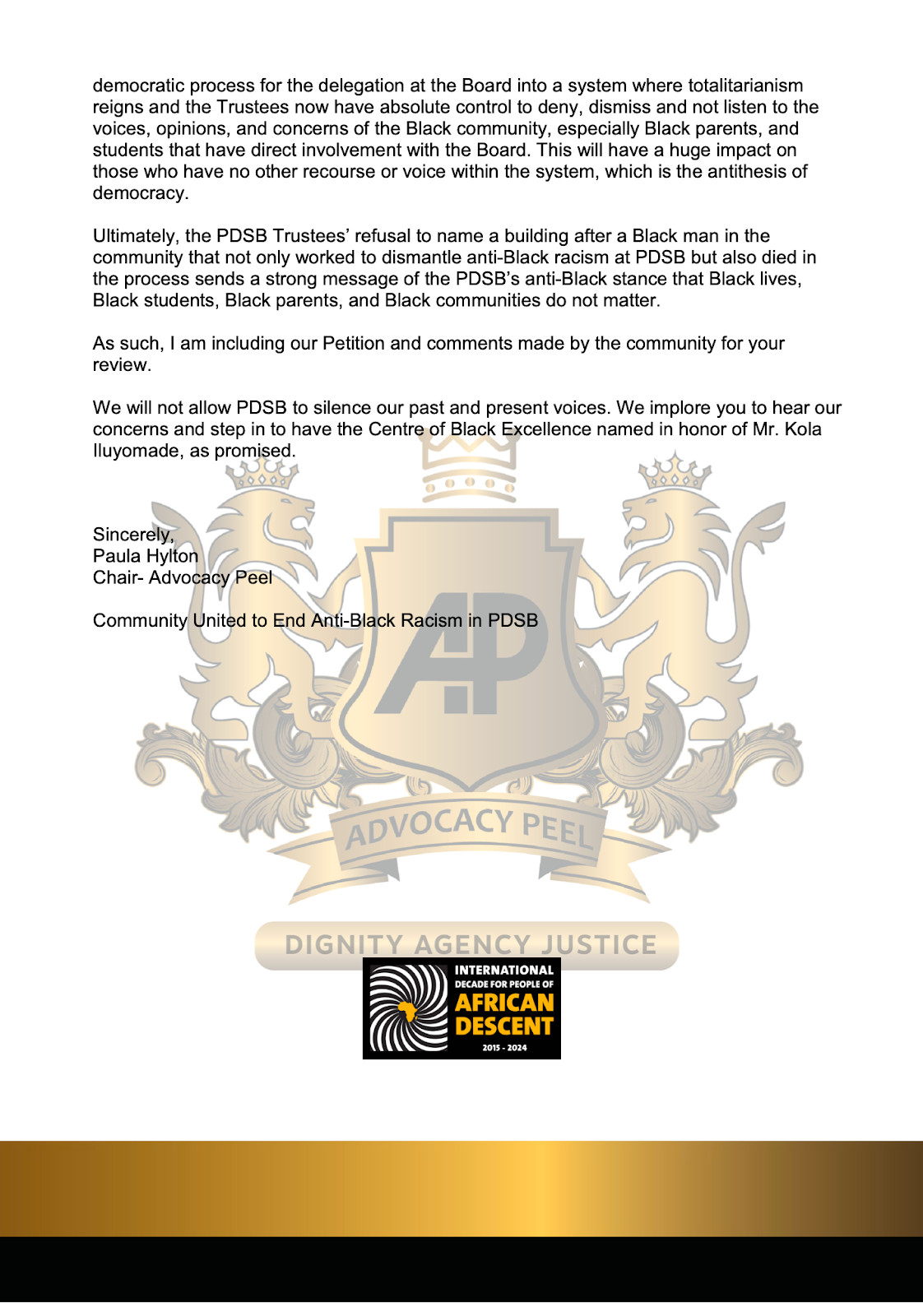 ---
Email: [email protected]
Twitter: @SamanahAli
---
At a time when vital public information is needed by everyone, The Pointer has taken down our paywall on all stories relating to the pandemic and those of public interest to ensure every resident of Brampton and Mississauga has access to the facts. For those who are able, we encourage you to consider a subscription. This will help us report on important public interest issues the community needs to know about now more than ever. You can register for a 30-day free trial HERE. Thereafter, The Pointer will charge $10 a month and you can cancel any time right on the website. Thank you
Submit a correction about this story