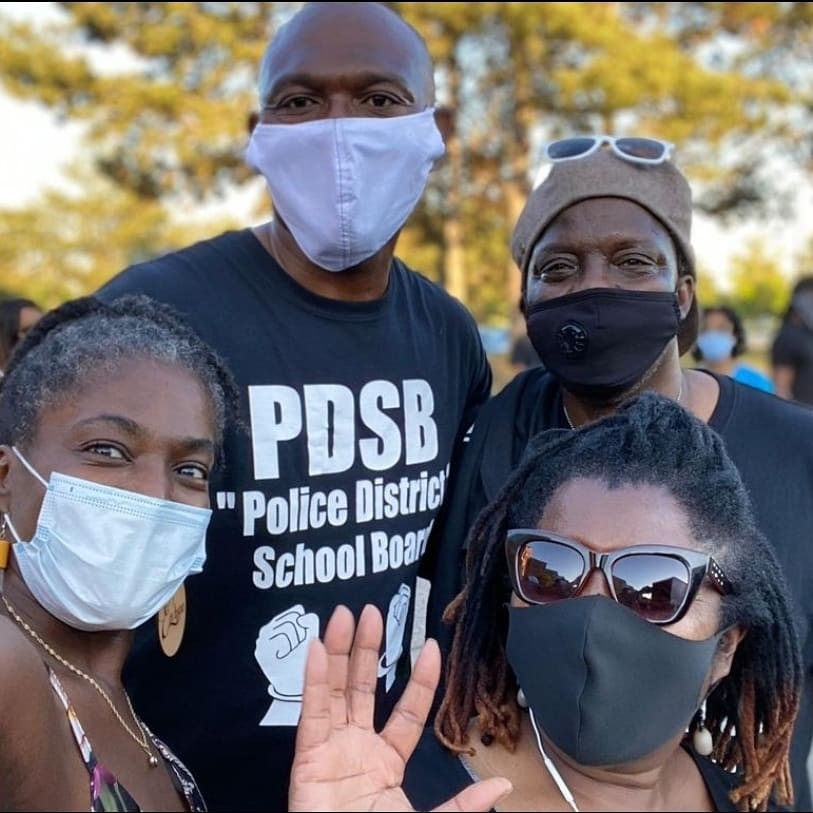 Feature image courtesy of Idris Orughu
Friends celebrate Kola Iluyomade, an advocate and leader
The long shadow of Kola Iluyomade will stand over Brampton and Mississauga for years to come. As a husband, a father and an advocate, he played a key role in the lives of thousands of children as he fought to unravel systemic anti-Black racism, Islamophobia and discrimination within the Peel District School Board.
After his sudden death, he is being remembered by his friends for his sense of humour, his African identity and a total devotion to his advocacy work.
Iluyomade leaves a legacy of hard-fought change that will positively impact generations of Peel families.
On June 24, he passed away in hospital after suffering a brain hemorrhage. His death came just 13 days after his 56th birthday and marked the end of a life that brought hope, humour and a quest for justice to one of Canada's most diverse regions.
"Kola was a very, very funny guy, his laughter is one aspect of him we will always remember," Idris Orughu, a leading Black community advocate in Peel, said. "He was a brilliant mind too, a very, very brilliant mind."
Iluyomade and Orughu worked hand-in-glove as they pushed for changes at PDSB. After decades of anti-Black racism were finally codified and documented in a Ministry of Education review of the board in March 2020, the pair played contrasting and complementary roles in a quest for equity.
Iluyomade's fearless advocacy, coupled with a booming laugh, disrupted the status-quo and called out anti-Black racism and discrimination in Ontario's second largest school board. After Iluyomade had pushed hard for justice and often shared uncomfortable truths, Orughu, a calm and carefully spoken figure, would sweep in to pick up the pieces and bring political figures and community leaders together to plan a solution.
"Kola was, he was my soldier," Orughu remembered. "We would return back and laugh about it because he was the one who would go do all the agitation, cause the trouble and I would go cleanup, have the meetings, bring the community together and we would laugh about this. It is going to be absolutely difficult because there was a huge vacuum there before we stepped in."
Kola Iluyomade (right) campaigned tirelessly to bring change to Peel Police and Peel District School Board
(Image from Isaac Callan/The Pointer)
Born in the United Kingdom in 1965, Iluyomade spent time at school and university in Africa. He boarded at Government College Ojo, a secondary school in Lagos State on the Nigerian coast.
After high school, he attended University of Ife, now known as Obafemi Awolowo University. Studying within the law faculty, he was a well-known figure on campus and formed close ties. Along with a group of friends, he organized university fashion shows and events, even taking to the catwalk himself. Iluyomade complimented his interest in fashion, debate and socializing with a love of music.
"Most evenings we would have a mini party in the room, just dancing and singing," Deinde Falase, who shared a room with Iluyomade in their last year of university, said. "Impromptu things in our room with music. He was a great host though, blasting the music full volume and before you know it, people are dropping in. It was always fun."
Iluyomade had an equal interest in Nigerian music and new American artists. He listened to Stevie Wonder and his university friend Uzo Onyemaechi described him as "the number one fan" of American singer-songwriter Jody Watley, who he travelled to see perform in the United States.
Falase and Onyemaechi were part of a small group of Iluyomade's undergraduate friends who have remained in touch for almost four decades. The Nigerian alumni scattered across the world, ending up in England, the United States, Canada and South Africa, but they maintained contact and even managed short visits.
First they exchanged letters and phone calls, before the advent of the internet made communication easier. In recent years, their Whatsapp group has maintained ties under the promise "brothers for life". The group had been formulating a tentative plan to return to their undergraduate campus and spend a night in the dormitory where they first met, reminiscing.
Iluyomade was the youngest of the group and an only child. His friends came from large families and teased him about his special status as his mother's only child.
"Being a community activist in Canada, that was never a surprise to us," Onyemaechi said. "He has always been someone who cared about people. For someone who is an only child, you [might] expect him to be spoiled or selfish — he's not."
Kola Iluyomade (in yellow) with friends at the beach.
(Image shared online by Dele Oyebola)
Iluyomade worked hard and maintained good grades, putting his considerable mind to work on academia and human connections. After graduating from his undergraduate program in 1986, he trained for a further year as a lawyer and was called to the Nigerian bar. Eventually, he returned to England and then moved to Canada where he lived with his wife, Funke, and two sons in Mississauga.
"He's always had leadership qualities and he is somebody who is very focused," Wonuola Yomi-Odedeyi, who knew Iluyomade in Nigeria and again in Canada, said. "He brought that focus to everything. He's always been a leader in any group that he was in… he cherishes relationships, so he doesn't meet you and then forget you or use you or discard you. He is someone who sees the humanity in people."
Throughout his life, Iluyomde wore his identities on his sleeve as a badge of honour. He was vocal about both his African and his British roots, sharing references to both with the people he interacted with. "Kola was very British: his accent, his speaking, his language," Tim Vining, a union human rights officer and firm friend of Iluyomade, said. "The guy knew Shakespeare better than anyone, he could quote from Shakespreare. Tennis was [also] always one of his British things."
Iluyomade's family are of Yoruba descent, coming from western Africa and associated predominantly with Nigeria, Benin and Togo. His African ties were an important part of his personality and the basis for some of his strongest connections. Several of his friends, both in Canada and Nigeria, recalled his grasp of Yoruba music, culture and language as pillars of his personality.
"From the very start, we were more than colleagues," Kike Ojo-Thompson, a friend and well-known equity consultant, said. She first met Iluyomade in Canada in 2006 during a training day at his workplace. He called her by her Yoruba name and they established an instant bond.
"I understood this was my big brother who understood exactly who I was and where I come from in terms of being a Yoruba child," she said. "I think the non-activist part that is significant for me has always been that big brother piece. He has dressed down and gone to bat for me in rooms that I was not present, about issues I had no idea were unfolding. I know that."
Idris Orughu (left), Kike Ojo-Thompson (centre) and Iluyomade (right) were close friends.
(Image contributed)
In Canada, it was his advocacy work to bring change to PDSB that defined Iluyomade.
He first became involved with the troubled school board in 2015, presenting a delegation to the board of trustees. By June 2021, he had become known across Ontario for his campaign to end anti-Black racism within the board and even been hired as a Black guidance coach for students.
Six years ago, the father of two sons, Ore and Ife, went to a PDSB meeting to advocate and was appalled by what he saw. Kathy McDonald, a newly appointed Black trustee, was sidelined and patronized by her colleagues, who failed to reflect the diversity of Peel. The trustees dismissal of McDonald is behaviour indicative of a board that did not understand the endemic discrimination occuring under its watch, something that went on to be captured in the Ministry of Education's investigation into PDSB and the Arleen Huggins report.
"He was so incensed about how they were treating me — they were just so dismissive and hostile towards me — that he actually waited after his delegation to introduce himself to me and thanked me for standing up to these people," McDonald said. "And he gave me the biggest bear hug."
Kola Iluyomade was a tenacious advocate.
(Image from Kathy McDonald)
In his early days advocating for change at PDSB, Iluyomade ploughed a lonely furrow. Public knowledge of the board's issues, now so well documented through two public reviews, was limited and he struggled to make inroads as he supported McDonald. The death of his mother drew Iluyomade away from the board and his advocacy work until McDonald paired him with Orughu as the Ministry of Education announced its investigation into the board.
"We met in a coffee shop and we were talking and I was really excited to find out I am of Nigerian background and he is of Nigerian background as well," Orughu explained. He was initially suspicious of Iluyomade's "militancy" and unsure how his tactics would work. However, the concern quickly waned and was replaced by an ever growing awe and respect.
Around the same time, Iluyomade partnered with Vining to create his organization, Advocacy Peel. The group, which has championed progressive, bold positions in the region, will pay the costs of Iluyomade's funeral, after he refused to claim any expenses through his entire time running the organization, much of which was funded from his own pocket.
Before he passed, Iluyomade planned to expand Advocacy Peel across Ontario. "Kola's vision was always so far ahead of us," Vining said. "I never say he's a man before his time, I always think we're behind the times. We were always behind him. He had a vision."
A graphic of Kola Iluyomade created by Advocacy Peel to honour his memory.
(Image from Advocacy Peel)
Iluyomade's advocacy work forced changes at PDSB and the Peel Regional Police. One particular achievement was the discontinuation of the School Officer Resource program, which placed police officers in schools. Alongside the highs, there were tangible sacrifices to be made as well.
"This work will consume you if you let it, and I think it consumed him," McDonald said. "Things seem to be unravelling: a year ago we were so hopeful, then we were coming into this [one] year anniversary and the mood was sombre, we were broken."
In June 2020, the Ministry of Education agreed to take control of PDSB after its trustees accepted they had failed to solve years of anti-Black racism and asked for help. In one of his first acts, supervisor Bruce Rodrigues removed Director of Education Peter Joshua from his role, news which pushed Iluyomade to tears of relief. A new permanent interim director of education, Colleen Russell-Rawlins, a Black woman, was appointed and significant work was started to dismantle a system of discrimination.
But, last month, things began to move in the opposite direction. Russell-Rawlins confirmed she would leave PDSB to take a job with the Toronto District School Board and advocates felt many of their early successes were in danger. For those who advocated most closely with him, this setback had a profound impact on Iluyomade — they say he died in the line of duty.
"I oscillate between disbelief and anger," McDonald said. "When I look online and see some people's tweets about this great person, thanking him for his work … so many elected officials, union people saying these great things about him, but when he was alive, where were these voices in his struggle?"
Iluyomade at PDSB headquarters in March 2020.
(Image from Isaac Callan/The Pointer)
The timing of Iluyomade's passing shocked his friends and allies. Consumed by the advocacy work they shared, they had found little time to tell personal stories while they strategized. A road trip to Canada's east coast scheduled for August by Orughu, McDonald and Iluyomade to bring their families closer together was planned too late.
Even Orughu, who campaigned for more than a year at Iluyomade's side and shared the Yoruba language, barely found time to compare stories. It's a conversation several of his friends say they wish they had had.
"I was very, very sure we have even known the same people," Orughu said. "[Where] he went to university, one of my classmate's dad was a tenure professor there — Ife, which is a great university. He went to a boarding school, just like I did, so we're products of the boarding school system."
Some who knew Iluyomade the advocate wish they had asked more about his formative years; all say he had an ability to make them feel close and valued regardless. Working late nights and early mornings planning how to bring change did not mean deep bonds were not formed.
Kola Iluyomade (left) with Tim Vining (second from left) during a PDSB meeting.
(Image courtesy of Tim Vining)
"Kola never called me his ally or his colleague, he called me his brother; he embraced me as his brother," Vining said. "We would go to the meeting and people would say, 'Who is that white guy?' and Kola would say, 'He is my brother of another mother'. That's how he always introduced me."
Since his passing in June, tributes to the late-advocate have streamed in. Politicians, education leaders, fellow advocates and a stream of his university and school friends have shared memories and prayers.
His fellow advocates have mourned the stress of his work which they fear consumed him and leaders have promised to honour his legacy through progress.
---
Email: [email protected]
Twitter: @isaaccallan
Tel: 647 561-4879
---
COVID-19 is impacting all Canadians. At a time when vital public information is needed by everyone, The Pointer has taken down our paywall on all stories relating to the pandemic and those of public interest to ensure every resident of Brampton and Mississauga has access to the facts. For those who are able, we encourage you to consider a subscription. This will help us report on important public interest issues the community needs to know about now more than ever. You can register for a 30-day free trial HERE. Thereafter, The Pointer will charge $10 a month and you can cancel any time right on the website. Thank you.
Submit a correction about this story