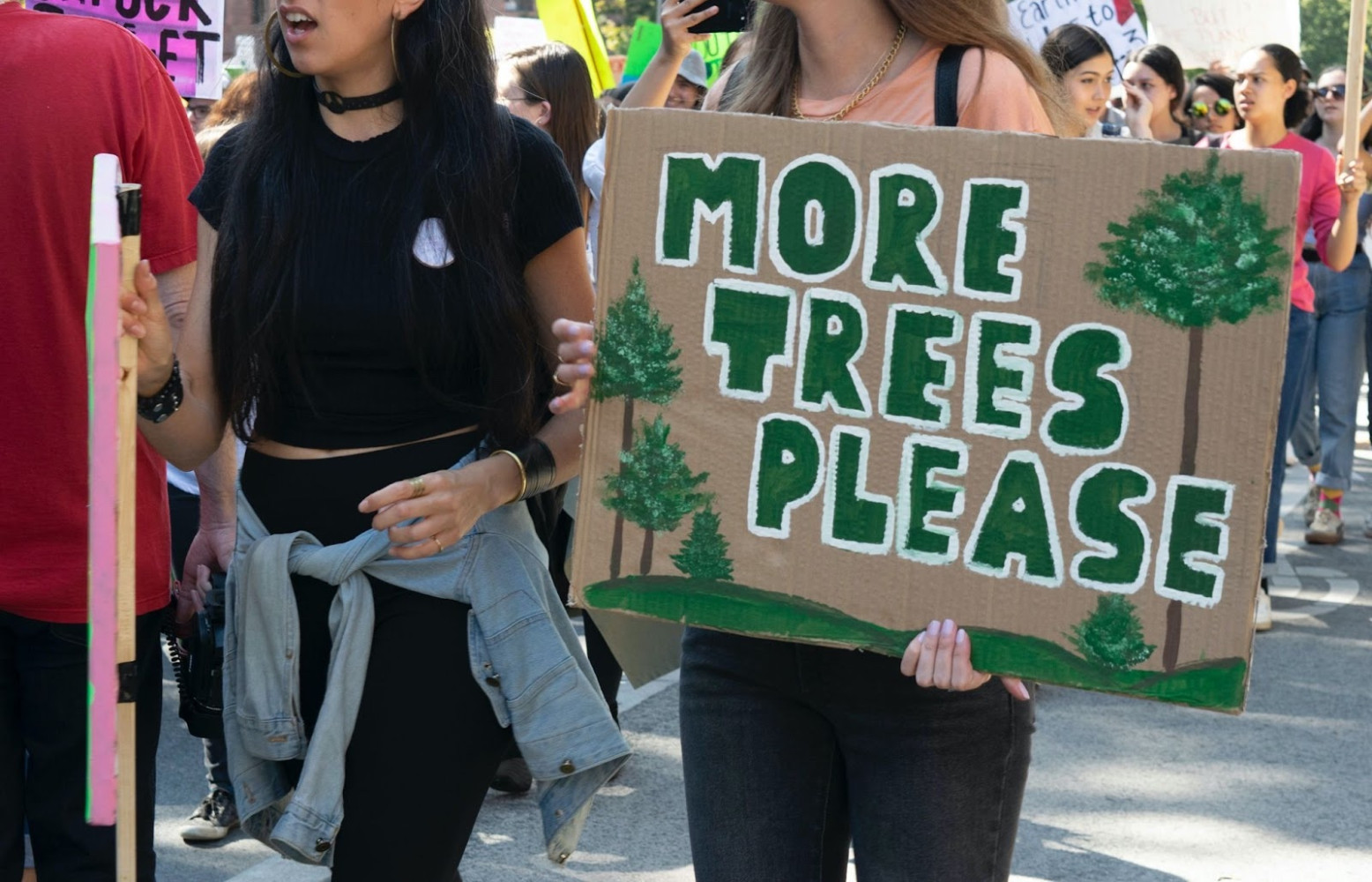 Feature Image Alexis Wright/The Pointer
Dissolution of Peel could delay critical climate efforts as region continues to warm 
The science from international research bodies is clear: the window to mitigate the most devastating effects of climate change is rapidly closing. In 2019, the United Nations General Assembly declared that the world only has until 2030 to prevent irreversible damage.
This week, insurance giant State Farm caused shock waves as the impacts of climate change become impossible to ignore. Some of the world's largest companies are now having to rethink their entire business model. It announced it will no longer accept home and business property coverage in California (existing property insurance policies will continue to be honoured) because climate-related threats, particularly wildfires in America's most populous state, have become too great a risk to the company's bottom line.
The economic implications and risks to future homeowners are unprecedented.
Wildfires in western Canada have been ravaging much of Alberta. On May 6, the province's Premier Danielle Smith declared a state of emergency after over 40,000 residents were forced to evacuate their homes. As of May 9, the province was trying to fight back more than 400 fires, far more than the number during the same period in any of the previous five years. As of May 23, the province had responded to 520 fires, burning a total of just over 1 million hectares — equivalent to one-and-a-half-times the size of the entire Greater Toronto Area. There are a variety of causes of wildfires including lightning and human irresponsibility. However, climate change poses a grave risk as drastic changes in temperature and precipitation patterns can create the perfect conditions for the types of uncontrollable blazes that have destroyed huge parts of forests in recent years. A peer reviewed study in the journal Environmental Research Letters found a direct link between carbon emissions from the fossil fuel sector and the increasing number of wildfires across Canada and the United States.
"We are at a crossroads. The decisions we make now can secure a liveable future. We have the tools and know-how required to limit warming," Hoesung Lee, Chair of the Intergovernmental Panel on Climate Change (IPCC), said in a press release regarding halving global emissions by 2030.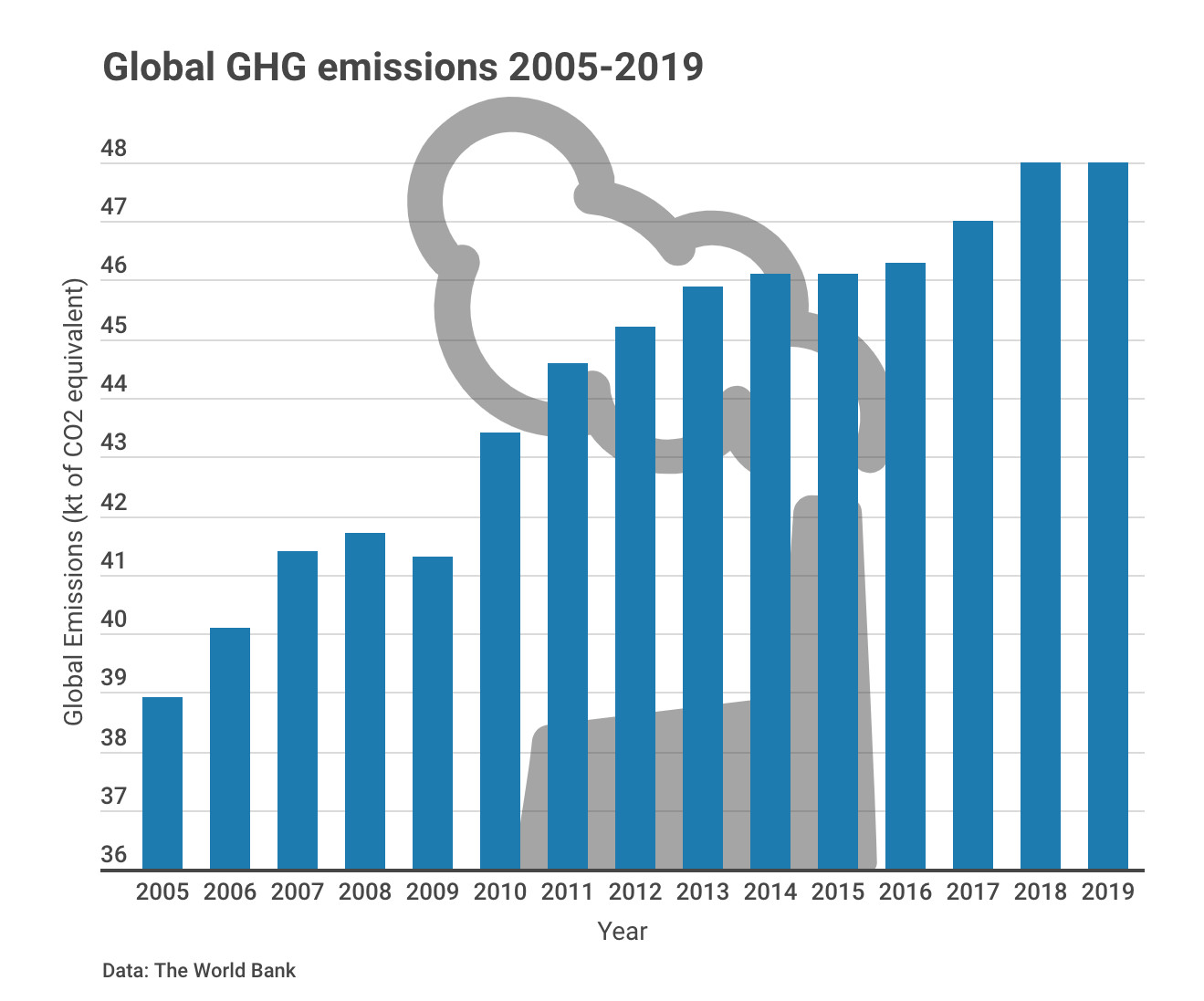 While Canada's emissions have remained relatively stagnant, global emissions are still rising.
(Rachel Morgan/The Pointer)
Between 2010 and 2019, average annual greenhouse gas emissions were at the highest rate ever recorded in human history. But while the rate of growth has slowed, the world needs a massive shift to low carbon and zero carbon technologies in order to avoid the worst threats to human health and safety as a result of climate change. The IPCC has directed governments to cut overall global emissions in half (compared to 2010 levels) by 2030, while the world must reach net zero emissions by 2050.
It's clear there is very little time. But the Region of Peel could be facing significant delays to its climate plans as the PC government's decision to dissolve the upper-tier government creates a series of questions over who will be responsible for executing this plan when it is handed down to the soon-to-be-independent cities of Brampton and Mississauga.
The Region of Peel has been working to achieve the global targets outlined by the IPCC. After declaring a climate emergency in 2019, the second largest municipality in Ontario created its climate change master plan (CCMP) with the goal of reducing greenhouse gas emissions by 45 percent below 2010 levels by 2030.
But in 2022, a report came out summarizing the first two years under the CCMP and found that the Region of Peel was not moving fast enough—by a long shot— towards achieving these crucial targets. After two years, none of the 20 actions outlined in the CCMP had been completed and 15 percent had not even been started.
"The scale of work remaining on actions 'in progress' along with a quarter of actions not yet initiated are causes for concern," the report stated. The same warning was made in a staff report the year prior, but it also provided a message of hope.
"The strong leadership shown by the Region throughout the COVID-19 response has brought clarity to what can be achieved through bold action, and a similar response is now required to meet the urgency of the climate crisis," staff wrote.
The 2023 progress report, which was presented to regional council in early May, concluded all five corporate milestones of the Partners for Climate Protection (PCP) framework for reducing GHG emissions had been completed. However, the actions within the CCMP were still underway.
"If the increased scale and pace of the response is not realized, achieving the 2030 climate change outcomes are at risk," the report states.
In its 2023 budget, it appears the Region is starting to pay attention to the critical warnings. The $1.9 billion capital budget includes $40 million directly allocated for climate change initiatives, the largest investment in climate change to date. While the $40 million is a measly percentage of the total capital budget, there are initiatives in other sectors that can be considered mitigation and adaptation measures.
Virtually every sector is related to climate change, but in 2023, the Region has chosen to tackle critical infrastructure. Ninety-five percent of the $40 million investment will help reduce emissions from buildings. In Mississauga, 52 percent of the city's community emissions come from buildings making them the largest contributor to municipal greenhouse gas emissions.
In the most recent inventory, which occurred in 2021, corporate greenhouse gas emissions across the Region were 33 percent below 2010 levels. However, staff continue to caution that the majority of the decrease stemmed from the phasing out of coal fired electricity generation, a result of the provincial Liberal government of the day, which ended the use of coal for power. Other decreases in emissions were seen in 2020 and 2021, largely due to the pandemic.
This means that Brampton and Mississauga are going to need to drastically increase their emissions reductions efforts after taking responsibility for any infrastructure that was previously owned by the Region of Peel.
It is unknown what will become of the Region's CCMP following dissolution, but whether Mississauga and Brampton decide to fully adopt the plan as their own, revise their current climate change plans to include the areas covered by the Region, or create new plans entirely, it will take a significant amount of time before these plans are fully functioning again. It will be as if each municipality is heading back to the drawing board, throwing out years of work on mitigation and adaptation strategies. In the case of climate change where time is of the essence, this could have a drastic impact on the municipalities' ability to meet climate targets.
"I worry that the time of two years that is going to take now for the Region to dissolve, it's going to be time lost and not just key shared regional and municipal projects, but also shared policies like climate plans," Rahul Mehta, a Mississauga resident and member of the Peel Multicultural Society who has done extensive advocacy work in various areas related to sustainability, said.
According to a spokesperson for the Region, the CCMP took a year and a half to go from the planning stages to being ratified by council.
Using this as a timeframe, Brampton and Mississauga will begin to assume the responsibilities of the Region in 2025. Regardless of whether the CCMP is absorbed into existing plans or new ones are created entirely, it is probable that it will take an estimated one to two years like it did for the Region to create a fully fledged climate action plan. This means that, as independent cities, Brampton and Mississauga will not have fully functioning climate change plans that target every sector until approximately 2027 — just three years before the first vital target of 50 percent reduction in emissions needs to be met.
The positive news is that the Region of Peel will continue to work on its CCMP and other sustainability related reports and strategies in the interim before the Region is dissolved.
"There are no changes to services offered by Peel Region at this time," a spokesperson for the Region told The Pointer in an email statement.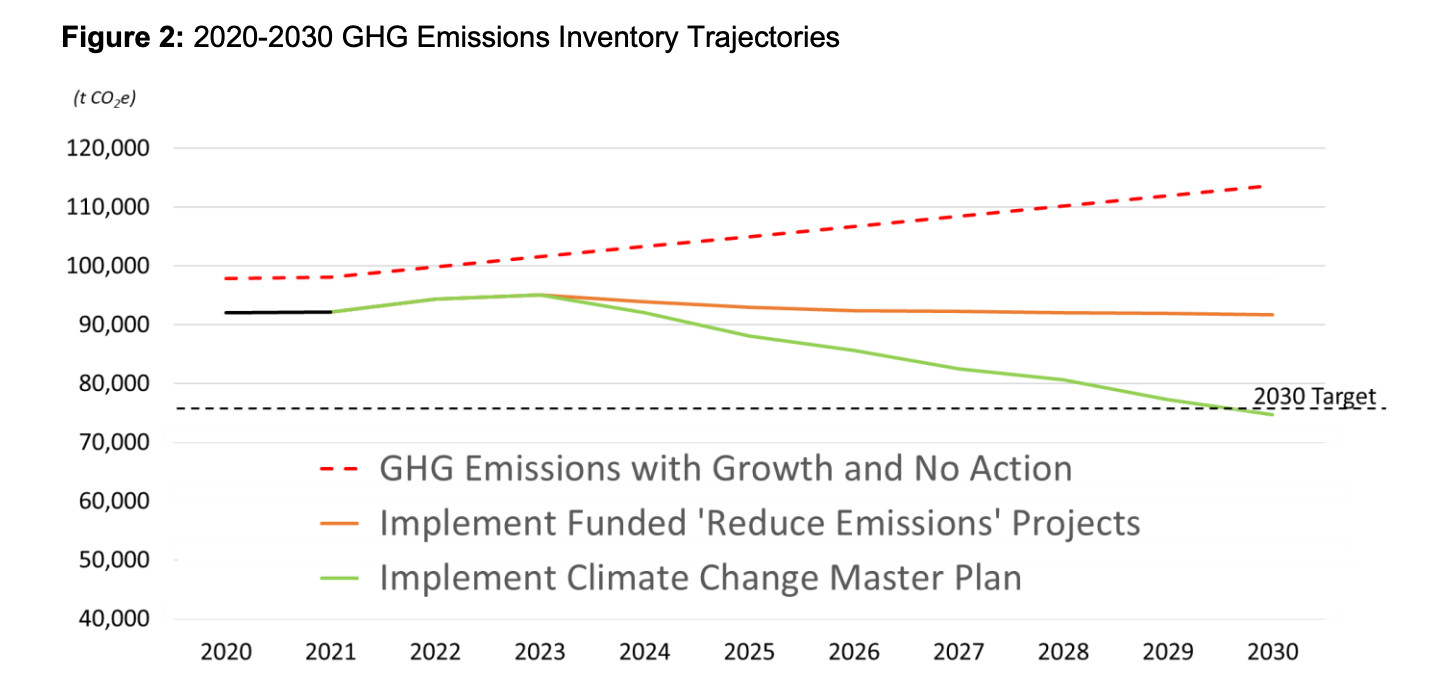 In its most recent update, the Region of Peel has determined its 2030 emissions reduction target will only be met if all the actions under the climate change master plan are implemented.
(Region of Peel)
The dissolution of the Region of Peel also raises questions of how the two cities will fare when they do not have an additional upper level holding them accountable on climate actions. While Mississauga has earned itself the label of a climate conscious city, Brampton is falling far behind when it comes to ensuring sustainable development and reducing carbon emissions.
"Climate change doesn't know any borders," Mehta said. "The regional [climate action] plan served as a means to check and balance the municipal plan. They pushed each other off. If one became more efficient, the others were likely to follow. And so when you dissolve on there is inevitably going to be this cascade of impact."
In April, Mississauga staff presented to council the final update to the City's Living Green Master Plan. The report concluded that 48 out of 49 environmental actions listed in the document were either completed or underway (the remaining action had been removed). The City concluded that it was a suitable time to retire the plan as environmental progress would now be initiated through multiple newer and updated plans.
Mississauga has made significant strides towards sustainability including electrifying its transit system. Nearly 60 percent of the City's MiWay bus fleet will be hybrid electric by the end of 2024. But while 57 percent of Mississauga's 2023 budget is dedicated towards climate action, its sister city Brampton is still relying heavily on funding from other levels of government to implement sustainable actions and policies.
Since the election of Mayor Patrick Brown in 2018, spending on environmental initiatives and the City's master plans associated with sustainability and natural heritage were cut from successive budgets, largely standing as blanket commitments not followed through by action.
Brampton's lack of commitment to climate action was made crystal clear when, in the 2022 capital budget, the City invested more in one single road than all climate initiatives combined. The few strides Brampton has made have often been supported by funding from other levels of government, such as a $175,000 investment from the Canadian Urban Transit Research and Innovation Consortium that was met with little financial support from the City itself.
Brampton is already behind when it comes to emissions targets. Council has committed to reducing greenhouse gas emissions by 80 percent below 2016 levels by 2050. This is far less than the targets pushed for on the national and international level. Mehta said he wouldn't be surprised if Brampton weakens its target even more following its divorce from Mississauga and the Region of Peel.
"Municipalities can now play more games without the, often considered bureaucratic, but also accountability mechanism that was the regional government," he said. "One wonders now will you see one municipality lower their targets? Because granted the claim, 'we don't have enough tax revenue, because Mississauga is not paying their fair share'."
"I do expect Caledon and Brampton to weaken their plans, because they don't have as much money."
Mehta's other concern is about the staff expertise that could be lost when the Region is dissolved. The Region of Peel currently employs a team of staff who are solely dedicated to working on the CCMP and other plans related to sustainability. It is unclear whether these staff will be absorbed into the municipalities of Brampton and Mississauga or whether they will be terminated, losing the ability to share their knowledge and experience.
"We don't know what the fate of their work is, despite the accolades and reassurance they've received from local council," he said. "There's just a lot of unknowns."
"I think the one thing that should be in the interim is ensuring that there are some annual progress reports. Without those, I don't see how we're going to be able to hold council accountable."
---
Email: [email protected]
Twitter: @rachelnadia_
---
At a time when vital public information is needed by everyone, The Pointer has taken down our paywall on all stories relating to the pandemic and those of public interest to ensure every resident of Brampton and Mississauga has access to the facts. For those who are able, we encourage you to consider a subscription. This will help us report on important public interest issues the community needs to know about now more than ever. You can register for a 30-day free trial HERE. Thereafter, The Pointer will charge $10 a month and you can cancel any time right on the website. Thank you
Submit a correction about this story