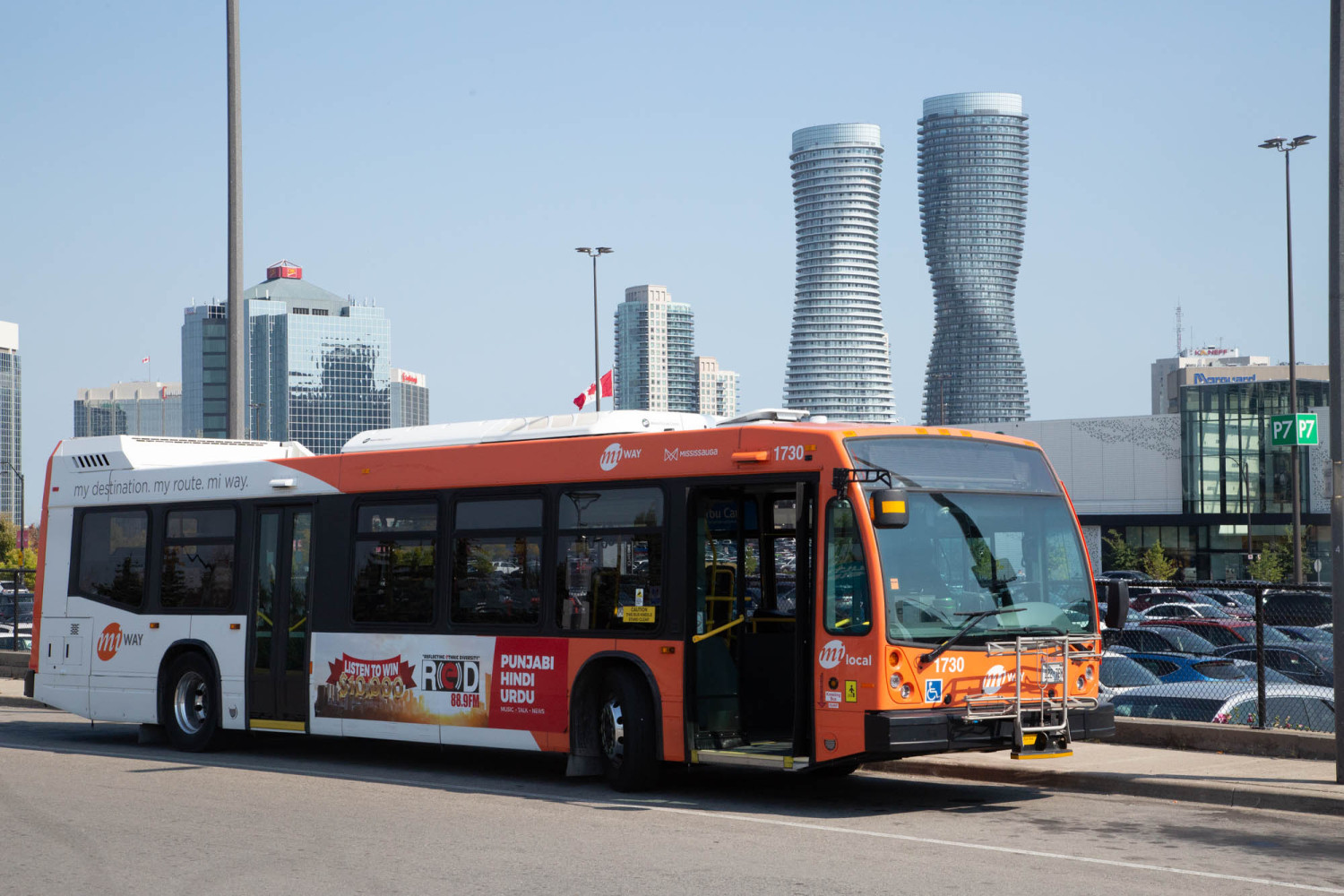 The Pointer files
Nearly 60% of Mississauga's bus fleet to be hybrid-electric by end of next year
As the COVID-19 pandemic subsides, more people are out and about. The roads and highways that were once deserted are again clogged with honking cars and clouded with dirty exhaust from trucks and buses.
Public transit suffered during 16 months of on and off stay-at-home orders and other public health measures which encouraged people to keep a safe distance from others—something not so easy on many forms of public transit. As a result, ridership plummeted.
A report from the City of Mississauga in August 2021 stated that at the height of the pandemic in 2020, MiWay ridership decreased by 75 percent. The crisis of ridership pushed many pressing questions facing transit agencies across the country to the background. Top of the list were efforts to transition bus fleets from diesel to electric buses to meet critical climate change targets. As ridership returns, these pressing questions are now getting much-needed attention.
The City of Mississauga isn't wasting any time. To avoid the delays associated with purchasing and delivery of electric buses, a process that can take as long as a year, councillors have pre-approved millions of dollars in funding to get 82 hybrid-electric buses in the pipeline so they can hit city streets in 2024. If all 82 are delivered next year, it will mean 58 percent of MiWay's overall fleet (approximately 288 of 500 buses) is hybrid-electric.
Geoff Marinoff, Transit Director at the City of Mississauga says MiWay ridership numbers have fully recovered. January and February of this year saw 107 percent and 110 percent ridership respectively when compared to the same months in 2019. The bump is an encouraging sign that numbers seen in the midst of the pandemic are over. MiWay carried approximately 46 percent of its normal ridership during certain months of COVID-19 lockdowns. It means the City can turn its attention to improving the level and quality of service as opposed to directing all attention to simply getting residents to use public transportation in the first place.
While public transit is a much cleaner form of transportation than the single-occupancy vehicles that gridlock GTA highways, City buses still primarily rely on diesel, producing significant greenhouse gas emissions. According to the City of Mississauga's Climate Change Action Plan (CCAP), transit accounts for nearly 70 percent of emissions from the City's corporate operations.
MiWay buses are by far the top source of emissions from City of Mississauga operations.
(City of Mississauga)
The CCAP set two main goals: to reduce GHG emissions by 40 per cent by 2030 and 80 percent by 2050. In order to meet these targets, MiWay said in 2019 that it will no longer purchase conventional diesel buses and will invest in hybrid and zero emission vehicles going forward.
Electric vehicle technology, common in transit systems around the world, is only beginning widespread integration into public transit in Canada. Across the country, municipalities are grappling with how to make their transit systems greener while still providing the same level of service to their communities.
"It's not just Mississauga that's in this position, all fleets across the country are in the same position where they have traditional diesel buses now moving into hybrid diesel electric, ultimately battery electric or hydrogen," Geoff Wright, Commissioner of Transportation and Works, told Mississauga council on March 8. "And all these transit organizations are going to need to make those similar investments in their transit fleet."
Mississauga has been a leader across the GTA for greening its transit fleet, receiving significant investment from the federal and provincial levels of government while also allocating City resources to make transit more sustainable. The municipality is looking to step things a step further in preparation for 2024.
The City of Mississauga was allocated $339 million in federal funding and $282.5 million in provincial funding through the public transit stream of the Investing in Canada Infrastructure Plan in 2019, with a required City contribution of $226 million. Mississauga's application for the Bus Replacement Program was approved in the first quarter of 2022 which will provide the funds necessary for MiWay to purchase 358 hybrid-electric buses between 2022 and 2027.
The total funding amount for the purchase of the 358 hybrid-electric buses is $359.7 million over the 5 year period. The City will cover 26.7 percent of these projected costs with 40 percent coming from the federal government and the remaining 33.3 percent from the Province.
In 2019, the City of Mississauga announced it would no longer purchase any diesel buses in working towards emissions targets outlined in the City's Climate Change Action Plan.
(Alexis Wright/The Pointer)
In October 2021, Mississauga council approved $183.4 million in capital spending for 2022 and 2023 to purchase 165 hybrid-electric buses, bringing MiWay's total to 206 electric buses, or about 41 percent of its fleet by the end of this year. On March 8, council voted in favour of allowing Transportation and Works staff to pre-approve $85.2 million for the 2024 Capital Budget for the purchase of 82 hybrid electric-buses.
The 82 buses acquired for 2024, equivalent to 16 percent of the City's fleet, will replace older diesel buses that are at the end of their lifespan. The purchase means by the end of 2024, approximately 288 of MiWay's 500 buses will be hybrid-electric, or about 58 percent of the overall fleet.
"In Mississauga, we recognize our role in fighting climate change and reducing greenhouse gas emissions and we are taking action to help reach our climate change goals. This includes reducing our corporate emissions in transit operations," Mayor Bonnie Crombie told The Pointer in an email statement. "As outlined in the City's Climate Change Action Plan, the implementation of hybrid-electric buses through MiWay's 2024 bus procurement will enhance the infrastructure our City needs to support the transition to lower emission vehicles. It will also help to green our fleet, deliver reliable and efficient public transit, and eventually support the wider MiWay network with the expansion of the Dundas and Lakeshore BRTs."
The COVID-19 pandemic has led to shortages in supply chains including component parts, microprocessor chip shortages, and unreliable supplier performance, hindering the ability of the City to receive all of the buses in a given timeframe. The first bus from the 2022/2023 order was put into service in February. All of the 165 buses pre-approved in 2022 and 2023 will be in service by the end of this year.
Completed in the summer of 2022, MiWay undertook a facility modification project at the Central Parkway bus garage to be able to accommodate hybrid-electric buses. One of the modifications was the need to increase garage height to service the taller hybrid buses.
Associated charging infrastructure is a major component of electric bus procurement. The City of Mississauga is looking to construct a fully electric bus terminal in the northwest corner of the City while slowly transitioning the rest of their garages to a hybrid model.
(The Pointer files)
Wright noted that with population increases and new requirements under Bill 23 to build 120,000 homes in Mississauga by 2031, there will be a greater need for transit and therefore an increased importance for a greener fleet as service levels increase.
"We're kind of at the point now, where in order to substantially grow our fleet and to continue to invest in MiWay, we do need to make that investment in new maintenance facilities," he said, noting there are currently discussions about locating the new fully electric transit garage in northwest Mississauga. "That would allow us to grow and expand into a net zero transit fleet, and then come back and make retrofits to our existing transit facilities to allow them to operate in this sort of hybrid environment."
Wright said estimates for this new facility are around $500 million which would require investment from both the federal and provincial governments. The City of Brampton is currently banking on similar investments to build a similar facility.
But hybrid-electric buses alone will not enable MiWay and the City of Mississauga to reach the goal of net zero transit emissions. Though they produce less carbon emissions, these buses still have a conventional internal combustion engine. The procurement of hybrid-electric buses is a step on the way to transitioning to battery electric buses or hydrogen fuel cell buses. A staff report suggests procurement of zero emissions buses could begin in 2025 once greater charging capacity is available.
---
Email: [email protected]
Twitter: @rachelnadia_
---
COVID-19 is impacting all Canadians. At a time when vital public information is needed by everyone, The Pointer has taken down our paywall on all stories relating to the pandemic and those of public interest to ensure every resident of Brampton and Mississauga has access to the facts. For those who are able, we encourage you to consider a subscription. This will help us report on important public interest issues the community needs to know about now more than ever. You can register for a 30-day free trial HERE. Thereafter, The Pointer will charge $10 a month and you can cancel any time right on the website. Thank you
Submit a correction about this story