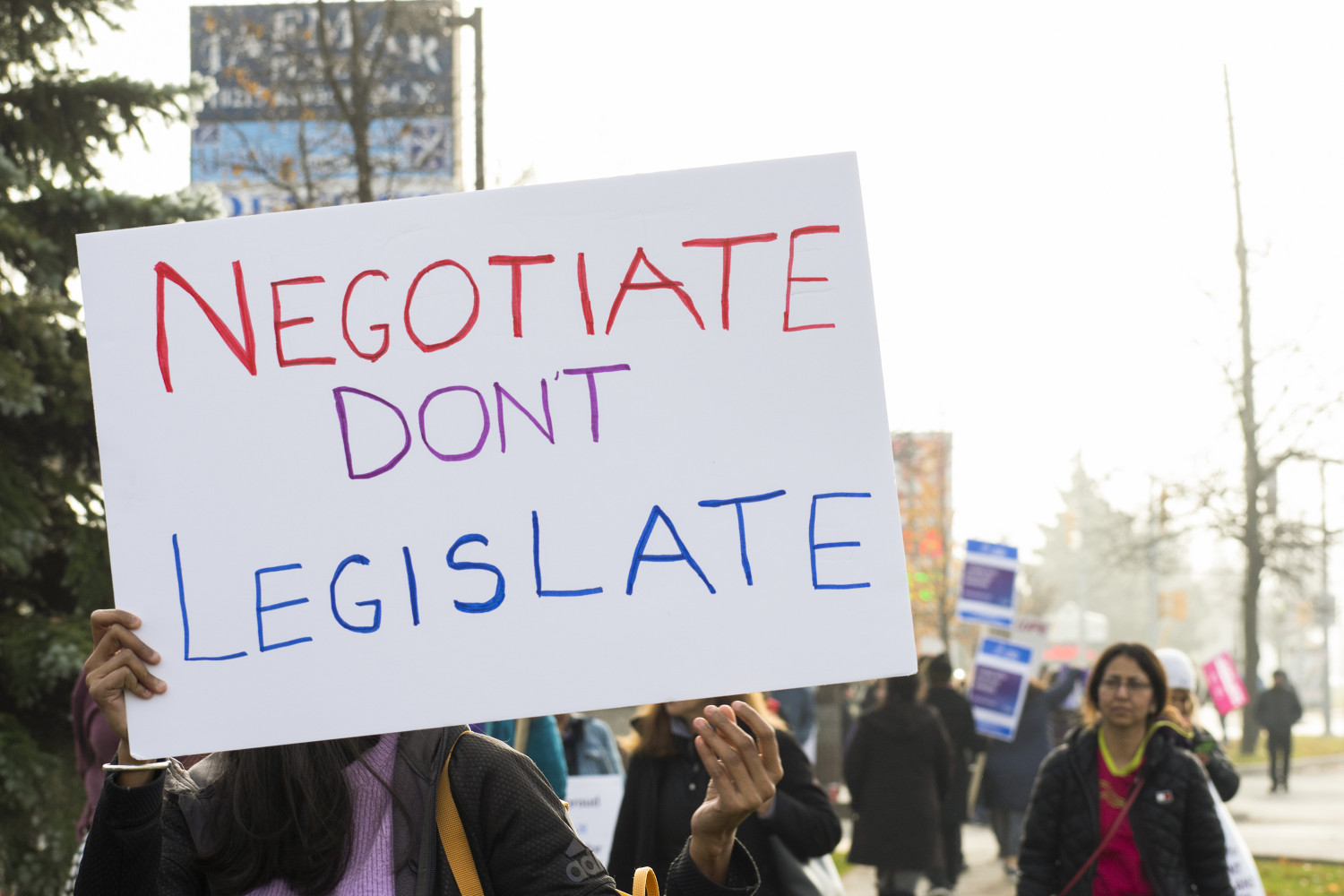 Alexis Wright/The Pointer
150 nonprofits want government budgets that equitably and effectively prevent mounting social problems
Content warning: This article addresses suicide and uses descriptive language in its reporting on the issue.
---
News stories of police encounters with residents suffering mental health crisis; vehicle thefts spiking across the GTA; sharp rises in demand for food banks; dire consequences for vulnerable women highlighted and made worse by the pandemic; racialized individuals experiencing housing discrimination and employment bias; centuries of trauma inflicted on Indigenous peoples compounded by the very governments now claiming to want reconciliation.
The nonprofit sector is warning governments across Ontario, from municipalities all the way to Ottawa, that if budgets funded by taxpayers do not address the core issues creating our mounting social problems, they will only get much worse.
Affordable housing, income support, employment and economic development, immigrant settlement, student and youth employment, student housing, support for women, racialized communities and other equity seeking groups, all need to be prioritized as governments, led by elected officials obligated to represent the needs of their constituents, set the public budgets for 2023 and beyond.
This is the message of a coalition of nonprofit organizations across the province called Ontario For All.
This year, 150 leaders from organizations across Ontario came together at a 2023 Budget Forum to develop recommendations and discuss critical concerns the province's most vulnerable populations are currently facing. The 2023 provincial budget, to be tabled March 23, must address poverty equitably and effectively, nonprofits brought together under the Ontario For All mandate are urging.
On top of socio-economic and systemic barriers, vulnerable populations battle the stigma that comes with living in poverty. Many politicians fail to address issues that are uncomfortable and outside their own lived experience.
In 2021, the City of Toronto spent over $2 million to fund a one-day encampment eviction led by Toronto Police. In January, the majority of the City's council voted down the option to spend approximately $1 million to keep warming centres open until the end of winter.
In 2022, Mayor Patrick Brown used security firm Paladin to attempt to evict, again and again, houseless people seeking refuge in Calvert Park just north of downtown Brampton.
Peel Region has failed to fund its overcrowded shelter system and in 2019 spent more than $2 million on hotels for the vulnerable instead of addressing the root causes of poverty.
Paladin Security delivered a notice prohibiting entry to occupants at Calvert Park on August 31, shortly after it had raided the area and seized all their belongings. The security company paid by Brampton taxpayers warned again on September 11 that another raid would happen if they did not leave, while shelters and overflow sites usually available to vulnerable people were over capacity.
(The Pointer files)
This week, a man was arrested at St. Mary's Catholic Academy, a high school in Toronto, for entering the school and assaulting a student. According to reports, the grade 9 student the man approached was part of a group of friends who had been harassing him just minutes earlier outside the school grounds.
We know houselessness and mental illness are often closely intertwined. Proper affordable housing and mental health support can prevent these types of disturbing interactions.
The stigma surrounding poverty is slowly starting to change with landmark decisions like the recent court ruling in Kitchener that deemed removing a houseless encampment when there are no available beds in shelters or overflow sites is unconstitutional.
When people are housed, the economy improves. In 2017, a Quebec-based non-profit organization reported that for every $1 invested in affordable housing, $2.30 was created in economic production, with more than $1 billion of wealth creation overall; and the impact of providing 150,000 houseless people in Canada with permanent shelter avoided between "$4.5 billion and $6 billion in costs levied upon taxpayers through healthcare, criminal justice, social services, and emergency shelters".
Numerous American programs, such as the Section 8 housing voucher system, which in 2011 provided rental assistance to 5.2 million residents in 2.1 million households, have shown how powerful well designed and properly funded affordable housing initiatives can be. Section 8 resulted in, approximately, $3.38 billion to $14.56 billion in economic benefits, including the avoidance of costs for crime, health and social services; and the improvement of child health, dietary-related conditions, employment and overall social outcomes.
Unfortunately, in Ontario, government budgets continue to neglect spending on social programs that would create wealth and greatly reduce the tax burden on residents who ultimately pay for poor policy decisions that result in unsustainable costs for healthcare, crime, mental health issues, housing, food insecurity and a range of other downstream consequences.
"It's kind of a perfect storm—not that the service isn't there—it's just not enough to meet the demand," Daphna Nussbaum, Program Coordinator and Analyst with Peel Alliance to End Homelessness, says. "We aren't serving the people who need to be served the most and they are suffering."
Humans are programmed to avoid unpleasant situations. When it comes to suffering, the easiest thing to "deal with it" is to not think about it at all. When those in positions of power including elected officials do this, problems with solutions are ignored. 'Out of sight, out of mind' creates a dangerous environment, one being described in recent headlines about attacks on transit systems, the wave of auto thefts across the GTA and the plight of those being forced out of their makeshift outdoor shelters.
"This is a humanitarian crisis. People living in encampments shouldn't be subjected to even further cruelty by being evicted from the only place that they can take shelter. If municipalities can't provide other solutions, like indoor spaces, then there's nowhere else for them to go," Nussbaum says.
"The work of Ontario For All is to bring together nonprofits to help them use their frontline experience in communities to help inform public policy," Sean Meagher, coordinator for Ontario For All whose goal is to ensure critical community priorities are addressed by elected officials at all levels of government, explains.
Organized with United Way Greater Toronto, Peel Poverty Reduction Committee, Social Planning Toronto and the Social Planning Council York Region, and hosted by Ontario for All, the Budget Forum was an opportunity for participants to bring their extensive policy, program and frontline experience to articulate the critical issues facing our communities and to identify a way forward. Their goals highlight the importance of longer-term investment, and practical actions that can be taken in the context of the public government budget process.
The GTA Nonprofit Sector Joint 2023 Ontario Budget Submission handed to Queen's Park by Ontario for All lays out clear and achievable strategies to address the dire need for support across the province which could positively impact millions of residents, as more and more Ontarians creep closer to poverty.
Recommendations to governments focus on three critical strategies that equitably address poverty: affordable housing, income supports, and the crisis now gripping the nonprofit sector.
Social supports like affordable housing, income supports, and stability in the nonprofit sector, to name a few, all rely on each other. If one is lacking, the rest suffer. There is also the interconnected relationship of the nonprofit sector and government. Without government, nonprofits would not receive adequate or any funding at all, and without nonprofits, huge gaps in program delivery and other supports would only get worse.
(Alexis Wright/The Pointer)
"We held [the forum] in January to sit down and think about what public policies need to happen in this budget to be able to address the most pressing concerns in communities in Ontario," Meagher says.
This was the third held since the original was organized ahead of the provincial election in 2018.
"This is a great opportunity for the province. These challenges are super clear, we know what struggles we're in and these are places it makes a lot of sense to invest.
"The nonprofit sector has shown its value and so investing in it is a smart thing for this government to do."
According to the Budget Forum Summary, which has been sent to Queen's Park, the nonprofit and not-for-profit sector employs over 800,000 people and contributes $65 billion to Ontario's GDP.
"It's challenging for governments to shift gears and making really significant investments in building affordable housing for example is something that the provincial governments have not done for a long time," Meagher stresses. "I get that this is a significant change for them, and expenditure, but not spending money on housing costs so much more. It just makes sense to get over that trepidation of about making that big investment, because there is a return on that investment that is far, far larger than the cost.
"It's very much about spending smarter."
While the Doug Ford PC government has slashed funding for healthcare, forcing more people into the social services sector, and affordable housing has received little attention in recent provincial budgets, municipalities, including Peel, have stated they simply cannot fund housing without help from Queen's Park and Ottawa, where the federal government will release its 2023 budget on March 1.
The housing crisis is worsening by the day; the Region of Peel has reported that a staggering 80 percent of Peel residents cannot afford to house themselves, largely due to increasing costs. With interest rates at a 15-year high, the price of a house is getting even further out of reach.
At the same time, Ford has stripped revenues for affordable housing away from municipalities through Bill 23: the More Homes Built Faster Act, which limits the amount developers have to pay, through development charge fees, to build affordable housing. Critics have pointed out this will force municipalities to cover much more of the cost, but since they already lack the funding the result will be even fewer affordable housing units, while waitlists for help are exploding.
"We find ourselves in a critical moment for changing the course of poverty and housing affordability. There is an opportunity to reverse trends and address systemic barriers against marginalized and racialized communities," Daniele Zanotti, CEO of United Way Greater Toronto, says. "Non-profit leaders working on the frontline with the community have come together to present solutions for both the long- and short-term that will ensure a better life for all Ontarians."
Tens of thousands of affordable units are needed in Ontario with little help in sight. The Region of Peel reported two years ago that less than 1 in 1,600 units that had been built qualified as affordable, despite its own approved housing plan which mandated the construction of 75,000 new affordable, middle-income and rent-geared units between 2018 and 2028. Known as Home For All, the plan has effectively been abandoned by the Region, which has all but admitted it was a failure, one that will push even more families and individuals into poverty.
Preserving affordable homes and investing in affordability are the two main focuses of the Housing section of the budget report by the nonprofit alliance. One of the points focuses on restoring municipal funding for housing programs lost under Bill 23. Cities have housing plans that require investment, many of which were funded by development charges. With those charges for housing services removed by the new housing legislation, "cities need a clear plan and commitment to restore that funding," the report states.
Peel estimates it is currently only helping approximately 30 percent of those in need of affordable housing.
"It is important that government zero in on investing in housing in this budget," Yvonne Kelly, Co-Chair of the Social Planning Council of York Region, a partner in the forum, says. "But we are also losing 20,000 units of existing affordable housing each year in Ontario, which is far faster than we are building it, making affordable housing preservation a key target for 2023 as well too."
Rental inflation is making the situation even worse. Current rent control laws in Ontario state that as soon as the current tenant leaves, the rent control comes off.
"Primarily, as a result of that, we lose 20,000 units of affordable housing in Ontario every year. Tenants move out, landlords raise rent, and things that were affordable for that tenant under rent control become less affordable for the next one coming in," Meagher explains.
"While the province has done a lot to try and improve housing supply, they have yet to come forward with policies to ensure that that supply is affordable. We are really encouraging this budget to be an opportunity for Ontario to say 'okay, we figured out a way to build more housing, here's the plan to actually make it housing that people can afford to rent or afford to buy."
Bill 23 does not include any assurance that developers will build affordable housing; a clause stipulates builders have to pay development charges (which cover all the needed infrastructure around a new project) for the first five percent of units in a proposal designated as affordable, but after that it's up to the municipality to cover those same costs, if it wants more than five percent of the units to be affordable (builders can only be required to set aside five percent of the units for affordable housing). And this only applies to certain areas the provincial government has to approve for accommodation of mandated affordable housing.
Critics have pointed out that building in places such as the Greenbelt or other isolated areas where subdivisions are often constructed, will not address any affordable housing needs.
Meagher questions the approach and warns Bill 23 will likely lead to less affordable housing, not more.
"Up to five percent of units built near a major transit station area that has been designated as protected by the municipality and approved by the Minister of Housing. Right now there are very, very few of those areas in existence. There are a lot of proposals for protected major transit areas on the minister's desk right now but he hasn't approved very many of them. So it's [up to] five percent of the units built in those largely unestablished areas at the most."
The vulnerable, such as recent immigrants, other newcomers to places like the GTA, low-income earners, people working in precarious situations and—increasingly—the working poor (many in the so-called middle class) will see few benefits from Bill 23, critics warn. At the same time, taxpayers will be subsidizing the development industry, which will no longer have to pay for much of the infrastructure to support their projects, creating even larger profit margins for them.
Everything from capital for hospitals, sewer systems, water mains, policing, fire, paramedics, libraries, public transportation, and roads will now have to be covered by taxpayers, eating up any available money desperately needed to support the work nonprofits are being forced to do due to the lack of funding and direct programming by governments.
Meanwhile, development applications are flooding in, despite the PC government's inability to fund crucial services such as schools. This will leave vulnerable families even further behind. Even if affordable housing units are built, they will have to pay for transportation and other costs just to send their children to school.
A sign from the Toronto District School Board posted on a fence of a condominium development site on the Queensway, a clear example of the lack of supporting infrastructure and services around new projects. "The TDSB makes every effort to accommodate students at local schools. However, due to residential growth, sufficient accommodation may not be available for all students. Students may be accommodated in schools outside this area until space in local schools becomes available."
(Alexis Wright/The Pointer)
"Nonprofit leaders, whether they are in the housing sector or any other sector that serves vulnerable people, housing is one of the biggest pressing concerns," Meagher says.
"When we talk to people at food banks, they say 'we're really concerned about how much people have to pay for housing because then there's no money left for food', when we talk to people about mental health, they say 'if you don't have a roof over your head, your chances of improving your mental health are lower."
It's a vicious cycle that often drives those affected into desperate situations. The lack of these upstream investments will only lead to more poverty, homelessness, issues around mental health, addictions, and death. At the same time, all the downstream pressures created because of the failure to address the root causes of poverty, will get worse, with even more funding needed for the current Band-Aid solutions that do little to actually help those in need. Even these last gasp initiatives are now without critical funding, as more and more people simply fall through the cracks.
"Housing affects everything, income supports are the reciprocal element of that," he said. "Right now on Ontario Works (OW)—if you're unemployed and can't find work—then your income supports are less than half the cost of an apartment; all of them put together. That's going to be very difficult to have enough stability in your life to go out and find work. Certainly not enough to have an apartment and to have healthy food. That's why food bank use is up across the province. People don't have enough to live and eat on the income supports that we have."
In 2022, the average monthly payment of OW was under $400.
"It was a modest step in a better direction to raise ODSP (Ontario Disability Support Program) rates five percent after this election, but inflation has eaten that entire increase."
The changes to social assistance come from both provincial and municipal governments. The Income Supports section of the nonprofit budget report recommends, "engaging clients in a process that will provide valuable insight into what works on the ground, and what doesn't," stating those involved in seeking these supports also be involved in the recommendations to legislators on how to address the holes that people keep falling through.
"It's hard to imagine how we can get through the current bout of inflation without addressing social assistance," The Mississauga Food Bank's (TMFB) Christie Lind, a speaker at the Budget Forum, added. "We've seen food bank use continue to increase, up 24 percent throughout Ontario last year alone, as prices at the grocery store skyrocket with little movement on social assistance rates. With the Province in the middle of redesigning our social assistance system, it's the right time to engage people on the front lines and develop a realistic plan to address social assistance rates."
In most cases, residents accessing food assistance do not come for just a one-time visit. The stop-ins are recurring, building a foundation for support worker-client relationships, which ultimately the food bank hopes it will not have to maintain. Unfortunately, because of the lack of social supports for housing, income, childcare, transportation and a range of other pressures, these relationships can become long term.
In 2022, TMFB received an alarming influx of people confiding in workers about suicidal ideation and how to access the federal Medical Assisstance in Dying (MAiD) program due to sheer desperation and exhaustion from just barely surviving in the depths of poverty, not knowing how to continue in the cycle with no end in sight (for support, Talk Suicide Canada can be reached at 1-833 456-4566).
Lack of support, unmanageable debt, precarious employment, poor housing conditions and other socioeconomic factors all contribute to higher suicide rates.
Overburdened healthcare systems like Trillium in Mississauga have long waitlists for inpatient programs to treat those with extremely serious illnesses like psychosis, mania, and people experiencing suicidal thoughts or behaviours.
Many of these common situations are avoidable with the proper distribution of public funding aimed at upstream supports and other investments to address the causes of mental health crisis before residents succumb to a range of internal, and external pressures.
Currently, the lack of funding, and a downstream approach (Band-Aid solutions that do nothing to prevent the problems) contribute to the pressure constantly pushing in on the vulnerable.
"The maximum amount an individual can receive from ODSP is $1,228 a month. This means that those who rely solely on ODSP are falling $832 below the poverty line – this is legislated poverty, and it is taking an immeasurable toll," the budget recommendation report states.
Meanwhile the forces that push people into poverty grow more powerful. Hyper inflation and rising interest rates are now impacting those described by nonprofits as the "working poor", including families and individuals with stable employment, suffering as incomes across Ontario fail to keep up with the runaway cost of living.
According to The Daily Bread food bank 2023 budget recommendations, the line for deep poverty was set at just under $25,000 a year. The median income of their clients is just under $13,000, nearly $12,000 below the poverty line or almost $1,000 less per month and it's been decreasing. "Between 2021 and 2022, clients reported a drop in median annual incomes of $540," the budget states.
According to Census data, the median individual total income of Mississauga residents in 2020 was $39,200. The average rent for a one-bedroom apartment was approximately $24,000 a year. In after tax income, this would leave about $800 a month to pay for clothing, any utilities not covered by the basic rent, telecommunications, transportation, food, insurance and all other costs.
As a benchmark, Statistics Canada's 2019 survey of household spending for individual dwellings (one person) shows the following average expenditures across the country: $5,673 annually for food; $2,940 for household operations including communications ($1,585); $1,261 for household furnishings and equipment; $1,642 for clothing; $5,701 for transportation; $1,788 for healthcare; $2,206 for recreation; $1,261 for miscallaneous expenses; for a total of $49,203 needed to pay for all expenditures by an individual living in a one person dwelling.
The numbers simply don't add up. And when people are expected to cut costs for entertainment and recreation, or even food and clothing, this is when issues such as mental and physical health become a problem; while being unhoused becomes more of a reality.
"Having people unhoused is very, very expensive. You want a smart use of tax dollars to get people housed," Meagher says. "They use emergency rooms less, they're in the hospital less, they have fewer mental health crises, less likely to use shelters, and they're more likely to get employed."
The nonprofit sector often reminds governments that it's the taxpayers' money being used. Unfortunately, the public's own hard earned dollars are too often redistributed in unfair, and inequitable ways.
Women and immigrants suffer a particularly cruel consequence of societal neglect. When governments fail to use tax dollars responsibly, handing out carrots to developers and other private sector partners, while ignoring core responsibilities to the public, already marginalized groups experience the compounding impacts of issues such as domestic abuse, systemic racism, institutionalized discrimination in the police and judicial system, inequitable treatment toward people with disabilities and those who identify as members of the diverse LGBTQ+ population.
A growing area of concern is the increase of mental health problems that are plaguing more and more Ontarians, suffering from the ongoing impacts of the COVID-19 pandemic, a lack of housing, cyber and other types of bullying at school or on the job, loss of employment, addictions (often due to medical issues and irresponsible administration of medication), and a host of other underlying issues including common causes of trauma.
The latest data indicates the average wait time for supportive housing across the province is 300 days.
It is far, far longer in Peel.
The affordable housing waitlist in Peel has grown to more than 28,000—a 150 percent increase from 2018, and many wait 30 years for housing.
Not only are shelters at capacity and in overflow, as reported by the Region; more people are seeking refuge in encampments scattered across the region; 'sleeping rough' either on the street or finding temporary warmth wherever they can; there is also a portion of the population experiencing houselessness in a way that can't be measured called 'hidden homelessness' which can include people who are precariously housed or couch surfing.
The Canadian Mental Health Association of Ontario (CMHA) states in its budget recommendations, "individuals with poor mental health are more susceptible to homelessness, and without housing with wraparound supports, a person living with a mental illness can experience a deterioration in their health conditions. In contrast, there is ample evidence that supportive housing is the most significant key to recovery for people who are living with severe mental illness. Stabilized housing also benefits communities in cost savings for other, more expensive parts of the health and corrections systems."
Mental health and addictions only receive $1.96 billion—less than 3% —of the $66 billion provincial Health Budget. As a result, demand for these services increased last year by 104 percent and 47 percent, for youth and adults, respectively. From January to June 2022, eight people lost their lives per day from opioid related causes in Ontario.
Over the last decade, healthcare statistics have shown a concerning trend.
(Alexis Wright/The Pointer)
Coming out of the pandemic, even more residents need the types of emergency support that were provided for two years, for help that had been chronically underfunded for decades. Instead of continuing programs and enhancing funding envelopes that clearly needed to be made permanent, almost all the pandemic money has dried up. Meanwhile, many who have suffered due to a lack of funding for affordable housing, Ontario Works and support for people with disabilities, are suddenly left with even less, despite the sharply rising demand due to hyper-inflation and other economic pressures pushing in on more and more Ontarians.
The nonprofit sector itself is facing a critical lack of resources, with staff burned out by increasing demand for services, as a cascading failure is already plunging nonprofits into crisis.
City Halls are poaching the social services sector, with workers leaving for lucrative government positions leaving nonprofits struggling to manage their critical role in housing, income-support and other key areas of the sector.
"We're pretty stuck giving people just enough resources to get by, let alone to succeed," Meagher says.
Nonprofits have been struggling with unprecedented pressures on recruitment, retention, wages, skills and volunteering which threaten service delivery and stability. The sector stability section of the budget report states, "collaborative and deliberate effort is required to reverse these trends," noting that their recommendations will significantly mitigate the current impact.
"They fall back on the nonprofit sector which is stretched to the limit," Meagher says. "This sector really dug in to tackle issues and big challenges during the pandemic, and now we're really stretched even more. And what we're seeing now is a contraction. Pandemic supports are disappearing, volunteers are worn out so there are fewer people volunteering, staff are exhausted so it's harder to retain people in nonprofit. In fact, staff are exhausted and it's hard to retain people in government, so that means that it's even tougher for non profits because staff in governments get paid more. They're losing people because they're too stressed and too stretched. The municipalities are losing people and they're poaching staff from nonprofits making the ability of nonprofits to support vulnerable people even more precarious."
All these critical public supports for residents are interconnected, he says. It's crucial for communities to have access to affordable rent, reliable employment, and support within the nonprofit sector—which constantly steps in to fill the gaps largely created by government neglect.
"If you're missing any of those things it's harder, and right now we're missing all three."
---
Email: [email protected]
Twitter: @lextoinfinity
---
COVID-19 is impacting all Canadians. At a time when vital public information is needed by everyone, The Pointer has taken down our paywall on all stories relating to the pandemic and those of public interest to ensure every resident of Brampton and Mississauga has access to the facts. For those who are able, we encourage you to consider a subscription. This will help us report on important public interest issues the community needs to know about now more than ever. You can register for a 30-day free trial HERE. Thereafter, The Pointer will charge $10 a month and you can cancel any time right on the website. Thank you

Submit a correction about this story