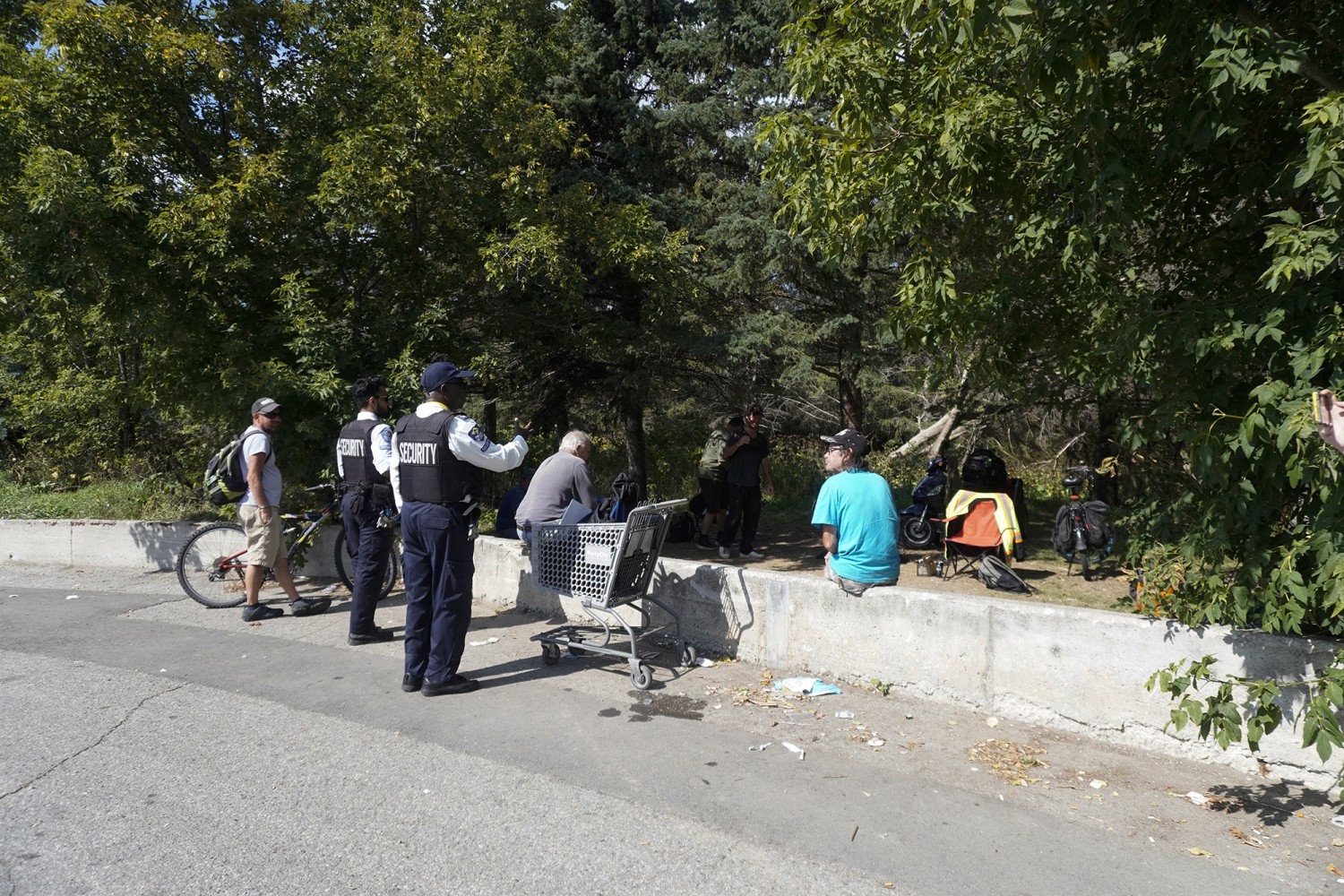 Alexis Wright/The Pointer
'I lost $1,500 of camping gear': Houseless encampment in Brampton raided
Behind Kingspoint Plaza a concrete barrier separates the shops and their employees from the secluded site where houseless Brampton residents have made their own home, but not without opposition from the City. Occupants of this makeshift community say their tents have been slashed and food and clothes have been confiscated in a heavy-handed effort to evict them from the space.
For the past two weeks, members of the houseless community have been protesting at City Hall, asking the City to leave the site alone, after a raid in late-August.
"They threw everything in the garbage. I lost not far away from $1,500 of camping gear," Oliver Pourchelle, one of the occupants who had joined in the protests, said.
"All my clothes too, they didn't leave anything."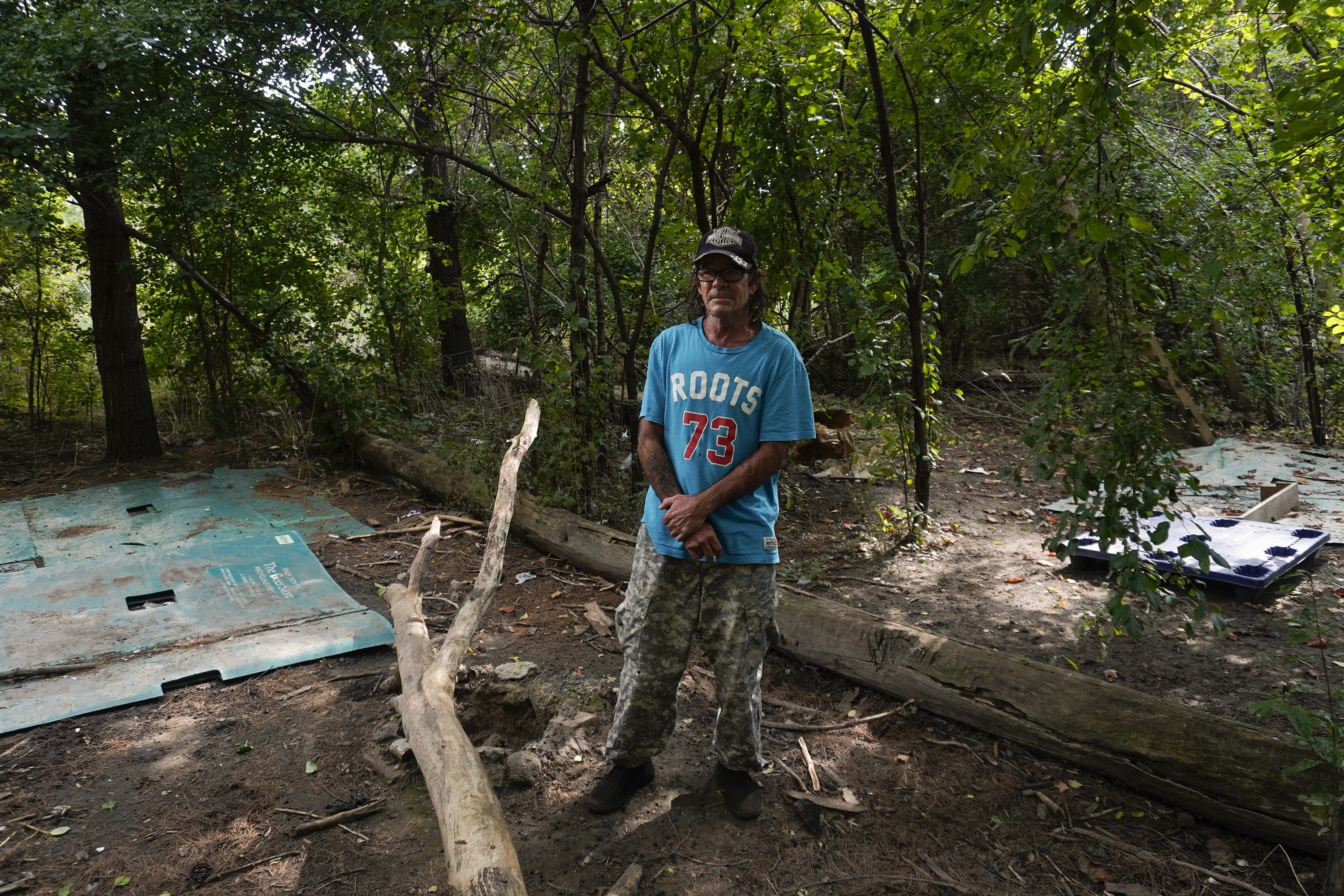 Chris Goodman has been living behind the plaza off and on for over seven years. He has access to subsidized housing, but finds it very uncomfortable to live there and would rather face the threats of being outside than fear for his safety in a shelter.
(Alexis Wright/The Pointer)
During the COVID-19 pandemic, the strategy from the Region of Peel was to house residents in hotels. The province invested social services relief funding to acquire motel and hotel spaces to support physical distancing so shelter residents would not be forced into cramped quarters, putting their health at risk. More shelter staff was hired with the additional funding, personal protective equipment (PPE) was purchased along with cleaning supplies; while rent subsidies for those in precarious housing were increased and more funding to grant and loan programs was invested to help prevent more people from becoming homeless.
In May, that funding ran out, putting many formerly housed residents on the streets and sending some to Calvert Park behind the plaza, less than a kilometre north of the downtown core.
On August 31 at 8 a.m., Paladin Security, under the direction of the City of Brampton, came to the site following a Notice of Trespass issued the day prior.
Since a rainstorm passed hours before, many of those living on the site had their tents out as they took shelter from the weather.
One of the occupants, George Toth, said he was given 10 minutes to clear out what he could. What he couldn't carry was lost, as residents' belongings were loaded into a truck. Included was about half of Toth's clothes.
Toth receives $334.33 per month through Ontario Works which is supposed to cover his food, shelter and other essentials.
"They tore my tent down, they tore my buddy's tent down, and then near the end of the block, there, they tore everybody's tents down and now because everything calmed down for a little bit, people started putting their tents back up or buying new tents, and now they have three days notice as of yesterday to take them down again."
Paladin Security delivered a Notice Prohibiting Entry to occupants on Aug. 31.
(Alexis Wright/The Pointer)
On September 11, Toth said the police returned issuing written notices declaring that occupants had until Wednesday to move, or their possessions will be confiscated again.
However, when Wednesday came there was no raid.
The atmosphere was surprisingly jovial as about half-a-dozen occupants drank beers and chatted with friends, some houseless others not, as they anticipated that at any moment Paladin Security might arrive.
With media present, only two security guards arrived on scene in the afternoon, observing the area before approaching the site. The guards reprimanded occupants for open alcohol and asked that they leave, again, before the uniformed men left themselves after the occupants refused.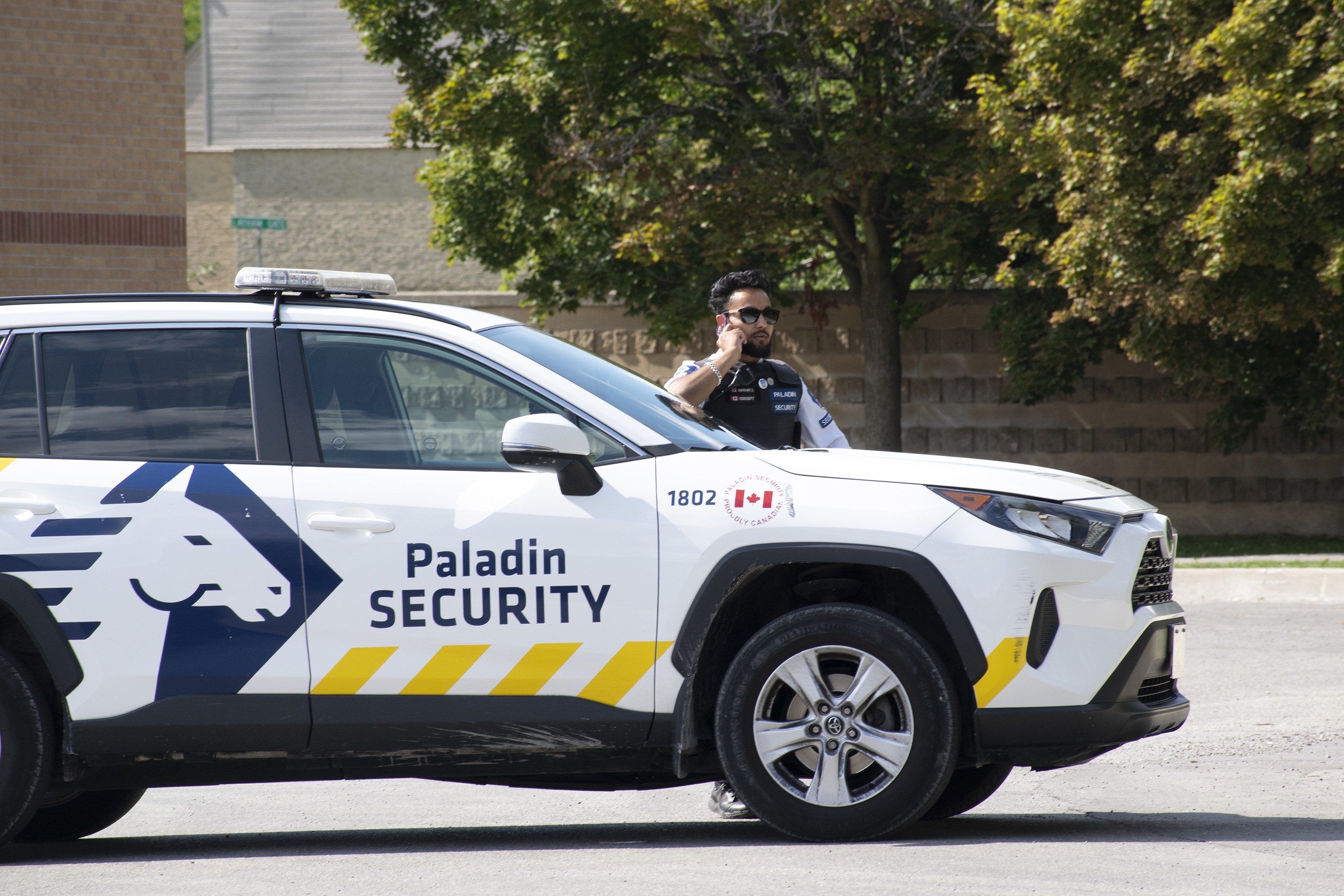 Paladin Security arrives at the small encampment Wednesday.
(Alexis Wright/The Pointer)
In a statement to The Pointer, Paladin denied any property was damaged and said the August 31 raid was part of a joint effort with the City of Brampton, Peel Regional Police, and Peel Outreach to relocate individuals from the encampments to shelters in the area.
"The operation was conducted in a professional and caring manner by all the parties involved. As the security provider for the city, Paladin is required to patrol these areas to ensure city property is a safe environment for all and carried out their duty of reporting the encampments to the Police," Blair Davenport, Paladin's Executive Vice President, said in a statement.
"Peel Regional Police managed the relocation of the occupants, and security stood by to assist. The occupants were given advanced notice to allow them an opportunity to dismantle the encampments, and Peel Outreach was involved in attempting to relocate the individuals to shelters in the area. There have not been any reports of damage or confiscation of any property."
The reasons the occupants of the encampment don't go to shelters vary. Some cited safety concerns, others the lack of space. One occupant told a story of waking up in the night to paramedics taking the body of the man next to him who had overdosed in the night. He hasn't returned to a shelter since.
The occupants said the spot by Kingspoint Plaza is used as an encampment due to its seclusion—the large concrete barrier provides some privacy and a sense of protection.
"We're not building a rocket here," Toth said.
"Realistically, what do you expect somebody to do? Okay, I live in a tent, now I got to pack up all my shit and then what? [Hide] until they find you out again? What's the purpose of it?"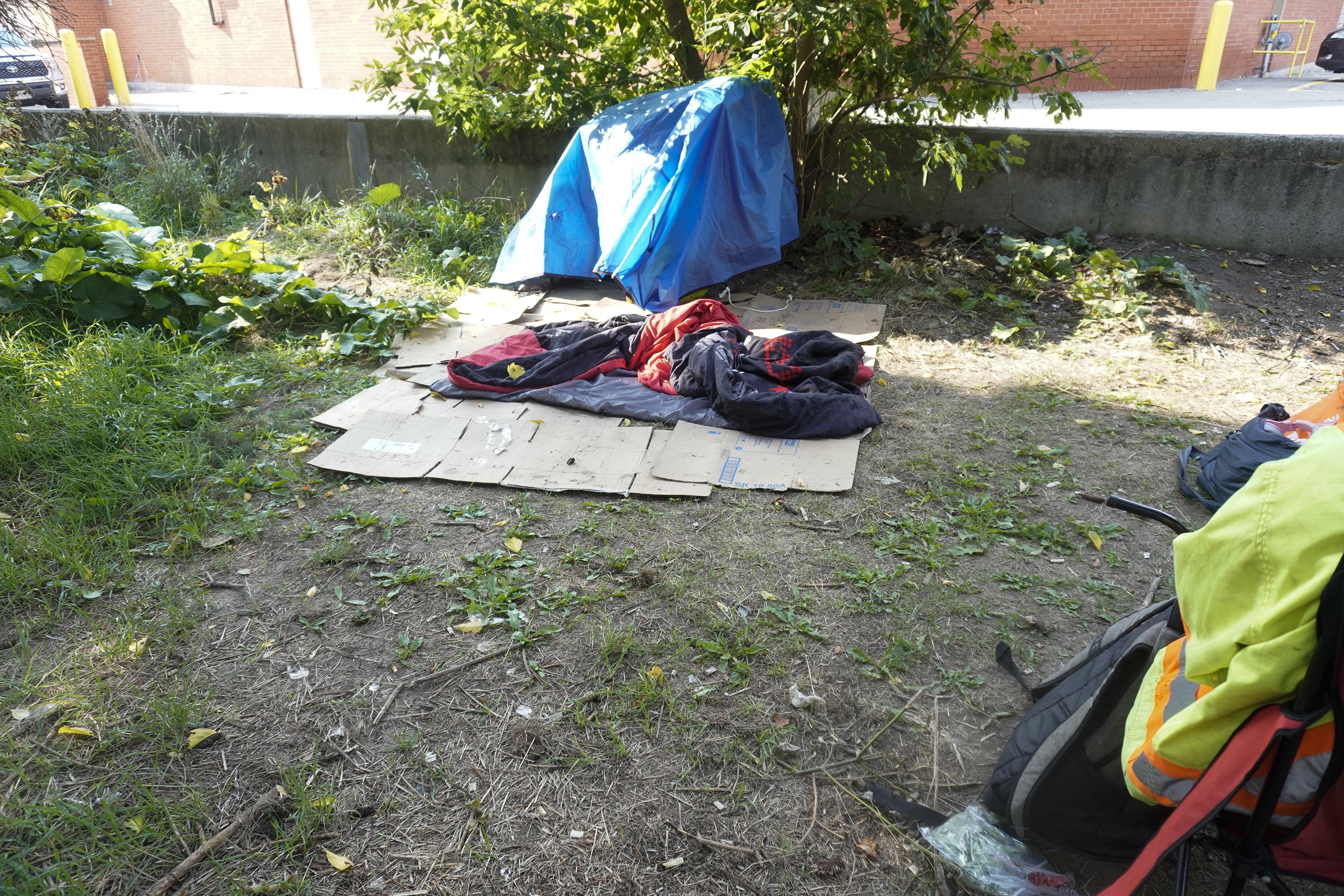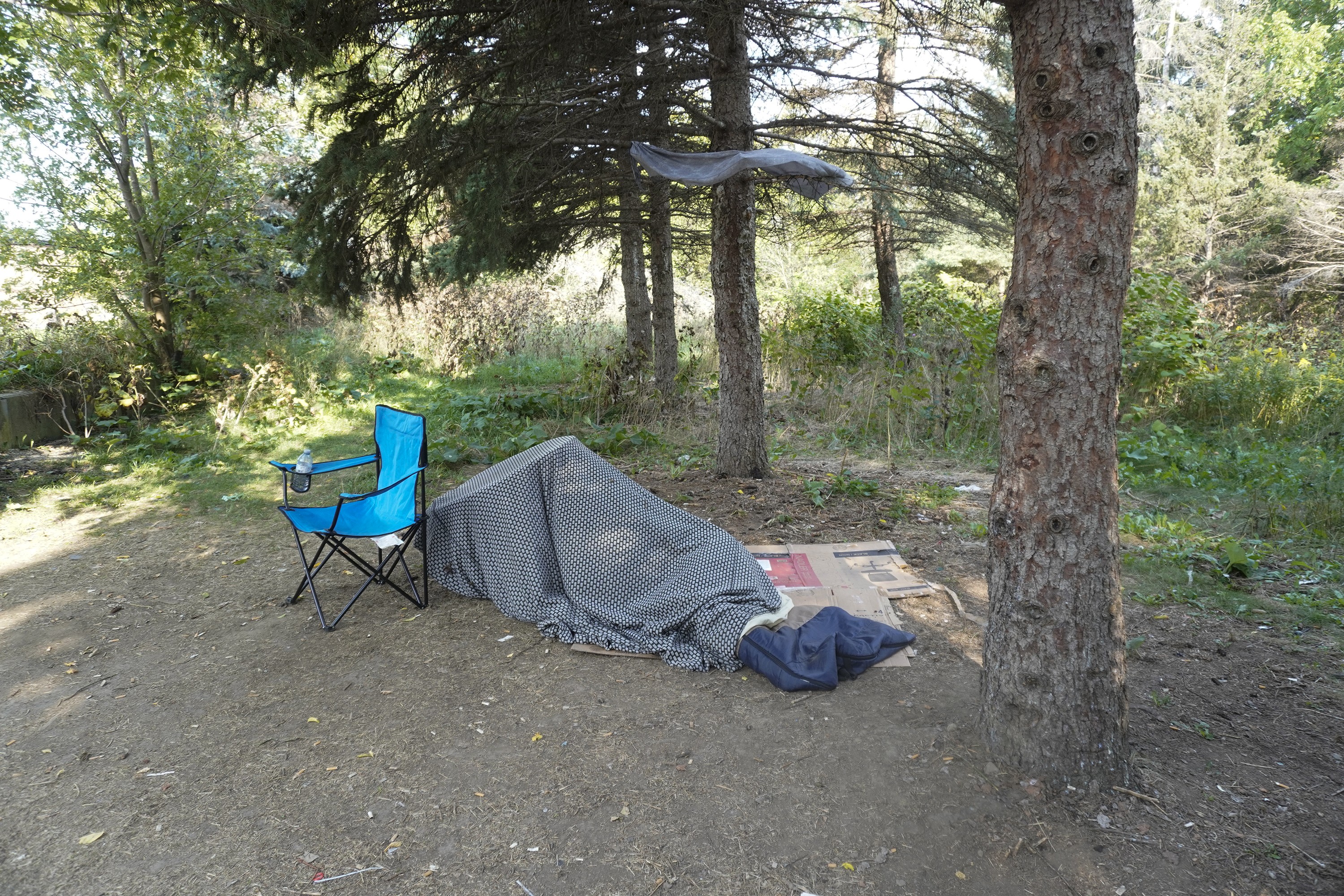 Living conditions behind Kingspoint Plaza.
(Alexis Wright/The Pointer)
Seniors Dave and Wendy have been living on the streets since May. Despite Wendy's reliance on a walker, the two have been avoiding the raids by being mobile.
When the notices are issued by the City, the pair moves to Kingspoint Plaza on the other side of the barrier. Then, after the raid, they move back. They said that staying on their feet has resulted in the pair not losing their few belongings, which they keep in a cart.
"Where do they think we're going to go," Dave said. "Just put a place where everyone can go, somewhere where people can bring their tents. They bring their tents, keep them clean, just leave them alone."
He added that housing for the pair has been arranged for October 1, and they decided to stay in the encampment until then, as a bridge between more permanent housing while they remain in a precarious situation.
Another resident, Kyle DeShanes, said he set up a shelter somewhere else during the August raid so he didn't have any belongings taken, but watched the truck drive off with the possessions of others.
"I was coming from another area of town where I built a shack. So I just came back over here. It wasn't really raining much at the time."
Some of the residents argued the City's actions violate the United Nations right to adequate housing, which establishes that all countries must house residents in a place without fear of eviction or having their home or lands taken away.
According to Daphna Nussbaum, coordinator with The Peel Alliance to End Homelessness, as of September 16 there were 750 individuals housed in Peel-run shelters while about 200 individuals are in overflow.
"It's really tough, it's tough because we don't have housing stock," Nussbaum said.
"All the shelters are at capacity, it's been like that for quite some time because the provincial government stopped funding the sites that were provided to encampments back in May, so there was no further funding for them to stay in hotels or motels."
In a report published in July 2021, the organization found that Peel's chronic homelessness rates were likely to increase without additional targeted housing investments directed to people experiencing chronic homelessness.
"Assuming current inflow/outflow rates of chronic homelessness, Peel will see an increase in chronic homelessness by approximately 25 percent over the next year. It is estimated that to reduce chronic homelessness by 15 percent, Peel's average move in rate would need to increase to at least 7 move-ins per month," the report reads. "Currently the average is 4 move-ins per month."
The severity of the situation, told by the numbers, was brought up again during a 2021 presentation to Peel Regional Council, where it was stated that only two percent of those experiencing chronic homelessness in Peel were getting housed, compared to 37 percent in Toronto.
Currently, Nussbaum said the Alliance has been working in a partnership with Peel Region on a project called "Coordinated Access," which intends to use a central information system to track entry into homelessness and those who then find housing.
"There's a list that's called the 'byname' list and it's sort of a real time list to list all the people coming into homelessness, who are in homelessness, or who are exiting homelessness. It's updated on a monthly basis and the purpose of it is to connect people to housing and services based on their needs and not where they sit in chronological order on another housing waitlist."
The Coordinated Access system is expected to be operational in 2023.
"People need to understand the cost of living going up and all the issues that come with COVID have made it particularly difficult for people who do not have housing to get housing. People need to know that they need to push more for deeply affordable housing, not just affordable housing in Peel."
Nussbaum said that COVID-19 was a "wakeup call" for many people, showing the urgency to adequately fund affordable housing.
"We do have a municipal election coming up and there's a lot to be mindful of when it comes to homelessness and housing. Not just that, social assistance and equity. People have to really start paying attention to what their local governments are doing or who their candidates are… I would say advocacy is really, really important. Advocate to your councillor, advocate to your MP, advocate to your MPP. I also think people probably need to be educated [about] why people are ending up in shelters or on the streets."
---
Email: [email protected]
Twitter: @JessicaRDurling
---
COVID-19 is impacting all Canadians. At a time when vital public information is needed by everyone, The Pointer has taken down our paywall on all stories relating to the pandemic and those of public interest to ensure every resident of Brampton and Mississauga has access to the facts. For those who are able, we encourage you to consider a subscription. This will help us report on important public interest issues the community needs to know about now more than ever. You can register for a 30-day free trial HERE. Thereafter, The Pointer will charge $10 a month and you can cancel any time right on the website. Thank you
Submit a correction about this story