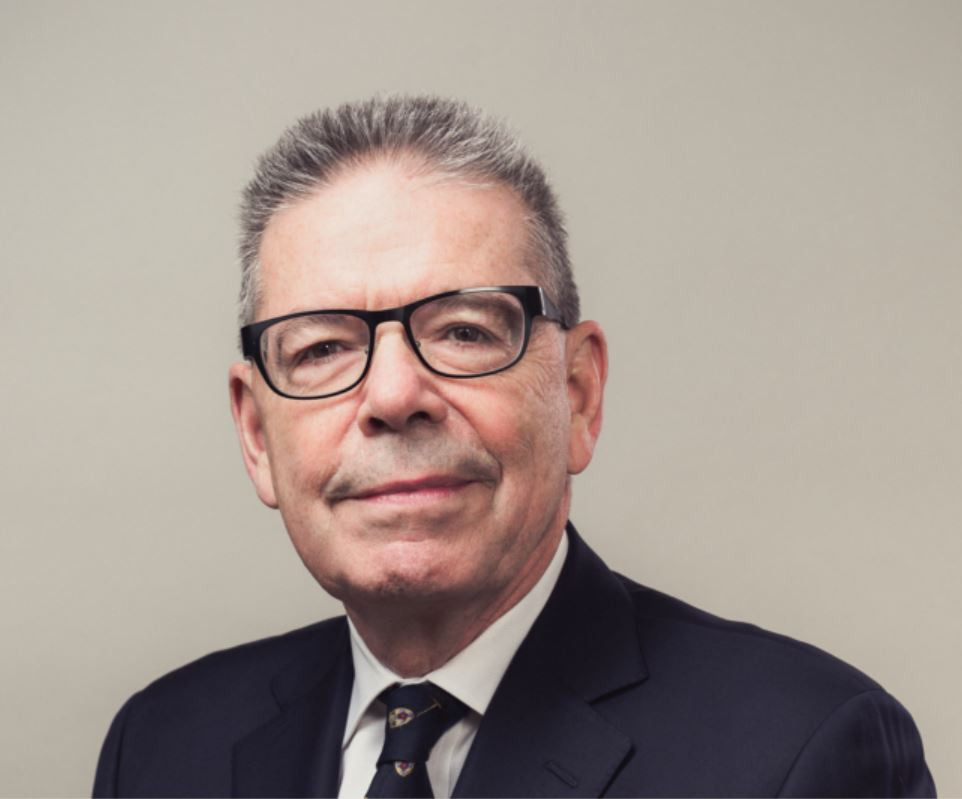 (City of Mississauga) 
Mississauga's CAO steps down following lawsuit by former female councillor alleging toxic culture inside City Hall
After nearly three decades of service, the City of Mississauga's top bureaucrat and Council's latest CAO is stepping down from the helm.
Paul Mitcham, who has served the City of Mississauga for almost 30 years, as CAO and previously as commissioner of community services, stepped down from his position with the City as of February 1. He was promoted to be the City's highest-ranking bureaucrat in June of 2020 and oversaw most of City Hall's COVID-19 pandemic response. He took over the role following the departure of longtime City manager Janice Baker, who held the position for 15 years.
Mitcham stepped into the role in the middle of the global health crisis, which created significant pressure for local governments as transit systems were devastated, small businesses (and their property tax contributions) were hit hard and community-based municipal services had to be suspended.
"I'd like to wish Paul Mitcham all the best as he joins his wife Jane in retirement. As our City manager and prior to that, as our commissioner of community services, Paul has helped shape our city and advance many strategic priorities over his nearly 30 years of service," Mayor Bonnie Crombie wrote in a statement to The Pointer.
"Paul was instrumental in helping our city launch its emergency response to the COVID-19 pandemic in partnership with Peel Public Health and Trillium Health Partners. It was a tough time with many unknowns that required decisive leadership. We always took a cautious approach here in Mississauga and often went above and beyond to do what was in our power to protect our residents."
A notice of motion was put forward at Wednesday's council meeting to appoint someone to fill out the CAO's role following Mitcham's departure. Council appointed City commissioners Shari Lichterman and Geoff Wright to take over the CAO's duties in the interim while the City conducts a recruitment process. Ultimately, members of Council will determine who becomes the next CAO. Lichterman, the City's chief financial officer, will act as CAO from February 1 to May 31 and Wright, commissioner of transportation and works, will step in from June 1 to August 31, or the date council appoints a permanent CAO.
In the meantime, Crombie said it will be "business as usual" for the City as it settles into a new year and a new term of council.
"The City of Mississauga is engaging in a competitive recruitment process to find Paul Mitcham's successor. Given that we are recruiting for the next CAO, we expect this to be a thorough process to ensure we attract the best candidate possible. A competition for the city manager position will begin shortly."
Mitcham's retirement comes two months after a $686K lawsuit was filed by former councillor Karen Ras which made disturbing allegations against the former CAO, and Crombie.
Ras resigned early last year following allegations that former councillor Ron Starr had repeatedly harassed her throughout much of the previous council term, and allegedly scratched her car multiple times in a City Hall parking lot. Starr has denied the allegations. The City's integrity commissioner, who mishandled the case initially, eventually found Starr, on a balance of probabilities, according to available evidence, scratched her car on one occasion (he did not make a determination on other alleged incidents involving the car).
Former Missisauga Councillor Karen Ras filed a lawsuit in November following allegations that former councillor Ron Starr had repeatedly harassed her throughout much of the previous council term.
(The Pointer files)
A lawsuit filed by Ras in November, in response to a series of events she alleges took place over the course of the last three years, claims Ras spoke to Mitcham in 2021, prior to the integrity commissioner finally agreeing to launch an investigation, to update the CAO on the situation. She told him she was concerned about the matter and felt the integrity commissioner's inaction to that point would allow the harassing behaviour to continue, according to the lawsuit. Ras claims Mitcham was unresponsive to her concerns and while he was aware of the situation, he declined to get involved or intervene in any way. Ras alleges that the City, under Mitcham's leadership, failed to ensure a safe working environment.
Crombie allegedly contributed to the workplace issues Ras faced. "The Mayor, Bonnie Crombie, as well as many others on council, were aware of the situation. However, no action was taken to address it in order to provide Ms. Ras with a safe and healthy work environment," the lawsuit alleges.
While questions about City Hall's workplace culture swirl, Mitcham's departure also comes at a particularly crucial time for the City of Mississauga's future.
The CAO is responsible for the overall administration of the City and acts as the senior liaison between Mississauga staff, the mayor and councillors; essentially every major decision brought to council is streamed through the top bureaucrat. The CAO is in charge of developing the City's corporate policy and advising on economic development and legal services. With the City of Mississauga facing financial pressures and the PC government's aggressive growth targets, with four new members around the council table, the next CAO will have to guide City Hall through challenging times.
The City of Mississauga recently projected a $52.5 million year-end deficit for 2022 which is expected to grow into 2023, particularly as transit ridership slowly recovers to pre-pandemic levels. Council approved the 2023 budget on Wednesday, February 1, a move that came following Mitcham's resignation from his leadership role, despite having his name and signature painted across the opening pages of the City's budget document. The blueprint outlines all of the financial pressures the City is facing and includes limited spending on new projects.
Years of lean budgets to keep property tax increases around the rate of inflation rate have left many needed infrastructure investments neglected – the City is forced to pay a lengthy bill for infrastructure maintenance and repair that has finally come due. The financial blueprint lays out the City's spending for the next year, prioritizing investments in aging infrastructure which Mitcham previously stated would continue to be a big concern for the City.
Mississauga's 2023 budget revealed the "City is facing serious funding challenges caused by inflation levels that have not been experienced for decades." Critical issues like aging infrastructure, a need to improve Mississauga's Transitway, climate/green investments and emergency services in desperate need of investment, all looming on the horizon, have left the City grappling with an uncertain financial future.
The City of Mississauga is facing a challenging time financially as it struggles with an infrastructure gap stretched by years of neglect.
(Alexis Wright/The Pointer)
Mitcham previously called the financial hit from the PC government's controversial housing legislation, Bill 23, "devastating" and the "most significant legislation" the City has ever seen, with hundreds of millions of dollars expected from developers to pay for growth now suddenly on the shoulders of the City and its taxpayers. Lichterman, who is currently the acting CAO, has noted there are still many unknowns about the full impacts of Bill 23 while municipalities wait for more information out of Queen's Park.
Lichterman has faced her own critics who have complained about the culture inside City Hall.
When residents and staff raised concern about City Hall's participation in the use of disrespectful names and imagery stereotypically associated with Indigenous communities which actually cause harm to many First Nations and Indigenous members, an internal email sent to staff by Lichterman in 2018, when she was director of recreation, was shared with The Pointer. It referred to a deeply offensive name used for a local hockey club. Despite knowing it was a sensitive issue and that residents had raised concerns, Lichterman instructed her staff that no agreement to stop using the name had been reached, repeating the hurtful term in her email, "so business as usual as it relates to the teams playing and practicing in our buildings and wearing their jerseys."
Staff told The Pointer they were left feeling disillusioned about the approach taken by senior leaders in one of the most diverse cities in the world.
Instead of apologizing for the way she communicated to staff, she told The Pointer, "The tone of the email was intended to be clear and direct…".
Then, in 2021 during the pandemic, community members tried to save a beloved local outdoor skating rink in the Burnhamthorpe Road and Dixie Road area, putting together a petition to stop the City from bulldozing it. Lichterman, who had been promoted to commissioner of community services, questioned the effort by neighbourhood residents.
She said people who signed up for the online petition were being asked to do so, "as they're showing up to the rink to skate in a pandemic when it's the only thing for them to do", suggesting that a "vocal group of residents" was using the pandemic to skew the issue.
Residents told The Pointer they were appalled by Lichterman's attitude toward them.
The City has not set a deadline for when the search for a permanent CAO will be completed.
---
Email: [email protected]
Twitter: @mcpaigepeacock
---
COVID-19 is impacting all Canadians. At a time when vital public information is needed by everyone, The Pointer has taken down our paywall on all stories relating to the pandemic and those of public interest to ensure every resident of Brampton and Mississauga has access to the facts. For those who are able, we encourage you to consider a subscription. This will help us report on important public interest issues the community needs to know about now more than ever. You can register for a 30-day free trial HERE. Thereafter, The Pointer will charge $10 a month and you can cancel any time right on the website. Thank you
Submit a correction about this story