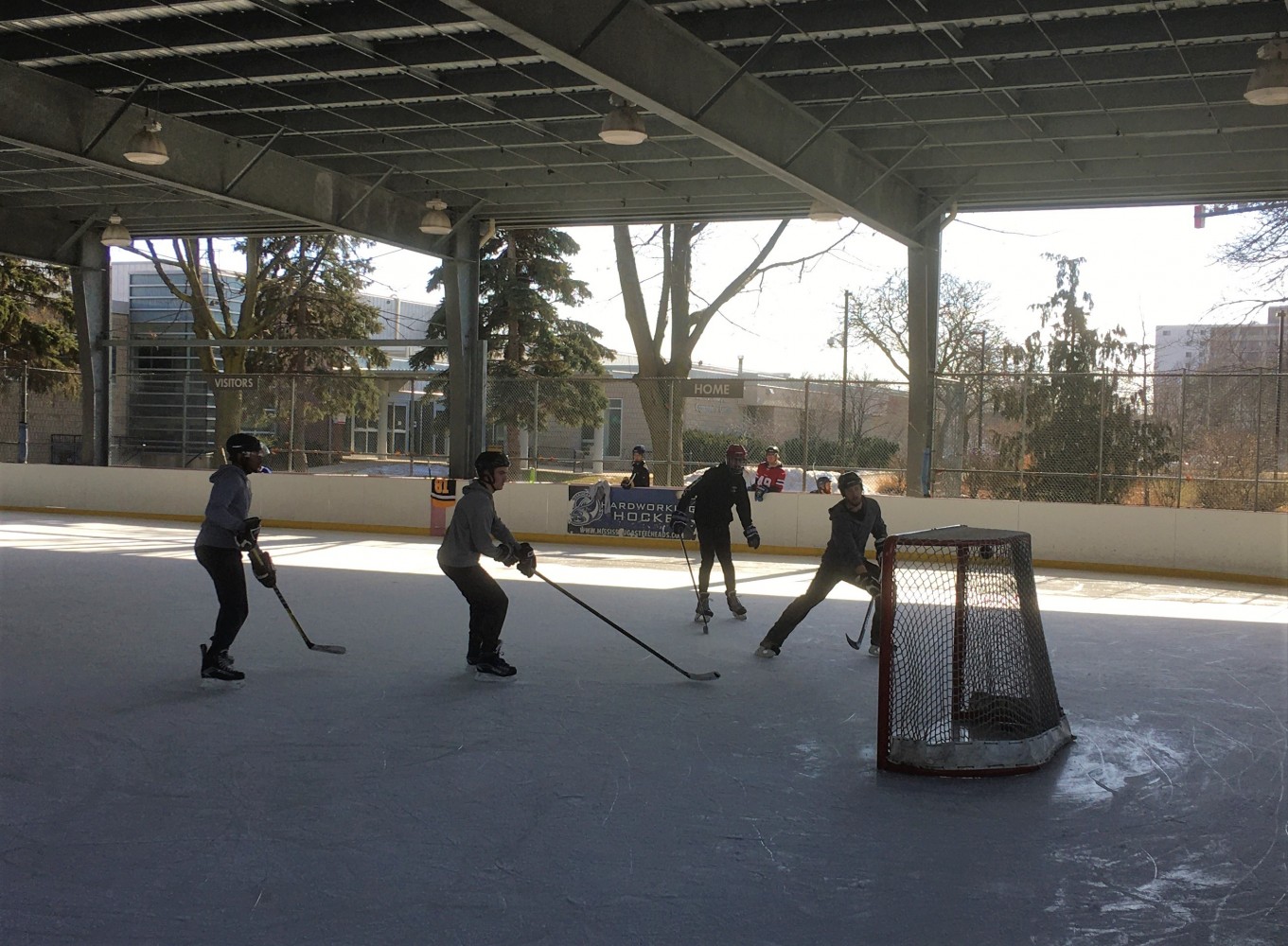 The Pointer file photos/Joe Galati/Slides & Screengrabs Athina Tagidou
Public consultation on demolition of Mississauga outdoor rink lacked transparency, residents say
With the razing of the Burnhamthorpe Community Centre outdoor rink looming, Mississauga residents took their frustration to city council during Wednesday's meeting to ask why proper public consultation did not take place.
"I called other neighbours and friends – they were also unaware," said deputant and Mississauga resident David Shum. "Someone heard of upgrades to the community centre coming, but nothing about the impending demolition. I checked my phone for [the] free newsletter and there was nothing there regarding the rink and no mention of an apparent Oct. 1 meeting at the Community Centre."
Sue Klein-Shanley, a representative of MIRANET, the Mississauga Residents' Association Network, directed the association's collective questions to city council.
"How could the design for a new pool and reconstruction of the Burnhamthorpe Community Centre be approved before sufficient, meaningful consultation took place? Many residents feel that there's been a lack of transparency and consultation over the past two years. No one that spoke with us had heard about this prior to September 2020."
The decision to officially decommission an ice pad was made in February of 2019, when recommendations put forth in the 2019 Recreation Master Plan were approved by council. When the plan was approved, only two ice pads met their decommission criteria: the Mississauga Valley Community arena and the Burnhamthorpe Community Centre outdoor ice rink.
City staff and Ward 3 councillor Chris Fonseca insisted there were many opportunities for residents to get involved during the early planning stages of BCC's renovation. Plans were finalized in early 2020, and although city staff say a communication strategy was being prepared immediately after, outreach to the general public was "significantly hampered" by the onset of the pandemic, according to Mississauga's director of recreation Kristina Zietsma.
In a press release, The City of Mississauga announced a drop-in at the BCC on Sep. 28, 2020, only three days before the meeting was to take place, for residents to "learn more about the community centre's redevelopment plan." However, there was no mention of the BCC outdoor rink demolition on Fonseca's tweet promoting the event, or the City's Twitter promotion,its Facebook promotion, the City of Mississauga Recreation department's promotions on Facebook and Twitter, or on the news release itself.
According to the updated official BCC renovation website, a new refrigerated rink will now be added to Gulleden Park "subject to community consultation". This move only came after public outcry led by local residents.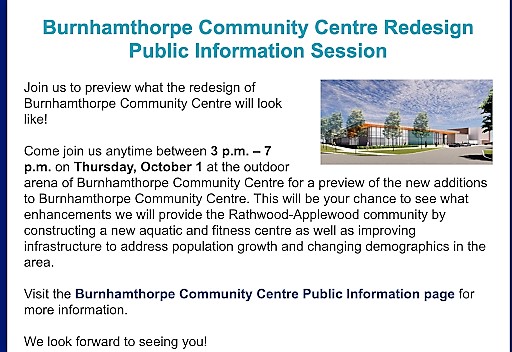 Ward 3 councillor Chris Fonseca released a newsletter to her subscribed contacts on Sep. 25, 2020 of all the upcoming public engagement events. Local resident Athina Tagidou says this was the first time she heard about the upcoming changes to BCC.
The community consultation on a new outdoor ice rink, however, would take place only after the decision to tear down the BCC rink had already been made.
"Given the low utilization, we decided to remove the outdoor rink and planned to assess the demand for its replacement within the community," said Zietsma. "Regardless of the design, the outdoor rink would have had to close for the two years during construction. Staff intended to use this time to consult the community to better understand if there was support for a new outdoor ice amenity as part of future property development."
This addition was new to deputant and Ward 7 resident Joe Galati, who tried to contact Fonseca multiple times upon learning about the rink's doomed future.
"When I initially started asking them questions about the rink, they never mentioned replacing the rink," said Galati, who has led the charge to save the cherished local winter amenity. "They only started to respond to me after the petition went live and saw the article in The Pointer. After reading over 350 pages of city planning documents, I realized that recreation executives used a nine-year-old strategy for the indoor arena business to reduce inventory by one ice pad if sales did not pick up and instead used the outdoor rink as the sacrificial lamb."
Local resident Joe Galati, who spearheaded efforts to save the rink, is concerned about the lack of transparency behind the decision making.
Fonseca addressed the lack of public consultation claims, emphasizing that throughout her term as councillor, residents repeatedly let her know the Burnhamthorpe Community Centre needed to be renovated.
"I ensured that there were opportunities and will continue to ensure that there's opportunities for residents to be made aware of the next steps with the redevelopment of the construction phase of Burnhamthorpe Community Centre, as well as timelines and the opportunity to give input [during] community consultation for the redevelopment of Gulleden Park, which will include the opportunity to look at a refrigerated rink on site."
Deputant and lead member of Applewood Hills & Heights Residents' Association Athina Tagidou, who was absent during the council meeting on Wednesday, couldn't recall a robust effort being made to actively inform and consult the community about the BCC outdoor rink's demise.
"It was definitely not made known," said Tagidou, a Ward 3 resident. "And if it was made, we'd like to know: where are those meetings? How many attendees were at those meetings? What were the questions and feedback that was received? Where is that?"
Despite the relative absence of recent social media campaigns that allude to the demolition of the outdoor ice rink and resident claims that no public consultation was advertised throughout the community, members of city council were quick to defend Fonseca's public outreach efforts.
"I just want to support Councillor Fonseca and staff that through a very difficult time, I was extremely impressed with the amount of outreach that you did into your community," said Ward 9 Councillor Pat Saito, to the agreement of Mississauga Mayor Bonnie Crombie and later Ward 5 councillor Carolyn Parrish. "Maybe people beyond the Ward-three community who have spoken today aren't aware of that. But I think you've [Fonseco] gone out [to] your residents, you've had a lot of feedback and it's been a really tough time for doing it," Saito said. "I think it's very unfair when residents who don't live in the area come forward and criticize the public outreach and the public input that was done, when they really don't know what happened in that community."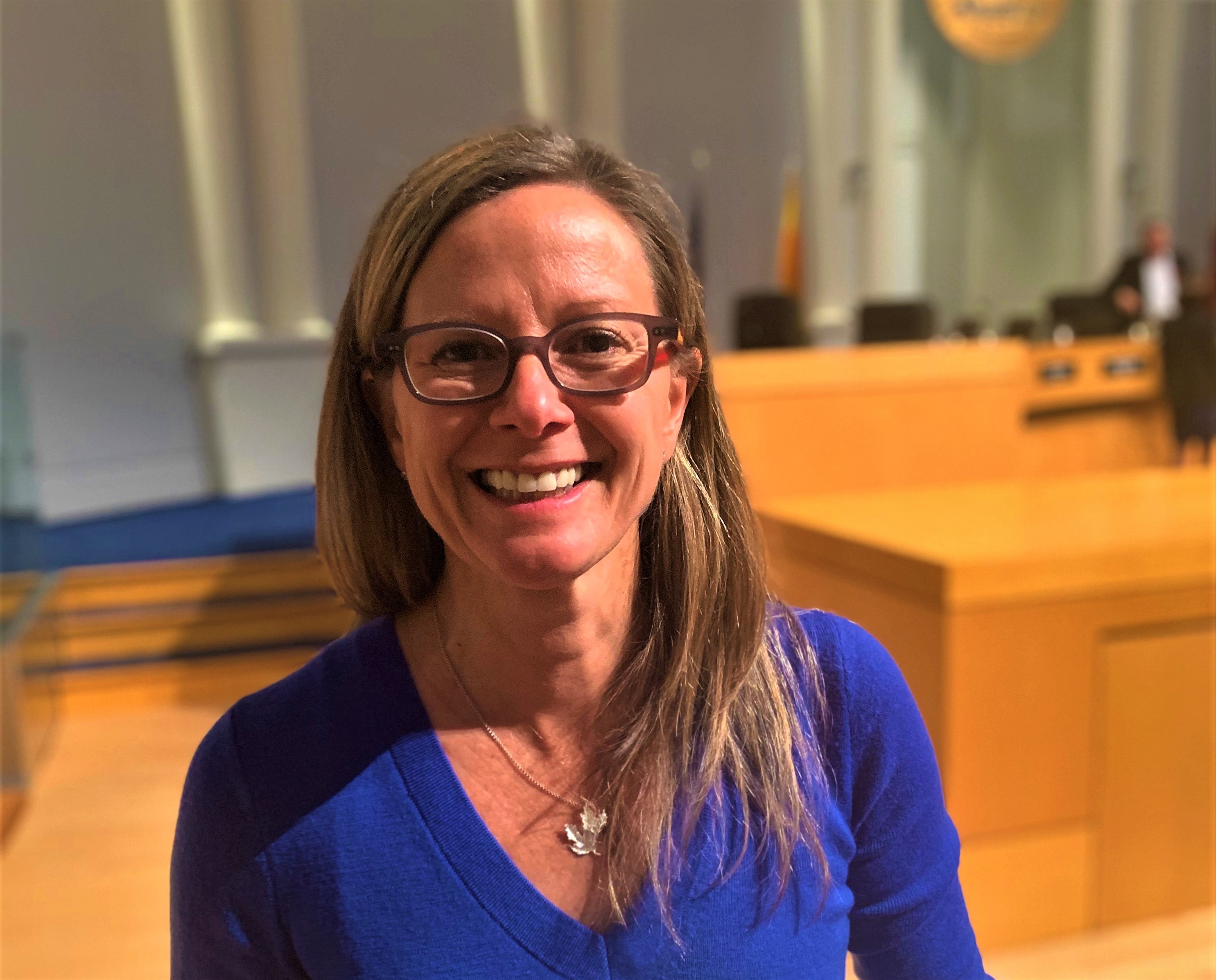 Area Councillor Chris Fonseca has been criticized for failing to properly communicate plans for the rink, but her colleagues rushed to her defence, despite evidence presented by local residents.
Upon watching the recorded meeting, Tagiduou was disappointed to see councillors "almost discredit" Galati's presentation. Their words contradicted the evidence he – a resident who lives near the rink and uses it frequently – presented.
"How are we supposed to get a petition signed with COVID measures in place?" Tagidou said to The Pointer, in response to council's decision to reject Galati's petition. "Then also discrediting the fact that he [lives] in the ward – I thought that was very unfair. This is a property that I can go to [just like] any other community centre in Mississauga. It's not just an exclusive area. The money is being used from our tax dollars towards this facility."
Galati's passion for hockey and protecting the outdoor rink from demolition led him to create a petition online that saw over 7,000 signatures in support of his position, with one belonging to hockey icon Don Cherry. To the surprise of Galati, city council refused to recognize and accept receipt of the petition, notwithstanding its signatures, as it is not "in accordance" with the city's corporate policy.
"The city's legislative services said I could make the petition online at Change.org because of COVID," Galati told The Pointer. He called the City for clarification on online petitions mid-December. "So almost 8,000 people want to be heard and [are] upset that council is refusing to hear their voice... They changed their story. They're saying, no, we're rejecting your petition because it's not on paper."
The rink only operates about four months a year with a 30 percent overall fill rate for drop-in programming, according to the official BCC website. City council revealed yesterday the figure to repair and maintain the outdoor rink would amount to $1 million due to the rink equipment's end-of-life-cycle costs. The outdoor rink serves on average 500 visitors per week for four months, while the newly expanded areas of the community centre that is planned to replace the rink, which will include a pool, therapy tank and fitness centre, will serve approximately 6,000 visitors per week year round, according to City projections.
Galati says the rink's programming was destined for a low turnout.
"This rink was set up for utilization failure as the public was trained for decades to believe the rink closed at 3 p.m., hoping for rentals afterwards," said Galati during his deputation, noting that kids and youth were in school during the rink's open hours. "The outdoor rink was competing with the indoor rink business. Normally, outdoor recreation is free to provide access to all income groups."
The renovation of the Burnhamthorpe Community Centre includes a "much-needed" aquatics facility, with a new warm-water therapeutic pool aimed at addressing the aging population's needs. The new pool would replace the existing Glen Forest School pool, the primary pool for Ward 3 residents.
According to the 2019 Recreation Master Plan, Mississauga has a total of 11 indoor aquatic centres that collectively provide 19 tanks, with an additional aquatic centre in Churchill Meadows Community Centre opening later this year.
With the new aquatic facility, one aquatic centre is enough to service 67,700 residents by 2028. The current level of service for ice pads throughout the city is one for every 30,000 residents, but with only three outdoor ice facilities managed by the City available, and only two of them allocated for hockey activities, the demolition of the outdoor rink at BCC without a replacement would bring the service rate down to approximately 1:750,000.
The trend across parts of the GTA over the past two decades, when outdoor skating was abandoned by many decision makers who failed to introduce one of Canada's most cherished historical traditions to new generations, stands in sharp contrast to the Scandinavian concept of friluftsliv which elevates the benefits of "outdoor life" and motivates large investments in activities such as outdoor skating, which was invented in Finland some 4,000 years ago.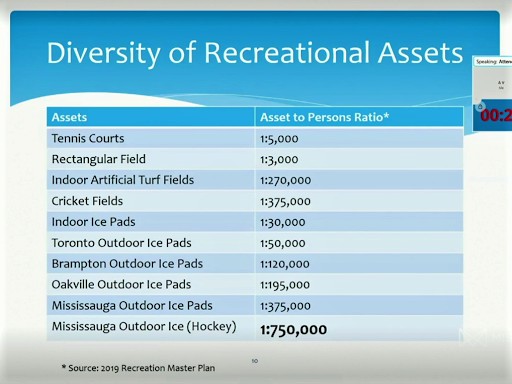 Galati's deputation included a slide filled with compiled figures from the City's 2019 Recreation Master Plan. He is concerned about the use of outdated data and figures that show outdoor skating, a central part of Canadian culture, is being neglected by the City.
Despite all his work in rallying Mississauga and Peel residents going unrecognized by the City, Galati implored council to keep Canadian hockey culture alive for new immigrants and current residents in Mississauga.
"What we are asking you to do on behalf of the 7,500 people that signed the petition, after just four weeks, is provide the city a couple of outdoor, refrigerated [and] covered arenas so people from all walks of life can experience the joy of skating outside, feeling the cold air in their face, connecting to nature and feeling [like they are] part of the community."
Tagidou called for more transparency, collaboration and cooperation from city council moving forward, urging residents and councillors to remember to "work together".
"People want to be informed, people want to be engaged, people want to contribute. However, we have to be made known of these realities of what's happening in our community so that we can contribute. And maybe the numbers won't be very, very high, but the people who are very keen will definitely be there."
Shari Lichterman, the City's commissioner of community services, raised doubts on the true importance of the issue, citing concerns the pandemic is skewing interests in favour of outdoor activities.
"The people who are being queried for the online petition are being queried as they're showing up to the rink to skate in a pandemic when it's the only thing for them to do," she said. "I don't know that we're giving people the best context, or that they have the full perspective when they are signing on to 'save the outdoor rink.'"
In response to the deputations and the support the outdoor rink has garnered since the petition's inception, Councillor Fonseca has given direction to staff to look into the feasibility of building new outdoor refrigerated rinks at different locations throughout the city.
"We have heard loud and clear that there is a vocal group of residents who are interested in outdoor rinks – and whether that is as a result of a pandemic, or whether they have simply been quiet over the last few rounds of our future direction consultations when we have not had requests for outdoor rinks – regardless, times change and we respond to what our residents ask for," said Lichterman, who emphasized that the BCC renovation must continue to prevent issues with other projects and the overall budget. "While we have 35 natural rinks (maintained by community volunteers) ready to go as soon as the weather cooperates, we know that with climate change that the season for those natural rinks has really been reduced and perhaps that's something that we need to factor into that feasibility."
---
Email: [email protected]
Twitter: @vanessabalintec
---
COVID-19 is impacting all Canadians. At a time when vital public information is needed by everyone, The Pointer has taken down our paywall on all stories relating to the pandemic and those of public interest to ensure every resident of Brampton and Mississauga has access to the facts. For those who are able, we encourage you to consider a subscription. This will help us report on important public interest issues the community needs to know about now more than ever. You can register for a 30-day free trial HERE. Thereafter, The Pointer will charge $10 a month and you can cancel any time right on the website. Thank you.
Submit a correction about this story