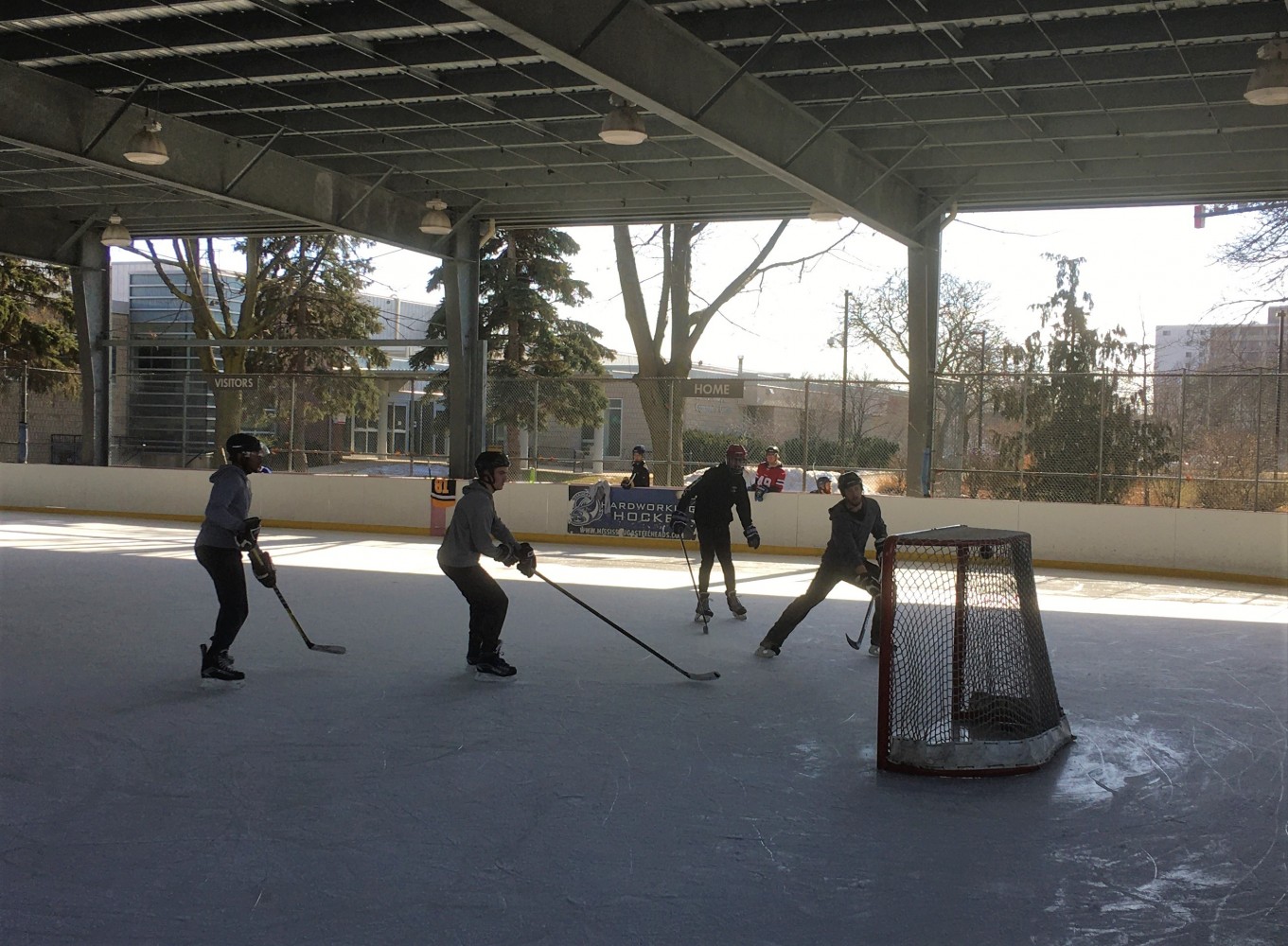 Photos courtesy Joe Galati/Donna Sas/Rendering City of Mississauga
Hockey in Mississauga takes another hit; devastated residents fighting plan to destroy unique outdoor ice rink
When Joe Galati's mother passed away in 2014, he was distraught. The two were extremely close and the loss consumed him.
As he struggled to come to terms, the Mississauga man found solace in an unexpected place, the cherished neighbourhood feature that would become another important connection: the Burnhamthorpe Community Centre Outdoor Rink. For the first time in his life, he strapped on a pair of skates and took to the ice, moving gingerly.
It felt like he was reestablishing a bond with something endearingly profound, once again.
At first, Galati was like Bambi on ice. The glassy surface met with a blade of steel created a completely unfamiliar feeling. He was like a toddler learning to walk.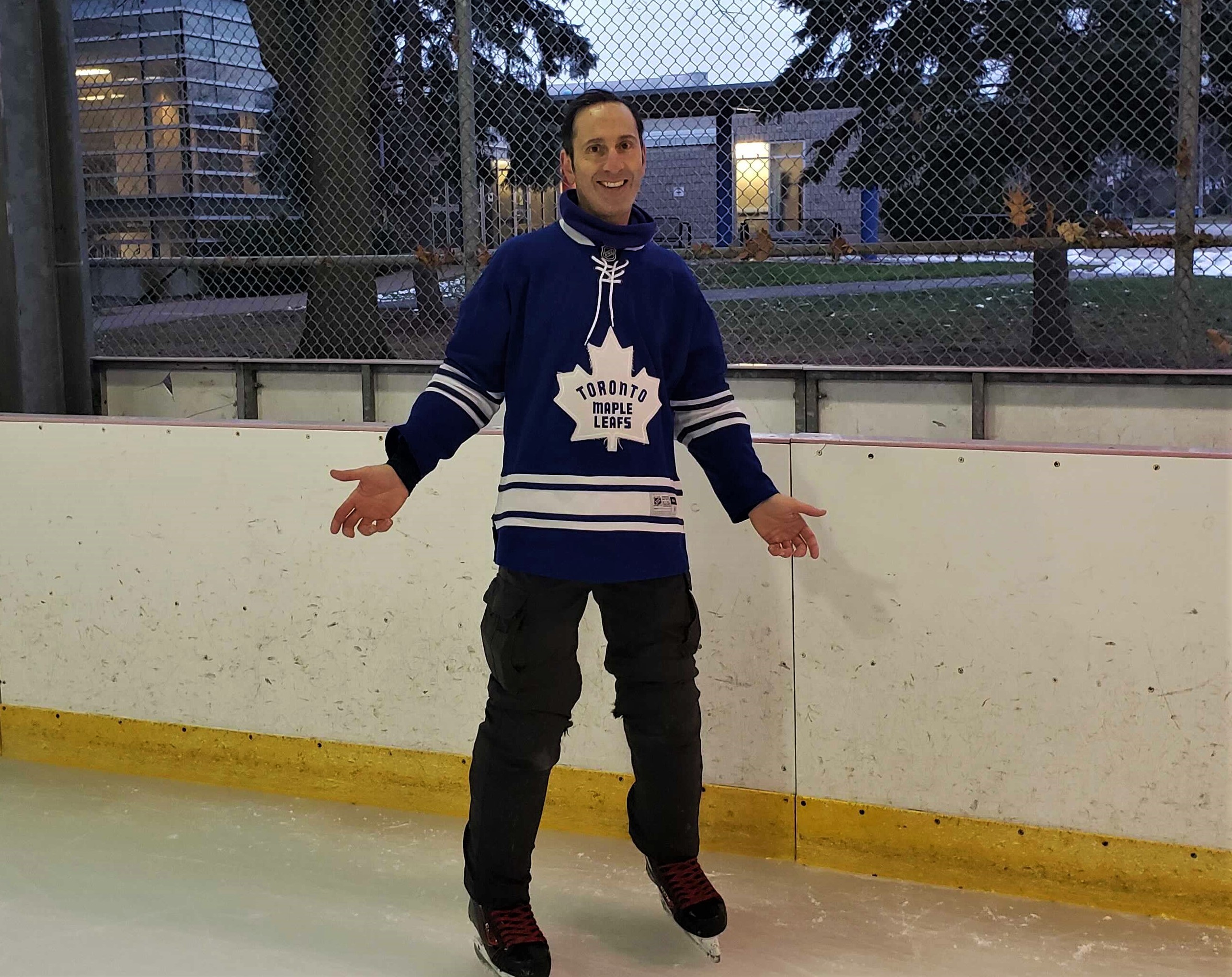 Joe Galati fell in love with hockey after losing his mother
As the days and weeks and months passed, the feeling of loss — one that may never leave — at least slowly loosened its grip. He was suddenly preoccupied with something that was overcoming him.
Slips, falls and wobbles gave way to the early signs of mastery. This quintessentially Canadian love affair, gliding effortlessly across a frozen pond or neighbourhood gathering place under the winter night, seemed to have some magical power.
With each day spent at his community rink, he grew more confident. Learning to skate, Galati learnt to understand his grief.
"It is personal to my life," he told The Pointer. "All the people I met at the rink, they've really enriched my life. They're teaching me to play hockey. I'm 53 years old and I am hanging out with all these 20-year-olds that have invited me to their hockey teams, [they] have made me a better hockey player," he says. "That's been a big release for me. It was devastating when my mom died."
To Galati's dismay, the City-run outdoor rink is open for its final season. In March, contractors will come in and begin dismantling the covered structure to replace it with a swimming pool.
The rink is one of just three artificially cooled outdoor sheets of ice operated by the City of Mississauga and rare within the GTA for its covered roof. The design allows hockey teams, figure skaters or beginners to practice, even in the rain or heavy snow. It also prevents melting under intense sun and has more than enough airflow to alleviate most COVID-19 concerns.
"I was stunned." Galati says finding out his cherished spot is to be bulldozed, came out of the blue. The plan has been in place for some time under the umbrella of revamping the Burnhamthorpe Community Centre, but the replacement of the rink was not made clear, he says.
As a regular skater, Galati has not seen signs up to offer public consultation on tearing down the rink. He says his pleas to the City to reconsider have fallen on deaf ears, singling out local Ward 3 Councillor Chris Fonseca as particularly unresponsive.
"This is like pulling teeth," he said. "I can't even get her to return a single one of my phone calls, a single one of my emails. I heard this is going to happen in two to four years last winter from staff, so I got in contact with her … she never responded. I had a whole bunch of people at the rink phone and leave a message and she's not responding."
Fonseca told The Pointer she supported the development plans for the community centre as they stand, including making the indoor ice arena more accessible. The councillor's office said they responded in March and are "in the process of responding" to Galati's subsequent requests.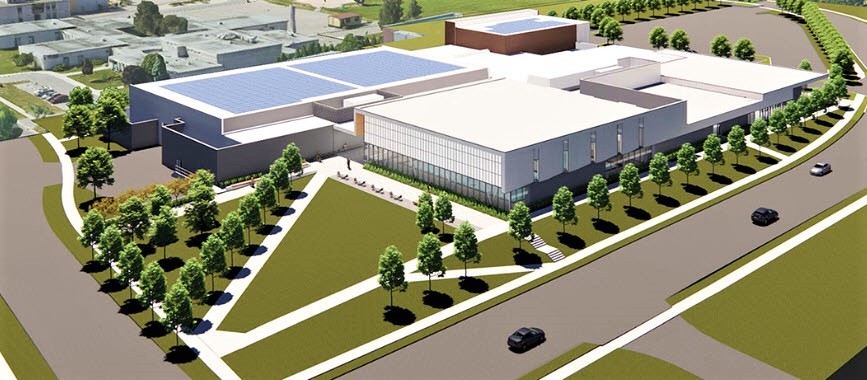 A rendering of the swimming pool to be built next to Chic Murray Arena
"Staff have already begun planning to enhance the programming plan on the indoor rink (Chic Murray Arena) for when the redevelopment is complete," she said in an email. "There will be a lot of opportunities for residents to keep skating at the centre for many years to come."
She said an October 2020 meeting provided an opportunity for residents to get involved and was communicated through posters, social media posts, her website and mobile signs.
The planned demise of Burnhamthorpe's outdoor rink highlights a shortcoming in Mississauga. The City operates just three outdoor rinks during the winter, which have sub-surface refrigeration to allow skating throughout the season, unless temperatures rise well above normal.
By comparison, Toronto operates 54 cooled outdoor rinks and Brampton, with fewer residents than Mississauga, maintains two outdoor rinks, two trails and four new rinks that will be ready for this winter season.
"There is no shortage of ice rinks in Mississauga; the City operates 23 indoor ice rinks," Shari Lichterman, commissioner of community services, told The Pointer by email. "The outdoor rink at Celebration Square and at Woodhurst Heights Park will continue to operate, in addition to 25-30 natural rinks across the City that are supported by community groups and residents."
The "natural" rinks are maintained by community volunteers and over the past decade often could not be set up due to the steady rise in temperature. On Friday, nearing the middle of December, the temperature was 10-degrees. To maintain these, temperatures need to remain well below zero for a prolonged period, something we see more and more rarely in the GTA.
If public skating is to continue as a feature of the city's recreational and cultural fabric, much more investment in refrigerated outdoor rinks will be needed.
Although the City stresses operating costs did not factor into the decision to get rid of the Burnhamthorpe outdoor rink, it costs $30,000 to run per year (without staffing) compared to $50,000 for the rink at Celebration Square.
Lichterman said removing the rink had not been the City's "first option" for the community centre's renovation, but "it became clear that the optimal design for the refurbished community centre required that we incorporate the space taken up by the outdoor rink."
The renovation should be completed by spring or summer 2023.
A comparison done by staff weighed "low utilization of the rink" and the shorter lengths of recent winter seasons against an all-year pool, therapy tank and fitness centre. "This was a higher priority and so the compromise was made to remove the outdoor arena," she said, pointing out the indoor facility will continue to operate.
Galati has committed to doing everything in his power to save the rink, spreading the word with fellow skaters and hoping he can change the City's mind at the eleventh hour. One person he was able to tell about the move is Donna Sas, who performed as a figure skater on the rink when it was first opened by then mayor Hazel McCallion in the '70s.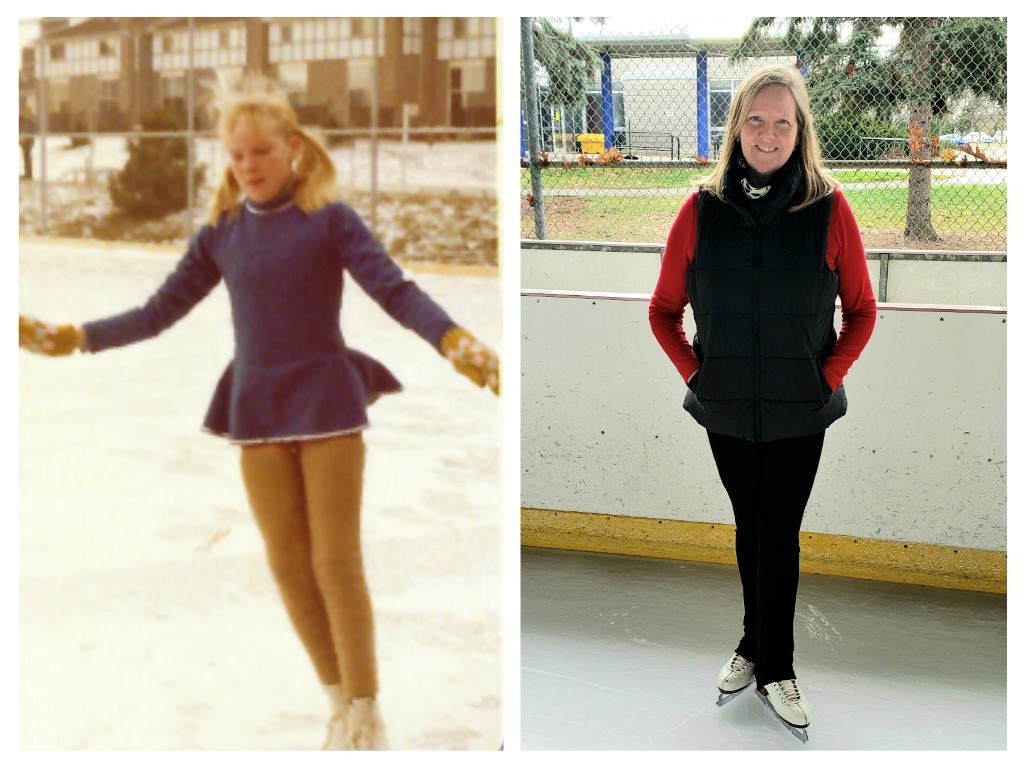 Donna Sas at the rink when she was a competitive figure skater, and now
"When you're skating on ice outside, it's almost like that's how it's meant to be, but we don't train outside… I would say every skater has a certain nostalgia about skating outside," she told The Pointer. For Sas, the rink represents an irreplaceable community space for Mississaugans to meet; it excites her as much now as it did when she was a youngster.
"You have got guys who are hockey players getting a good skate in, you've got new people who are just leisurely skating, you've got people like me who haven't skated in years… there is something for everybody. I do really believe it has that Canadiana feel."
Galati feels the same way. Watching new Canadians take to the ice as gingerly as he once did brings him immeasurable joy and, unlike a swimming pool, it is a winter activity.
The data the City referred to, which showed low usage, is similar to statistics that have been cited in the past. Changing demographics have been used to explain the decline of skating, as many newcomers are unfamiliar with the sport.
However, many trying to save hockey and skating in areas such as Malton, where such demographic shifts have occurred rapidly, blame a lack of outreach, not the unwillingness of residents to take up the sport.
A few years ago, a program was launched in Malton to rescue the sport, which had all but died in the area, and initial take-up was overwhelming.
Galati would like to see more done to preserve what is perhaps Canada's most unifying cultural experience, which in many places is not getting the support it needs to continue flourishing.
For talented children who may not be able to afford expensive indoor ice time, the free outdoor rink also offers the potential for Mississauga to continue to play its part in producing the NHL superstars of tomorrow.
"Southern Ontario is arguably the hockey factory of the earth. And it's so expensive to play hockey," he says. "Some kids who are talented can't afford all the practice time and the ice time, it's so expensive. It would be great for the City to offer free rinks for those that can't afford it and work on their skills and play hockey."
The campaign to save Galati's favourite ice patch from melting into a chlorinated swimming pool is just getting underway. His continued attempts to reach Fonseca will be accompanied by a petition, a deputation to council and approaches to familiar faces in the hockey world ranging from Mississauga icon Don Cherry to Calgary Flames star Sam Bennett.
"The City welcomes feedback and we are willing to answer questions, but the design has been completed and the project is underway. The construction will start in March," Lichterman said. "This renovation project has been discussed publicly with residents, user groups and Council for several years; although the decision to remove the outdoor rink was not made until the detailed design process in the past year."
In the short period of time he has before the bulldozers roll in, Galati plans to give it everything he can to save the rink. His experience so far suggests he will have the community's backing.
"Everyone of them said 'Yes, I'll phone' and 'Yes, I'll sign your petition when you bring it'," he said.
---
Email: [email protected]
Twitter: @isaaccallan
Tel: 647 561-4879
---
COVID-19 is impacting all Canadians. At a time when vital public information is needed by everyone, The Pointer has taken down our paywall on all stories relating to the pandemic and those of public interest to ensure every resident of Brampton and Mississauga has access to the facts. For those who are able, we encourage you to consider a subscription. This will help us report on important public interest issues the community needs to know about now more than ever. You can register for a 30-day free trial HERE. Thereafter, The Pointer will charge $10 a month and you can cancel any time right on the website. Thank you.
Submit a correction about this story