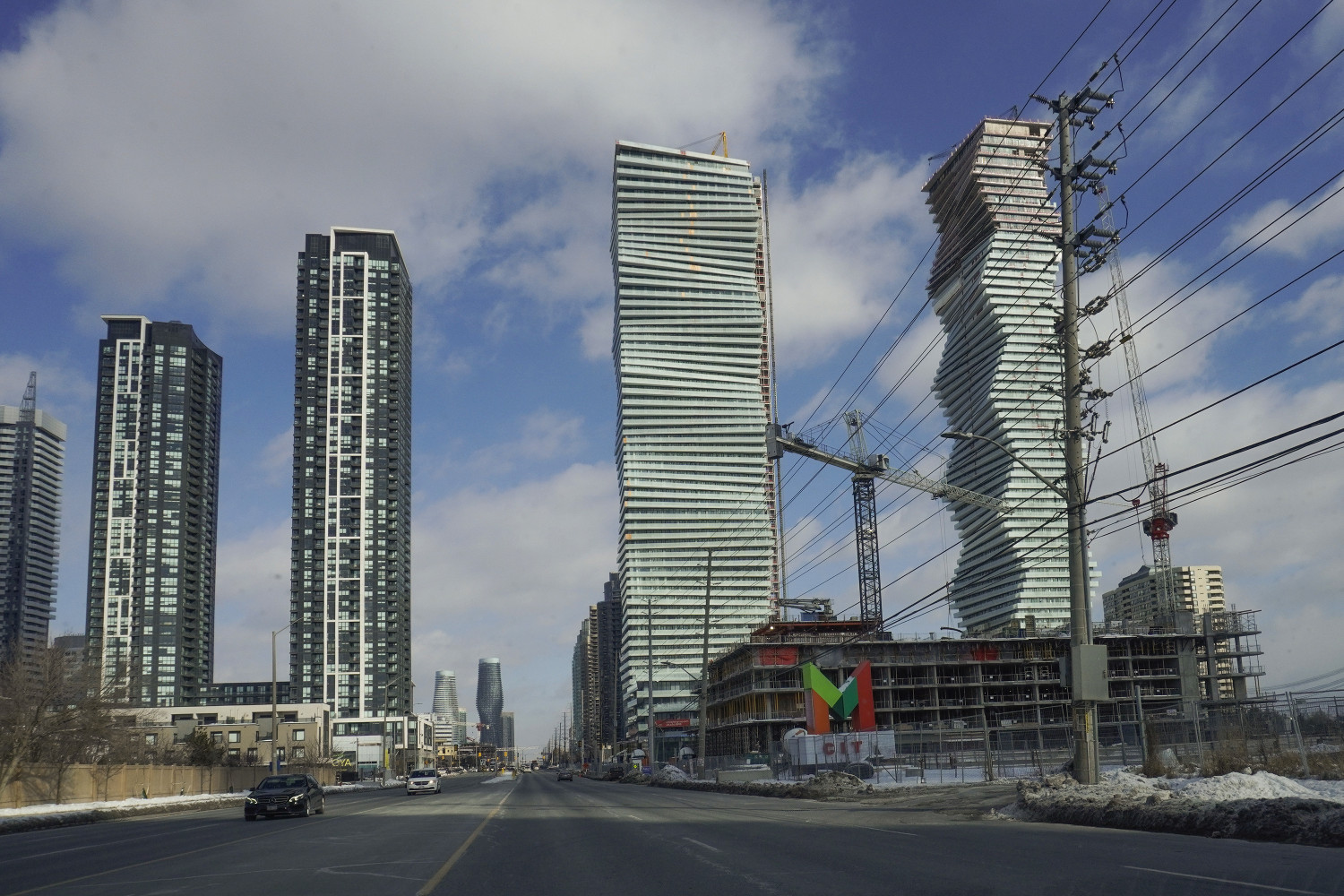 (Alexis Wright/The Pointer) 
Mississauga property owners will pay about $240 more, on average, for taxes and utilities in 2023
Throughout the City of Mississauga's 2023 budget process, it was clear the hands of elected officials and staff were tied tight. Financial pressures from rising inflation, a growing infrastructure gap as city roads, buildings and bridges require badly needed investments, and the PC government cutting development revenues through Bill 23, have left councillors with few options for the 2023 financial blueprint.
The budget includes limited spending on new initiatives for the growing city as it struggles to keep its head above water.
When the just approved Region of Peel tax increase (2.8 percent) is blended with the City's increase (3 percent) and the provincial education portion which is predicted to remain flat, homeownerss in Mississauga will pay about $183, on average, more for property taxes in 2023 (the City, according to staff, used an average assessed value of $730,000).
According to the Region of Peel, which just approved its 2023 budget yesterday, to maintain services and provide the required investmentments, property owners, on average, will pay $144 more in taxes this year compared to last, (based on a home worth $578,600 in Peel). When added to the Region of Peel's utility rate increase for 2023 (an average of about $58) Mississauga property taxpayers, on average, will pay about $240 more for taxes and utilities combined this year (the Region of Peel's figures are marginally different than Mississauga's based on its own tax rate increase for 2023).
Mississauga Council approved the 2023 budget on Wednesday which includes limited spending on new projects in the city. After years of budgets that neglected many needed infrastructure investments, the City is once again forced to cover minimal costs, as all the financial pressures facing residents factored into a budget with few commitments to build the types of features dynamic, growing urban centres create to attract future residents and economic development.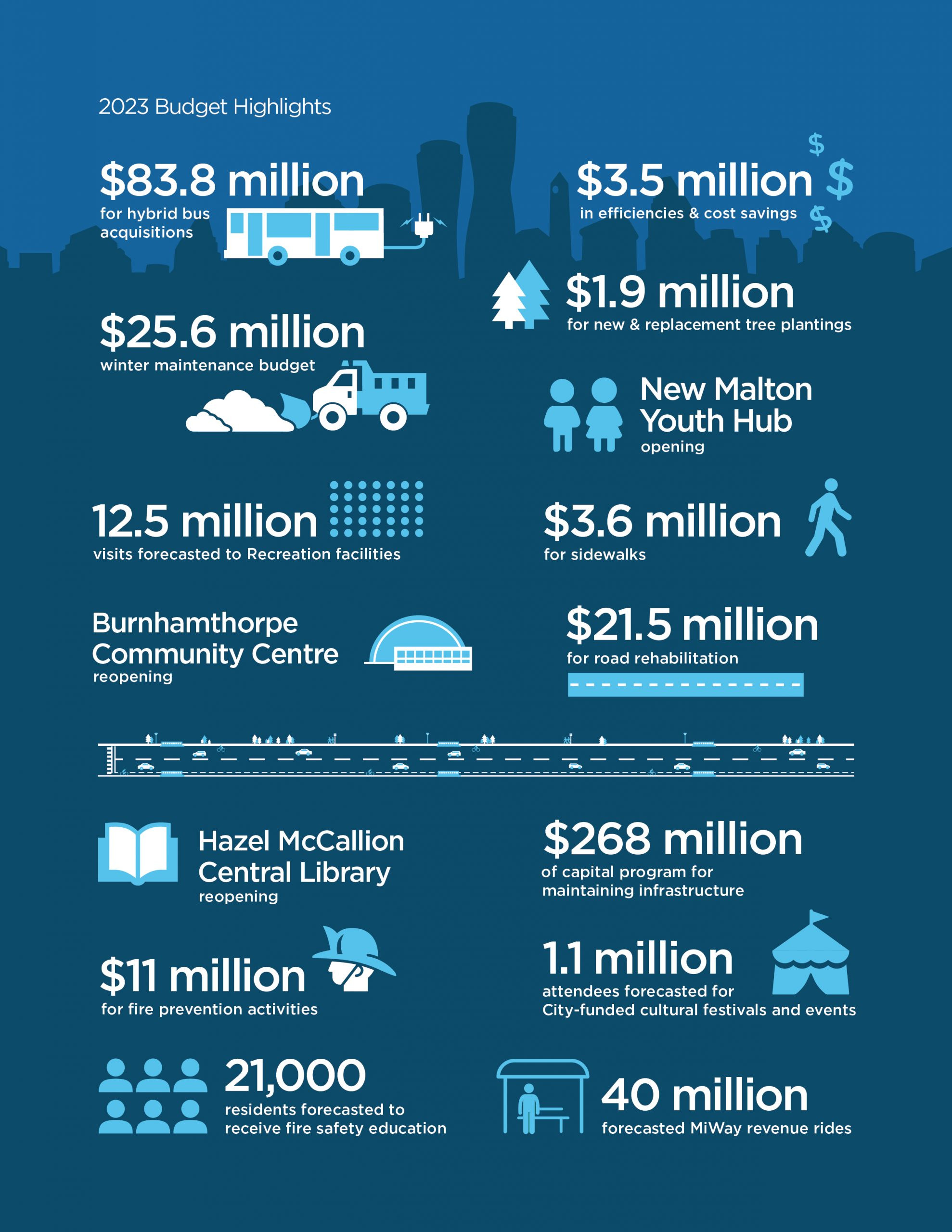 (City of Mississauga)
This reality is highlighted in the pages of Mississauga's 2023 financial blueprint, which reveals the "City is facing serious funding challenges caused by inflation levels that have not been experienced for decades." Critical issues like aging infrastructure, a need to improve Mississauga's Transitway, climate/green investments and emergency services in desperate need of investment, all looming on the horizon, have left the City of Mississauga grappling with a financial future that is uncertain.
One area that will not be sacrificed is the City's ballooning labour cost. Salaries, benefits and other compensation costs amount to $607.9 million, or 54 percent of the operating budget for 2023 which was approved at $1.125 billion. The overall approved budget, including the capital portion, for 2023 is $1.566 billion.
In 2022, the City's labour cost was $586 million. The steady rise for salaries over the last decade includes many non-union positions, and some unionized ones whose compensation is well above what is paid by other cities, higher levels of government and the private sector. While numerous investments for features such as public infrastructure have been curtailed or postponed, non-union salary increases (paid for by taxpayers challenged to cover their own costs) have continued to be pushed higher and higher by the same staff who benefit most, while putting forward their annual budget recommendations.
All of these dynamics have left Mississauga with few options to introduce substantial projects, while aging critical infrastructure needs to be either repaired or replaced. Doing both—preparing for the future while paying for the past— would place significant pressure on current property taxpayers, many of whom are also stretched thin due to rapid inflation and skyrocketing interest rates.
The City of Mississauga has projected a $52.5 million year-end deficit for 2022 which is expected to continue into 2023, particularly as transit ridership slowly recovers to pre-pandemic levels.
Former City manager and CAO Paul Mitcham, who just stepped down, stated in the budget report that limited revenue streams are forcing City staff to do a lot with limited funds. The lean budget is designed to minimize new spending and the overall impact on the taxpayer while maintaining existing service levels.
Tax dollars are the City's main source of revenue, representing 59 percent of its funding for the year. The approved financial blueprint will see a three percent tax increase on the City's share of the overall bill for residential property owners.
During budget deliberations, Mississauga Mayor Bonnie Crombie warned it would be a "very challenging year" for the City given inflationary pressures, lingering economic effects of COVID-19 and the uncertainty around potential losses of development fees under the PC government's Bill 23.
"This year, we have put forward a no-frills budget that is designed to maintain service levels while minimizing the impacts on our residents as we address ongoing pressures from inflation and the lagging effects of COVID-19," Crombie stated in a press release. "We are at a time when prudent fiscal management is more important than ever because we know the financial decisions we make today will profoundly affect our City's future."
The City's financial blueprint does not consider any of the anticipated financial implications of Bill 23 as chief financial officer Shari Lichterman previously explained, noting there are still many unknowns about the full impacts of Bill 23 as municipalities wait for more information out of Queen's Park. She assured staff will be working through those impacts as they turn their attention to the 2024 budget and beyond.
"It's a bit premature. We'll see some impacts in 2023 but we feel we can absorb those through reserves and other adjustments," she said in a recent press conference. "It's really the longer impact over the 10 years that we're concerned about and we really need to make sure we take some time to look at that and see some of the details that will come out I'm sure in the next month or so from the province."
City staff have previously asserted that the financial implications of Bill 23 on the 2023 budget are unknown.
(The Pointer files)
Under Bill 23 the City estimates it will lose $815 to $885 million in development charges for infrastructure over the next decade, a financial hit that's been called "devastating" and the "most significant legislation" the City has ever seen. It's previously been estimated that Bill 23 will cost the City the equivalent of 20 percent of its capital budget. An anticipated $325 million in revenue from growth-related projects will be lost due to breaks given to developers, while changes proposed to parkland dedications and parkland cash-in-lieu could lead to financial impacts of $490 million to $560 million.
Crombie has cautioned it will take a five to 10 percent property tax increase—or $300 to $600 annually on the average home—and/or a reduction in capital projects or City services to make up that difference, and that is before any other budget pressures are applied. In response to growing concern from municipalities, the province has signalled its intention to compensate them for losses related to Bill 23 following a third-party audit of city finances, but it is currently unknown what that compensation will entail or if it will come.
With all these financial pressures and such tight space to raise revenue, staff have noted many new initiatives originally identified for 2023 have been deferred to future years in an effort to alleviate the impact on the 2023 levy. It remains unclear which initiatives have been deferred. The City is proposing 10 "new" projects for 2023, five of which are for the continued implementation of multi-year project plans that were previously approved. Many of these new initiatives would require additional staff members to maintain existing service levels.
Despite these revenue crunches council recently pushed for free transit for children in addition to expanding the $1 senior pass for the City's MiWay transit system, a decision some councillors, including Mayor Crombie, questioned given the timing and the grim reality with the City currently facing a substantial infrastructure deficit. The approved transit fare motion is for a one-year pilot project that will allow children 12 and under to ride the city's transit system for free, while expanding a $1-fare program for seniors, to gauge interest and ridership growth impacts as budget pressures stretch municipal finances.
Transit is a large piece of Mississauga's 2023 budget, with the City approving about $168 million (or 35 percent) for transit improvement—the largest commitment in the City's proposed 2023 capital budget. The majority of spending is focused on the greening of the City's transit fleet ($83.8 million for hybrid vehicles and infrastructure) and the refurbishment or replacement of major components of other buses that remain in the fleet.
The City of Mississauga has been making moves to electrify its transit fleet and in early 2022, MiWay announced it would no longer purchase any new diesel buses. The City also received a commitment of more than $675 million in federal and provincial funding for much-needed transit infrastructure including the purchase of 358 hybrid buses "to replace the existing diesel vehicles, reduce greenhouse gas emissions and improve the quality and reliability of transit in Mississauga." Those funds will also go to the construction of the Dundas Bus Rapid Transit corridor and upgrades to existing bus routes.
A key focus of the approved 2023 capital budget is substantial investments in maintaining the city's infrastructure in a state of good repair. More than half of the City's capital budget is dedicated to such projects, as "investing in infrastructure will continue to be a very big priority for us in terms of state of good repair of the $14 billion of public infrastructure that falls within our local city domain," former City manager and CAO Paul Mitcham said during a press conference in January.
The City of Mississauga is facing a financial gap of $52.1 million required annually to address the City's decaying infrastructure.
(Alexis Wright/ThePointer)
The approved budget also includes a three percent infrastructure levy that will provide funding to maintain and replace its critical structures and sub-surface assets such as stormwater systems, roads, bridges and municipal buildings. Staff have regularly proposed a two percent budget increase in the infrastructure and debt levy, but they increased the request this year to manage escalating construction and inflationary costs – a decision that was approved in an 8-4 vote on Wednesday. The 2023 Budget includes a total of $135.7 million for the funding of capital projects, through contributions to the Tax Capital Reserve Fund and debt repayment.
The report notes the "City's current funding does not fully fund all capital requirements, but balances the need to maintain City infrastructure, fund new projects as required, and minimize debt." This infrastructure gap is the culmination of decades of neglect and the looming pressures of a post-pandemic world coupled with the economic strains of inflation, while municipal salaries, particularly for non-union staff, have continued to climb.
Seven years ago, Mississauga had an infrastructure gap of $60 million; in the 2022 budget document, staff predicted that over the next ten years, the City's infrastructure gap will sit between $400 and $450 million. This represents the total value of upgrades, repairs or replacements to existing infrastructure that are required but have no funding source. According to the 2023 budget numbers, that gap has now increased to $52.1 million annually needed to address the City's decaying infrastructure.
Despite the austerity considerations in the approved 2033 budget, council approved a significant portion of the City's capital budget for fire and emergency services with $11 million allotted for fire prevention activities and equipment, while badly needed renovations to stations are also funded in the proposed budget. The move comes as part of the City's long-term infrastructure plan in place to address the recommendations made in the 2019 Building Condition Audit which revealed a near-universal state of disrepair and high costs needed to get critical buildings to meet even the basic standards for safety, after decades of financial neglect by City officials and its elected council members.
Other important assets the City will be focusing on maintaining for 2023 as part of the approved budget include $79.6 million for roads and $49.6 million for stormwater infrastructure.
---
Email: [email protected]
Twitter: @mcpaigepeacock
---
COVID-19 is impacting all Canadians. At a time when vital public information is needed by everyone, The Pointer has taken down our paywall on all stories relating to the pandemic and those of public interest to ensure every resident of Brampton and Mississauga has access to the facts. For those who are able, we encourage you to consider a subscription. This will help us report on important public interest issues the community needs to know about now more than ever. You can register for a 30-day free trial HERE. Thereafter, The Pointer will charge $10 a month and you can cancel any time right on the website. Thank you
Submit a correction about this story