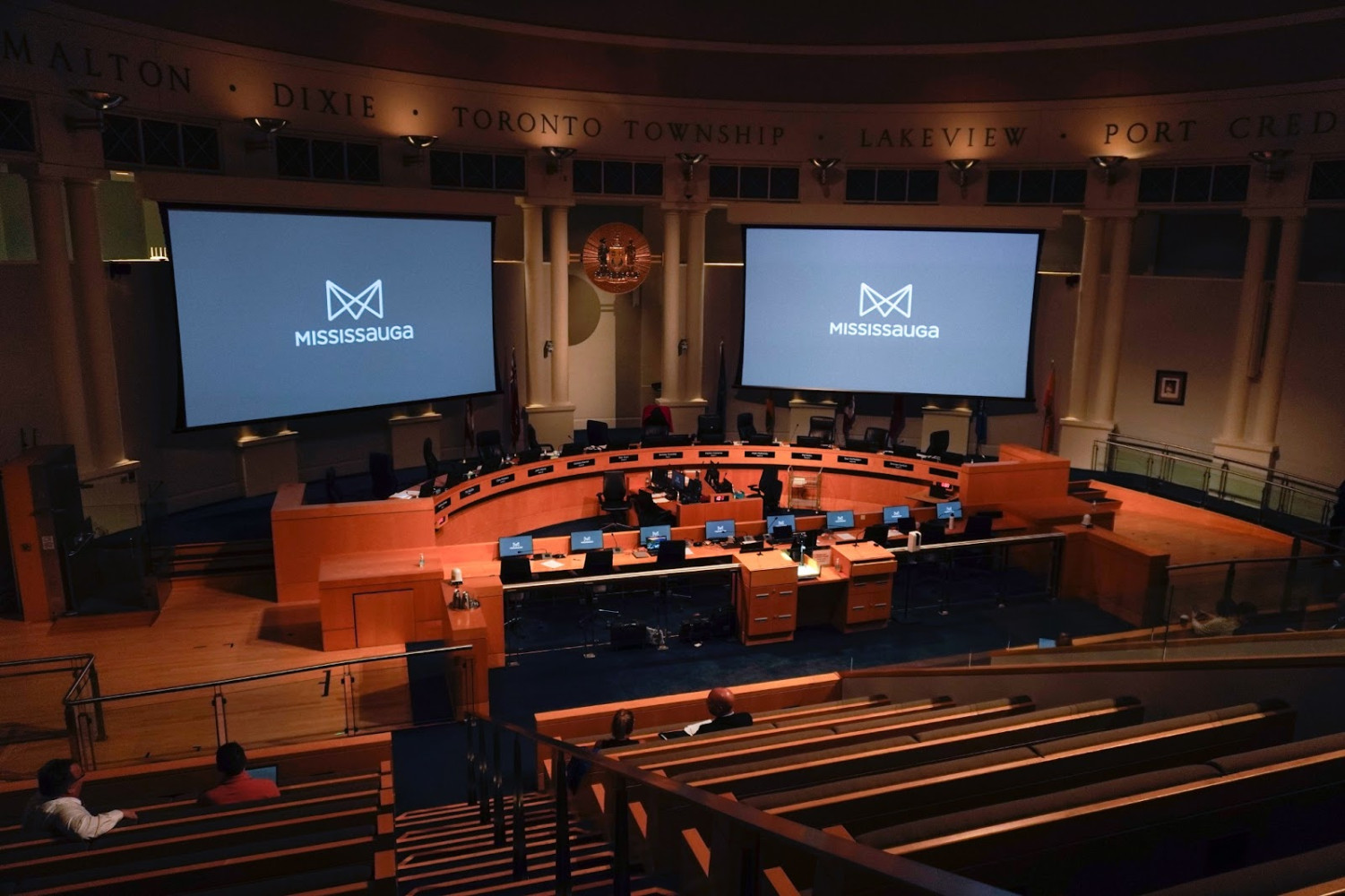 Alexis Wright/The Pointer
Austerity budget for 2023 proposes 3% tax increase; Mississauga grapples with aging infrastructure and rising inflation
Years of austerity budgets to keep property taxes around the inflation rate, while many needed infrastructure investments were neglected, are once again forcing difficult decisions as the City of Mississauga sets its 2023 budget. Unprecedented increases in inflation for certain costs and services, coupled with a provincial government determined to download growth-related funding that used to be covered by developers, have put even more pressure on staff and elected officials inside City Hall.
The City is facing financial pressures on many fronts. Between the long-lasting economic repercussions of COVID-19, incessant rising inflation, and the widespread impacts of the PC government's Bill 23, these external strains have left municipal finance staff battling to balance spending on new projects in anticipation of the city's future growth with the need to maintain aging infrastructure that demands immediate attention.
All of this is revealed in the pages of Mississauga's 2023 financial blueprint, the proposed budget for the year. It suggests austere spending on new initiatives for the growing city and instead focuses on maintaining and replacing existing assets that could cause significant problems if they continue to be ignored.
"The City is facing serious funding challenges caused by inflation levels that have not been experienced for decades," the 2023 budget report states.
"Because of the pressures brought on by soaring inflation, new initiatives have been held to a minimum, with the majority having limited or no impact on the tax rate as they are mostly funded by new or increased revenues, or through the capital plan. Many new initiatives that were originally identified for 2023 have been deferred to future years in an effort to alleviate the impact on the 2023 tax levy."
The constraints of inflation on City revenues, along with years of past tax freezes during Hazel McCallion's tenure, have left Mississauga with few options to introduce substantial projects, while aging critical infrastructure needs to be either repaired or replaced. Doing both—preparing for the future while paying for the past— would place significant pressure on current property taxpayers, many of whom are also stretched thin due to rapid inflation and skyrocketing interest rates.
With critical issues like aging infrastructure, a need to improve Mississauga's Transitway, climate/green investments and emergency services in desperate need of investment, all looming on the horizon, the City of Mississauga's financial future is uncertain.
It is not alone.
Historic inflation increases, hikes to the interest rate and salaries that have not kept pace are pushing the basic cost of living out of reach for many. Unprecedented strain is being felt by social services agencies, an indication of how bad the financial reality is (The Mississauga Food Bank, for example, is working frantically to fill gaps and address the impacts of record-high cost of living). The organization is continuing to see record-breaking numbers of clients accessing the organization's services each month, many who are fully employed, with the last few months of 2022 reaching levels of demand never seen before.
The affordability crisis is also leaving the City of Mississauga at the whim of similar outside pressures.
"Limited revenue streams require us to do a lot with a little," City manager and CAO Paul Mitcham stated in the budget report. "Inflation, supply chain disruptions, and ongoing pandemic-related impacts are creating challenges for the City's budget and overall tax rate."
For 2023, staff are proposing a three percent tax increase on the City's share of the overall bill for residential property owners to help fund $634.5 million in operating costs — a $51.1 million (8.2 percent) increase from 2022 — and a $391 million capital budget.
With all the financial pressures and such tight space to raise revenue, staff note many new initiatives originally identified for 2023 have been deferred to future years in an effort to alleviate the impact on the 2023 tax levy. It remains unclear which initiatives have been deferred. The City is proposing 10 "new" projects for 2023, five of which are for the continued implementation of multi-year initiatives that were previously approved. Many of these new projects require additional staff members to maintain existing service levels.
Proposed projects in 2023 include the Proactive Fire Inspection Program, an ongoing multi-year initiative, at a cost of $259,000 mainly for the hiring of three new staff members. After closing in March 2021 to undergo a major renovation, the Hazel McCallion Central Library is scheduled to reopen in 2023 with the hiring of five staff members at a cost of $387,000 to support programming and drop-in clients. The City's Automated Speed Enforcement Transition to an Administrative Penalty System, to enforce fines handed to drivers, is another new item in the 2023 budget and includes the hiring of eight staff members with a cost of $287,000 to support the transition.
What remains unclear are the impacts of the Doug Ford PC government's controversial legislation impacting municipalities, including its ambitious housing plan which will download certain development fees for growth-related infrastructure and for affordable housing onto cities.
"This budget does not include projected financial impacts from Bills 109 and 23 recently passed by the province. We'll be working through those impacts as we turn our attention to the 2024 budget and beyond," chief financial officer Shari Lichterman said in a press conference on the proposed budget.
She noted City staff begin working on the proposed municipal budget for the next year the moment council passes the budget for the preceding years and the majority of the budget work had been done prior to Bill 23 even being introduced in November. Adjustments can be made as needed, Lichterman explained, but as the City heads into the budget season there are still many unknowns about the full impacts of Bill 23 as municipalities wait for more information out of Queen's Park.
"It's a bit premature. We'll see some impacts in 2023 but we feel we can absorb those through reserves and other adjustments. It's really the longer impact over the 10 years that we're concerned about and we really need to make sure we take some time to look at that and see some of the details that will come out I'm sure in the next month or so from the province."
Under Bill 23, which will significantly limit the City's ability to provide important housing-related infrastructure, the City estimates it will lose $815 to $885 million in development charges for infrastructure over the next decade, a financial hit City manager and CAO Paul Mitcham called "devastating" and the "most significant legislation" the City has ever seen — a harsh economic reality facing the majority of Ontario's municipalities.
City staff have estimated that Bill 23 could cost Mississauga $815 to $885 million in development charges for infrastructure over the next decade, equivalent to 20 percent of its capital budget.
(Alexis Wright/The Pointer files)
Staff have previously estimated Bill 23 will cost the City the equivalent of 20 percent of its capital budget. An estimated $325 million in revenue from growth-related projects will be lost due to breaks given to developers, while changes proposed to parkland dedications and parkland cash-in-lieu could lead to financial impacts of $490 million to $560 million—a 70 percent loss to the City's revenue stream.
Mayor Bonnie Crombie has said it will take a 5 to 10 percent property tax increase—or $300 to $600 annually on the average home—and/or a reduction in capital projects or City services to make up that difference, and that is before any other budget pressures are applied.
Without corresponding provincial and/or federal grants, these losses will make it next to impossible for the City to fund infrastructure required for the provincially mandated hyper-growth facing Mississauga over the next decade under the PC government's plan to have the City accommodate 120,000 new units by 2031. The City will need to cover the costs of all the infrastructure and services for these new residents either through reducing existing services or transferring the price tag, including for growth-related infrastructure, onto the taxpayers, City staff previously told council. Developers who profit from the construction have traditionally paid for these growth-related costs, but the Ford government has made it clear that these private sector entities will benefit from Bill 23, at the expense of municipalities.
Crombie has taken a hardline stance against Ford for what she has called a patently unfair decision that favours wealthy builders over taxpayers.
"Under Bill 23, property taxpayers will be funding developer profits," the mayor said last month. "While we can agree and certainly appreciate the province's desire to incentivize affordability, it can't be done on the backs of cities and our taxpayers. None of this is fair to our property taxpayers or our residents."
For cities like Mississauga currently facing growing infrastructure gaps in the hundreds of millions of dollars, Bill 23 has the potential to cripple them financially. While new innovative initiatives to support future plans can be pushed to later years, this is not the case for the City's older assets. A focus of the proposed 2023 capital budget is substantial investments in maintaining the city's infrastructure in a state of good repair. More than half of the City's capital budget is dedicated to such projects.
"Investing in infrastructure will continue to be a very big priority for us in terms of state of good repair of the $14 billion of public infrastructure that falls within our local city domain," Mitcham said during the press conference earlier this month.
City staff have included a three percent infrastructure levy that will provide funding to maintain and replace its critical structures and sub-surface assets such as stormwater systems, roads, bridges and municipal buildings. The 2023 Budget includes a total of $135.7 million for the funding of capital projects, through contributions to the Tax Capital Reserve Fund and debt repayment.
"While the average state of the City's core infrastructure is identified as 'good', it was also noted that without an increase in the annual investment for roads, the impact of the deteriorating road system will result in things like higher operating and maintenance costs, lower levels of customer satisfaction, and lower levels of road safety," the budget notes.
"The City's current funding does not fully fund all capital requirements, but balances the need to maintain City infrastructure, fund new projects as required, and minimize debt."
Mississauga's infrastructure gap is the culmination of decades of tax freezes and the looming pressures of a post-pandemic world coupled with the economic strains of inflation.
The City previously projected that over the next ten years, on average, it would be required to spend $206.6 million annually to maintain and replace existing assets noting that additional funding of approximately $40 to $45 million per year would be needed to keep infrastructure in a state of good repair. Now, 2023 numbers are estimating that over the 10-year period, on average, the City must spend $219.2 million annually to simply maintain existing assets in a decent state.
City staff project Mississauga is facing an infrastructure gap of $52.1 million in 2023.
(City of Mississauga)
Seven years ago, Mississauga had an infrastructure gap of $60 million; in the 2022 budget document, staff predicted that over the next 10 years, the City's infrastructure gap would sit between $400 and $450 million. This represents the total value of upgrades, repairs or replacements to existing infrastructure that are required but have no funding source. According to the 2023 budget numbers, that gap has now increased to $52.1 million annually needed to address the City's decaying infrastructure.
The Pointer previously reported that Mississauga is actually facing a more than $1 billion infrastructure gap, as projects have been postponed because, even with above-inflation tax increases for the City's share (the overall property tax bill is a blended figure that also includes the Region of Peel's budget needs and the provincial government's education portion, which has remained flat for more than a decade) on average since 2014, growth-related revenues have not covered associated costs for roads, sewer, water and stormwater mains, fire services, policing and all the other infrastructure and services new residents require.
Transit is another large piece of the 2023 budget, with the City proposing $168.3 million (or 35 percent) for transit improvement—the largest commitment from the City's 2023 capital budget. The majority of spending is focused on the greening of the City's transit fleet ($83.8 million for hybrid vehicles and infrastructure) and the refurbishment or replacement of major components of other buses that remain in the fleet.
The City of Mississauga has been making moves toward electrifying its transit fleet. In early 2022, MiWay announced it would no longer purchase any new diesel buses. The City also received a commitment of more than $675 million in federal and provincial funding for much-needed transit infrastructure including the purchase of 358 hybrid buses "to replace the existing diesel vehicles, reduce greenhouse gas emissions and improve the quality and reliability of transit in Mississauga." Those funds will also go to the construction of the Dundas Bus Rapid Transit corridor and upgrades to existing bus routes.
A major focus in the 2023 budget is the City's transit systems with $168.3 million (35 percent) dedicated towards transit improvement.
(The Pointer files)
Despite what could be considered a strict budget, staff have proposed a significant portion of the City's capital budget for fire and emergency services with $11 million allotted for fire prevention activities and equipment, while badly needed renovations to stations are also funded in the proposed budget. The move comes as part of the City's long-term infrastructure plan in place to address the recommendations made in the 2019 Building Condition Audit which revealed a near-universal state of disrepair and high costs needed to get critical buildings to meet even the basic standards for safety, after decades of financial neglect by City officials and its elected council members.
The Pointer has reported previously on the state of the City's fire department. A three-part series revealed the severity of the neglect around Mississauga's aging fire infrastructure, highlighting how the City had been aware of asbestos in its fire stations for at least 11 years. The disturbing neglect also underscored the City's shocking response times to fire-related calls. The national standard is 240 seconds 90 percent of the time. In 2018, Mississauga Fire's average response time was 536 seconds (8 minutes and 56 seconds) more than twice the standard established to keep residents safe.
In an attempt to respond to these findings, key objectives outlined in the budget for the next four years include decreasing emergency response times by investing in new fire station infrastructure, developing and executing a more rigorous replacement plan for the fire fleet and equipment, and investing in the training of emergency services staff to fulfill provincial mandatory certification requirements.
The Pointer previously noted that ideally, for a city its size, and to meet national safety standards for fire-response times, Mississauga should have about 44 stations. It currently has 21. As part of the 2023 budget, staff are requesting three new fire stations as part of a 12-year plan to improve emergency response times citywide. These stations would be located in the Burnhamthorpe and Winston Churchill area, Cawthra and Dundas and the Tenth Line and Aquitaine area.
Of the City's current fire stations, staff acknowledged there are 17 that require renovation, 13 of which were built more than 30 years ago. The Public Safety Fire Program, approved in the 2019 budget to provide funding for additional fire stations and staff, is also proposed to be expanded in 2023 with a contribution of $5.8 million to include necessary renovations to the existing fire stations. The program contributions will increase until 2026 and will then continue for the duration of the strategy.
Other important assets the City will need to focus on maintaining for 2023 include $79.6 million for roads and $49.6 million for stormwater infrastructure. Over the next several weeks the proposed budget will be front and centre as councillors review the City's most pressing issues while keeping in mind the heightening pressures of inflation and climbing interest rates.
Budget deliberations begin today, with further meetings scheduled for January 23 to 25.
---
Email: [email protected]
Twitter: @mcpaigepeacock
---
COVID-19 is impacting all Canadians. At a time when vital public information is needed by everyone, The Pointer has taken down our paywall on all stories relating to the pandemic and those of public interest to ensure every resident of Brampton and Mississauga has access to the facts. For those who are able, we encourage you to consider a subscription. This will help us report on important public interest issues the community needs to know about now more than ever. You can register for a 30-day free trial HERE. Thereafter, The Pointer will charge $10 a month and you can cancel any time right on the website. Thank you
Submit a correction about this story