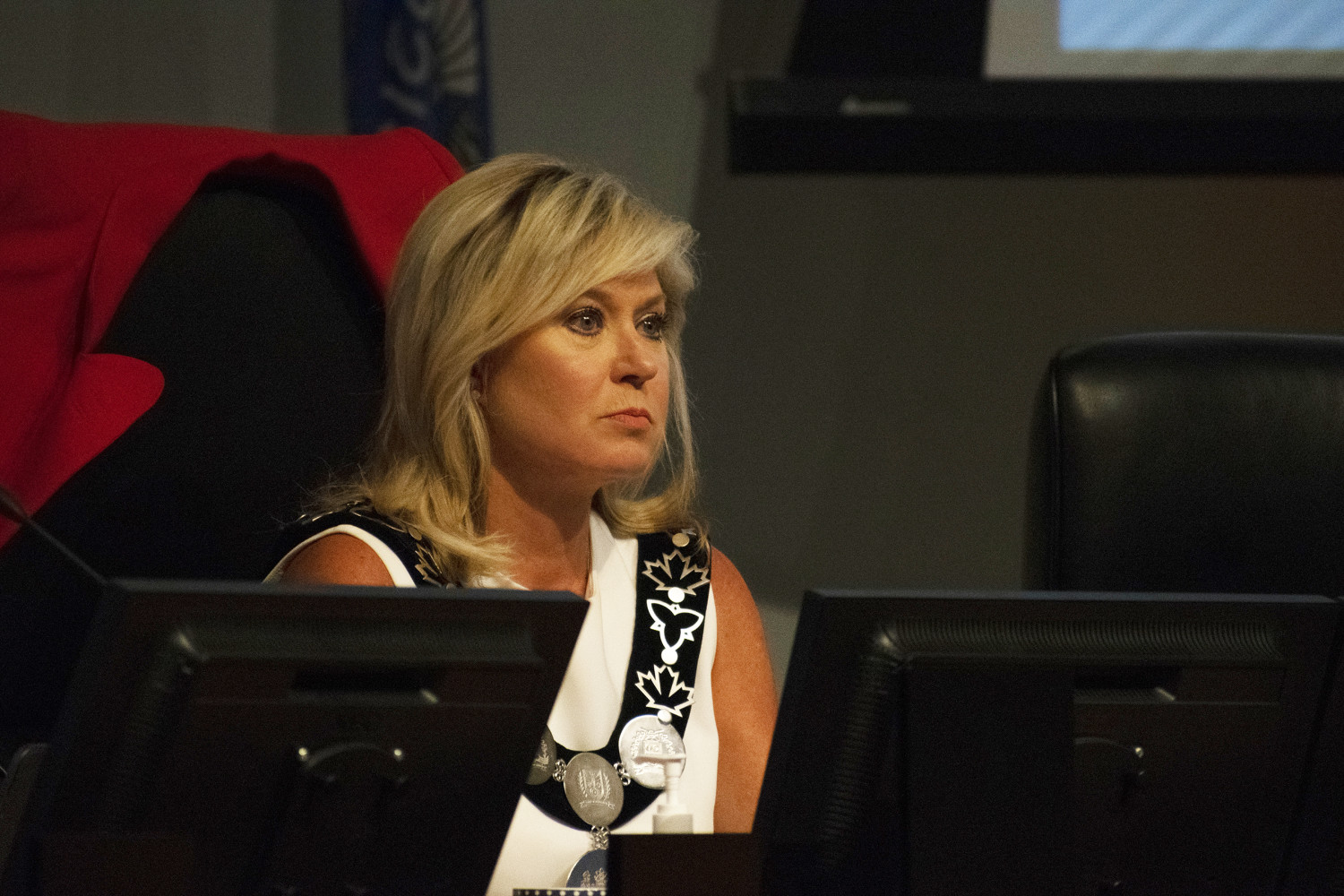 Alexis Wright/The Pointer
Bonnie Crombie pushes back after Doug Ford attacks her for criticizing developer driven housing Bill
A series of snap allegations and vilifying comments against Bonnie Crombie dominated closing remarks at a provincial transit funding announcement in Brampton Wednesday morning as Premier Doug Ford told Mississauga's mayor to "stop being disingenuous" and "get on board" with his PC government's controversial housing Bill. Crombie has said it will have devastating financial consequences on the City and its taxpayers.
What was meant to be an announcement on transportation by the PCs turned into a campaign-style attack as Ford publicly lashed out at Crombie over an issue that had nothing to do with Wednesday's event.
"I know we have a few mayors that don't want to play in the sandbox, one being Mayor Crombie and I don't know what her issue is," Ford said. "Get on board, stop being disingenuous with the people of Mississauga. It's just absolutely wrong."
Crombie, whose name has been mentioned as a possible Liberal opponent of Ford in four years, pushed right back against the Premier.
After calling out Ford and his PC government last week for helping line the pockets of developers, at the expense of the public, on Wednesday Crombie said her priority is to fight for the taxpayers of Mississauga.
"We are trying to build a great city and accommodate growth, but as it stands, this legislation will force us to either put the brakes on these plans due to lack of funding or significantly raise taxes by up to 10 percent a year for the next decade," she said in response to Ford's attack.
Last week she said, "Under Bill 23, property taxpayers will be funding developer profits. While we can agree and certainly appreciate the province's desire to incentivize affordability, it can't be done on the backs of cities and our taxpayers. None of this is fair to our property taxpayers or our residents."
The Premier accused Crombie of "whining" over his radical housing Bill. Social media was quickly flooded by comments from residents who questioned why Ford singled Crombie out, after dozens of mayors across Ontario criticized the legislation which passed last week.
Many wrote that Ford seems to have a habit of denigrating female politicians.


Mayor Crombie was asked about the widespread support she received on social media and the description by many who called Ford a misogynist.
"I am not going to allow hardworking taxpayers in Mississauga, who are facing numerous financial pressures right now, watch their property taxes go up by double digits because of this current provincial housing plan," she responded to The Pointer Wednesday.
The PC government has forced its heavily criticized housing plan onto Ontario's municipalities. It will more than double the average annual number of housing starts, but fails to ensure developers will pay for many of the infrastructure related costs to provide new homeowners with the municipal services they need. Instead, Ford has claimed, without referencing any recent budget documents, that municipalities have funding capacity to cover costs. Mississauga is actually facing a more than $1 billion infrastructure gap, as projects have been postponed because, even with above-inflation tax increases, on average since 2014, growth-related revenues have not covered associated costs for roads, sewer, water and stormwater mains, fire services, policing and all the other infrastructure new residents require. Developers are supposed to help fund these services for the customers who buy their properties, but they have aggressively lobbied Ford to transfer many of these costs onto municipalities, which increases their profit margins.
The City of Mississauga is anticipating financial shortfalls as budget season nears.
Under Bill 23, the City estimates it will lose $815 to $885 million in development charges for infrastructure over the next decade, a financial hit City manager and CAO Paul Mitcham called "devastating" and the "most significant legislation" the City has ever seen — a harsh economic reality facing the majority of Ontario's municipalities.
Mississauga Councillor Carolyn Parrish called the piece of legislation the "developers will rule the world Bill" and Brampton Councillor Michael Palleschi has dubbed Bill 23, "the trainwreck Bill."
Steve Clark, the Minister of Municipal Affairs and Housing, previously asserted these "bold actions" are necessary to reach the PCs' promise of constructing 1.5 million homes by 2031. Since then, the minister has committed to "ensuring that municipalities are kept whole for any impact to their ability to fund housing enabling infrastructure because of Bill 23."
Crombie has reiterated that cities must be compensated for any and all losses as a result of Bill 23, including lost funding for parkland acquisition, because the legislation shifts the burden of creating greenspaces in new developments away from builders. She has also maintained the Province must consult with cities in advance of legislation that will significantly impact City finances and its ability to support residents.
In his unexpected remarks Wednesday, Ford accused Mississauga of sitting on millions of dollars in development charge reserves, alleging the City has increased its fees on new home buyers by nearly 30 percent in the last two years alone. He provided no evidence of his claims. The City's reserves have been depleted over the last decade, as reported in annual budgets.
Crombie wrote in a statement she's confident in the numbers City staff have presented, adding "we welcome the opportunity for a review of our books to demonstrate that we are strong fiscal managers that respect taxpayers' dollars."
She challenged Ford to prove his unscripted claims.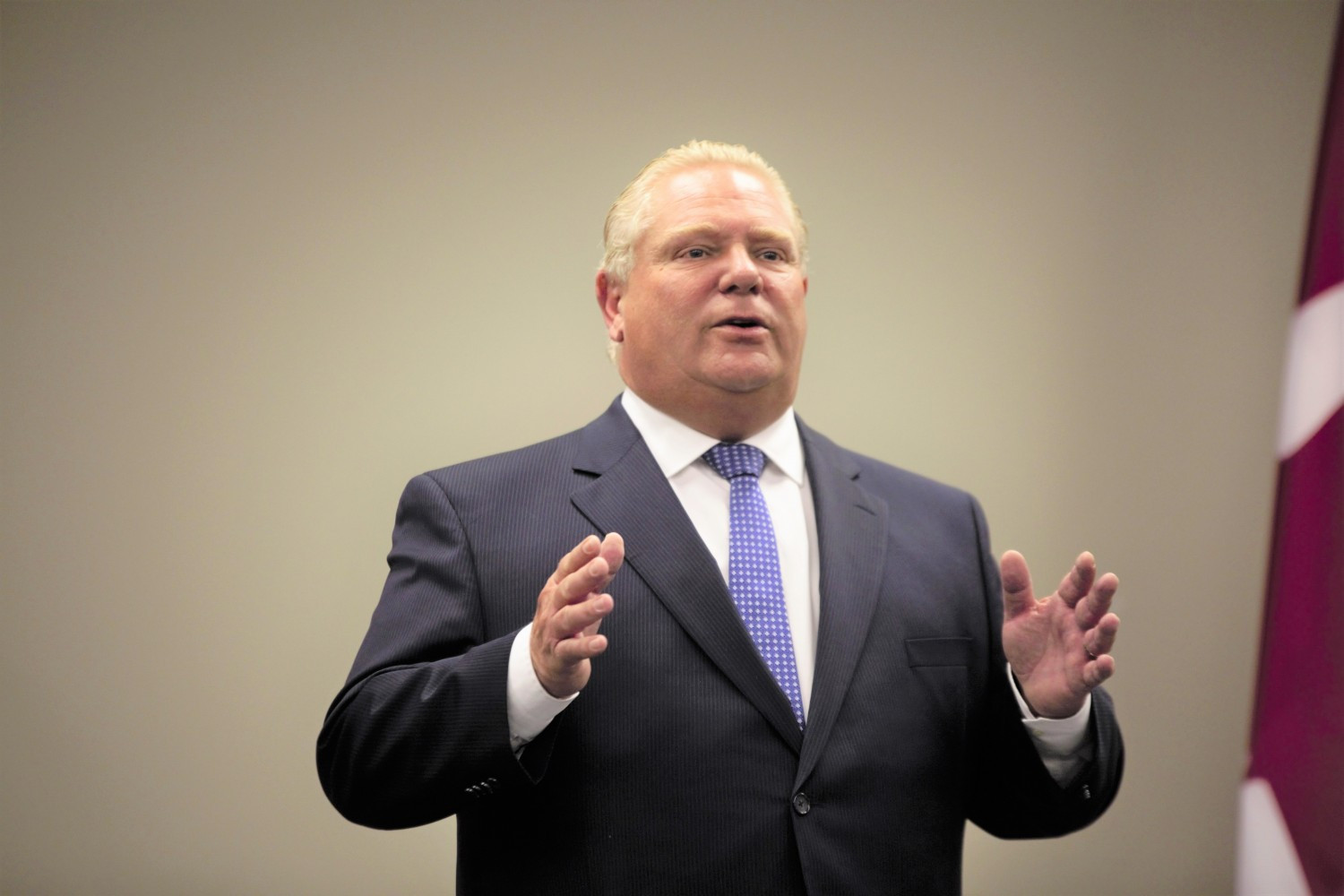 Premier Doug Ford and the PC government's housing Bill—Bill 23—has been heavily criticized for passing the cost of growth from developers onto local taxpayers.
(The Pointer files)
"We do not collect money we do not need, and we do not have unlimited chequing accounts," Crombie stated. "The funds we collect are often not enough to support new growth – we are often short and have to use tax dollars to cover the gaps.
"Growth has never truly paid for growth and this legislation, as its stands, will only put further pressure on our taxpayers to fund what should be the responsibility of developers. It will also severely limit the amount of park space in our downtowns, the densest areas of our cities, which arguably need more, not less green spaces for our residents."
During his public attack, Ford said he's asking for partnership with the mayor and all other mayors as Bill 23 is implemented.
"If we sit back and think some magical thing is going to happen or if you think when people come here we're going to start living in mud huts," he said. "It's not going to happen under our government.
"We need to get on board and start moving forward and stop the whining and complaining that I hear day in and day out."
Crombie said the City wants to work collaboratively with the Province to build more homes that are within reach and take bold action to address the housing crisis.
Bill 23 will significantly limit the City's ability to provide important housing-related infrastructure. It supports the construction of 120,000 new homes – 15,000 units per year – to be completed in Mississauga by 2031, adding hundreds of thousands of residents to the already increasingly dense city. It also has the potential to reduce the number of affordable units by capping them at five percent of all new units built in projects going forward.
Mississauga issued building permits for 5,500 new units in 2021, and in 2022 the City issued building permits for 6,100 new units – a record year – a figure that still falls far short of requirements legislated under the Province's new housing plan. Previous reporting by The Pointer noted if Mississauga is to meet this provincial target it would need to more than double its current levels of housing development.
Staff have previously estimated Bill 23 will cost the City the equivalent of 20 percent of its capital budget, and Crombie has stressed she is not willing to jeopardize infrastructure her city badly needs. An estimated $325 million in revenue from growth-related projects will be lost due to breaks given to developers, while changes proposed to parkland dedications and parkland cash-in-lieu could lead to financial impacts of $490 to $560 million – a 70 percent loss to the City's revenue stream.
Crombie has said it will take a five to 10 percent property tax increase — or $300 to $600 annually on the average home — and/or a reduction in capital projects or City services to make up that difference, and that's before any other budget pressures are applied.
Without corresponding provincial and/or federal grants, these losses will make it next to impossible for the City to fund infrastructure required for the provincially mandated hyper-growth. City Hall would need to cover the costs due to lost revenues either through reducing services or transferring the price tag onto the tax bills paid by property owners, City staff previously told council.
For cities like Mississauga and Brampton currently facing growing infrastructure gaps in the hundreds of millions of dollars, Bill 23 has the potential to cripple them financially.
Mississauga's neighbouring municipality, Brampton, anticipates with Bill 23, based on the loss of revenue from development charges, cash-in-lieu of parkland and additional infrastructure hits, the City can expect to lose approximately $440 million. It would require an 80 percent increase to the current property tax rate for homeowners to make up the lost revenue, without a corresponding increase to provincial grant funding.
For Brampton, the potential loss in revenue from changes to the way cities can collect cash-in-lieu of parkland revenue is estimated to be $700 million to $1.05 billion over the next decade.
At the regional level, the impacts of Bill 23 are even more alarming.
The Region of Peel is projecting the revenue shortfall over the next 10 years from development charges to be $2 billion. The report, set to come to Regional Council on Thursday, cites several financial implications descending from the shortfall including delays in the construction of infrastructure, significant rise in property tax and utility rates and increased challenges to the already strained affordable housing sector.
"Reducing municipal fees will not result in more homes being built or making them affordable for homebuyers," Crombie said. "I will continue to ask the province to make amendments to this legislation to hold developers to account to get shovels in the ground and ensure these units are affordable when they are put on the market. There are currently no guarantees that the savings will be passed on to the homebuyer."
Through the legislation, she noted cities will be able to cut red tape and speed up approvals, but ultimately, developers are the ones that will need to get shovels in the ground and build homes in order to see the province's housing goal through.
"Mississauga has a plan for growth, one that we believe will help developers and the province deliver on their goal of building more homes in Mississauga," Crombie said.
"My message to the province remains the same – it's not too late to fix Bill 23."
---
Email: [email protected]
Twitter: @mcpaigepeacock
---
COVID-19 is impacting all Canadians. At a time when vital public information is needed by everyone, The Pointer has taken down our paywall on all stories relating to the pandemic and those of public interest to ensure every resident of Brampton and Mississauga has access to the facts. For those who are able, we encourage you to consider a subscription. This will help us report on important public interest issues the community needs to know about now more than ever. You can register for a 30-day free trial HERE. Thereafter, The Pointer will charge $10 a month and you can cancel any time right on the website. Thank you
Submit a correction about this story