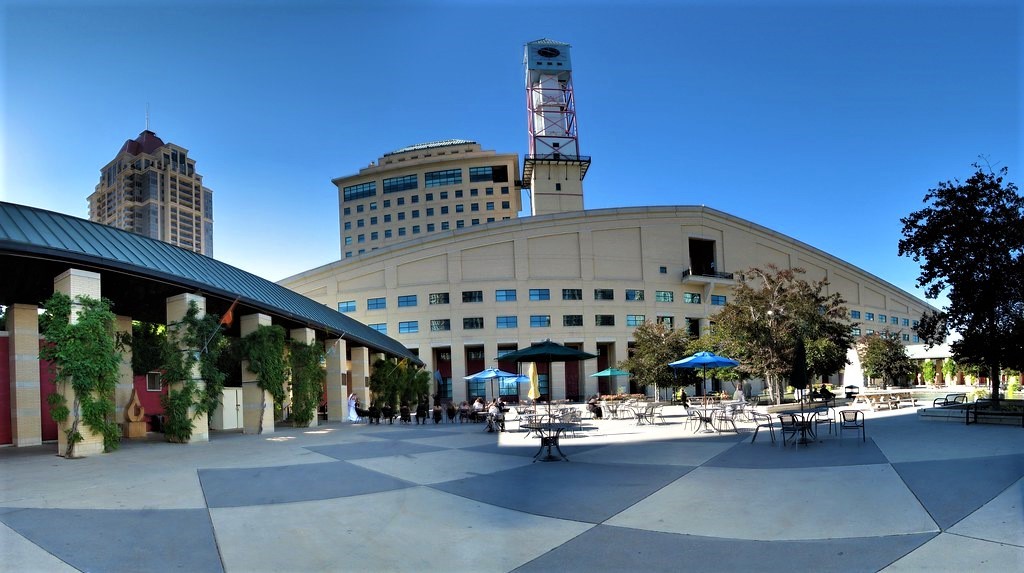 The Pointer file photos/Charts City of Mississauga
Instead of tax hikes, reining in sky high labour costs could ease Mississauga's COVID-19 pressures
Normal summers see Mississauga's municipal government largely shutdown. Between July and September, councillors stop meeting and burnt out senior staff take some time away to recharge.
Not this year.
The financial mayhem caused by the COVID-19 pandemic has kept staffers working flat out at home throughout the warmer months, striving to plug a series of monetary leaks. Elected officials have reduced their time off significantly, too.
In June, during a digital meeting, councillors were presented with an overview of the state of the City's financial books. Hammered by high costs and low revenues caused by the pandemic, things looked bleak. Staff predicted a deficit of around $60 million by the end of 2020, along with a variety of future COVID-19 impacts. Even without the deficit, they modelled significant tax hikes in the years to come.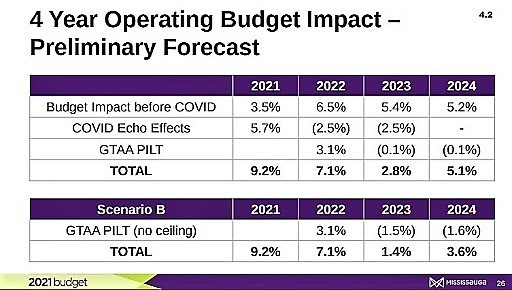 Tax increase projections not including possible deficits related to the pandemic
At the time, Prime Minister Justin Trudeau and Premier Doug Ford were tight lipped on what help, if any, was on the way.
Eventually, August brought a shot of good news. After a stare down that lasted almost half a year, the federal and provincial governments ponied up and sent $46 million to the City of Mississauga to help cover losses caused by the pandemic.
The funding boost, though welcomed by politicians and staffers, does not cover all of the City's shortfall.
The first phase of pandemic response money from the federal government, flowing in 2020, will be given to Mississauga in two streams: $15 million will be available for general funding gaps (including loss of revenue from recreation centres and parking); while $31 million will cover deficits resulting from free MiWay fares during the early stages of the pandemic and low ridership since.
A second envelope will be available in 2021, with applications this October.
Preliminary budget figures from June show the losses sustained from the pandemic will be significant. MiWay alone will be $44.2 million in the red, while recreation centres will be responsible for a loss of $28.5 million. Some losses have been offset by cuts and savings, meaning the total deficit at the end of 2020 will be around $60.7 million, according to City figures.
Using the first round of federal and provincial bailout funding will still leave a $14.7 million hole waiting to be filled. With the federal and provincial offering on the table, the City is out of options and there is nowhere to turn but taxpayers.
Unless the City takes a look at its own labour costs, something staff have been reluctant to do, despite rapidly rising salaries over the past decade.
Jeff Jackson, director of finance and treasurer at the City of Mississauga, told The Pointer plans are still being finalized to address the budget shortage. "That will help ease that $60 million deficit, [but] we haven't made a final decision yet on how we're going to get rid of the gap," he said, adding capital project deferrals are on the table, but councillors may choose to press on with particular projects already in the planning stage.
The rules governing exactly how the first round of funding can be spent have not yet been clarified for staff at City Hall. It remains unclear, for example, whether there will be any flexibility to allow transit bailout funds to be spent elsewhere.
Jackson said the City had not received any response to its follow-up questions sent to Queen's Park seeking clarification.
Aside from the confirmation of bailout funding, the biggest change since June's budget update is the planned reopening of Mississauga's recreational facilities. The spaces have been closed to the public over the summer as day camps have taken place, but will reopen under strict physical distancing measures in the second week of September.
City staff previously said the Stage 3 reopening of recreation centres would offer the first chance for Mississauga to begin collecting significant user fees and perhaps flow some cash into its beleaguered coffers.
Jackson explained Mississauga had not yet assessed if summer day camps had turned a profit, but the aim for the reopening of recreational facilities was to be "at worst revenue neutral and at best somewhat revenue positive." The unknown — because during a global pandemic there is always at least one — is exactly how great the demand will be. "You can't project how many people are going to sign up," Jackson added.
Away from the 14.7 million dollar question of Mississauga's deficit, the starting point for future budgets remains steep for homeowners. Long-term impacts of COVID-19, including a slow return to transit and delayed impact to Pearson Airport property tax payments, will demand particularly large increases to the 2021 and 2022 budgets.
Choosing to cancel or defer projects to free up cash and reduce the burden on taxpayers, while possible, is difficult in Mississauga. Even before COVID-19, the City's list of approved and unfunded capital projects sat at around $900 million across the next decade, money that also needs to be found.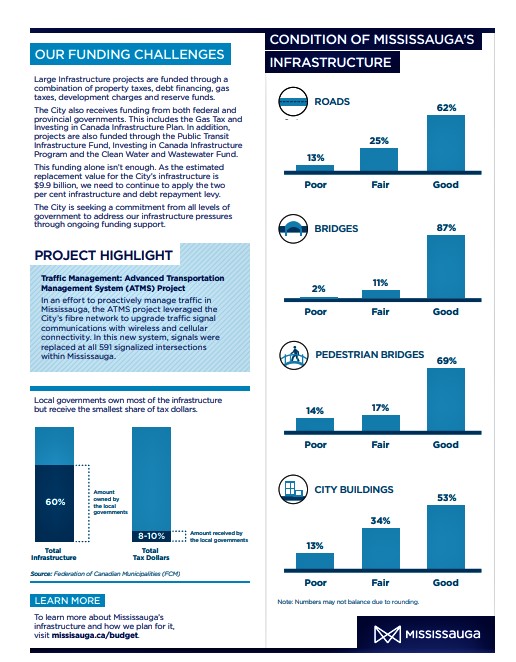 Mississauga's infrastructure needs significant investment
"It's pretty tight already," Gary Kent, Commissioner of Corporate Services and Chief Financial Officer, admitted to The Pointer in June.
This extensive unfunded wishlist is compounded by the fact roughly 70 percent of infrastructure spending in Mississauga goes into maintaining a state of good repair. Delaying these projects could have particularly damaging impacts, allowing roads and other crucial features to fall into disrepair.
Ultimately, the role of city staffers is limited. Working tirelessly through the summer, their job within the municipal machine is simply to make recommendations and to advise.
It is down to elected officials to make the big calls.
"This funding will help us kick start our economy and ensure we can continue to deliver the essential services our residents and businesses rely on," Mayor Bonnie Crombie said after the provincial/federal help. "Despite this support, we are still forecasting a deficit this year and will continue to work to identify savings and face tough decisions as we plan our 2021 Budget. COVID-19 will bring additional financial pressures to future years."
Exactly what those tough decisions will be remains to be seen.
In the past, certain Mississauga councillors have shown a reluctance to increase levies on the public and invest in city growth. Discussions ahead of the 2020 budget centred on cuts, with councillors, including Karen Ras (Ward 2), Ron Starr (Ward 6) and Dipika Damerla (Ward 7), pushing for reductions.
"I am not voting for a 3.8 percent or 4 percent or 3.65 percent increase for our taxpayers – it's just not right," Starr told the budget committee in December, 2019. "I think we've got to get right back to the core and say 'how do we reduce it?'... I'm not sure how we do that, but it's got to be that."
Damerla suggested capping departmental budget proposals at the Region of Peel to maintain a tax hike palatable to councillors, without even seeing what priorities had to be funded, while Ras looked to make small cuts in various areas including the fire department, whose capital costs have already been so badly underfunded that basic safety requirements, such as response times to calls, cannot be met.
It's unclear if she included labour costs in the department as an area to look at. If so, it would be a departure from previous years.
Councillors have not stopped the unsustainable rise in salaries for staff, and themselves, as labour costs across the municipality including for council members, have far outpaced the rate of inflation in the province.
The 2020 budget included labour costs of approximately $555 million, by far the largest category. The figure was $480 million in 2017. In three years it went up 16 percent, almost three times the rate of inflation in Ontario over the same period.
Despite unsustainable labour costs for years, and workers across the country now suffering through mass layoffs, salary reductions and instability, staff generally do not recommend cutting their own salaries, and councillors seldom take a serious look at the largest cost in the entire budget. Part-time, mostly seasonal staff, were laid off when City operations shut down because of the pandemic, but the vast majority of City employees, unlike those taxpayers who pay their salaries while they themselves face uncertainty, have continued drawing their regular pay cheques.
The incomes paid by property owners include: $150,000 for a communications officer in the fire department; $147,000 for a street lighting supervisor; $146,000 for a public education officer in the fire department; $142,000 for a works-area supervisor; $152,000 for the golf, recreation and arenas manager; $114,000 for a fitness manager; $145,000 for a transit mechanic; $204,000 for the director of recreation; $129,000 for the supervisor of signs and pavement markings; $137,000 for a fire mechanic; and $109,000 for an administrative assistant.
These salaries are from the 2019 Ontario public salary disclosure, which lists all public employees in the province who make $100,000 and above. In 2019, there were 1,380 City of Mississauga employees on the list. In 2010 the City had 386 employees on the list. In ten years the number of City staff who made $100,000 or more increased by 258 percent.
---
Email: [email protected]
Twitter: @isaaccallan
Tel: 647 561-4879
---
COVID-19 is impacting all Canadians. At a time when vital public information is needed by everyone, The Pointer has taken down our paywall on all stories relating to the pandemic and those of public interest to ensure every resident of Brampton and Mississauga has access to the facts. For those who are able, we encourage you to consider a subscription. This will help us report on important public interest issues the community needs to know about now more than ever. You can register for a 30-day free trial HERE. Thereafter, The Pointer will charge $10 a month and you can cancel any time right on the website. Thank you.
Submit a correction about this story