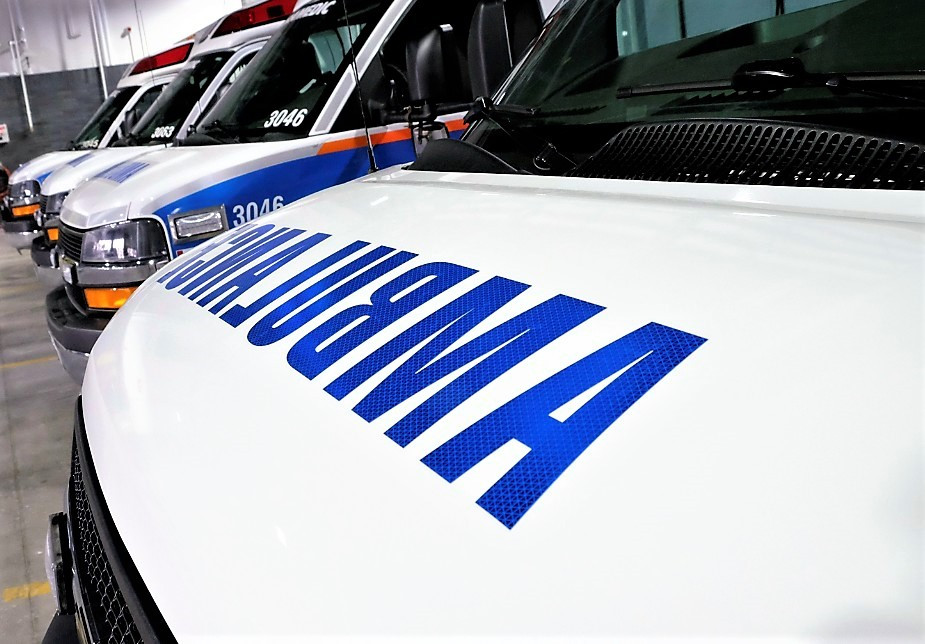 The Pointer file photo
Clogged hospitals, surging demand: Peel Paramedics can't meet critical response times; 10.6% budget increase is the ask
Peel Paramedics are looking for significant assistance from regional councillors this budget season as the frontline healthcare providers continue to face crushing pressure on numerous fronts.
From a growing number of calls for service, to offload delays at local hospitals that are keeping paramedics idle for thousands of hours each year, to lingering complexities created by the COVID-19 pandemic, to growing absenteeism in a workforce that is ground down by long hours and increasing workplace violence, all of these pressures are banding together to create a bleak reality. Current staff and their ambulance fleet need help.
"The combined effect of these three pressures, call volume, offload delay and staffing levels, has significantly affected Paramedic Service's ability to meet response time targets," the service's 2023 Business Plan states.
Peel Paramedics are looking for a 10.6 percent increase to the service's base budget, bringing it to a total of $144.6 million, which it hopes will be a pressure release valve.
The additional money, if approved by regional councillors, will be used to purchase four ambulances, hire 44 staff members, along with a capital request of $38 million to move forward on its land acquisition and facility planning process for a new reporting station in Mississauga and a satellite station in Brampton.
Development of the two sites is expected to begin next year—depending on the outcome of the land acquisition process. Chief Peter Dundas made it clear the organization is having difficulties locating a potential site in Mississauga, which has little in the way of available land.
Reporting stations are full service facilities where paramedics begin and start their shifts, ambulances are stored, cleaned and stocked, and team meetings are held. Satellite stations function more like "posts'' where paramedics stage themselves during shifts in order to provide quick responses across the region closer to these community facilities.
With Peel's growing and aging population, keeping response times within provincial standards has been a struggle for paramedics. In 2020 and 2021 the service still managed to meet response time targets for high priority calls, but over those two years, the times were slowly inching upward as call volumes returned to (and then exceeded) pre-COVID-19 levels while offload delays at local hospitals continued.
Peel Paramedics have recorded a steady increase in the number of calls requiring service since 2005.
Between 2005 and 2021, calls increased 107 percent, from approximately 68,000 to nearly 141,000. Calls were projected to increase a further 12 percent in 2022 based on the spike recorded between January and March of last year. According to the 2023 budget document, Paramedic Services responded to an average of 378 calls per day in 2021 and 396 calls per day in 2022. In total, the service projected 147,689 total calls received by the end of 2022. Data for that year is not yet available.
By 2036, calls are expected to reach nearly 275,000 annually, or about 754 a day.
The rising number has pushed response times outside of acceptable standards for what appears to be the first time in decades.
Between January and June of last year, aside from calls for sudden cardiac arrest, Peel Paramedics were not meeting any of the provincially set response time targets.
For those calls involving someone who is critically ill or has potential for rapid deterioration (labelled as CTAS 1), the target is to reach these people in 8 minutes or less 75 percent of the time. Peel paramedics were getting there on average in 9 minutes and 21 seconds. Similar delays are observed in all types of calls attended by Peel paramedics.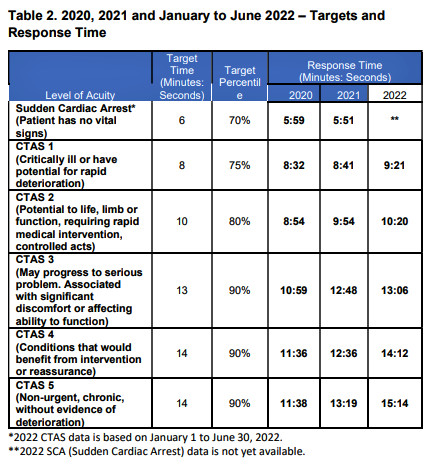 Since 2020, response times for Peel Paramedics have continued to increase as call volumes and delays in local emergency departments have increased.
(Region of Peel)
These response times get worse when looking at the northern reaches of Caledon, where it can take a significant amount of time for paramedics to reach someone in the event of a medical emergency. These delays are particularly worrisome for Caledon councillors, who questioned why Peel Paramedics are not considering the construction of a reporting station in the northern rural parts of Peel.
"It is our opinion that a reporting station certainly needs to be considered," Caledon Mayor Annette Groves said during last week's budget presentation at regional council.
The newly elected mayor even went as far as to say the town was willing to offer available land to the Region free of charge if it chose to construct a reporting station in Caledon.
Groves shared the story of a resident who was forced to wait for an hour for an ambulance to show up while experiencing a cardiac arrest. Thankfully, the resident's neighbour was a firefighter who was able to provide medical treatment until paramedics arrived.
"I certainly look forward to having some conversations on how we can build a reporting station here in Caledon," Groves said.
Chief Dundas assured the councilllors that "robust" analysis is completed to ensure his organization is able to respond adequately to all parts of the region.
"I'm confident that the coverage in Caledon is quite sufficient," he said, noting there are currently no plans to build a reporting station in Caledon.
Previous reports from Peel Paramedics have shown that for high priority calls, those requiring a lights and sirens response, times for Caledon are 1 minute and 25 seconds faster than 51 other rural comparators.
The increase in calls is not the only factor preventing paramedics from reaching health emergencies in adequate time.
One of the largest contributors is the "marked" increase in offload delay. When paramedics transport someone to hospital they are responsible for the patient until they are able to officially hand them off to a hospital staff member in the emergency department. The industry standard time for this handoff to occur is 30 minutes, anything outside of that timeframe is classified as offload delay.
"Severe health sector human resourcing challenges and lack of beds to admit patients at area hospitals directly impacts the ability of hospital staff to move patients from paramedics to the care of the hospital," the paramedics' business plan states. "From 2019 to 2021 the total paramedic hours lost to offload delay across all three hospital sites increased by approximately 14 percent, from 40,785 hours in 2019 to 46,364 hours in 2021."
From January to June of last year, offload delay hours continued to worsen, increasing 36 percent compared to the same time period in 2021.
When compounded by the increase in paramedics requiring leave or time off for disability, the result is, on any given day in Peel, the number of ambulances on the road that are available to respond to emergencies is startlingly inadequate.
Between January and August of last year, there were 30 different instances where there was only one, or even no ambulances available to respond to provide patient care. Over the same time period, there were 923 instances where five or fewer ambulances were available to respond to the hundreds of calls paramedics receive on a daily basis.
According to data from Peel Paramedics, between June 2021 and May 2022, the average number of shifts that have gone unfilled each week has increased from 7 percent to 17 percent, which is the equivalent of 18 ambulances off the road each day. The 2023 business plan states many staff members were reluctant to take overtime shifts due to fatigue. Other factors contribute to the lack of available staff. Chief Dundas has made it no secret that his staff face unacceptable levels of violence which can cause them to require leave for physical or mental health reasons. In the first six months of 2022, Peel Paramedics reported 249 incidents of violence, more than one per day. It's estimated that many more go unreported.
Mississauga Councillor Joe Horneck questioned what Peel Paramedics were doing to support their frontline staff.
"I'd never begrudge a dollar to help our staff out in that regard," he said.
"We continue to work on different strategies for psychological health and safety and wellness," Chief Dundas replied, adding the service has entered into a partnership with Trillium Health Partners to provide dedicated psychological support for paramedics.
Chief Dundas and Peel Paramedics have introduced a number of measures to try and combat these pressures. For offload delay, the organization implemented a pilot program called Fit2Sit at Brampton Civic Hospital which allowed low-risk patients to be transferred to the waiting room at the emergency department for triage and registration with hospital staff. It's estimated this program saved nearly 1,500 hours of paramedic time between April 1 and August 18, 2022.
Peel Paramedics are also pursuing community paramedics initiatives which help to provide care to patients in their homes without the need to transfer them to the emergency department.
Email: [email protected]
Twitter: @JoeljWittnebel
---
COVID-19 is impacting all Canadians. At a time when vital public information is needed by everyone, The Pointer has taken down our paywall on all stories relating to the pandemic and those of public interest to ensure every resident of Brampton and Mississauga has access to the facts. For those who are able, we encourage you to consider a subscription. This will help us report on important public interest issues the community needs to know about now more than ever. You can register for a 30-day free trial HERE. Thereafter, The Pointer will charge $10 a month and you can cancel any time right on the website. Thank you
Submit a correction about this story