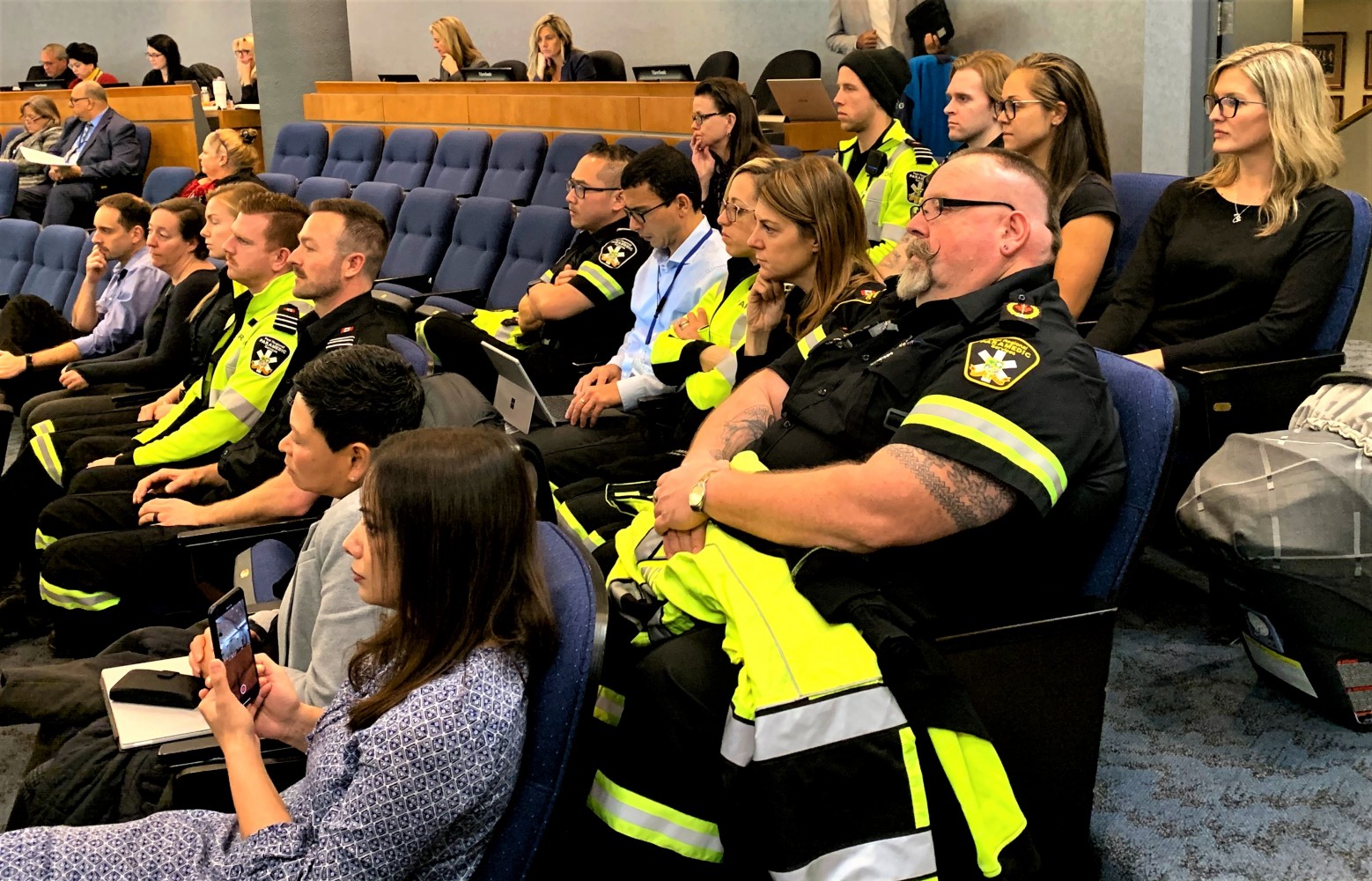 Photos by Isaac Callan and file photos
80 percent of Peel paramedics experience physical assault on the job
As the Region of Peel continues to grow, its demand for emergency service grows too. An expanding population puts pressure on police and paramedic services.
With that growth comes exposure to more difficult situations. In Peel, a few paramedics are working to shine a light on the systemic workplace violence they are exposed to on a daily basis across the region and further afield.
"Paramedics really have believed for a long time that it is a part of the job and we need to tolerate it," Mandy Johnston told The Pointer. "And it was only really recently, with a mental health push in paramedicine, that people started really standing back and evaluating the job and what it is about the job that causes problems."
Paramedic Mandy Johnston presents a report to Peel Region Council Thursday
Johnston is the co-author of a hard hitting report into violence against paramedics which was presented to the Region of Peel council on Thursday. Johnston, who joined Peel's paramedic service in 2005, told council that it "hurts me very much to know that the people I care about are struggling doing their job," and has resolved to create a new culture and reporting system within paramedic services.
With that aim, Johnston and her partner Justin Mausz created a survey to inform their report. Made up of qualitative and quantitative questions, it asked paramedics about the violence they had experienced in the workplace and how it impacted them.
The written responses received for the report, completed by roughly a third of paramedics, shocked many in attendance, as illustrated by their responses during the meeting. However, to many within the paramedic service, they were not out of the ordinary at all, something Johnston and her colleagues want to change.
"As a woman, having men think it is their right to comment on a female's look, or put their hand up a medic's thigh, or 'accidentally' grab a breast, all regardless of the paramedic's verbal warnings," one anonymous paramedic said in the report. Another added that "as a man, I am frequently sexually harassed and have been groped numerous times. It does not feel safe to address this in anything but a comedic manner with coworkers and management." Yet another Peel paramedic worker said that, after they were discovered crying in the back of an ambulance, their two supervisors told them to look for a new job, adding "Look at yourself, you're a mess."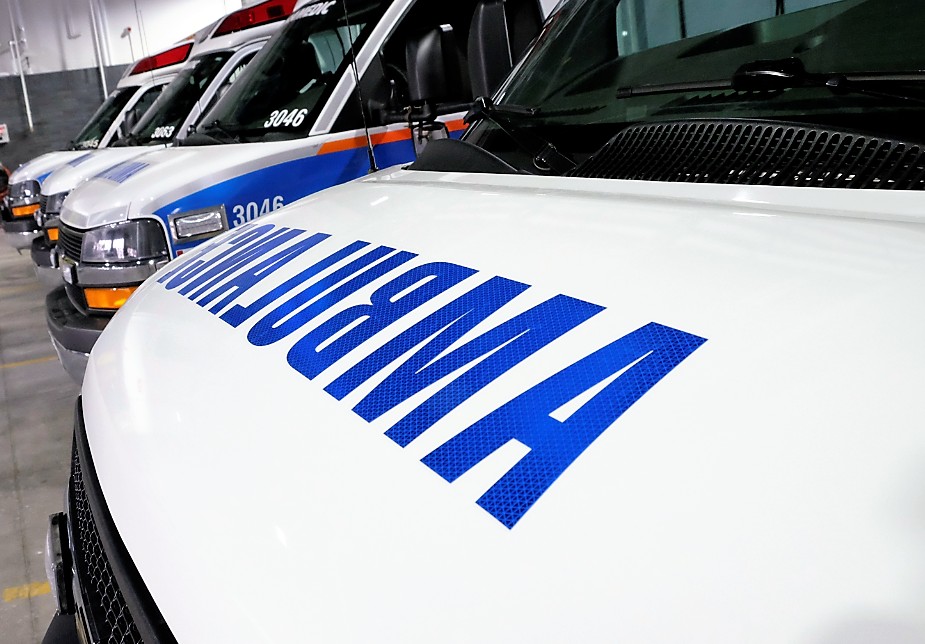 These are a tiny representation of those quoted in the report (it can be accessed here, go to page 125 of the agenda) which are, in turn, just a fraction of the number of cases which take place in the paramedic service. Of the paramedics who engaged with the survey, it was revealed that only 40 percent of incidents of violence and harassment that they experience are actually reported.
However, with only one third of paramedics in the region responding to the survey, it's possible that reporting frequency is in fact lower still. The most engaged paramedics likely took part in the report, meaning it's possible that those less inclined to participate might also be less proactive in reporting harassment, something which Johnston puts down to a lack of faith that anything will ever change.
"The paramedics who did answer said that violence was a normal part of their job," she added. "So they said they perceive it as being unpreventable and since there's no consequences for the offender, the paramedics just believed that reporting would not be worth it, that it would be a waste of their time. They repeatedly say things like, 'what's the point' [or] 'nothing is going to get done' [or] 'it's part of the job."
And changing that perception will be tough. According to the research, 97.9 percent of paramedics were exposed to verbal abuse, 86.1 percent spoke of intimidation and 80 percent had experienced physical assault. Additionally, 61.5 percent had experienced sexual harassment and 13.8 percent had been sexually assaulted.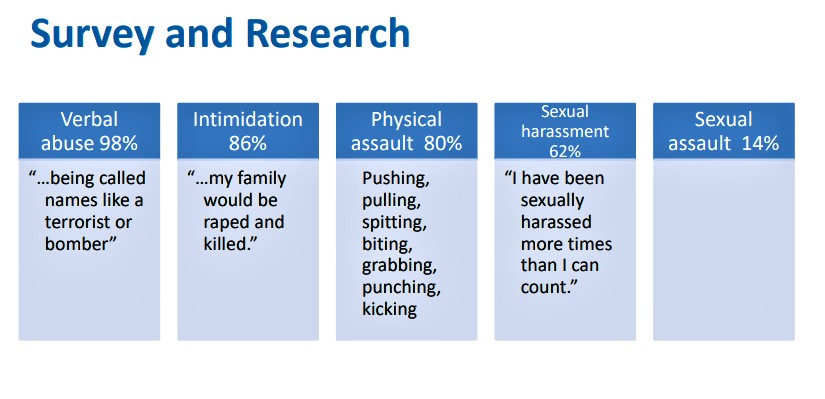 Reading the report offers an insight into the paramedic experience for the public. By the end of the report, the above figures represent only a microcosm of the way in which paramedics are worn down and workplace violence is normalized.
One major change Johnston, now supported by regional council, wants to make is a public awareness campaign. Anti-harassment warning signs, similar to those on transit services, alongside a broader public information campaign.
However, Johnston explained she wanted more than that, a system with an ability to prosecute and hold offenders to account, something which is arguably lacking in other sectors as well, stating, "We said we wanted to do something different," and "There's a lot of signage or campaigns in hospitals or the TTC… but typically there's been no teeth to those programs. The way we're trying to set that up in Peel is to say that, but to say it with meaning. We want there to be some truth behind it and a course of action."
For paramedics in Peel, it would be reasonable to assume that the police, who regularly work in tandem with them, would provide protection. Yet, multiple quotes throughout the report point to a lack of police protection and, in some cases, police making the situation worse. "Wouldn't you rather go in the ambulance and spend time with these lovely ladies than be brought-in the back of a police car?" one paramedic reported hearing officers say, while another said, "Having my ass slapped by a patient twice while police are standing there and doing absolutely nothing about it is extremely degrading."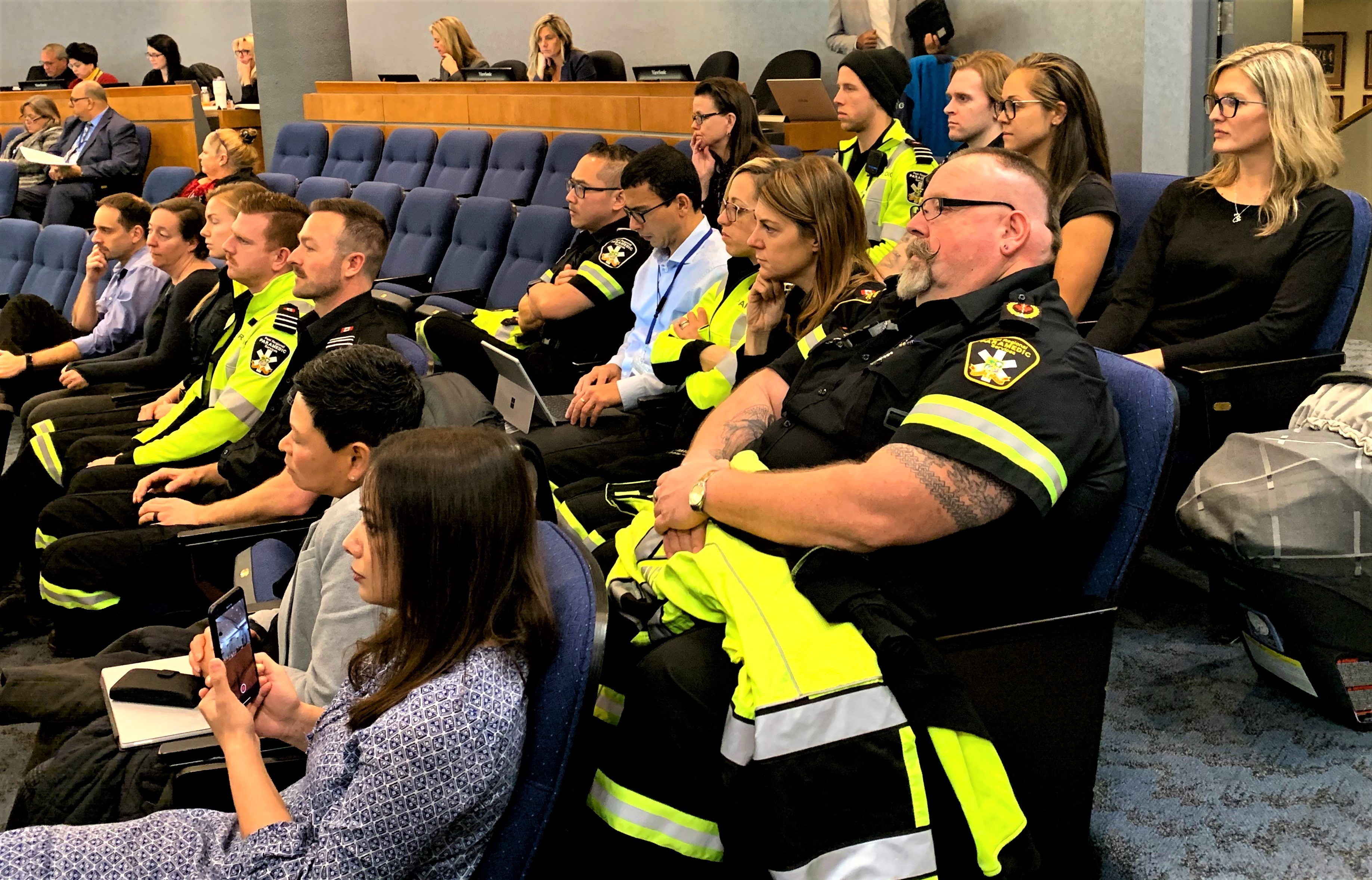 Paramedics attended Thursday's presentation
Another pointed to the fact police struggle to make charges stick against some of the drunk or impaired individuals, they said: "I have been swung at and punched at by drunk patients, (and the) police appear to have no eagerness to pursue any charges. I feel that these cases are likely easily dismissed as the patients are deemed to be 'just going under a medical issue' and charges would likely not stick."
Johnston, who has an interview to come with new police Chief Nish Duraiappah to discuss collaboration, was careful not to be too critical of the police. Instead, she told The Pointer that she hoped they could improve their working relationship moving forward, saying that the police were subjected to similar treatment by members of the public, if not worse.
"We haven't really had a chance to work with police, we've made the request and hopefully as you saw yesterday, they will push for this meeting soon," she said. "I don't really know. I can't speak to their job or the culture of their job. They have to deal with so much of the violence that we do, unfortunately, probably more than we do."
At the region itself, councillors and mayors were eager to help and taken aback by what they heard. Mayor Allan Thompson (Caledon) said the content of the report was "shocking", while Mississauga Mayor Bonnie Crombie described herself as "gobsmacked."
Council resolved, unanimously, to ask regional staff to work to help address the issue, to create a simpler and more effective reporting system, while collaborating on future work. Several councillors also expressed verbal support for endorsing or even running a public awareness campaign.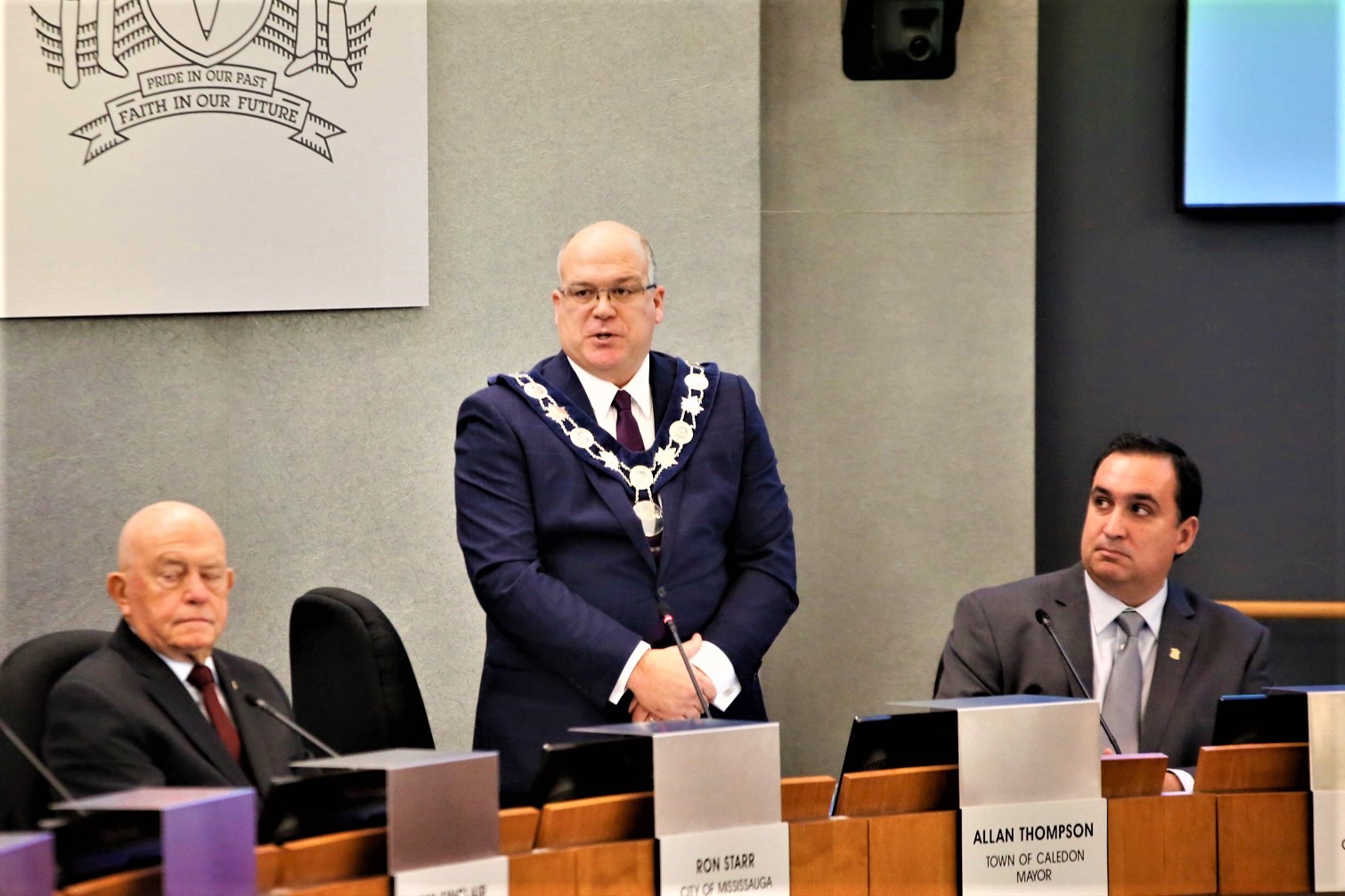 Caledon Mayor Allan Thompson
"One route [to mental health assistance] is through the Employee Assistance program, which can take up to a week to get an appointment," Michael Speers, a paramedic health and safety worker currently away from the job with PTSD, told The Pointer. "And the other is after claim with WSIB. Once it's approved, they will push you into the traumatic mental stress program and obtain professional counselling for you, but that could take up to 12 weeks."
"Workplace violence is definitely getting worse," he added. "It was always a problem in the industry, but it's definitely getting much worse. I think that rises in density and population [are a cause], Peel is a very big region now, you're going to run into a lot of problems. When you're referring to specifically the workplace violence, we're not talking about an elderly patient who lashes out accidentally, we're talking primarily about adults that are of sound mind and body."
Mandy Johnston and her campaign are really just getting started; the first order of business was to research the issue and highlight it in Peel. With that achieved, the next steps are bigger. In the near future, a campaign will rollout through the region, highlighting this growing issue and suggesting steps to help curb workplace violence. High-level meetings are also to come. Following the sit-down with Peel Regional Police Chief, Nish Duraiappah, lobbying efforts at the doors of Queen's Park and in Ottawa will also be key to changing legislation to backup new measures that will hopefully help change the alarming behaviour paramedics encounter on the job every day.

Email: [email protected]
Twitter: @isaaccallan
Submit a correction about this story